Have you recently upgraded your processor and feel that the old 3D-accelerator in your box doesn't really cut it? Would you like to get something faster, but don't want to spend hundreds of dollars doing that? Not everyone needs that GF4 Ti4600, especially if gaming isn't something that the computer is used for every day. So what are your options? There's Nvidia's GF4 MX series, which is a cheap alternative for the budget gamer. Then there's Ati's Radeon 7500 which, depending on features like memory and TV-out, is even cheaper than the GF4 MX. This review focuses on the Unitech Optimus 7500, which actually has pretty nice features despite it's low price tag.
Main Features
Radeon 7500 Graphics processing unit
64MB of 3.6ns DDR memory
VGA Output
TV-Out trough S-video or composite (can be used as an independent display)
DVI-I (flat panel display) connector
Resolutions up to 2048×1536 at 75Hz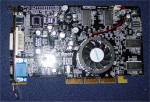 Included in the box is everything that you'll need to use this card, such as an installation CD with Unitech's tweak utility (more on this later on in the review) and cables for TV-out (RCA and S-video). There is no printed manual included however, although  there is one on the CD. Unitech is a quite new to Ati cards but this doesn't mean that they can't do quality work. Quite the opposite actually, as the card really looks and feels well-made, and worked like a champ.
Installation & Utilities
Installing this card was as easy as it possibly can be to install a new graphics card, all I had to do was to insert it into the computer and get updated drivers from the internet, no trouble or hassle at all.
As mentioned earlier, Unitech has included their own tweak utility, which allows you to tweak numerous features, as well as to overclock your card. One very handy feature in the tweak utility is the ability to manually select the refresh rates for each resolution which means that in Windows 2000 and XP, you won't have to hassle with refresh rate fixes if like with Nvidia based cards. There are also many options to tweak your games individually, and there are even profiles included for some of the more popular games.
The included overclocking utility allows you to overclock both the memory and core speeds. I was able to reach a core speed of 301MHz (default 290MHz) and a memory speed of 275MHz (default 230MHz DDR). It's worth to note that 275MHz is the highest you can go for the memory using Unitech's own tweaker, so using a 3rd party utility might allow even higher memory speeds. However, I don't believe that many cards will go much higher than this, since it is already a pretty nice overclock. Also, if you decide to overclock your card, remember to benchmark it at both overclocked and default speeds, because overclocking too high might actually degrade the performance without visual anomalies or instability. This happened to me while benchmarking the card at a core speed of 305MHz. Otherwise performance was good, but at 1600*1200*32bit the scores were 10-20% lower than at default clock speed.
Drivers & Image Quality
I've noted that many users are staying away from Ati because of ther reputation of bad drivers, which is a shame. While their drivers were inferior Nvidia's some time ago, today, that isn't true. Ati has proved themselves able to make drivers that work, and don't require you to experiment to get all your games to work. From what I experienced during the testing of this card, they have even surpassed Nvidia in some areas, such as TV-out which actually works. It was a welcome change to use TV-out without having to rely on commercial 3rd party software such as the excellent TV-Tool. The drivers also let you select refresh rates for individual resolutions with minimum hassle, while using an Nvidia card you would again have to use a 3rd party tool or edit .inf files manually.
If Ati has a bad reputation when it comes to drivers, then image quality is something that they are known to do a good job at. The Optimus 7500 is no exception. The 2D quality was very nice on my 19″ Sony G400 monitor, possibly even better than my GF3 Ti500. There's really not much more to say on this matter, as Ati really knows what it's doing in this area.
Performance
Unfortunately, I don't have a GF4 MX to benchmark against the Radeon, but if you need an idea of how they perform, please take a look at Gene's review here. My current main video card is a GeForce3 Ti500, which is in a totally different pricing category than the Optimus 7500, but still, an interesting adversary when you look at the scores.
All benchmarks were run on the following system:
MSI K7T 266 Pro2

Athlon XP1800+

256MB DDR SDRAM

Terratec DMX Xfire 1024 (sounds turned off)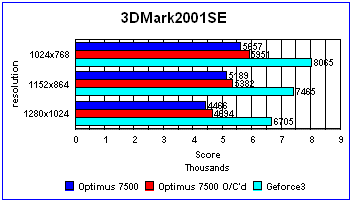 In 3DMark 2001SE, which is a D3D benchmark, the 7500 falls behind the GF3, but doesn't do too shabby considering its price. Gaming at 1024×768 won't be a problem with most current games if you are willing to drop the detail level in the most demanding ones. The performance at 1152×864 is still good enough for slightly older or less graphically intensive games.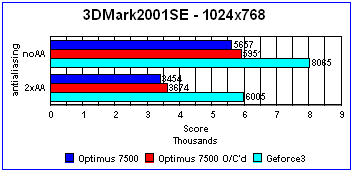 As you can see from these scores, FSAA clearly isn't something that you can keep on all the time, so it is only usable on older games. Overclocking the Optimus helps it a bit and brings the 1024×768 speed without FSAA very close to the GF3's antialiased scores.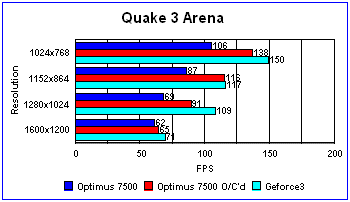 Quake 3 has been the standard OpenGL benchmark for quite some time now, and while there are now a few newer benchmarks that have become common,Q3 is still a good performance indicator as many games coming out today are based on its engine, even most of the new ones used for benchmarking.
The Q3 scores are pretty interesting, as the Optimus 7500 comes pretty close to the performance of the much more expensive Ti500, especially when overclocked. When overclocked, the Optimus should prove fast enough in most games even at 1152×864, unless your motto is "framerate is life".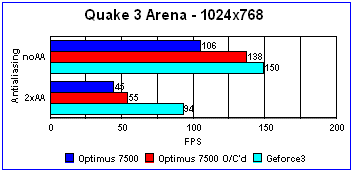 When FSAA is turned on the situation is a bit different, as the GF3 pulls ahead by over 100%. The overclocked Optimus manages to gain a bit, but still not enough to make FSAA usable. Again, the benchmarks show that for most games, the Optimus is just too slow to justify the use of FSAA at 1024×768.
In addition to these benchmarks, I also used the Optimus to play real games, and it performed a lot better than I had expected. Will it be enough for upcoming games? Probably if you are willing to play them using  a lower detail level and possibly even to drop the resolution to 800×600, but don't expect to see high framerates combined with spectacular graphics in Doom3.
Conclusion
The Unitech Optimus 7500 is a great card for it's price. Although the performance isn't stellar, it is fast enough for what it is, a budget card. Add the superb image quality, solid features and good drivers, and you have a great choice for your budget box! I'll give it a score of 8.5, since it isn't earth shattering, but still a good product.