Introduction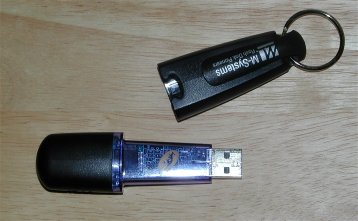 Last month we here at Bjorn3d reviewed a 64MB DiskOnKey flash memory device from M-Systems and focused in great part on its use for transferring files around during our monthly LAN gaming session. The DOK worked like a champ, and the only complaint any of the guys in the LAN group had was that the 64MB device we tested wasn't big enough to transfer everything we wanted to! Well, thanks to the good folks at M-Systems, we're back this month with a bigger and better DOK, a 256MB version! That's quite a bit of space when you think about it. Heck, that's bigger than the 170MB harddrive that came in my first desktop PC back in 1991! This isn't even the largest size offered by M-Systems either, but it's certainly large enough to do some serious file transfers.
We covered the basics in the previous review, so this time we're going to focus on a couple of new items, including how well it works using older OS's like Windows 98 and Windows NT (a program known for its lack of USB support!) using driver software, and what else you can do with that extra space.
Product Description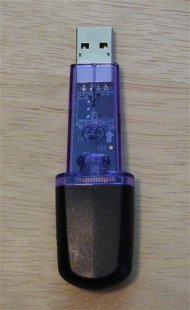 The 256MB DOK follows the same form factor as the 64MB model. Same casing, size and weight so you aren't taking up any additional space, just gaining more storage. That's a plus in my book. The 64MB one was a rather plain white and black color scheme, but the new one is a pretty swank translucent purple that allows you to see the flash memory board and onboard RISC chip.
Yep, I said RISC chip. The DOK uses a 32-bit ARM7 processor that allows it to be upgraded as new applications for the DOK come along. Just last month M-Systems announced a software upgrade that allowed older generation devices to use the newer Keysafe security application. Here's a snip from a recent M-Systems press release that explains how they invision the DOK can be used:
Powered by a 32-bit ARM7 processor, the DiskOnKey provides users with the most computing power in the keychain storage market by offering the characteristics of a hard drive with the versatility to run applications. By creating automatic upgrades to the firmware the Company has created a new computing platform with the DiskOnKey. Such as being able to run any number of applications for updating patient profile information in the medical market, instant login to Websites as a sales tool for companies, or specific read-only applications for the education market.
We decided to test this out a bit by installing some programs directly to the DOK and seeing if we could run them, but we'll discuss that a bit more in the testing portion of this review.
Testing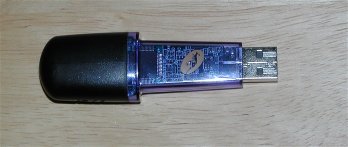 Last time around we tested the DOK's driverless claims with a variety of operating systems including WinME, Win2k,  and XP Pro and Home editions. It worked flawlessly with all of those operating systems, so this time we decided to find out how the DOK worked using both the Win98 and NT drivers available on the M-Systems web page.
For the 98 test, I got lucky at our last LAN session. One of the guys in our group had actually picked up his own DOK and and was running Win98 SE so he already had the appropriate drivers on his system. With the drivers installed, the DOK worked seamlessly with his 98 system, the same as it had with all the other PC's we'd tested it on previously.
For the NT portion of the test I turned the DOK over to Gene for use with his work PC. Let's take a look at his results before I move on to the rest of the tests.
Gene's Thoughts: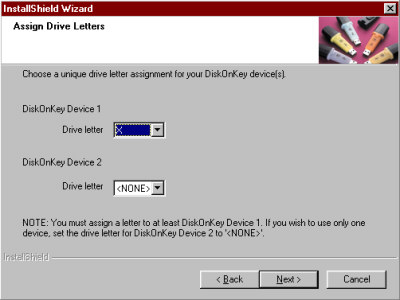 After chiseling out the 6 years of dust bunnies that were in the USB ports on the back of the Windows NT system here at work, I installed M-System's NT driver. Installation was a snap, as long as you have admin rights. You'll go through the standard licensing agreement and then there is also a pop-up window that reminds you that these drivers will only work with DiskOnKey USB devices (don't think you're going to plug that USB webcam into an NT machine with these drivers). Following the standard installation process, you're prompted to identify which drive letters you want to use for the DiskOnKey (as shown in the picture). You can set-up multiple drives if you intend to use multiple DiskOnKey devices. I set up only one using an odd drive letter, X, since I have a dozen or so local and network drives on my work machine. Note that these drives are permanently installed to your system. There will always be an X-drive when you open Windows Explorer, whether or not the DiskOnKey is plugged in. I imagine this was required to get it to work under NT.
Tim forked over the DiskOnKey at a very appropriate time for me. I needed to transfer 16+ MB of pictures for a project that I'm working on for work from my home machine to my work machine (my digital camera uses a USB interface that I never could connect to my work machine). I was pretty much planning on burning them to CD, but I didn't want to waste a CD on work at my expense. I copied the 16+ MB of data to the DiskOnKey in about 32 seconds (0.52MB/s) from my Windows XP Pro/AMD XP2000+ machine. Copying them up to my Windows NT/P2-450 machine was actually slightly quicker at 28 seconds (0.6MB/s). Either way, it's faster to use the DiskOnKey than to burn a CD which takes a good 3-minutes, minimum. With a USB 2.0 enabled machine it should be even faster still. In my opinion, for NT users, this thing is worth its weight in gold. I'll be ordering one of these for my personal use very, very soon. Between taking work home on a daily basis to transfering MP3s or Bjorn3D stuff from work to home and home to work, I'll certainly be a candidate for a long-term survivability test of the M-System's DiskOnKey.
LAN Testing:
Meanwhile, back at the LAN party, the main thing we wanted to transfer around was the Beta 1.8 release of Western Quake 3 that my group has been testing. This was a 111MB file by itself so it took up a fair chunk of space on the DOK. In addition to that, I dropped on the latest Q3A point release and current Return to Castle Wolfenstein patch, as well as some custom maps for RTCW. Even that didn't fill up the 256MB DOK! We ended up having to transfer around another 30MB of Medal of Honor files, and we still had plenty of room to drop those on it as well. The 64MB DOK worked well at the last LAN party, but the 256MB one really gave us the space we needed for an average gaming session.
File Transfer Speeds:
I did a couple of quick tests to see how fast the DOK actually was in practical applications. I transfered 10MB's of MP3 files to the DOK from my AMD XP2000+ machine in around 5 seconds (2MB/s) and 50MB's of MP3's to it in 58 seconds (0.86MB/s). These were faster times than Gene got in his transfers, but I'm not sure if it was an issue of differences in our machines or in the types of files transferred.
Running Apps from the DOK:
To see if I could actually run applications from the DOK, I dug through my game collection to find something under 256MB. I was surprised how few games have an install under that size these days! I ended up pulling out good old Quake, a measily 65MB, and installed that directly to the DOK. Sure enough, the installer treated it just as it would any conventional drive and had no problems installing to, or running from, the DOK. I actually got a little bit nostaligic and ended up cranking up the reolution on Q1 to 1280×1024 (something I was never able to do on my old vid cards when Q1 was the "in" game) and playing a lot longer than was really neccesary for basic testing purposes :-).
Conclusion
We walked away from testing the 64MB DiskOnKey last month with a very favorable impression, and the 256MB version has just reinforced that impression. The extra space on this DOK was a real boon to us at our LAN party and will surely come in handy for transporting today's large multimedia files and applications. If you've got the need to transfer large volumes of data around and can appreciate the convenience of a simple, compact USB device that can fit in your pocket, then I'd highly recommend taking a look at M-System's DiskOnKey. With the 256MB version's $249.99 retail price, you're looking at $150 more than the 64MB version. In the end, you have to decide whether the extra space is worth it to you. If you transfer fewer or smaller files, perhaps the less expensive 64MB version would give you the most bang for the buck.
For its great storage capacity and compatability with even older operating systems like Windows 98 and Windows NT, we're giving the M-Systems 256MB DiskOnKey another 9.5 and the Bjorn3d Seal of Approval!

Please note, Bjorn3D.com's Golden Bear Award and Blue Seal of Approval are separate awards, which are based on our subjective opinion and not based solely on the numerical score assigned by the reviewer(s).  The blue approval seal means that we highly recommend this item, while the Golden Bear indicates a truly outstanding product.