The fusion of Guillemot's audio products and the Hercules brand name is a win-win situation. Especially when you consider the hardware that I'm reviewing here. What we have here is Hercules' entry level audio card, the Hercules Gamesuround Muse Lt (Lt as in 'lite'), and an entry level 2.1 speaker set-up (2.1 meaning 2 satellites and 1 subwoofer), the Hercules XP210. Why should you consider this? The MSRP of this hardware is just $19.99US and $49.99US for the sound card and speakers, respectiley. For $70.00 you're getting more than the white boxed, off-brand set-up that doesn't offer tech support.
For this review, I'll go over the specifications of this hardware and then we'll look at a seat-of-the-pants performance test. As the top picture shows, I tested these pieces in my LAN rig, which I haul once a month to a LAN party. Normally, I take a small pair of Logitech speakers but these new Hercules XP210s come in a handy hexagonal case with a handle on top. The cardboard seems sturdy enough to make the monthly trip, so these speakers are coming with me from now on.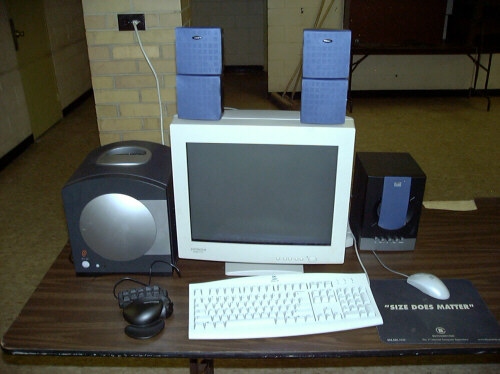 Hercules Muse Lt PCI Audio Card
---
The Muse Lt sound card comes in a standard cardboard box, with a driver CD. Help files are included on the CD. I truthfully didn't expect much more than this for a $20 sound card. As the picture shows, it's standard PCI fare. Not much is seen on the card besides the processor and a handful of capacitors. Plugs include, from top to bottom, microphone-in, line-in, front speaker output, rear speaker output, and a game port.

Installation was simple under Win2k Pro. I plugged in the hardware, booted to windows, and when it asked for the drivers, I just jammed the CD in and helped windows to the right directory.
Game Compatability:
Support for Microsoft Direct Sound
CRL3d-based 3D Positional Audio
EAX 1.0 and 2.0 support
A3D 1.0 support
Audio Compatability:
Microsoft DirectSound and DirectMusic
Dolby Surround
A3D 1.0 support
Driver Support:
Microsoft Windows 98SE, 2000, Me, and XP
Software:
Warranty:
As I mentioned, installation was trouble free. With the driver CD comes Hercules' MediaStation II application. MSII basically runs off of Windows Media Player 7.1. As such, it works with both audio, video and still image files. As the following picture shows, MSII has a roll down play list. What's pretty slick about it is that you can put any applicable files into the the play list, MP3s, MPEGs, etc.

MediaStation Rolled-up and playing an MP3.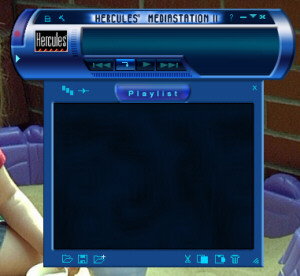 Here we see MSII expanded with the play list section.
Hercules XPS210 2.1 Speakers
---
The image on the box doesn't do these speakers any justice. I found the XPS210 speakers to be handsome and well crafted set, compared to the set of drab-cream colored Altec Lansing ACS45 speakers that I had. The enclosures are black ABS plastic with Hercules blue cloth screens. On the sub, there is only a thin stip of cloth over the output port.

As the picture at left shows, the satellites allow you to swivel the two monitors. This can be useful since the bottom monitor outputs the midrange frequencies while the top monitor outputs the high frequencies. You'll want to angle the top monitor towards your seating position, once you place them.
The documented specs are as follows:
Total Power Output
Subwoofer
Dual Satellites
Frequency Response
Special Features
treble, bass, volume, 3D and on/off power switches
Game Compatability
DirectSound 3D, EAX2.0, A3d1.0
Features
Magnetically Shielded Enclosure
Wood enclosure subwoofer
Input Connection Type: 1/8″ stereo jack
Input Cable LEngth: 5.7ft
Speaker Wire LEngth: 5.7ft
Internal Power Supply
3 Year Warranty
Some thoughts on the specs: note that power output is listen in RMS, which signifies that it can maintain these output levels during use. You'll note that many speakers list max power. This is vastly misleading, since max power is rarely hit, and only typically at 2ohm of input impedence…which I doubt computers output less than 4. Also, note that cable lengths are generous. The sub is magnetically shielded which allows you to place it next to your monitor without worrying about getting magnetic distortion in your picture. Placing the speakers on your desk is a must since the volume et al controls are on the subwoofer. 30Hz response from these small speakers is also appealing. This is thanks to the ported enclosure.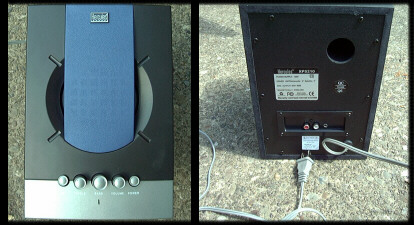 The sub is sturdy wood construction. It looks like particle board which is cheap but also a good dampener for vibrations. The ported sub is not overly boomy, and the controls work well.
My biggest gripe here is that the power cord is hard wired to the sub. This can lead to problems if you break the cord. However, it's nice to have the power supply internalised, instead of a big box that needs a large slot on your power strip. Another gripe is the lack of markings on the input/output jacks…keep you manual handy.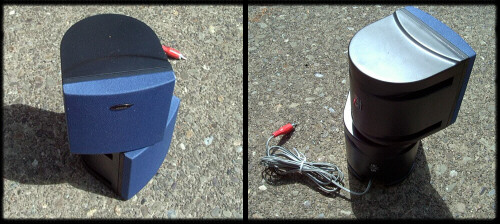 The satellites need to placed somewhere out of harms reach since they can be knocked over by accident. Performance was a tad tiny, from what I'm used to. However, playing with the settings yielded a better audio picture than I had with my Altec Lansings.
Again, we see the hardwired cables. The cable length are generous (~6′) but what are you supposed to do if you wanted them longer?…a trip to Radio Shack for extension cables, I suppose.
Conclusions
---
I attempted to test this set-up to the best ability of my untrained ears. I tested A3D support under Half-Life and postional audio worked as well as I've heard. I also set the audio to DirectSound under NeverWinter Nights and the Muse LT and XPS210 speakers worked well in that situation also. In the end, I come away feeling satisifed. For $70 for all of it, I'd recommend the Hercules Muse Lt and XPS210 speakers as a budget set-up.
| | |
| --- | --- |
| | The Hercules Muse Lt is absolutely the best sub-$20 sound card that I've used (heck the MediaStation II software is worth $20). The Hercules XPS210 speakers worked well but I'm unhappy about the cabling configuration. For the whole package, I'm giving it the Bjorn3D Seal of Approval and a rating of 7.0 out of 10. |