Introduction
---
Are you looking for a reliable, versatile and secure way to set up a small network? Well, then you may be looking at Linksys and other common brands for networking equipment, but you should also be considering Nexland products. Who is Nexland? You probably heard about Nexland in early June when it was announced that it had partnered with Alienware to allow Alienware to sell Nexland products on its web site and at Best Buy's Computer Creation Station kiosks. For those who don't remember, Nexland is a company known and respected for its "expertise in the design and manufacturing of full-featured firewall appliances."
Here is a brief description of Nexland taken from a press release:
"Nexland, Inc. designs, develops and markets secure, affordable and easy-to-use shared Internet security solutions for corporate remote offices and their telecommuters. Created with security in mind, Nexland's products support the use of virtual private networking (VPN) switches at companies' remote locations and are compatible with DSL, cable, wireless, ISDN and analog Internet connections. Nexland's VPN support allows corporations to use the Internet as a medium to securely transmit data to remote locations, thus saving them thousands of dollars on costly direct connections. For further information about Nexland, visit the company's website at http://www.nexland.com; or in Canada, http://www.nexlandcanada.com."
I have been using a Linksys 4-port switch for my home LAN for a little over a year now. I wanted to get something better (as in more ports and more secure) at the time but decided to go the cheaper route. The switch worked fine and still does a good job, but I was more than happy to accept the offer from Nexland to review one of its products. Anyone who has a PC and uses the Internet (and has half a brain) is at least somewhat concerned about security, and I am no different (except that I have a whole brain that I use as much as possible). My current LAN consists of 3 PC's, and I try my best to keep them all updated with the latest ZoneAlarm version and Norton Antivirus virus definitions.
I am very excited to see how much better of a networking solution the Nexland Pro800 ISB is than my simple Linksys switch and am looking forward to enabling the NAPT firewall for extra security. So let's dig in and see what the Pro800 has to offer.

Pro800 ISB Specifications & Features
---
Specifications:
Weight
3 lbs
Dimensions
10 7/8″(W) x 1 5/16″(H) x 5 11/16″(D)
Network Ports
Port Type: 10/100BASE-TX (RJ-45) – 8
WAN ports: 10BASE-T (RJ-45) – 1
Backup/Console Ports: RS232 Serial Port with 230Kbps Throughput – 1


Features:
NAPT (Network Address & Port Translation) Firewall to Protect your Computers
High Speed 8-Port 10/100 Switch with Duplex (200Mb)
Analog / ISDN Backup 230k Serial Port for Truly "Always On"
Over 8MB Bi-Directional Throughput for Blazing Speed
Supports up to 253 Computers
Unlimited IPsec Tunnels Passing-Through (Patent Pending Nexland)
Supports PPPoE, IPsec Server Behind NAPT, SNMPv1, Full Routing
Excellent Internet application/gaming compatibility
Solid Reliability of Nexland Technology… No Freezes!
CAT5 Cable Included ($15 value) + Null Modem Serial Cable
No Software Required, Easy Setup, Works with Any OS
Free & Easy Firmware Upgrades
5 Year Warranty & 30-Day Money Back Guarantee
For more detailed information about the Pro800's features, you can download and view the Specs PDF here.
One of the things I immediately noticed about this product is the 5 year warranty. They don't waste time with the lame obligatory 1 or 2 year warranty. Their pride and confidence in their products is illustrated by this 5 year warranty and the 30-day money back guarantee. Nexland offers this warranty and guarantee with all their routers. As far as I understand, if you don't like the product or it doesn't function as expected, you can return it for a refund with no questions asked for the first 30 days you own it. I think that is a great incentive to give Nexland a try, especially for small businesses looking for a sophisticated and flexible networking solution.
Retail Package Contents:
ISB Professional Unit
One 6.5 ft. CAT5 Cable
One Serial Cable
9v Power Adaptor
CD with MSIE 5.5 Browser, Manual and Help Files
Quickstart Guide
User's Guide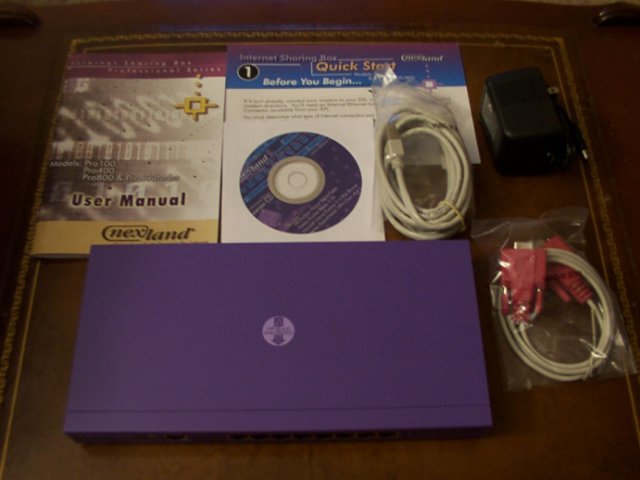 Installation & Configuration 
---
Hardware Installation:
Even if you have never set up a network before, installing this Pro800 shouldn't be very difficult, especially if you can read directions. 🙂 The included manual and quickstart guide are thorough enough to get you through setting up this box. As noted in both documents, you should be familiar with how your Internet account is set up by your Internet service provider before you proceed with the installation.
I use Cox Cable for my Internet connection, and I knew there really isn't much to getting that set up so I jumped right into installing the Pro800. I just moved into a new apartment, and I had to set up my LAN anyway, so it was pretty convenient timing for this review. First, I unhooked the CAT5 cable from my cable modem and connected it to the modem port on the Pro800. Then, I used the provided CAT5 cable to connect one PC to the Pro800. Next, I connected the power adaptor and plugged it in. Then, just for good measure I reset my cable modem by unhooking the power and then reconnecting it. Finally, I hooked up my other PC's and decided to boot one of them up to see if my connection was working. After booting up, I opened up Internet Explorer and everything was working fine.
Configuration:
Once you have all the hardware set up as desired, you may want or need to change some of the Pro800's configuration options. The installation was a breeze for me, as I didn't have to change anything to get up and running because of the simplicity of my cable connection. To enter the configuration screen, you just start your web browser and then type "http://192.168.0.1″(without the quotes) into the browser location. This will bring up the "Main Setup" screen you see below, which shows the basic connection options. You can see all of the configuration options (Main Setup, Static IP & DNS, Status, etc.) in the menu on the left-hand side of the screenshot.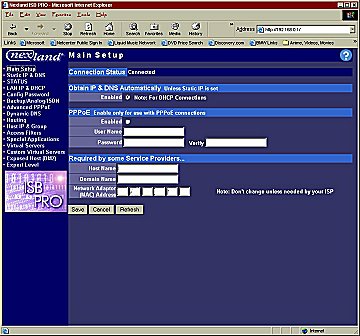 Rather than go into the details behind each menu selection, I will just briefly discuss a couple of the options that were a little less obvious to me. Several of the more obvious selections are exactly what they sound like. For example, the "Status" link will take you to a page that lets you know what's going on with your Pro800, and "Config Password" lets you configure the password for the Pro800 if you want to. All the descriptions found under the screenshots below are from the help screens that you can access by clicking the question mark in the upper right-hand corner.
Access Filters: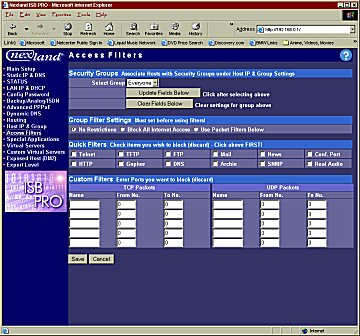 This screen lets you control the types of information allowed into your LAN. For example, to prevent the use of Real Audio on the LAN, you can block its protocol here or block all Internet access. Most standard protocols are predefined or you can define custom filters. There are 5 security groups that you can define so you can have different levels of access for different computers.
Special Applications: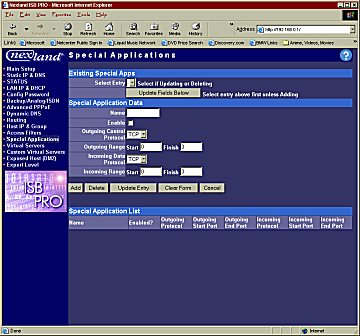 Certain applications with 2-way communication need ports opened up in the firewall in order to function. This is true of most games and video/tele conferencing software. Some popular titles are already predefined but are disabled by default. You can enable them here or add new entries. To find out what ports and protocols your application needs for operation, it's best to consult the application's support section and search for Firewall or NAT usage. Some applications might need more than one entry defined and enabled. This is the case when they have multiple port ranges in use.
Expert Level: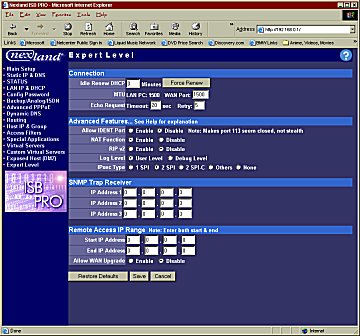 This screen has some advanced settings for the ISB. Most users can safely ignore these settings as the defaults are optimal and the most secure.

Security Testing
---
In order to test the security provided by the built-in firewall, I disabled ZoneAlarm and then tested my PC's vulnerability on the Gibson Research Corporation site. I used the Shields Up! test and then probed my ports (does that involve aliens?) to test the security of my computer's connection to the Internet. The results of the Shields Up! test can be seen below.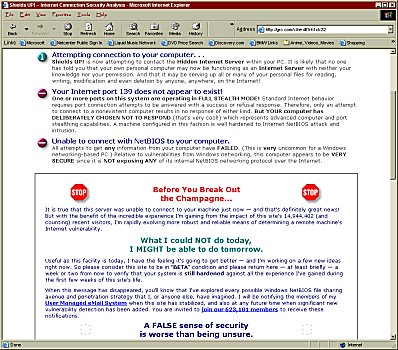 Basically, what this means is that the Shields Up! program could not gain access to my PC, which you don't have to be a security expert to know is a very, very good thing! I was happy to see that the Pro800 did its job. Then, I tested the security of my connection further by clicking the "Probe My Ports" button on the page. According to that test, my PC was more stealth than a B2 Bomber flying over Sadam's house. 😉 Well, that's not exactly what it said, but you can see the results below.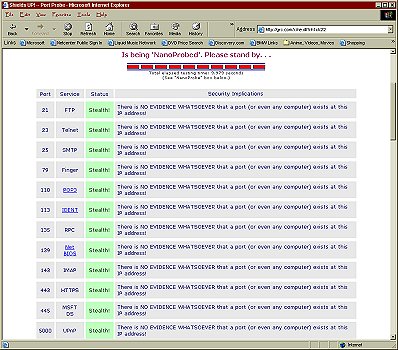 Conclusion
---
Nexland's Pro800 ISB is a definite winner for any small business or power user looking to share and secure an Internet connection behind a solid firewall. The solid security, generous 5 year warranty, great features and excellent quality all makes this a great product, and at $299, you really do get what you pay for. Yes, that will seem pricey to many of you out there, but if you have ever been around any REAL networking equipment (i.e. what intelligent IT staff would use in an office – think in the thousands and tens of thousands of dollars per unit), then you know that it isn't really that expensive. At this price, I wouldn't even expect as many features as Nexland throws in. Admittedly, I will never really use most of the features, but they make the Pro800 a very flexible and useful product.
I highly recommend Nexland's Pro800 ISB to anyone looking for a firewall/router/switch with above average quality and features. I am awarding it a score of 9.5 and the Bjorn3d Seal of Approval.