Introduction
---
Guess who is making CD-RW drives now? VisionTek! Yup that's right. The company that is bringing some of the best GeForce cards to store shelves with its Xtasy line is now making optical drives too. VisionTek is actually just extending the Xtasy family with the addition of a 40X and a 48X CD-RW drive. So how does a company known for its video cards start making CD-RW's? Well, find a company making good quality drives, like LiteOn, and then re-brand the drives as VisionTek. Pretty good idea if you ask me since people will recognize the VisionTek name as a high quality brand. Plus, it's a lot cheaper than all that R&D and manufacturing equipment to make your own. 🙂
Well, anyway, I noticed these drives on VisionTek's site several weeks ago and told Scott we gotta get one. Then, a couple days later it arrives at my work. I'm getting lots of VisionTek lovin' these days with my GeForce4 Ti4200 review and now this drive!
Specs & Features
---
Specs
Interface: ATAPI/E-IDE, supports PIO mode 4, DMA mode 2, Ultra mode 2 (optional)
Access Time: 80 ms
Buffer Size: 2 MB
Features
Max 48X write speed, 12X re-write and 48X read
Constant Angular Velocity (CAV) recording (fastest method available)
SMART-BURN technology to eliminate buffer underrun errors
Vibration Absorber System (VAS) to reduce vibration and noise
One-year warranty
Lifetime online and toll-free technical support
In the Box

Xtasy 48X CD-RW Drive
User's Manual
Quick Start Guide
Audio Cable
IDE Cable
Nero Burning-ROM software
1 Blank VisionTek CDR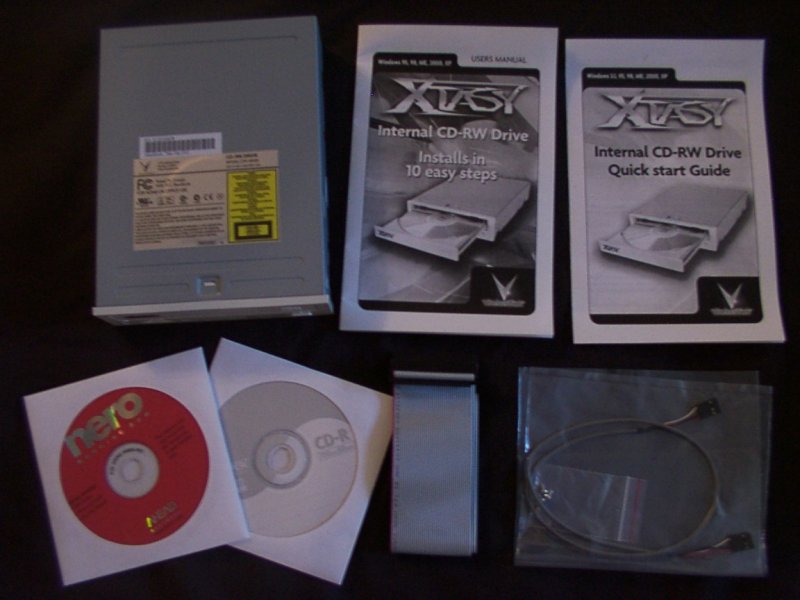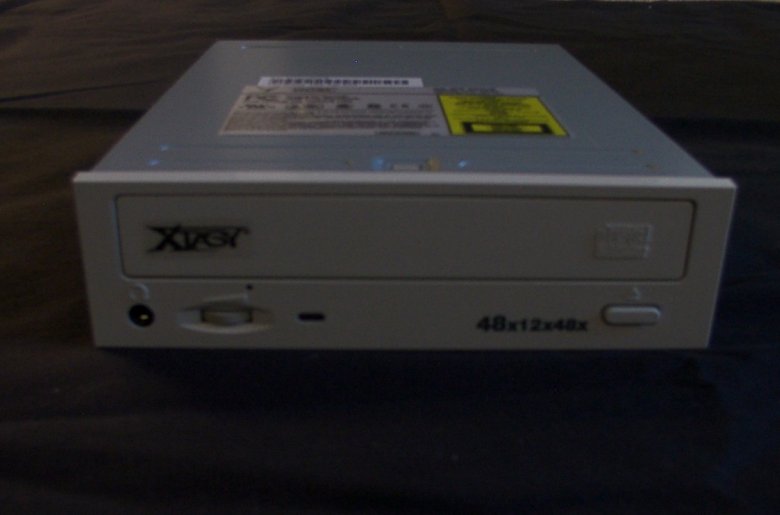 Installation
---
There is not much to installing a CD-RW — it really doesn't get any easier than this (well, I guess RAM is easier to install since you don't need to install software to use it). The only thing that could make this (or installing any other drive) confusing to people is setting the jumper appropriately. Not that it is really hard to understand, but it is pretty easy to forget or overlook, and the resulting errors could cause confusion. So I set the drive to master to make sure it gets the best performance possible and then changed my Pioneer DVD drive to slave on the same IDE channel. I found it curious that it wasn't already set at master since most users will want to set it up this way. Oh well, no big deal. Next, I just opened up my PC case and put the drive in an empty bay below my DVD drive. Then, I put in some screws to hold it in place, plugged in the power and IDE connectors, and finally powered up my rig. Although I really did not need to use it, the manual seems very well put together and should have all the information anyone would need to get up and running.
As my PC booted and listed the IDE devices installed, I checked to make sure the new CD-RW drive showed up and was surprised to find it listed as a LiteOn LTR-48125W. That's cool with me. I've been wanting to check out one of LiteOn's drives anyways. LiteOn has been gaining a very positive reputation lately with many good reviews out on the Web and in magazines. They are reasonably priced drives with solid performance.
Testing & Performance
---
The Test Box Specs
EPoX 8K7A+ motherboard
1.2 GHz AMD T-bird
40GB IBM Deskstar 60GXP
16x Pioneer Slot DVD drive
512MB VisionTek PC2100 DDR RAM
Creative Labs SB Live! 5.1 Platinum
Windows 98SE
Test Results
Of course one of the best ways to test a drive like this is just to use it, right? So that's what I did. I let the drive show me its writing and re-writing capabilities and noted them. For all these tests, I set all recording speeds to the max and used the Nero Burning-ROM and CloneCD software, which are two of the most popular CD authoring software products available. All of the test media was Imation except for the CDRW disc which was Plextor.
Test 1: Ripping Serious Sam 2 Image to Hard Drive – 2:00
For the first test, I used CloneCD to create an image of Serious Sam 2. The VisionTek CD-RW chewed up and spit out the 602MB image in exactly 2 minutes. I had just left the room when I heard CloneCD chiming to alert me that the process had completed. CloneCD reported the speed as being 5,126 kB/s.
Test 2: Making a CD from the Serious Sam 2 Image – 2:08
Using CloneCD again, I burned the Serious Sam 2 image that I had just created onto a CDR (which was rated at 12X but that doesn't really mean much). This time the process only took 2 minutes and 8 seconds, and the reported speed was 5,101 kB/s. Obviously this doesn't matter much unless the CD actually works, so I popped it in and it started up SS2. I loaded one of my quick saves and played for five minutes. I'm not sure if there are any security features on the SS2 disc, but I was happy to see it working. So the combined process of creating an image and then creating the CD took less than 5 minutes!
Test 3: Writing the Serious Sam 2 Image to CDRW – 6:19
I just decided to use the same 602MB Serious Sam 2 image to test the drive's re-writing capabilities. Using CloneCD again and a Plextor CDRW disc, the drive burned the image in 6 minutes and 19 seconds (1722 kB/s). Then I erased the disc using CloneCD, which only took 20 or 30 seconds. At these speeds, it should be easy to back up all those important documents and files.
Test 4: Making a CD of MP3's – 3:23
A very common use of CD-RW drives seems to be to create discs full of as many MP3's as possible. This makes them easy to trade with friends or to use in devices capable of MP3 playback. For this test, I used Nero and added 689MB of my favorite MP3's in several different folders. I unleashed this speed demon on this task, and it completed it in 3 minutes and 23 seconds! So that means that backing up all 30 gigs of your MP3's should only take several hours, which makes it seem like a much less daunting task. I made sure all the MP3's on the freshly burned CD showed up in Windows Explorer and then played a few in Winamp. No problems.
Test 5: Making an Audio CD from MP3's – 2:45
Like the previous test, this is also a very common use for drives like these. In fact, this is probably what I use them for the most. I have a CD player in my car, but it is not capable of playing MP3's. As a result, I frequently make myself mix CD's of songs I've ripped and ones that have magically appeared on my hard drive (I would never download them since that would upset the rich execs sitting up at the record labels, and I feel really bad when they only make $28 million instead of $30 million). So anyway, using Nero again, I created an audio CD that is just over 76 minutes long in only 2 minutes and 45 seconds!!! Hehe, now that's what I like to see.
Test 6: Making a Copy of an Audio CD On-the-Fly – 7:43
For my sixth and final test, I used Nero to create a copy of James Brown's 20 All-Time Greatest Hits CD, which is just over 70 minutes long. Instead of creating this CD from MP3's or making an image first, I created it on-the-fly, meaning that it was a direct CD-to-CD copy from Mr. Brown in my DVD drive to the blank CDR in the CD-RW drive. It took 7 minutes and 43 seconds for this copy to complete, which isn't bad. It could be faster if the two drives weren't on the same IDE channel.
Overall, I was very impressed by the performance of this drive. Not only does it create CD's in less time than it takes to blow your nose, it also is reasonably quiet. Additionally, the normal read performance was excellent as I never had any problems playing games or listening to CD's. One of the great things that SMART-BURN technology adds too is the ability to do pretty much whatever you want on your computer while creating CD's and not having to worry about buffer underrun errors. Assuming you have your software configured properly and are only making "legal copies" of CD's and games, you shouldn't create a single coaster with this puppy. One other little thing that I noticed and like about the drive is the color of the LED indicator light when the drive is in the process of writing to a disc – a dark orange. What can I say? It's one of my favorite colors, and I've never seen a drive with a color that strays from the norm. 🙂
Conclusion
---
I think VisionTek has put together a nice little package here. You get everything you need and then some, including an audio cable, which some companies seem to be leaving out nowadays for some reason. Yeah you hardcore enthusiasts out there have spare cables for everything, but grandma and grandpa don't, so I think all the necessities should be included, especially with the price you are paying. The retail price of this drive is $159.99, which seems a little high to me. Don't get me wrong. I think it is a high quality drive and its performance is excellent. I would just settle for the 40X drive and save about $40.
If you do decide it's in your budget though or you can get it cheaper, then it is definitely worth it. This drive should last you a long time and deliver solid performance the whole time, especially with its SMART-BURN technology. The inclusion of Nero is also a nice plus in this package. Nero is very popular burning software, and most users should not have much trouble figuring out how to use it.
I am awarding the VisionTek 48X CD-RW drive a score of 9.5 and the Golden Bear Award!