First thing you are going to say is 'Why is Bjorn 3D Reviewing a Case?' One of two reasons at this time, first our readers probably do have to house their computer guts in a case, second I found out that the temporary Bjorn 3D offices in New Jersey are in a garage. Summer time in a garage in New Jersey it gets dang hot!! I knew from having some heat issues before in a better climate with my system that I needed to find something better. After doing some research and looking at what Alienware and some other companies used (not even to mention that 3 of the Bjorn3D staffers have been using Antec cases for years), I found a case that looked just like the cases in the ads.
So I contacted Antec and asked them if they wanted us to do a case review, explained what my situation was and they sent me the Plus1080 model. The Plus1080 is high end model of Antec's SOHO File Server product line. There are also the Plus1060 and Plus1080B. The Plus1060 is the same exact case but with a 330W PS, the Plus1080B is has all of the specifications as the Plus1080, but comes in a black color (hence the "B" designation). They also have optional replacement side panels with a extra fan mounting slot, positioned to blow over the card slots. My test model came with this option.
With this review, we'll review the specifications of this mid-tower case, give our thoughts on easy of use (installation), and compare it with my current rig
Specifications
---
The Specs of the case, as Antec gives them, are:
Basic Specifications
Manufacturer:Antec-Inc.
Chassis Style:   Mid-Tower
Color:   Beige
Weight:   35.55 lbs
Length:   18.6
Width:   8.1
Height:   20.6
Features
TRUEPOWER Power Supply
Front USB and Firewire Ports
Washable Air Filter
Side Panel Fan (optional)
Warranty
Standard Warranty:   3 Years
Expansion
3-1/2 in. Intenral Bays:   4
3-1/2 in. External Bays:   2
5-1/4 External Bays:   4
Power Supply and Cooling
Voltage:   110V & 220V SWITCHABLE
Wattage:   430
Power Connection:   ATX
Form Factor:   SLIMLINE PS/2
Case Fans:   3 + 4th in drive cage
Installation &Thoughts
---
In comparison to my previous case, the first thing I noticed was the size of the case. It was 3.5 inches taller and .5 inches wider than my PC Power and Cooling Mid-Tower case. The height difference is great since I could easily tell I would have a lot more room when swapping out motherboards and other computer parts in the future. Other nice things about the case are the front panel and side panel case locks which make for good security for a file server or in my case keeping the kids from messing with the CD ROM drives.
Beyond the paper specs, there is a lot to the Antec cases that make them stand out from the crowd. To illustrate this, I'll borrow the following graphic from a nicely prepared PDF file by Antec. HERE is a link to the PDF.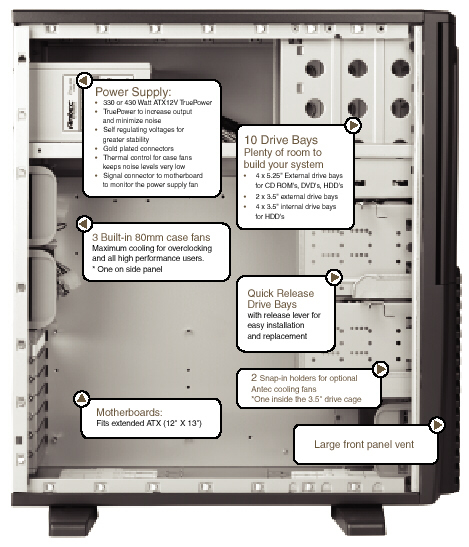 You'll not in the picture that Antec uses cast ABS plastic housing pieces to hold the 80mm case fans. In my experience, this method of holding fans (vs. direct mounting via screws) reduces case noise considerably since the vibrations induced by the fans are dampened by the plastic. Also note the small lever located directly above each internal drive bay cage. This lever is the only thing holding these cages in place. No oddly placed screws are necessary; a simple flick of the lever and the cage pops out! An interesting innovation by Antec is the inclusion of a washable filter in front of the front monuted fans to help filter out any dust particles that would otherwise contaminate your case.
What can't bee seen in the picture is how the external drives are accessed. The upper portion of the front bezel is popped off by depressing two finger clips at each side. Behind the bezel, external 5-1/4″ drives are mounted vis rails. Rails are a bit of a blessing and a curse, IMO. Initially, it can be a pain to determine just what holes on the rails the drives need to be mounted too. However, once found, installation is pain free and knuckle basking free due to the lack of screws. The external 3-1/2″ drive bays have small, removable caddy which is held in place by thumb screws. Swapping a floppy drive for a LS120 drive is a breeze.
Beyond these features, please note that Antec uses the thickest gauge steel I've ever seen on a computer case. The extra thickness adds weight but the thickness also allows Antec to roll all the exposed edges to mak for a truely finger cut-free design.
The other feature that I really like is the power supply has 2 fans in it. One sits above your CPU and draws the hot are into the power supply and back fan in the power supply expels the hot air from the case. HERE is a URL to a PDF from AMD on building a system, what you really want to look at is the airflow chart. My former PC Power and Cooling Power Turbo 350 Power Supply brought air in from the front of the power supply which AMD says is bad. The Antec True Power brings the air into the bottom of the supply which AMD says is the more efficient way of cooling through the PS.
Installation was very easy, thanks to the above features. My system specs are as follows:
AMD XP 2100+ w/Thermaltake 6Cu cooler
Asus A7N266-C nForce 415D motherboard
GeForce TI 4600 video card
512MB Crucial DDR SDRAM memory
120GB Western Digital 8MB Buffer HD
nForce Dolby digital Sound
Intel 10/100 NIC
AOPEN 52x CD-ROM
Sony CD-RW
Microsoft XP Pro
This brings me to how well does the new case keep things cool. As you can see from the specs, There is a lot of cooling included with this case. A total of 4 case fans, and a fifth fan to cool the add-in cards via the optional side panel. With all of these fans installed, I noticed that my ambient case temperature seemed to be cooler than my previous case. After noticing this, I felt it was worth investigating in detail how well this new case cools.
I used the AsusProbe for determing the system temps. With an ambient air temperature of 75F in the room and after running 3DMark2001SE for an hour, I recorded the following teperatures:
PC Power and Cooling with 350Watt Super-Cool Power Supply
CPU 125F
Case 91F
Antec Plus 1080 with 430Watt True Power
CPU 111F
Case 78F
As you can see there is a big improvement using the Antec Case and the True Power Supply. Also the fans in the Antec True Power Supply pick up speed as the case temperature rises. At 78F inside the case the fan speed was 1560RPM. And at 89F in the case the fan speed was 1790RPM.
Conclusions
---
To sum things up I am very pleased with the 1080 Plus case and power supply. The only things I did not get to test was the front mounted FireWire and USB ports and I hope to have a new motherboard built off of nForce 2 to let me take advantage of these features. I have had many cases over the years and being a computer technician for a living, I have worked on many computers. I found the Plus 1080 to be the best case I have ever seen and worked with, and with a street price of $119 it is a tremendous value.
| | |
| --- | --- |
| | Being the best quality and designed case that I've ever handled, I am giving it the Bjorn3D Golden Bear Award and a score of 10 out of 10. |