Bjorn3d Foreword:
Shaker is a guy from our local LAN group here at the Pittsburgh chapter of Bjorn3d. His previous LAN rig consisted of an aluminum mini-tower case with a 15″ LCD monitor strapped to the side and even it was enough to cause envy as the rest of us where huffing and puffing under the weight of our 17″ and 19″ CRT's and mid tower cases each game day. His new rig is an evolutionary step beyond the first and truly a site to behold. We thought this was well worth sharing with our audience and, thanks to Shaker's kind indulgence, we're able to do just that. So, without further ado I'll turn you over to Shaker!
– Gen. Tso
Introduction: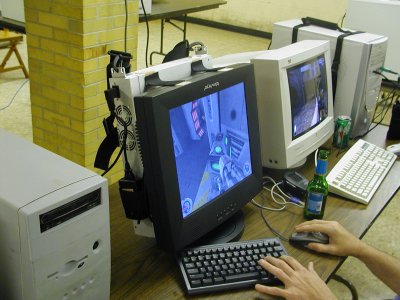 Being a lazy person at heart, this is my latest attempt (there has
been a previous incarnation) to make hauling stuff to a LAN party as
painless as possible. [Once upon a time, I used to work in a steel mill, and
was able to lift nearly my own weight… now, well let's just say that a
20-ounce beer is getting a bit heavy 😉]. Still, I wanted something more than
the small Shuttle systems could offer: the availability of an AGP slot so that I
could have graphics that I didn't have to be ashamed of (and were upgradeable,
too!)
The answer came when I saw an article at FiringSquad about a
computer specifically designed to be compact, yet use a motherboard with AGP
capability, the U-Tron LAN Gear ES.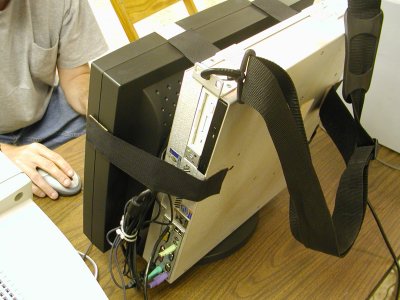 For what I had in mind, (inclusion of a large LCD monitor in the
project) the full system was a bit expensive; I wanted to start with just
the case, power supply and riser cards (PCI and AGP). I entered a
"Barebones" configuration on their website, and a sales rep (who was a
pretty good fellow) and I agreed on the case, power supply (175W), pre
installed floppy, wiring harnesses, AGP and PCI riser cards, fans and CPU
heatsink for a little over $220 shipped.
Note: The U-Tron case is what could be called a "1.5U" height case
that utilizes two 60mm case fans for cooling; one for the power supply
(which is segregated by a clear plastic shroud) and another to draw air
through a case vent, across the CPU heatsink, chipset, etc. and out the
back. Since the case volume is so small, it is a surprisingly effective
solution- my CPU temps have never been above 40 C @ 1.8 GHz in a pretty hot
room- the kitchen of the "hot box" mobile home in which I happen to live.
(I'm spending too much $$$ on computer hardware and beer, I suppose).
Heat buildup is no problem with the U-Tron specified Northwood CPU
(up to 2.0 GHz). The heatsink is a large (no-name) aluminum type, with no
copper insert and the fan removed. In a 30 deg C room (after running a few
3D Mark tests) the BIOS MB temp is around 35 C and the CPU idle temp is 38 – 40 C (@
1.8GHz). Full load temps are 46-48 C. Remember, this case is such a small volume that the air follows a
very short path in and out.

From there, I scoured the Web for the slim line (laptop) DVD drive
and the adapter PCB that allows it to connect to the standard 40-pin IDE
cable, audio and power connectors. All of the internals (MB, CPU, memory,
HDD, Ti 4200, etc) were purchased from Newegg.com.
Here's a diagram of the case layout: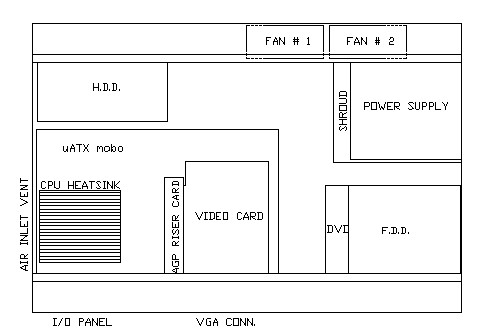 Additional construction note: I did "round" the 40-conductor IDE
Cable to the slim DVD drive, as it runs across the MB and could impede
airflow. The HDD mounts right behind the motherboard, so the 80-conductor
cable was merely folded flat with a 45 degree bend in either end. The floppy
drive cable on this particular mobo connects between the AGP slot and the
CPU, with the cable running over the top of the Vid Card over to the drive
on the right (top?) side.
The keyboard is a "mini" style that's getting a bit tough to find nowadays (not recently in
stock at Directron.com) that I bought for the Revision 1 Lanbox; it attaches nicely to the
top of the unit with Velcro for when I'm carrying it or using it as a DVD player.
The Planar LCD monitor is a pretty good display (even though it is
last year's model) with a good viewing angle, good response time, and
reasonably bright. The built-in speakers aren't great, but they don't have
to be for gaming. I found it at Dell.com for $600 shipped (after 10%
discount and half-off shipping).
Note: I actually drilled and modified the case to mount it securely
to the monitor – keep in mind that this pretty much voids the warranty on the
case AND the monitor!

The Shuttle BIOS has some pretty odd FSB/mem/PCI choices (and no
voltage settings), with a big jump between 112 and 133 FSB. At 133 FSB, it
booted through BIOS but got a "Windows Protection Error". I would recommend trying to
find another micro ATX mobo if you want to get more out of the 1.6A. Another
factor could be that the 175W power supply is only pushing out 11.0V on the
+12V line, which is almost at the lower limit for this type (SFX/TFX) of
supply. So for now, I'm stuck at 1.8GHz/112FSB, and I'm sure that there's
another 1500 3D Marks in getting to a 133FSB. Still, for a "Laptop" at
1280×1024, it runs pretty damn good.
System Specs and Performance:
Specs:
U-Tron LAN Gear ES Case/PS

P4 1.6A @ 1.8 GHz, 112FSB

Shuttle MS51N mobo, SiS 650 Chipset uATX W/AGP, 3 PCI slots, AC '97
audio (good enough!) and 10/100 Ethernet

256MB Samsung PC2700 memory

Maxtor 40 GB UDMA 100 HDD

Gainward GF4 Ti4200 64MB Vid Card

Slim-Line 8X DVD Drive (Laptop style, needs adapter card)

Std. Floppy Drive

Directron Black Mini Keyboard

Logitech Dual Optical mouse
Planar CT1744Z (analog input) 17.4″ LCD Monitor (Native Res:
1280×1024)
3dMark and Quake III Scores:
3D Mark 2001SE 1024×768 32bpp no AA score: 8967
QIII: Demo1 1280×1024 x32 trilinear, etc, etc,: 138 FPS
Pretty much standard perfromance for this Vid Card/CPU combo.
Possible Future Upgrades:
Leadtek TV2000 XP PCI TV card (there's a cutout in the
case for it!)
250W 1U power supply (to get that +12V up),
hopeful for BIOS revision (but not holding my breath).
 
That's it!
Shaker