Introduction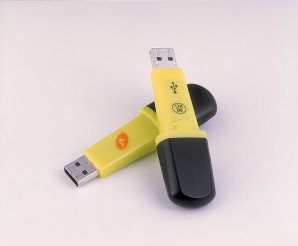 Are the days of the floppy drive doomed? More and more I'm thinking they are. While I still use one occasionally, more often than not I find the old 1.44mb file capacity insufficient for my needs.  With the possible exception of text files, that's just not enough room for most applications these days. Whether it's business files, the latest game patches and updates, or a selection of MP3's you want to take to a friend you generally are looking for more than the old 1.44mb floppy can give you.
A few years ago I got an LS-120 drive and thought that might be the answer to my problems. It worked just fine and the capacity was pretty good for most applications. It was great for archiving material and transferring files to my 2 buddies who also had LS-120's. The only problem was that it was useless for use with the vast majority of machines that didn't have LS-120 drives! You run into the same problem with ZIP drives, although they are a bit more common than LS-120's.
With the advent of cheap CDR drives, and ultra cheap blank disks, it soon became possible to just burn whatever data you needed to transfer and take it with you that way. This was a better solution in most cases since nearly every PC had a CD-ROM by this point! Still, despite the media being cheap, it always annoyed me to burn a CD for 30mb worth of data and know I was wasting the other 610-670mb of space. The other problem was I ended up with a bunch of CD's laying around with very little data on them.
The prime example of this is game files. I attend a monthly LAN party and we predominately play Quake 3 mods. Every month it seemed that there were new game versions or patches that would need to be passed around so every month I was burning a new CD or two with only a few files on it. Next month I might have to update one or two more files so I'd have to burn yet more CD's and toss out the old ones. It was kind of a pain and definitely a waste of blank CD's after a while. I figured there had to be a better way to do this.
Enter the DiskOnKey from M-Systems.
Product Description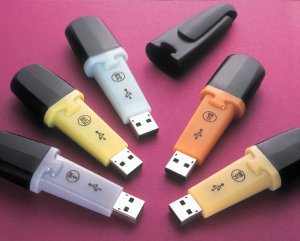 So, what is the DiskOnKey? Here's what M-Systems says about it:
"DiskOnKey is a personal, portable, and reliable flash storage device that could fit onto a key chain or in your pocket. Containing an onboard CPU the DiskOnKey is driverless and allows computer users to save music, store Word documents, pictures, graphics or virtually anything that could be saved on a computer."
Basically what we're talking about is a small USB flash memory storage device that works in most current PC's without the need for additional software. Current versions run in capacities ranging from 8mb all the way up to 512mb. The test model that we received at Bjorn3d is a 64mb version.
M-Systems describes the device as being able to fit into your pocket and that's a very fair assessment. I carried mine around at work and elsewhere for about a week and found it effortless to have on you. It's about the size of a standard Swiss Army Knife (see pic) but much lighter. It also comes with a key ring on it if you choose to use it in that role.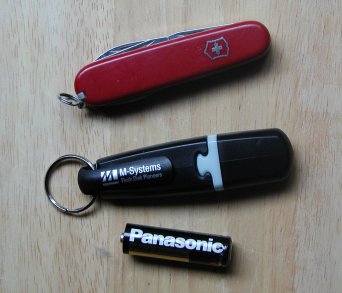 Let's take a look at the technical specs lifted from M-Systems web page:
Smart, removable data storage for business and personal use
Highly reliable data retention using M-Systems patented technologies, such as TrueFFS®
Available in 8, 16, 32, 64, 128, 256 and 512MB capacities
Multiple certifications, including USB 2.0 Full Speed and WHQL for Windows
Automatic system detection as a removable disk
Fully plug and play operation with no driver required
No separate power supply or battery required
KeySafe data security application support
12MBits/s data transfer rate

Another interesting thing about the DiskOnKey (DOK) is that it comes in a variety of colors. While this is okay just from a "neato" factor it might also be useful for keeping data separate if you're using multiple DOK's. Keep one color for home/personal use, another for work etc.

Something worth addressing is the driverless Plug and Play feature. Generally speaking this works quite well with Microsoft OS's from Windows ME forward, but it is worth noting that it does not work with Win 98/SE and Win NT. For these OS's you will need to have a driver installed. The Win 98 driver is available for download from the DiskOnKey website and the NT drivers are available to "partners and distributors" according to the site. Since 98 is still in pretty heavy use this is slightly annoying but I suspect it's more an issue of  98's capabilities (or lack thereof) than anything on M-Systems part. At worst case, you will need to install a driver on systems still using these OS's but that shouldn't be a big deal. It's still no more hassle than is required with any other media transfer or storage device and the fact that you don't need to install any additional hardware on the PC still puts you ahead of the game in the long run.

The DOK is also compatible with MacOS 9.0 & higher as well as Linux 2.4.0.
UPDATE: 07/23/02
M-Systems now has the Windows NT 4.0 driver readily available for download from the drivers page of their site.
Package Contents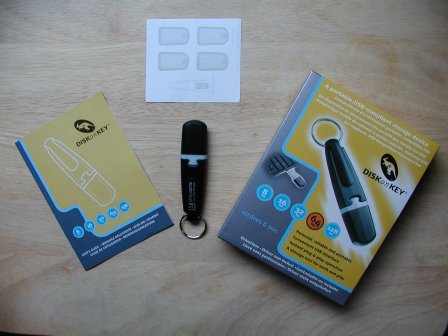 There's nothing too fancy about the packaging or contents. You've got a basic retail package containing the DiskOnKey, a short manual, and some labels.
Performance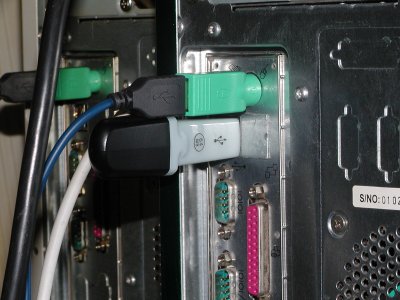 Okay, so we've got a great concept here in a high capacity storage device that will work with most current PC's and that doesn't require any extra hardware or software. But how does it actually work in practice? Well, pretty darn good actually!
I tested the DiskOnKey for about a 2 week period on as many computers as I could get my hands on. It was used with my work computer, the PC at my Reserve unit, my home PC and laptop, and at least a half dozen of the PC's at our latest LAN party.
Actual use of this gizmo is mindlessly simple. Just plug it into a free USB port on the target PC and you immediately get a green indicator light showing that it's connected. It doesn't require any sort of external power source to operate. After plugging it in you'll see that Windows has found new hardware and that it's recognized as a DiskOnKey. That's pretty much all there is to it. From that point you can go into Explorer and you'll see that the DOK shows up as a removable storage device listed as the next available letter drive on your PC (i.e. if you have an A, C and D drive the DiskOnKey will show up as your E drive). From that point on you can treat it as you would any other drive and copy and paste, drag and drop, or save data to the DOK just as you would your hard drive. Transfer times are very fast, much more so than using a floppy or LS-120. As the DiskOnKey is USB 2.0 compliant they should be even faster when used with a motherboard with that capability.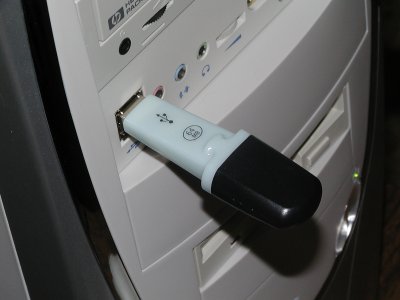 It might be worth noting that it was a lot more convenient to use on PC's with front USB ports or with a USB desktop hub than it was with rear mounted ports.
My first use of it was on my work machine where I had about 12.5mb of files that I'd been intending on taking home. The amount was just enough to be annoying to have to put on a bunch of floppies, and too much to ZIP and e-mail home. The DiskOnKey made short work of it and was easily able to transfer the data over to my laptop when I got home. I did pretty much the same thing with some of my work files from my computer at Reserves as well. I was particularly impressed that it worked with both of these work machines as both are running Win 2k Pro software and are very locked down by the SysAdmin. I can't even change the time on these machines let alone add new software or hardware yet the DiskOnKey worked without a hitch.
Next up was the big test as far as I was concerned: the LAN party! One of the main reasons I was interested in this type of device was for our LAN parties. Once a month a dozen or more of us get together and play assorted FPS games and, invariably, every month there's a new series of updates or patches to pass out, or someone has done a re-install on their PC and needs to put everything back on at the last minute. Normally we either have to burn a CD, as was previously discussed, or we'd have to transfer files over the network which meant that 2 people would have to sit out now instead of just the person who needs the files. One of the guys was commenting just last month that one of the USB flash memory devices might be a good solution to our problems so the timing of this review was very fortuitous!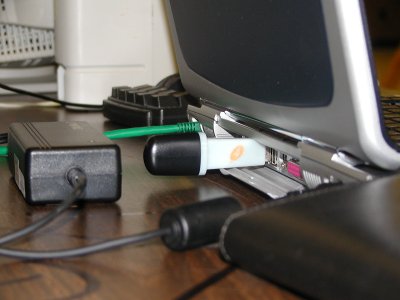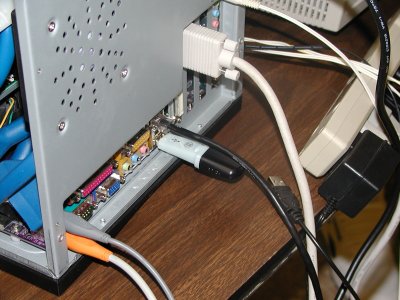 I have to say we were very impressed with the performance of the DiskOnKey. We used it with at least 6 or 8 of our machines (I lost track of who it was being passed around to after a while!) and didn't have any problems with it. Our machines ranged from laptops to a variety of desktops, most being custom built, with a wide variety of motherboards and USB port configurations, and running various OS's from Windows ME and Win 2k SP2, to Win XP Home and Pro editions. The DiskOnKey performed as advertised, greatly increasing our efficiency in bringing everyone up to speed on the current game versions and getting us up and running and playing faster. Anything that reduces set up time and gives us more time to actually play is a good thing!
Security
While this wasn't really an issue for me and my game files, security might be an important issue if you're using your DiskOnKey for work related functions. M-Systems has already thought of that and offers the KeySafe application, which allows you to password protect your data.
Conclusion
I can foresee a lot of potential uses for the M-Systems DiskOnKey. It'd work great for business's to transfer files between home and work or between machines on a job site; for school to transfer files between the computer lab and home or dorm; for transferring MP3's and vid clips or pictures to friends and family; or as a great tool for expediting setup at your local LAN fragfest! If you've got a need to move data around between PC's and a floppy drive just won't cut it, the DiskOnKey is worth a real serious look. It's one of the best solutions I've seen to date for this type of work.
Pros:
Compact, light, portable
No additional Hardware needed
Fast data transfer speeds
Wide range of capacities to suit individual users needs
Cons:
Needs a driver for Windows 98 SE which is still very prevelant in both business and home
For it's ultra simplicity, portabilty, compatability and great transfer speeds and capacity I'm giving the M-Systems DiskOnKey the Bjorn3d Seal of Approval!

Please note, Bjorn3D.com's Golden Bear Award and Blue Seal of Approval are separate awards, which are based on our subjective opinion and not based solely on the numerical score assigned by the reviewer(s).  The blue approval seal means that we highly recommend this item, while the Golden Bear indicates a truly outstanding product.