GeIL Super Luce RGB Sync DDR4-3600 16GB Memory Kit
The GeIL Super Luce RGB packaging is simple and shows roughly what the DIMM looks like although as you will see the white LED diffuser definitely is more prominent than imaged as you will see in the images to follow.
I do like that GeIL included cutout windows so you can double check the memory before even breaking the seal to make sure you got what you need as you can see the spec label.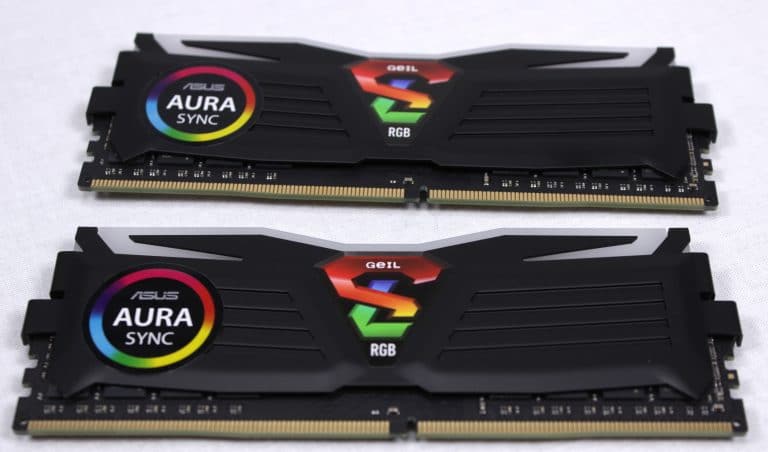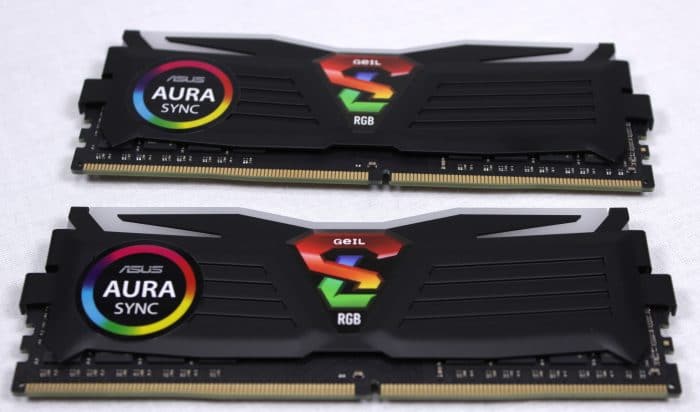 Here is the DIMMs and they are fairly standard with a thin metal heatspreader covering the ICs. The one thing I wish they omitted was the ASUS Aura Sync decals as they simply dotn look very good, but at least they are easily removable.
Now lets tear these modules apart as they seem to be using only light thermal adhesive strips.
Upon removing the heatspreaders you can see that the DIMMs are a fairly standard layout with confirmed Samsung B-Die IC's. This is good as it means much better compatibility with AMD Ryzen systems and also better overall overclockability if they are good. even though they are B-Die, unfortunately, you cannot always guarantee they are "good B-Die" until you run them through their paces to see how far they can scale.
When removing the heatspreaders I was a bit surprised to realize the thermal interface between the IC's was on at an angle which as you can see does not make much contact on some of the DRAM IC's. This is not a huge deal as the thermal wattage of these are so low that they honestly would run cooler without a heatspreader to trap errant thermals in it. I just feel it's worth mentioning as it seemed rather silly to even use a thermal interface if it only touches the edge plastic of the IC and not really the center die where any relevant heat would generate from.
Here you can see the RGB color flow effect in action on the GeIL Super Luce RGB Sync on our Maximus XI Extreme Test Bench.