Intel LGA 2066 Core X-Series Processor Lineup!
Intel has released the new LGA 2066 Core X-Series Processor Lineup with initial MSRPs between $1999 down to $242 ranging from 4 core 8 thread to 12 core 24 thread!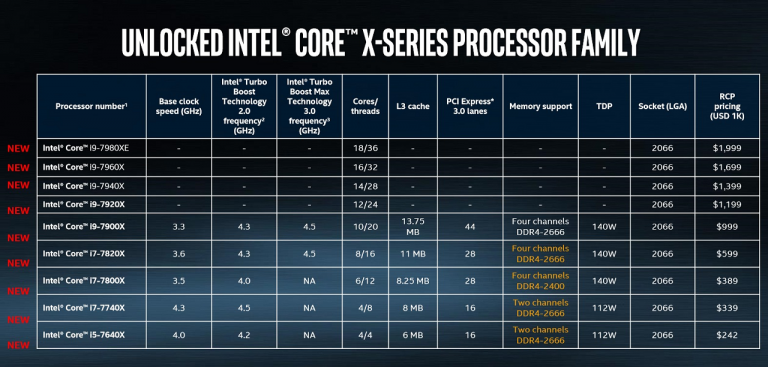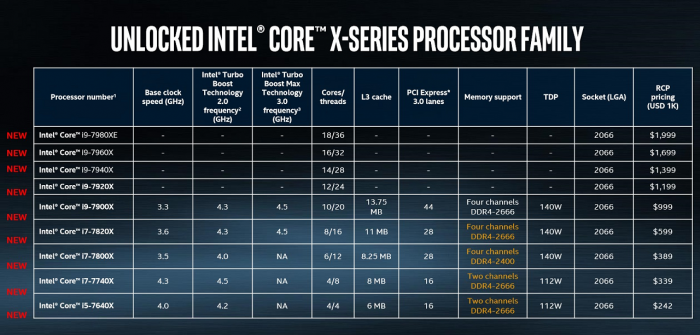 Arguably the I5-7640X and the I7-7740 shouldn't even be on the LGA 2066 platform but might make a good starting place to get onto the platform. Both the i5-7640x and the i7-7700x have 16 PCI Express lanes while the X299 chipset provides 8x PCIe lanes for your other PCIe hungry toys.
The fun for enthusiasts in the upper stratosphere of must have SLI or Xfire starts at a whopping $999 with 44 PCIe lane allowing for 16x16x with 12x lanes left over for goodies like PCIe slot NVME drives, Intel Optane and M.2 drives. For the HEDT high-end desktop platform, we would see this as a slap in the face for Intel customers. The currency for speed in the PC market today is PCIe lanes and it looks like Intel intends to make you pay through the nose to get them. The High End Desk Top Platform in our opinion should support two 16x PCIe video cards and give you 8x for your high-speed devices. Sure give the high-end chips more to entice uber enthusiasts but 2x SLI or Xfire at 16x 16x should be supported natively with a few lanes left over for SSD's.