iCX Technology "Peace of Mind Gaming"
iCX technology on EVGA's cards came about as a result of a somewhat overblown issue when several EVGA GTX 1080 cards had Voltage Regulator ModuleCooling issues and caused failures on some video cards. An investigation into the situation revealed that EVGA's rate of failure was no higher than previous generations of graphics cards EVGA mobilized it's R+D department and came up with iTX technology.
Jacob Freeman EVGA product manager was quoted as saying ""That really opened our eyes to take a deeper look at cooling on cards, and how we can improve the efficiency overall of cooling, If you only focus on the GPU temperature, then you're really neglecting all the other components of the card, which would still run really hot. On the flip side, if you focus on those other components, then you're not offering the best noise level possible because the GPU doesn't really need the fans to spin that fast."
So now EVGA has recognized an area of Video Card cooling that has been neglected and reacted to end users desires for more monitoring and control even though statistically the cards with suspected VRM cooling issues were no higher than previous generations. The solution to the problem is adding 9 additional sensors to the iCX family of graphics cards and tweaking EVGA Precision XOC to draw data from, and display, sensor information in real-time.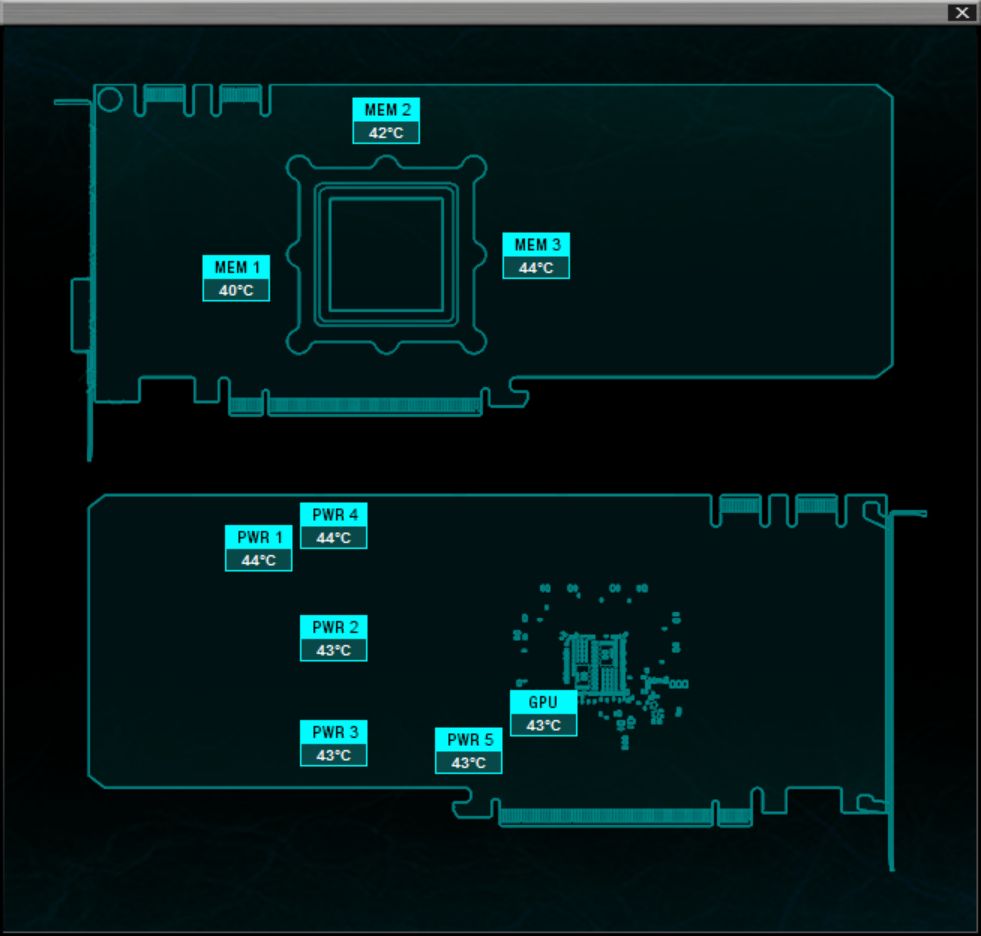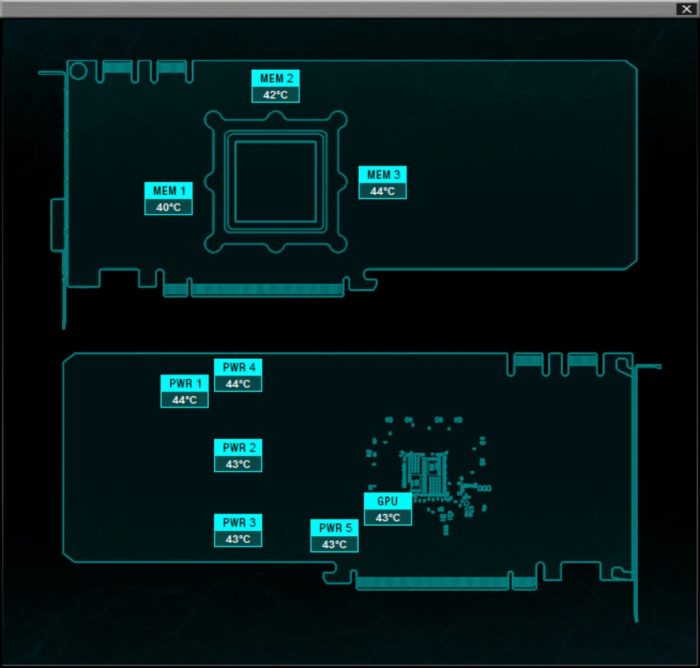 What we are seeing consists of a GPU sensor, 5 power sensors and 3 memory sensors, and a sensor on the rear of the GPU giving you access to more information about your EVGA GeForce GTX 1070 SC2 Gaming iCX than you have ever been able to access.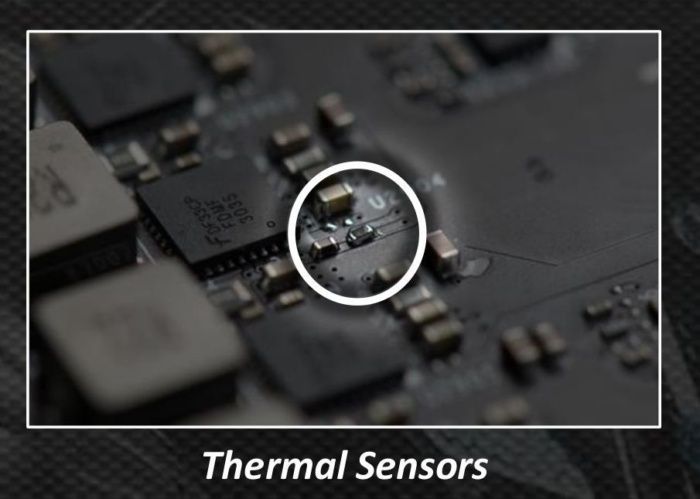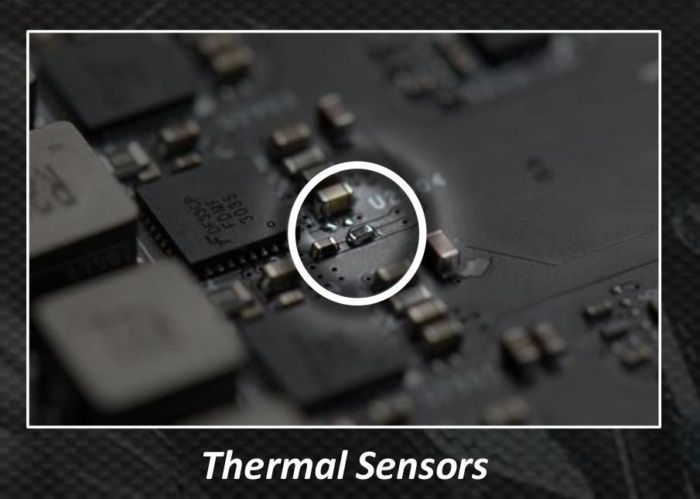 Small thermal sensors are placed at strategic points on the GPU allowing Precision XOC to display them on its main interface as well as clicking the "Sensor" icon opening another window with thermal information displayed.
iCX technology means that Video Card cooling is no longer just a hunk of metal with cooling fans! iCX is a revolutionary combination of hardware and software complementing each other. Let's take a look as some of the features of iCX cooling.
iCX Features
A total of 11 global patents (pending and granted), iCX is efficiency perfected.
9 Additional Sensors and MCU's embedded on the PCB.
Purposefully-directed Airflow Chambers.
Newly Designed Die-Cast Baseplate and Backplate.
Full Control Using EVGA Precision XOC.
EVGA's iCX is the Very Definition of Interactive Cooling.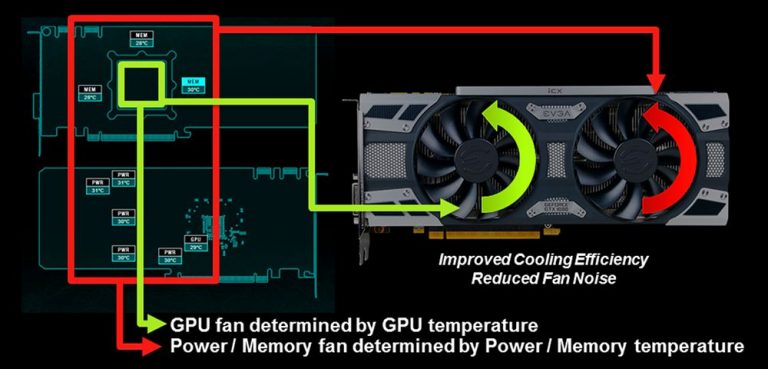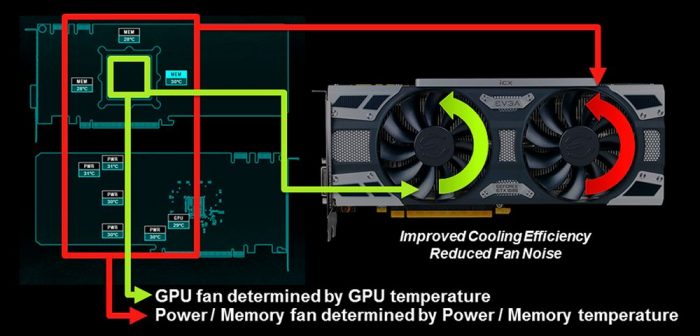 iCX takes the total control that GPU core temperatures had on the cooling fans and changes it to the GPU core controlling the left fan (Green) and the VRM's and Memory temperatures controlling the right (Red) fan. The iCX cooling arrangement gives the GPU core what it needs and gives the VRM's and Memory the capability to be cooled differently using two different fan speeds on one cooler.
What, you say you want more? Of course, EVGA has more they are the king of engineering and indeed over engineering (Over engineering is highly underrated).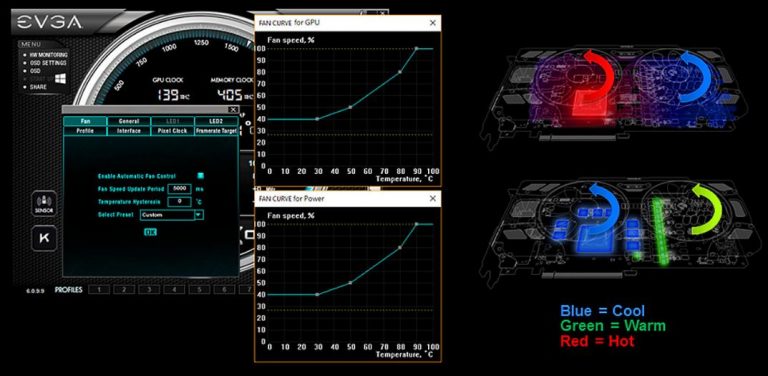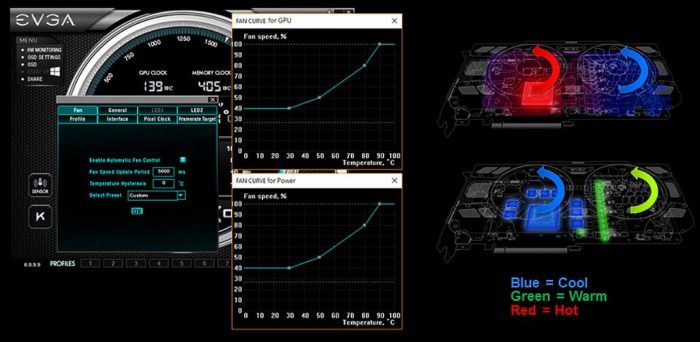 EVGA displays LEDs on the top of the card color coded to show the different thermal states of your GPU, Blue means running cool, Green things are warm, Red represents hot. You get control of both fans individually and can set fan slopes for them independently.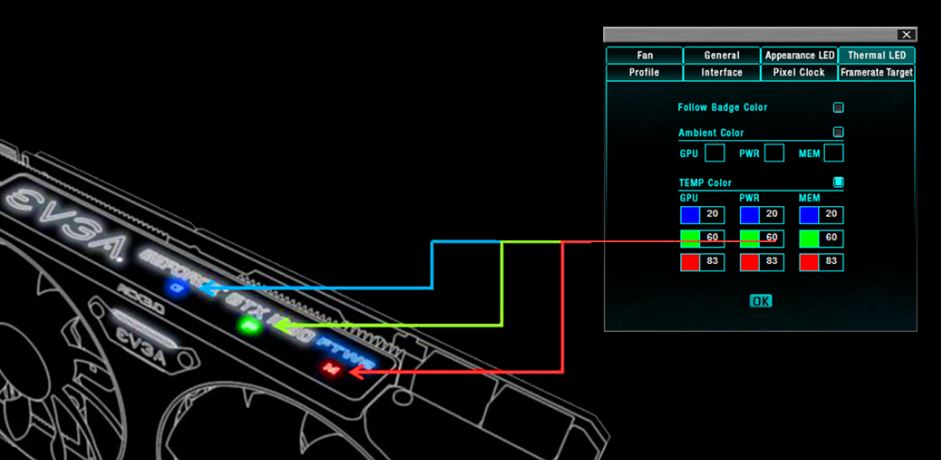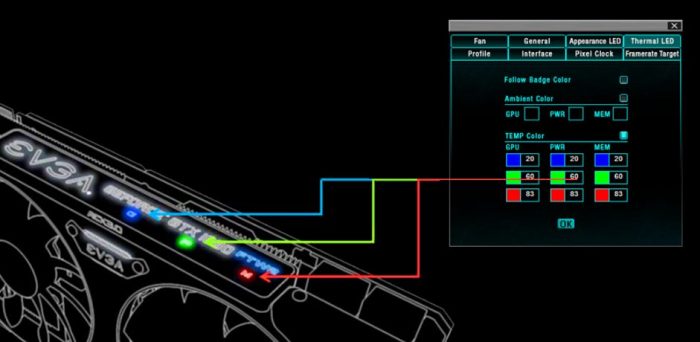 With the Precision XOC information and the LED information, you should be able to tune your cooling to your heart's content and with a simple glance see how your cards thermal properties are running. Extreme overclockers will undoubtedly drool over iCX technology!


Shown here the GPU core is the "G", Power is the "P" and the memory is, of course, the "M" and as mentioned even without Precision XOC running you can get an idea of your cards thermal condition at a simple glance.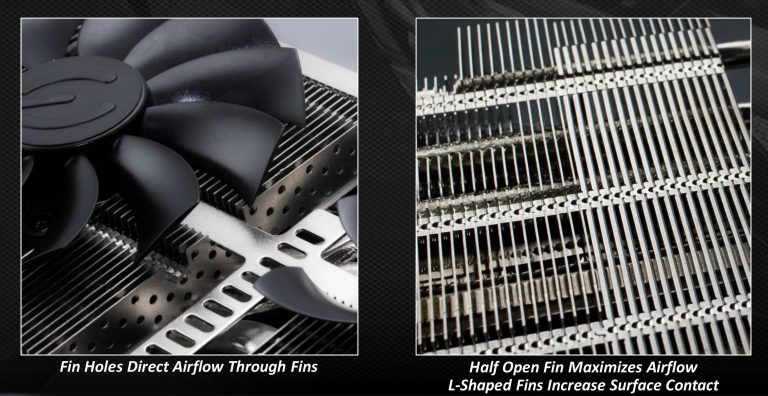 A new innovation to the fin design is holes in the fins that increase airflow allowing more heat to be whisked away from your GPU core, Memory and VRMs. Half open fins with an "L" shape increase surface contact which in turn maximizes airflow and the larger surface contact allows more heat to leech into the fins where the fans can remove the excess heat.
Now you have more thermal control than you ever thought possible how about an extra layer of protection?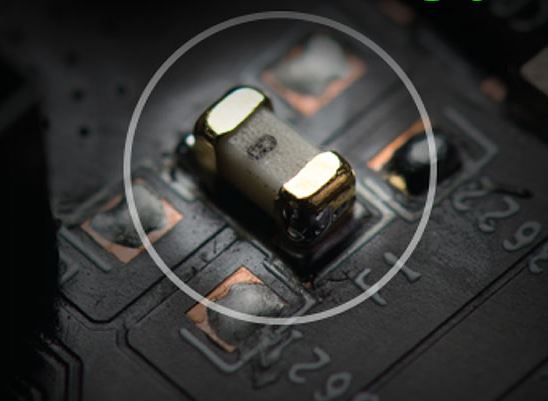 EVGA embedded a fuse to protect your system, The fuse isn't end user replaceable so you will need to send it RMA to EVGA for a fuse replacement in the case of catastrophic failure. The fuse will protect your graphics card as well as other components in your system.
The EVGA iCX technology is a potential look at the future of graphics cards, it doesn't provide massive performance gains but takes a more overall look at a card's health giving you the tools for better longevity and yes potentially better overclocking.
Here's a short (under 3 minutes) iCX video you might find interesting!