EVGA GeForce GTX 1070 SC2 Gaming iCX Review
The EVGA GeForce GTX 1070 SC2 Gaming iCX is a new twist on the GTX 1070 and incorporates their new iCX cooler and pushes a 1594MHz base clock and a 1683MHz boost clock. The EVGA GTX 1070 SC2 iCX sports 4 + 1 phase power and a single BIOS chip as opposed to the FTW model that gets a 10 + 1 Phase and Dual BIOS. Our GTX 1070 SC2 sports a white LED that casts a nice glow throughout the chassis and draws attention to your GTX 1070 prize. Given a generous 8GB of GDDR5 with a 256-Bit bus with a memory clock of 8008MHz (effective) the GTX 1070 SC2 should have enough memory for 99% of all end users.
The EVGA GeForce GTX 1070 SC2 Gaming iCX pushes a GP104 core variant GP104-200-A1 with a Pascal design on a 16nm FinFet process 7.2 Billion transistors on a 314mm² die. As per the NVIDIA design the EVGA GeForce GTX 1070 SC2 Gaming iCX gets 1920 shading units, 120 TMU's 64 ROPs, 15 SMs and likely a partridge in a pear tree. Other specs include 102.0 GPixels/s, a Texture rate of 191.3 GTexel/s and a floating point performance of 6,121 GFLOPS. To capsulize the geeky comments it's packed with drool-worthy geeky goodness and will kick some serious FPS butt.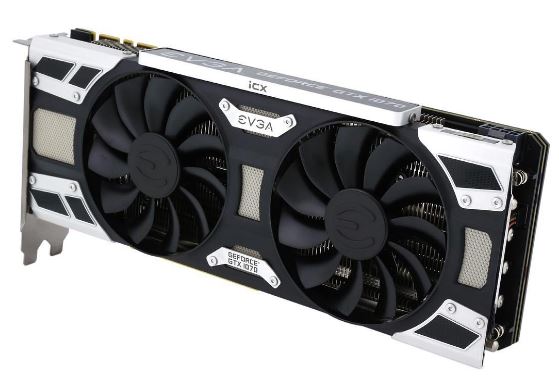 The newest addition to EVGA's formidable arsenal of technology is the iCX cooling solution that includes nine additional temperature sensors to monitor Memory and VRM. It's time video cards have independent temperature sensors that dependably read and report real-time thermal activity.
EVGA GTX 1070 SC2 Gaming iCX Comparison
EVGA GeForce GTX 1070's with iCX Technology
GTX 1070 GAMING iCX
GTX 1070 SC2 GAMING iCX
GTX 1070 FTW2 GAMING iCX
08G-P4-6571-KR
08G-P4-6573-KR
08G-P4-6676-KR
Stream Processors
1920
Texture Units
120
ROPs
64
Core Clock (MHz)
1506
1594
1607
Boost Clock (MHz)
1683
1784
1797
Memory
Capacity
8 GB
Type
GDDR5
Clock
8 Gbps
TDP
150 W
170 W
215 W
Launch Date
Q1 2017
Launch Price
$439.99
$449.99
$469.99