INTRODUCTION
As we mentioned in our Genius Scorpion K20 gaming keyboard review, the gaming peripherals market is ever-expanding, thanks to the growth of gaming in general. Genius has stepped up to the plate with a few gaming peripherals of their own, and today we will be taking a look at the Scorpion M8-610 gaming mouse. Using a laser sensor for accuracy, and offering customizable buttons via software, the M8-610 is designed to offer a custom experience for beginner gamers.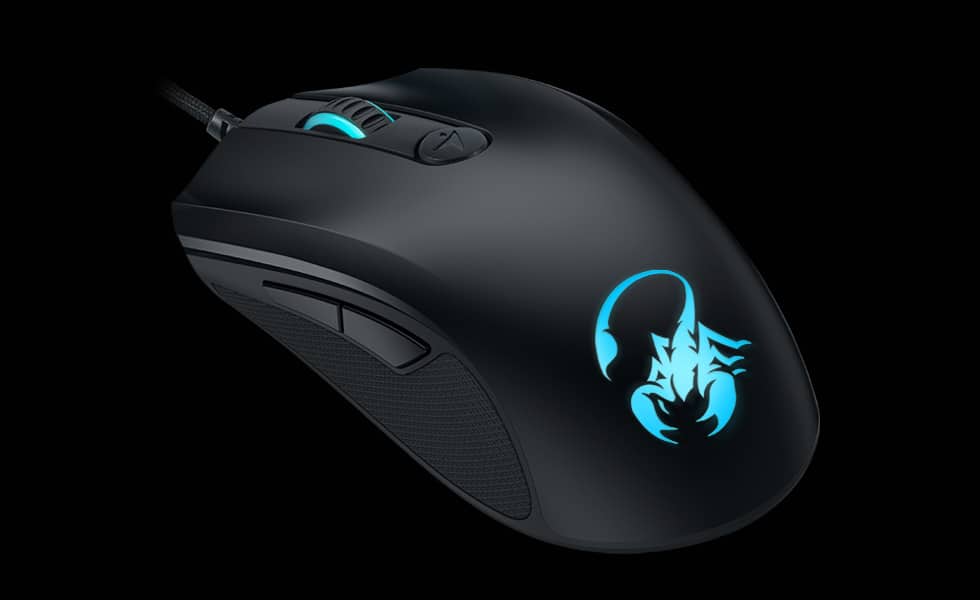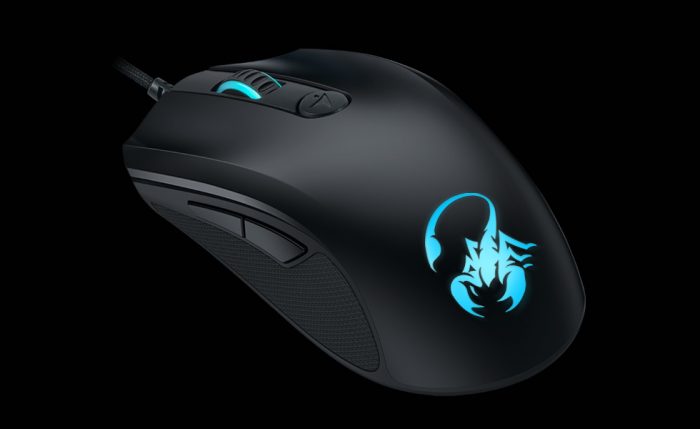 FEATURES
Taking a look at the image above, we can see that the Scorpion M8-610 features a bit of illumination, as well as a few extra buttons not found on standard, non-gaming mice.
LED Lighting – Both the mouse wheel and Scorpion logo have LED illumination, but the configuration of these lighting areas is quite limited. The mouse wheel light is used to indicate the DPI setting, and will glow a certain color depending on which setting is selected. There are eight DPI settings available, each with their own pre-set color. The Scorpion logo has a breathing effect that cycles between seven colors at an adjustable rate. No customization of what colors are utilized is available, nor is just having a single color option. Both lighting areas can be turned off completely, so if you don't like the lighting choices that Genius has made for you, you are free to disable them.
Adjustable DPI – While this is a common feature found on most gaming mice, it is nice to see that there are multiple custom options available to users. Adjustments can be made on the fly via the DPI button, and can be fine tuned within the Smart Genius application.
Programmable Buttons – Six buttons are available to be configured in a variety of ways: Left button, Right button, Scroll wheel, DPI button, Back, and Forward. Each of these buttons can perform a different action, and can even be set to execute a macro configured by the user.
SPECIFICATIONS
Genius Scorpion M8-610 SPECIFICATIONS
Model
Scorpion M8-610
Dimensions
65.6mm x 123mm x 39mm
Buttons

6
Sensor

Laser
Resolution (DPI)

800-8200
Framerate

6500 fps
Acceleration

30 Gs
Velocity

150 IPS
Weight

152g
CLOSER LOOK
Packaging
The packaging of the M8-610 is very similar to that of the K20 keyboard we recently looked at. The M80610 comes in a nice black box with an image of the mouse on the front, and a bit of Genius branding. The back is pretty standard, but doesn't give much information regarding the mouse inside. Instead, Genius took it upon themselves to tout the adjustable 8200 DPI sensor in 23 languages. Wow.
Once opened up, the M8-610 can be found snugly resting in a yellow, molded plastic cradle. We were quite surprised at the quality level of the packaging, as we are not used to seeing this nice of an enclosure on budget-priced peripherals.
M8-610
A quick spin around the Scorpion M8-610 allows us to get an overall feel for the aesthetics of the mouse, as well as allowing us to highlight some of the features. The overall look of the mouse is quite unassuming, aside from the large Scorpion logo that takes up much of the palm rest. As a mouse that can be used by both left and right-handed users, the M8-610 is devoid of any large curves or sweeping surfaces to ensure that it is comfortable for nearly anyone using it.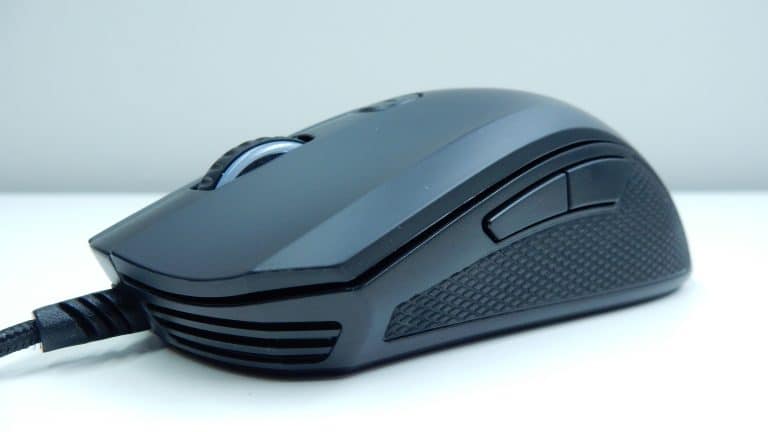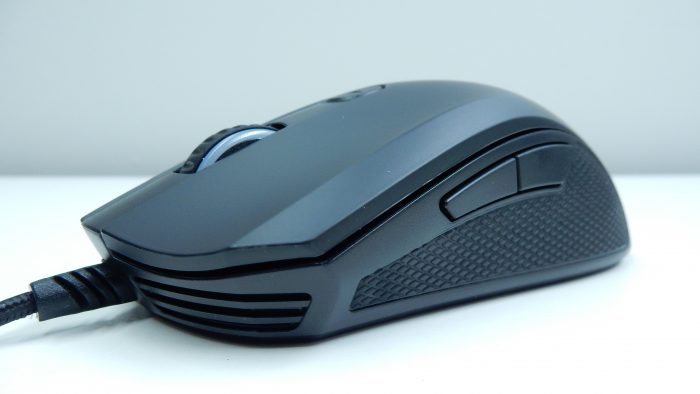 The left and right mouse buttons are molded from a single piece of plastic that also includes the palm rest. The texture of the plastic is smooth, and does not show fingerprints quickly, unlike some glossy textured mice we have seen. The body is mostly rounded and provides a comfortable platform for your hand to rest on if you are a palm-grip user. Taking up a good portion of the palm rest is the LED illuminated Scorpion logo that we mentioned in the Features section. While this logo can cycle through seven colors by default, that is the only option users are able to take advantage of. Otherwise, the lighting can be disabled. Centered between the left and right click buttons is the illuminated scroll wheel. With a plastic core and textured rubber surface, we found the wheel to be comfortable and quiet during use. As with the Scorpion logo, the lighting of the mouse wheel is quite limited; only single colors for each DPI setting, and the colors cannot be adjusted from their pre-configured options. Of course, this lighting can be disabled as well. Just below the scroll wheel is the DPI button, featuring the Genius logo.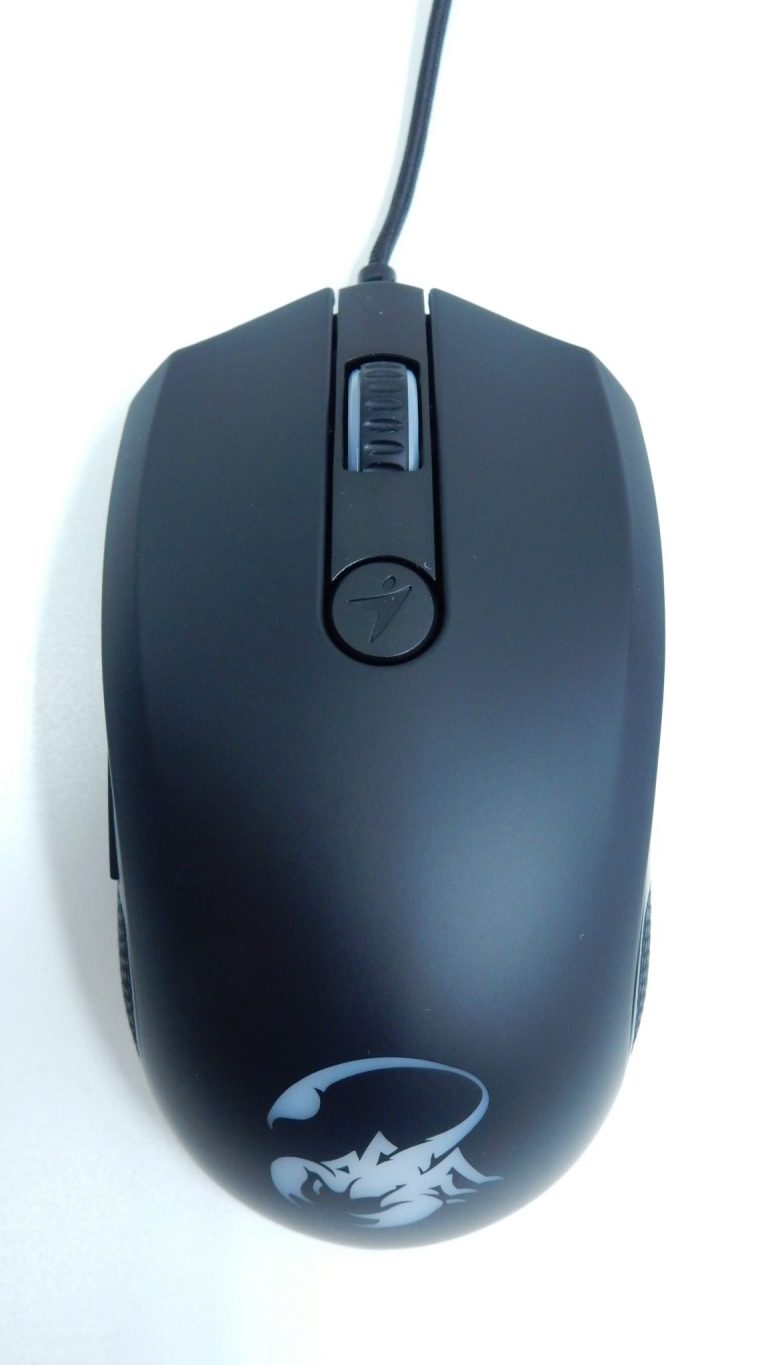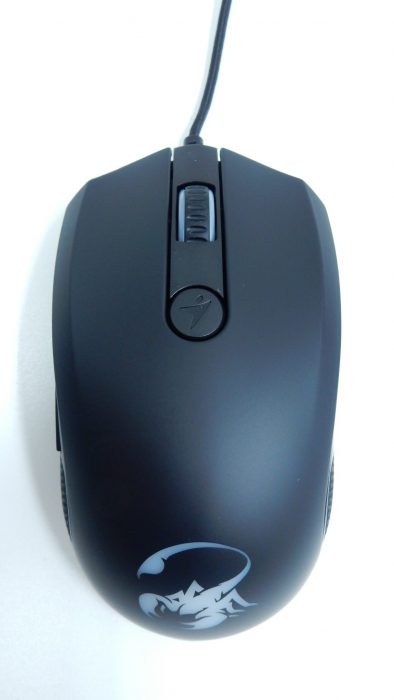 Taking a look at the left side of the M8-610 gives us a good view of the forward and back buttons, along with the textured rubber grip. Both buttons can be reconfigured to suit the user's needs, and their shape and placement made for easy access. We have found that some gaming mice make these buttons almost tough to reach, which almost defeats their purpose. We really like how Genius has implemented these buttons. The rubber grip surface provides a good ratio of grip and comfort to make sure that the M8-610 stays in place without becoming uncomfortable.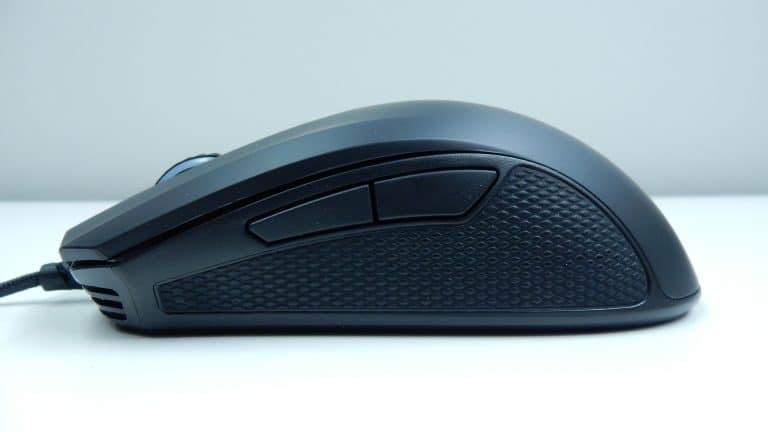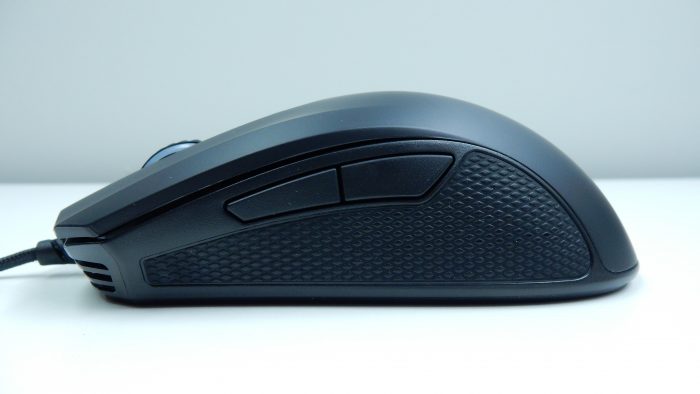 The right side of the M8-610 is quite barren, only home to a rubber grip. And while Genius touts this mouse as being designed for both left and right-handed users, there are no forward and back buttons like there are on the left side of the mouse.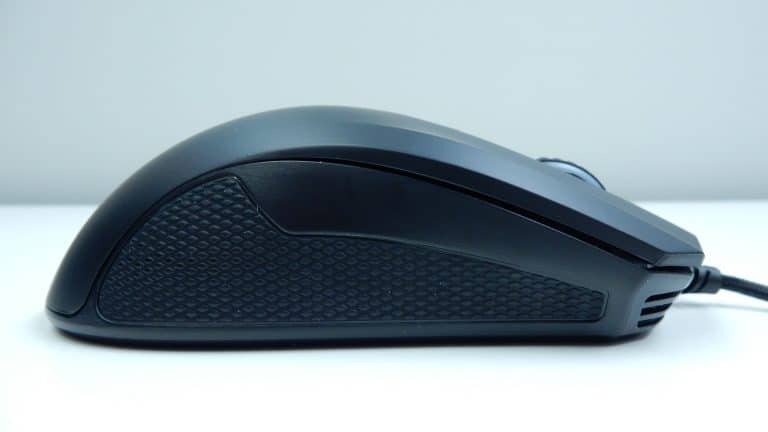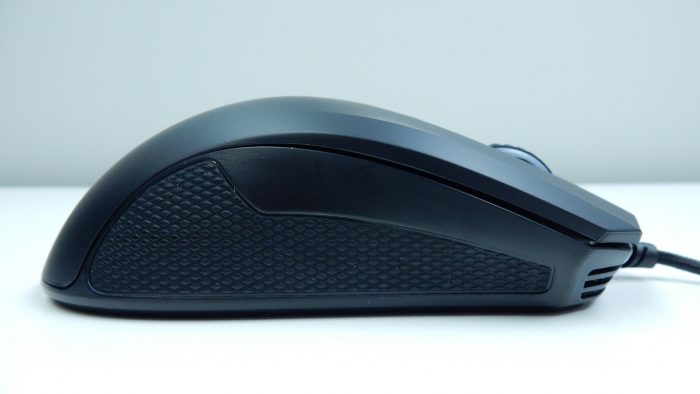 At the front of the mouse we have a small rubber lead that transitions into the braided cable for connectivity. We are happy to see the braided cable option here, as we think it not only holds up better in many ways, but looks better as well. At the end of the cable is a gold-plated USB plug for connectivity.
Flipping the Scorpion M8-610 over reveals a pretty standard look at the underside of a mouse. There are three mouse feet, which we assume are some form of PTFE, but Genius does not specify. The laser sensor is mostly centered in the body of the mouse, and is surrounded by various logos of governing bodies and information regarding the mouse itself. No adjustable weight system is included with the M8-610, so there are no openings here for that type of configuration.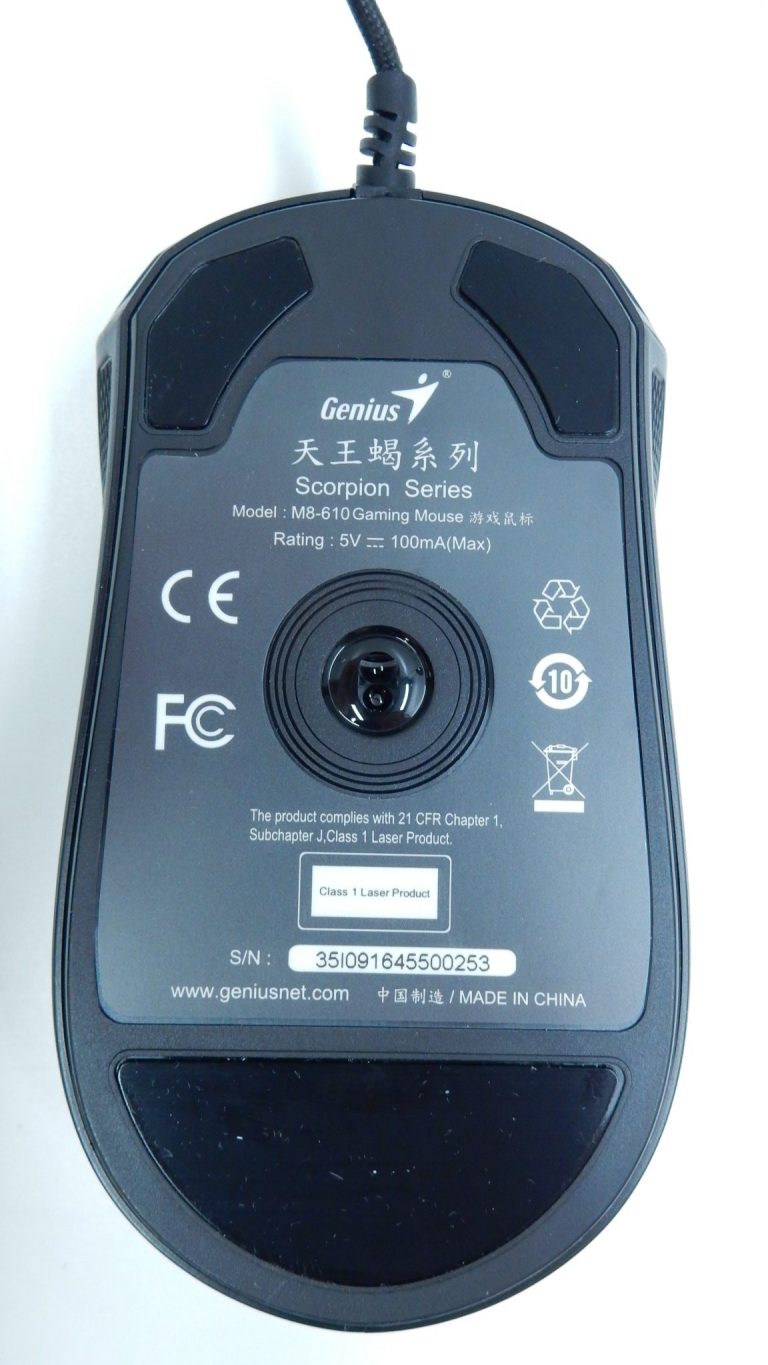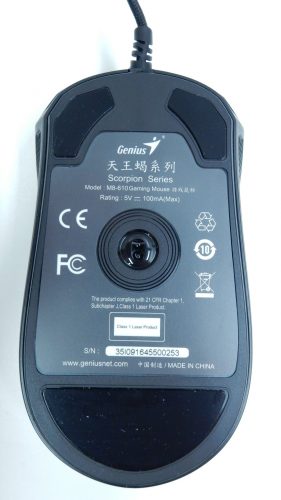 TESTING
The first thing we noticed with the Genius Scorpion M8-610 is how heavy it is. This is a very solid feeling mouse, weighing in at 152g. While it is our preference to have a lightweight mouse, some users prefer a heavier mouse, or somewhere in between. This is where an adjustable weight system, which the M8-610 does not have, comes in handy. The build quality of the mouse is very solid and does not flex or creak like some budget mice we have encountered in the past. Fit wise, the M8-610 was quite comfortable in our hand, as our preferred grip is palm style. There was plenty of support for our hand which can really help during long gaming sessions. Genius does not specify what switches are used for the mouse buttons, but their click action was responsive, but a bit loud in our opinion. The movement of the mouse wheel felt a bit loose, but featured a slight notched scrolling action.
Testing the M8-610 across multiple mouse surfaces showed that the tried and true, standard mouse feet are up for the task. Whether it was on our Corsair MM300 mouse mat with a smooth, cloth surface, or the Corsair MM800 with a hard, textured surface, the M8-610 moved along just fine. Our last testing surface is a bright white laminated desk top, which worked just as well, although it was a bit loud for our liking. While we had no issues at all on any surface we tried the M8-610 on, it should be noted that there is no lift adjustment option available, so we can't guarantee with 100% confidence that it will work on any surface. We don't think it will have any issues though.
Moving on to performance testing, we fired up Blizzard's Overwatch, an FPS with lots of quick mouse movement requirements. Flicking around on the map when playing with Pharah to "rain some justice" on our enemies was quite effective. Swapping over to Mercy to provide some healing and damage boosting to our teammates slowed down our movements, but the Scorpion M8-610 allowed us to keep a constant stream attached to our friendlies.
CONCLUSION
Designed to be a gaming keyboard, the Genius Scorpion M8-610 proved that it could perform its duties quite well. The nicely rounded body provided plenty of support and comfort for our hand, and the rubber side grips helped to keep the mouse in place during game testing. We really like how Genius shaped and placed the forward and back buttons, as they are easy to reach, which can't be said about many other gaming mice. And while 152 grams is a bit much for us, the solid weight of the M8-610 is backed up by a solid build feel.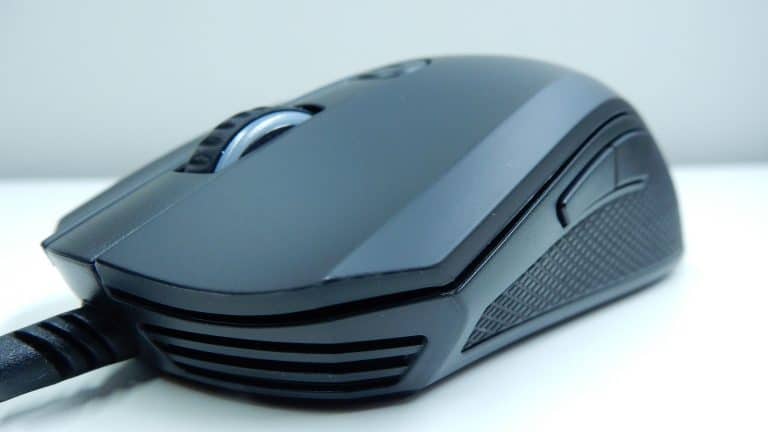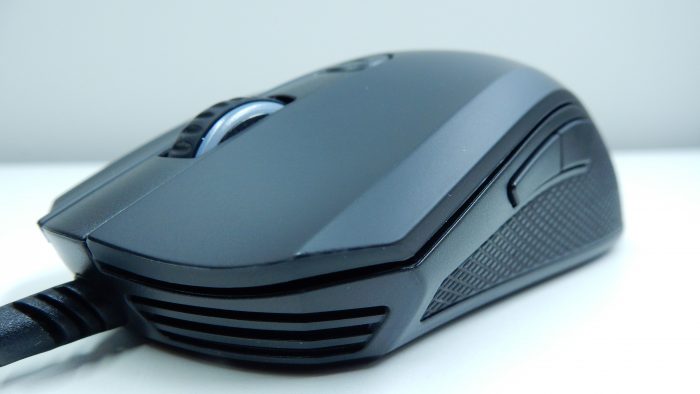 Our only real complaint with the Scorpion M8-610 itself is the lack of lighting customization. While it is nice to see two lighting zones on the mouse, users are stuck with what Genius implemented. No color customization is available for the illuminated Scorpion logo on the body of the mouse, with users limited to changing the speed at which the colors shift. The same goes with the DPI lighting. With only eight colors available, it can be tough to make your peripherals match the rest of your system lighting. At least the option to disable the lighting altogether is available.
Our second complaint with the Scorpion M8-610 isn't with the mouse itself, but the price. With an MSRP of $50, but currently available for $33.45 on Amazon, we have a tough time recommending the M8-610 over something like the Corsair Harpoon RGB, which has an MSRP of $30 and offers true RGB lighting and CUE compatibility.
Taking all of this into consideration, the Genius Scorpion M8-610 brings together many features of high-end gaming mice, at a somewhat budget cost. If lighting and customization aren't at the top of your priorities list, and comfort is, then the M8-610 might be a good fit for you.
Genius Scorpion M8-610 Pros

Genius Scorpion M8-610 Cons

Comfortable
Easy to access forward and back buttons
Solid build

Limited lighting options
Priced high for the included features