INTRODUCTION
Where is a company supposed to go after putting all the bells and whistles into a top-end gaming mouse? There are only so many RGB lights that can be added before the device becomes too obnoxious, and adding more buttons to a mouse with 20+ existing buttons is just getting out of control. So what now? Well, we think a few companies have figured it out recently and have begun designing and releasing gaming peripherals for those users just getting into the scene, as well as those with limited budgets. A $100-plus mouse is really only justified by a small fraction of gamers, but a $30 mouse from a trusted company can satisfy the needs of a larger population has the potential to become a huge hit. Corsair has done just that, and provided a $30 gaming mouse with just the right combinations of features to get the job done for 99% of users. Follow along as we take a look at the Corsair Harpoon RGB gaming mouse.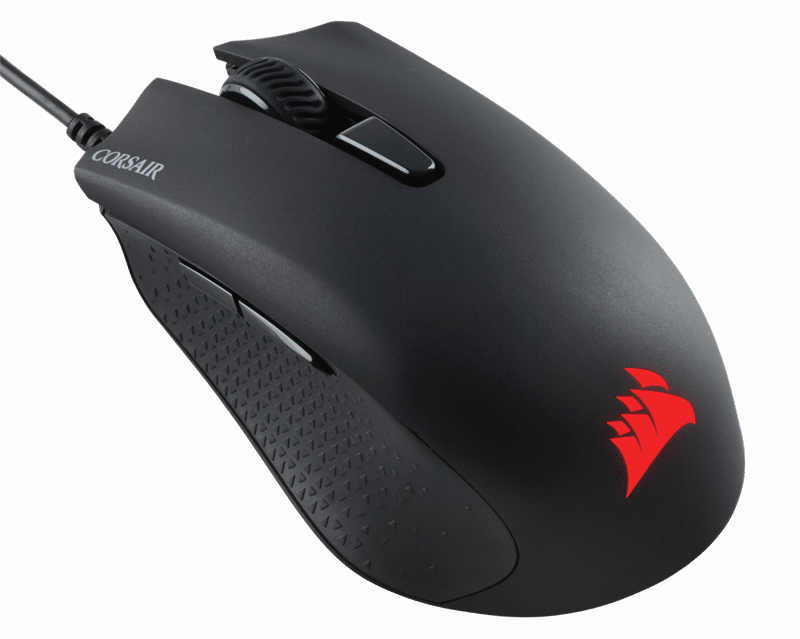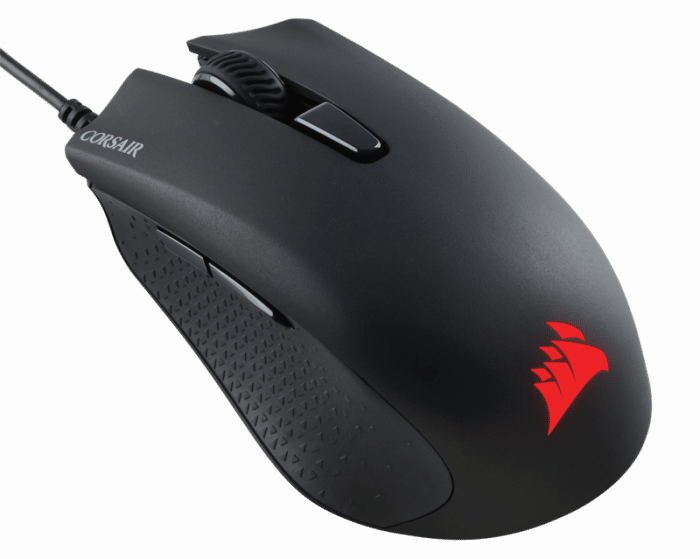 STANDOUT FEATURES
While it may be lacking some of the more advanced features found on more expensive gaming mice, we still want to point out a few of the more notable features of the Corsair Harpoon RGB.
Lightweight – Coming in at just 85 grams, the Harpoon is one of the lightest gaming mice we have ever looked at. As it is an entry-level device, there are no adjustable weight systems to be found here, but our preference is that of a lightweight mouse anyways.
CUE Enabled – Even though the Harpoon is a budget peripheral, Corsair still found a way to include a single RGB lighting zone that can be configured with the Corsair Utility Engine. This is a great feature that will appeal to both entry-level and experienced gamers alike. Not only does CUE allow for RGB lighting customization, but it can be used to dial in the Harpoon to each user's liking.
FEATURES
SPECIFICATIONS
Sensor: Pixart PMW3320 gaming optical sensor
Sensor Resolution: 5-way adjustable, 250-6000 DPI
Color: Black
Backlight: 1 zone RGB
Buttons: 6
Report Rate: Selectable 1000/500/250/125 Hz (USB)
On-Board Memory: Yes
Dimensions: 111.5(L) x 68.3(W) x 40.4(H) mm / 4.38″(L) x 2.68″(W) x 1.59″(H)
Weight: 85g / 0.19lbs
Mouse Feet: Extra large PTFE
CUE: Enabled
Warranty: 2 years
CLOSER LOOK
PACKAGING
The Harpoon RGB comes to us from Corsair all bundled up in a nicely designed box that sports their current black and yellow branding. The front of the box gives a good look at the mouse to be found inside, and touts the Harpoon's 6K DPI optical sensor, lightweight build, and RGB lighting. Spinning the box around gives a more detailed look at the Harpoon, listing a few more of the mouse's features.
Opening the box up reveals a molded plastic enclosure that holds the Harpoon securely in place. We found the packaging for the Harpoon to be much simpler than other Corsiar peripheral devices in that there was no hinged panel on the front of the box that would open to reveal the product inside. Also, the molded plastic interior shell is probably much more economical when compared to the somewhat elaborate cardboard compartments found on other Corsiar device packaging.
HARPOON RGB
Taking a quick tour around the Harpoon RGB gives us a good look at some of the features Corsair was able to outfit this budget-conscious mouse with. As we have highlighted many times already, the Harpoon RGB is aimed at users who are more casual in nature and don't require all of the bells and whistles that a top-end gaming mouse typically provides. That is not to say that the Harpoon RGB is a slouch. The Harpoon is designed with right-handed users in mind, as there is a slight bit of curvature to the overall body shape of the mouse. While it is not not drastic, the curved build of this mouse will alienate those left-handed users looking for an entry-level mouse.
The left-click and right-click buttons, along with most of the body of the mouse, are molded from a single piece of plastic that has a slightly textured feel to it. The body shape of the Harpoon RGB is quite rounded and quite the contrast when compared to the M65 PRO RGB that we reviewed recently. This rounded body provides for a very comfortable feel in your hand. Along the left side of the left-click button is the Corsair moniker, and the back of the palm rest is a semi-transparent, glowing Corsiar logo that can be color coordinated to match your setup, thanks to the adjustable RGB LED found inside of the Harpoon RGB. The scroll wheel has a plastic core with a rubber surround that helps provide easy scrolling in both gaming and simple day-to-day applications. Just behind the scroll wheel is a DPI switch button that is fully-programmable, just like the other five buttons on the mouse. So while the button is a DPI switch by default, it can be easily reassigned via CUE.
The left side of the mouse features a textured rubber grip that ensures a good hold on the Harpoon RGB during quick gaming twitches. The triangular pattern is applied in a way that it does not cover the entire side of the mouse, but is most prevalent under the thumb area, and then "fades" away. Just above the side grip panel are dedicated forward and back buttons, which again can be programmed to nearly any function via CUE.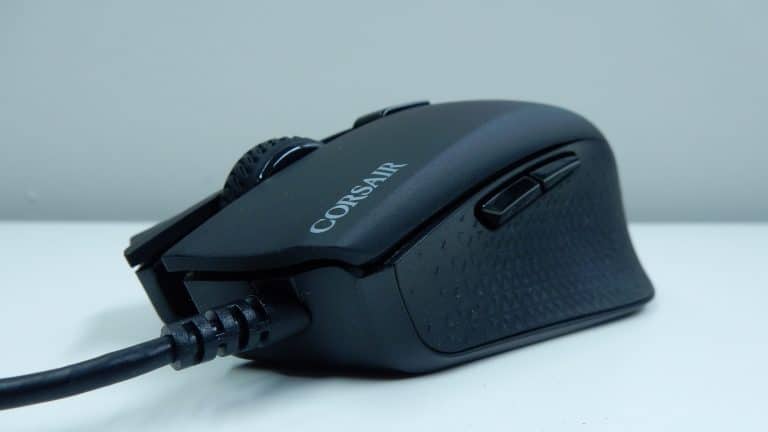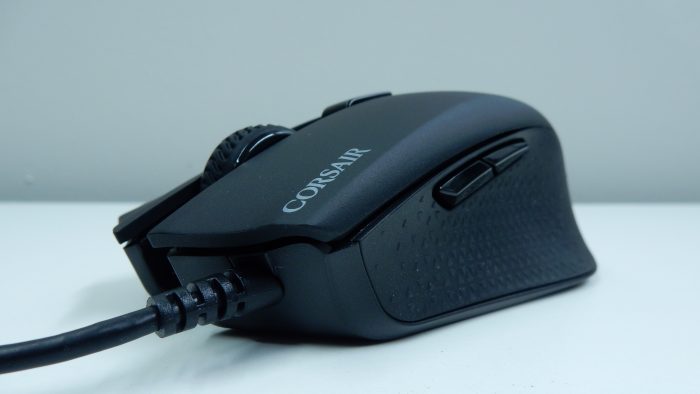 Taking a look at the right side reveals a solitary rubber grip with the same material and triangular pattern found on the other side of the mouse. This side panel has a slight curvature to it for comfort, but is not as molded for fingers like we have seen on other mice.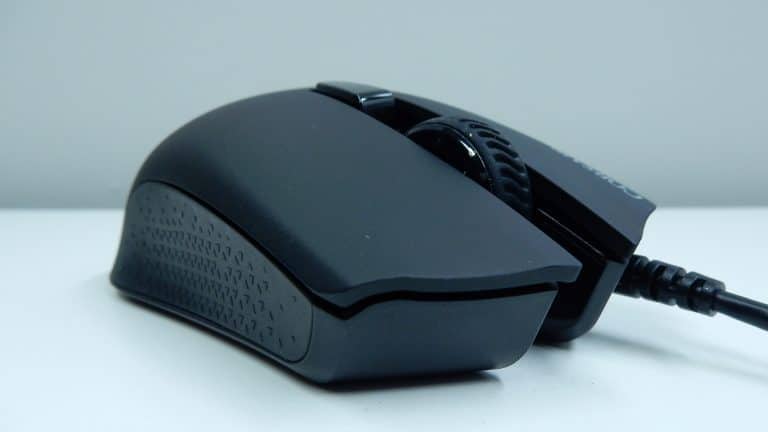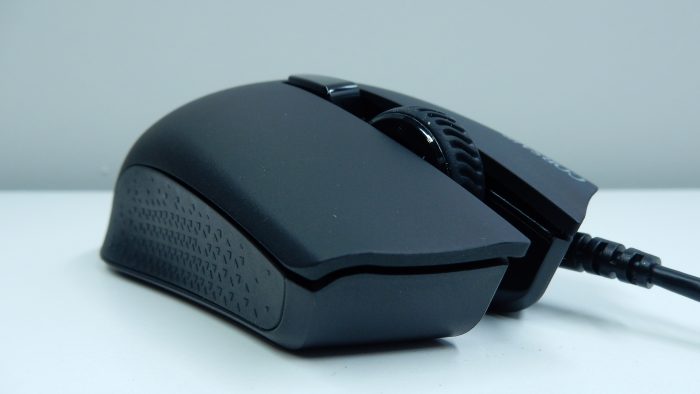 Up front we have the first real deviation from Corsair from their other current gaming mice. Instead of a braided cloth cable, Corsair went with a standard rubber cord with a reinforced connection to the body of the mouse. While we assume this choice was made to keep costs down, we would have loved to have seen a braided cable here. We really like the split in the body of the Harpoon RGB that pairs up with the split left-click and right-click buttons. Snuggled in between the two sections is the aforementioned scroll wheel that appears to float in place.
Taking a look at the underside of the Harpoon RGB shows us a pretty standard mouse configuration. There are no compartments here for an adjustable weight system, just four PTFE pads spread out across the bottom of the mouse. Centered in the bottom of the Harpoon RGB is the 6k Pixart PMW3320 optical sensor. This sensor can be swapped between five DPI settings for optimal precision no matter what the situation; 250-6000 DPI by default, but configurable via CUE in increments of 250 DPI.
TESTING
The first thing we noticed when using the Harpoon RGB was just how light 85 grams is. This mouse is one of the lightest we have ever reviewed, and while the Harpoon RGB is feather light, it still has a solid, quality feel to it. This is not an OEM, bundled mouse that flexes when you grip it and feels like it would fall apart at the seams in an intense gaming situation. The Harpoon RGB is backed with Corsiar's exceptional design and build quality which equates to a premium feel at an entry-level cost. Fit wise, the Harpoon RGB was a very comfortable mouse for our hand. We tend to have a palm grip when using a mouse, so its rounded body really supported our hand in a way that was very comfortable. The left-click and right-click buttons are configured with Omron switches and were very responsive to our finger movements. Scrolling the mouse wheel is quite smooth, with just a slight hint of notches.
With comfort and feel out of the way, we focused on exactly how the Harpoon RGB performed across multiple mousing surfaces. Our primary surface is a Corsair MM300 mat with a smooth cloth surface. The PTFE feet operated very well on this surface, as was expected. Our next mousing surface is the Corsair MM800 RGB Polaris mouse pad which features a hard, textured plastic mousing surface. While this isn't our preferred material for mouse pads, the Harpoon RGB slid across the plastic just fine, albeit with a little bit of noise from the two hard materials rubbing against one another. Our last surface was our bright white laminated desk top, which the Harpoon RGB had no issues with. Needless to say, this mouse should be more than capable of operating on just about any standard mousing surface.
To get a feel for how the Harpoon RGB performed outside of mundane, day to day tasks, we played quite a few rounds of Blizzard's FPS, Overwatch. Flicking around on the map when playing with Pharah to "rain some justice" on our enemies was quite effective. Swapping over to Mercy to provide some healing and damage boosting to our teammates slowed down our movements, but the Harpoon RGB allowed us to keep a constant stream attached to our friendlies.
This review wouldn't be complete without a quick look at the RGB lighting found on the Harpoon. While this is just a short video of the "Rainbow" lighting effect within CUE, the Harpoon RGB can be customized to nearly enless configurations.
CONCLUSION
Corsair's goal with the Harpoon RGB was to provide gamers with an entry-level mouse that didn't resemble an entry-level mouse. The Harpoon RGB provides many of the essential gaming mouse features, while keeping the price at the low end of the spectrum. A 6000 DPI optical sensor can be adjusted between 250-6000 DPI, in 250 DPI increments. A customizable button behind the scroll wheel is set by default as a DPI switch that gives you access to five custom DPI settings. Omron switches rated at 20 million clicks provide fast response to your fingers and are build to last. Each of the Harpoon RGB's six buttons can be customized in the Corsair Utility Engine for ultimate control over the operations of the mouse. Once customized to your preferences, the on-board memory allows you to take the mouse with you and not worry about installing drivers or software to get in your way of gaming.
The build quality of the Harpoon RGB does not reflect that of a budget mouse, and we were impressed with the solid, but lightweight construction. The contoured and rounded body of the mouse was very comfortable in our hand and is designed to support most grip styles. The plastic surfaces have a very lightly textured finish, while the textured rubber side grips help you keep a good grip on the mouse.
While some gaming mice tout RGB lighting but only offer a handful of colors, the Corsair Harpoon RGB has full control of 16.8 million colors via the Corsair Utility Engine. We found it way too easy to spend lots of time tweaking and playing with the numerous stock lighting options, and then we realized that Corsair has a very active community building custom lighting profiles for their whole line of CUE-enabled devices.
With an MSRP of $29.99, the Corsair Harpoon RGB has set the example for other entry-level gaming mice to look up to. It combines CUE-enabled RGB lighting, programmable buttons, DPI adjustment, and solid build quality into an affordable package that will be very attractive to gamers of all levels. The Corsair Harpoon RGB deserves nothing short of our recommendation, and thus earns the Bjorn3D Seal of Approval.

Corsair Harpoon RGB Pros

Corsair Harpoon RGB Cons

RGB lighting
CUE enabled
Great value

Non-braided cord
No brightness adjustment for LED, just On/Off