Test Rig & Results
Test Rig
"Hexilla"
Case Type
CPU
Motherboard
Ram
CPU Cooler
Hard Drives
Optical
Liteon DVD Burner
GPU
Gigabyte Xtreme Gaming GTX 950

Case Fans
1 x 180mm Mosfet / CPU / Ram cooling fan
1 x 120mm PCI-E Cooling Fan
Docking Stations
None
Testing PSU
CoolerMaster V550 80+
Legacy
None
Mouse
Keyboard
Any Attempt Copy This System Configuration May Lead to Bankruptcy
Testing Results
Now we get down to what really matters. How efficient is the V550 and how well is it at delivering that power to your devices? We used a Kill A Watt to get the voltage drawn from the wall and a Fluke 276 clamp meter with 18 inch flex current probe, we used a simple infrared thermometer to get thermal exhaust and a Decibel Meter App for noise.
Voltage / Efficiency Testing Data
Cooler Master V550
Test
12
V
5
V
3.3
V
5VSB
Power
(DC/AC)
Efficiency
Fan
Speed
Fan
Noise
Temp
Out
10%
Load
56.00W
88.55%
RPM
30
dBA
11.95V
5V
3.35V
5V
63.24W
39°C
20%
Load
111.56W
90.92%
RPM
30
dBA
11.95V
5V
3.34V
5V
122.70W
39°C
50%
Load
 277.46W
 90.73%
RPM
 33.3
dBA
 12.07V
4.97V
3.32V
 4.97V
 305.80W
 45°C
80%
Load
 442.30W
89.01%
 RPM
36.2
 12.05V
4.92V
 3.32V
5V
497.01W
 48°C
100%
Load
548.10W
87.32%
RPM
46.3
dBA
12.01V
4.92V
3.28V
5V
627.70W
49°C
*The Power AC /DC column in each section the PSU output voltage is on top.
And there we have it. The Cooler Master V550 is a proper product that does exactly as it is advertised to do. Operating at an average efficiency of 89% from 10% to 100% load these are consistent numbers we love to see. 10% isn't even counted on the Gold / Silver / Bronze rating scale, they start counting at 30% but if you run a low power system you need to know the lower voltage ratings.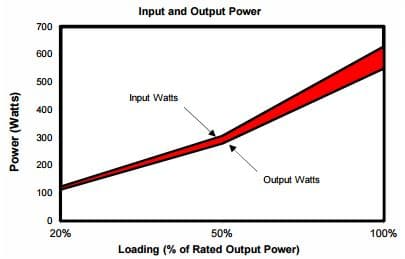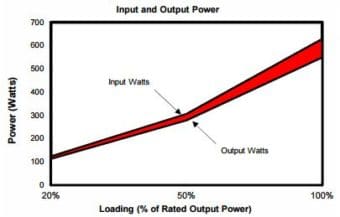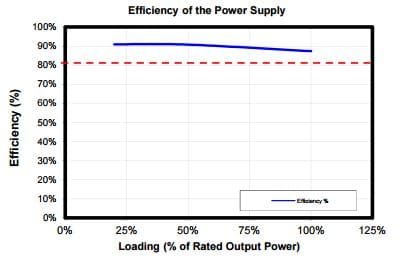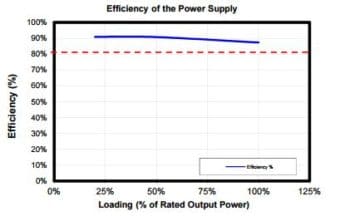 Not only did the CoolerMaster V550 hit it's target efficiency rating, it went above and beyond across all load ranges. Even under 100% load maxed out to core the V550 still delivered a 87% efficeincy rating. Given that your rig shouldn't be pulling more than 75% of the rated load optimally, these results show you can expect to get proper performance from your investment even when pushing it to the absolute max.