INTRODUCTION
Let's face it, not everyone is "just a PC gamer", or "just a console gamer". Many of us have both a PC and a console or two, and let's not forget to throw in a smartphone. Inter-connectivity between all of these devices can be hard to find, and usually quite pricey once something is found. Thankfully, Corsair realizes this, and has created the VOID Surround Hybrid Stereo Gaming Headset. This headset hails from their current VOID series, and as the "Hybrid" name conveys, this headset works across multiple platforms, thanks to its 4-pole 3.5mm connector and Dolby USB adapter. Now the same headset can move from device to device easily. One headset to rule them all, if you will. Can a single headset really move across platforms as easily as Corsair says? Let's find out!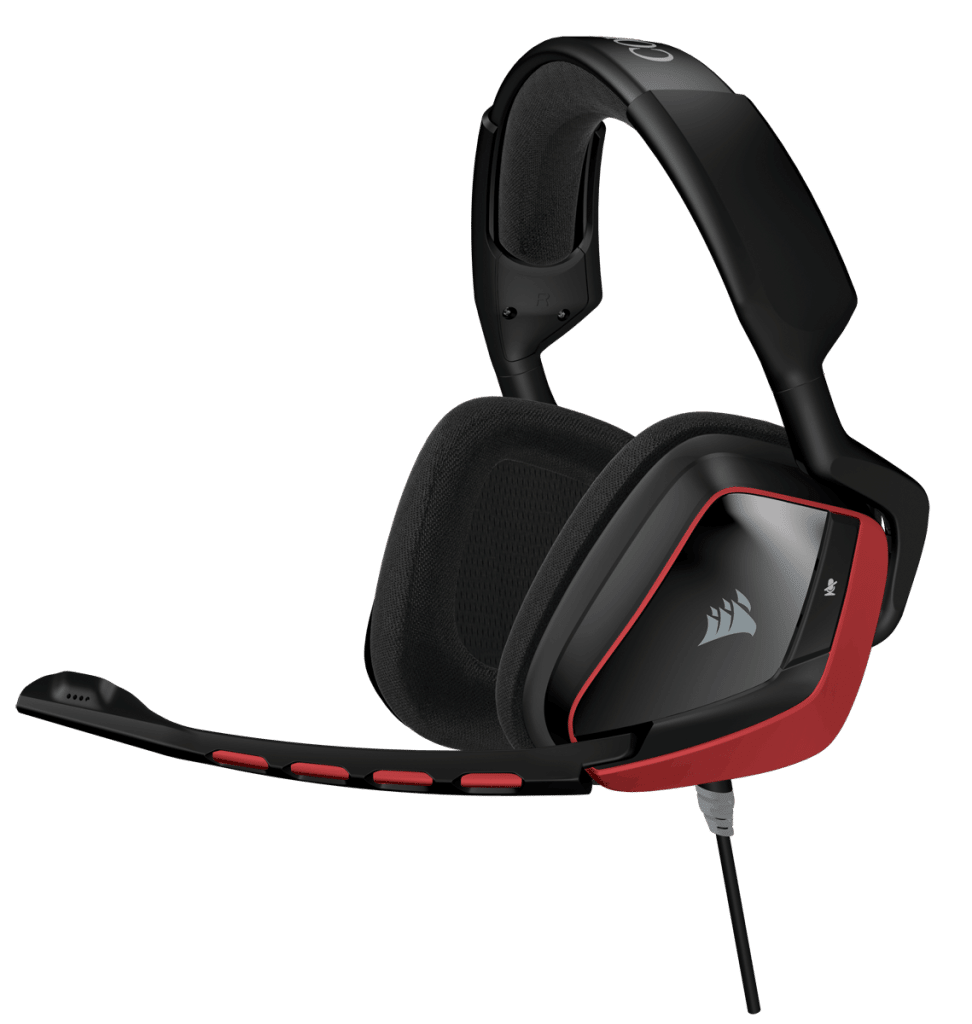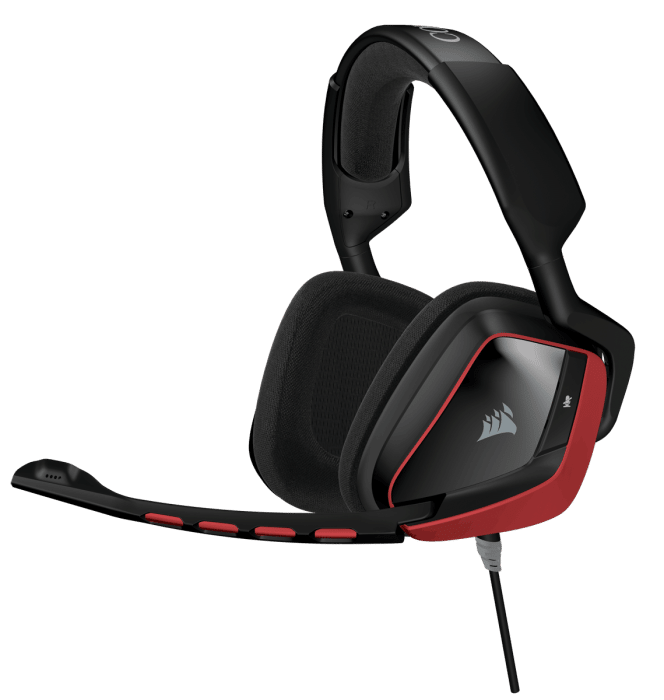 STANDOUT FEATURES
At heart, the VOID Surround Hybrid is a stereo headset featuring 50mm drivers in each earcup. Stereo headsets are a dime a dozen, so what about the VOID Surround Hybrid makes it stand out from the pack? Well, we have a few ideas, namely the universal compatibility and comfort.
Universal Compatibility – With the 4-pole, 3.5mm connector, the VOID Surround Hybrid offers compatibility with just about every device with a headphone jack. From smartphones all the way up through current-gen consoles and PCs, the VOID Surround Hybrid simply works. Utilize the included Dolby Headphone USB Adapter, and step up to 7.1 surround sound on the PC.
Comfort – The Void Surround Hybrid features what Corsair calls "true form" ear cups that are shaped to be more comfortable than the standard round or oval ear cups found on many other headset designs. Memory foam forms to the user's ears, and a soft microfiber material keeps things comfy. The headband of the VOID features the same foam and fiber treatment.
SPECIFICATIONS
Headphones
Frequency Response: 20Hz to 20kHz
Impedance: 32k Ohms @ 1kHz
Sensitivity: 107dB (+/-3dB)
Drivers: 50mm
Connector: 4-pole, 3.5mm
Microphone
Type: Unidirectional noise-cancelling with adjustable, rotating boom
Impedance: 2.2k Ohms
Frequency Response: 100Hz to 10kHz
Sensitivity: -38dB (+/-3dB)
CLOSER LOOK
First things first. With the recent flurry of RGB products from many vendors, Corsair included, it is noteworthy that the VOID Surround Hybrid does not come with any flashy lighting features. Depending on who you ask, this can be a blessing or a curse, and really just boils down to personal preference. With that out of the way, lets take a closer look at the headset itself. The VOID features a mostly plastic build, and sports a mostly black color scheme, with red highlights found on the ear cups and mic boom.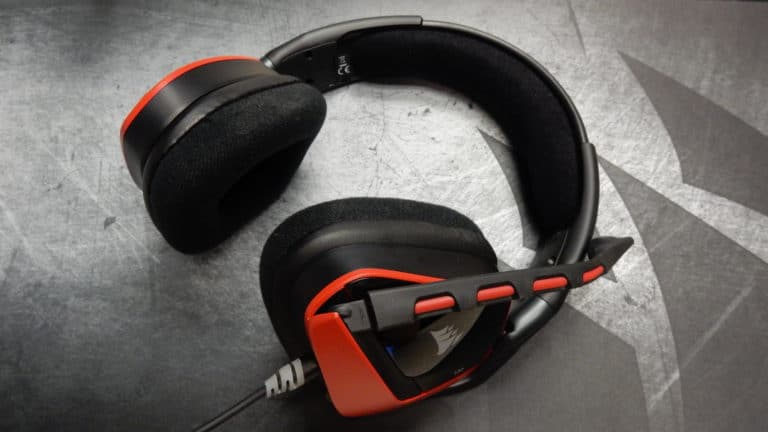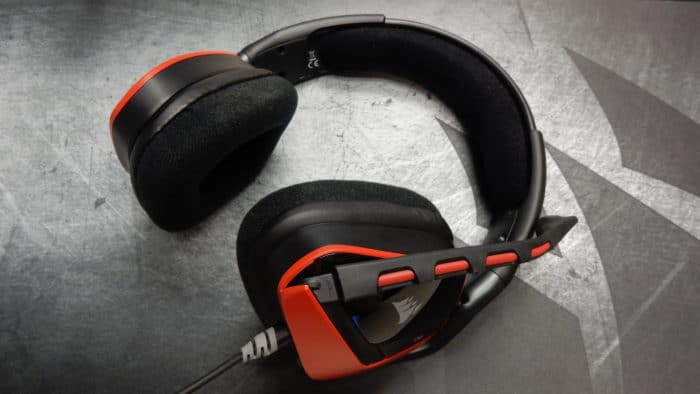 Speaking of ear cups, corsair continues the trend of their VOID line, and offers swiveling units with a plastic frame. Most of the frame is a matte-finish black plastic, but red trim and accent pieces add a bit of color. While both of the ear cups have a small Corsair logo on a glossy black panel, the left side is home to a mute button for the microphone that also resides on the left side.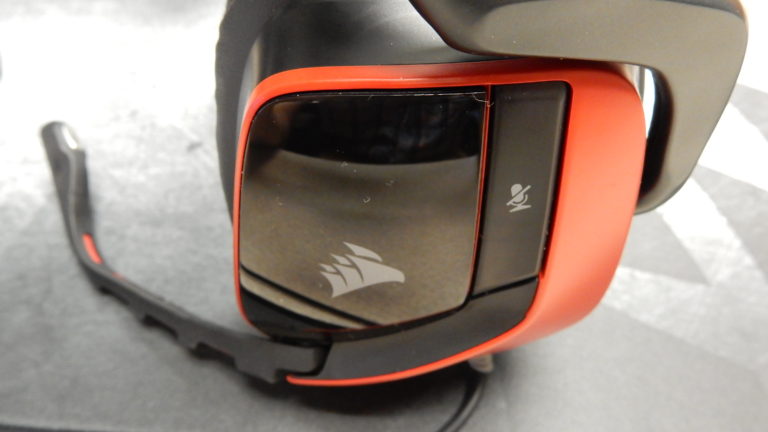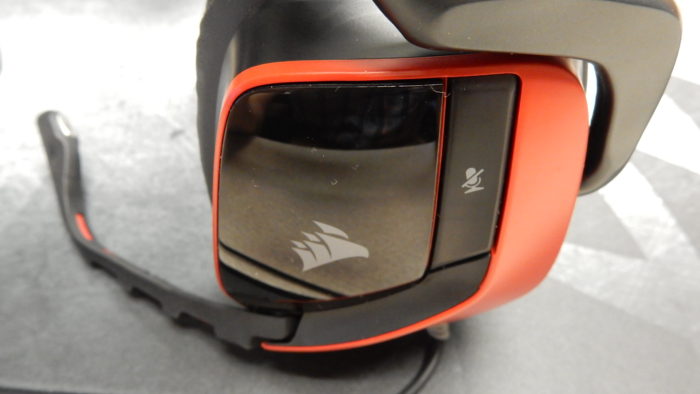 The bottom-rear corner of the left ear cup is also home to a volume dial that is easy to reach in the heat of action. And while the left ear cup is already plenty loaded with features, adding to that list is the rubber "flex boot" that connects the headset to the headset cable. Reinforcing this junction is much appreciated and adds value to the product. The cable itself is plenty long, and very flexible. We really liked how easy it was to work with, as some headsets utilize a stiffer woven/braided cable or stiffer rubber.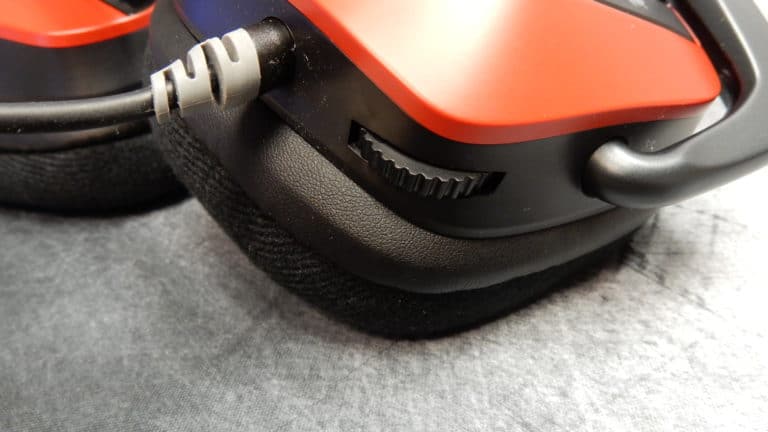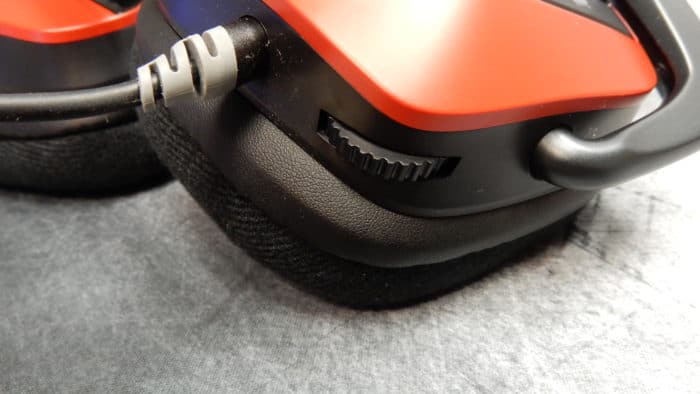 Ratcheting up and down, the mic boom is made of a rubbery-plastic material, and features red highlights along the way. The microphone at the end of the boom is presented as a perforated metal grille which adds a high-end look to the headset.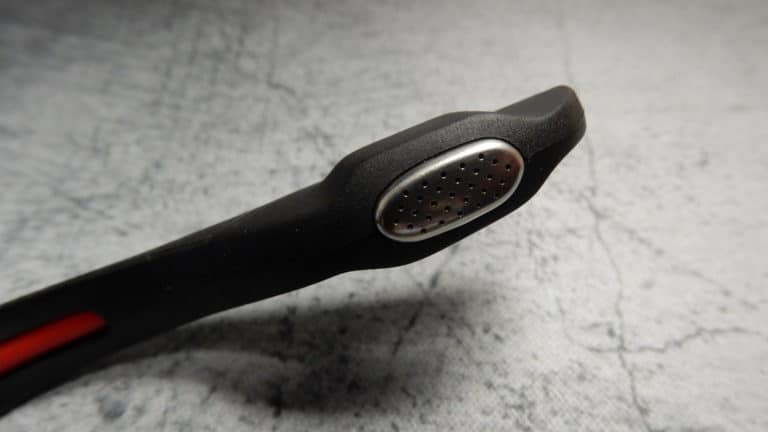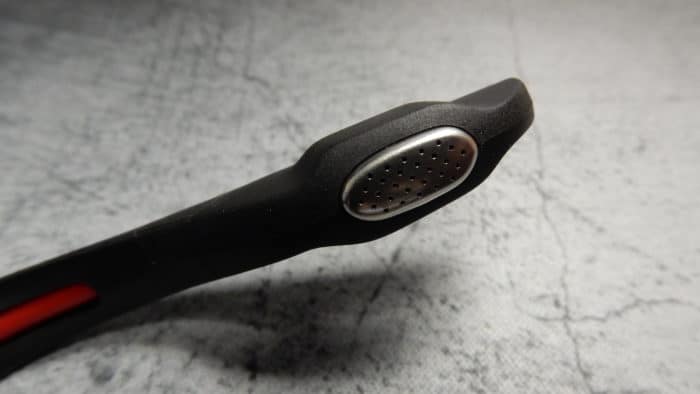 Corsair definitely made comfort a priority in their VOID line, and the Surround Hybrid is no exception. The ear cups have been fitted with memory foam padding, which is then covered in a soft microfiber cloth. The headband on the headset also received the memory foam and microfiber treatment.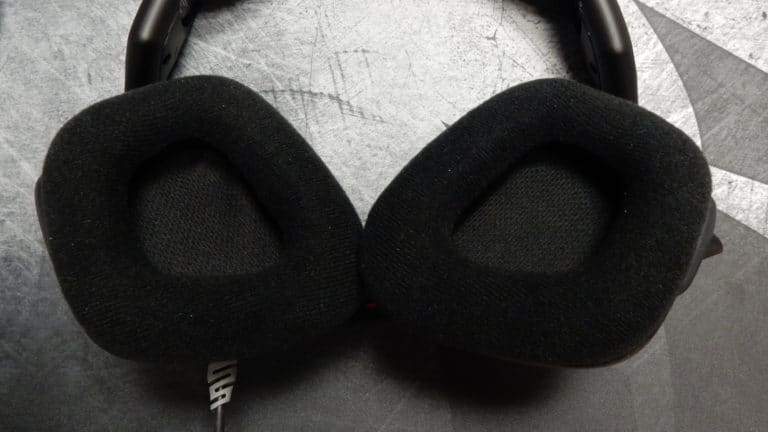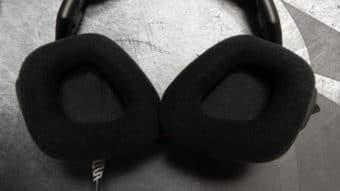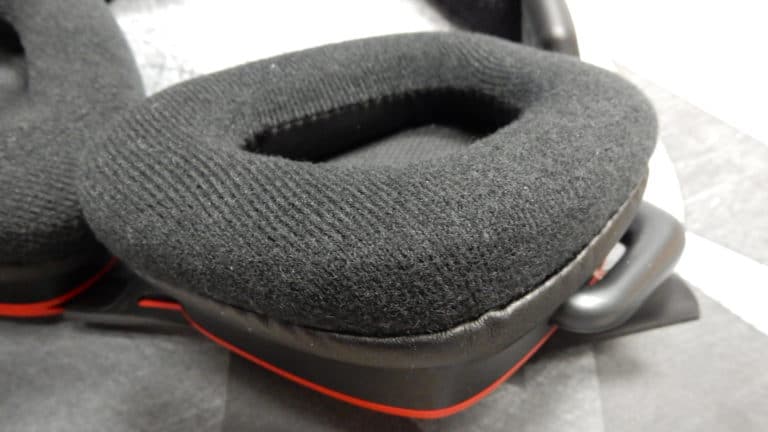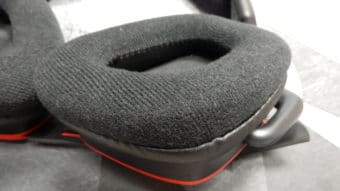 The headband itself is fairly simple, with Corsair branding along the top. Each side of the headband is adjustable to get a good fit, and sizing markers make things easy to dial in when transporting the headset from one location to another.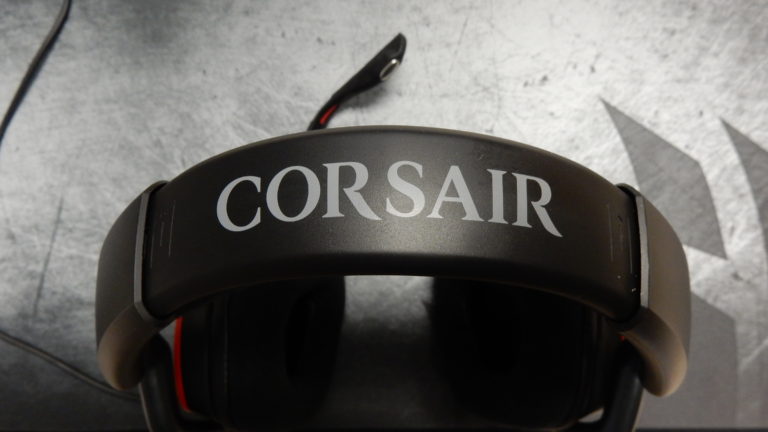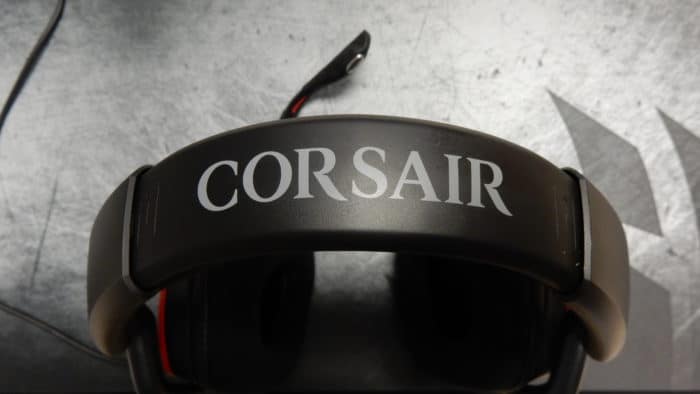 Since the VOID Surround Hybrid is touted as being versatile and "Universally Compatible", it only makes sense that there is a removable Dolby USB adapter. This adapter is removed when using the headset's 3.5mm, 4-pole connector with things like tablets, game controllers, or audio players. Plugging the headset back into the USB dongle enables a virtual 7.1 surround experience. We say virtual, because the VOID Surround Hybrid can't offer a true surround experience with only its two 50mm drivers.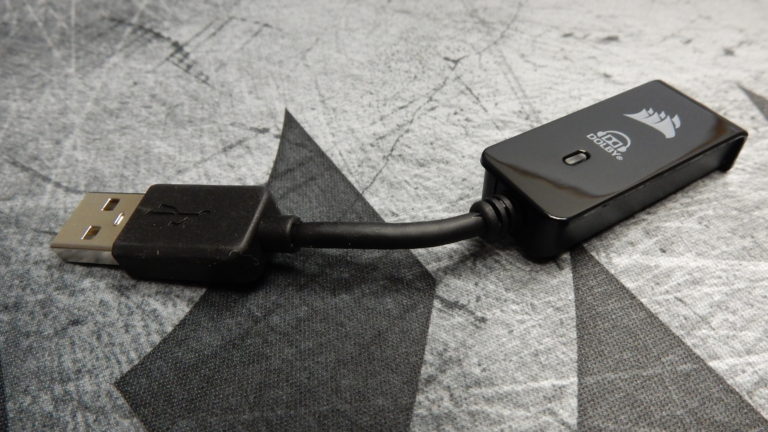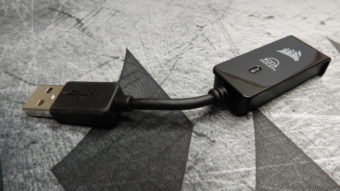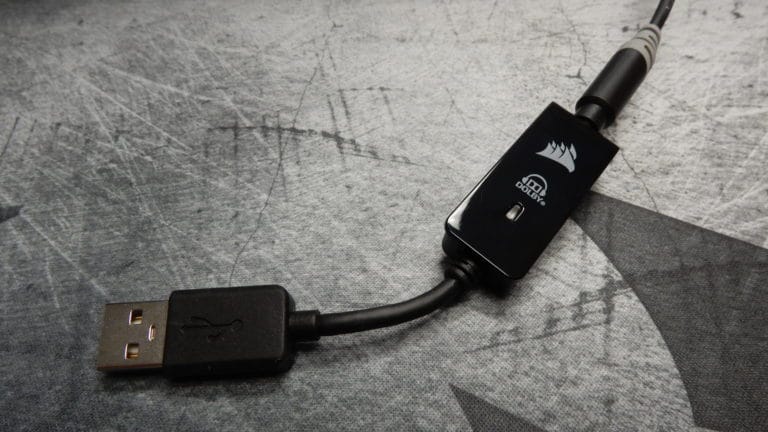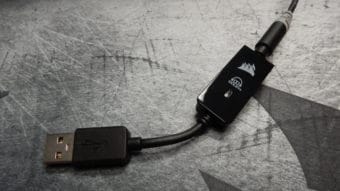 SOFTWARE
Corsair's Utility Engin (CUE) brings all of your applicable Corsair devices together into a single-pane solution for configuration. The customization options available for the VOID Surround Hybrid are somewhat limited, and mostly consist of five pre-determined equalizer settings, as well as the ability to customize or create new EQ settings. Dolby surround settings can also be enabled or disabled via the CUE software, and enabling this feature lights up the USB dongle's indicator. While it isn't the easiest to use application, it gets the job done, and is especially handy when working with multiple Corsair peripherals.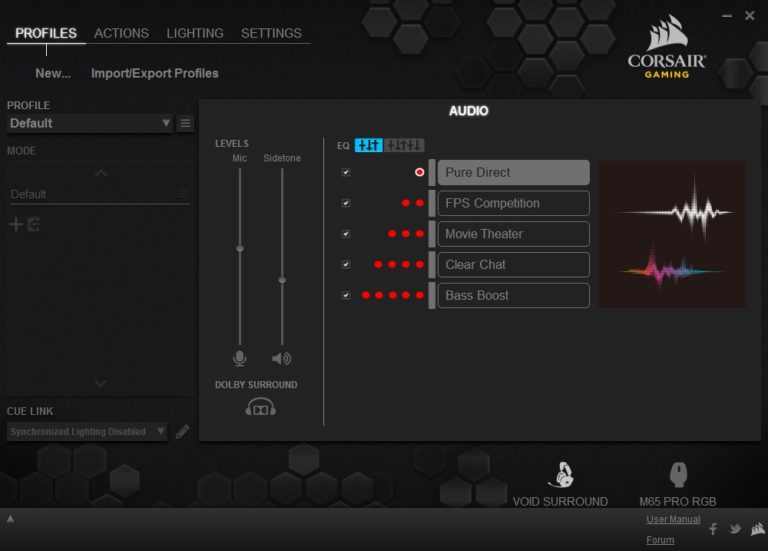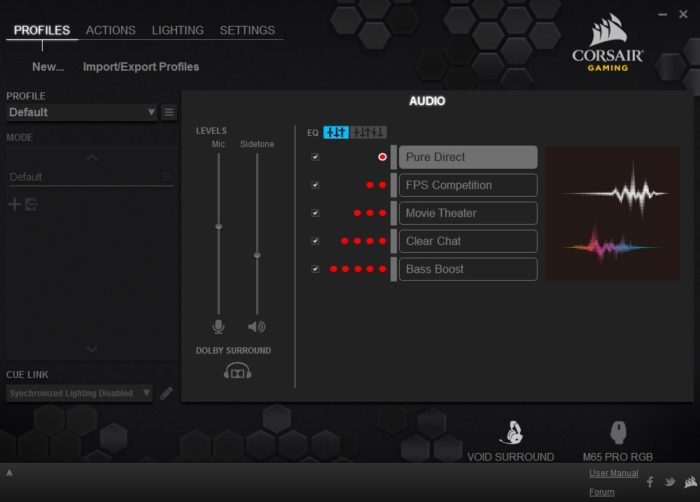 TESTING
We don't profess to be master audiophiles here at Bjorn3D, but we do have some standards that we like to hold our audio devices to. Since the Corsair VOID Surround Hybrid is heralded as being a gaming headset, most of our testing was performed in a gaming environment. We did however run the headset through a playlist of various songs that feature a wide variety of sounds and styles to get a good feel for how the headset performs outside of it's gaming duties.
Fit and Comfort
Right off the bat, we fell in love with the feel of the VOID Surround Hybrid when it was on our head. Some users prefer the feel of "leather" ear cup pads, but the microfiber softness has us wishing a few of our other headsets would have come equipped with the same material. I long gaming sessions, especially as we move into the warmer portion of the year, the "leather" material can become a bit "oily". With the microfiber material that Corsiar used, this oily feeling was nowhere to be found. The memory foam found on both the ear cups and head strap was a good mix of firmness to keep things in place, but was also comfortable after long periods of time.
The adjustable head strap has a nice ratchet feel to it, and keeps its size setting quite nicely. Just in case the strap does get adjusted during shuffling, the strap features a numbered set of lines that can help you remember your preferred settings so that you can set the strap right back to your ideal size.
Many headsets also feature an in-line volume and mic mute button on the headset cord, but we were happy that Corsair chose to place these functions on the headset itself. Being able to know exactly where the mute and volume were at a moment's notice kept us from fumbling around with a corded solution. The configuration of the volume wheel on the headset made it very easy to increase or decrease the volume, whereas we have had issues in the past knowing which way to scroll a volume wheel when mounted on the cord.
Gaming
Our recent game of choice has been Tom Clancy's The Division. This 3rd-person mixes up all sorts of game play types, from shooters to MMOs. While out on the streets of a virus-laden New York City, the VOID kept us up to speed with updates from the in-game assistant ISAC, while simultaneously producing realistic firefight sounds between us and enemy units. Coming across various NPCs with the Dolby 7.1 surround enabled allowed us to keep track of them pretty well when they weren't on our screen, ensuring that we didn't get attacked from behind by surprise. While the simulated 7.1 surround did offer a bit of surround sound performance, we often found ourselves swapping back over to stereo sound, as the Dolby implementation just doesn't live up to the name. This is often the case when dealing with stereo headsets with simulated surround sound billing.
While The Division does offer in-game, proximity voice chat, we prefer to utilize the Discord application to chat with our gaming partners. When testing out the VOID headset, we were pleased to hear a noticeable increase in the sound quality of other Discord users, and other members of the Discord channel commented on our improved audio clarity.
Music Playback
Our playlist features a variety of styles of music from hip-hop tracks to 60's and 70's classic rock. Artists from Daft Punk to Creedence Clearwater Revival make an appearance on our testing playlist, and in all instances, we found the VOID Surround Hybrid lacking on the low end, even when utilizing the various pre-made and custom equalizer configurations. The upper end of the audible spectrum sounded fine, although a little more high end clarity would have been welcome, but we were constantly hoping for more "oomph" from this headset.
CONCLUSION
It is not uncommon to find multiple gaming consoles and peripherals in today's often tech-centric world. Corsair understands this and has equipped the VOID Surround Hybrid with the ability to use either a 4-pole 3.5mm plug, or USB connection. By offering multiple connections, Corsair allows gamers to purchase one headset that can move with them from one console to another, over to a PC for some Dolby 7.1 surround, and then over to a mobile device for audio on the go. Talk about value. Like many of Corsiar's other devices, their CUE application is used for some basic configuration options on the headset, but since there is no RGB lighting or other major features, the options are quite limited.
In our time with the VOID Surround Hybrid, we were very impressed with the comfort it provided us. The soft microfiber cloth rests comfortably against your head, and the ratcheting headband can be configured for range of head sizes. Each ear cup also has the ability to swivel slightly, adding a bit more flexibility with head shapes and user preferences.
Our testing mostly revolved around gaming, as this is a gaming headset after all, and in that testing we were quite happy with our results. Voice actors and subtle sound effects were quite clear and easy to understand, and larger explosions and low-pitch ambient sounds helped to bring you into the situation. Unfortunately, the Dolby 7.1 surround sound offerings that Corsair touts just didn't live up to our expectations, and we often found ourselves moving back to stereo mode. Communicating with our gaming friends was a great experience as well; we could definitely notice a distinct improvement in the voices of other gamers in both Discord sessions, as well as with in-game proximity chat.
Taking into consideration the versatility that the VOID Surround Hybrid offers with regards to compatibility, comfort and overall performance, we really think Corsair has a nice mid-level headset that will appeal to a large gaming audience. Taking the VOID from one device to another keeps users from having to purchase a custom unit for each device they want to interface with, which really stresses the value of this headset. Comfort is top-notch, and while there was a bit of lower-end emphasis missing from our testing, the sound quality is quite good. This all adds up to a headset worthy of Bjorn3D's Seal of Approval.

Corsair VOID Surround Hybrid Pros

Corsair VOID Surround Hybrid Cons

Very comfortable
3.5mm and USB offer nearly limitless compatibility
Headset mounted mute and volume dial are conveniently placed
Compatible with Corsair's CUE application

Low-end performance could be improved
Simulated Dolby 7.1 surround is questionable