INTRODUCTION
When was the last time you thought about your mouse pad? Was it when someone commented on how dirty it was, or when you realized you could no longer stand the frayed edge behind your mouse? Like many, a mouse pad is often an after thought in the overall scheme of things. Thankfully, Corsair has multiple mouse pads and mouse mats available to choose from, and today we are taking a look at their MM300 Extended Edition, a 930mm-wide and 300mm-deep mouse mat. With plenty of room to spread out, can the Corsair MM300 force your hand to consider an upgrade? In our case, the answer was a resounding "Yes".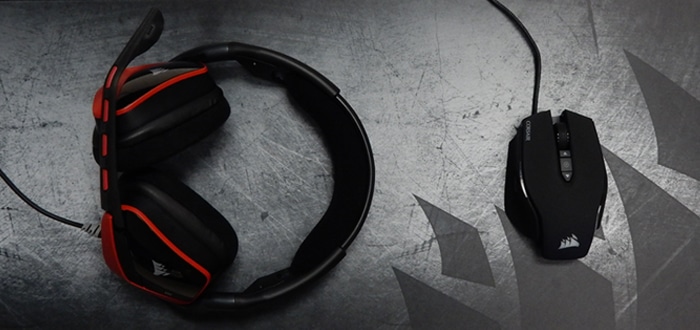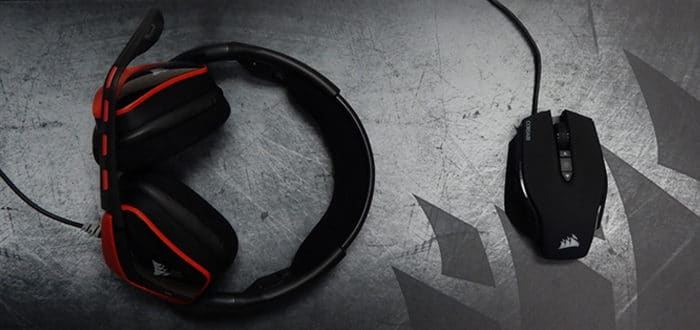 STANDOUT FEATURES
While not very "technical" so to speak, Corsair does offer up a few features that your average mouse pad or mat may not have.
Textile-weave surface – Corsair claims that the surface of the MM300 mouse mat is designed for pixel-precise accuracy and comfort. While we can't 100% verify their first claim, we did find the tracking to be spot on when paired up with Corsair's own M65 PRO RGB mouse. And the comfort was definitely on-point.
Stitched edges – Surrounding the entire MM300 is a soft stitched edge that is designed to be fray resistant. No more having to deal with that top layer of a cloth mouse pad rolling back, or a rough plastic-topped mouse pad digging into your wrist.
SPECIFICATIONS
Warranty – One Year
Dimensions – 900mm x 300mm x 3mm
Material – Cloth
Optimized For – High-DPI gaming mice
CLOSER LOOK
Packaging
The MM300 Extended Edition comes from Corsair rolled up in a long rectangular box that features a cut-out, giving potential buyers a look at what is inside. The box itself features the current style of Corsair packaging, with mostly black and gray panels detailing the features found on the product, with yellow accents highlighting the box edges.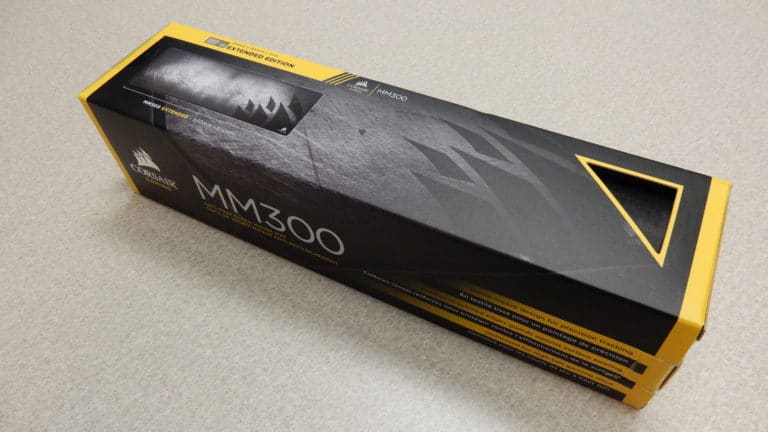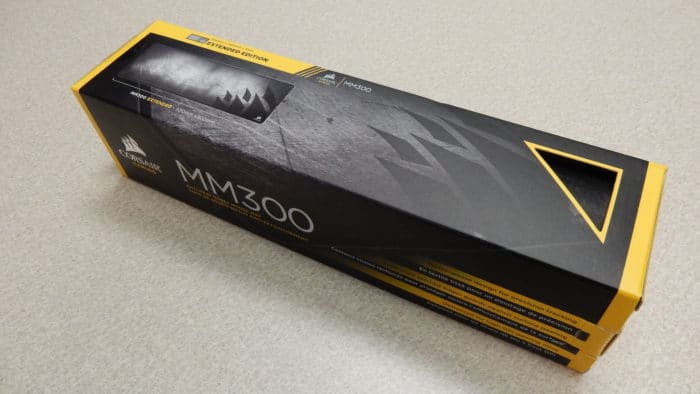 MM300 Extended Edition – Front
Once unfurled, the Extended Edition of the MM300 is quite large, coming in at 300mm, or nearly 3 feet. At 300mm deep (11.81 inches), the sheer size of the MM300 simply dwarfs mouse pads of standard size. Keep in mind that this is a mouse "mat", designed to reside beneath your keyboard and mouse. Placing the mat beneath both peripherals allows for a seamless transition from one to the other, and looks great.


The design that adorns the top surface of the MM300 incorporates part of the current Corsair ship logo, as well as what looks almost like a scuffed metal surface. The printing detail is top-notch, and has nice, crisp edges. A small Corsair logo and branding is found in the bottom right corner of the mat and is just the right size to not be overwhelming.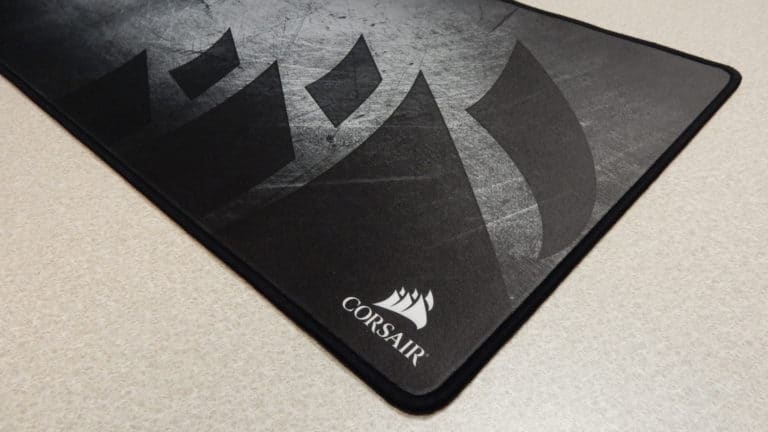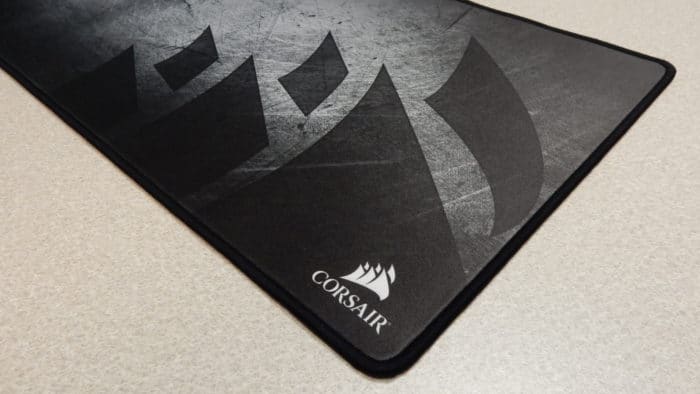 Surrounding the Corsair MM300 Extended Edition mouse mat is a generously-sized stitched edge. This black stitching produces a slightly raised edge that is high enough to keep a pen from rolling away, but not so high that it is uncomfortable, or even noticable, when in use.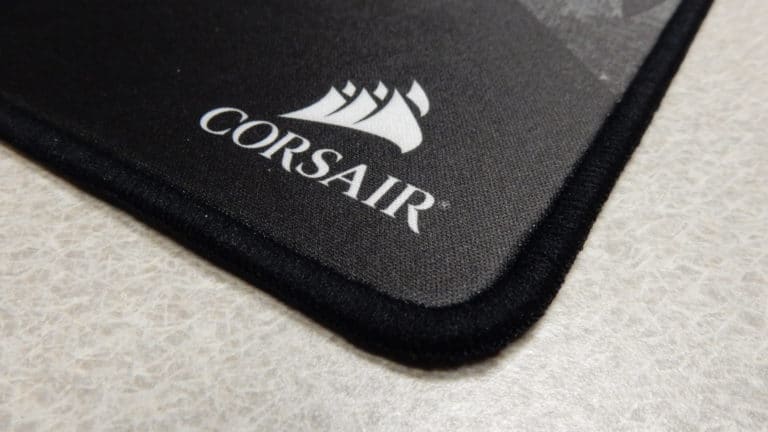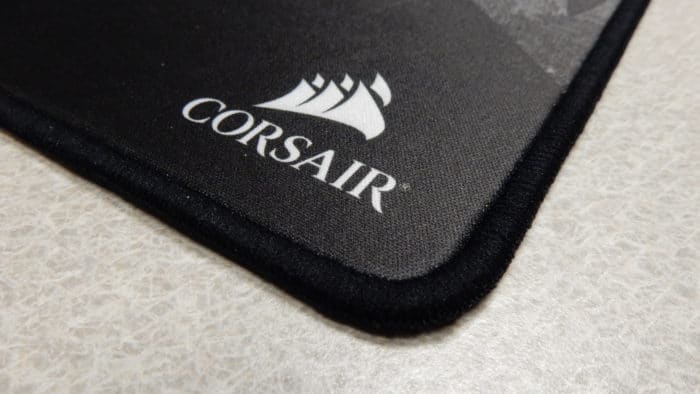 MM300 Extended Edition – Back
Flipping the MM300 over reveals a pretty standard rubber surface, similar to those found on most gaming mouse pads and mats.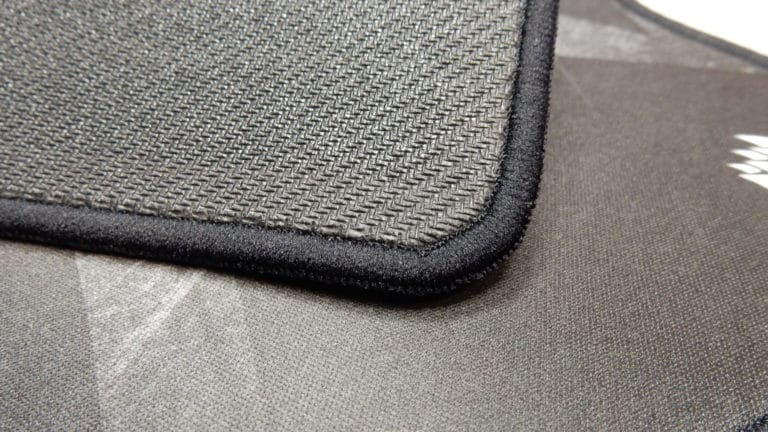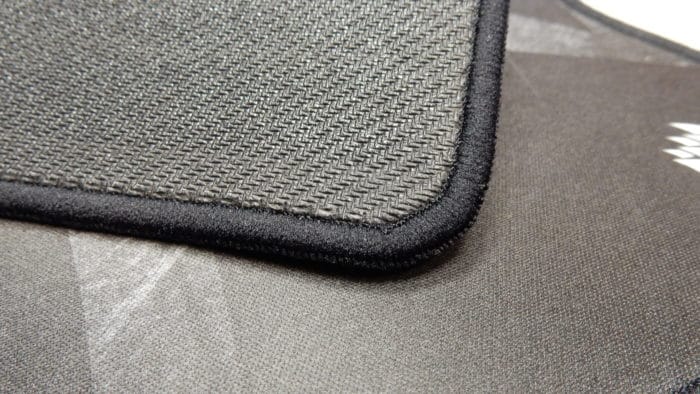 TESTING
As seen below, the MM300 Extended Edition provides an ample amount of space for your peripherals. And while there is no keyboard shown, our current board of choice, the old-school Logitech G15, fits just fine, with plenty of room to spare on both ends.


Throughout our time with the MM300, we have really liked that fact that this mat stays in place at all times. Now obviously this is due to the extra added weight of a keyboard, but not having to re-adjust a mouse pad is an awesome feeling. Another great feature of the MM300 is that there is plenty of room on the mat for our smartphone to sit right next to our keyboard for quick access.
The single drawback we noticed with the MM300 was the strong "rubbery" odor associated with the mat. While the scent has died down quite a bit since we first got the MM300, it is still quite evident in the room. Now this smell will go away over time, but just be aware that you may have some new funk at first.
CONCLUSION
We can't tell you enough how much the move from a standard sized mouse pad to the Corsiar MM300 Extended Edition mouse mat has improved our everyday comfort when in front of the PC. The soft surface of the mat is very comfortable under your hand and wrists, and the stitched edge is just as soft. The textured rubber bottom keeps the MM300 in place at all times, and we did not notice any shifting during our review period. Besides a little rubber odor that still lingers, the Corsair MM300 Extended Edition mouse mat is pretty much a "must buy" in our book. At an MSRP of $29.99, it's a product that has left us scratching our head, wondering why we didn't have one of these sooner. Got an extra few dollars in your Amazon account and don't know what to do with it? Well, now you have our recommendation of the Corsair MM300 Extended Edition, backed up by the Bjorn3D Golden Bear Award.

Corsair MM300 Extened Edition Pros

Corsair MM300 Extended Edition Cons

Comfortable
Stitched edges
Stays in place very well