QNAP shows off the first portable NAS, the TBS-453A, at CES. The latest NAS is powered by Intel Braswell N3150 quad-core processor with the 4GB or 8GB of RAM. Inside the NAS will have four M.2 2280/2260/2242 connectors that supports SATA 6Gb/s SSDs. Sadly, no NVMe support so the transfer speed would still be limited to 6 Gbps. Nonetheless, the unit has four bays so you could install four drives for up to 1TB of space running at RAID 0.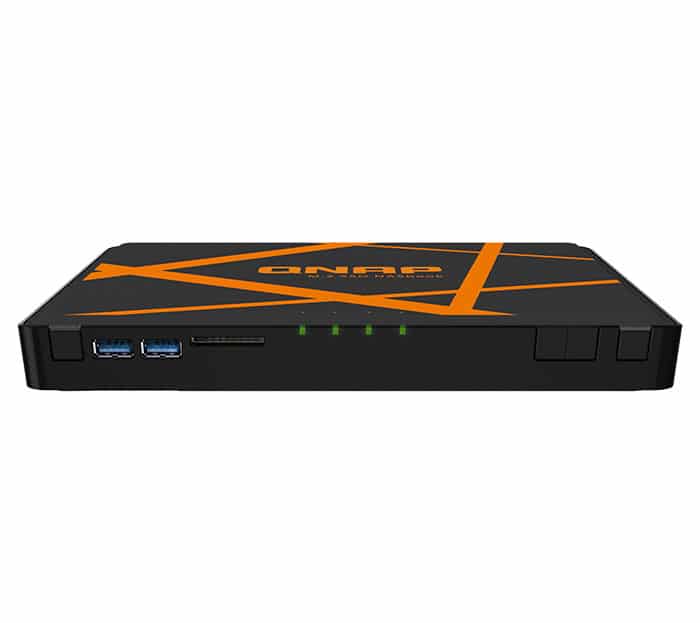 Though the benefit of space saving allow the QANP to make the NAS very portable as it is a B5 sized with dimension of 25 x 230 x 165 mm and weighs from 724g for the base model and up to 760 with the drive and the RAM. This is killer feature of the unit since traditionally, NAS devices are big and clunky as they are designed to be toss on the corner of the room, tucked away, and just do its own work. With the NAS getting more powerful and has greater features such as QNAP's own QvPC that essentially turns hte NAS into a full-fledge PC, having the ability to carry it with you means that you can simply plug the NAS to any HDMI enabled display and hooked up a keyboard and mouse and you can browse web or work right off the NAS.
The drive will come with two memory slot that support two SODIMM DDR3L-1600, 4GB of flash storage, five Gigabit Ethernet port, four USB 3.0, one USB 2.0, two HDMI ports that supports 4K 2160P resolution, and two 3.5mm microphone jacks.
QNAP will be shipping the unit with the remote control so you can use as a media server. In addition, the unit would also be able to work in conjunction with the UX-800P and the UX-500P to expand the storage capacity. In addition, the unit would come with either 4GB or 8GB configuration. You could also purchase it without drive installed or you could buy with pre-installed drives in 512GB (2x256GB) or 1TB (4x256GB) configuration.
In addition to showing off the portable NAS, the TBS-453A, QNAP also shows a full lineup of new products for home and SOHO and SMB segment. The latest TS-x53A series also gets a processor upgrade from the Bay Trail to the Braswell family. In addition, a new entry-level ARM based TS-x28 is also being introduced that looks exactly like the TAS-x68 series except it is missing the HDMI port.
QNAP also shows new enterprise NAS includes the TDS-16489 with Intel Xeon processor aimed for simultaneous backup and computing. QNAP will also showcase its supercharged ZFS-enabled ES-1642dc with its dual-controllers targeted for mission-critical business applications.