Samsung has launched 950 Pro SSD with M.2 2280 interface. The 950 Pro SSD will be the Samsung's top of the line consumer SSD with M.2 interface. As you may aware, the storage industry is transition from SATA to M.2 with NMVe protocol. The 950 Pro will feature the same 2nd generation MLC 32-layer V-NAND 128Gb die technology that was on the 850 Pro. However, unlike the 850 Pro that uses AHCI protocol, the 950 Pro would be the first drive in the industry that pairs the V-NAND with the NVMe. This combination should bring performance boost while lowering the production, so expect the next generation of SSDs to deliver even better performance per cost ratio.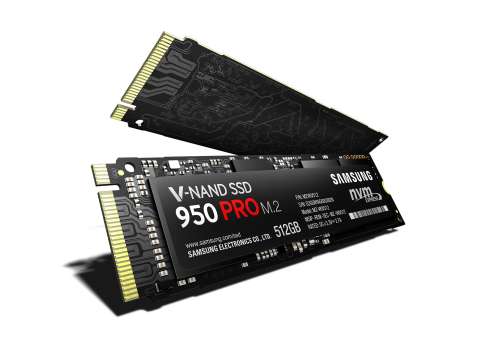 The drive will be using the UBX controller, the same one found on the SM951. Data will be traveling on PCIE Gen 3 x4 bandwidth, which gives it up to 4 GB/sec transfer rate, a significant bump from SATA-III 600 MB/s. It will also comes with AES 256-bit full disk encryption and Dynamic Thermal Guard that protects the device and data from 0 to 70 degrees Celsius.
The 950 Pro would be available in 512GB and 256GB capacity. Samsung rates that the 512GB to deliver sequential read/write speed up to 2,500 MB/s and 1,500 MB/s. Random read and write up to 300K and 110K, respectively.  Both capacities come with a 5-year limited warranty up to 200 terabytes written (TBW) for the 256GB and 400TBW for the 512GB. The 950 PRO will be available beginning in October 2015, with an MSRP of $199.99 for the 256GB capacity and $349.99 for the 512GB capacity.