CoolerMaster ErgoStand III
Today we have a look at the CoolerMaster Ergostand III, the latest revision of the Ergostand series. CoolerMaster, one of the world's top providers in PC cooling technology, is known for being a rule maker when it comes to innovative design.  Sporting new styling and functionality the Ergostand III is precision aimed at making your laptop and tablet experience a smooth, comfortable, and enjoyable one. The Ergostand III also helps keep your device running at optimal temperatures to ensure a longer lifespan, which is always welcomed. Featuring USB pass through with a 4-USB hub, manual fan control, adjustable height, adjustable width for accommodating tablets, and cord management the Ergostand III out of the gate seems to hit all the key points a consumer could be shopping for.

About CoolerMaster
"CoolerMaster was founded with the mission of providing the industry's best thermal solutions. Since its establishment two decades ago, the company has remained faithful to this mission, emerging as a world leader in products and services for companies dealing with devices where heat issues must be resolved."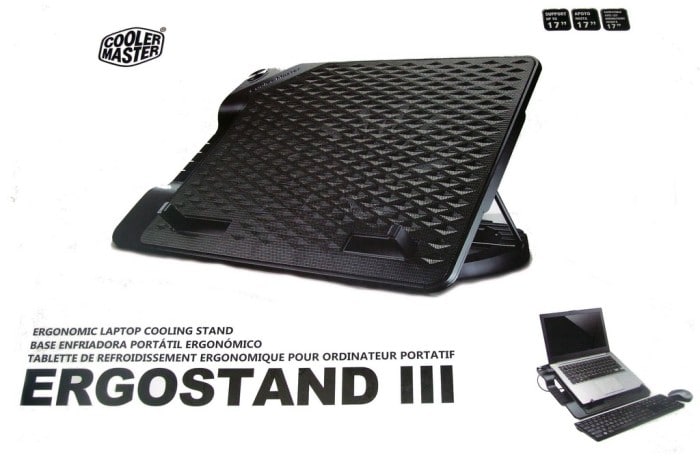 Features and Specifications
The Ergostand III includes the following features:
6 ergonomic height settings for comfortable viewing angles

All new fan design with ultra silent, high air pressure Loop Dynamic Bearing

High quality aluminum fan speed control

Removable Diamond Mesh Fan Cover 

for easy fan maintenance

Strong, Adjustable Laptop Support Pegs

Cable management and 4 USB outputs

Large 230mm Silent Fan for Effective and Quiet Cooling Performance

Supports up to 17″ laptops, tablet PCs
Technical Specifications:
Dimensions: 15.2″ x 11″ x 1.8″ – 8.9″
Fan Dimensions: 9.1″ x 9.1″ x 0.6″
Fan Speed: 500 –800 ± 15%RPM
Fan Airflow: 72 CFM
Fan Air Pressure: 0.26 mmH2O
Fan Noise Level: 21 dBA
Power: USB 5V DC
USB 2.0 x 4 + mini USB x 1 + micro USB x 1
Current Consumption: 0.26A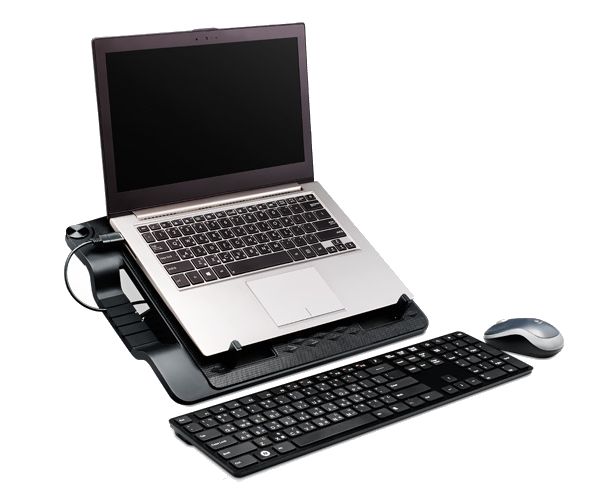 ErgoStand III – Looking Closer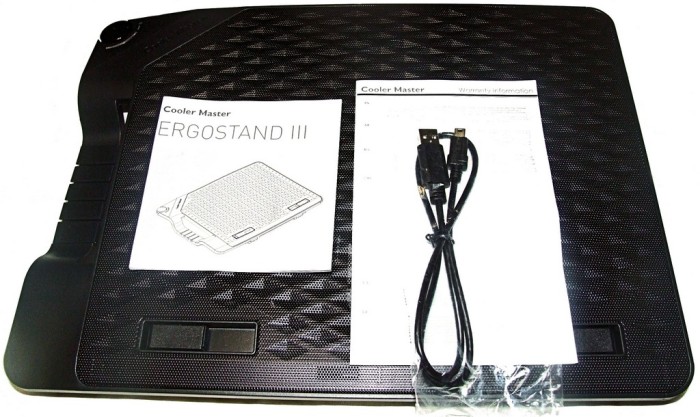 Inside the box you will find a pamphlet containing visual instructions on how to utilize all the available functions, another pamphlet explaining warranty information, and a USB cable for powering the Ergostand III.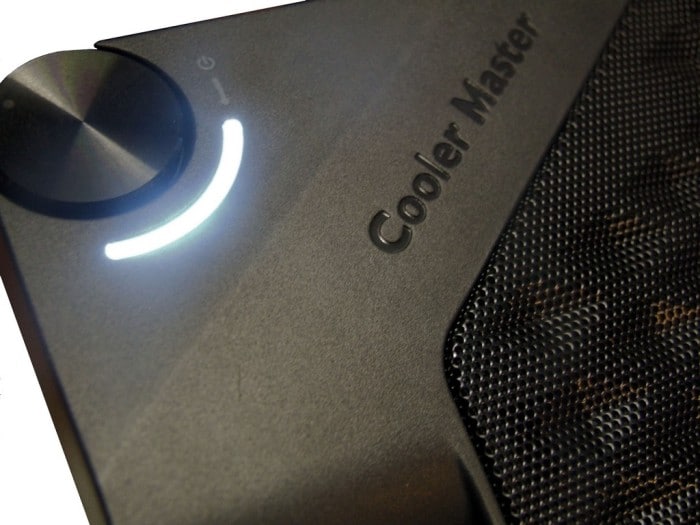 We were pleased to see a manual fan control on the Ergostand III, with Skynet gaining power daily we welcome all user control. We jumped at the chance to rev up our RPM's at other laptop stands but regardless of speed selected the Ergostand III is a silent ninja, if not for the L.E.D indicator and a cool breeze on our wrists we would not be able to tell the fan is operating.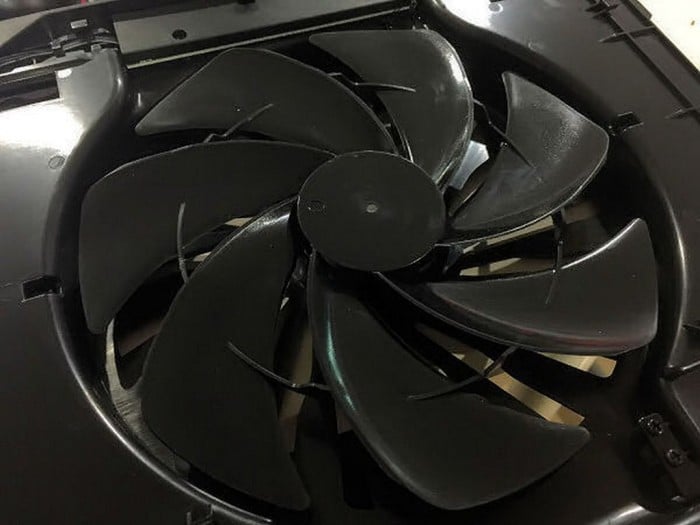 Here is a shot of the 230mm fan with the cover off allowing for easy cleaning. Inside and out the Ergostand III is well made. The high air pressure Loop Dynamic Bearing ensures prolonged fan lifespan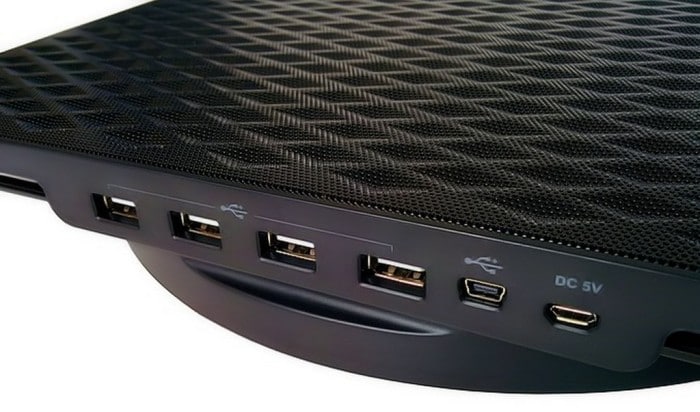 On the topside of the Ergostand III we get a USB hub ready to power all of your desired add-on peripherals.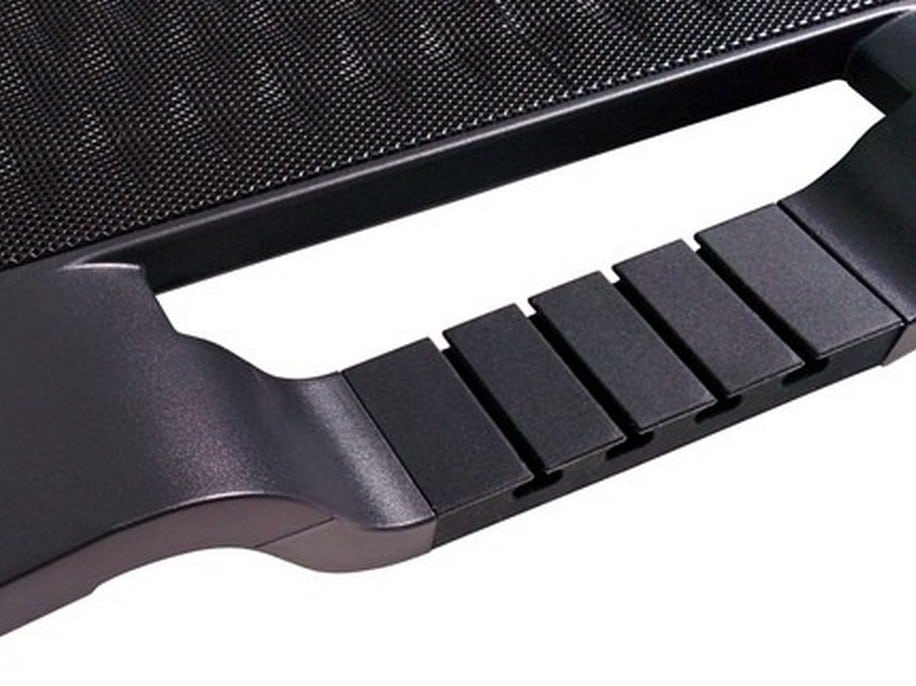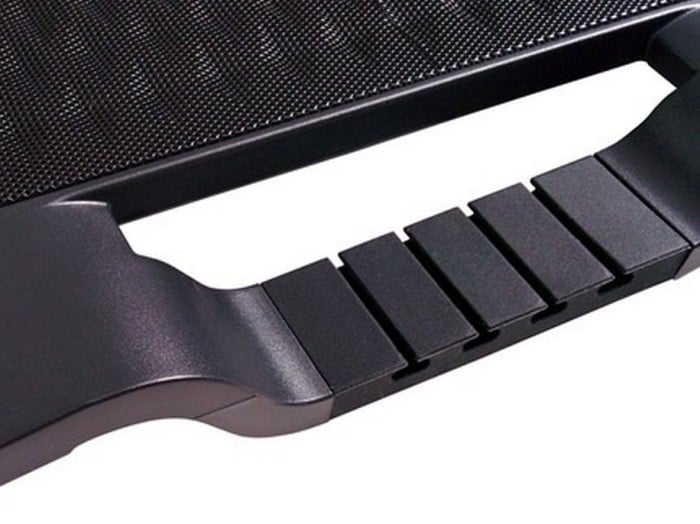 For cable management we get high density rubber that feels, like all other features on the ErgoStand III, that it will stand the test of time. Cables stay right were they are placed.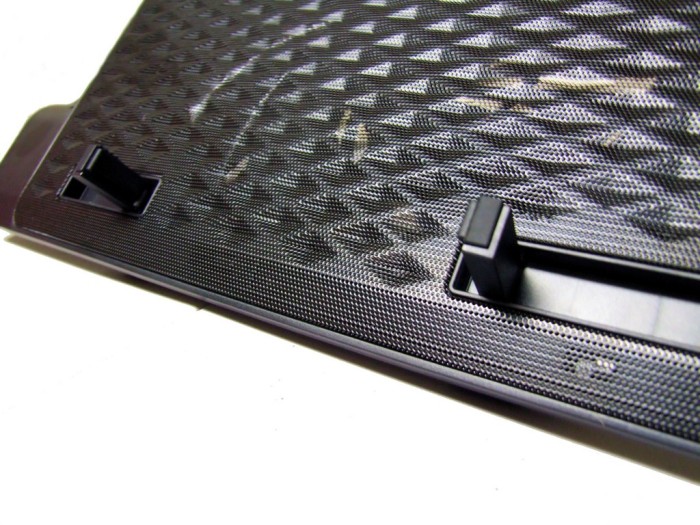 Here we see the support pegs set to accommodate your favorite laptop. They feel tough and have the same dense rubber as the cable management area so your hardware doesn't slide around. We also love the aesthetic of the diamond mesh fan cover.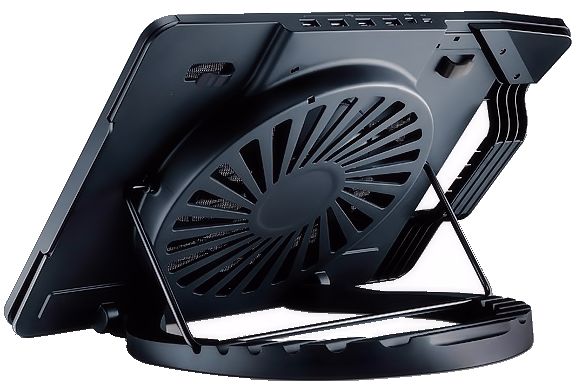 Around the back side we see the 6 ergonomic height settings, nice and simple. The base is lined with non-slip rubber as well which keeps it right where it's placed on your surface of choice.
Final Conclusion
Plain and simple CoolerMaster hit all the marks. Every component on the ErgoStand III feels solid. We were surprised how much something simple like a laptop stand, executed properly, could improve the usage and feel of our station. We tried to find a reason not to love the ErgoStand III but it's all there, function, style, features, value, craftsmanship. We at Bjorn3D always encourage readers to shop around, check the market

 and see what may work perfectly for their specific style of use. It would be absurd to flat out say "If you are looking for a laptop stand than buy this hands down no questions.." considering all the variables each consumer will factor in to what makes a good product. Thing is, at 34.99 (with 10$ rebate) from and considering the quality and features of the ErgoStand III it is hard for us to not recommend it hands down.
Pros
Cons

Silent
Solid construction
Manual fan control
USB hub
Easy to clean
Accommodates laptops and tablets
Good value
Quality materials