Mobile Apps

QNAP's mobile application includes: Qfile, Qmanager, Qmusic, Qphoto, Qvideo, Qnotes, Qget, VMobile, and Qremote. We have take a quick look at the QRemote and the QNotes already. Most of these applications have been around awhile now and they have not changed much. Though they all got incremental upgraded with new UI or added functionality or wider file support. The latest version are visually much more pleasing that seem to match better with the latest Android and IOS aesthetics. The apps works very well and no crashes. Browsing files on the NAS is smooth and app load time is great.
Upon opening each App, it will automatically scan available NAS and prompt you to enter the username and password. Once you configure the App to connect to your NAS, it will automatically log-in the next time the App is opened. You could manually add the NAS if it failed to find your NAS. We did not have trouble having the App automatically finding our unit. The great thing about these apps is that if you enable CloudLink on the NAS then you are able to remotely access contents within each App just as if you were connected to the NAS locally. The connection is smooth that you almost does not realize that you are connect to the NAS remotely. This means that you can listen to music, watching movies, browsing pictures and files stored on the NAS across the globe via cellular signal or WiFi.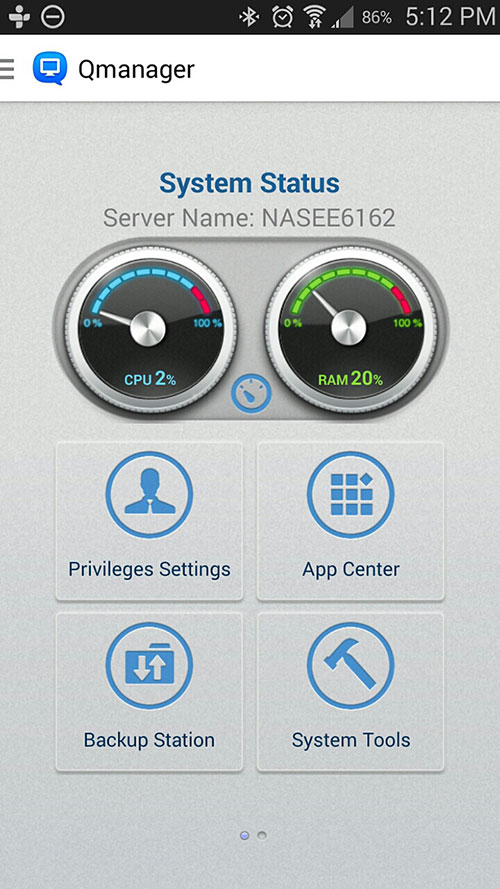 One of the apps that I absolutely love is the Qmanager as it makes managing the NAS super easy. It works when the NAS is in the same network or remotely if you have CloudLink enabled. A lot of useful information are provides such as system logs and resource monitor. You can also use to setup user account, adjust user privilege and shared folders, turn on and off an Application, and turn on/off or restart the NAS. This is especially valuable if you need to quickly and displays NAS information on your mobile device.
Desktop Apps

QNAP NAS comes with following software utilities for PC/Mac/Linux: Qfinder, myQNAPcloud Connect, Qsync, NetBak, Qget, vSphere Client plug-in, Qsnap. They allows you to manage the NAS, sync the device, remote control the NAS, and perform backups. You can find the detail description of each App and download them directly from QNAP's site. While all of the utilities will work with Windows PC, only a few will work for MAC and even fewer are for Linux. Despite this, I don't think Mac users would feel much left out as you can still use all of the powerful features on the unit even without a dedicated application installed on your system.