Final Thoughts & Conclusion
The Corsair H110i GTX Extreme Performance delivered great cooling up to 4.3GHz on the 5820K, but temperatures rose quickly beyond that point, and at 4.4GHz it hit

89°C, just one degree short of us stopping the test. The 2000 RPM SP140L high torque PWM fans were delivering 104.65 CFM, and anyone who knows fans will tell you no fan is silent at that CFM level. We put our decibel meter one meter in front of the machine while it was under load and it registered 45dBA. Keep in mind that we disabled all the other fans on the test bed for the noise test, so the only fans running were the SP140L high torque fans. We would have to say that the Corsair H110i GTX Extreme Performance is one of the louder dual-radiator coolers we've come across. There's always a trade-off when it comes to water cooling; you can have low RPM silent fans that do an OK job, or you can have higher RPM fans that make some noise. The Corsair H110i GTX made some noise but provided pretty good dual-radiator AIO cooling. We suspect that using an aluminum core radiator caused Corsair to pour on the airflow to compensate for the lack of a brass core radiator.
You can look at a product and make a snap judgement call and say "oh it was a little noisy, we hate it", or you can weigh in all the factors and realize that dual-radiator DIY kits can run a couple hundred dollars for marginally better performance. It's just a fact that in the $120 price for the Corsair H110i GTX Extreme Performance watercooling system does a pretty darn good job.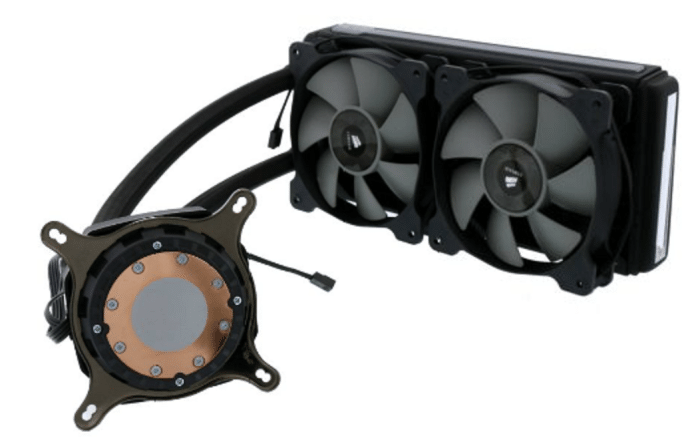 The simple setup and ready to go, out of the box aspect of the Corsair H110i GTX make it a solid, if somewhat noisy, option for AIO dual-radiator watercooling. If the noise bothers you, slap a couple more fans on the other side of the radiator and control the RPMs using Corsair Link and things will quiet down pretty quickly.
Running $119.98 on Amazon at the time of publishing, it's not hard to recommend the Corsair H110i GTX for an easy to install, fairly inexpensive watercooling solution. The ability to monitor the coolant temperature and the CPU temperature with Corsair Link helped sell us on the kit. You can never have enough thermal information on your CPU when you are taking OCing to the ragged edge, and the H110i GTX allows you to take your CPU to the ragged edge and keeps you informed of the CPU temperature so you know when to quit.
Like any other product, there were things we liked and things we didn't, but in the balance we found more to like. If we had to pick two things that we didn't like, it would be that the CPU hold down plate wasn't made of very substantial material and the fans made some noise. On the flip side of that, the Corsair H110i GTX did exactly what it was supposed to do, and that's to allow a good, solid OC consistent with dual-radiator cooling systems.
Pros
Cons

Excellent Performance For A Dual Radiator AIO
Looks Good Doing Its Job
Hassle Free Installation
Massive 5-Year Warranty
RGB Lighting On The Water Block
Large Copper CPU Waterblock

Tubing Is Black Rubber
Too Noisy
High FPI Aluminum Radiator