Test Rig
Testing on CPU coolers is pretty straight forward: run stock clock temps, OC to a couple of different levels, run the CPU until it's maxed out and the temperatures level out. We don't like to see anything above 80°C and the test is definitively over if the CPU approaches 90°C. We see the CPU hit 85°C and we are headed for the abort button as fast as humanly possible. We are running Windows 10 Professional and there's no need to shut down any services as we are looking for 100% CPU usage no matter the source. We'll be using a couple of programs to test the cooler; ROG Bench and Aida 32 Stress test should work fine.
We run the tests three times, add the results then divide by three, giving us the average of the three tests and we report that result here.
Test Rig
"Hexzilla"
Case Type
CPU
Motherboard
Ram
CPU Cooler
Corsair H110i GTX
Hard Drives
Optical
Liteon DVD Burner
GPU
Asus Strix R9 390X Gaming 8G OC
Case Fans
1 x 180mm Mosfet / CPU / Ram cooling fan
1 x 120mm PCI-E Cooling Fan
Docking Stations
None
Testing PSU
Legacy
None
Mouse
Keyboard
Any Attempt Copy This System Configuration May Lead to Bankruptcy
Testing Results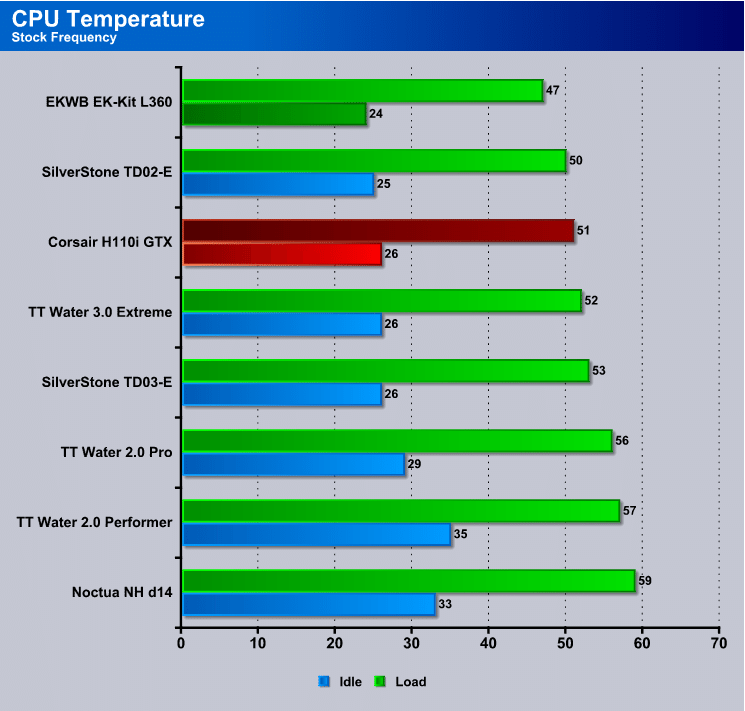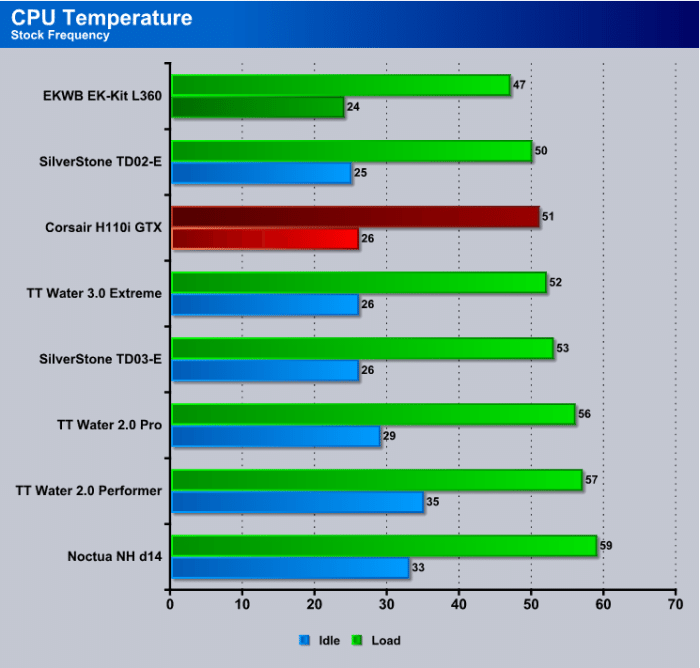 Running the Intel 5820K at 3.3 GHz, the Corsair H110i GTX fell just one degree behind the Silverstone TD02-E at idle. The H110i GTX was again just one degree warmer than the SilverStone TD02-E under load, at 51°C.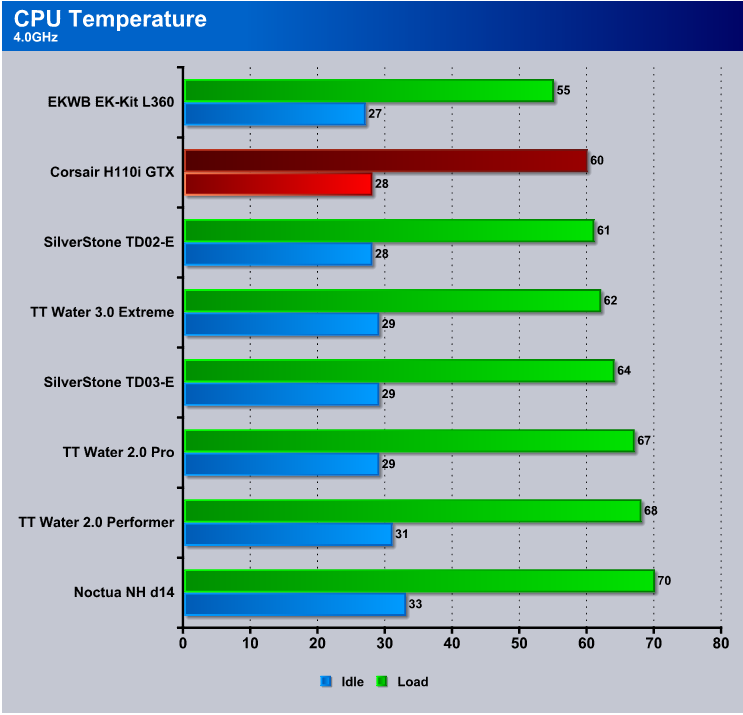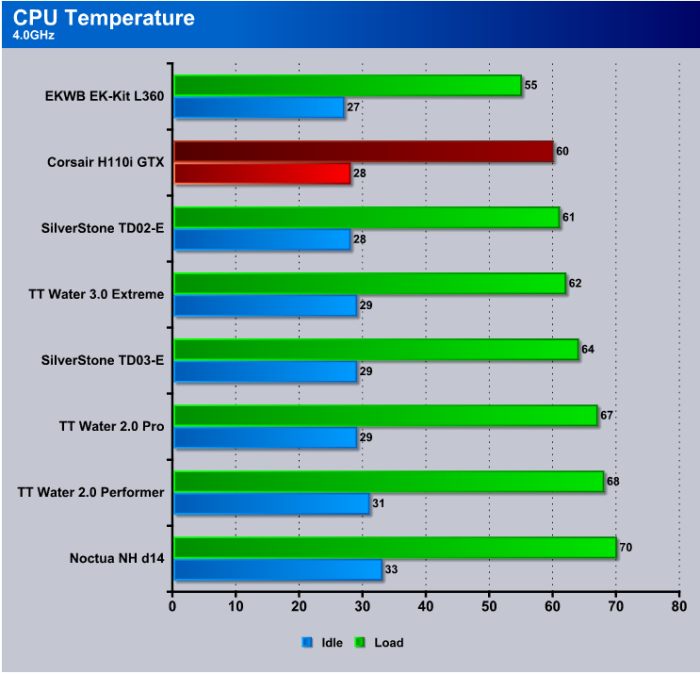 We stopped messing around and turned off Intel's SpeedStep technology and held the CPU at 4 GHz with no turbo and the Corsair H110i GTX Idled at 28°C and under load the thermals rose to 60°C. Let's get to some higher frequencies and see how the Corsair handles the load.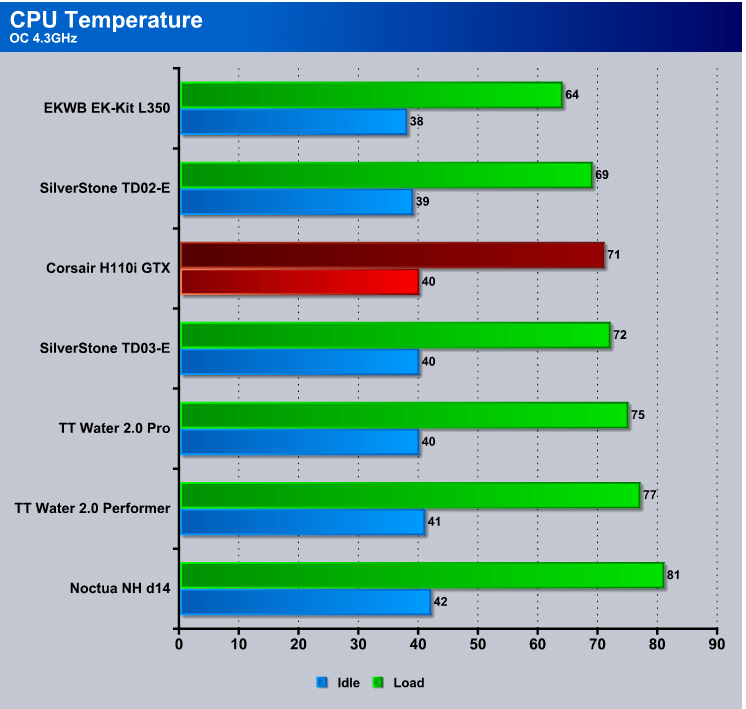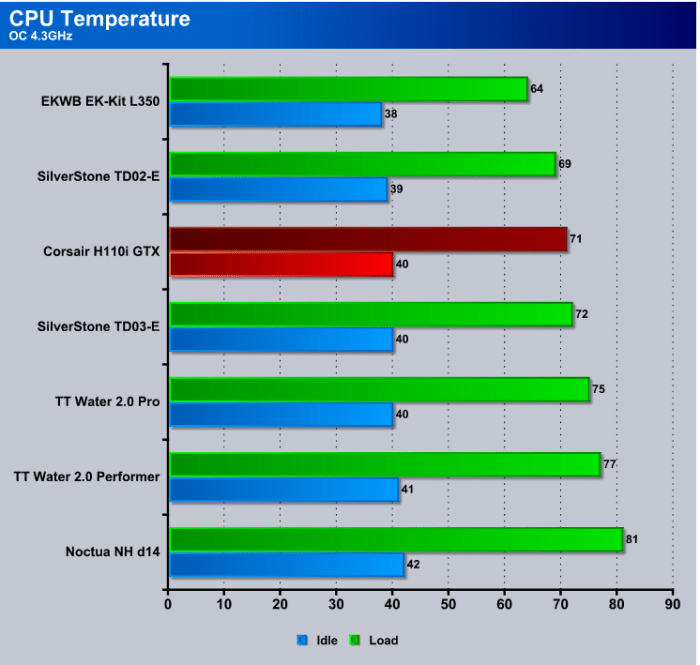 At our overclocked frequency of 4.3 GHz the only air cooler on the chart has exceeded 80°C, and we consider that the "Fail point". The Corsair H110i GTX held the idle at 40°C and the load ran up to 71°C. From this point on we have to add more voltage to the CPU than we like, and as a result, the temps on the CPU go up exponentially with the added voltage and speed.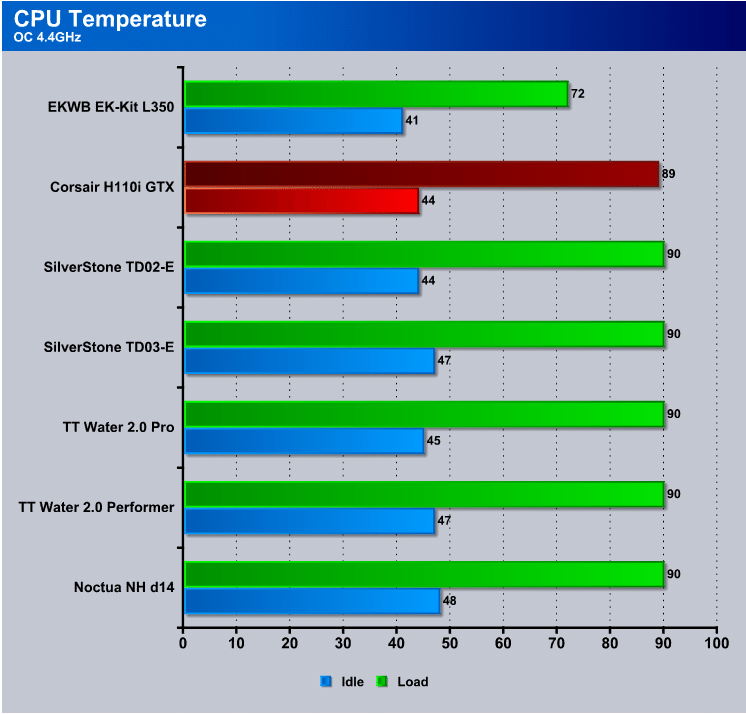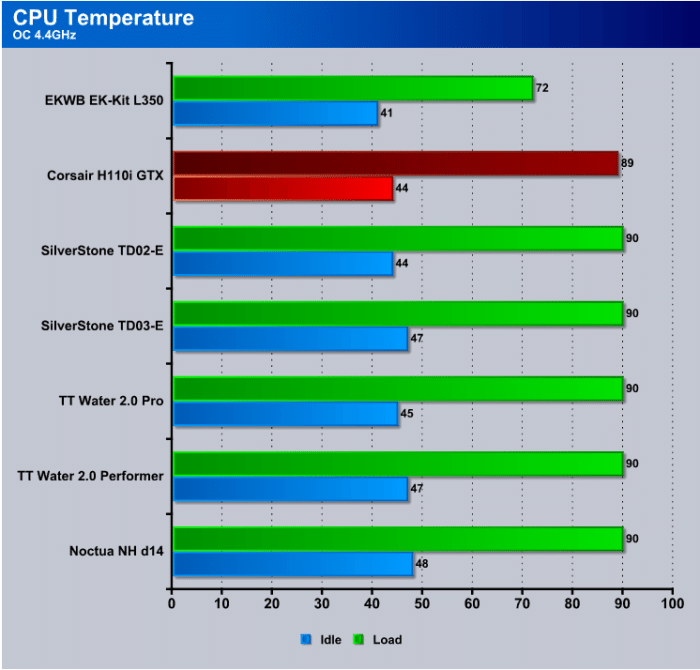 Here at 4.4 GHz things are getting pretty toasty, and the fans have kicked up on the Corsair H110i GTX to a more than noticeable level. We stopped the tests at 90°C and the Corsair H110i GTX barely hung in there at 89°C. We have to give Corsair's H110i GTX credit, as it was the only dual-radiator cooler that could handle Hexzilla at 4.4GHz while staying under 90°C.