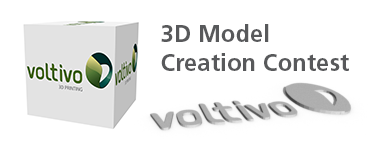 3D printing enthusiasts get your artistic designing chops ready. The folks at Voltivo is hosting a contest where you can show off your creativity and win something cool. All you got to do is like their facebook page and post a picture of the rendering. Sounds pretty easy.
Three best designs would win Voltivo Starter Set that consisting of two Voltivo ExcelFil in any color of your choice and one pack of Voltivo Filament Cleaner. Five runners up would also get one pack of Voltivo Filament Cleaner.
Any residents in the following area can enter the contest: North America, Europe, Asia, and Australia. If you do not own a professional 3D CAD software, you can still enter with the free web-based TinkerCad for your design. So gets your artistic mind rolling as the contest is good till May 15th, 2015.

Source: Voltivo