Introduction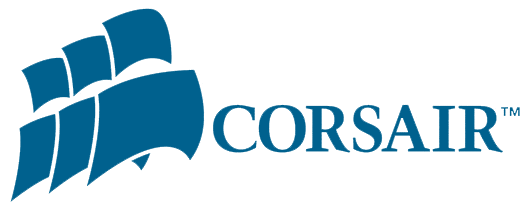 Corsair has been a long known player in the memory game and even after branching out into many other products they still deliver some great memory products very consistently
Now that we have come upon DDR4 Corsair was the first to get us some hands on time with DIMMS in the kit you see in front of you today. This kit  is one of Corsairs newest Vengeance LPX models which is actually the companies mainstream line with Dominator platinums to service the high-end enthusiasts crowd. DDR4 has JEDEC or default speeds of 2133 so to see that Corsair is planning to release 2666MHz (Which is the kit we have today) as their minimum per their FAQ statement says a lot about their ambition to really push the performance on the new platform.

This Vengeance LPX 2666MHz 16GB kit comes to market via newegg at $339.99 presently or at the time of this writing
This price is about what you would expect maybe a little higher depending upon your comparison. looking at Newegg at similar density and speed rated kits there is only a few you can compare to. so for now the price is about middle of the road now lets move on and see if we can get an idea of what qualifies this kit to be the one to earn your hard earned bucks.
Pictures & Impressions
Click Image to Enlarge
The Vengeance LPX modules come packed in a branded box and surprisingly due to the modules standard height and low profile heatspreaders are actually very compact compared to modules we have seen before. This will undoubtedly allow for better shelving and easier management of multiple models in retail or shipping. Internally they are in a blister pack each holding two DIMMS.
Click Image to Enlarge
Here you can see the four identical DIMMS. Also seeing the spec label that this is a (4x4GB) 16GB kit.
Click Image to Enlarge
The top of the heatspreader is marked with the Corsair name and ribbing on both sides allowing cooling airflow to take away any heat from the modules. Opposite end of the labels you find the Vengeance LPX logo which actually is clean and not too crazy looking so overall a nice looking finish to the module.
Click Image to Enlarge
The heatspreaders are a thin stamped type and are simply used to spread heat away from the memory ICs themselves although due to the super low voltage for DDR4 I am betting these are more for aesthetics than for actual heat dispersion.
Here lastly you can see the modules almost ready for the initial CPU article installed in the X99 Deluxe motherboard from ASUS and with an all white and black motherboard design the styling of the red LPX modules really help set off the look of the platform.
| | |
| --- | --- |
| M/B Chipset | Intel X99 Series |
| CAS Latency | 15-17-17-36 |
| Capacity | 16GB (4GB x 4) |
| Speed | DDR4-2666 (PC4-21300) |
| Test Voltage | 1.2 Volts |
| Registered/Unbuffered | Unbuffered |
| Error Checking | Non-ECC |
| Type | 288-pin DIMM |
| Warranty | Limited Lifetime |
| Features | Intel XMP 2.0 (Extreme Memory Profile) |
These modules as you can see are XMP profiled for 2666MHz and at a very low 1.2V but one thing worth noting is that there is a second profile on the module set for 2800MHz which is considered the "Unsupported profile" which offers a higher speed but not necessarily capable with every board. This also gives us an idea of what the modules should be capable of when pushing for overclock testing.
Testing & Methodology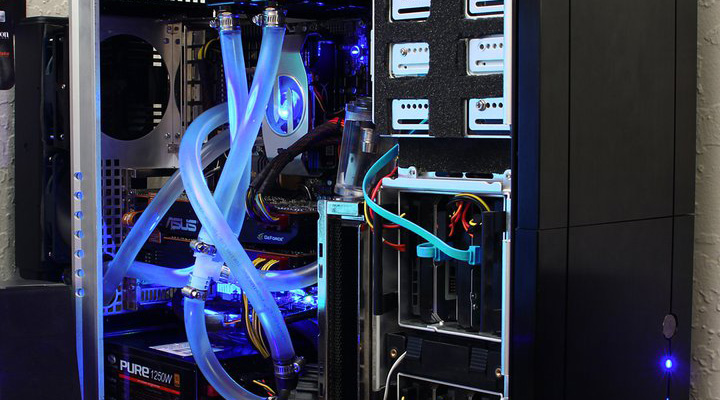 Memory testing can be tough at times as most look at a number (the frequency) and think the higher the better, but in our testing experience we know that many times there are other numbers at play. Factors such as the timings and subtimings can have anywhere from a minimal to a drastic effect on what kind of performance we see from the system when tweaked to the max. Also price can be a determining factor as well and this is why we will run through a few benchmarks to see how this kit affects system performance running at SPD, XMP and custom tweaking to ensure we get a good idea of exactly what kind of value the end consumer can expect for their money.
Overclocking
Overclocking memory can be kind of a hit or miss sometimes and being that DDR4 is so new its likely that as BIOS updates come along and DDR4 progresses we will see much more speed capabilities.
The 1.2V spec rating will give you a solid 2666MHz tuning to 1.35V allows for the second XMP profile of 2800MHz to be applied but anything short of severely opening up the timings could I get any higher. Now do keep in mind that DDR4 is very new and it is definitely possible that with future updates we could see much better performance come down the line but as of now the looser timings on current kits seem to be a little better than a wash in terms of performance.
I am still hesitant to say that 2800 is the limit for these modules as I will keep them up to bat for a while and see as boards and BIOS mature exactly how the memory scales and also if overclocking improves.
We do have to keep in mind that DDR4 is new so I don't want to judge it too harshly as there are too many factors at play to not be sure if it's a board, BIOS or even IMC limiting speeds
CAUTION: Overclocking can damage components, void warranties and cause all kinds of other unforeseen issues. Perform at your own risk and understand the settings we may list are from our own testing risking my own hardware so it is in no way a guide on how you should overclock your system or components.
Test Rig
Test Rig

Case
Open Air Test Bench
CPU
Intel Core i7-5960X
Motherboard
ASUS Rampage V Extreme (X99)
RAM
16GB Corsair Vengeance LPX 2666MHz (4x4GB)
CPU Cooler
Thermaltake Water 3.0 Ultimate
Hard Drive
Western Digital Velociraptor 300GB
SSD
Kingston HyperX 240GB SSD
Optical
ASUS BD-ROM
GPU
Intel HD 4600
Additional Cards

N/A
PSU
Thermaltake Toughpower XT 1475W Gold
Mouse
Tt eSPORTS Theron gaming mouse
Keyboard
Tt eSPORTS Meka G1 mechanical gaming keyboard
Test Suite
We will use the following applications to test the performance of the memory.
Benchmarks
AIDA64 Extreme
Superpi
3DMark 11
Sniper Elite V2
AIDA64 Extreme
"AIDA64 Extreme is about one of the most comprehensive system information utilities I have used. The integrated memory benchmark is aso very cool as it gives me a repeatable bandwidth and latency result which can then be used for comparison."
AIDA64 shows good results for the DDR4 kit now that the program has been patched to work properly with the new platform and its memory controller. you can see when going from JEDEC to 2666 then 2800 how it affects performance.
Superpi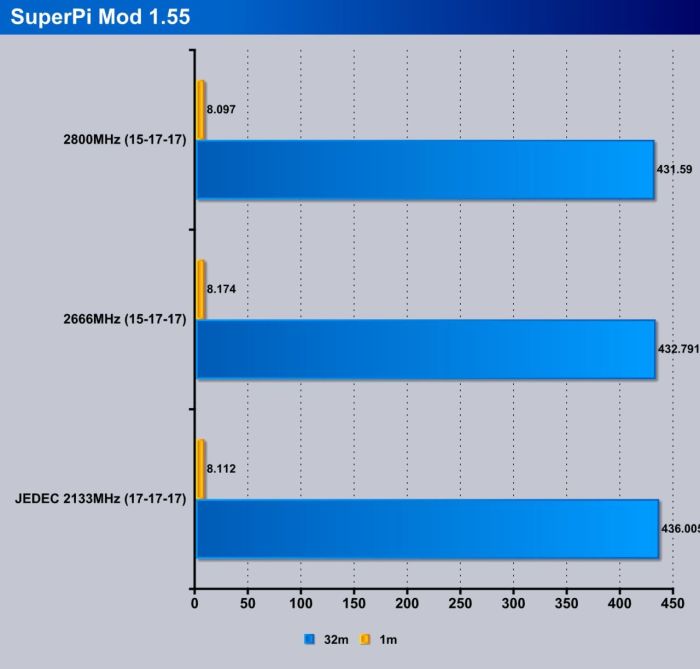 Here we have SuperPi which does very well for testing efficiencies and also stability of a platform. The 1M test is the short and dirty test with very minor gains from tweaking memory. However in the long 32M test you can see that the small tweaks in memory can make a pretty big difference in things like render jobs where data will be consistently processed for a long period, it can save you quite a large amount of time depending on the job possibly even minutes which if it is a production system that can save huge money as well by getting work done faster.
3DMARK 11

3DMark 11 is the newest in futuremark's suite of benchmarking utilities. Its a fully capable DirectX11 benchmark which also stresses and analyzes the system performance as a whole to simulate a heavy rendering environment such as a high end game or other app the end user may run. This benchmark was run with Performance settings 5 times and all runs were averaged for the result below.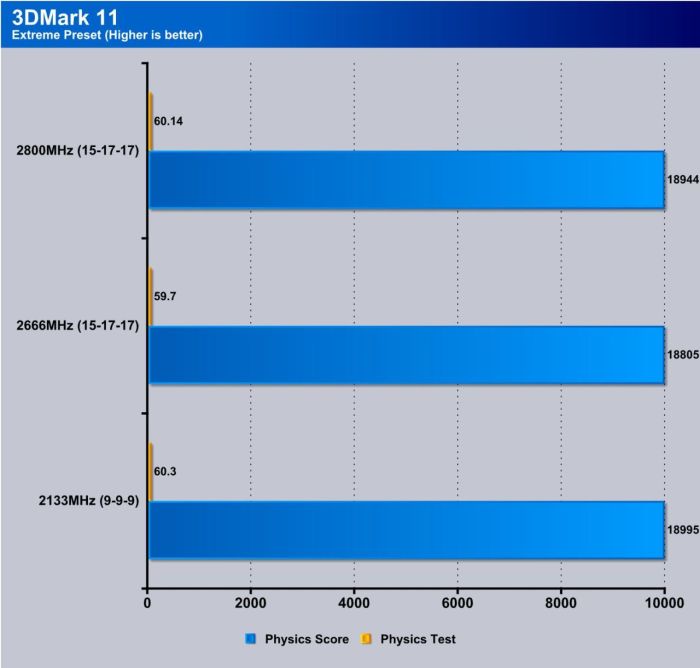 3DMark 11 is a nice synthetic benchmark which represents 3D gameplay. here you can see tha th ephysics scored well on JEDEC but actually lost a little bit of performance when turning up the speed but I believe this may still be sue to poor optimization.
Sniper Elite V2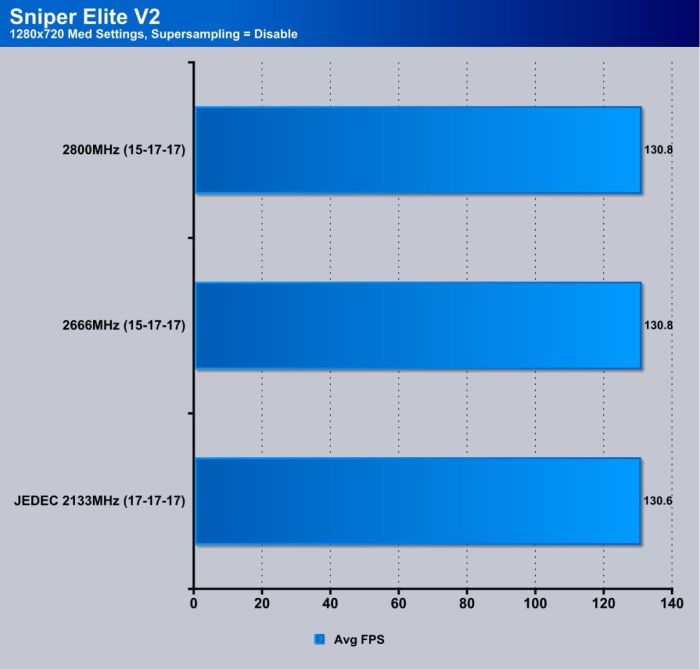 Sniper Elite V2 is a older game but ot responds well to CPU overclocks and other system clock changes so i figured it could be good to show any advantages to the pipeline. As we see here the average FPS does not change much just ever so slightly up which tells me that possibly either the OS is not yet optimized for this new platform or even more so we are at a tipping point at which only extremely CPU/Bus bound applications will see very little benefit if any at all. This means that most games and whatnot you use every day at least presently simply cannot saturate the new DDR4 bus enough to see a real benefit from the speed increases yet at least.
Our Final Thoughts

Corsair was quick on their game to get modules out as there are many memory partners I have not seen mass market availability yet from. The Vengeance models look nice and compliment a system build well with multiple colors available.
The low profile design of the heatspreader allows for pretty much any cooler even larger and more intrusive air coolers have less chance to have clearance issues with the memory. The second speed XMP profile is nice as it gives you a good idea of what the modules shoudl be capable of on a supporting board and also where you should have your minimum in regards to tuning.
Needless to say I am very excited to see what this kit can do as BIOS will undoubtedly improve and DDR4 overclocking potential i am hoping will follow suit
Pros:
Cons

Strong Performance
Good overclock ability
Nice looking low profile heatspreader
Readily available at launch
Review Overview
Performance - 9
Value - 9
Quality - 9.5
Features - 9
Innovation - 8.5
9
The Corsair Vengeance LPX modules are strong performers with nice styling which should meet the needs of any new X99 build.