Overview of the MSI Z97 GAMING 9 AC
Click Image For a Larger One
The packaging is what we have come to know from the gaming series. Dragon crest design and minimalist info on front. Flip open the cover and you find some extensive data on features and a window to the board view which for media samples is obstructed by a test report, but otherwise you would see a board there. The rear carries a bit more detail long with a IO layout that helps you to better understand the connectivity of the board.
Click Image For a Larger One
Here we see all of the accessories we get with the MSI Z87 Gaming:
User Manuals
Installation Discs
WiFi Module/Antennae
Quick Front panel Connectors
EZ Voltage Checkpoint Cables
Audio DAC Power Connector (4 Pin PATA)
eSATA IO Bracket and Cables
SATA Cables
Cable ID Labels
SLI Ribbon
IO Shield
MSI Gaming shield Case Badge Decal
This bundle will easily get the job done and get you up and running. The only think I could think of needing would be a few more SATA cables as the board has 8 onboard SATA ports but only 6 SATA cables. I do think the addition of a power connector for PATA to the audio solution is a real sign of just how beefy this audio solution is with this board.
Click Image For a Larger One
Here you can see the complete board and again the thing I love is that manufacturers pay attention to boards edge and keeping connectors close to this which allows nice looking cable routing and management. The board overall has a very dark feel with some somewhat subtle reds that help the board to not jump up and scream for attention like some other boards do with their color scheme. This should help adoption of these models into case mods and custom builds due to the stylish design but subtle nature of the color scheme.
One thing worth noting is that the pin header for the WiFi module is very small, so take care when installing as the pins are very fine and I could see those getting messed up if not careful.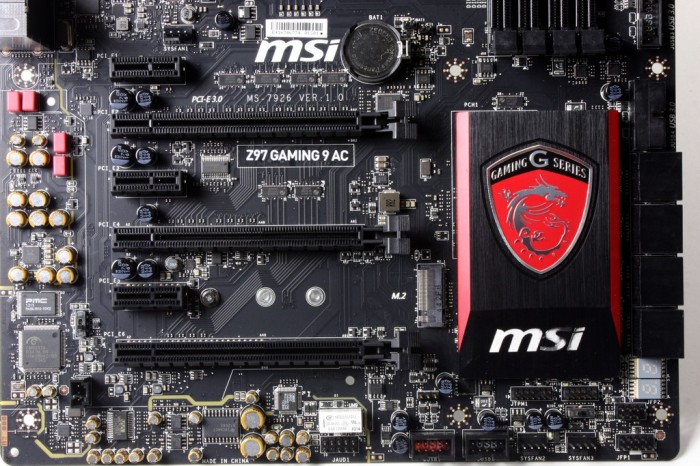 Click Image For a Larger One
The slot layout is designed for dual card setup and even has a lower slot which will allow 3 way crossfire setups via a 8, 4, 4 configuration although SLI will be limited to 2 Way since SLI does not work with any 4x slot so it would be x8/x8. I would have liked to have seen a 4x PCIe slot from the PCH down below to allow usage of HBAs or add in cards rather than the 4/4 split which most users probably will not employ.
Click Image For a Larger One
The memory section is capable of up to 32GB memory and speeds of up to 3300+ but of course with 8GB DIMMs we would not count on such high speeds. However, the capability is there especially with Haswell to really push some speed on lower density DIMMs.
The VRM heatsink has changed quite a bit for Z97 instead of being formed in the shape of the dragon head it now employs a pretty nice looking large black heatsink with red claw type extrusions which makes for a real menacing look for the cooling parts of the Gaming series.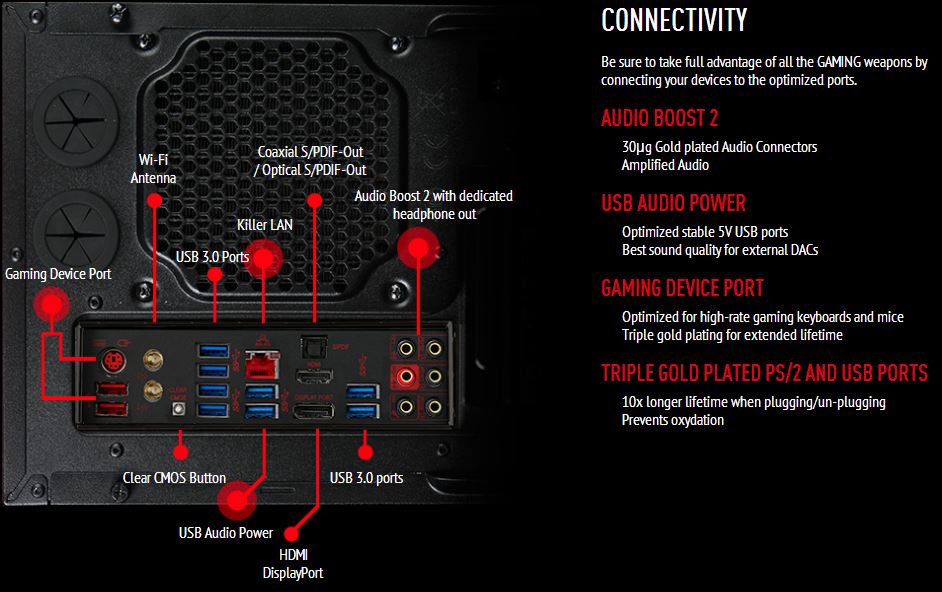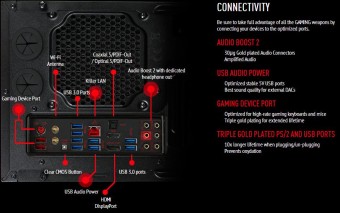 Click Image For a Larger One
The rear IO is quite stuffed with connectivity options:
PS2 combo keyboard/mouse port
2x USB 2.0 Ports
WiFi Antennae connectors
Clear CMOS Button
Optical and Coaxial SPDIF connectors
8x USB 3.0 ports
Gigabit LAN port (Killer E2200)
Displayport
HDMI Port
up to 8 Channel HD audio via Realtek ALC1150
The connectivity of the Gaming 9 has lots of options offering Optical S/PDIF out and full audio connectivity via the audio Boost 2 ports with even a dedicated headset jack.
.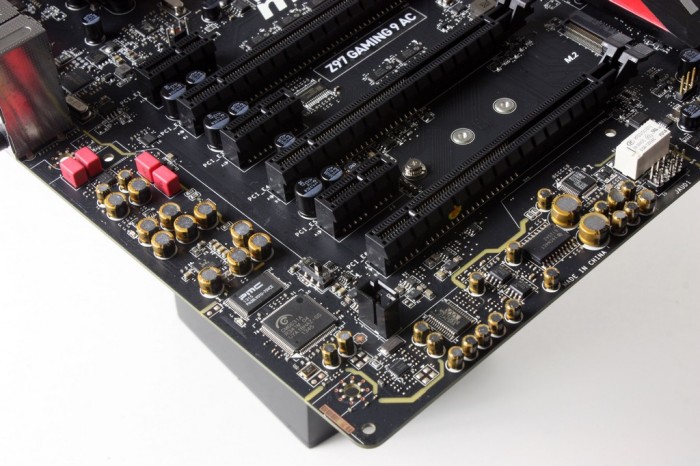 Click Image For a Larger One
On the lower left edge of the board, once the armor is removed, you can see is simply crammed with components. All of your high-end audio components including Nichicon caps, Film caps and tons of audio circuitry is in place to ensure an amazing gaming experience from this board. Add to this the fact that like many others we have seen they isolate the audio portion of the PCB to ensure that there is no outside interference into your audio and the solution looks better and better. Then we look at other things as there is more the Codec feeds from the ALC1150 chipset to a CMedia audio processor and a Wolfson DAC. And something I personally likes is the anti popcorn relay which for anyone who has ever had a speaker set connected to their PC knows the all familiar pop when connecting a speaker set or when starting the PC, well this is eliminated via this relay which kicks on the audio shortly after the system starts to boot. One thing to note though is that on the test bench the click from the relay was definitely noticeable as it switched on, however once built-in a chassis the click was not really noticeable anymore, but it is worth noting if you plan to run this board in a testbed style chassis where it is close to you that the click shortly after powering on is normal and does not signify an issue. Also do note the small black connector right next to the PCIe slot which is used to feed power from a PATA connector to the audio solution to ensure excellent audio performance from these components.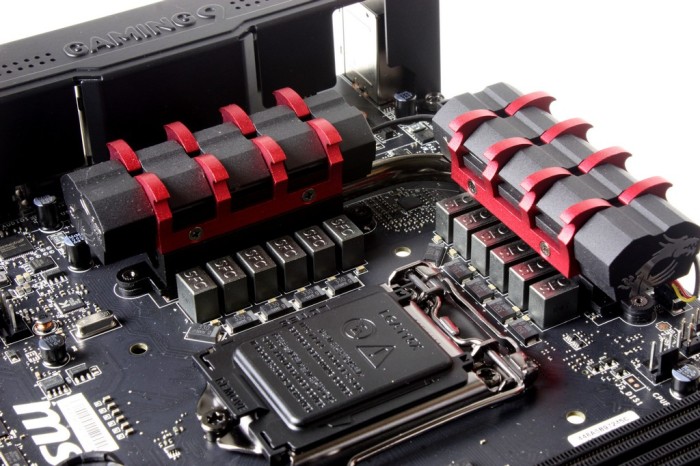 Click Image For a Larger One
Here is the VRM area, as you can see the same Military Class components are put to work here with a full 12 phase solution at the helm. The power section is kept cool via the large coolers I mentioned before and even without fan airflow I didnt notice them getting hot so the radiating heat from the surface area alone appears to be awesome enough to keep things running smoothly.
The VRM is fed by a single 8 PIN ATX connector which should be more than enough to feed even the most aggressive hardcore gaming rig.
BIOS Overview
Click BIOS 4
MSI has updated the Click BIOS again now to Click BIOS 4 which is quite the update as you can see above. There are definite improvements in the feel of the BIOS as it feels more fluid when using it but also there are some new features as well.
One of the nice features would be the fan control which is actually really nice as you can set fan profiles and even ramping via a multi point graph within the UEFI.
Also another would be the Board Explorer which has a visual layout of the board and areas where things are plugged in or attached are highlighted where you can mouse over them and it will even tell you the device ID which is really cool just for the simple fact you don't need to trace a SATA cable anymore to see which one goes from which drive to the board.
Review Overview
Performance - 9
Value - 7.5
Quality - 9
Features - 9
Innovation - 9
8.7
The MSI Z97 Gaming 9 AC is a great board that has an amazing audio solution, but a tough price tag