Overview of the MSI X99S GAMING 9 AC
Click Image For a Larger One
The packaging for the X99S Gaming 9 is the black and red gaming styuling but with a touch of metallic finish to really help it jump off the shelf to grab attention. The front is very clean with only a few featurwe monikers across the top. Otherwise the front is dominated by the silver dragon.
The rear has a lot of feature info and one of the very interesting features being the Streaming engine and of course the M.2 with PCIe Gen 3 X4 interface.
Click Image For a Larger One
Here we see all of the accessories we get with the MSI Z87 Gaming:
User Manuals
Installation Discs
WiFi Module/Antennae
Quick Front panel Connectors
EZ Voltage Checkpoint Cables
Audio DAC Power Connector (4 Pin PATA)
eSATA IO Bracket and Cables
SATA Cables
Cable ID Labels
SLI Ribbons
IO Shield
MSI Gaming shield Case Badge Decal
This bundle will get your new X99 board up and running easily with more than enough cables unless you plan to use every SATA port on the board at which point you would need to secure a few more cables.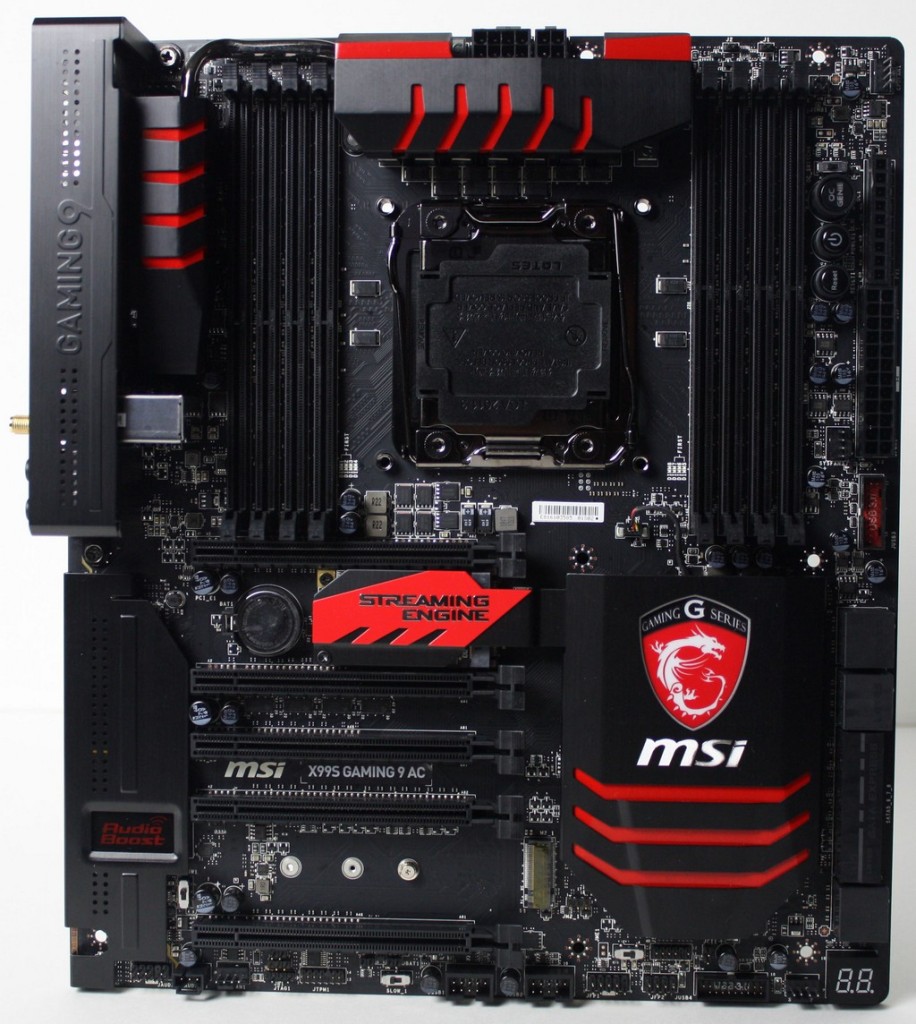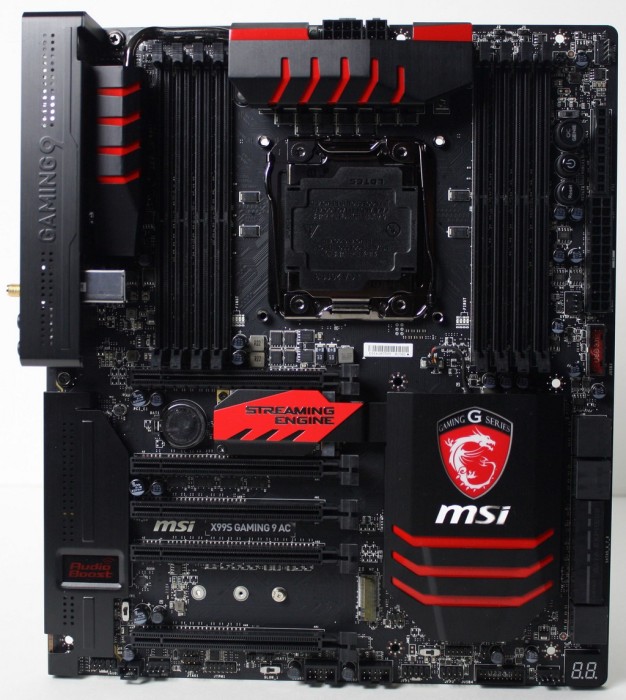 Click Image For a Larger One
Here you can see the complete board. As usual keeping connectors at boards edge to ensure effortless cable management and always scores some points. The color scheme is mostly dark but the red really does pop with a bit more color than im used to from a MSI gaming series board. This can be a good or bad thing depending as some really love the red/black feel but also on the other side of the coing it can really jump out on a build that might be going for a more subtle black look.
The new PCH heatsink is nicely designed and with the dragon crest being backlit I think adds a nice visual effect for the board.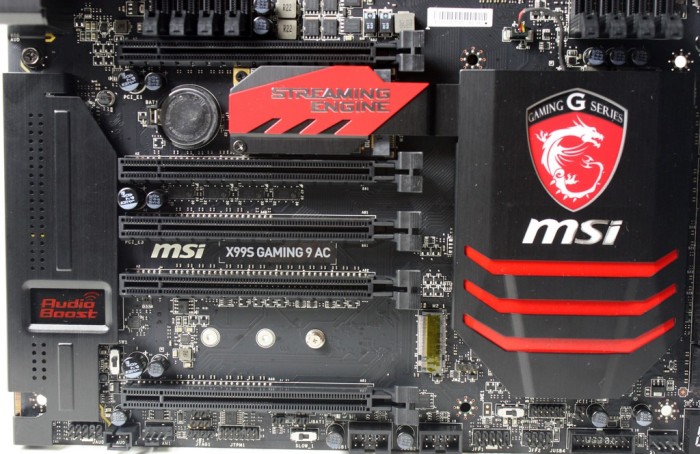 Click Image For a Larger One
The slot layout is ready to rock and roll with up to 4 card configurations at X8/X8/X8/X8 or dual 16, it all really depends on your card layout and needs, but with the top and midrange chips there are 40 lanes at play so plenty of bandwidth to work with.
Click Image For a Larger One
The memory section is capable of up to 64GB+ of DDR4 memory via its 8 DIMM slots and speeds can go in excess of 3000MHz+ depending on module capability and density.
PCH heatsink as mentioned before has a nice black finish with red inlays glowing through but the backlit dragon crest really is a cool look here as it gives a very unique look when installed in the system pending of course its not covered by cards.

Click Image For a Larger One
The rear IO is quite stuffed with connectivity options:
PS2 combo keyboard/mouse port
2x USB 2.0 Ports
WiFi Antennae connectors
Clear CMOS Button
Optical SPDIF connector
8x USB 3.0 ports
Gigabit LAN port (Killer E2200)
up to 8 Channel HD audio via Realtek ALC1150
The connectivity of the Gaming 9 has lots of options offering Optical S/PDIF out and full audio connectivity via the audio Boost 2 ports with even a dedicated headset jack.

Click Image For a Larger One
For storage the Gaming 9 is not playing around offering 10 SATA 6G capable ports to ensure no matter your storage config you should be covered, and the best part of this all is that they are native ports which means they all go thru the PCH and even the ports on the SATA Express can be used as individual SATA 6G ports to allow for 10 drives connected to the X99 board.
Click Image For a Larger One
One feature trhat I know got some attention when they posted it out to their social media is the "Streaming engine" powered by Avermedia. This is a mPCIe card which has a built in H.264 hardware encoder to allow full 1080p30 streaming powered by the Avermedia card which means that the streaming duties will no longer be bogging dowwn your gaming PC due to the heavy lifting of encoding the stream being handled by the add in card. With the growing popularity of online game streaming I feel this has a chance to be a real value add component for a gaming board as it addresses something which has always been an issue. with streaming there is some system overhead and I have seen cases where you gotta tweak and mess with the broadcasting software to get the stream running well without causing issues in the game due to the system resources being used on the stream. With something like the streaming engine you now have the hardware encoder that does the work for you without affecting your system resources nearly as heavy.
Click Image For a Larger One
The Gaming 9 has the OC bench controls at the top right so that even if fully populated with cards you can still access your power/reset/OC and even the voltage probe points to ensure you have full control over your system when you need it.
The lower Right hand edge has the LCD post display along with a BIOS switch just belwo the PCH sink which allows you to control which physical BIOS chip you boot from. This has always been a cool option to me as it allows me to save different profiles or even different BIOS versions for testing on the opposing chips.
The M.2 port offers up to full X4 PCIe Gen 3 support for a massive amount of bandwidth that really just makes me wish we had a drive in existence that could exploit that much bandwidth. You can fit up to a 2280 Size drive similar to the Plextor 512GB we used for testing.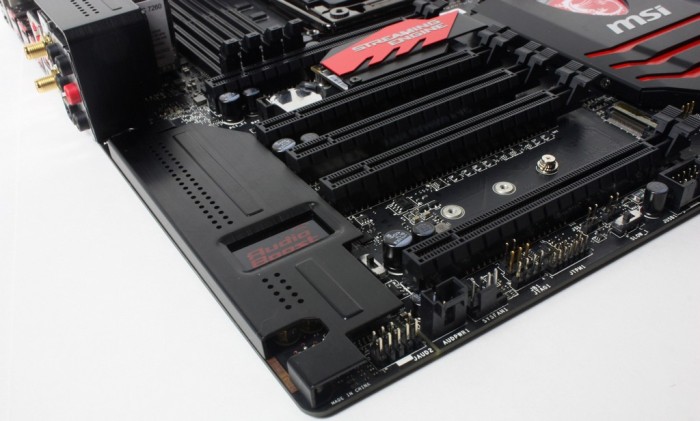 Click Image For a Larger One
On the lower left edge of the board, once the armor is removed, there is a welth of components in place including a high quality amp being fed by top quality Nichicon audio Caps. The Audio Boost 2 solution is a great sounding gaming grade audio implementation and really helps bridge the gap for gamers who dont want to get a discreet card but want very good audio performance. Also just to show that the MSI audio solution means business it employs a external PATA connector you can plug in to directly feed power to the audio secion to ensure you get maximum performance from your rig.
Click Image For a Larger One
Here is the VRM area, as you can see the same Military Class components are put to work here with a full 8 Phase power section at work to power your CPU and feed it plenty of juice. We know from testing that the HAswell-E CPU can pull some serious amperage when under load so its good to know you have plenty of power on tap.
The VRM is fed with a 8 pin EPS and 4 pin supplemental should you find yourself pushing it hard enough to need a little extra juice.
BIOS Overview
Click BIOS 4
MSI has updated the Click BIOS again now to Click BIOS 4 which is quite the update as you can see above. There are definite improvements in the feel of the BIOS as it feels more fluid when using it but also there are some new features as well.
One of the nice features would be the fan control which is actually really nice as you can set fan profiles and even ramping via a multi point graph within the UEFI.
Also another would be the Board Explorer which has a visual layout of the board and areas where things are plugged in or attached are highlighted where you can mouse over them and it will even tell you the device ID which is really cool just for the simple fact you don't need to trace a SATA cable anymore to see which one goes from which drive to the board.
Review Overview
Performance - 8.5
Value - 8.5
Quality - 9.5
Features - 9.5
Innovation - 10
9.2
The MSI X99S Gaming 9 is a great highly features board with amazing capability in need of some BIOS fine tuning.