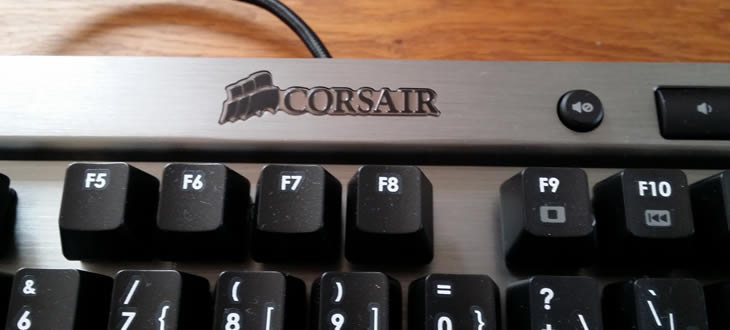 Over the last few years we have seen a lot of excellent gaming keyboards being released from a number of companies. Corsair entered the market a while ago and today have a great range of gaming keyboards with a varied number of mechanical switches. Some time ago we tested the Vengeance K70 keyboard and found it to be a very good gaming keyboard. Today we are testing the "little brother", the Corsair Vengeance K65 keyboard. While it keeps a lot of the same design features as the K70 it is a keyboard that is much more compact and intended to the LAN-gamer who does not want to lug a full size keyboard around or the home user who just values space and want a compact keyboard.
Why mechanical keyboards?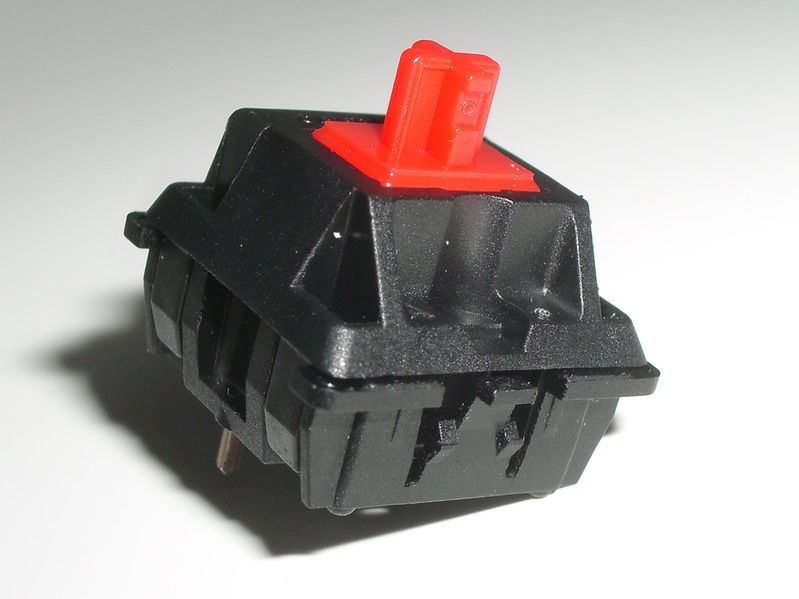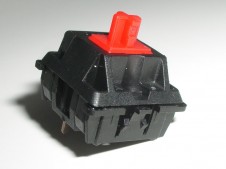 When we talk about mechanical keyboard what we really are talking about is the micro switches that are used under the keys. Each key gets its own switch and depending on the type of switch you get a different feel when pressing them. The dominating type of switches that are used in gaming keyboards comes from the company Cherry and are called Cherry MS switches. While the company itself does not use any color naming convention they still are known for their different colors as the color tells us what type of switch it is.
| Switch type | Key Feel | Actuation force | Product code |
| --- | --- | --- | --- |
| Cherry MX Black | Linear | 60 cN | MX1A-11xx |
| Cherry MX Red | Linear | 45 cN | MX1A-L1xx |
| Cherry MX Brown | Tactile | 45 cN | MX1A-G1xx |
| Cherry MX Clear | Tactile | 65 cN | MX1A-C1xx |
| Cherry MX Blue | Clicky | 60 cN | MX1A-E1xx |
| Cherry MX White | Clicky | 50 cN / 80 cN | MX1A-A1xx |
Linear switches are the simplest moving straight up and down without any additional tactile feedback or loud clicking noise. Tactile non-clicky switches adds a little tactile feeling when being pressed. You feel a little "bump" as you press the key showing that a key press has been registered. Tactile Clicky switches adds a little clicky noise when you push it down.
The main disadvantage with mechanical switches is that they still emit a lot of noise compared to a regular keyboard. Later in this review we will look at that aspect of the keyboard.
FEATURES AND SPECIFICATIONS
Let's compare the Vengeance K65 to Corsairs other keyboards.
| | | | | |
| --- | --- | --- | --- | --- |
|   | VENGEANCE K60 | VENGEANCE K65 | VENGEANCE K70 | VENGEANCE K95 |
| | | | | |
| SWITCHES / MATRIX | Cherry MX Red Mechanical | Cherry MX Red Mechanical | Cherry MX Red, Blue, and Brown Mechanical | Cherry MX Red Mechanical |
| ANTI-GHOSTED KEY MATRIX | 100% Anti-Ghosted | 100% Anti-Ghosted | 100% Anti-Ghosted | 100% Anti-Ghosted |
| FULL KEY ROLLOVER ON USB | ✓ | ✓ | ✓ | ✓ |
| UP TO 1000Hz POLLING RATE | ✓ | ✓ | ✓ | ✓ |
| WIN DISABLE KEY | ✓ | ✓ | ✓ | ✓ |
| DEDICATED MULTIMEDIA CONTROLS | ✓ | | ✓ | ✓ |
| USB PASS THROUGH PORT | ✓ | | ✓ | ✓ |
| DETACHABLE PALM REST | FPS Optimized | | Full Length | Full Length |
| BRUSHED ALUMINUM CHASSIS COLOR | Silver | Gun Metal | Black, Silver, Gun Metal | Black |
| INCLUDES ADDITIONAL, CONTOURED, FPS KEYS | WASD, #1-6 Key Caps | | WASD, #1-6 Key Caps | |
| LED BACKLIGHT COLOR | | | Red, Blue | White |
| PER KEY ADJUSTABLE BACKLIGHTING | | | ✓ | ✓ |
| PROGRAMMABLE MACROS | | | | 54 (3 Banks of 18 Dedicated Macro Keys) |
| DESIGNED FOR | FPS gaming | Gamers who travel to LAN parties, or who just want a more compact keyboard | FPS gaming | MMO and RTS gaming |
As expected we loose some of the features of the bigger keyboards. There are no macro-keys, no usb-passthrough and no special WASD-keys that can be attached. The Vengeance K65 also lacks backlighting which could be an issue when you are gaming in the dark.
What it still has though is:
100% anti-ghosting with full key rollover on USB – This means that even when you are pressing multiple keys it will accept each keystroke.
Up to 1000Hz polling rate.
Cherry MX Red switches. These are of the linear sort with no tactile bump och extra click sound. The Cherry MX Red is a pretty new switch from 2008 and has together with the Cherry MX Brown switches the lowest actuation force needed for a keypress. This means you do not need much force to get a keypress, perfect for gaming.
CLOSER LOOK
The Vengeance K65 has an brushed aluminum chassi that comes in gunmetal-color. It feels extremely high quality.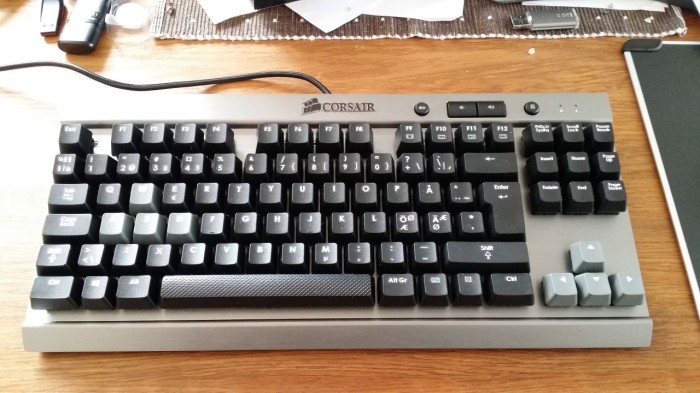 Since this is a compact keyboard it means we lose something and that something is the num-pad. Unless you are using it to enter a lot of numbers you should not miss it. The WASD- and arrow-keys are colored light grey while the rest of the keys are colored black. As far we can see there is nothing else special with them which means they should work fine for regular typing to.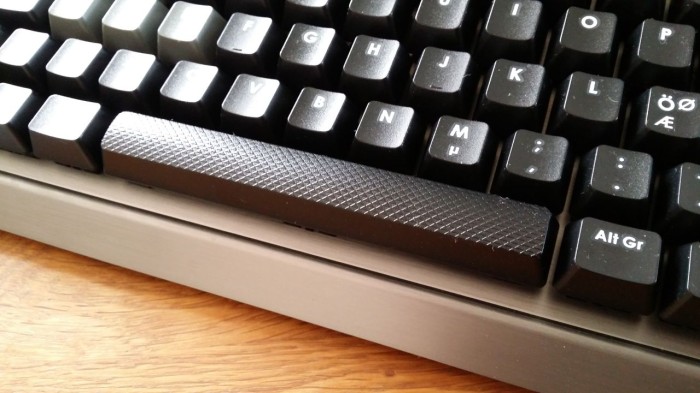 All keys except the space bar are smooth. The spacebar on the other hand has a mesh-pattern.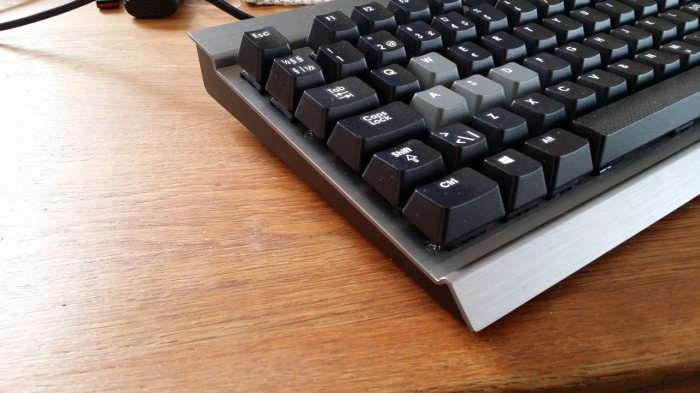 The keys are "floating" above the chassis which should be pretty good from a dust-perspective since you can get at the dust more easily.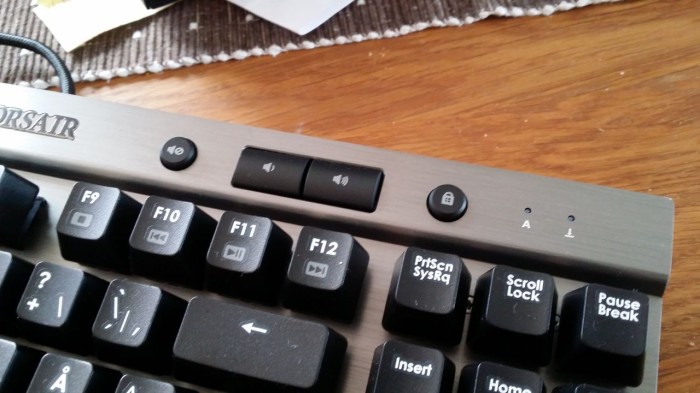 Corsair includes a button to turn on/off sound, two volume buttons and a button to turn on/off the windows key.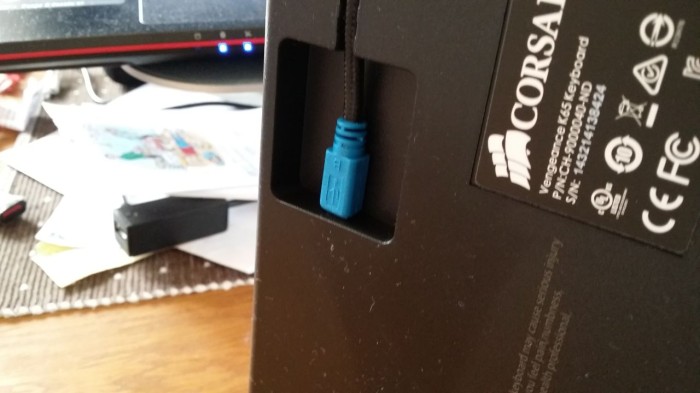 The keyboard is connected via a braided USB-cable that is detachable. This means it is easy to stow away during a trip.
PERFORMANCE
We tested the keyboard in two situations: regular work/typing and gaming. Regular work consisted on web-browsing, coding in PHPStorm and word processing while gaming consisted in gaming in games like BF4:Hardline beta, World of tanks, Warthunder, and lots more.
Noise
Mechanical switches will never be as silent as non-mechanical switches. When we compare the different type of mechanical switches though linear type of switches, like the Cherry MX Red, are a bit less noisy than non-linear switches as those add a bit of tactile "feeling" when pressing the key and thus also a bit more "clicky" noise.
The Corsair Vengeance K65 is much noisier than a non-mechanical keyboard but not noisy enough to be annoying, at least not during regular hours. If you plan on coding or writing a essay in the middle of the night though there is a chance you will disturb anyone sleeping in the same room.
Regular work/typing
Even though mechanical keyboards are being sold as gaming keyboards they also often work well for regular work. Since the Vengeance K65 does not do anything funky with the WASD-keys typing on the K65 works very well. We had no problems getting into the "groove" when typing and our error-percentage was just as low as with other keyboards. Even though this is a compact keyboard there is enough space between the  keys that we did not accidentally press the wrong key very often. The feeling when typing also is very nice with a good "depth" when pressing each key.
Gaming
As expected the keyboard works very well in gaming, as long as you do not rely on macros. We did not really miss the special WASD-keys you can get with other Vengeance keyboards although we do actually wonder why Corsair does not release a keyboard that retains this feature while just chopping away the num-pad keys. We of course like the ability to turn off the windows key with a button-press.
Summary

The Corsair Vengeance K65 is a very nice compact gaming keyboard that should be perfect for the LAN-gamer or users who want a keyboard with a small footprint. The main feature from the Vengeance K70 that we are missing is neither the replaceable WASD-keys, the num-pad or the USB-passthrough. Instead we are missing the backlight as we often game in the dark.
The quality of the keyboard is as expected excellent. We are not used to brushed aluminum in keyboards and it gives the keyboard a very high quality feeling. It is therefore nice to see that the keyboard still does not cost an arm and a leg. You can get it from for just around $80 which I think is a good price for the keyboard.
Review Overview
Performance - 9
Quality - 9
Features - 6.5
Value - 9
8.4
The Corsair Vengeance K65 is a compact little gaming keyboard with Cherry MX Red mechanical keys. It performs very well and is perfect for LAN-gamers and users who don't want a full sized keyboard.