Overview of the Biostar Z87X 3D
Click Image For a Larger One
The packaging for the HiFi Z87X 3D is simple and pretty clean styled with the solid white box and a single headphone graphic on the front and some large feature icons, while it may be a bit more cluttered then I normally like to see overall its not bad and due to the bright white it actually pulls off a pretty clean appeal.
The rear shows similar signage and key spec coverage for the board.
Click Image For a Larger One
Here we see all of the accessories we get with the Biostar Z87X 3D:
User Manuals
Installation Discs
SATA Cables
Crossfire Ribbon
IO Shield
Audio setup microphone
This bundle will take care of business and get you up and running without any issue and even will custom tune the audio for your environment via the included microphone.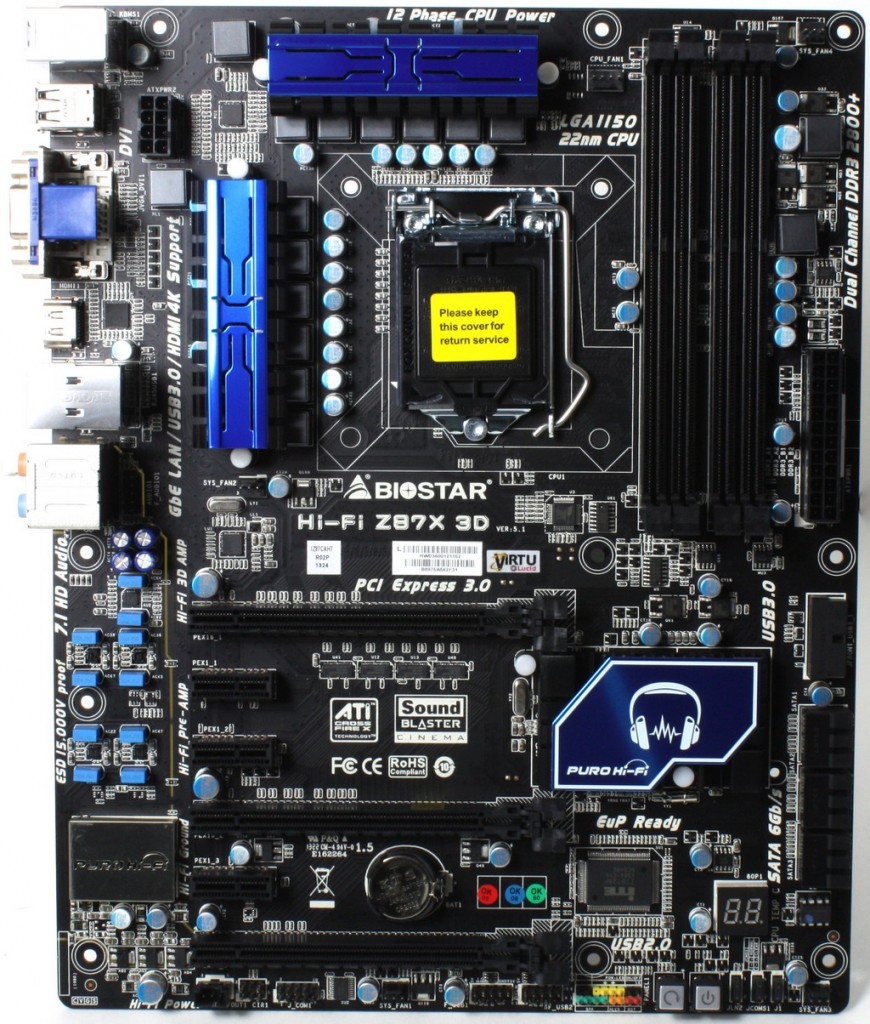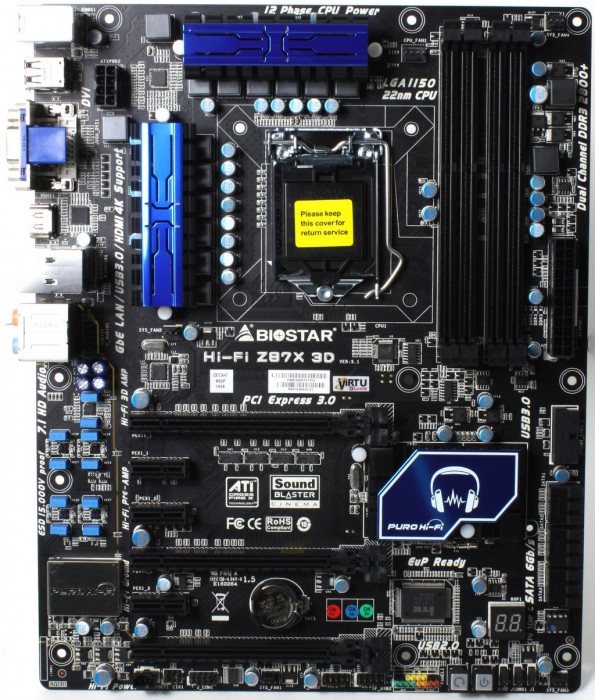 Click Image For a Larger One
Here we see the complete board layout and it is rather simple with 3 TOTAL PCIe x16 slots , 3 total x1 slots and a nice dark color PCB. most of the connectivity is on boards edge with the exception of the front panel audio header which is routed mid board on the left side near the IO so wires will need to be run across the board should you want to connect this one. Notice the lack of Nvidia SLI logo as this board does not support SLI, but only crossfire configurations. I am a bit on the fence on this as I know most users only use a single card when your talking this price category so I don't think this will be a deal breaker for the majority of the users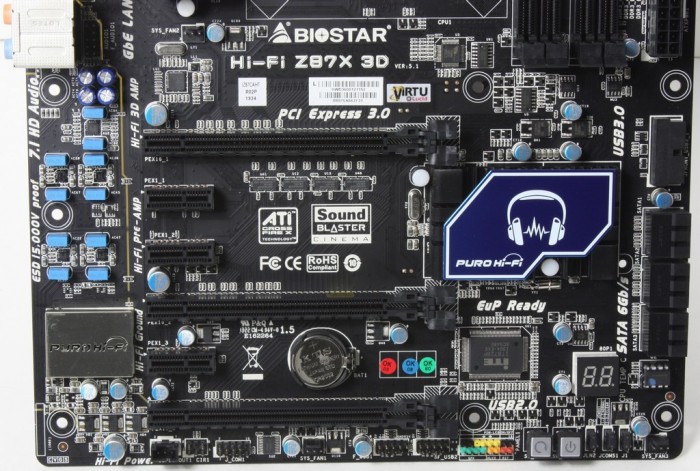 Click Image For a Larger One
Here you will notice that the slot layout with 3 TOTAL PCIe x16 slots one is x16, or the 2nd will make for a pair of x8 at PCIe Gen 3 and the 3rd would be x4 Gen 2. Also there are three total x1 slots. The triple slot spacing on the main slot means that even with the 2nd slot being populated you have plenty of room for very large cards of nice air gap for standard dual slot cards.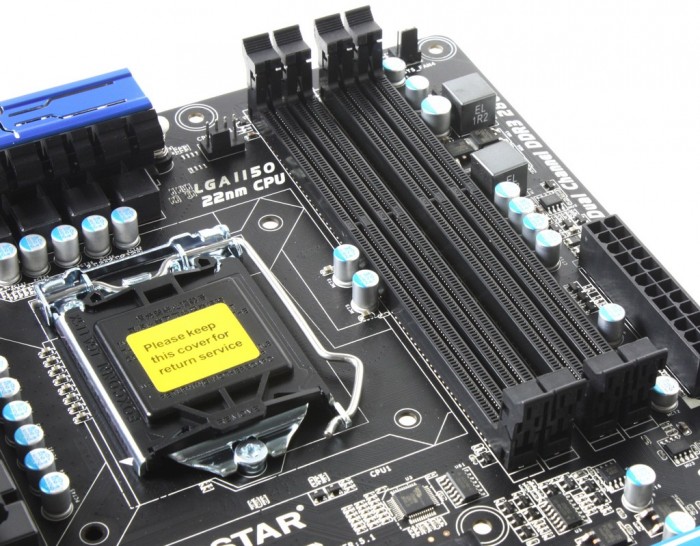 Click Image For a Larger One
The memory section is capable of up to 32GB memory and speeds of up to 2800+ but of course with 8GB DIMMs we would not count on such high speeds. However, the capability is there especially with Haswell to really push some speed on lower density DIMMs.
The lower PCH heatsink is a black base aluminum design with a blue bright "PURO HiFi" Cover on it for matched stylizing with the VRM heatsinks.
Click Image For a Larger One
The drive connections are plentiful as the Z87 chipset offers up to six drives at SATA 6G Speed capability. The full six are employed at the lower right of the board and there are no additional controllers or eSATA on this board.
The rear IO is quite stuffed with many connectivity options:
PS2 keyboard port
4x USB 2.0 Ports
Dsub Port
DVI Port
HDMI Port
2x USB 3.0 ports
Gigabit LAN port (Realtek RTL8111F)
up to 8 Channel HD audio via Realtek ALC898
The connectivity is simple yet effective for this board and covers most of the bases and necessities I could see needed. Do notice that the HDMI port is upside down if you end up connecting such a display.
Click Image For a Larger One
Moving to the bottom right there is a lot going on here from the power/reset switches, a triple set of jumpers including a CMOS jumper which is comically misspelled as "JCOMS1" instead of "CMOS". I also found an LN2 jumper on this board which honestly was very surprising to me as I never knew that Biostar had such aspirations to meet the extreme enthusiasts crowd head on like this. Also you will notice a two digit post indicator which helps in case of a failed post issue.
Click Image For a Larger One
Moving to the lower left hand side you see the "PURO HiFi" solution which utilizes blue color film capacitors which are similar to the ones we saw recently on the Maximus VI Formula we reviewed. The silver shield is backlit in red to showoff the PURO HiFi logo and also there is a slip in the trace just like the ASUS board offers for the island style audio solution which means they are taking this audio solution very seriously and I like to see that because that means that much more potential performance for the value price.
Click Image For a Larger One
Here is the VRM area, it employs a 12 Phase design 6 top and 6 side placed units both passively cooled. The heatsinks are held with plastic clips and springs which is normally not my favorite method but it will do the job.
The VRM is fed by a single 8 pin which for all intensive purposes should be enough to easily handle whatever your Haswell CPU needs in terms of power.
BIOS Overview
UEFI BIOS
Click Image To Enlarge
Biostar has improved its BIOS layout and made it a bit more pretty. It still could get better but integrating the snapshot feature, an easy BIOS flashing tool and overall the functions seem to be not only better laid out but also better integrated.
This allows for a better feel of confidence when tuning with the board and honestly is a quite big step up in my book from what I have seen in the past.
Testing & Methodology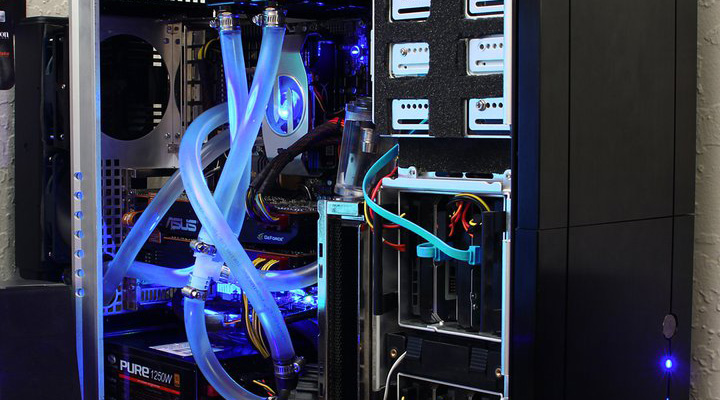 We've expanded our testing suite considerably since the X79 chipset release, and will continue to use the same methods for most of the motherboards and CPU's we test. In the interests of thoroughness and accurate results, we run each test at least three times, and some tests more than that. We average the total of all the tests from each benchmark then report the average here.
The OS we use is Windows 7 Pro 64bit with all patches and updates applied. We also use the latest drivers available for the motherboard and any devices attached to the computer. We do not disable background tasks or tweak the OS or system in any way. We turn off drive indexing and daily defragging. We also turn off Prefetch and Superfetch. This is not an attempt to produce bigger benchmark numbers. Drive indexing and defragging can interfere with testing and produce confusing numbers. If a test were to be run while a drive was being indexed or defragged, and then the same test was later run when these processes were off, the two results would be contradictory and erroneous. As we cannot control when defragging and indexing occur precisely enough to guarantee that they won't interfere with testing, we opt to disable the features entirely.
Prefetch tries to predict what users will load the next time they boot the machine by caching the relevant files and storing them for later use. We want to learn how the program runs without any of the files being cached, and we disable it so that each test run we do not have to clear pre-fetch to get accurate numbers. Lastly we disable Superfetch. Superfetch loads often-used programs into the memory. It is one of the reasons that Windows occupies so much memory. Vista fills the memory in an attempt to predict what users will load. Having one test run with files cached, and another test run with the files un-cached would result in inaccurate numbers. Again, since we can't control its timings so precisely, it we turn it off. Because these four features can potentially interfere with benchmarking, and and are out of our control, we disable them. We do not disable anything else.
One thing to note is that we are revamping our testing method in order to better represent motherboard performance and offering to you guys the consumer. Also we want to make it an easier read for you without miles of endless charts. Please feel free to provide feedback on what you think as many benchmarks will be shuffled or removed completely.
Test Rig
Test Rig
Case
Open Test Bench
CPUs

Intel Core i7 4770K (Haswell – LGA1150 – Z87)
Intel Core i7 3770K (Ivy Bridge – LGA1155 – Z77)

Motherboards

Biostar Z87X 3D
Intel DZ87KLT-75K Z87 Chipset Motherboard
ASUS Maximus V Formula Z77 Chipset Motherboard

Ram
GSkill TridentX 2666MHz
CPU Cooler
Swiftech 240mm rad custom loop
Hard Drives
Western Digital Velociraptor 1TB 10000RPM 6Gb/s Hard Drive
SSD
1x Kingston HyperX 240GB SATA III 6Gb/s SSD
Optical
ASUS DVD-Burner
GPU
Intel iGPU or Nvidia GTX 680
PSU
Thermaltake Toughpower XT 1475W Gold
Mouse
Tt eSPORTS Black Gaming Mouse
Keyboard
Tt eSPORTS Meka G1 Mechanical Gaming Keyboard
Test Suite
We will use the following applications to test the performance of the Biostar Z87X 3D Motherboard.
Benchmarks
SuperPi Mod 1.5
Wprime 1.55
PCMark 7
3DMark 11
Cinebench R11.5
X264HD
Truecrypt 7.1
Unigine Heaven 4.0
Metro 2033
Batman Arkham City
Sniper Elite V2
PCmark 7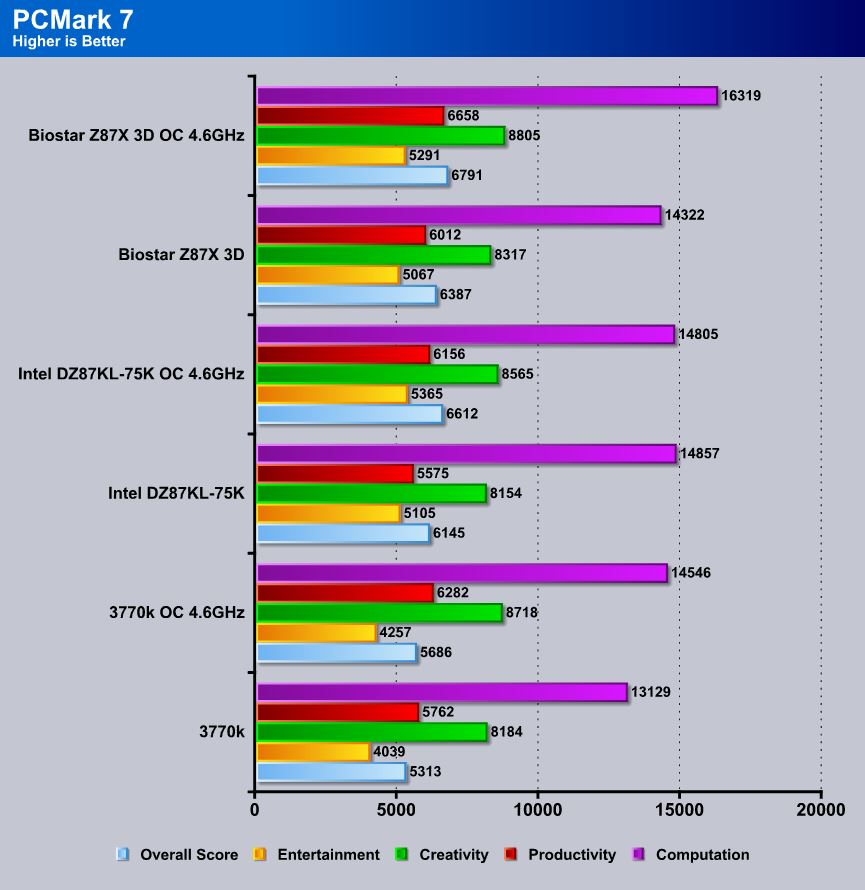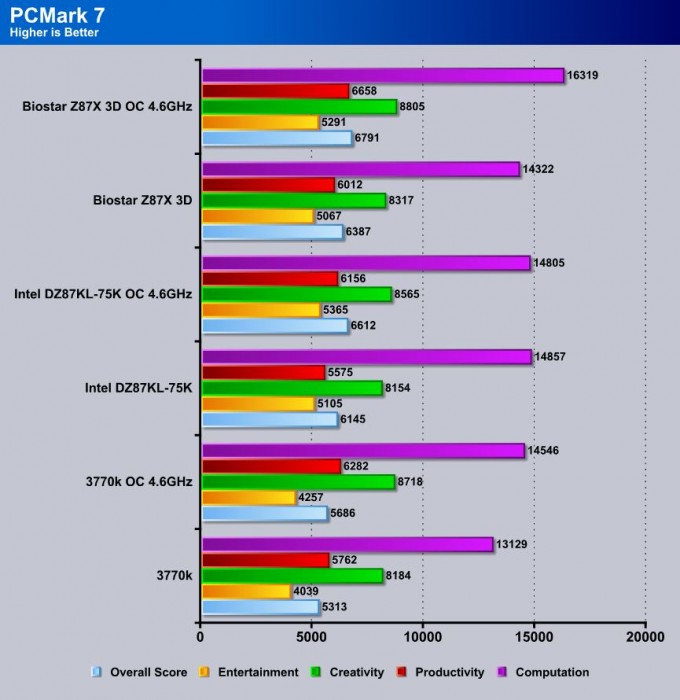 First up is PCMark and, just like the Intel board we see a nice little increase vs the previous generation Ivy Bridge setups. The board performs with some nice efficiency and actually comes to match some of the higher cost brothers on the market.
3DMark 11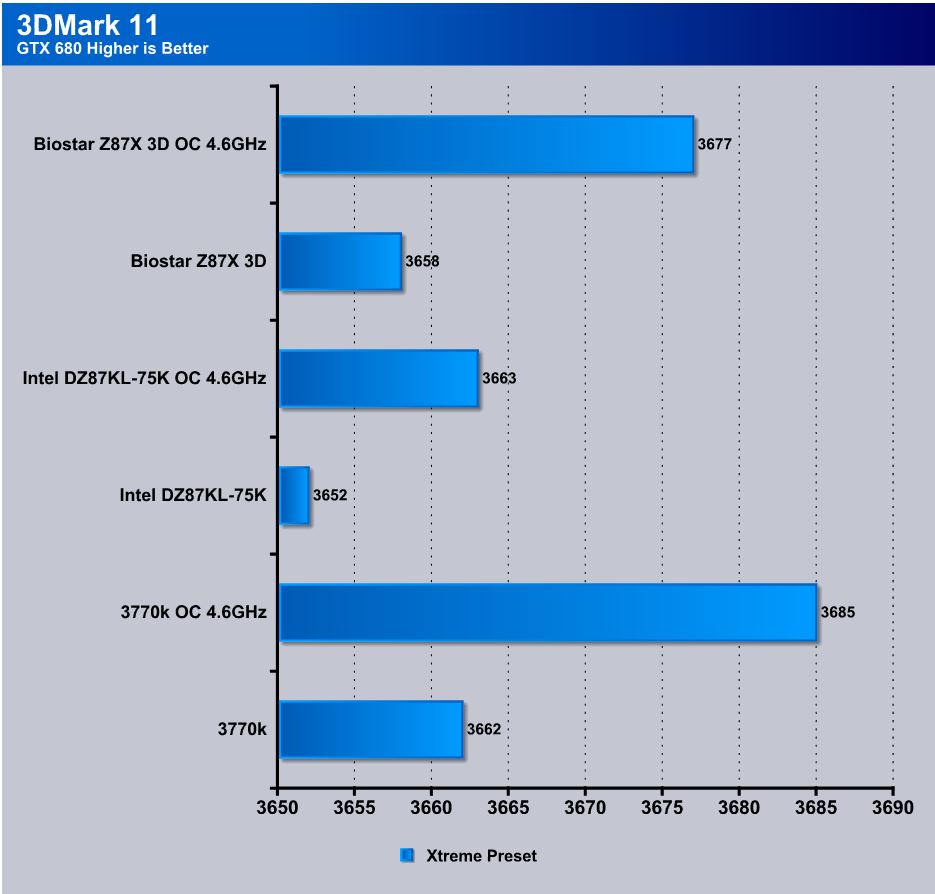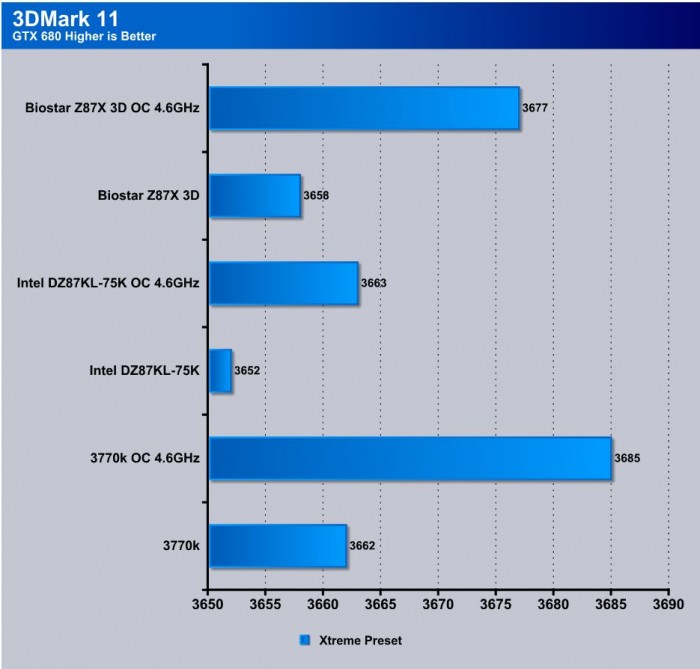 3DMark 11 we measure the Physics performance score for comparison and here you can see that the Biostar model has some definite performance waiting in the wind as the efficiency appears to be on par and when pushing the overclock the performance quickly follows.
SuperPi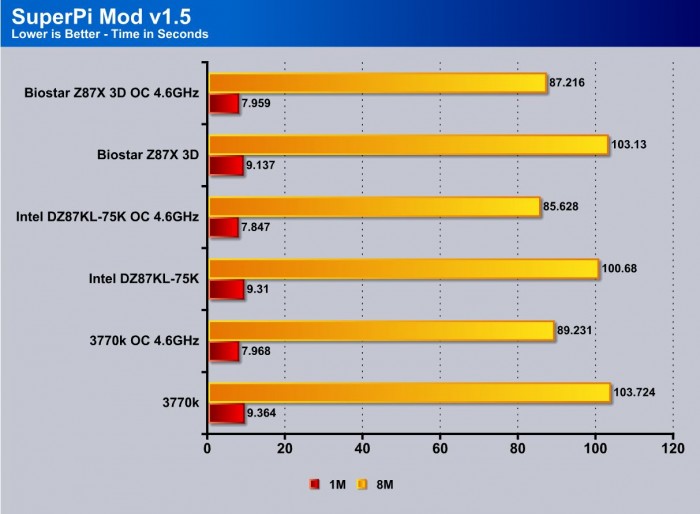 This tests single threaded performance and clock efficiency by processing digits of the number pi. Going from the previous gen Z77 to Z87 yields a nice efficiency jump clock for clock, but the Intel still does a bit better here on pure efficiency.
Wprime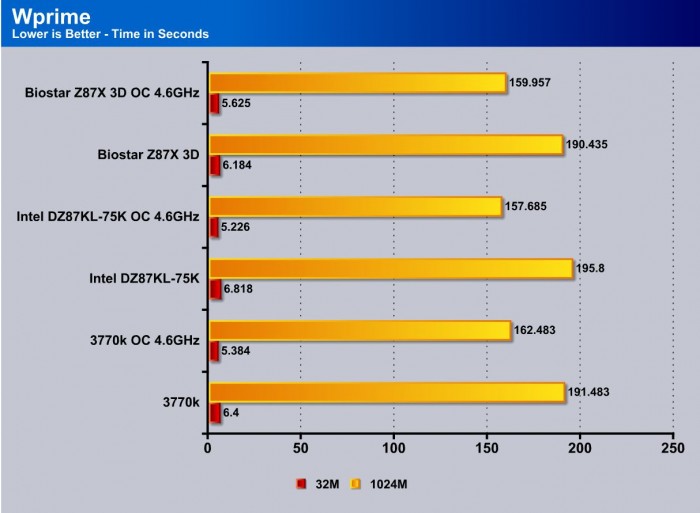 WPrime is similar to Superpi, but is multi core aware and you can set the core count. We used 8 threads to take advantage of the 4770K's HyperThreading ability. Here you can see that the efficiency in multi core processing improves as you can see a pretty nice gain going from Z77 to Z87, and even more so when overclocked. We are quite excited to see what this platform can do as we get our hands on more boards to test real world performance.
The Biostar model shows some good promise here as the stock efficiency is quite good but when overclocked the Intel platform has a bit better efficiency so this might require a bit of work from the Biostar team to tune in the BIOS some for the better performance.
Cinebench R11.5
"CINEBENCH is a real-world test suite that assesses your computer's performance capabilities. MAXON CINEBENCH is based on MAXON's award-winning animation software, CINEMA 4D, which is used extensively by studios and production houses worldwide for 3D content creation. MAXON software has been used in blockbuster movies such as Spider-Man, Star Wars, The Chronicles of Narnia and many more. MAXON CINEBENCH runs several tests on your computer to measure the performance of the main processor and the graphics card under real world circumstances. The benchmark application makes use of up to 16 CPUs or CPU cores and is available for Windows (32-bit and 64-Bit) and Macintosh (PPC and Intel-based). The resulting values among different operating systems are 100% comparable and therefore very useful with regard to purchasing decision-making. It can also be used as a marketing tool for hardware vendors or simply to compare hardware among colleagues or friends."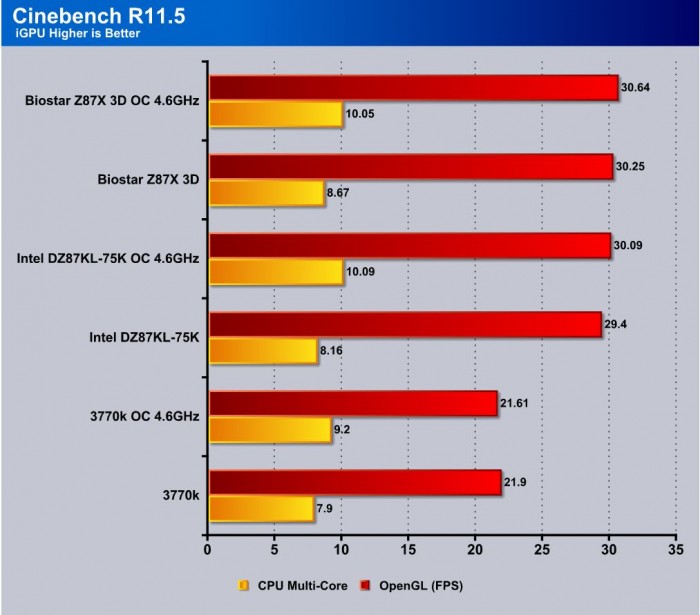 Here you can see where the high-end rendering work can be done. There are some definite improvements on the x86 processing, but when looking at the OpenGL rendering, you see almost a 30% increase, which is very good and speaks highly for what the HD4600 is capable of. The Biostar board pulls very respectable numbers here and loses to the Intel board when overclocked by less than a single percent which means performance for the most part is spot on.
X264HD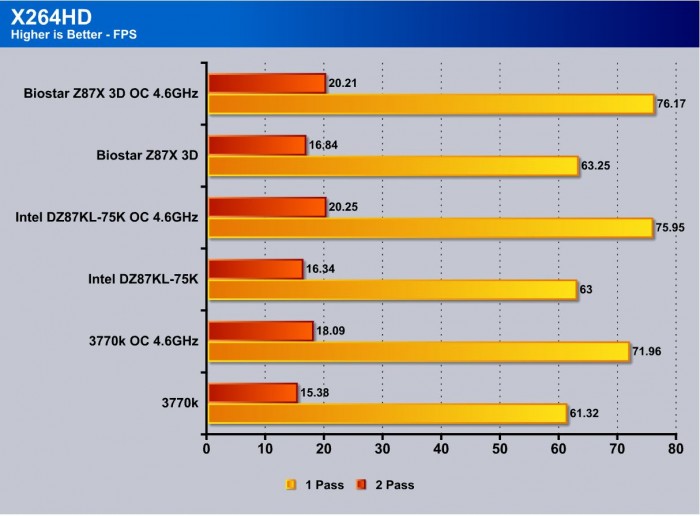 Transcoding has become more popular now and the latest Sandy Bridge processor added support for AVX instruction for faster video transcoding. With that you can see that going from Ivy Bridge to Haswell can net you some very good gains, especially a 2FPS gain on 2 Pass. This tells us that overall optimizations to the new platform are present and working very well. The Biostar once again pulls off a spot on performance here as it matches or beats slightly the Intel board competition and places it in the area where I do believe Biostar is targeting.
Truecrypt 7.1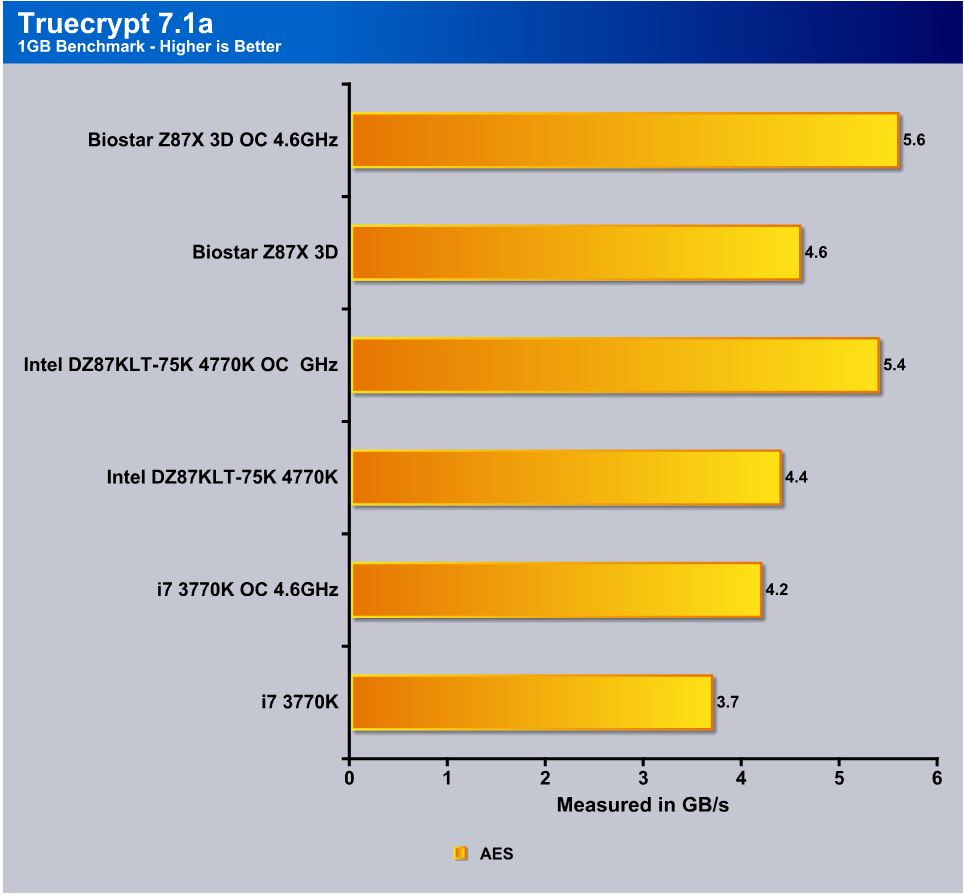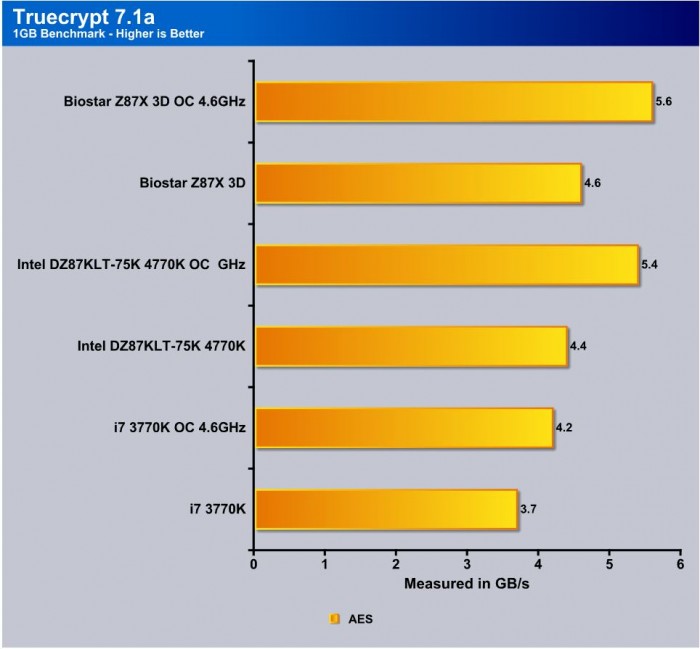 TrueCrypt is a real world application that gives a good indication of the true performance of our latest processor. Here the new Core i7 4770K puts some definite room between itself and the outgoing 3770K with over a 22% performance increase, which means in the same time you can get a lot more work done. Here with the Biostar model once again we see it pull ahead which is awesome as this is a majorly budget board pulling some numbers you would expect from a board much higher in cost.
Unigine Heaven 4.0

Unigine Heaven is a benchmark program based on Unigine Corp's latest engine, Unigine. The engine features DirectX 11, Hardware tessellation, DirectCompute, and Shader Model 5.0. All of these new technologies combined with the ability to run each card through the same exact test means this benchmark should be in our arsenal for a long time.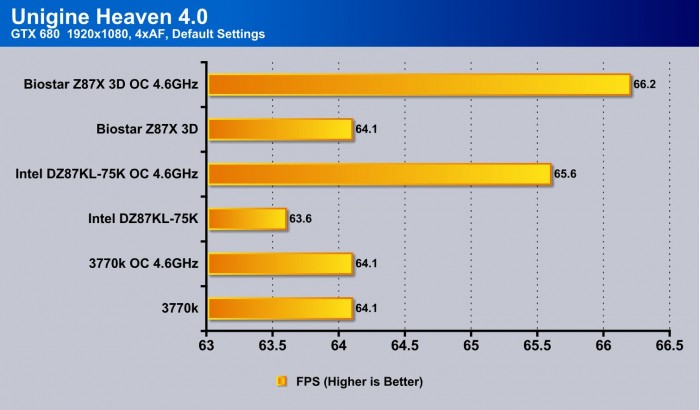 Here in Heaven, probably one of the most stressful 3D Benchmarks for years now we see the gaming performance tuning as tested with a discreet GPU. Here you can see that the Biostar board has marked leads although not huge over the stock Intel platform.
Metro 2033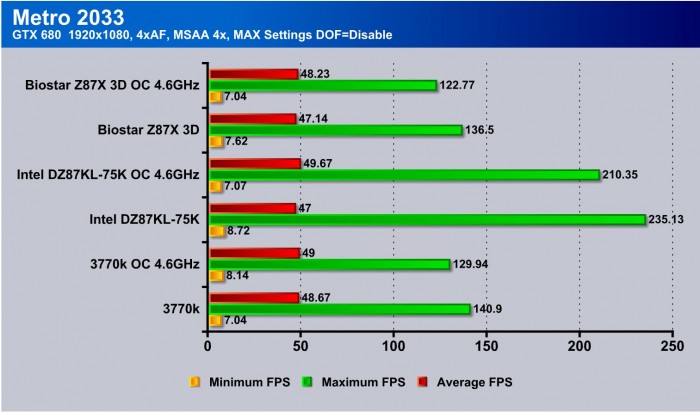 Metro 2033 shows some drops in the MAX FPS result but a gain in the average FPS which leads me to believe that platform stability is at play here where we will see more consistent higher FPS scenarios rather than peaks of super high results with less time spent at a consistent steady FPS.
Batman Arkham City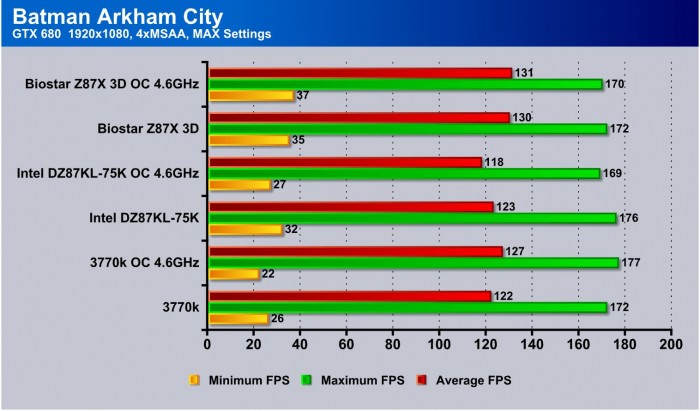 For Batman Arkham City the results are quite nice as we have seen on some higher priced boards the Biostar pulls average FPS in excess of 10 FPS gains for some really good results for gaming on this board.
Sniper Elite V2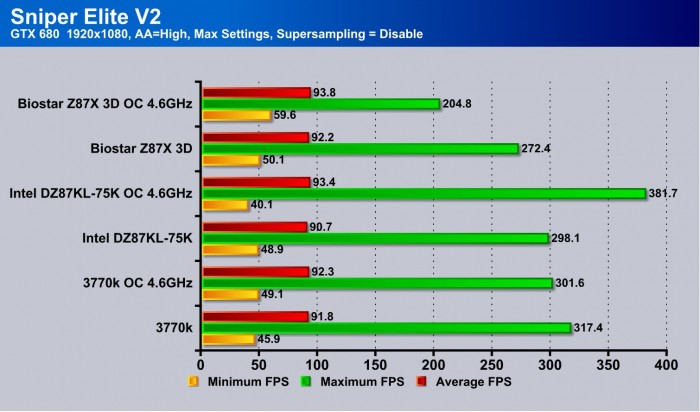 Once again we see a drop in max FPS but a gain in average which means that consistently the gaming of the Biostar model will be very good.

Our Final Thoughts
Biostar is known for making cheap boards, and honestly, after seeing the versatility of this sub-$150 entry, we have to stress that cheap is not always bad.
Yes the BIOS could be better polished but in a gaming rig I spend just enough time in the BIOS to get things configured and that's the extent of it, so it's not that big of a deal.
The audio solution actually sounded quite nice and far better than some solutions I have listened to. This is somewhere I feel Biostar has really helped redefine their offerings.
The overclocking worked quite well although I have not had time to test the LN2 mode jumper yet so I cannot make any claims as to its extreme overclocking capability but the sheer existence of this jumper brings hope to me.
The lack of SLI support was a bit disheartening but as I said visiting many LANs and gaming events I can say that many users utilize single graphics solutions so if this fits your bill then your set, or if lets say your a Crossfire gamer then your good to go as well.
All in all, Biostar shows up to the show with a board with amazing sound capabilities, great performance and many of the things that make the higher dollar boards popular so I cannot help but to highly recommend this baord as I feel for the price its not just a home run but almost a grand slam had Biostar had SLI support.
Any budget gamer looking for an awesome sub $150.00 option should not pass up this board, or at the very least, give it a look.
The Pro's:
Cons

High end audio solution
Performance on par with higher cost boards
Low cost
Nice looking board
Included audio tuning microphone
Good Overclocking performance
BIOS shows improvements
LN2 Jumper
Review Overview
Performance - 9
Value - 10
Quality - 9
Features - 8.5
Innovation - 8.5
9
Biostar shows up to the game with a value board with a big dollar attitude. Lacking some polish and feature overall the board is an all out value performer.