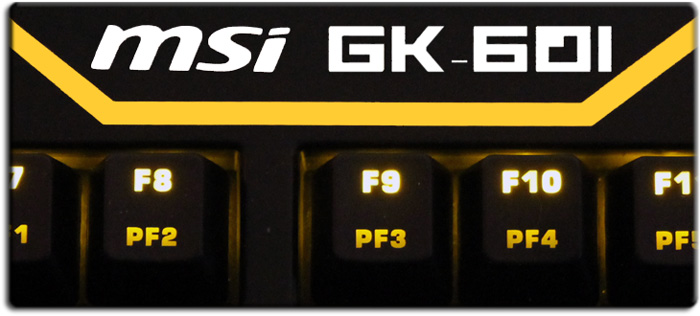 MSI introduces an advance gaming series backlit mechanical keyboard — read on to discover more.
Introduction
MSI has always been a major element in the computer industry world-wide for over the last 25 years, touching on every aspect of hardware and peripherals. With the introduction of the "Gaming Series" line, MSI raises the standard once again. The GK-601 is now available from online retailers for approximately $125.99.

Features & Specifications
| | |
| --- | --- |
| The MSI GK-601 is a pure mechanical keyboard using Cherry MX switches (red) and implement an ergonomic type of key curvature that improves comfort and possibly speed. Each key possesses an adjustable yellow LED light (4 modes). | |
N-Key Rollover and anti-ghosting technology (for multi-pressed keys).
Cherry MX Red switches provide a very light activation and a smooth with slightly shallower travel.
Gaming / PC Mode Key.
10 macro keys with 5 profiles (software must be installed to program).
Fast-access multimedia keys.
Twin USB ports and audio connections (headphone and microphone).
Special surface treatment with laser engraved letters.
Braided wires with gold plated connectors.
Yellow gaming keycaps (arrow keys).
MSI GK-601 Specifications
Interface
USB
Keystroke Life
50 Million
Dimensions
460(L) x 162(W) x 30(H)mm
Weight
1300g
A Closer Look
Pin-striping accents the flip-cover box, with highlights of various core features prominently displayed.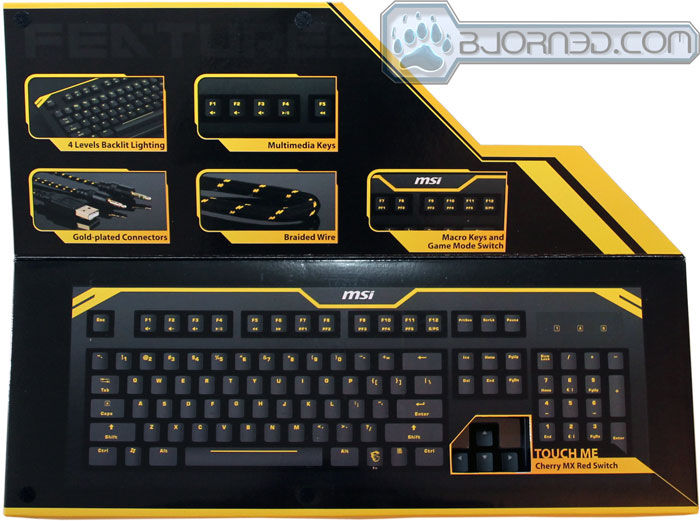 The main view of the keyboard features a matte finish all over (including the keys). The lighting is a high yellow contrast with 4 levels of brightness (the brightest level was the one used for the picture). An additional "breathing mode" is also available which slowly cycles the brightness of the keys.
(Click on Images for Larger View)
The MSI Dragon Key is where all the magic happens: it functions as a toggle for the brightness of the backlit keys, multimedia functions, and accessing macro parameters. A lock-out for the MS Windows Key has it's own "G" indicator next to the caps-lock light.
(Click on Images for Larger View)
Below is a close-up of the multimedia keys which functions are built right into the keyboard (meaning no drivers are needed to access these under operating system music players or iTunes). F1-F6 are the media controls, F7-F11 are for the five profile banks, and F12 is to toggle the MS Windows Key on or off. These are all accessed merely by holding the Dragon Key down — quick and easy.

Twin USB ports, headphone and microphone jacks are located on the upper right of the keyboard (immediately above the keypad). One thing MSI really did right was how they managed the tangle of wires coming from the keyboard: all the wires come together in a thick braiding, terminating into their own respective connectors from a secure ABS plastic hub (about a foot from the end of the cabling).
 

Accessories bundled with GK-601, besides the driver disk and manual, is four bright yellow contoured arrow keys.  These may be used to replace the W, A, S, D keys or the regular arrow keys.

(Click on Image for Larger View)
Software and Testing
MSI's driver package was completely streamlined and intuitive to work with. A pleasant surprise because one thing that can ruin a good experience is digging through a ton of submenus or pages of tabs to find what is needed. What you see below is what you get: one screen and one optional submenu (for macro recording).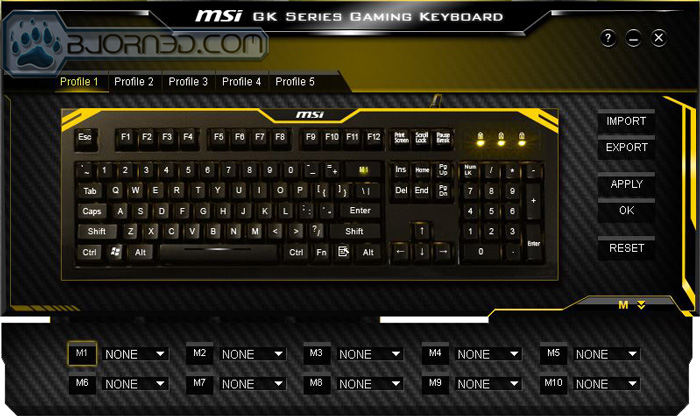 Here's how this works: The M1-M10 virtual buttons on the bottom of the control panel is where a user can assign up to 10 macro keys per profile (five profiles total activated by Function (Dragon Key) +  F7-F11). Notice on the keyboard above that the backspace key is highlighted being prepared to be changed into M1 (also highlighted on the bottom). From there it is just a matter of recording your sequence of keys or even just executing a program or controlling other specific multimedia devices.
For testing this keyboard was subjected to approximately 300+ hours of activity including but not limited to: Photoshop (hot-keys), multimedia functions (iTunes), standard typing and composition, a thorough thrashing of the keypad (calculator functions), as well as gaming (FPS and MMO to test anti-ghosting features). What it all boils down to; however, is a rather subjective experience based upon a direct comparison and feel of 5 previous mechanical keyboards (3 tactical and 2 linear, all using the Cherry MX switches of a sort). Cherry MX switches are differentiated by color-coding — the chart below reviews the differences (GK-601 uses the Cherry MX Red variant):
| | | |
| --- | --- | --- |
| Cherry MX Color | Type | Actuation Force |
| Red | Linear (smooth) | 45g |
| Black | Linear (smooth) | 60g |
| Brown | Tactical (bump) | 45g |
| Blue | Tactical (clicky) | 50g |
| Clear | Tactical (smooth) | 55g |
The GK-601 has the lightest of actuation force and a linear touch (meaning the travel of the keystroke from top to bottom is smooth and even). This is an extreme contrast migrating directly from a Deck Legend Frost (Cherry MX Clear) that cost $65 more — there was not much for expectations since this was the current preferred feel. After giving the keyboard some time, I was dead wrong: The light actuation force (after some time) actually helped improve typing speed slightly (perhaps by 5 more words per minute) and as for gaming, it felt completely natural, and effortless.  As a matter of fact, my hands felt no fatigue at all compared to the stiffer tactical switches over long durations. A very good choice on MSI's part considering all the options available.
It is not necessary to install the drivers to use this keyboard unless there is a need for programmable macros or more then the default profile natively installed.  Volume controls affect the operating system's main volume, where the multimedia keys hook onto whatever your choice of player is. The backlighting is just right on the eyes with the medium setting (out of a choice of 3 levels of brightness). The breathing or pulsating light setting looks cool, but in reality can be very distracting.
MSI's anti-ghosting technology works top-notch in gaming. Using movement (W, S, A, D) plus auxiliary weapon or skill keys simultaneously provided a smooth and responsive experience. It was a great feature to also add the ability to lock out the dreaded "windows key" since it is hit by accident all the time when having to use both the alt and ctrl keys.
Conclusion
Overall the performance was not only surprisingly excellent in feel, touch, and comfort, but actually improved typing skills slightly due to this. As for value, many may feel that $125 is totally out of the water for a keyboard.  Let me please remind you, you get what you pay for. This is a complete steal compared to other mechanical keyboards that do not possess even close to the features this one provides. Not only is the build quality top-notch (with a very strong and indestructible feel) but the keys themselves have an exceptional satin-matte type coating. If one is looking to upgrade from a membrane-type keyboard, the MSI GK-601 is one to strongly consider.
Pros
Cons
Perfect cable management implementation.Logical placement of multimedia keys.

Red Cherry MX switches optimal for gaming.

Competitive price point vs. other mechanical keyboards.

None.
9-8-9-9-8=9
Review Overview
Performance - 90%
Value - 80%
Quality - 90%
Features - 90%
Innovation - 80%
The MSI GK-601 keyboard provides a completely streamlined experience, cutting down on superfluous features while retaining maximum functionality.