Overview of the MSI Z87 Mpower
Click Image For a Larger One
The packaging for the XMpower is actually really close to what we saw on the Xpower just instead of the front being a flip up X it is a M which stands for the Mpower lineup. Flipping the M up shows you some key feature info and also on the rear of the box you can find more detailing of the features included on the board.
Click Image For a Larger One
Here we see all of the accessories we get with the MSI Z87 Gaming:
User Manuals
Installation Discs
SATA Cables
Quick Connect Front Panel Connectors
V-Check Point Leads
WiFi/WiDi module
2x WiFi Antennae
SLI Ribbon
IO Shield
MSI Gaming shield Case Badge Decal
This accessory bundle is enough to easily get you running even in dual card mode with the included SLI ribbon.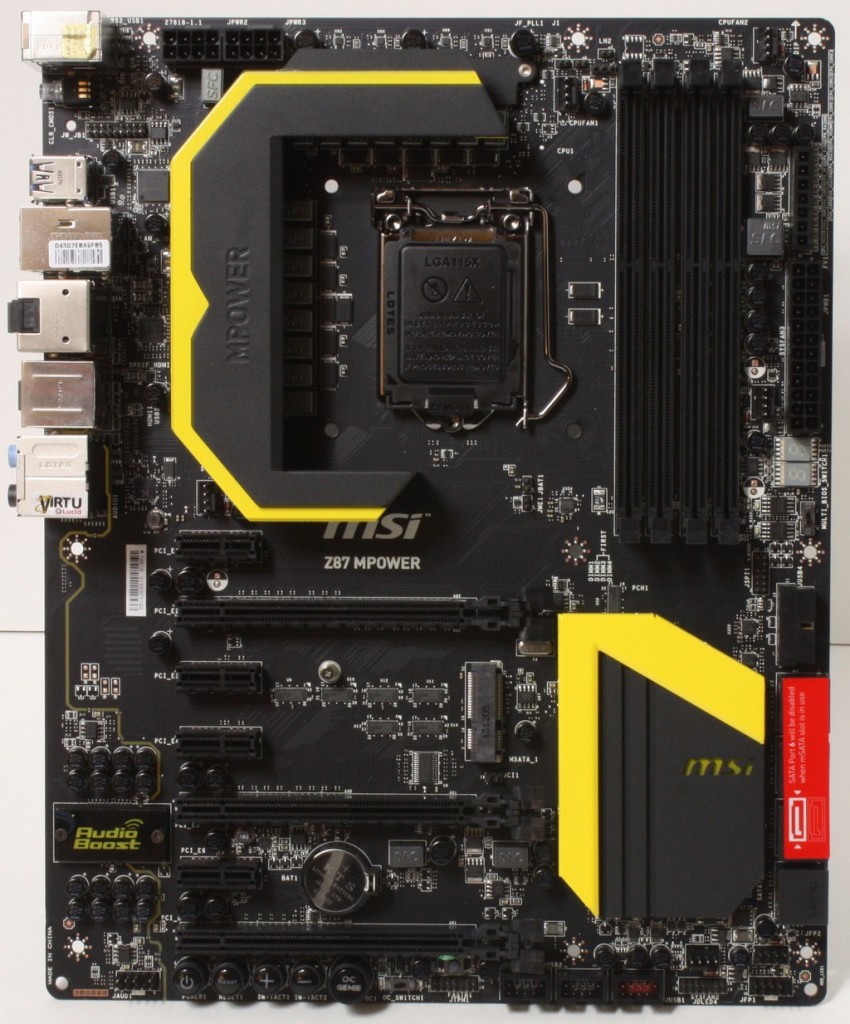 Click Image For a Larger One
Here you can see the whole board layout and you will notice the slot layout is much like we saw on the Gaming series boards as this one does not offer 4 Way GPU compatibility. The audio portion and PCH sink are backlit to give some cool ambiance to the motherboard when installed in a chassis to make it an awesome looking build.
Much like we have come to expect of an OC class board all connectors are conveniently located at the board edge which makes cable routing much easier and also ability to hide cables much better. One thing I really like is the right angle USB 3.0 header at the right edge as normally a chassis with USB 3.0 connection has two pretty thick cables coming from it so the ability to head straight off the edge and through a cable routing hole really helps clean that up.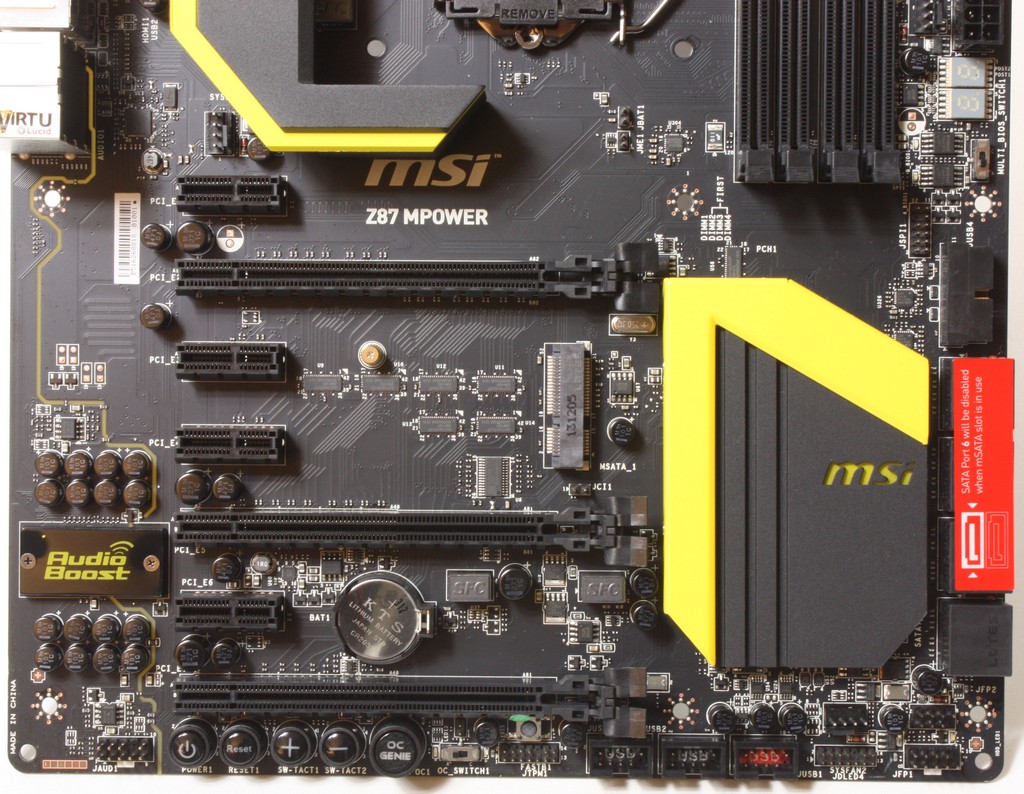 Click Image For a Larger One
Here you can see that the slot layout which as I said already is very similar to the Gaming series boards which allows for dual triple slot cards to easily be used or even better MSI Twin Frozr cards to be placed in here which will have a nice air gap to allow more efficient cooling and an overall better running machine.
Click Image For a Larger One
The drive connections are plentiful as the Z87 chipset offers up to six drives at SATA 6G Speed capability. The full six are employed here although one will be non usable if you utilize the mSATA port. The other two are fed by a 3rd party controller from ASMedia model ASM1061 and support up to SATA6G speeds but do not support the Intel RST RAID or any sort of raid set and are meant for simply single drive usage, so these would probably be good for just standard storage drives or optical.
The rear IO is quite stuffed with many connectivity options:
PS2 combo keyboard/mouse port
2x USB 2.0 Ports
WiFi/WiDi module pin header
Clear CMOS Button
Optical SPDIF connector
6x USB 3.0 ports
Gigabit LAN port (Killer E2205)
Displayport Connector
2x HDMI Ports
up to 7.1 Channel HD audio via Realtek ALC1150
The connectivity array is very strong and with Dual HDMI you don't have to worry about adapters if using dual HDMI displays which is nice as they are becoming far more common. also HDMI takes up far less space and therefore allows more USB 3.0 connectivity along with the WiFi/WiDi module which is another awesome addition to make this board top notch in terms of feature set.
Click Image For a Larger One
Moving to the far right near the 24 Pin ATX connector you can see the V-Check Point cables connector which is where you can take direct readings from the board for voltages which will give you some idea of how things are running and also help with diagnosis in the case problems arise.
The control buttons are much more involved here as unlike the gaming series board we recently took a look at, this one has many direct Overclocking buttons. You have the OC Genie button which works as we previously talked about by providing a proven stable overclock to the system including the iGPU to give overall better gaming performance. There is a set of +/- buttons which control BCLK at 1MHz intervals at a hardware level to allow real time overclock tweaking even during a benchmark.
Above the toggle switch is something most will probably miss which is the "Discharge Jumper"
By placing a jumper on these two pins or shorting the pins for a few seconds you get the same affect of clearing the complete board training and memory which allows a similar affect to removing the CMOS battery from the board but without the waste of time it takes and the ability to do it quickly so that you avoid the issues like freezing up should you be on LN2. This can quickly become an overclockers best friend should it be used as it is an amazing feature.
Click Image For a Larger One
The audio boost audio solution has the PCB separation line in place which is backlit yellow to match the theme of the MSI Xpower overclocking series of boards, but more importantly what this highlights is the fact that the PCB area for audio is separated on its own island of PCB. This allows for less signal interference and better audio quality overall due to having the audio components on their own private paradise island on the side of the board. The yellow backlighting just adds some character and extra bling to the application.
The LCD poster allows for easy diagnosis should a failed post occur but also here you will see the multi BIOS switch which allows quick changes between physical BIOS chips as needed for testing or should the BIOS become corrupt.
The top of the board holds a jumper which is not really referenced and yet is marked LN2 on the board silkscreening so i can only assume that jumping this header would enable a LN2 benching mode which disables certain protections and allows better board performance under extreme cooling scenarios but this is only an assumption on my part and I definitely would not recommend jumping this header on standard cooling as normally LN2 modes at the least disable thermal protections.
Click Image For a Larger One
Here is the VRM area, this is where you can see all of the Military class components at work to keep your hungry CPU fed especially when overclocking. Having a strong VRM is important to ensure that not only does the power get there but the right amount and that it is regulated properly according to loading and also other conditions.
The VRM is fed by a Dual 8 PIN ATX connector setup which is way more than enough to feed even the most power hungry CPU combination even under LN2 loading.
BIOS Overview
Click BIOS 4
Click Image To Enlarge
MSI has updated the Click BIOS again now to Click BIOS 4 which is quite the update as you can see above. there are definite improvements in the feel of the BIOS as it feels more fluid when using it but also there are some new features as well.
One of the nice features would be the fan control which is actually really nice as you can set fan profiles and even ramping via a multi point graph within the UEFI.
Also another would be the Board Explorer which has a visual layout of the board and areas where things are plugged in or attached are highlighted where you can mouse over them and it will even tell you the device ID which is really cool just for the simple fact you don' need to trace a SATA cable anymore to see which one goes from which drive to the board.
The overall feel of the new Click BIOS 4 is much more fluid and the overclock settings are nice, I would say that MSI upped the game a bit catching some ground on players like ASUS in the UEFI department. While it still may not be a front runner it definitely is heading that direction.
Testing & Methodology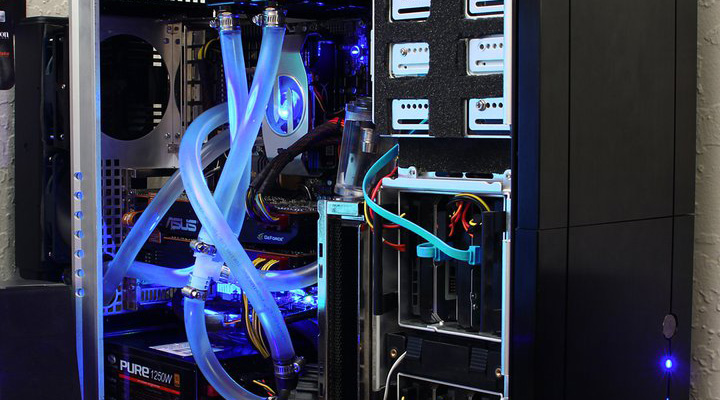 We've expanded our testing suite considerably since the X79 chipset release, and will continue to use the same methods for most of the motherboards and CPU's we test. In the interests of thoroughness and accurate results, we run each test at least three times, and some tests more than that. We average the total of all the tests from each benchmark then report the average here.
The OS we use is Windows 7 Pro 64bit with all patches and updates applied. We also use the latest drivers available for the motherboard and any devices attached to the computer. We do not disable background tasks or tweak the OS or system in any way. We turn off drive indexing and daily defragging. We also turn off Prefetch and Superfetch. This is not an attempt to produce bigger benchmark numbers. Drive indexing and defragging can interfere with testing and produce confusing numbers. If a test were to be run while a drive was being indexed or defragged, and then the same test was later run when these processes were off, the two results would be contradictory and erroneous. As we cannot control when defragging and indexing occur precisely enough to guarantee that they won't interfere with testing, we opt to disable the features entirely.
Prefetch tries to predict what users will load the next time they boot the machine by caching the relevant files and storing them for later use. We want to learn how the program runs without any of the files being cached, and we disable it so that each test run we do not have to clear pre-fetch to get accurate numbers. Lastly we disable Superfetch. Superfetch loads often-used programs into the memory. It is one of the reasons that Windows occupies so much memory. Vista fills the memory in an attempt to predict what users will load. Having one test run with files cached, and another test run with the files un-cached would result in inaccurate numbers. Again, since we can't control its timings so precisely, it we turn it off. Because these four features can potentially interfere with benchmarking, and and are out of our control, we disable them. We do not disable anything else.
One thing to note is that we are revamping our testing method in order to better represent motherboard performance and offering to you guys the consumer. Also we want to make it an easier read for you without miles of endless charts. Please feel free to provide feedback on what you think as many benchmarks will be shuffled or removed completely.
Test Rig
Test Rig
Case
Open Test Bench
CPUs

Intel Core i7 4770K (Haswell – LGA1150 – Z87)
Intel Core i7 3770K (Ivy Bridge – LGA1155 – Z77)

Motherboards

MSI Z87 Mpower
Intel DZ87KLT-75K Z87 Chipset Motherboard
ASUS Maximus V Formula Z77 Chipset Motherboard

Ram
GSkill TridentX 2666MHz
CPU Cooler
Swiftech 240mm rad custom loop
Hard Drives
Western Digital Velociraptor 1TB 10000RPM 6Gb/s Hard Drive
SSD
1x Kingston HyperX 240GB SATA III 6Gb/s SSD
Optical
ASUS DVD-Burner
GPU
Intel iGPU or Nvidia GTX 680
PSU
Thermaltake Toughpower XT 1475W Gold
Mouse
Tt eSPORTS Black Gaming Mouse
Keyboard
Tt eSPORTS Meka G1 Mechanical Gaming Keyboard
Test Suite
We will use the following applications to test the performance of the Z87 Chipset (Motherboard, Processor).
Benchmarks
SuperPi Mod 1.5
Wprime 1.55
PCMark 7
3DMark 11
Cinebench R11.5
X264HD
Truecrypt 7.1
Unigine Heaven 4.0
Metro 2033
Batman Arkham City
Sniper Elite V2
PCmark 7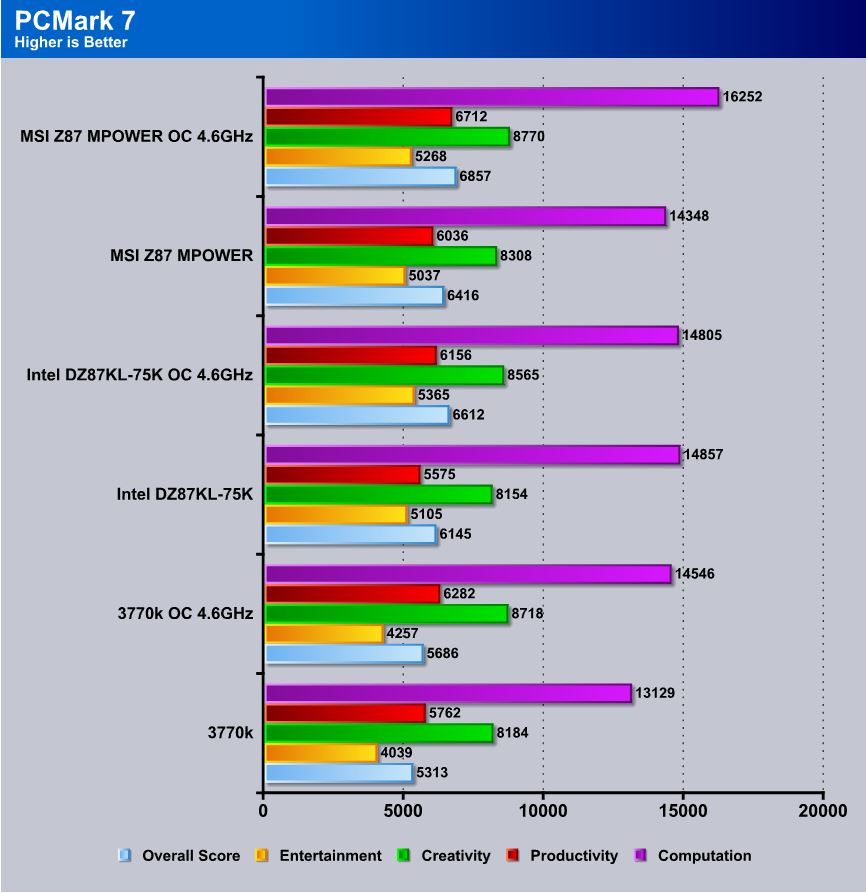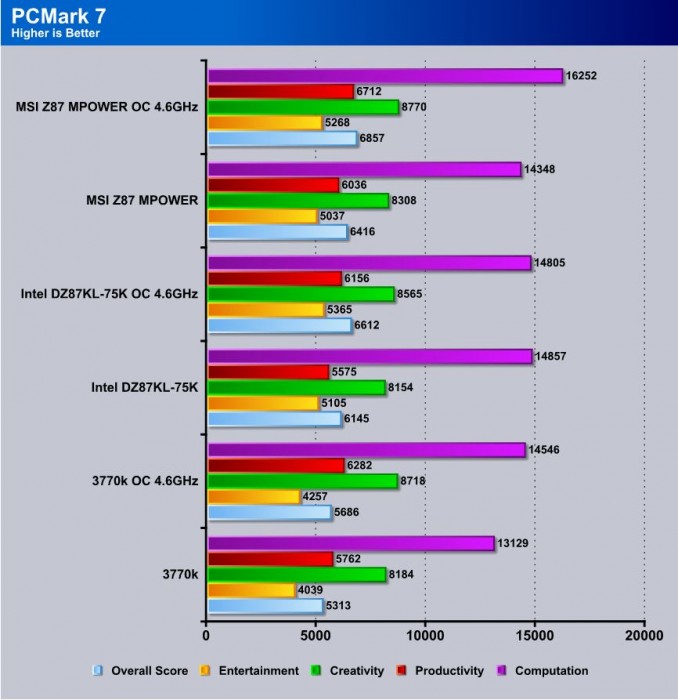 First up is PCMark and, just like the gaming series board this one seems to come alive when overclocked as it blows away the Intel board at computation with the same configuration.
3DMark 11

Discrete GPU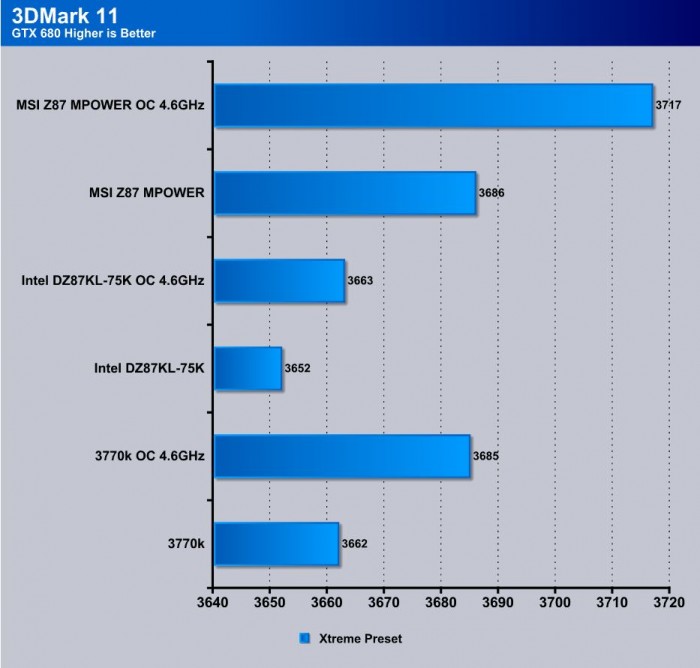 Switching over to a discrete card, you can see that performance can improve on the Physics end which is rendered on the CPU. However, when it comes to overall discrete graphics performance, the gain is marginal as cards simply cannot reach the limit of the PCIe 3.0 controller on Ivy Bridge, let alone Haswell.
SuperPi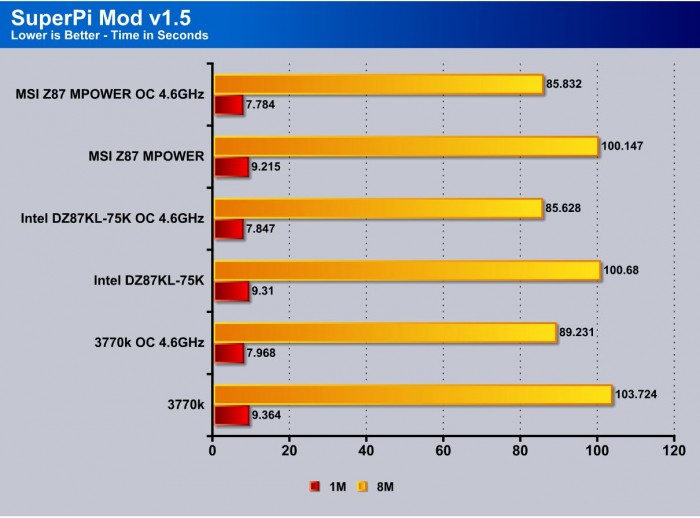 This tests single threaded performance and clock efficiency by processing digits of the number pi. Going from the previous gen Z77 to Z87 yields a nice efficiency jump clock for clock, and as BIOS versions have had time to mature we have seen performance become more refined and start to deliver competitive results even besting the Intel solution even at stock settings.
Wprime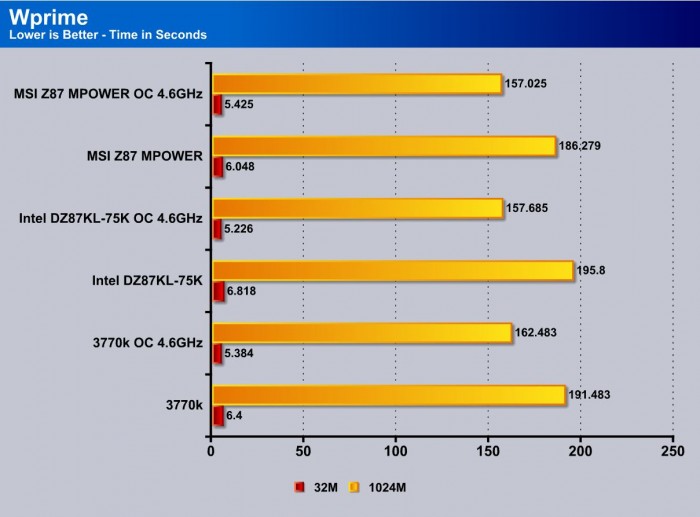 WPrime is similar to Superpi, but is multi core aware and you can set the core count. We used 8 threads to take advantage of the 4770K's HyperThreading ability. Here you can see that the efficiency in multi core processing improves as you can see a pretty nice gain going from Z77 to Z87, and even more so when overclocked. We are quite excited to see what this platform can do as we get our hands on more boards to test real world performance.
On the Mpower I found that the stock performance bested Intel by a nice few steps but at overclock the Intel pulled ahead so maybe a little more tuning in the works for MSI.
Cinebench R11.5
"CINEBENCH is a real-world test suite that assesses your computer's performance capabilities. MAXON CINEBENCH is based on MAXON's award-winning animation software, CINEMA 4D, which is used extensively by studios and production houses worldwide for 3D content creation. MAXON software has been used in blockbuster movies such as Spider-Man, Star Wars, The Chronicles of Narnia and many more. MAXON CINEBENCH runs several tests on your computer to measure the performance of the main processor and the graphics card under real world circumstances. The benchmark application makes use of up to 16 CPUs or CPU cores and is available for Windows (32-bit and 64-Bit) and Macintosh (PPC and Intel-based). The resulting values among different operating systems are 100% comparable and therefore very useful with regard to purchasing decision-making. It can also be used as a marketing tool for hardware vendors or simply to compare hardware among colleagues or friends."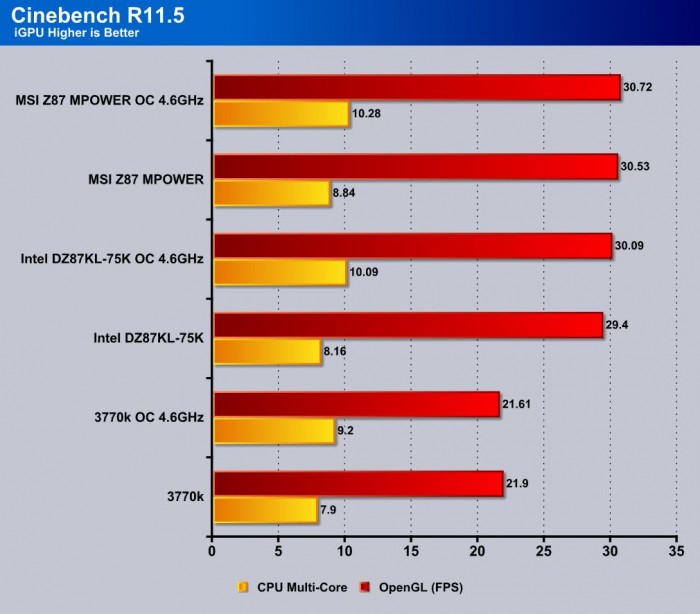 Here you can see where the high-end rendering work can be done. There are some definite improvements on the x86 processing, but when looking at the OpenGL rendering, you see almost a 30% increase, which is very good and speaks highly for what the HD4600 is capable of. The Mpower pulls good numbers and just slightly ahead yet again which speaks well to the efficiency of this board.
X264HD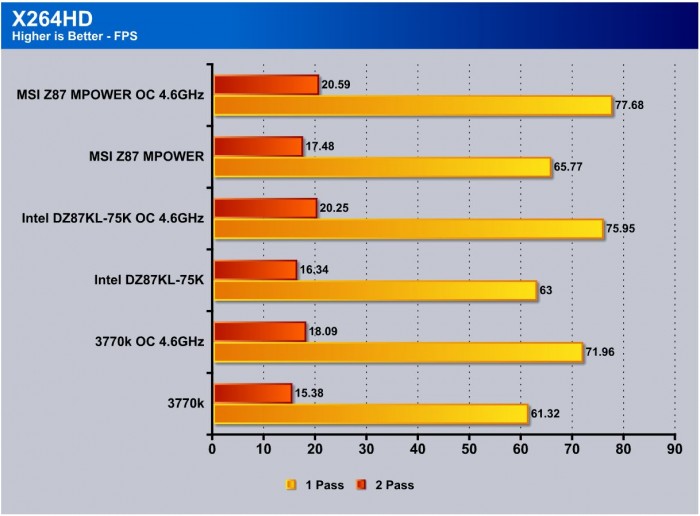 Transcoding has become more popular now and the latest Sandy Bridge processor added support for AVX instruction for faster video transcoding. With that you can see that going from Ivy Bridge to Haswell can net you some very good gains, especially a 2FPS gain on 2 Pass. This tells us that overall optimizations to the new platform are present and working very well. The Mpower pulls a nice lead here ahead of the competing Intel reference platform and possibly even topping the Xpower on this test which speaks very well to its efficiency.
Truecrypt 7.1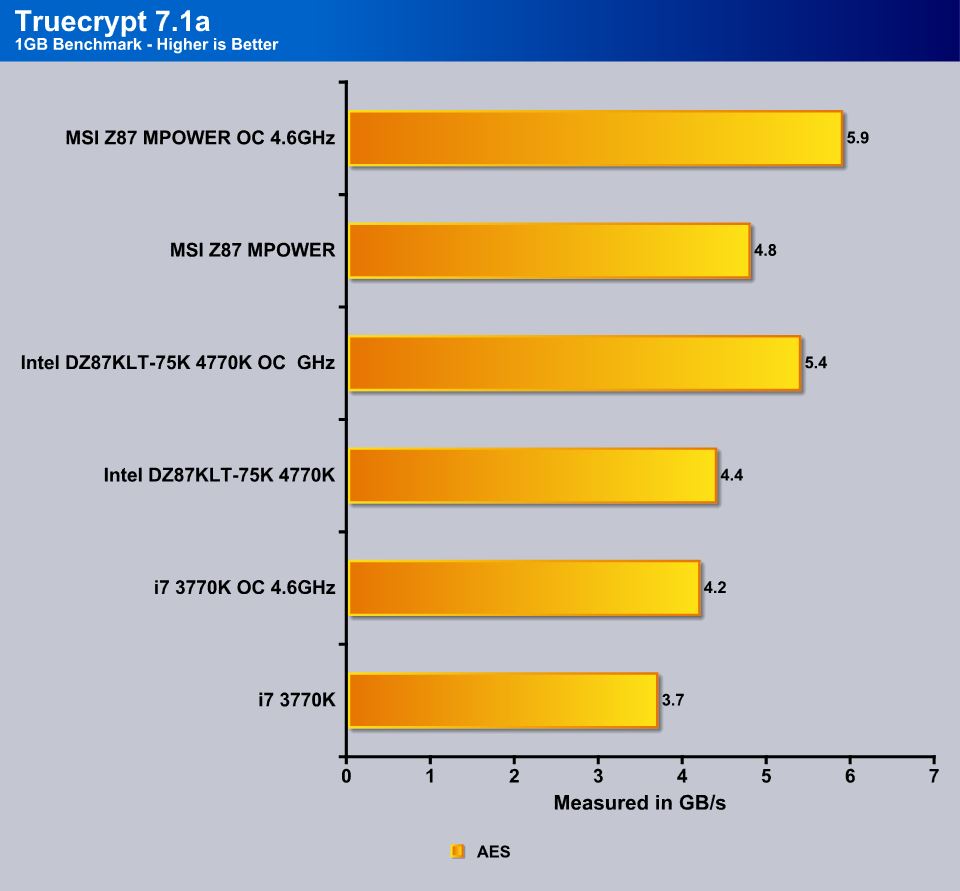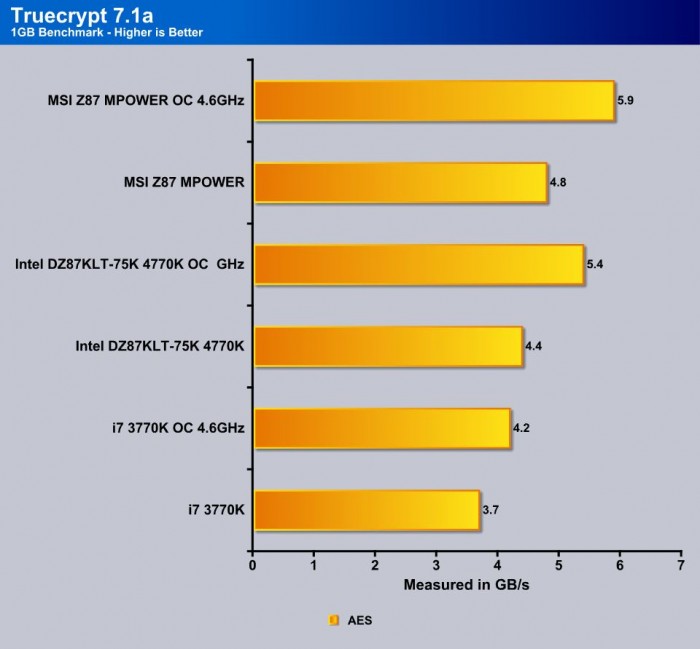 TrueCrypt is a real world application that gives a good indication of the true performance of our latest processor. Here the new Core i7 4770K puts some definite room between itself and the outgoing 3770K with over a 22% performance increase, which means in the same time you can get a lot more work done. Here with the Mpower you can see a nice jump at both stock and overclocked settings.
Unigine Heaven 2.5

Unigine Heaven is a benchmark program based on Unigine Corp's latest engine, Unigine. The engine features DirectX 11, Hardware tessellation, DirectCompute, and Shader Model 5.0. All of these new technologies combined with the ability to run each card through the same exact test means this benchmark should be in our arsenal for a long time.
Discrete GPU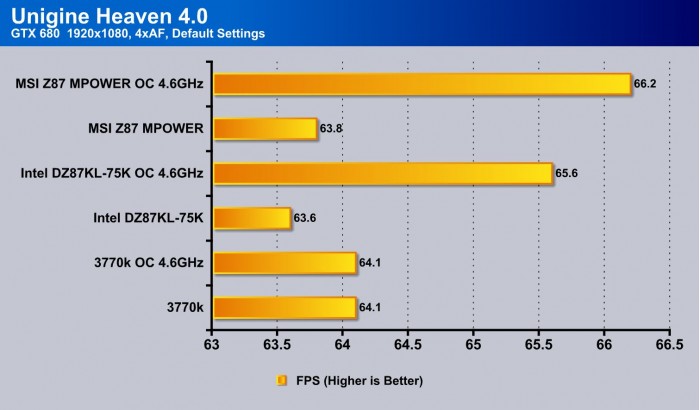 Unigine Heaven on a discrete GTX 680 gains about a single FPS, probably just due to the expanded performance with the overclock. For the most part, however, recent platforms are so efficient that there simply is no bottleneck for current gen card models. The Mpower sees a small increase here but not huge as graphics performance simply has not reached a level to where it will max out the bandwidth available on PCIe Gen 3 platforms.
Metro 2033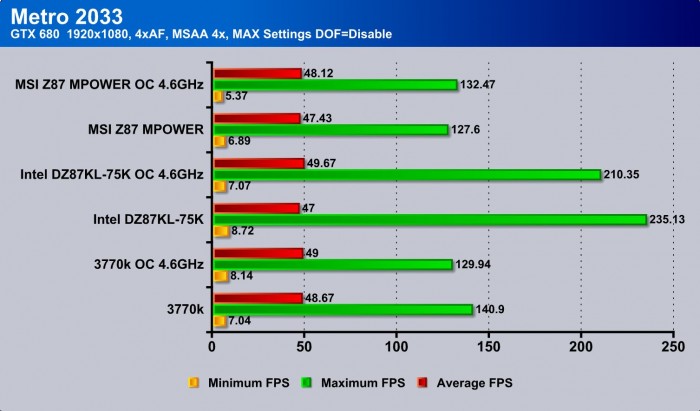 Metro 2033 this time around shows max FPS falling but overall averages higher as the Mpower shows very good stable high Average FPS numbers due to its tuning and capability to maintain higher overall stable FPS numbers which should ensure better smoother gameplay.
Batman Arkham City
Discrete GPU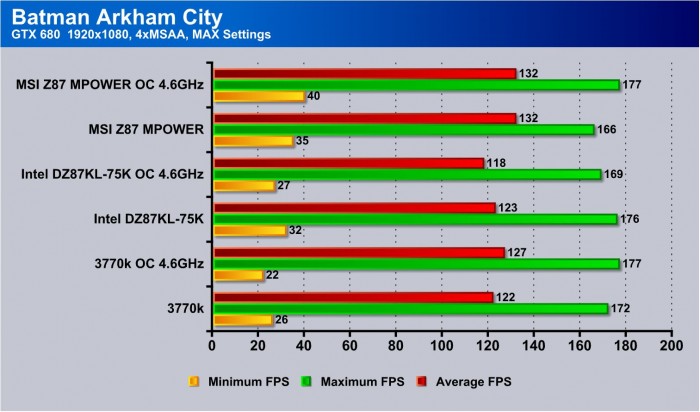 Discrete GPU results for the Mpower are very nice as the averages once again show a gain and yield what would be a much stronger result with better overall performance.
Sniper Elite V2
Discrete GPU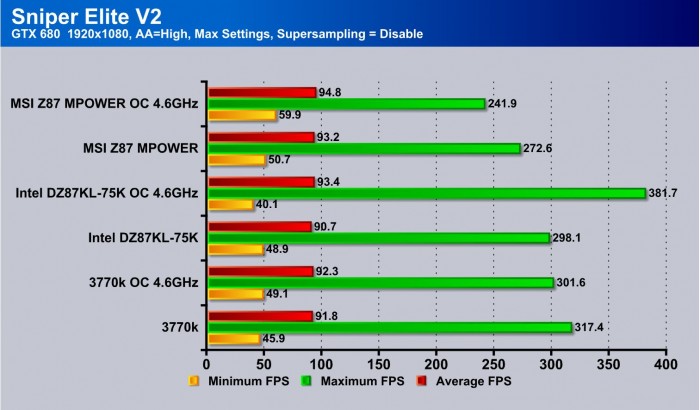 Once again we see a drop in max FPS but a gain in average which means that consistently the Mpower will deliver a more stable FPS level while not having as many peaks or jumpiness.

Our Final Thoughts

MSI once again offering multiple levels of offerings even within the same product category and with the Mpower it happens to be a more value oriented overclocking board.
The Z87 Mpower is a very impressive board in its own right as its value/features quotient makes it a tough to beat offer for most users. Yes there are lower priced boards that can overclock but to have an overclocking focused board with select components and loads of features including WiFi/BT 4.0 all in one package that really is not represented by any other offering I have seen to date.
This board will be just at home on a test bench as it would blasting away at your favorite games so if your looking for an awesome dual purpose board for your next build be sure to check out the Z87 Mpower.
Pros:
Cons

Killer E2205
High end Audio Boost Solution
V-Check Point
Strong VRM with Military Class Components
Unique Dragon Styling
Sound Blaster Cinema Compatibility
Gaming Device Ports
new clean UEFI with some cool options
mSATA for onboard SSD
Discharge Jumper for effortless clearing
WiFi/BT 4.0/WiDi Module

No Ability to adjust Multiplier via Direct OC Buttons
Review Overview
The MSI Z87 Mpower Motherboard is a Overclockers board on a budget and loaded with features. For this it deserves the Bjorn3D Golden Bear Award