Overview of the Gigabyte Z87X-UD3H
Click Image For a Larger One
The packaging for the 8 series from Gigabyte carries pretty much the same flavor as the 7 series which is not a bad thing as it usually carries a nice angle shot of the VRM/Heatsink.
Overall the front is a bit more cluttered than some we have seen as it has quite a lot of Ultra durable 5 detail right on the cover which may or may not catch the eyes of consumers. We still think the X79 boards were probably some of the best packaging Gigabyte has done to date and possibly even better than most competitors as it was super clean and simple but got attention.
The rear of the box is full of spec and detail info so that before you ever even make a purchase you have a really good idea of what you are getting.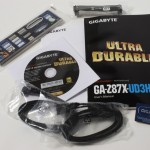 Click Image For a Larger One
Here we see all of the accessories we get with the Ggiabyte Z87X-UD4H:
User Manuals
Installation Discs
SATA Cables
SLI Ribbon
IO Shield
This bundle is very simple and will easily get you connected, although we would like to have seen more SATA cables, as having 8 SATA ports but only 4 cables means if you have a decent storage system you could be left searching for more cables.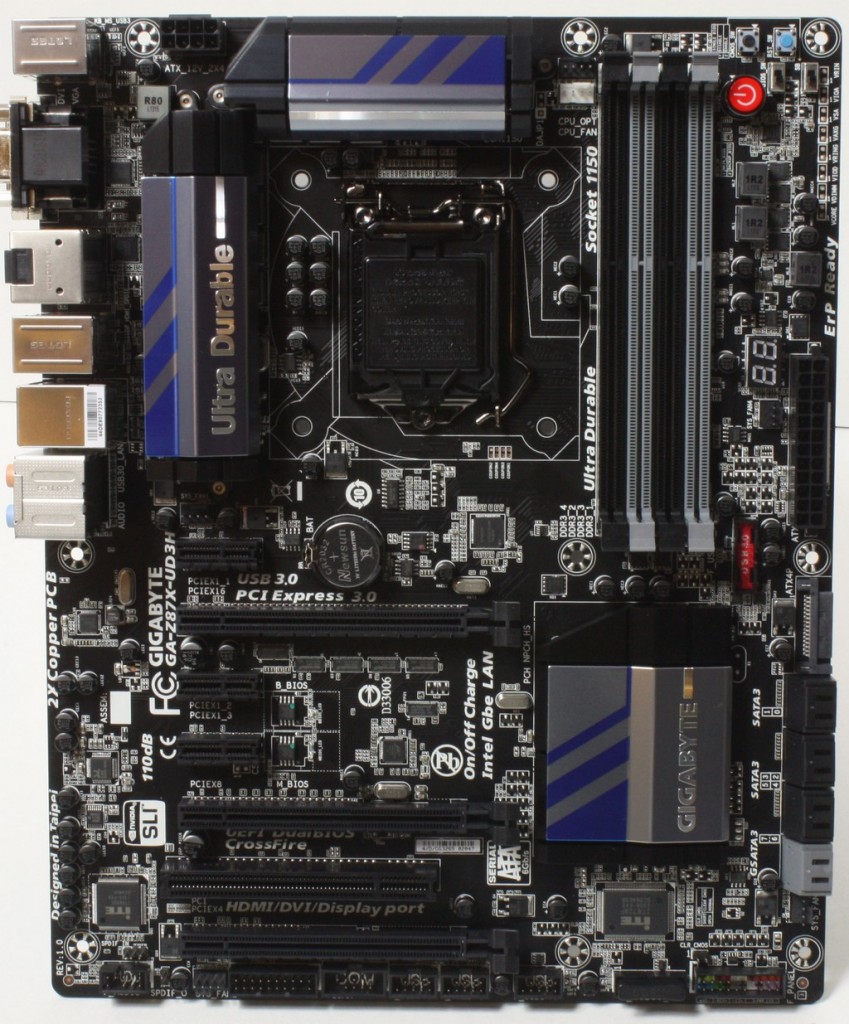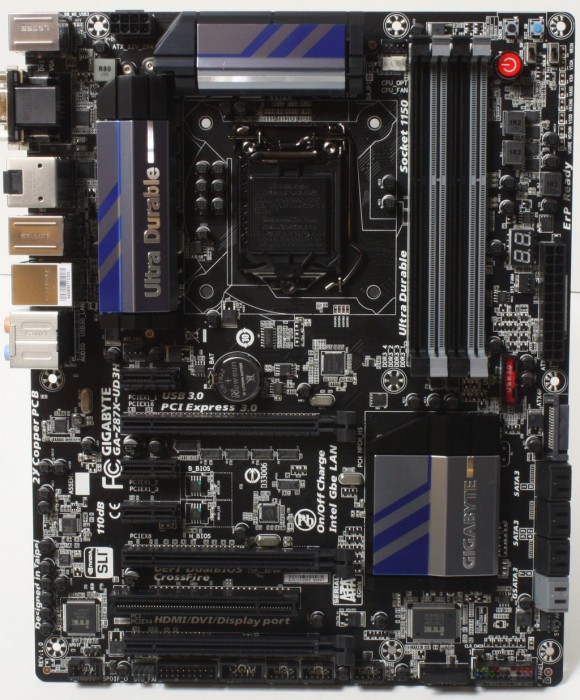 Click Image For a Larger One
Here you can see the whole board layout, much like the UD4H we saw before the connectors are kept at board edge to allow a tidy build with only a few stray fan headers any further than an inch inboard. The overall appeal is nice with a dark package so that no matter the build you install it into it should not jump out and command attention which in many cases can be bad for a custom build unless the board is exactly the right color. With that said there are subtle blue hints on the heatsinks which we think are nice and not so highly toned that it would be distracting from a build of clashing colors.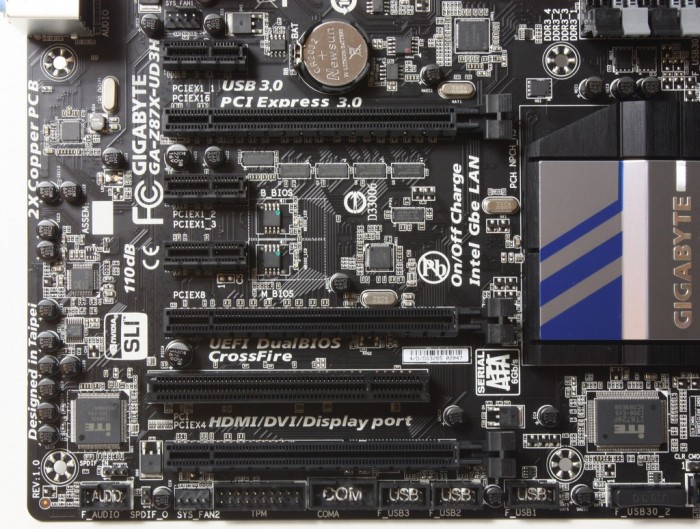 Click Image For a Larger One
Here you will notice that the slot layout is optimized for the dual card setups as it was designed. The triple slot spacing means that with triple slot cards you can run dual and with standard dual slot cards such as some of the top end Windforce series you can expect to fit them with a nice air gap for even better thermals.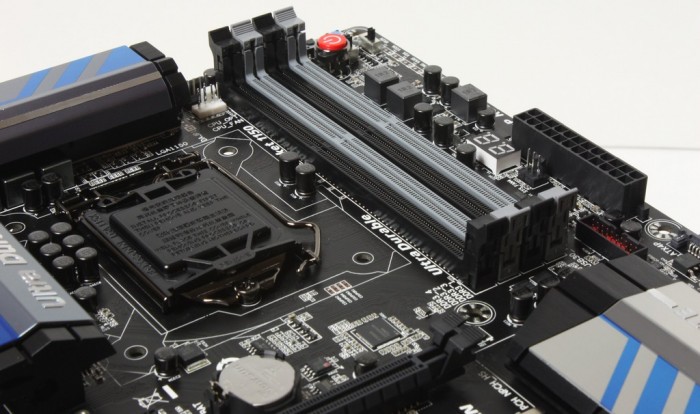 Click Image For a Larger One
The memory section is a dual channel 4 DIMM capable solution of up to a listed 32GB of officially supported capacity and speeds of up to and exceeding 3000MHz or 3GHz DIMM speed. This is very good and is possible via the new super strong Haswell memory controller, though do keep in mind that the type of DIMMs used and also strength of your specific IMC will be the ultimate deciding factor as to whether or not your system can actually run these speeds.
Click Image For a Larger One
The drive connections are plentiful as the Z87 chipset offers up to six drives at SATA 6G Speed capability. The full six are employed here as the Black ports. The other two are a 3rd party controller from Marvell model 88SE9172 and support up to SATA6G speeds and even support RAID so if you wanted you can run a  mirror or striped dual drive array on this controller and would actually make for a nice little backup array for large data storage such as a RAID 1 set of large capacity platter drives. Also it is worth noting that there are eSATA ports on the rear IO panel and they share the controller with the grey ports so should you decide to use a eSATA device then you will lose ability of ports on the internal grey.
The rear IO is quite stuffed with many connectivity options:
PS2 combo keyboard/mouse port
6x USB 3.0 Ports
Optical SPDIF connectors
Gigabit LAN port 
Dsub Port
DVI Port
HDMI Port
Displayport Connector
eSATA ports (x2) from Marvell controller
Up to 7.1 Channel HD audio via Realtek ALC898
The connectivity is vast and allows for connection of virtually any display without issue along with many SuperSpeed USB 3.0 ports to ensure no lack of high speed transfer.
Click Image For a Larger One
The CPU fan connection you will notice has a secondary header which is pretty cool. This OPT header is designed for usage with either dual fan air coolers or even AIO units where the pump uses a fan header so that you can have the port run full power for the pump rather than hoping the onboard modulation doesn't slow the pump down and harm performance.
The "Overclockers corner" on the top right has onboard buttons to allow easy bench top usage and also dual switches for BIOS control from not just which BIOS chip to use but also enabling a "Single BIOS" Mode so that it will not inadvertently reflash the main BIOS via the dual BIOS function as so many users have seen before when overclocking and having a couple bad POST attempts. Unfortunately that happened to us before and reflashed a firmware that was not compatible with the chip we were using, so you could imagine the headache we had with that. We do also like that the BIOS now requests flash of the second ROM when updating the main one so that if a cross-flash ever happens you're not flashing to an older image which may not support your hardware.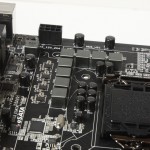 Click Image For a Larger One
Here you can see the main VRM which is quite nice fed by a single 8 pin CPU ATX connector and built from all IOR components.
The advantages to this configuration more than anything come from the switch to digital control which allows for extreme accuracy and also control over the power circuits including voltage levels and output to the components. Also the efficiency of digital VRM has really been proven over time as it allows for much better power down of power phases to allow for less wasted power and heat generation by non loaded VRM components.