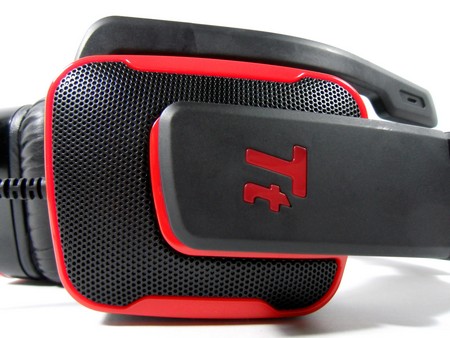 Thermaltake is well-known for their chassis, coolers and power supplies for many years. With their relatively new line, Tt eSports, they are upping the ante by entering into the gaming community. Let's see how this gaming headset performs. 
Introduction
 Tt eSports is a sub-brand of Thermaltake that focuses on gaming keyboards, mice, headsets and other accessories. They pride themselves in creating products that are aggressive and stylish and for $90 on Amazon, it's a little higher priced compared to most other gaming headsets. The Shock One is quite a looker though, with its bright red accents and red LED, along with a lot of little extras. Let's find out if Thermaltake's newer line performs well.
Features & Specifications
| | |
| --- | --- |
| Specifications | Tt eSPORTS SHOCK One Gaming Headset |
| Interface | USB 2.0 + USB 3.0 |
| Driver Unit (mm) | 40mm |
| Channel | Virtual 5.1 Channel |
| Frequency Response | 20Hz ~ 20 KHz |
| Sensitivity | 114 ± 3dB |
| Cable Length | 10 ft braided with Velcro strap |
| External In-Line Controller | Yes |
| Mic Directivity | Bidrectional |
| Mic Noise Canceling | Yes |
| Mic Sensitivity | -45 ± 3dB |
| Mic Frequency | 100Hz ~ 10 KHz |
| Mic Impedance | 2.2k ohm |
| Support OS | Windows XP/ Vista/ Windows 7 |
Product Overview
Click Images to Enlarge
This gaming headset is very easily unpackaged and instead of the usual round ear pieces, it's square, which makes it fit over your ears much more comfortably and helps seal in sound better. The ear pieces themselves are faux leather, which are very comfortable and it also comes with interchangeable velvet ear pieces. The pieces are relatively easy to change out, with small indents in which you insert your fingernail to press down on the clip that holds in the piece in place, then you can pry it right off. 
Click Images to Enlarge
It includes a cloth bag, instruction manual, driver CD, and an attached control pod that controls the volume, muting, LED on the headset and the pod itself. It includes a lock on the side, which prevents accidental contact with the buttons and also has a clip for your clothes, which is very convenient. The headset itself is foldable, which allows portability and you can slip it into the nice cloth bag that had been provided for you. The mic itself is also flexible, making it easy to adjust and it would stay put. 
Click Images to Enlarge
One of the first things that was noticed about this product, were the size adjustments for the head band. The features listed that there are 10 adjustment settings, but we couldn't help but notice that the adjustment was rather smaller than they lead you to believe. Now, it fit over our ears just fine and will probably fit over most people's unless you have an abnormally large cranium, but the wording was just a little off putting. 
 Click Images to Enlarge
Software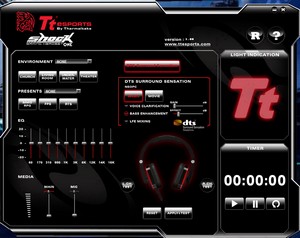 Click Images to Enlarge
The software for this headset can be found here: http://www.ttesports.com/products/product.aspx?g=dwnld&p=8&ss=3. The user interface included 10 different environmental effects, including underwater, bathroom and forest, where it mimics the sounds as if you were playing from those locations and also a timer (What?). There's no real purpose behind the environmental effects other than it's fun and the timer doesn't affect your time duration of sound at all. All it seems to do is keep track of time.  
There are sliders if you want to manually adjust the output quality of your sound and also presets for 3 different types of games including FPS, RTS and an MMO. Regular presents for different types of music like classical, rock and a few others are also included. This was a nice touch. 
It also includes what seemed to be a nice feature: being able to turn on the DTS Surround Sensation, which convert two-channel audio into virtual surround sound and gives your sound more resonance and life. We will cover why it wasn't that great in just a minute.
The driver has to be installed in order to use the 5.1 surround sound, and unfortunately it's not compatible with Mac OS. We also noticed that if you are switching between headsets, you have to make sure to either turn off the software or if it's just unplugged, you have to wait a minute for it to completely be ejected before plugging in the other headset, or else there will be an error generated regarding your audio driver. 
Testing Methodology
Test Rig
Case
Windows 7 Home 64 bit
CPUs
Intel i7 2600k @ 3.4Ghz
Motherboard
MSI P67A-G43
Ram
Patriot Gseries DDR3 1600MHz 4GB
GPU
Nvidia GeForce GT 220 1GB GDDR3
Monitor
Asus VK222H 1680 x 1050
This was tested with Skype, Ventrilo, Guild Wars 2, Pandora and a blu-ray movie.
The mic seemed to pick up sound very well with Skype, sounding very crisp and clear, but with Ventrilo for some reason, everyone had problems hearing us, even when output on Vent itself was turned to max. It's clearly a software issue, but it's something to note.
The sound quality itself is a bit problematic. When enabling DTS Surround Sensation, it turns on the bass and seems to up the quality of the sound, but voices had quite a bit of an echo. The effect was loud enough to where we thought we had accidentally enabled the bathroom environment setting. Admittedly, this echo gave some music a much more powerful quality, but it was pretty annoying listening to a movie.
Another problem is when enabling this, and it switches from two channels to surround, positional audio is greatly diminished or is completely gone. Switching this feature on is the only way to get that strong bass and quality, so you are forced to choose between that or positional audio.
The comfort of this headset is mediocre: it's good for a couple hours, but after removing them, your head and ears feel a little sore. Even though there's a cushion pad on the head band, it sits rather tightly on your head so you would have to have the adjustment just a cm or two so you're not sore later.
Conclusion
The Shock One gaming headset is a pretty good gaming headset and its unique square ear pieces guarantees complete coverage over your ears. The control pod is a very nice touch and the software has fun features.  The sound quality in music is great but the problems with software is where it takes big hits for points: little to no positional audio and echoes in digital voices.
This headset is great for those who don't play hard core shooters or any other game that may rely on the position of certain sounds.
OUR VERDICT: Thermaltake eSPORTS SHOCK One
| | |
| --- | --- |
| Performance | 8 |
| Value | 7 |
| Quality | 9 |
| Features | 9 |
| Innovation | 8 |

We are using a new addition to our scoring system to provide additional feedback beyond a flat score. Please note that the final score isn't an aggregate average of the new rating system.

Pros
Cons

Interchangable ear pieces

Fun software features that allow for precise changes in sound quality
Ambient music and sound resonates
Attached remote to control volume, mute and LED
Looks stylish

Not comfortable for long periods of time
Positional audio disabled when DTS Surround Sensation is enabled 

 
Summary: Even though the Shock One gaming headset has a couple cons, the quality of sound is good and it is very versatile, earning it the Bjorn3D Seal of Approval.