Tt eSPORTS (by Thermaltake) unleashes the Level 10 M mouse for professional gamers. Read on to find out more.
Introduction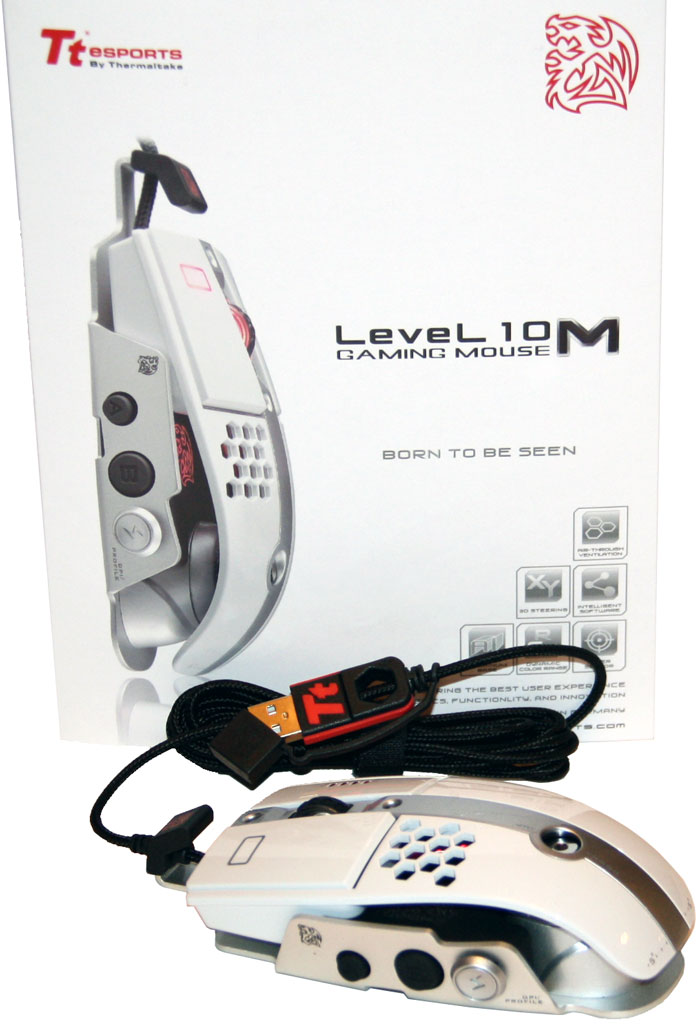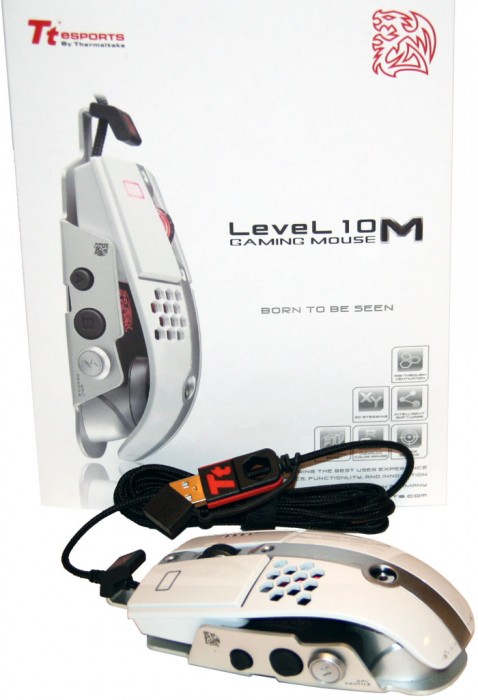 (Click on image for larger view).
Thermaltake, a company usually known for their diversity in computer cases and other accessories, had their Tt eSPORTS division (gaming gear) team up with BMW engineers to bring a new type of mouse to the table. Just from first glance it is obvious that much research and development went into this product. Starting at approximately $90, it is available now at online outlets.
Features & Specifications
Level 10 M Gaming Mouse
Type
High performance gaming gear
Sensor
Laser Sensor Engine (8200 DPI)
Dimensions/Weight
147 X 67.5 X 38.8 mm / 185 g
Materials
All Aluminum Base
Adjustments
X and Y axis
Color LED Range
7 colors / 4 independent areas
Cooling
Air-Through Ventilation
Buttons
7 + 4-way directional "Z" button
Profiles
5 + profile management capability
Cord
Braided 1.8 meters with gold-plated usb
Available Colors
Black, White, Green, Red
A Closer Look 
(Click on images for larger view).
(Click on images for larger view).
An excellent first impression on the satin-finished box, which supplies information concerning the concept and design of all the features.  One can not help but be taken aback that this is not an ordinary run-of-the-mill mouse. Not only does the Level 10 come with it's own tool for finer adjustments, but a CD containing drivers, and a protective cushioned pouch with 2 compartments (one for the mouse and a dedicated one for the braided cord).
(Click on images for larger view).
The Level 10 mouse presents a rather unique form-factor providing a long swooping, all-aluminum chassis accompanied with an equally broad width. The mouse is such a heavy-weight due to being entirely metal that an additional weight set (normally a feature on high-end mice) is completely unnecessary. This size favors larger to medium size hands with the ability to completely fill the entire palm and not have the middle 3 fingers hang off the top edge. Take special note of the picture on the left with indicators designating the shift-axis of the side buttons (5 degrees to the left or right). The right-top side of the mouse has four LED indicators that display the preset (or programmed) DPI sensitivity, where as the left side of the mouse has 2 independent zones for LED colors (purely cosmetic). A small precision-milled hexagonal grid acts as "venting" to aid in keeping the palm sweat-free. Please note that the "Iron White" model has a smooth, ceramic-type finish: normally one would be concerned about dirt transferring onto the mouse with extended use; fortunately, this was not an issue.
(Click on images for larger view).
An interesting feature was to make the mouse somewhat ambidextrous, with back and forward buttons on each side. The slightly textured rubber buttons accept the perfect amount of pressure before they activate, so more then likely one won't be depressing them by accident. One the left side notice the gray "Z" button, which is an actual 4-way position joystick-like switch (all positions assignable) and also doubles as the profile changer (merely push the Z button into the mouse to activate). One very nice feature appreciated on the Level 10 is a small metal bracket at the top which secures the braided cord from pulling on the connections inside, guaranteeing longevity for a product where previous mice normally fail after extensive use. 
(Click on images for larger view).
The bottom shot shows off the all metal chassis and the uniform positioning of the Teflon-like pads. The sensor is an Avago ADNS-9800 laser, which possesses all the sensitivity one could need for up to a 32″ high resolution monitor. Concerning the cord itself, Thermaltake went all out scrutinizing the details, providing a Velcro wire-management strap and a dust-cap for the gold-plated usb connector. 
(Click on images for larger view). 
One of the best features is the ability to customize the X and Y axis of the mouse chassis. More then likely the horizontal axis will be adjusted to either extreme depending on hand preference, where as the vertical adjustment raises or lowers the main palm-rest to accommodate hand size relative to the side buttons.
Testing and Results

If one chooses to use the included drivers, a very unique feature is enabled that displays DPI settings onscreen upon changes. This is a great visual tool if using more than one profile to track changes and is not only visually unobtrusive, but stylish. In addition, forward and backward keys also bring up a small onscreen arrow indicator.
(Click on images for larger view). 
The main screen of the Level 10 drivers appears rather daunting at first; but after a little use, it is actually very simple and streamlined in practice. The top tabs toggle between the 5 programmable profiles, where as the the first 4 silver buttons are easy ways to assign all the hot-keys on the mouse (Z button and all 4 side buttons). Just click on the graphic of which part of the mouse you want to program and hit one of the silver buttons to change it — it's that easy. The bottom two silver buttons display short movie clips of the air-through venting and the X and Y axis adjustment. The lighting features are setup the same way, with 4 independent lighting zones (DPI indicator, venting, mousewheel, and small rectangle on left mouse button). They can also be set to "battle mode" which sets the LED's to pulse with the frequency of buttons depressed. 
(Click on images for larger view). 
Any type of macro from the keyboard may be assigned to any mouse key (with the exception of the Z keys push-button feature to switch profiles). Pre-defined macros such as DPI up and down may also be reassigned to side buttons or vertical movement of the Z key instead. Note that default settings of Z key is DPI changed by horizontal movement; however, in practice this was inconvenient (due to being switched too many times by accident). The performance tab is where custom DPI changes can be made in 4 steps (with a minimum DPI of 50 per step). Lift-off distance, polling rate, and screen scroll control may also be accessed here (all adjustable per profile).
Testing the product took place over a period of 3 weeks, approximately 10 hours of use per day. Instead of reviewing the type of applications and games used, a tighter focus is being presented on the Level 10 mouse itself. Rest assured that any application or game thrown at this mouse performed admirably with precision and error free movement (as any consumer would expect for any mouse in this price range). This is not only due to the heavier nature of the solid metal body, but the physical footprint due to the larger form-factor. The dedicated bracket at the top of the mouse really did help in keeping drift in check from a sometimes binding mouse cord (with the braided cord there isn't much issue with this except a small break-in period to get the folded kinks out).
There does appear to be a problem concerning the ergonomics of this product that should be addressed. Despite the fact that the horizontal axis may be adjusted for either hand, no matter how it is set up either the thumb or smallest finger is always resting on a metal ridge, which becomes rather uncomfortable after a few hours. As for the special "Z" key, it is highly sensitive and only needs to be brushed to have it's settings changed — this can be very disconcerting during a heated battle moment. As for the programming of the Z key, it would have been nice to have included macros for multimedia players (such as pause, play, volume, and track advance), but this is a small criticism.
What is really convenient is the ability to flash the memory of the mouse with all your custom profiles. It is possible  to then plug it into any other system having profiles instantly active without installing the drivers. The only perceptible feature the drivers have when installed is the onscreen DPI settings and the ability to reassign default settings.
Conclusion

There are many aspects of this product that is going to appeal for those looking for the ultimate in performance and build quality. The Level 10M is built for serious longevity in mind (even down to the details of securing the mouse cord) and the solid metal chassis earns a maximum score in the quality category. Additionally, the laser sensor is beyond capable and completely customizable to both axis (horizontal and lift-off).  Aesthetically speaking the Level 10M literally glows with design and innovation, incorporating a decent feature set that doesn't rely on drivers being installed. The only major oversight is the ergonomic factor, which with extended use becomes problematic: this is reflected in the value score, since with a high-end $90 gaming mouse, this should have priority. Nonetheless, this issue ultimately comes down to personal preference. The Level 10M is highly recommended for any type of gaming due to it's flexibility if you are taking regular breaks every 2 hours (and it is more then likely that this become a habit regardless).
OUR VERDICT: Tt eSPORTS Level 10M
| | |
| --- | --- |
| Performance | 9 |
| Value | 6 |
| Quality | 10 |
| Features | 7 |
| Innovation | 8 |

We are using a new addition to our scoring system to provide additional feedback beyond a flat score. Please note that the final score isn't an aggregate average of the new rating system.

Pros
Cons

Exquiste engineering and aesthetics.
Large form-factor and weight contributes to ease of use.
Excellent implementation of cord management.
Full functionality even without drivers installed.

Ergonomics limits long term use versus comfort.
Z key sensitivity may hamper gaming.
Design would have benefitted the inclusion of multimedia macros.
Summary: Tt eSPORTS Level 10M mouse delivers on concept and design, but falls short in ergonomics; however, it is one of the few products to get a perfect score in quality, and is awarded the Bjorn3D Silver Bear Award.