Building a Quiet Gaming PC can be confusing for beginners that have never messed with their computers before. This How-To Guide will explain how to choose quiet components and build your next Quiet Ultimate Gaming PC.
How To Build a Quiet Ultimate Gaming PC
Overview of our Guide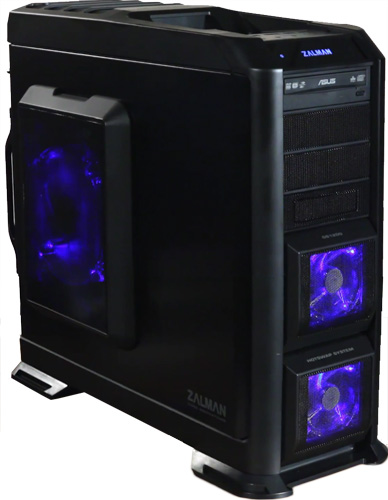 Building computer systems can be a slightly confusing to those that have never seen or worked with computer hardware. Bjorn3D has teamed up with AcousticPC to bring you a half-hour complete overview of what you will need to build your next quiet high-performance gaming system.
Today's How-To Guide will start off with a basic overview of all the hardware we will be using to put together our gaming system. Our goal was to build a gaming system that will have a very low acoustic level, meaning that while we will be using some of the latest and most powerful hardware on the market, we will also make sure that our system is as quiet as possible. Next, we will take a look at how to put together the complete gaming system. And finally, at the end of our how-to video, we'll take a look at how the system performs in some of the latest games on the market, including Metro 2033, which is one of the most demanding games even for new gaming systems. While we perform our testing, we will also test how loud the system gets during full load. But before we jump right ahead to the hardware and the installation, let's get a better understanding of proper cooling.
Understanding Proper Cooling
Picking a case that will fit your computer needs and can provide a sufficient amount of air circulation is very important. Some cases require high RPM fans to stay cool. For a quiet system, we need not only low RPM fans, but also a well designed chassis. Having large low RPM fans can lead to high air circulation without generating too much noise. A properly well air circulated system usually consists of front fan(s), side panel fan(s), rear fan(s) and also top fan(s). Because most cases have their hard drives and other mechanical drives in front of the case, the drives could potentially get hot during operation, so some fans need to be provided to cool down these parts. Front fans can also help push cool air through the system. Having a rear fan is also very important, because as the cool air runs through the system, it picks up heat. The hot air must then be pushed out of the system to avoid heat buildup inside the case. When building gaming systems, these usually require high-performance video cards and processors. To provide direct cool airflow to these components, our system must have side panel ventilation. An additional top fan can help exhaust hot air that rises to the top of the chassis.
Having a high-end cooler for hardware like the CPU and GPU is also a big factor in a quiet computer system. Coolers with larger surface area can provide better cooling over coolers that have a lower surface area, though the material of the cooler also adds to the overall cooling performance. It is important to understand that depending on what your intended use is, it is possible to cool most of the hardware in the system passively. If you want to overclock or push your hardware to higher levels without spending extra money, it is highly recommended to get a cooler along with a pair of high-quality quiet fans.
An insufficiently cooled case will not provide enough air circulation for the hardware, causing the system to run much hotter, which not only could lead to hardware failure and performance decreases, but will also force the hardware to turn up the internal fans creating a loud gaming experience. It can be a difficult process picking out good hardware that will also stay quiet during system operation.
Picking the Right Hardware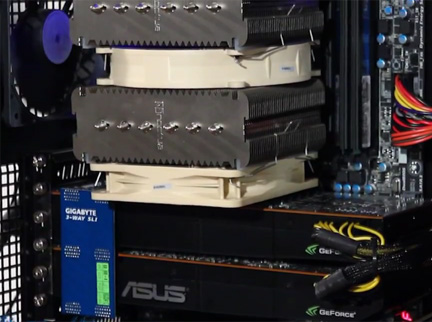 Picking the right hardware might be difficult for some, which is why we recommend to take a closer look at some of the products AcousticPC has to offer. They guarantee to sell quiet fans, coolers, and more for your next quiet gaming system. Throughout the article, we've given a little overview of each product and linked to some of the product reviews we have. This will give you a better understanding of each component we will be using in this ultimate quiet gaming system. We have a very brief introduction of each product in our video, so if you'd rather take a look at the video, please feel free to skip this section.
Quiet Gaming Components
Zalman GS1200 Case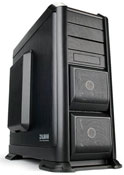 The Zalman GS1200 Case is one great option for a high-end gaming system. It comes with two 92mm front intake fans which have an adjustable fan speed control from inside the case. This allows the user to set the system to have more or less airflow. Usually setting the RPM to a lower level means that the system will run much quieter. The GS1200 also comes with a massive 200mm low RPM fan on the side panel and on the top of the case. There is an additional 120mm fan on the back of the case already pre-installed, which means that the case already comes with all the main fans required for good air circulation. There can be an additional fan installed on the bottom of the case providing even more cool air to the components. Its additional features will be examined in greater detail in the video.
Noctua NH-D14 CPU Cooler (Review)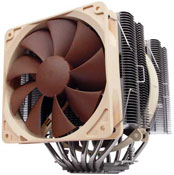 The Noctua NH-D14 CPU Cooler is one of the biggest CPU coolers available on the market at the time of this guide. While there are other massive coolers out there, the NH-D14 comes pre-installed with two quiet fans: one Noctua NF-P12 120mm fan and one 140mm fan. There can be an additional 120mm fan installed at the top of the cooler, though this is not necessary even though we will be overclocking our system to 4.8GHz during summer days when the temperatures in our room get to about 28-30C (82-86F). The Noctua NH-D14 comes with two massive tower coolers that are attached to 6 heatpipes on each tower.
2x ASUS GTX 580s in 2-way SLI (Review)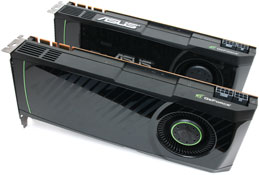 We did not choose the dual-GPU cards because they often runs hotter and since the goal of the build is a quiete sytem, having a dual single GPU configuration would be a better option for our purpose. This leaves us with either GTX 580 or the HD 6970 and we decided to go with the NVIDIA GTX 580 for this build because it is the fastest single GPU avaialble.
While most gaming systems that come with high-end video cards have loud stock fans, NVIDIA's latest and fastest single GPU video card comes with a custom vapor chamber designed cooler which is able to efficiently cool down the video card without needing to use aftermarket coolers. Because of this, the latest GTX 580 video cards can run very quietly even during full load. In addition, having NVIDIA graphics cards also means that gamers will get a full experience with PhysX as well as get 3D support with a single or even triple monitor setup. It is not limited to only 3D triple monitor setup, as users can also use their triple monitor setup in 2D surround mode.
Zalman N-Series 128GB SSD (Review)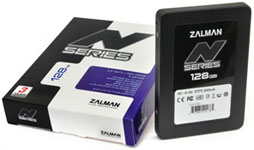 One excellent addition to a gaming system is a Solid State Drive. There are multiple SSDs to pick from, but during summer 2011, it is probably the best choice to either get a SandForce 1xxx or 2xxx series SSD, though it is not limited to these controllers. The Zalman N-Series 128GB SSD uses the Sandforce 1xxx series controller but can provide up to about 240MB/s read and around 200MB/s write speeds according to our tests. If money can allow, the latest SATA III SSDs, such as OCZ Vertex 3 that we have reviewed, come with the improved SandForce 2xxx series controller which provides twice as much performance due to 6Gbps bandwidth compatibility. This means that users can achieve up to around 500MB/s transfer speeds. Because Solid State Drives don't have any moving parts in them, they are completely silent, and not as easy to break as a mechanical hard drive. We will be putting Windows 7 Professional and all of our programs and games on the SSD while using our Hard drives for additional storage like Photos, Videos, Documents, etc.
Cooler Master Silent Pro Gold 1200W PSU (Review)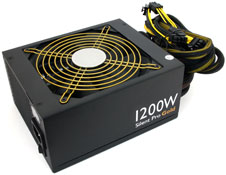 Cooler Master's latest 80 Plus Gold Series 1200W PSUs are not only a great option because they have great efficiency, but also because they are very quiet during full load operation. While a 2-way SLI system will not use up all 1200W of power, it is recommended to get a higher wattage power supply to have extra juice for the hardware in case of future upgrades. The Cooler Master Silent Pro Gold 1200W PSU comes with thin, well managed cables, making it very easy to hide all the power cables behind the motherboard tray.
Other Gaming Components
Intel Core i7 2600K 3.4GHz – Overclocked to 4.8GHz (Review)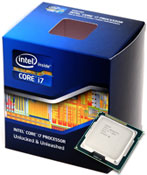 Intel's latest Sandy Bridge architecture brought several very powerful Quad-Core processors to the shelves. The Intel Core i7 2600K with clockspeed of 3.4GHz is one of the fastest quad-core processors. Hyperthreading support brings excellent performance in multi-threaded application and the turbo mode throttles the processor to 3.8GHz for additional performance boost. With 95W TDP, the processor has a low power consumption which makes it an excellent choice for users that want to save a bit on their electricity bill. Of course for enthusiast gamers, this processor can also be easily overclocked to 4.8GHz with just air even during a hot summer. The new Sandy Bridge architecture comes with integrated graphics built right onto the core, though most users going with discrete graphics route will most likely not use this feature.
GIGABYTE Z68X-UD7-B3 Motherboard (Review)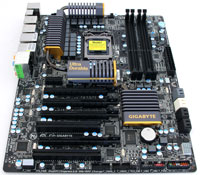 GIGABYTE took a unique approach at their flagship motherboard running the latest Z68 platform. The GIGABYTE Z68X-UD7-B3 motherboard is fully compatible with all Sandy Bridge processors, with high-performance memory modules, as well as up to 3-Way SLI and CrossFireX configuration due to its inclusion of the NVIDIA NF200 chipset. The Z68X-UD7-B3 is the only Z68 motherboard that actually comes with 3-way SLI and CrossFireX support. We picked this motherboard because we will have plans to upgrade our system to 3-Way SLI with NVIDIA's 3D Vision Surround on 3 Full HD 3D monitors. Additionally, the Z68 chipset also supports SRT (Smart Response Technology) which allows users to add a small SSD as a caching device to boost the performance of their system. Its complex algorithm analyzes which applications are used most often and copies those applications to the SSD. The next time the application is run, the files will be loaded from the SSD, providing extra performance and faster loading times.
A good alternative can also be the ASUS P8Z68-V Pro that we have reviewed. The board lacks the NF 200 chipset that is found on the GIGABTYE board so it will not offer you the same amount of PCI-E bandwidth. However, because it comes with video output ports on the board, it will support Virtu in either iMode or dMode, allowing you to tap into the QuickSync feature for faster video transcoding.
Patriot Gamer 2 Series 16GB 1600MHz Memory Kit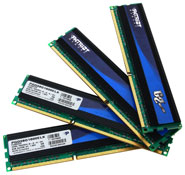 Memory prices have dropped drastically in the past few months where even 16GB of DDR3 memory are very cheap for an average user. While most gamers will not need 16GB of memory, we love having the extra RAM available for our background applications. Most gamers will not need more than 6GB of memory, but since we are using a chipset with dual-channel memory support, it is recommended to get either 8GB or 16GB.
With the integrated memory controller built into the processor, the memory speed has less of an impact in the performance unless you are extreme overclockers. Choose whatever memory you prefer from the manufacturers you trust. The G.Skill RipjawsX F3-12800CL9D-8GBXL, Kingston 12GB HyperX T1 Black Edition, or Patriot Viper Xtreme P3-16000 – 2000MHz kits are all good examples.
2x Western Digital RE3 Hard Drives in RAID 0 Configuration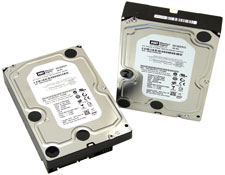 Our goal with the build is to have a quiet system so we decided to go with an SSD. Though a 120GB or 240GB SSD offers a good size for operating system and applications, it would not be large enough for storage. So, we will be using two Western Digital RAID Edition 3 1TB Hard Drives in RAID 0 configuration. Having two 1TB drives means that when we put them in RAID 0 configuration, we are going to get almost double the performance of a single hard drive, but we will be able to see these drives as a single 2TB hard drive in Windows 7. With the extra performance, we can make sure that the rest of the files that we will be storing on our hard drives get exceptional performance.
Thermaltake Meka G1 Keyboard (Review)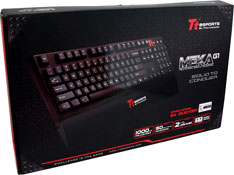 TteSports Meka G1 was chosen as an excellent gaming contender for the ultimate quiet gaming PC for its outstanding component quality and performance. In our review we have extensively covered the advantage of purchasing the mechanical keyboard, such Meka G1, over regular rubber dome gaming keyboards. In addition, to extreme durability and easy replacement of the mechanical switches, Meka G1 also is able to provide a 1 GHz polling rate,  which essentially implies that all of the keystrokes will be instant and no lag in games.
Razer Imperator 4G Dual-Laser Sensor Mouse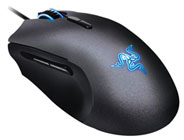 Razer Imperator is the one of the latest releases from Razer, which along with the new Mamba, features the new 4 G dual sensor system. The major advantage of having a dual laser system is obviously related to improving the tracking capabilities of the mice, as well as cater to any play style, especially for those players that like to use lower dpi and would like to adjust the liftoff tracking distance.
Razer Chimaera 5.1 Wireless Headset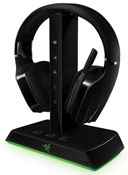 An ultimate gaming system can not be fully complete without a headset. In this instance, we have chosen Razer Chimaera, because both the looks and the wireless features. The stylish black design of the headset contrasted by the green LEDs make hands down one of the most attractive sets on the market. In addition 50 mm Neodymium drivers are anticipated to provide a strong and vibrant sound. (Read more in the upcoming review.)
Logitech Z-2300 2.1 Multimedia Speakers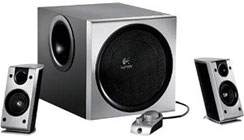 Because our gaming system is very quiet, we can also enjoy our gaming experience with some real booming audio. The Logitech Z-2300 2.1 Multimedia Speakers are a perfect option for gamers as they provide plenty of bass to shake the walls while providing quite pleasing mids from the satellites. Unfortunately there are no twitters included with the satellites, however, the sound quality is still quite pleasing.
ASUS VG236H 23.6″ 2ms 1920×1080 120Hz 3D Widescreen LCD Monitor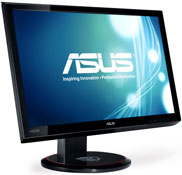 The ASUS VG236H 23.6″ 3D Widescreen LCD Monitor is a great option for gamers. Its 120Hz refresh rate provides very smooth response that we have seen on older 120Hz CRT monitors. With the 120Hz refresh rate, users can also enjoy eye popping 3D at full HD 1920×1080 resolution. The LED backlighting provides great lighting and is perfect for brighter whites and darker blacks. 23.6″ is not too big and while most gamers would not mind using larger monitors, once three of these monitors are set up next to each other in a 3D Surround environment, 23.6″ for one monitor seems to be plenty.
Video Overview
Before watching the video, we would like to make a few notes. While not mentioned in the video, we do recommend getting some grounding tools to make sure there will be no static present during building the system. Most of these tools, including a anti-static grounding wrist band can be bought at your local electronics store. If there are no grounding tools available, we do recommend touching something metallic like the case or a table to discharge of any static electricity your body might have built up during the day before handling any components.
Please enjoy this video as we build the Ultimate Quiet Gaming PC, and take a look at how well it performs in games at full load.