The GTX550 Ti is an ideal contender for mid-range gaming systems. With quality and performance, this card would be a great choice for mainstream users who still want a capable graphics card.
Introduction
Recently Nvidia released their GTX550 Ti graphics cards to add to the 500 series of cards. This new card is meant to be the replacement for the GTS450 with a price point around $135, however since this is a factory overclocked card with an upgraded cooler, this particular model has a price of $154.99. These numbers are before any mail-in rebates that are offered. The base MSRP of the GTX550 is right around $20 more than that the GTS450.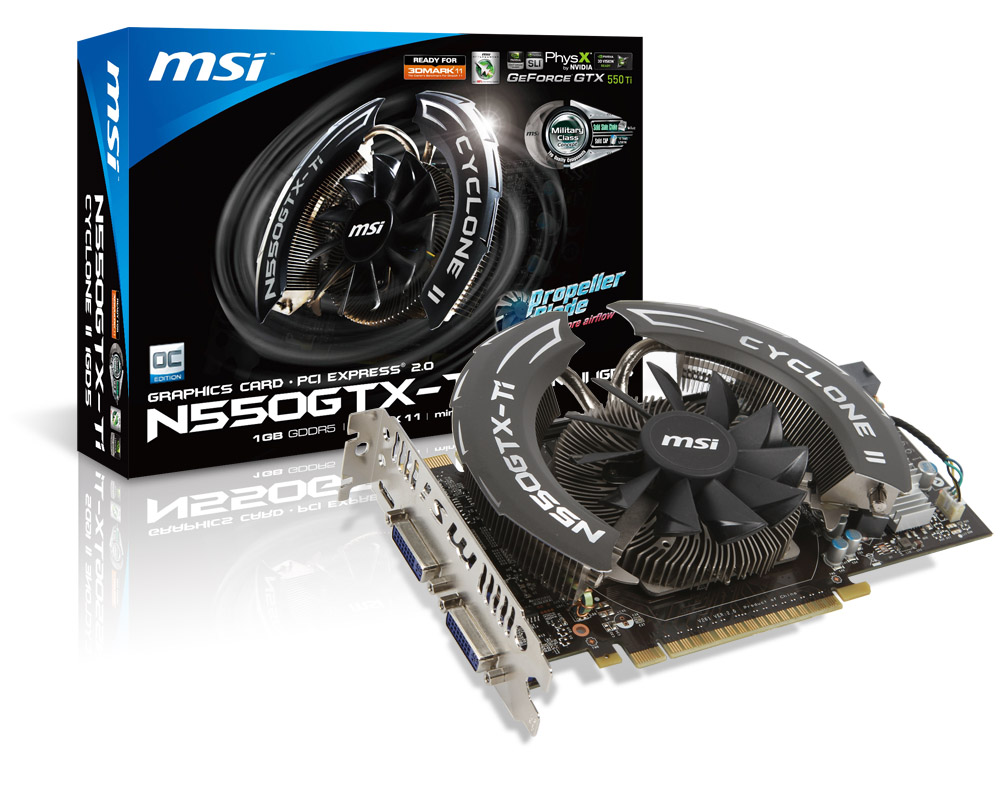 After doing some reading on the GTX550 Ti, we are really looking forward to testing this card out. The 550 is supposed to clock very nicely and with MSI's Cyclone cooler, we can forsee some good results while overclocking. Let's go ahead and see what this mid-range graphics card is capable of doing!
Features
The MSI GTX550 has quite a few features. It comes bundled with MSI Afterburner overclocking utility, and is SLI and 3D Vision Surround ready.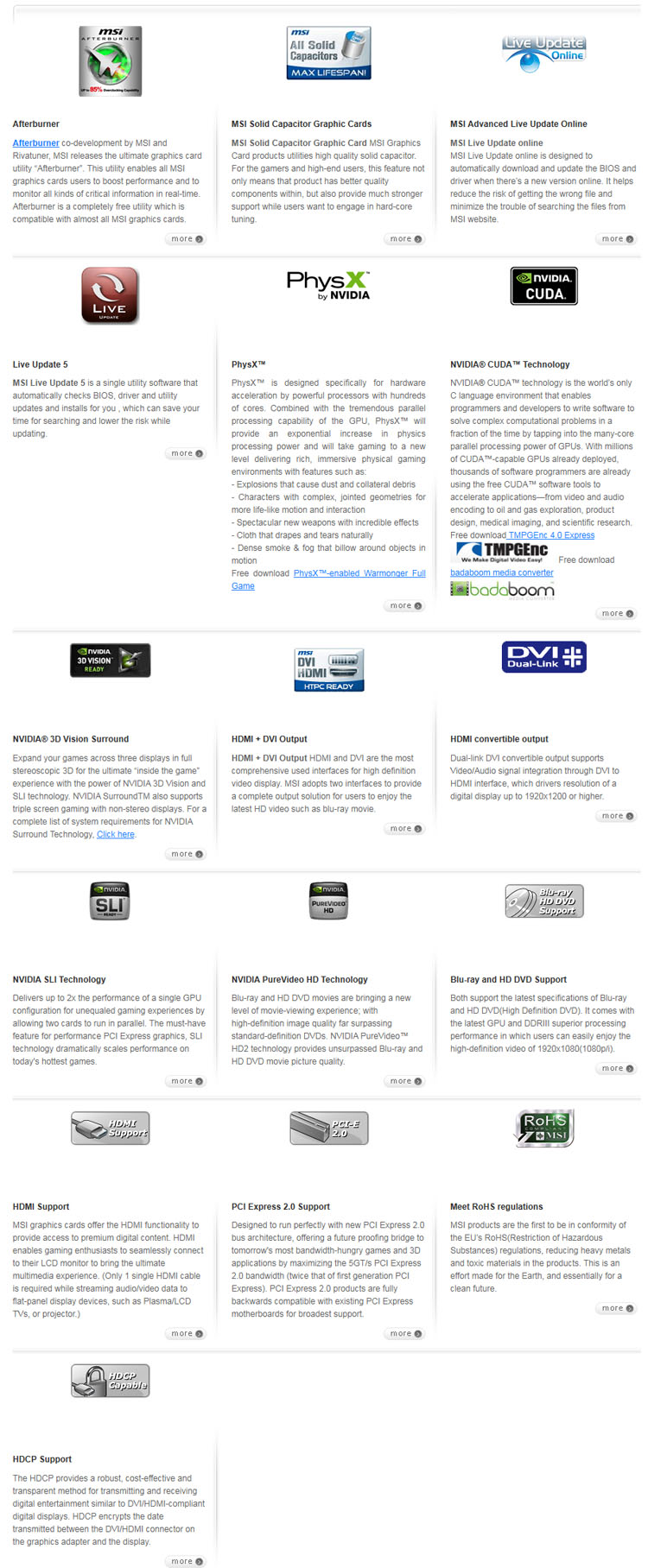 Specifications
Pictures & Impressions
Click Image to Enlarge
The MSI GTX550 Ti Cyclone II OC graphics card comes in a nice, professional looking box. The front shows a picture of the card and some of its features, and the back lists more features and also the card's specifications. The front of the box is a flap that folds up to unveil even more information about the card and its features.
Click Image to Enlarge
Here we have the card inside its protective packaging, which includes an anti-static bag. The card comes with a driver disk, a quick user manual for installation, a pamphlet with features, a Molex to 6-pin power adapter, HDMI to Mini-HDMI adapter, and a VGA to DVI adapter.
Click Image to Enlarge
While unboxing the Cyclone II OC, we couldn't help but drool over the cooler a little bit. It looks impressive and it only uses two expansion slots, making SLI very possible, even in cramped cases. The cooler looks large, but really isn't that heavy, which is a plus. A look at the back bracket reveals 2x DVI ports and a mini-HDMI port. Since this cooler is open to the case, flow through the bracket is not very relevant, but we'll see how well the cooler can handle itself under load later on in this review.
Click Image to Enlarge
Looking from the top side of the card, you can see the two heat pipes that disperse heat away from the bottom heatsink. The little plastic blue piece on the SLI slot on the card is there for protection during shipping. This card takes a 6-pin PCI-E power connector and requires a minimum of a 400 watt PSU. 
Click Image to Enlarge
Taking a closer look at the cooler, we can see the dual-heatpipe, triple-heatsink design. The fan has eleven blades and overall everything looks relatively similar to the GTX460 Cyclone. The base of the heatsink is flat, which is generally a good thing because it helps provide more contact with the GPU.
Click Image to Enlarge
The cooler on this card was very simple to remove and only required removing four screws. With the cooler off, we get a look at the GF116 GPU powering the card.
Testing Methodology
The OS we use is Windows 7 Pro 64bit with all patches and updates applied. We also use the latest drivers available for the motherboard and any devices attached to the computer. We do not disable background tasks or tweak the OS or system in any way. We turn off drive indexing and daily defragging. We also turn off Prefetch and Superfetch. This is not an attempt to produce bigger benchmark numbers. Drive indexing and defragging can interfere with testing and produce confusing numbers. If a test were to be run while a drive was being indexed or defragged, and then the same test was later run when these processes were off, the two results would be contradictory and erroneous. As we cannot control when defragging and indexing occur precisely enough to guarantee that they won't interfere with testing, we opt to disable the features entirely.
Prefetch tries to predict what users will load the next time they boot the machine by caching the relevant files and storing them for later use. We want to learn how the program runs without any of the files being cached, and we disable it so that each test run we do not have to clear pre-fetch to get accurate numbers. Lastly we disable Superfetch. Superfetch loads often-used programs into the memory. It is one of the reasons that Windows Vista occupies so much memory. Vista fills the memory in an attempt to predict what users will load. Having one test run with files cached, and another test run with the files un-cached would result in inaccurate numbers. Again, since we can't control its timings so precisely, it we turn it off. Because these four features can potentially interfere with benchmarking, and and are out of our control, we disable them. We do not disable anything else.
We ran each test a total of 3 times, and reported the average score from all three scores. Benchmark screenshots are of the median result. Anomalous results were discounted and the benchmarks were rerun.
Please note that due to new driver releases with performance improvements, we rebenched every card shown in the results section. The results here will be different than previous reviews due to the performance increases in drivers.
Test Setup

Case
Silverstone Temjin TJ07
CPU

Intel Core i7 920 @ 3.8GHz

Motherboard
ASUS P6T7 WS SuperComputer
Ram

Corsair Vengeance 1600MHz 12GB

CPU Cooler

EK Supreme HF

2x Swiftech QP MCR320 Radiators

Hard Drives
1TB Seagate 7200.12
Optical
Super WriteMaster DVD-Burner
GPU


MSI GTX550 Ti Cyclone II OC

2x Nvidia GeForce GTX580 in 2-Way SLI

Nvidia GeForce GTX 580 1536MB

ASUS ENGTX580 1536MB

Nvidia GeForce GTX 570 1536MB

Nvidia GeForce GTX 560 Ti

GIGABYTE GeForce GTX 480 SOC 1536MB

Galaxy GeForce GTX 480 1536MB

2x Palit GeForce GTX460 Sonic Platinum 1GB in 2-Way SLI

Palit GeForce GTX460 Sonic Platinum 1GB

ASUS Radeon HD6870

AMD Radeon HD5870

Case Fans

14x Xigmatek 120mm

2x SilverStone 80mm

Additional Cards

N/A
PSU

Cooler Master SilentPro Gold 1200W

Mouse
Cooler Master Storm Sentinel
Keyboard
Logitech G15
Synthetic Benchmarks & Games
We will use the following applications to benchmark the performance of the MSI GTX550 Ti Cyclone II OC video card.
Synthetic Benchmarks & Games
3DMark 11
3DMark Vantage
Metro 2033
Just Cause 2
DiRT 2
Crysis Warhead
Unigine Heaven v.2.1
Overclocking

The MSI GTX550 Ti Cyclone II comes from the factory with an extra-beefy cooler to keep the factory overclocked card cool. Today we'll be pushing this card to it's limits with MSI Afterburner. This simple application, provided free by MSI, lets users overclock their graphics card very easily. The simple user interface is perfect for new users looking to set and forget, and also for advanced users who go for the highest clock speed they can reach while keeping the GPU stable and cool.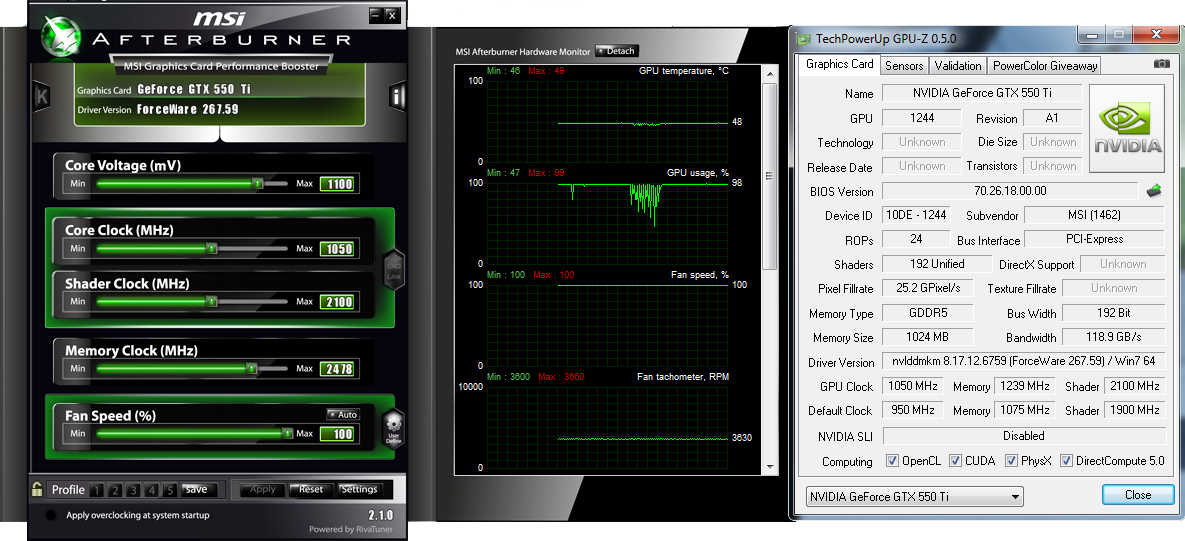 After playing around for a while, we managed to hit our maximum stable overclock and ran all our tests at these settings. We topped out at 1050MHz core clock from 950MHz stock. That's a nice 10% overclock on the core, and the same for the shader clock since they are linked. The memory clock we achieved during our testing was 2478MHz from a stock speed of 2150MHz which is a 15% overclock.
Overall these are some really nice numbers considering the price of the card. Keep reading to see if the overclock pays off in our testing!
3DMark Vantage
The newest video benchmark from the gang at Futuremark. This utility is still a synthetic benchmark, but one that more closely reflects real world gaming performance. While it is not a perfect replacement for actual game benchmarks, it has its uses. We tested our cards at the 'Performance' setting.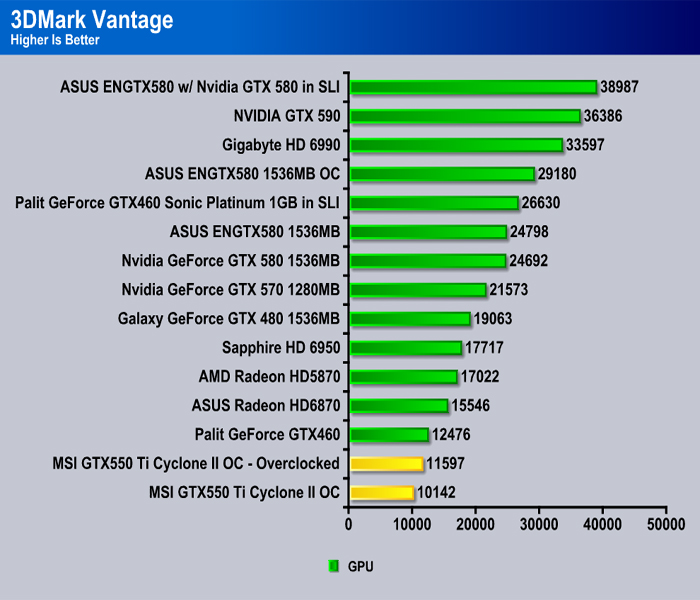 Vantage has been out for some time now, but it's still one of the top benchmarks out there. This test shows the card slightly behind the GTX460, which is right where it should be. With our overclock, we squeezed an extra 14% more out of the card. This benchmark does not test any DX11, so let's move on to see how well the card handles in 3DMark11.
3DMark11
"3DMark 11 is the latest version of the world's most popular benchmark for measuring the graphics performance of gaming PCs. Designed for testing DirectX 11 hardware running on Windows 7 and Windows Vista the benchmark includes six all new benchmark tests that make extensive use of all the new features in DirectX 11 including tessellation, compute shaders and multi-threading. After running the tests 3DMark gives your system a score with larger numbers indicating better performance. Trusted by gamers worldwide to give accurate and unbiased results, 3DMark 11 is the best way to test DirectX 11 under game-like loads."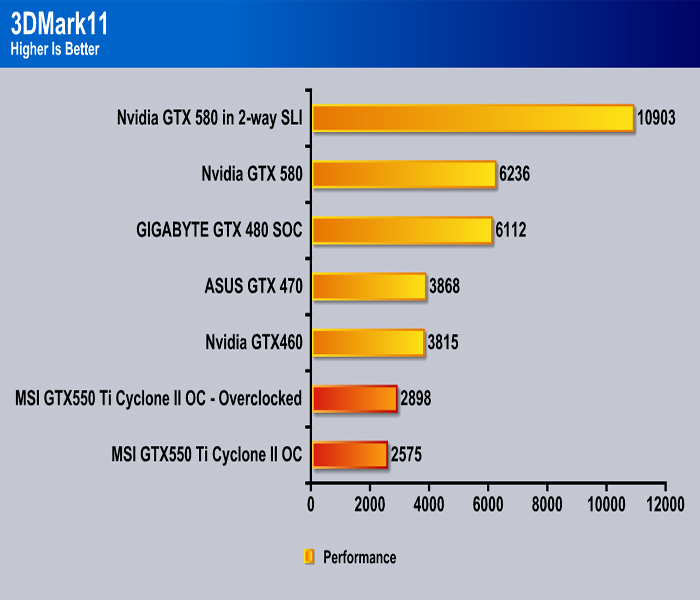 3DMark11 yields similar results, with the GTX550 coming in a little further behind the GTX460. This is to be expected because this benchmark is run in DX11. In this test, the overclock gave us about 13% higher performance.
Unigine Heaven 2.0
Unigine Heaven is a benchmark program based on Unigine Corp's latest engine, Unigine. The engine features DirectX 11, Hardware tessellation, DirectCompute, and Shader Model 5.0. All of these new technologies combined with the ability to run each card through the same exact test means this benchmark should be in our arsenal for a long time.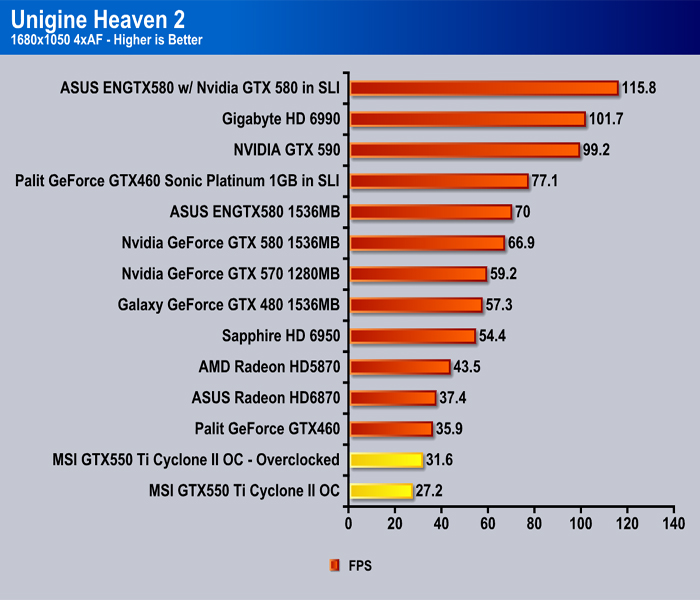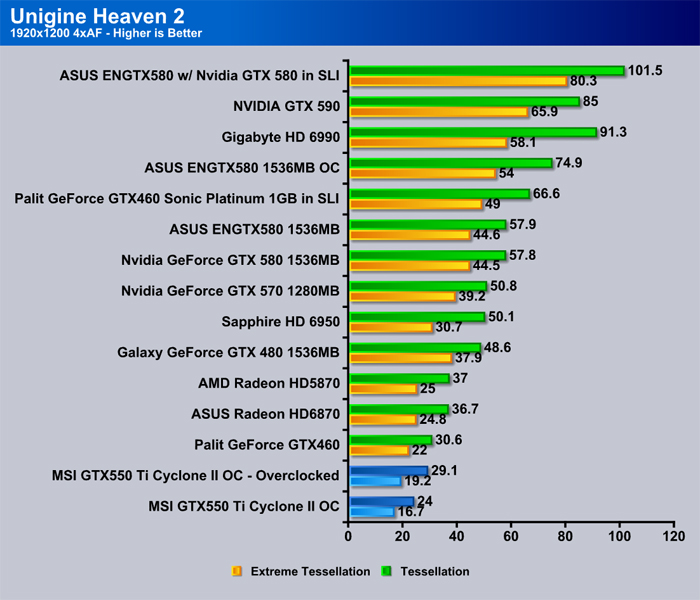 Unigine tests DX11. The MSI GTX550 Ti Cyclone II OC comes much closer to the GTX460 at the 1920×1200 resolution, especially with our extra clock speed. At 1680×1050, the overclock we used pushes the card to only 4FPS away from the 460.
CRYSIS WARHEAD

Crysis Warhead is the much anticipated standalone expansion to Crysis, featuring an updated CryENGINE™ 2 with better optimization. It was one of the most anticipated titles of 2008.

The Settings we use for benchmarking Crysis Warhead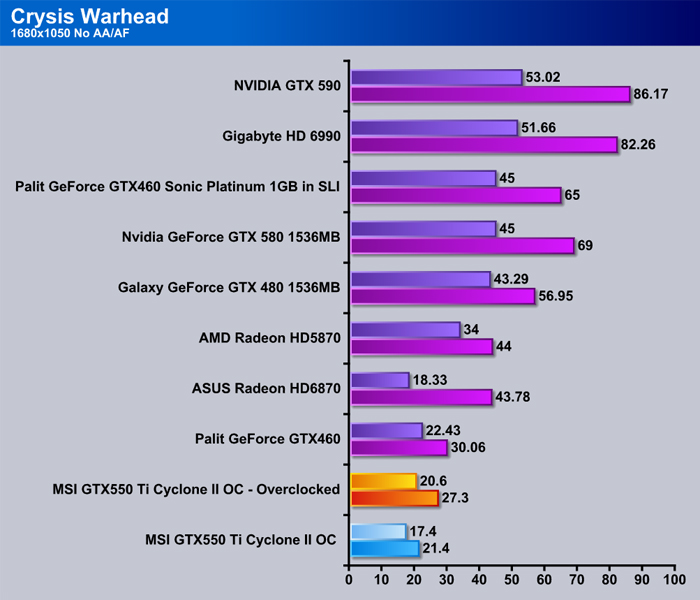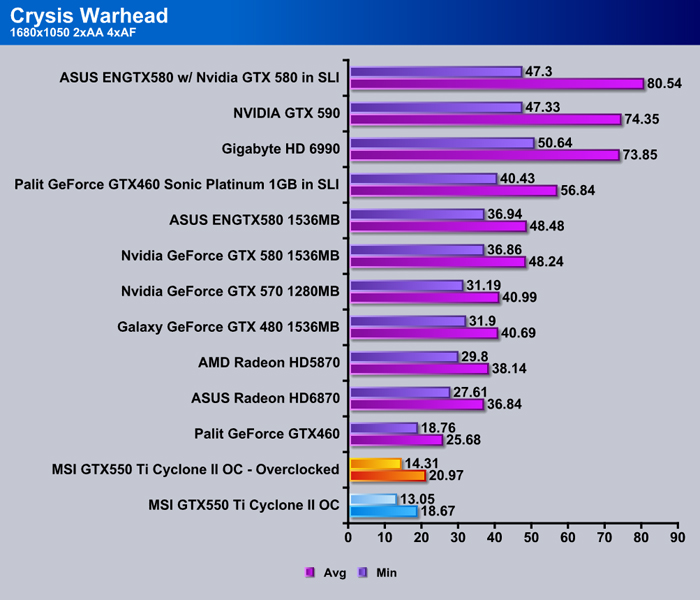 We tested this card at enthusiast settings to keep all our GPU testing results comparable. With that being said, this mainstream card was not designed to run Warhead at maxed settings, even at this resolution. Without AA/AF turned on, the card did a much better job of keeping up with the GTX460, but once those features were enabled, the game became a slide show.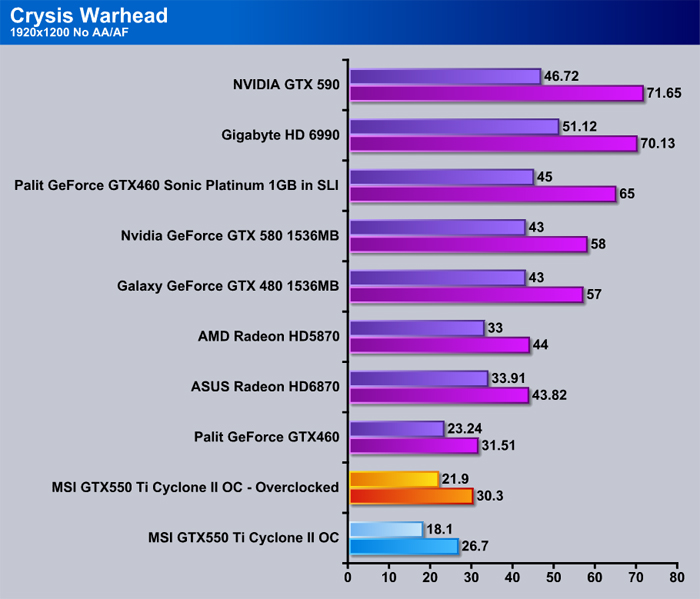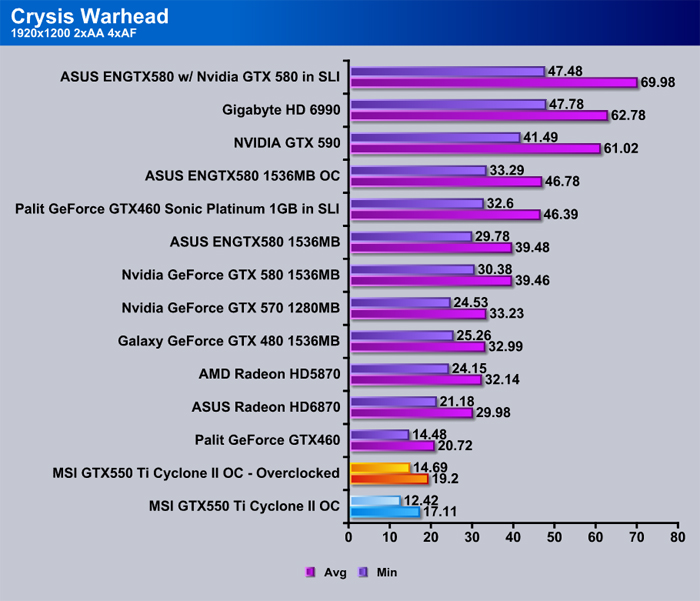 Since the card struggled at the lower resolution, it's no surprise that it also struggles at 1920×1200. It does, however, pretty much match the GTX460 with and without the eye candy turned on. Our overclock gave the card the boost it needed to match the 460 at the higher resolution with AA/AF turned on.
Now let's move on to the DirectX 11 games!
Just Cause 2

"Just Cause 2 is an open world action-adventure video game. It was released in North America on March 23, 2010, by Swedish developer Avalanche Studios and Eidos Interactive, and was published by Square Enix. It is the sequel to the 2006 video game Just Cause.
Just Cause 2 employs the Avalanche Engine 2.0, an updated version of the engine used in Just Cause. The game is set on the other side of the world from the original Just Cause, on the fictional island of Panau in Southeast Asia. Panau has varied terrain, from desert to alpine to rainforest. Rico Rodriguez returns as the protagonist, aiming to overthrow the evil dictator Pandak "Baby" Panay and confront his former mentor, Tom Sheldon."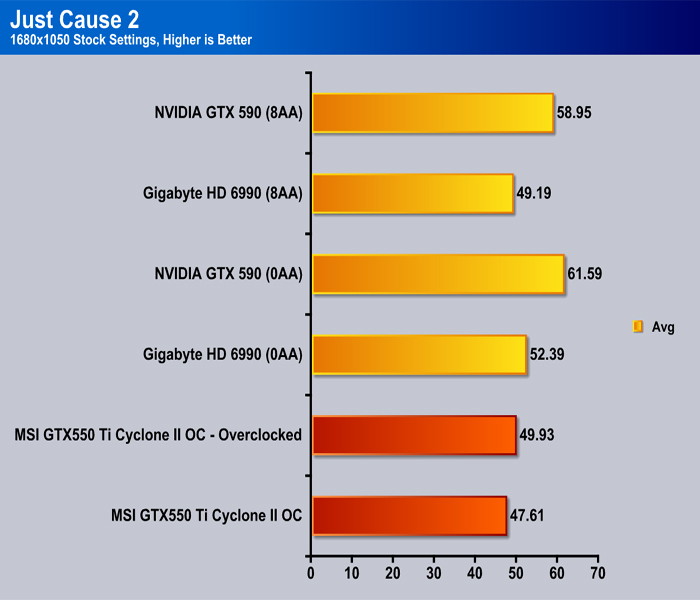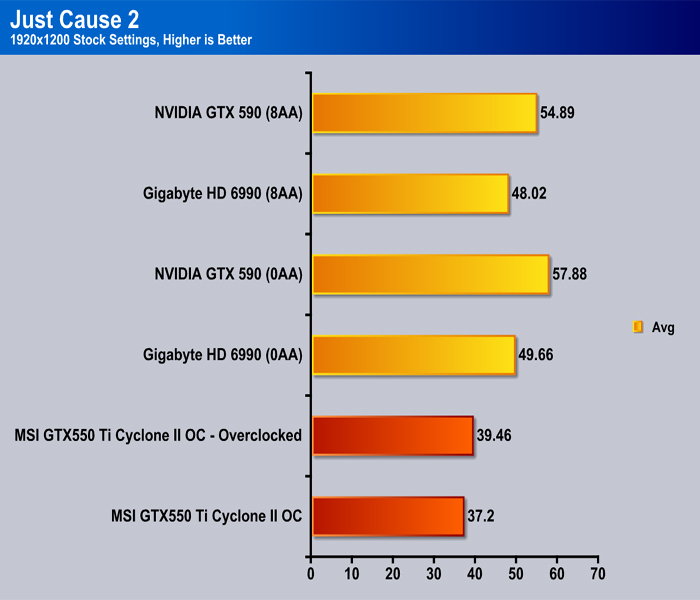 Just Cause 2 was released in March of 2010, but it did implement DX11, and uses PhysX and tessellation to give excellent visual effects. The GTX550 provided very nice results in this game. The tested settings were playable at both resolutions, but were not at or around the golden 60 frames per second mark. The overclock helped provide us with a bit more performance, but it wasn't anything noticeable.
Metro 2033

Metro 2033 is an action-oriented video game blending survival horror and first-person shooter elements. The game is based on the novel Metro 2033 by Russian author Dmitry Glukhovsky. It was developed by 4A Games in Ukraine and released in March 2010 for the Xbox 360 and Microsoft Windows. In March 2009, 4A Games announced a partnership with Glukhovsky to collaborate on the game. The game was announced a few months later at the 2009 Games Convention in Leipzig; a first trailer came along with the announcement. When the game was announced, it had the subtitle "The Last Refuge," but this subtitle is no longer being used.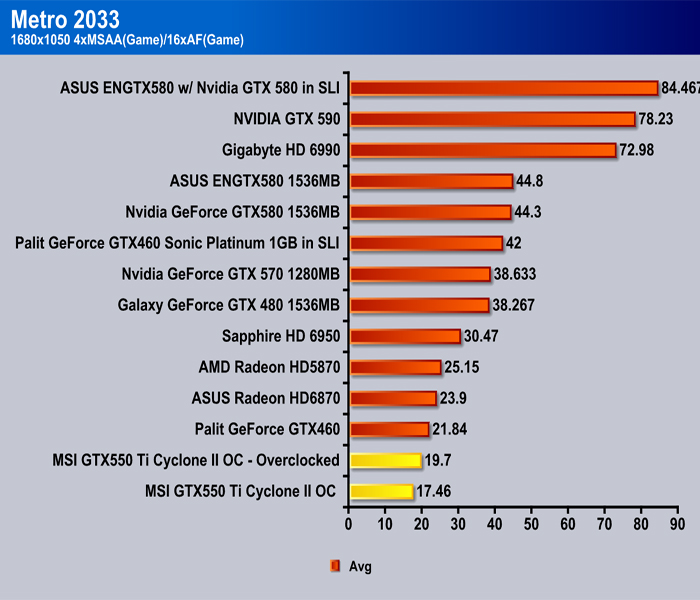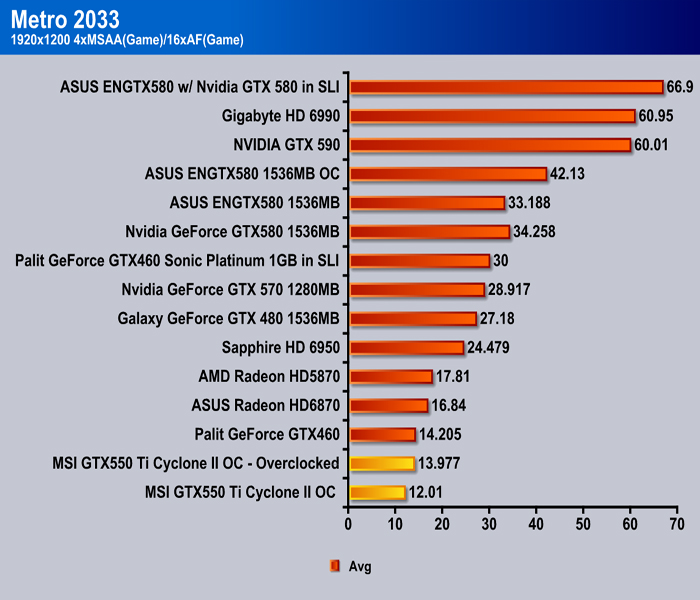 Metro 2033 is a very, very GPU intensive game. With that being said, let's take a look at our results. The MSI GTX550 Ti Cyclone II OC stayed right there with the GTX460 at both resolutions, with a small gap in between. The GTX550 is simply not capable of running this game (with eye candy turned on) at these resolutions.
HAWX 2
Tom Clancy's H.A.W.X. 2 plunges fans into an explosive environment where they can become elite aerial soldiers in control of the world's most technologically advanced aircraft. The game will appeal to a wide array of gamers as players will have the chance to control exceptional pilots trained to use cutting edge technology in amazing aerial warfare missions.
Developed by Ubisoft, H.A.W.X. 2 challenges you to become an elite aerial soldier in control of the world's most technologically advanced aircraft. The aerial warfare missions enable you to take to the skies using cutting edge technology.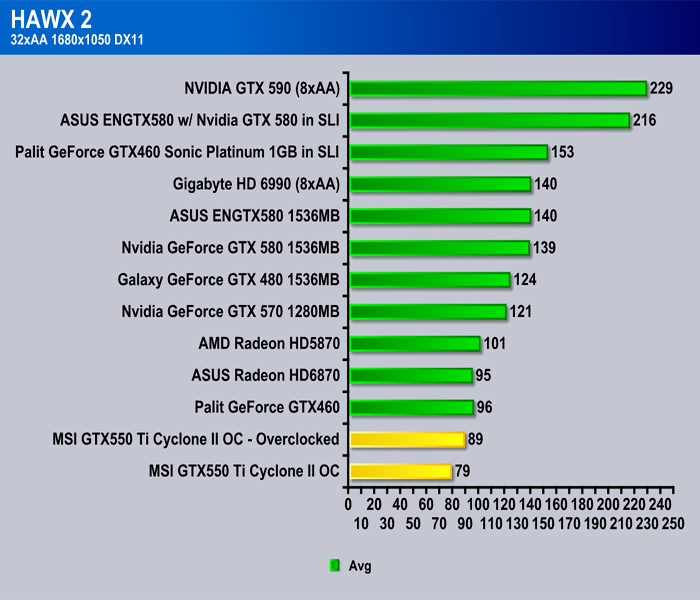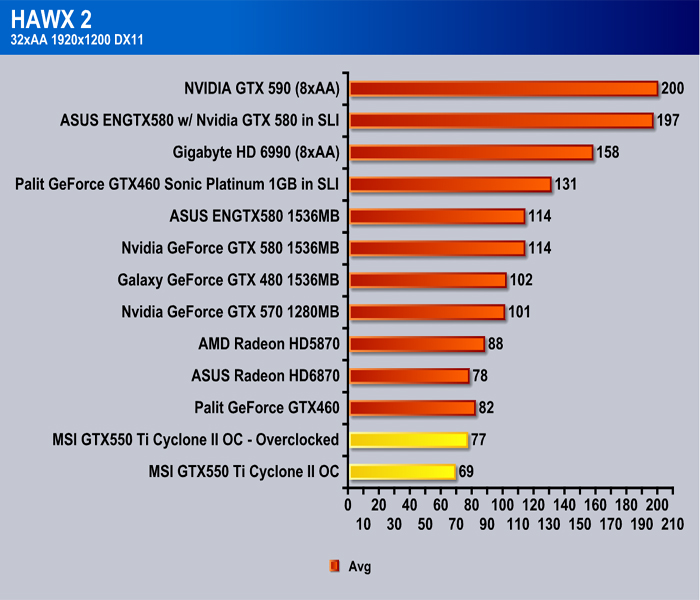 The GTX550 shows good performance in the HAWX 2 benchmark, though it falls behind the performance of the other cards. This is to be expected, since all the other cards tested are performance/enthusiast-level cards, whereas the GTX550 is intended for the mainstream user.
TEMPERATURES

To measure the temperature of the video card, we used MSI Afterburner and ran Metro 2033 for 10 minutes to find the Load temperatures for the video cards. The highest temperature was recorded. After playing for 10 minutes, Metro 2033 was turned off and we let the computer sit at the desktop for another 10 minutes before we measured the idle temperatures.
| Video Cards – Temperatures – Ambient 23C | Idle | Load (Fan Speed) |
| --- | --- | --- |
| 2x Palit GTX 460 Sonic Platinum 1GB GDDR5 in SLI | 31C | 65C |
| Palit GTX 460 Sonic Platinum 1GB GDDR5 | 29C | 60C |
| MSI GTX550 Ti Cyclone II OC | 29C | 48C (52%) |
| MSI GTX550 Ti Cyclone II OC – Overclocked | 29C | 49C (52%) |
| Galaxy GeForce GTX 480 | 53C | 81C (73%) |
| GIGABYTE GeForce GTX 480 SOC | 42C (48%) | 81C (59%) |
| Nvidia GeForce GTX 580 | 39C | 73C (66%) |
| ASUS GeForce GTX 580 | 38C | 73C (66%) |
| Nvidia GeForce GTX 570 | 39C | 81C (58%) |
The MSI GTX550 Ti Cyclone II OC operates at lower temperatures than any other air-cooled card we have tested, making it a perfect option for those worried about heat coming from their computers. Even when overclocked, this card only showed an increase of 1 degree C during load.
POWER CONSUMPTION

To get our power consumption numbers, we plugged in our Kill A Watt power measurement device and took the Idle reading at the desktop during our temperature readings. We left it at the desktop for about 15 minutes and took the idle reading. Then we ran Metro 2033 for a few minutes minutes and recorded the highest power consumption.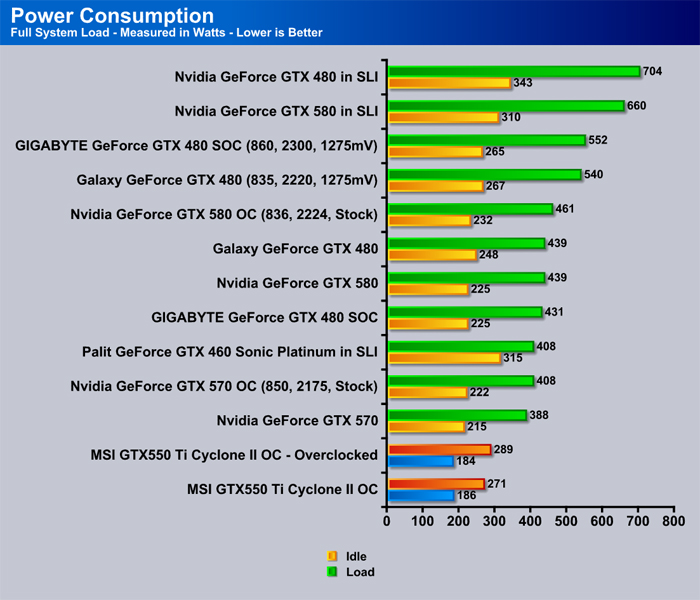 The GTX550 Ti is a very power effecient card. While it may not have the best performance on the market, it does have a very low amount of power used at idle and load. Even when overclocked, the card did not push our total system wattage over 300 watts.
Conclusion
The MSI GTX550 Ti Cyclone II OC brings a lot to the market. With it's upgraded cooler, factory overclock, and small size, it's a great addition to a low to mid-range gaming computer. It performed right where we expected it to at 1680×1050 and at 1920×1200: just slightly behind the GTX460.
Cooling GPUs isn't an easy task and MSI really did an excellent job with the Cyclone II cooler they made for this card. It operates quietly and keeps the card exceptionally cool. Even with the fan turned up to 100%, it really didn't get that loud. During our testing, however, the card only got up to 52% fan speed while keeping the load temperatures down to a mere 49C, which is impressive to us.
OUR VERDICT: MSI N550GTX-Ti Cyclone II
| | |
| --- | --- |
| Performance | 9 |
| Value | 8 |
| Quality | 10 |
| Features | 9 |
| Innovation | 9 |

We are using a new addition to our scoring system to provide additional feedback beyond a flat score. Please note that the final score isn't an aggregate average of the new rating system.

Pros
Cons

Quiet cooler

Factory overclocked

MSI Afterburner

Upgraded cooler

Huge overclocking potential

Requires only 1 PCI-E power connector

Operates with low temperatures

DX11 capable

$150 price tag

Not tri/quad SLI capable

 
Summary: The MSI GTX550 Ti Cyclone II OC is a fantastic card for mainstream gamers. It stays extremely cool, even when overclocked, and operates quietly at the same time. For its outstanding quality, it earns the Bjorn3D Seal of Approval.