Seagate provided their 750GB, 7200 RPM Momentus hard drive for testing and it performed quite nicely. The 16MG cache and high spindle speed really help this drive shine.
INTRODUCTION
The performance seen by modern laptops is at an all-time high. Multi-core processors are no longer restricted to desktops, dual-GPUs are now commonplace, and RAM capacities equal those found inside a tower. Storage for laptops has also come a long way, and the 750GB Seagate Momentus provides plenty of storage space, all on a 7200 RPM spindle; and while SSDs are becoming more and more common, they also come at a stiff price, especially when moving up the ladder in terms of storage space. One affordable compromise is to use a smaller SSD for booting up, and a large HDD, such as today's Seagate Momentus 750GB, for main storage. Follow along as we look at how the 750GB Seagate Momentus performs in a variety of situations.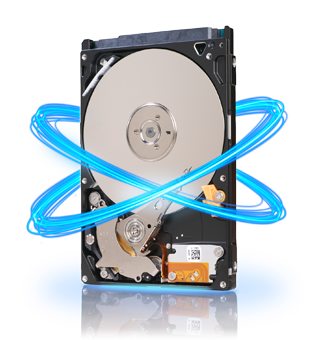 Pictures
As with most hard drives, the Momentus is pretty basic looking. The plain exterior shrouds the complex and precisely tuned moving parts. It's unfortunate that hard drives don't have plastic windows, as it is fascinating to watch the inner workings. When we installed this drive, we found it slightly noisier than the factory drive in our laptop, though this can be chalked up to its fast spindle speed and high throughput.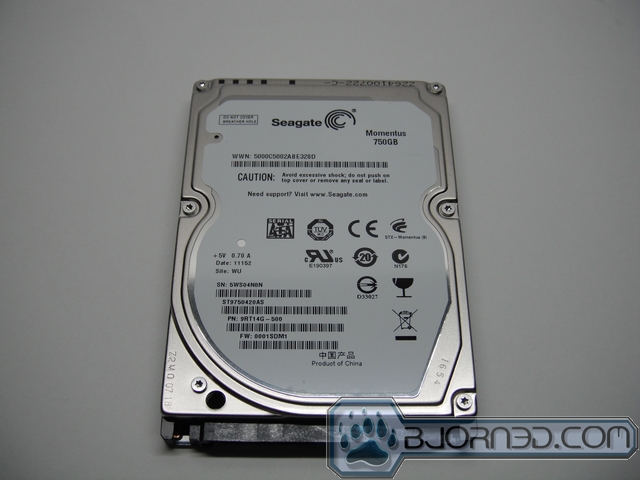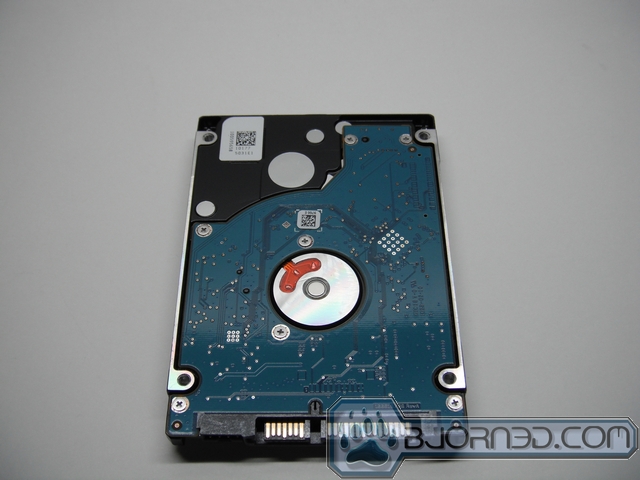 Features
The Seagate model we are looking at today is the ST9750420AS. It features a 3Gbps SATA interface along with 16MB of cache. The 7200 RPM spindle speed provides better performance than that of a 5400 RPM drive, which can be found in many laptops. The Momentus line of hard drives has many offerings, and some of the unique features are listed below.
Seagate SmartAlign™ technology provides a transition to 4K sectors without the need for software utilities.
Seagate Self-Encrypting Drives deliver government-grade encryption without performance degradation—protecting your data where it lives. The FIPS 140-2* options are NIST government-certified for both U.S. and Canadian usage with sensitive data.
Seagate G-Force Protection™ technology can detect when your laptop is in a free-fall, swing the drive heads to a safe zone and keep the data safe.
7200-RPM and 5400-RPM speeds for customized performance, and 8MB and 16MB cache size to enhance your application performance.
750, 640, 500, 320, 250 and 160GB models for 5400-RPM drives for high-capacity to entry-level and mainstream systems.
750, 500, 320, 250 and 160GB models for 7200-RPM drives for high-capacity and high-performance systems
Specifications
| Specifications | Seagate Momentus 750GB, 7200 RPM |
| --- | --- |
| Model Number | ST9750420AS |
| Interface | SATA 3Gb/s |
| Cache | 16MB |
| Capacity | 750GB |
| Aereal Density (avg) | 541 Gb/in2 |
| Guaranteed Sectors | 1,465,149,168 |
| Spin Speed (RPM) | 7200 RPM |
| Average Latency | 4.2ms |
| Random Read Seek Time | 11.0ms |
| Random Write Seek Time | 13ms |
| I/O Data Transfer Rate | 300MB/s |
| 5V Start Max Current | 1.0A |
| Average Idle Power | .96W |
| Average Operating Power | 2.5W |
| Ambient Operating Temperature | 0-60 C |
| Ambient Nonoperating Temperature | -40-70C |
| Maximum Operating Temperature Change | 20C per hour |
| Maximum Nonoperating Temperature Change | 30C per hour |
| Operating Shock Max | 350Gs for 2ms |
| Nonoperating Shock Max | 1000Gs for 2ms |
| Idle Acoustics | 2.3 bels |
| Seek Acoustics | 2.5 bels |
| Height | 9.5mm (.370 in) |
| Width | 69.85mm (2.75 in) |
| Length | 100.35mm (3.951 in) |
| Weight | 115g (.254 lb) |
Testing & Methodology
We ran our usual battery of tests on the drive, and used it as the primary boot drive during testing. All of the drives tested were used as the primary boot drive during testing. This is a more realistic test than strapping the drive in and testing it with a bare format or as a non-boot drive, as it represents real-life activities, producing results comparable to those users can expect when they install and operate the drive in their own systems. Each test was performed 3 times and the average of the 3 test run is reported here.
The main differences between the two Seagate Momentus drives are their cache sizes and spindle speeds. Advances in drive technology have taken us from what used to be a very respectable 8MB cache to16MB with the 750GB Seagate drive.
The test platform used to test the Seagate drive was the ASUS G72GX gaming laptop. We are using a mobile platform as opposed to a desktop platform as the Momentus line was intended for use with laptops.
Test Platform

Processor

Intel Core 2 Duo P8700 2.53GHz

Laptop Model


ASUS G72GX gaming laptop

Memory

DDR2 800MHz 6GB

Hard Drives


500GB Seagate Momentus 8MB cache, 5400RPM
750GB Seagate Momentus 16MB cache, 7200RPM


Video Card

NVIDIA GTX 260M

Operating System

Windows 7 Ultimate 64-bit
Test Suite
Benchmarks
ATTO
HDTach
Crystal DiskMark
HD Tune Pro
HD Tach 3.0.4.0
From HD Tach's website:
"HD Tach is a low level hardware benchmark for random access read/write storage devices such as hard drives, removable drives (ZIP/JAZZ), flash devices, and RAID arrays. HD Tach uses custom device drivers and other low level Windows interfaces to bypass as many layers of software as possible and get as close to the physical performance of the device possible."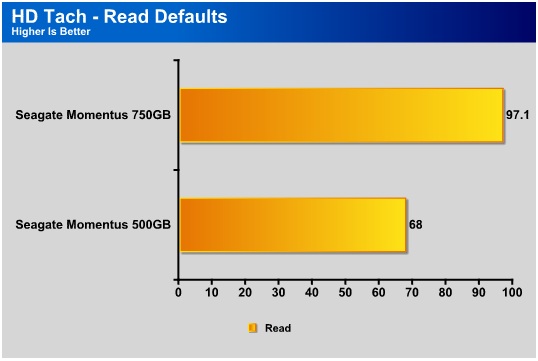 Starting things off, we can see just how much the faster spindle speed and increased cache of the 750GB drive improves performance over the 5400 RPM, 8MB cache 500GB drive.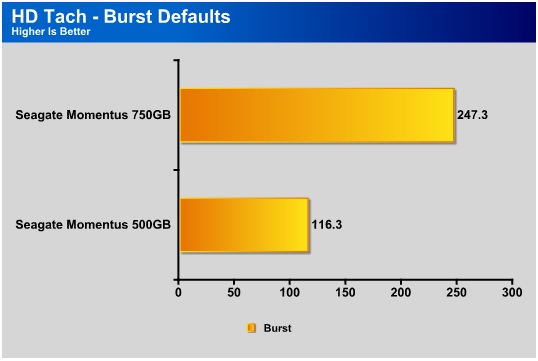 In the HD Tach burst test, the Momentus 750 more than doubles the performance of the other drive. While we were quite happy with the performance of the 5400 RPM drive, the 7200 RPM model makes us wonder why we didn't get it sooner.
HD TUNE PRO 4.01
From the HD Tune website:
"HD Tune is a hard disk utility with many functions. It can be used to measure the drive's performance, scan for errors, check the health status (S.M.A.R.T.), securely erase all data and much more."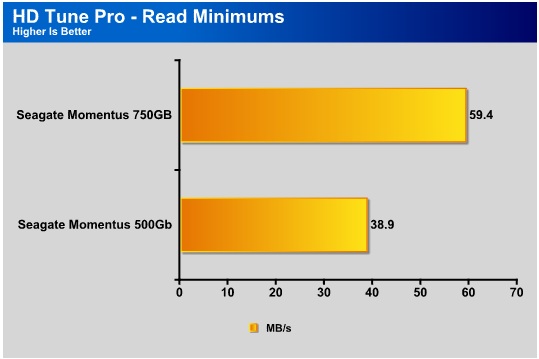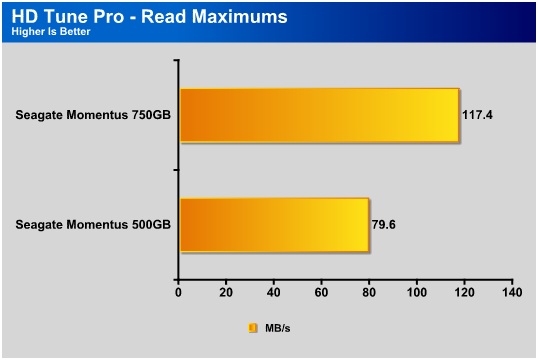 On the extreme side of things, the minimum and maximum results in HD Tune Pro once again have the Momentus 750GB model coming in first. One interesting thing to note is the near doubling of results when comparing the minimums of each drive to the maximums of each drive.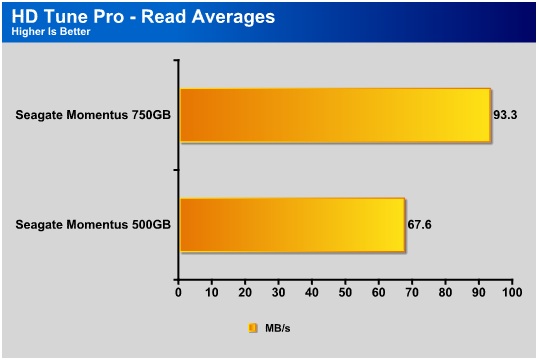 The averages test shows us that the average read of the 7200RPM drive (93.3 MB/s) is actually above the maximum speed of the 5400RPM drive (79.6 MB/s). That result is quite a statement in itself, and really gets the point across about how much of a difference the spindle speed and cache size can make.
Crystal DiskMark 3.0 x64
While the Crystal DiskMark is designed to test SSD's primarily, it is a good tool to showcase the drive's performance across different block sizes. Here we can compare the 512KB block size, 4KB block size, and 1024 KB block size. In addition, the 4K QD32 test simulates random read and write test under high I/O environment.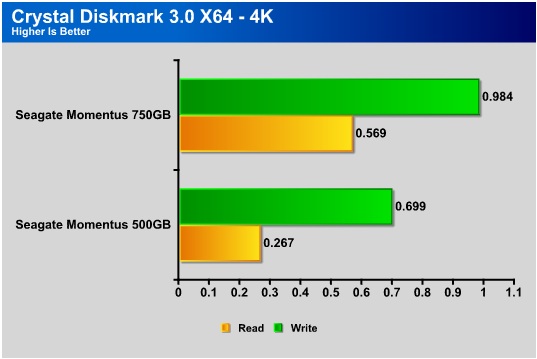 Here again as expected, we see double the performance from the faster drive. Upgrading to a newer and faster hard drive can really help to improve the boot time of the computer, as well as loading times for files and applications. Many times a simple upgrade of a few components can make a system perform much better. This is just another way of getting the most value out of a system that is easily upgradable.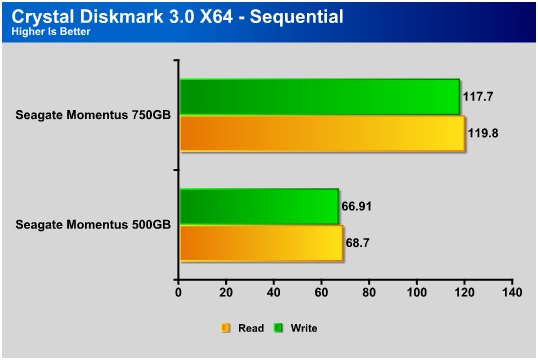 In the sequential tests, both drives showed very close results in their read and write tests. Comparing the two drives against each other still puts the 750GB Seagate Momentus leaps ahead in performance.
ATTO
From the ATTO website:
"As the industry's leading provider of high-performance storage connectivity products, ATTO has created a widely-accepted Disk Benchmark freeware utility to help measure storage system performance. Disk Benchmark identifies performance in hard drives, solid state drives, RAID arrays as well as connections to storage.
Use ATTO Disk Benchmark to test any manufacturers RAID controllers, storage controllers, host adapters, hard drives and SSD drives and notice that ATTO products will consistently provide the highest level of performance to your storage."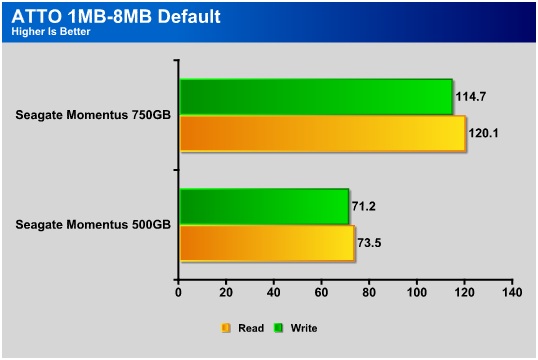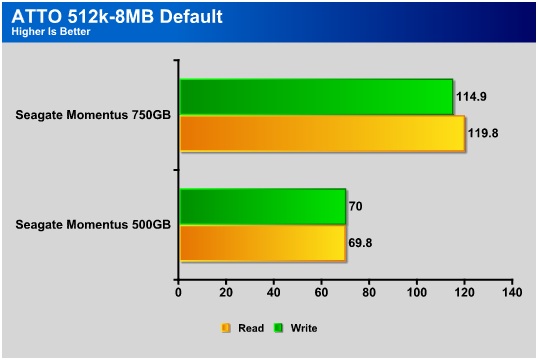 Rounding out our benchmarks we, as expected, experienced quite a gap in performance between the two models of drives. We cannot mention enough just how much better the performance of a 7200RPM drive is compared to a 5400RPM model. The same thing goes for the amount of cache found in each drive.
conclusion
The Seagate Momentus 750GB drive makes us wonder why we didn't get it sooner. The performance gains that were seen compared to the factory installed drive in our ASUS laptop are incredible. Benchmark after benchmark resulted in the 7200 RPM, 16MB cache drive dominating the slower 5400RPM, 8MB cache drive. While just looking at those numbers alone would probably be enough to convince readers that the one is better than the other, the resulting graphs prove it. The differences seen when comparing this drive to a drive that was a fine performer just a short while ago are astonishing to say the least.
OUR VERDICT: Seagate Momentus 750GB, 16MB cache ST9750420AS
| | |
| --- | --- |
| Performance | 9 |
| Value | 8 |
| Quality | 9 |
| Features | 8 |
| Innovation | 9 |

We are using a new addition to our scoring system to provide additional feedback beyond a flat score. Please note that the final score isn't an aggregate average of the new rating system.

Pros
Cons

Great upgrade drive

16MB cache

7200RPM

Slightly noisy compared to factory installed drive

 
Summary: Seagate presented a drive with plenty of storage space and great performance. Desktop hardware specifications in a mobile format is something we don't see very often. For its great performance, the Seagate Momentus 750GB earns the Bjorn3D Silver Bear Award.