The GIGABYTE E350N-USB3 is one of the first motherboards using the new AMD Fusion APU, combining the CPU and the GPU in one package. Does it have what it takes to take on the Intel Atom/NVIDIA ION? Read on to find out.
INTRODUCTION
When AMD bought ATI in 2006 many smart people started to talk about the possibility of a new type of chip combining the processor with the graphics chip. Fast forward to 2011: that speculation has become reality with the advent of the APU (Accelerated Processing Unit). The motherboard we are reviewing today, the GIGABYTE E350N-USB3, uses one of the first APU's in the AMD Fusion series, the E-350 APU, codenamed Zacate. This little chip contains a dual-core processor clocked at 1.6 GHz and an HD6310 graphics core, all on one chip. This APU aims to compete with the Intel Atom/NVIDIA ION combo in cheap low-powered notebooks as well as in cheaper desktop and HTPC systems.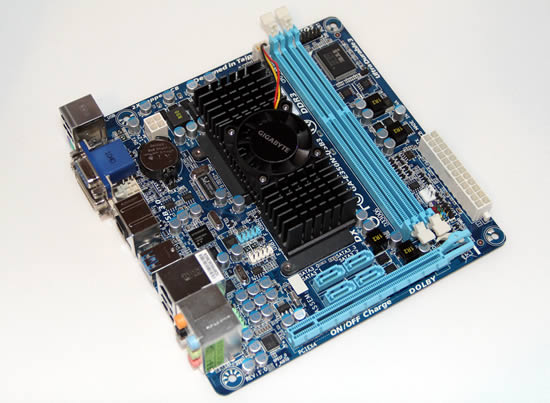 The Gigabyte E350N-USB3 is one of the first motherboards with the E-350 chip, and while it is just a small mini-ITX-motherboard, it still has full support for USB3 and SATA 6 Gbps as well as a full-length PCI-E-slot. Fusion APU motherboards are slowly appearing at e-tail stores. For example, Newegg has the Gigabyte E350N-USB3 for $149.99, which is a very good price compared to Intel Atom/ION motherboards.
In our preview article, we asked readers what they wanted us to test, and we have since tried to answer most, if not all, of the questions raised in that comments thread. We've tested the performance of the built-in graphics, and also tested what an upgrade to a discrete graphics card can do for the performance. The HTPC performance has also been tested with a variety of media files and compared to that of an Intel Atom 330/NVIDIA ION motherboard. Last but not least, we also have tested how well the Zacate can overclock.
WHAT IS An APU?
An APU, or Accelerated Processing unit, is a chip that integrates a CPU and a GPU on the same die. The main advantages are improved data transfer rates between the components and a reduced power consumption.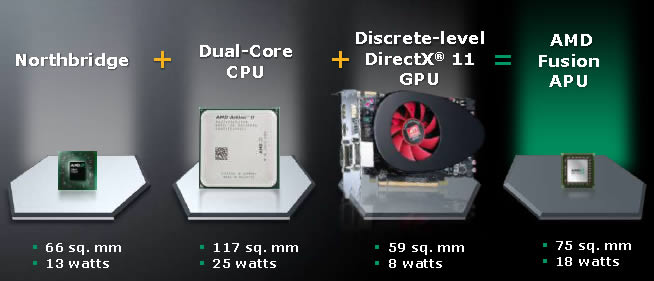 The AMD Fusion family is AMD's first attempt at an APU, and combines the Northbridge, the CPU, and the graphics chip in a single die. It is actually quite amazing what AMD has packaged together onto the tiny Fusion die.
At launch, AMD has two different Fusion APU's: the 9 Watt "C-series" APU codenamed Ontario and the 18 Watt "E-series" APU codenamed Zacate. The GIGABYTE motherboard we are reviewing here is powered by the Zacate chip. These two APU series will be followed by the A-series APUs in Q2 2011, codenamed Llano. Llano is supposed to be more targeted towards performance users as it has between 2-10 K10 cores instead of the Bobcat cores used in the Ontario and Zacate APUs.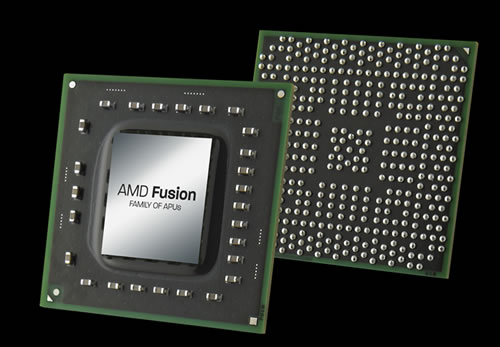 While the low power consumption mainly is useful for laptops, AMD still also thinks that the Ontario and Zacate are useful for All-in-one desktop computers and ultra-small form factor computers, which should produce as little heat as possible.
Even though these are low-powered products, it doesn't mean that manufacturers have to compromise when it comes to features. The APU's fully support DirectX 11, DirectCompute (Microsoft programming interface for GPU computing) and OpenCL (a cross-platform programming interface standard for multi-core x86 and accelerated GPU computing). Both also include UVD dedicated hardware acceleration for HD video including 1080p resolutions.
What about Sandy Bridge? Well, technically Sandy Bridge also is an APU. It is interesting to see AMD target low-end processor markets with their APU, whereas Intel targets the high-end with Sandy Bridge. To our knowledge, Intel will not release a Sandy Bridge APU that competes with these low-end APU's, instead leaving the Atom family for that market.
SPECIAL FEATURES
First let us take a look at some of the special features of the GIGABYTE E350N-USB3.
Dual-core CPU and HD6310 GPU – The Zacate APU gives us a combined dual-core 1.6 GHz processor and a DirectX11-capable Radeon HD 6310 graphics core, all at a TDP (Thermal Design Power) of just 18W.
SATA 6 GB/s – The Hudson-M1 FCH (Fusion Controller Hub) provides us with 4 SATA 6 Gbps connectors as well as a couple of USB 2.0-ports.
USB 3.0 – A NEC chip provides us with 2 USB3.0 ports in the back of the motherboard. Unfortunately there is no USB3-header on the motherboard.
USB3.0 Power Boost – GIGABYTE's power design regulates the output over the full voltage range which enhances the device compability.
Ultra Durable 3 Classic – GIGABYTE is using 2 oz of copper in their Ultra Durable 3 Classic motherboards. Some of the advantages are that it helps keep the temperature down and improves the power efficiency. Read more.
On/Off Charge Technology – This technology lets you charge a USB-device (GIGABYTE only specifies the iPod, iPad and iPhone but we are guessing it should work with all devices) from the USB-ports regardless if the computer is on, in standby mode or off.
SPECIFICATIONS
Here are the full specifications from GIGABYTE: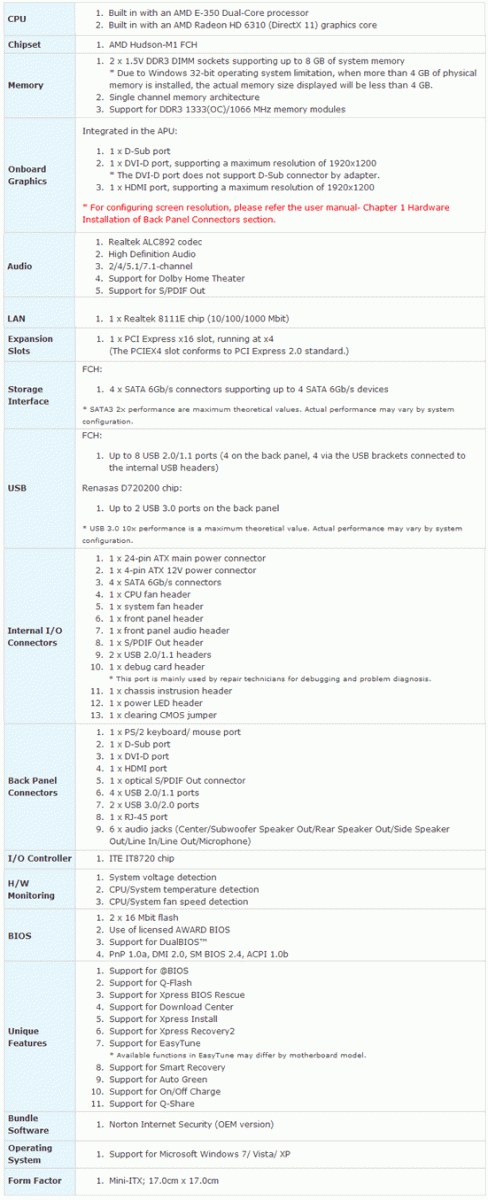 Realtek provides the sound through the ALC892-codec which has support for High Definition Audio and Dolby Home Theater. Both Dolby True HD and DTS MA is supported. A Realtek 8111 chip handles the gigabyte-network.
While the Fusion Controller Hub can support up to 6x SATA 6 Gbps connectors, we get 4 on this motherboard, probably due to the fact it is a mini-ITX motherboard.
A CLOSER LOOK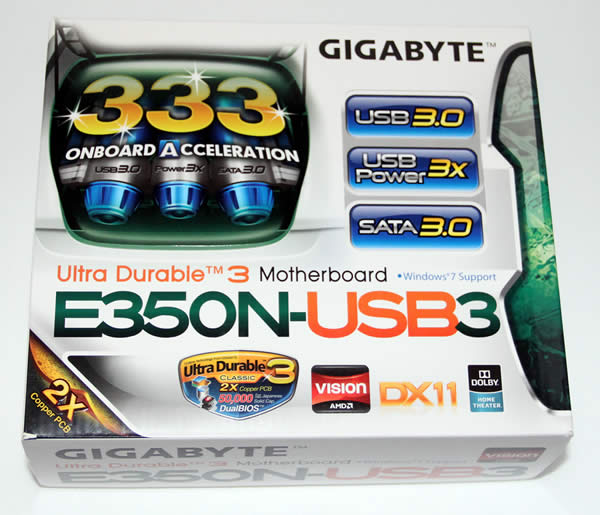 The motherboard comes in a box that tries hard to tell us about all the various features. The motherboard is well packed inside the box and wasn't damaged in transit. Since we got this motherboard directly from AMD, we did not get the regular bundle in it, just two SATA cables and a CD with drivers. Retail boards should also include an OEM-version of Norton Internet Security.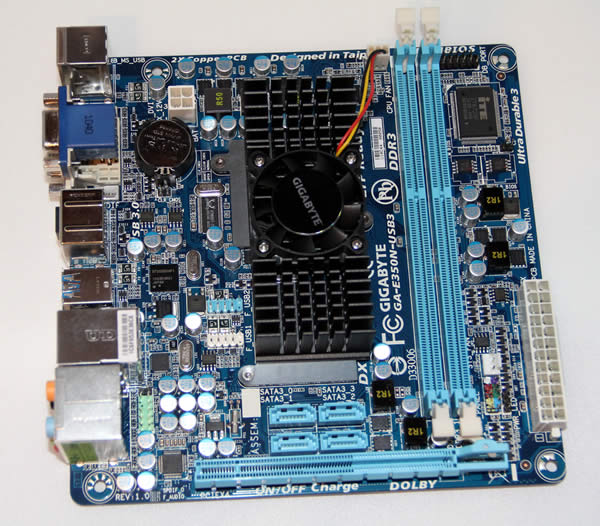 This is a mini-ITX motherboard measuring just 17x17cm (6.7×6.7 inches). Even though it is small, GIGABYTE still added a full-length PCI-E slot on it. The slot does, however, only run at x4 speed and not at x16 speed. From this overview we also can see that there is only one fan header available, in addition to the one for the CPU fan.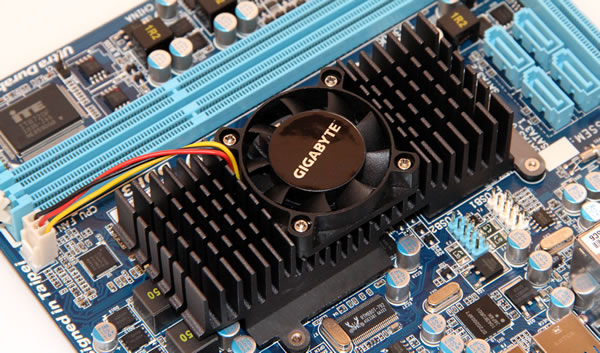 The heatsink and fan cools both the APU and the Hudson-M1 FCH. We do not have the specifications of the fan but it is a very quiet fan.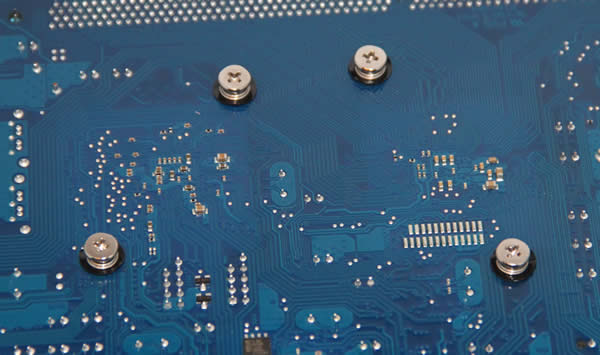 It is very easy to remove the heatsink as it is just fastened with screws.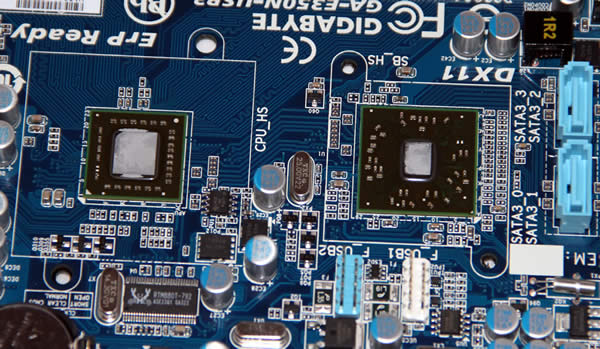 Here is a look at both the Zacate APU (left) and the Hudson-M1 FCH (right).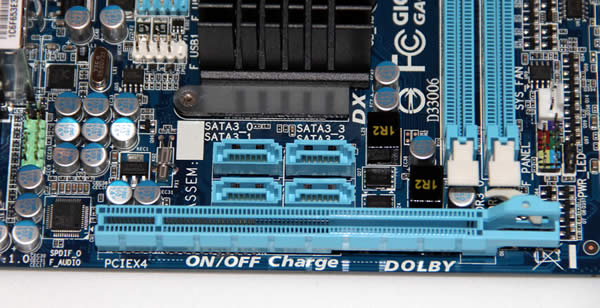 The SATA ports are placed quite near the PCI-E slot, and also quite close to each other, so only cables with straight connectors should be used. A graphics card or any other PCI-E card should not be in the way of the SATA cables.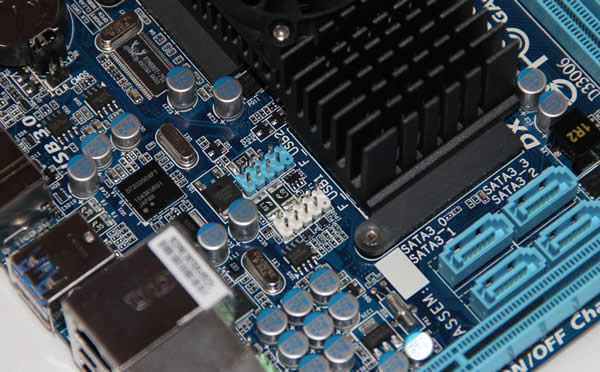 Both headers are USB2.0. There is a definite lack of motherboards with USB3.0 headers at this time but hopefully that will change soon.

On the back panel we find:
1 x PS/2 keyboard/ mouse port
1 x VGA port
1 x DVI-D port
1 x HDMI port
1 x optical S/PDIF Out connector
4 x USB 2.0/1.1 ports
2 x USB 3.0/2.0 ports
1 x RJ-45 port
6 x audio jacks (Center/Subwoofer Speaker Out/Rear Speaker Out/Side Speaker Out/Line In/Line Out/Microphone)
BIOS
The BIOS of the GIGABYTE E350N-USB3 is unfortunately still not a UEFI BIOS. Instead, GIGABYTE uses the regular Award BIOS we have seen for many years now.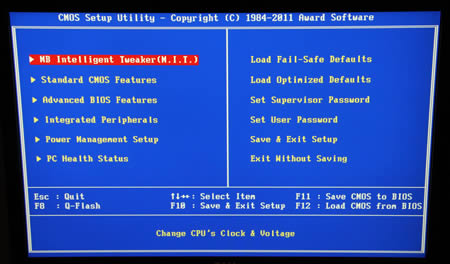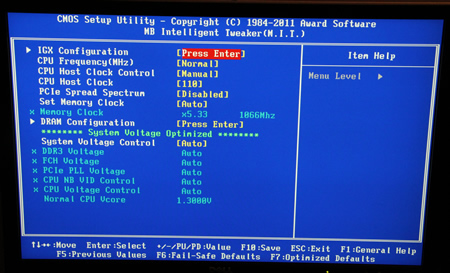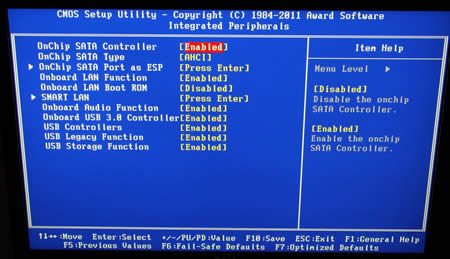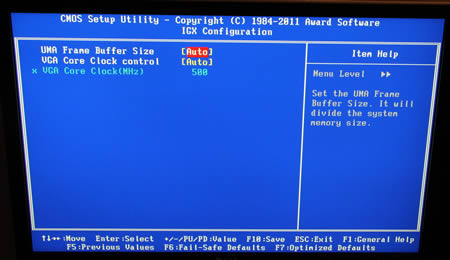 While it is possible to change some of the settings for the CPU and the GPU, there are limits on how much overclocking is possible. For example, the host clock for the CPU can only be set between 100 and 120 MHz, allowing us to only overclock the CPU from 1.6 GHz to 1.92 GHz (even that is a stretch).
 
TESTING & METHODOLOGY
Since the E-350 is aimed to compete with a Intel Atom/NVIDIA ION solution, we compared the GIGABYTE E350N with a Zotac Intel Atom/NVIDIA ION motherboard. We also tested the card with HD5570 and HD5770 dedicated video cards to see if it is worth upgrading for upgrading gamers.
Each of the benchmarks specified below are run at least three times and the total is averaged from all the tests. The OS we use is Windows Pro 64bit with all patches and updates applied.
In the interests of thoroughness and accurate results, we run each test at least three times, and some tests more than that. We average the total of all the tests from each benchmark then report the average here. The OS we use is Windows 7 Pro 64bit with all patches and updates applied. We also use the latest drivers available for the motherboard and any devices attached to the computer. We do not disable background tasks or tweak the OS or system in any way. We turn off drive indexing and daily defragging. We also turn off Prefetch and Superfetch. This is not an attempt to produce bigger benchmark numbers. Drive indexing and defragging can interfere with testing and produce confusing numbers. If a test were to be run while a drive was being indexed or defragged, and then the same test was later run when these processes were off, the two results would be contradictory and erroneous. As we cannot control when defragging and indexing occur precisely enough to guarantee that they won't interfere with testing, we opt to disable the features entirely.
System:
| Component |   |   |
| --- | --- | --- |
| Motherboard | Gigabyte GA-E350N-USB3 | Zotac ION-A |
| CPU | AMD E-350 1.6 GHz dual-core | Intel Atom N330 1.6 GHz dual-core |
| GPU | HD6310 on APU | NVIDIA GeForce 9400  |
| Memory | 4 GB DDR3 (2xKingston HyperX) | 4 GB DDR2 (2xA-Data Gaming) |
| HDD | Western Digital 1 TB Caviar Black | Western Digital 1 TB Caviar Black |
| PSU | Silverstone SFF 450W | Built-in 90W |
| Receiver | Denon 1611 | Denon 1611 |
Test suite:
The following programs where used to test the motherboard.
Benchmarks
3DMark Vantage
Cinebench 11.5
PCMark Vantage
H.A.W.X. Demo
Formula F1
Plants Vs Zombies
Kings Bounty: Armored Princess
Power DVD 10 Ultra Mark II
ArcSoft Total Media Theatre 5
PERFORMANCE
3DMark Vantage
Our first benchmark is 3DMark Vantage. While it is not the latest version, this synthetic benchmark gives us a good idea on how well the video card and cpu can handle modern DirecxtX10 games.
Setting: Entry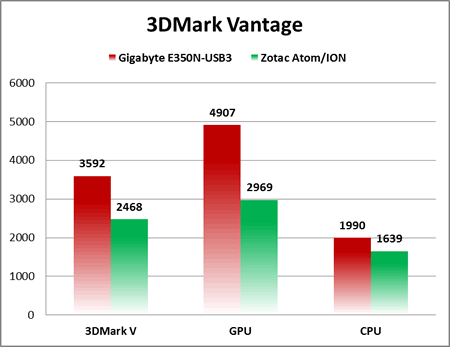 The interesting scores here are the sub-scores for the GPU and the CPU. According to 3DMark Vantage the Fusion HD6310 GPU scores 65% higher than the GPU in the ION chipset. The 1.6 GHz dual-core CPU is however only 22% faster than the 1.6 GHz N330 dual-core Atom in the Zotac motherboard.
Cinebench 11.5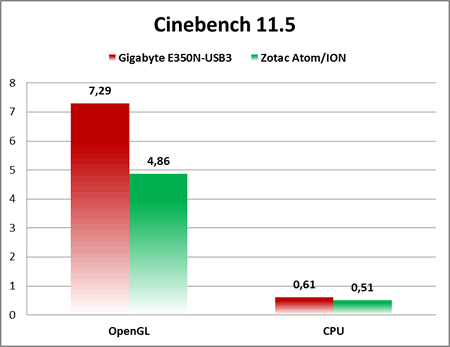 Our next synthetic benchmark verifies what we saw in 3Dmark Vantage. The Fusion GPU is 50% faster than the ION GPU, while the Fusion E350N CPU is 20% faster than the Intel Atom N330 CPU.
We did actually expect a bit more from the Fusion CPU.
PCMark Vantage
PCMark Vantage is another synthetic benchmark with a variety of tests designed to represent everyday PC usage. To read more about the tests, please visit Futuremarks webpage. Even though this still is a synthetic benchmark, it is closer to real world performance than benchmarks that only test one component at a time.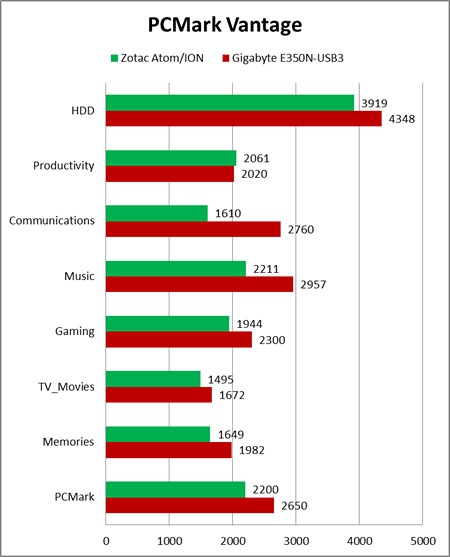 As we can see, the Gigabyte E350N USB3 comes out ahead in every sub-test except Productivity. The difference in the other sub-tests ranges between 11% (HDD) and 71% (Communications).
PERFORMANCE: GAMING
To see how this system works in games, we decided to test H.A.W.X. (representing a game from last year), Formula F1 (representing a cutting-edge game), Kings Bounty: Armored Princess (representing a high-end casual game) and Plants vs Zombies (representing a casual game).
Plants vs Zombies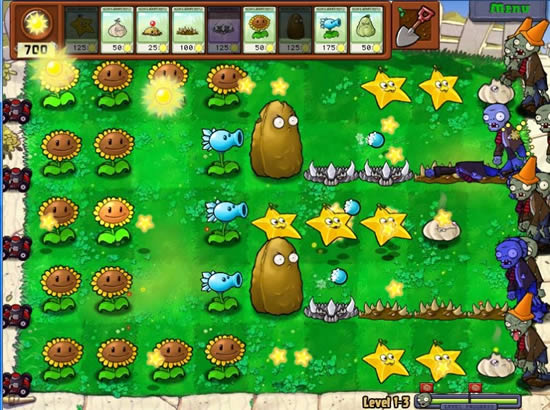 This game ran very well and we had no problems playing it at the default settings.
Kings Bounty: Armored Princess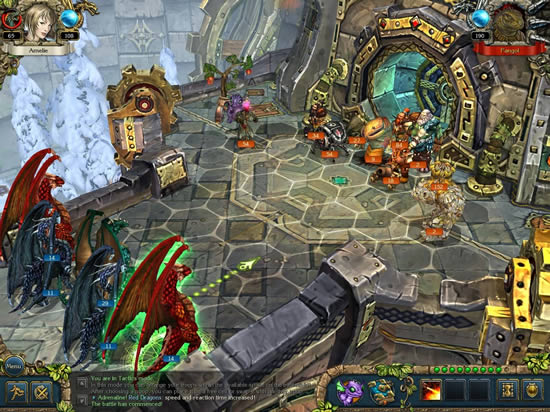 While this game still is quite nice looking, it doesn't need an extremely powerful PC to run. With the GIGABYTE E350N-USB3, we could only get it to run at a decent speed by lowering the resolution to 1024×768 and using the lowest quality settings. It did run a lot better here than on the Atom/ION solution, but it was still barely playable as we had to sacrifice so much of the image quality to play.
Formula F1
Our goal was to benchmark this game not only with the built-in Fusion GPU, but also with a HD5570 and a HD5770, as we were interested in what performance gains we would see with a dedicated video card. Unfortunately we had to stop the testing as the game was completely unplayable regardless of what settings we used. In fact, it was difficult to even get through the menus with the Fusion HD6310 GPU. The menus were bearable with the HD5550 and the HD5770, but in the actual benchmark, we couldn't get more than 12 frames per second with any of the dedicated GPU's, regardless of quality settings, indicating that the Fusion CPU is the bottleneck here.
H.A.W.X. Demo
Luckily, we could actually get the demo of last years game H.A.W.X running quite well, considering the hardware.
We tested two settings: everything set at high and everything set at either medium or low depending on whether there actually was a medium setting. We of course tested the DirectX10 version.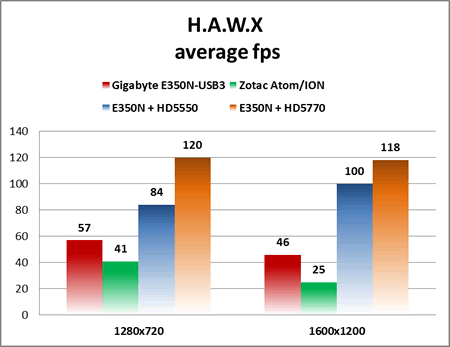 As we can see from the results there is a significant difference in performance between the GIGABYTE E350N USB3 and the Zotac ION, especially when we increased the performance. Adding a discrete video card also helps the performance. The framerate however occasionally dips as low as 15 fps on both the E350N-USB3 with the built-in GPU and the Zotac ION. With a video card it never dips below 30 fps so this can only be attributed to the slow Fusion CPU.
As expected, the GIGABYTE E350N-USB3's Fusion APU, is not really suited for heavy gaming.
PERFORMANCE: HTPC
One of the areas where we expect the Zacate Fusion APU to shine is as the backbone to a Windows based media PC. This is especially due to its ability to play 1080p material without a hitch through UVD3, and full support for HD sound including Dolby True HD and DTS Master Audio.
Unfortunately, the specifications don't mention actual performance, and when we tested it, we couldn't get Dolby True HD or DTS Master Audio bitstreaming to work in either Power DVD 10 Mark II or Arcsoft Total Media Theatre 5. While watching Avatar, for example, we got the DTS core sound instead of the DTS HD Master Audio track. For the majority of users, this should be enough since the sound is still great, but a proper HTPC should have support for these formats.
In the Arcsoft forums more users are reporting the same issue, and at this moment it seems we need to wait for Arcsoft and Cyberlink to patch their players so that we can get proper bitstream support. With bitstream support, the Fusion motherboards will be a bit more capable than ION motherboards, which (to our knowledge) do not support Dolby True HD and DTS HD Master Audio bitstreaming.
Other than this issue, playing media files with the Zacate Fusion APU works really well. Playing the Blu-ray version of Avatar gives us roughly 15-20% CPU utilization, and playing a 1080p .mkv file encoded with H.264 increases the CPU utilization to just under 35%. The image quality is very good.
Anyone planning to build a HTPC with Linux should wait, as AMD's drivers still are behind NVIDIA's. We spent a great deal of time reading forums on various sites (such as XBMC), and while there is certainly more enthusiasm over the Fusion platform, the consensus still seems to be that for users running the Linux version of XBMC, the ION platform still is the best. We hope AMD will work hard to either make either their open-source drivers or their closed drivers more feature-complete and actively work developers to get the hardware acceleration working.
OVERCLOCKING
While we do not anticipate much overclocking for this type of product, it is a way to squeeze a few more FPS out of the motherboard.
As we mentioned in the BIOS section, we have little opportunity to overclock the CPU. We can only change the host clock of the CPU between 100 and 120 MHz, and there is no way to change the multiplier, so we are stuck between 1.6 GHz and 1.92 GHz. In other words, we cannot even underclock the CPU. We do have the opportunity to increase the voltage though.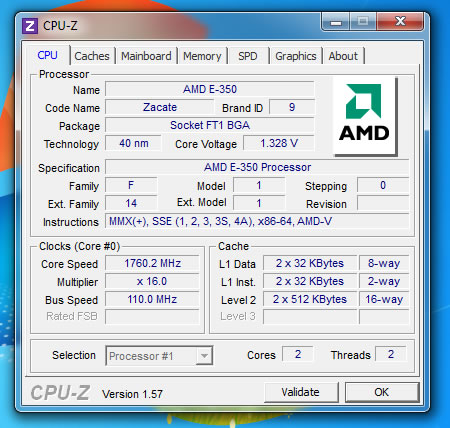 After some testing we found that the highest stable CPU overclock we could achieve was 1.76 GHz (110 MHz CPU host clock) which isn't that impressive. We then increased the speed of the HD6310 graphics core from 500 MHz to 600 MHz.
What is fascinating is that we see a 12% increase in performance in both the GPU and the CPU scores regardless of whether the GPU is overclocked or not. This could point to the fact that the GPU actually is more powerful than we think, but is being held back by the CPU.
NOISE AND POWER CONSUMPTION
We would love to give you an overview of the temperatures of the APU but we haven't been able to track down a program that can access a sensor in the chip. What we can say is that the heatsink doesn't even get warm even after we run the PSU test in OCCP for an hour. ASUS actually ships their Fusion motherboard with just a huge heat sink, which worked fine in a case that has basic ventilation. We tried unplugging the fan on the motherboard while it was installed in a Silverstone ML03 HTPC case (with no other fans installed), but that did not go well. After just 5-10 minutes the whole system overheated and crashed. We then installed a 80mm Noctua fan in the case close to the heat sink, and that was enough to let us watch Avatar without any issues. As long as users have some basic ventilation they should be able to unhook the fan.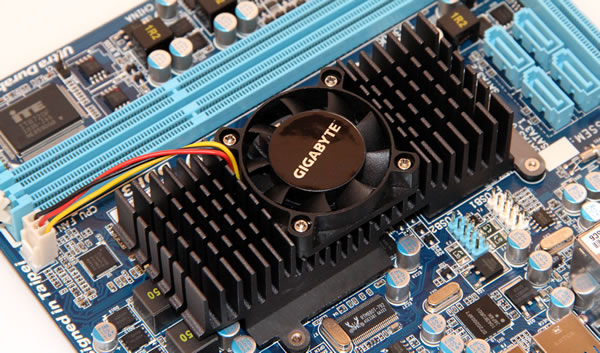 This brings us to the fan on the heat sink. Even though it is a small fan it actually is very quiet.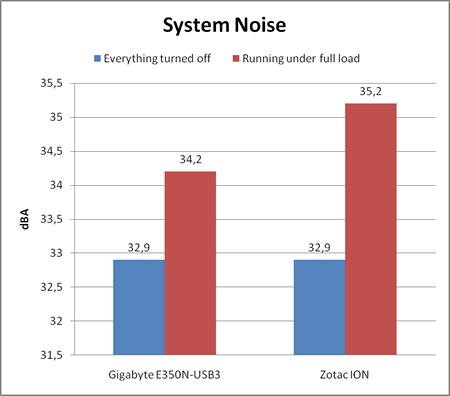 We measured the sound level at 1 meter from the motherboard. The motherboards were not installed in a case. One thing to remember is that while the Zotac ION has a completely silent external PSU the GIGABYTE E350N-USB3 system has a fan in the Silverstone 450W SSF-PSU in addition to the one on the heatsink. Regardless of this handicap the Gigabyte E350N-USB3 is quieter compared to the Zotac ION motherboard. The fan on the Zotac motherboard also has a more annoying whining noise. That does not mean that the fan on the GIGABYTE motherboard is perfect though. At some points we also heard a slightly irritating sound from the fan. This noise came and went so it is possible that it will disappear over time. The fan on the Zotac motherboard is said to be optional, but in every instance we used the Zotac ION motherboard without its fan, the system would overheat.
Finally, we tested the power consumption. As this APU is aimed towards the mobile notebook market we expect very low power consumption. The TDP for the Zacate is 18W (CPU + Northbridge + GPU), while the TDP for the Intel Atom 330 is 8W (CPU only). Unfortunately we do not know what the TDP is for the ION chipset.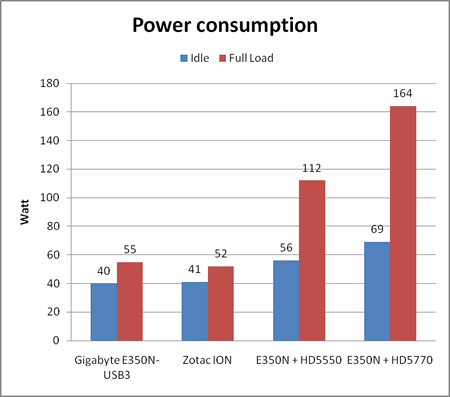 The Zotac ION again has a little advantage as it uses a 90W external PSU. In comparison, the GIGABYTE E350N-USB3 had to make do with the Silverstone 450W SFF-PSU that we had in-house. It would have been even better to use a picoPSU or a case with built-in PSU. Ideally, users should use a PSU that has about 2x the maximum power consumption of the system, as most PSU's are the most efficient at 50% of their highest capacity.
Again even with the handicap, the Gigabyte E350N-USB3 performs well, drawing no more than 40-50W for the full system with a hard drive and 2 memory sticks. Adding a graphics card increases the power consumption.
CONCLUSION
So was the AMD Fusion APU worth waiting for? As a replacement for the Intel Atom/ION platform, the E-350 APU certainly works well, though we did expect the CPU part to perform a bit better than just 20% faster than the aging Atom N330. In some ways the E-350 seems to have the same issue as the Atom/ION combo: an imbalance between the power of the CPU and the GPU. In fact, considering that the HD6310 GPU is even faster than the ION GPU, the imbalance feels even more pronounced. Anyone expecting to use the E-series of APU for gaming will be disappointed since the CPU part bottlenecks the performance. It does work for casual games and older games, but anything modern is simply unplayable.
We anticipate tha the E-350 APU will really shine as a Windows HTPC component once AMD, Cyberlink, and Arcsoft allow HD sound bitstreaming working.  The image quality is great on our Samsung 40″ TV, and even with just DTS sound, the sound quality through our Denon 1611 is impressive.
As for the actual GIGABYTE E350N-USB3 motherboard, we do not have any major complaints. GIGABYTE has managed to create a nice motherboard with an impressive amount of features considering the small size. It would have been nice to have a USB3.0 header on the motherboard, but since basically no other motherboard, regardless of size, has it this feature, it's not fair to expect it on this one. The same goes for the limited overclocking features. The E-350 APU isn't exactly made for overclockers so while it would have been nice had it included more settings for overclockers, we are happy with what we got. The fan impressed us with its low noise levels.
OUR VERDICT: Gigabyte GA-E350N-USB3
| | |
| --- | --- |
| Performance | 8 |
| Value | 8 |
| Quality | 8 |
| Features | 8 |
| Innovation | 8 |

We are using a new addition to our scoring system to provide additional feedback beyond a flat score. Please note that the final score isn't an aggregate average of the new rating system.

Pro

Cons

Performs very well for this type of system

Suitable for entry-level/casual gaming

Both USB3 and SATA 6 Gb/s

PCI-E-slot

Quiet fan

Low power consumption

Plays 1080p video wihtout any problems

HD-audio bitstream support

Flash Player 10.2 brings GPU-rendering

Heatsink needs a fan unless case has good ventilation

We expected a bit more from the CPU

Not suitable for more than entry-level/casual gaming 

HD audio bitstream needs software support

Linux drivers still not at the same high standard as NVIDIA's ION drivers, making this currently less suitable for a Linux-driven HTPC.

  
Summary:   The Gigabyte GA-E350N-USB3 is a great motherboard that comes with lots of nice features. This should be a great base for a Windows HTPC system. It earns the Bjorn3D Silver Bear Award.