The GIGABYTE G1.Sniper has an outstanding set of software, great features, and high quality hardware components, making it an innovative gaming product.
Introduction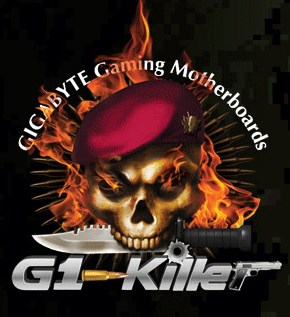 Since the release of the P67 chipset for Intel's Sandy Bridge processors, the interest of the consumer market has shifted away from the X58 chipset. However, the majority of hardcore computer enthusiasts still remain faithful to their older Core i7 systems for several valid reasons. The primary reason is that unless equipped with NF200 chip, the P67 chipset is only able to support up to 16 PCI-E lanes, which can be split into (x8/x8) configuration for SLI/CrossFire. In comparison, the X58 chipset supports 32 lanes, meaning both PCI-E slots can run at x16, providing a sigificantly higher threshold for the bandwidth. While a regular computer user might not notice the difference between 8x and 16x PCI-E performance, those that use SLI or CrossFire set ups with dual GPU graphics will notice a slight drop in performance. In addition, LGA 1366 socket is able support 6-core processors, while the LGA 1155 socket can only support 4-core processors. Certainly at some point, the release of 6-core Sandy Bridge processors may change the outlook on which system can deliver maximum performance, but as of now, the fact remains that the X58 chipset is capable of delivering slightly higher performance for gamers.
At CES 2011, GIGABYTE announced the release of a completely new series of motherboards: the G1.Killer series. The series consists of three different variants: the G1.Assasin, the G1.Sniper, and the G1.Guerilla, all of which utilize the old X58 chipset, while bringing in a set of new features that are not observed in any other modern motherboard. The G1 series motherboards have been designed to deliver maximum performance without depriving the user of the room for creativity. The most definitive features of these motherboards are the built-in high quality audio utilzing the Creative 20K2 chip and the Bigfoot Killer E2100 Network Processing Unit. These features are geared towards the gaming audience, but are not limited to one particular group of users. Without the need to use expansion slots for audio or LAN hardware, users are able to make full use of the provided PCI-E bandwidth to either stock up on GPUs or add additional cards to their liking.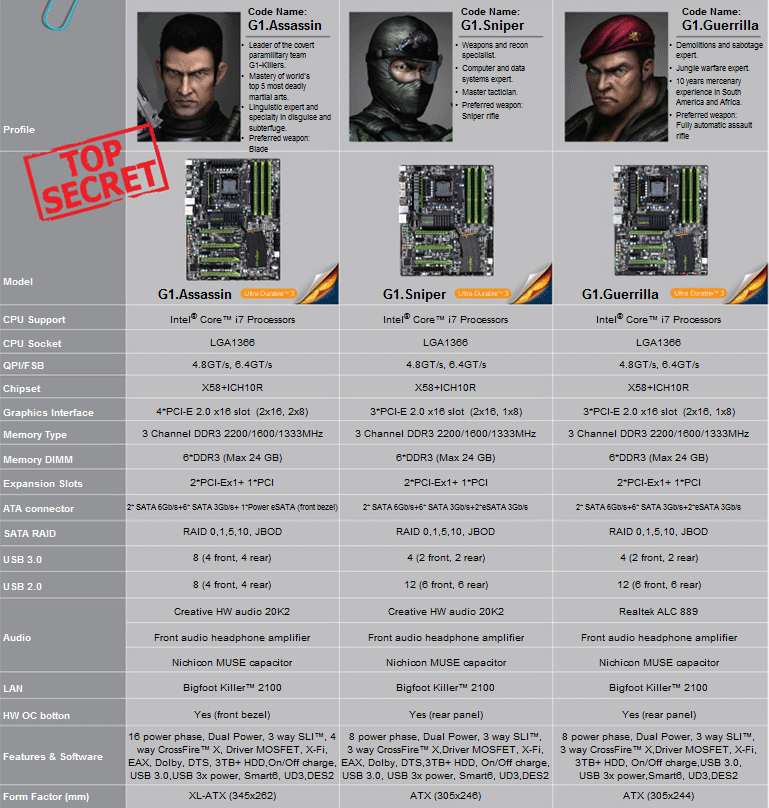 The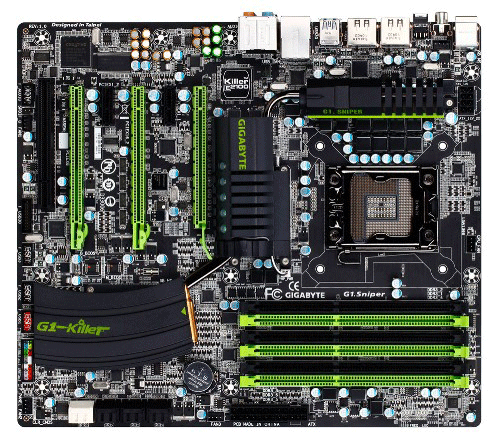 G1 Sniper is the second motherboard in G1.Killer series. Unlike the larger XL-ATX form factored G1.Assassin, the Sniper is an ATX board, demonstrating most of the same features that the G1.Assassin has to offer. Priced at USD 450, this board strikes a good balance, providing all the features for a medium range price. While the overall price of the series is rather steep, considering that other high end motherboards like ASUS Sabertooth X58 and Gigabyte GA-X58A-UD7 cost 199.99 and 345.99 accordingly, the quality of the components on the motherboards as well as addition of dedicated audio solution (Creative CA20K2 audio) and dedicated network platform (Killer E2100) can be worth the price.
GIGABYTE targets the G1.Sniper at the gaming market. With 3-way SLI/CrossFire support and an ATX form factor, this motherboard can serve as a valuable contribution to practically any gaming rig. A dedicated audio solution and LAN Network Processing Unit are not only designed in order to free the third PCI-E slot for an additonal card, but also to reduce the workload of the central processor in order to improve overall performance. The quality of components does not seem to fall far from GA-XA57-UD7, which implies that this motherboard has all of the functionality observed in other high end X58 motherboards. The Dual-BIOS, 2 oz. copper PCB (twice the copper in both power and ground layers of the PCB), dual CPU power, and driver MOSFETs all suggest that this motherboard is a secure station for overclocking. Let's go deeper in and see what the G1.Sniper has to offer. 
Special Features – G1.Killer Series Overview
Super Sight

The G1.Sniper's Super Sight enables users to use a 3-way CrossFireX and 3-way SLI Multi-GPU setup for the ultimate gaming experience. This would provide the maximum frames per second that current gaming PCs are capable of running. While GIGABYTE had a X58A-UD9 motherboard which supported 4-way SLI setup, the G1.Sniper motherboard can still run 4 NVIDIA Video cards. 3 of the video cards can be set in 3-Way SLI, while the 4th one can be run as a dedicated PhysX card. Those looking into straight 4-way configuration will need to buy AMD video cards capable of 4-way CrossFireX.
Having a Multi-GPU configuration allows users to retain high frames per second, which will allow them to enable extra graphics settings and eye candy, making the gaming experience even more enjoyable. With high graphics settings, the purity of the overall graphics of the game is much nicer. With higher frames per second, a singleplayer and multiplayer game will not suffer any performance lags, giving an advantage over other gamers in the community.
Super Hearing

With the inclusion of the Creative Soundblaster X-Fi Digital Audio Processor (20K2), the gaming experience is enhanced in many different ways. With X-Fi Xtreme Fidelity, EAX AHD 5.0 Technology, X-Fi Crystalizer, and X-Fi CMSS-3D, users can take advantage of audio clarity without reducing the CPU's performance. Previously released X58 motherboards like the ASUS Rampage III Formula had Creative X-Fi support as well, though they lacked the Creative 20K2 Audio Processor and dedicated audio memory. GIGABYTE included the audio processor and audio memory for several reasons. The main reason is to free up CPU processing power.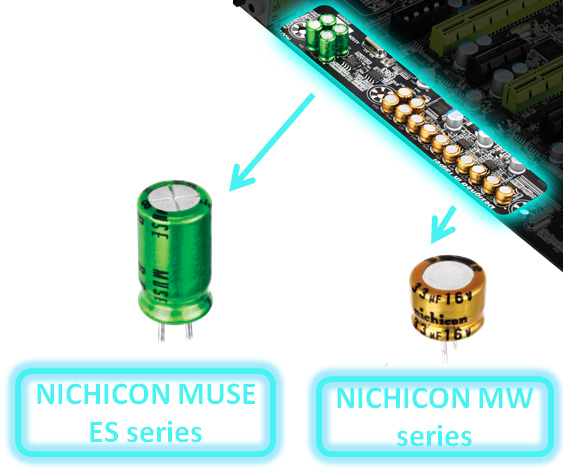 While Creative's drivers and software come with settings that can clarify and provide higher quality audio to the user, they do need to be processed by the system CPU. With the Creative audio processor, none of the extra audio settings have to be processed by the CPU, but instead can be offloaded to the dedicated Creative 20K2 Audio Processor. Similarly, the dedicated audio memory frees up system memory for other tasks. The ASUS Rampage III Formula motherboard would show a significant increase in the CPU and system memory usage over the G1 Killer line.
Additionally, GIGABYTE installed high-quality Nichicon Audio Capacitors. The Nichicon MUSE ES and MW series Bi-Polarized audio capacitors provide each channel audio output with high quality sound resolution and sound expansion to clear the noise rendered by cheaper onboard audio. This will provide gamers with realistic sound effects for their games.
Super Speed
There are currently no manufacturers who implement a network processing unit on their motherboards. We have seen some manufacturers approach such an idea, such as ASUS's Network Cards, however, these take up space, leaving less options for the users to position their expansion cards throughout the motherboard. GIGABYTE is the first to implement the well known $129 Bigfoot Networks Killer E2100 Network Processing Unit on their motherboard's PCB, along with 1GB of network memory. This helps offload network traffic from the CPU, freeing up the CPU to do other important tasks.
The Bigfoot Networks Killer E2100 is a specially programmed chip, which bypasses the Windows Network Stack by offloading gaming data directly to the NPU, providing lower latencies for gamers while they are gaming. Their software also enables to prioratize network processes, providing higher priority and lower latency to video games.
Super Shield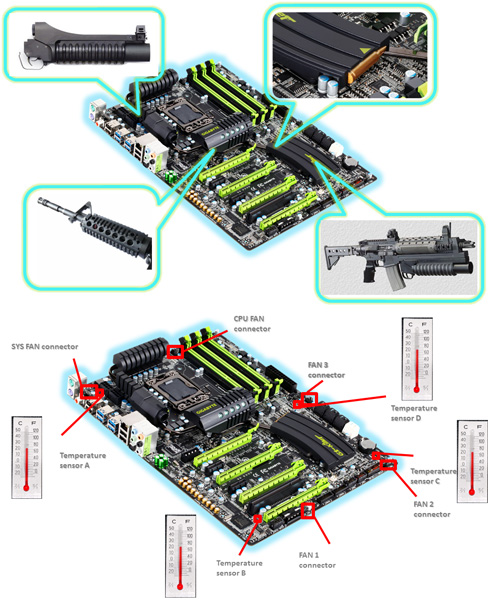 GIGABYTE G1.Killer series motherboards have  been designed to withstand high temperatures during overclocking. The heatsink system provides more than just fancy looks, but are actually connected with copper piping for optimal heat dissipation. The heatsinks themselves have been designed to provide maximum surface area for heat absoption.
 A set of LEDs and temperatures are placed throughout the motherboard to provide an accurate results of the temperature distribution throughout the PCB and voltage. LED change colors dependent upon the amount of voltage coarsing through the controller chips, providing the user with visual assessment of the voltage. The most dynamic LED is located to the right DDR3 slot indicating CPU voltage, which is essential for overclocking. A variety of LED colors allows for the user to intantly assess the safety of CPU by a simple glance at the motherboard.
In addition, the G1.Sniper is equipped with 5 on-board fan controllers to ensure optimal cooling for the system. With this dynamic fan control, the motherboard temperature can be easily fine-tuned.
Driver MOSFETs – Integration of VRM Components
A traditional Voltage Regulator Module (VRM) consists of a Choke, Capacitors, MOSFETs and a Driver IC. By incorporating the MOSFETs and driver IC in accordance with the Intel® Driver-MOSFET specification, we can achieve higher power transfer and increased efficiency at higher switching frequencies to satisfy the growing power requirements of today's processors. Driver-MOSFETs also help to reduce VRM real estate requirements in the CPU zone.
Driver MOSFETs are completely redesigned MOSFETs combining the driver pad, the High side MOSFET pad and the Low side MOSFET pad into one component. This helps reduce mounting area by up to 50%. The Driver MOSFETs are capable of achieving lower working temperatures, higher power efficiency, and lower power loss, making current transfer much faster and smoother while still maintaining stable voltage under heavy load.
 

Hybrid EFI Support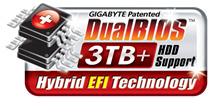 Hybrid EFI Technology combines the benefits of GIGABYTE's BIOS platform with 3TB+ HDD support from EFI technology, allowing GIGABYTE to offer the best of both worlds through a quick and easy BIOS update using GIGABYTE's @BIOS utility that is freely available from the GIGABYTE website.
Additional information about the G1.Snipers's featurs can be seen below.      
__________________________________________________________________________________________ 
3-way CrossFireX™ and 3-way SLI™ Support
The ability to see clearly through the fog of war can often tip the balance between the winning or losing force. That is why GIGABYTE has equipped the G1.Sniper motherboard to offer utmost graphics flexibility and upgradeability. With multiple GPU support, the GIGABYTE G1.Sniper motherboard delivers maximum FPS (Frames Per Second), allowing gamers to see more clearly, aim faster, and move more quickly.
Onboard Creative Soundblaster X-Fi Digital Audio Processor (20K2) with X-Fi Xtreme Fidelity™ and EAX® AHD 5.0™ Technologies
Being able to hear where your enemy is located before you see them can put you at a distinct advantage in most gaming situations. That is why GIGABYTE has rigged the G1.Sniper motherboard with the industry's most advanced audio solutions all onboard; giving you the highest caliber audio experience. GIGABYTE G1.Sniper is the world's only gaming motherboard to feature Creative's top-of-the-line Soundblaster Digital Audio Processor (20K2) onboard with X-Fi Xtreme Fidelity® and EAX® Advanced HD™ 5.0 technologies, allowing you to experience sound in your gaming world exactly as you would in real life.
Dolby® Digital Live
Enjoy audio from your PC through your home theater with Dolby® Digital Live. A real-time encoding technology, Dolby Digital Live converts any audio signal into a Dolby Digital bitstream for transport and playback through a home theater system. With it, your PC can be hooked up to your Dolby Digital-equipped audio/video receiver or digital speaker system via a single digital connection, eliminating the confusion of multiple cables and ensuring the integrity of the audio signal.
DTS™ Connect
DTS Connect is the perfect solution to enhance your entertainment experience using your home theater's Audio/Video Receiver. DTS Connect is comprised of two DTS technologies including DTS Neo: PC™ which takes 2-channel (stereo) audio and transforms it into a full-bandwidth matrix of your speaker layout (up to 7.1 channels) and DTS Interactive™ which encodes digital audio sources into DTS Digital Surround, which can then stream out to your Audio/Video Receiver using a S/PDIF connection.
Built-in Front Audio Headphone Amplifier
Specially designed for gamers, GIGABYTE G1.Sniper utilizes a high capacity amplifier which is able to drive 150Ω loads, allowing gamers to enjoy a fuller range of dynamic sound with crisper details and less distortion when using high quality professional headphones. The amplifier also features wide bandwidth, low noise, high slew rate and low distortion, making it ideal for professional audio usage. In addition, GIGABYTE has equipped G1.Sniper motherboard with 4 additional amplifiers onboard for the center/sub woofer, rear speaker, side surround and line out.
Nichicon High-end Audio Capacitors
GIGABYTE G1.Sniper motherboard utilizes the highest quality Nichicon MUSE ES series and MW series Bi-Polarized audio capacitors at each channel layout. These professional audio capacitors deliver the highest quality sound resolution and sound expansion to create the most realistic sound effects for professional gamers.
Onboard Bigfoot Networks Killer™ E2100 Game Networking Platform
GIGABYTE is the only motherboard manufacturer to seriously address online gaming network lag issues by implementing the Bigfoot Networks Killer™ E2100 Game Networking Platform directly onboard the G1.Sniper motherboard. Utilizing a unique combination of dedicated Network Processing Unit (NPU) and exclusive Game Networking DNA™ technology, the Bigfoot Networks Killer™ E2100 Game Networking Platform was designed to give the best online gaming experience possible.
Killer™ E2100 Dedicated NPU
Dedicated Network Processing Unit (NPU) with 1Gb of dedicated DDR2 memory helps offload network traffic from the CPU, freeing it up to do other important computing tasks.
Game Networking DNA™
Bigfoot Network's exclusive Game Networking DNA™ software offloads gaming data directly to the NPU by bypassing the Windows Network Stack, delivering tremendous speed benefits which allow you to move quicker, shoot faster and win bigger.
Up to 10X Faster
Whether you're playing MMOs or first-person shooters, the Bigfoot Networks Killer™ E2100 game networking platform delivers up to 10X faster networking performance for a whole new level of online gaming performance. 

Front Access Control Panel
As part of its box kit, the G1.Sniper motherboard features a convenient Front Access Control Panel that allows quick and easy access to 2 USB 3.0 ports and Power eSATA. The Front Access Control Panel also features a Quick Boost button that allows gamers to instantaneously overclock their system with a single press of a button. Imagine being in the thick of battle and being able to get a super charged on-the-fly performance boost without the need for a system reboot. 
SATA 3.0 (6Gbps) and USB 3.0
When you're behind enemy lines, intelligence data latency can get you killed. That is why GIGABYTE G1.Sniper motherboard provides ultra fast data transfer performance with onboard integration of the latest SuperSpeed USB 3.0 for up to 8 ports (4 front panel, 4 back panel), SATA Revision 3.0 (6Gbps) technologies from Marvell, and an unprecedented 3x USB power boost on all USB ports for the most power hungry USB devices. 
Locked and Loaded Heatpipe Design
The GIGABYTE G1.Sniper features a brand new heatpipe that was designed to be as deadly to heat as it looks. By effectively spreading the heat from the critical areas of the motherboard such as the CPU VRM zone and quickly dissipating it, GIGABYTE G1.Sniper motherboard remain cool, even when the battle heats up.
Modeled after the common firearms issued to soldiers deployed to a warzone including pistol, rifle and ammo clip, the Locked and Loaded heatpipe design utilizes a unique fluting technology similar to a rifle barrel fluting, which allows for maximum heat dispersion.
5 Smart Fan Connectors
Further helping to eliminate heat are the 5 strategically placed Smart Fan pin headers which allow for more precise control of system and CPU fans. Equipped with their own individual thermal sensors, the Smart Fans can be easily controlled via GIGABYTE's EasyTune™ 6 utility as well as in the BIOS.
Ultra Durable 3
The GIGABYTE Ultra Durable™ 3 design features twice the copper for both the power and ground layers of the PCB, dramatically lowering system temperature by efficiently spreading heat from critical areas of the motherboard (such as the CPU power zone) throughout the entire PCB. GIGABYTE's Ultra Durable™ 3 also lowers the PCB impedance by 50%, which helps to reduce electrical waste and further lowers component temperatures. A 2x Copper layer design also provides improved signal quality and lower EMI (Electromagnetic Interference), providing better system stability and allowing for greater margins for overclocking…
more
Maximum CPU Power Delivery
Like the pistons and cylinders of a car engine, the design of the motherboard Voltage Regulator Module (VRM), component quality and number of power phases greatly affects motherboard performance. GIGABYTE engineers were first to realize not only the importance of using the best quality components for this critical area, but also that with more power phases, there can be more power available to your CPU. With their industry-leading power design featuring the new VRD 12 (Voltage Regulator Down) specification, Dual CPU Power and Driver MOSFETs, GIGABYTE G1.Sniper motherboard delivers the best-in-class system performance and power stability required for elite gaming systems.
Dual CPU Power
GIGABYTE's proprietary Dual CPU Power Technology allows CPU VRM power phases to split evenly into 2 sets of power engines that operate in tandem. This allows 1 set of power phases to rest while the other is active as opposed to a traditional power design where all the power phases are always active. As such, GIGABYTE Dual CPU Power effectively halves the amount of work done by each set of power phases to significantly increase motherboard durability and reliability.
Specifications

Like GIGABYTE's mainstream motherboards, the G1.Sniper has 3 PCI-E slots spaced in a (x16, x16, x8) configuration. This is somewhat strange, because the G1.Assassin has 4 PCI-Express slots spaced in an alternating (x16, x8, x16, x8) configuration Unfortunately, the G1.Sniper does not follow this trend. Its 3 PCI-Express slots follow the old (x16, x16, x8) design, rather than an alternating (x16, x8, x16) design, which we had hoped for. Under the (x16, x8, x16, x8) PCI-E spacing, most video cards will not be situated immediately next to each other. A 2-way SLI user will have a lot better cooling potential in this configuration than when two mid- to high-end video cards are located next to each other. This is because with two cards right next to each other, the heat thrown off by the bottom card is sucked in by the upper card. Our previous tests have shown that on a (x16, x16, x8) configuration such as the one this  motherboard carries, the top card can run about 20-30 degrees Celsius hotter than the bottom one. With an extra 2 slots between the video cards, this gap is narrowed to 3-10 degrees, providing better and quieter cooling for the video cards.
Other than this, the Bigfoot Networks Killer E2100 network processing unit, Creative 20K2 audio processing unit, and 4-pin fan headers are the only major changes to the motherboard. It is nice that the E2100 NPU provides up to 400MHz network processing frequency, and the Creative 20K2 chip provides processing for the audio. This cannot really be translated to the actual CPU processing frequency, because they use completely different architectures. However, users can be happy knowing that most of the processes from the CPU will be offloaded to the network and audio processors on the motherboard. Finally, the 4-pin fan headers are a nice option for gamers providing them with real time fan speed control through GIGABYTE's BIOS and through EasyTune 6. Gamers can set up specific fan profiles depending on system temperatures to maintain a quiet gaming environment.
Specifications
GIGABYTE G1.Sniper
CPU

Support for an Intel® Core™ i7 series processor in the LGA1366 package (Go to GIGABYTE's website for the latest CPU support list)
L3 cache varies with CPU

QPI
4.8GT/s, 6.4GT/s
Chipset

North Bridge: Intel® X58 Express Chipset
South Bridge: Intel® ICH10R

Memory

6 x 1.5V DDR3 DIMM sockets supporting up to 24 GB of system memory
* Due to Windows 32-bit operating system limitation, when more than 4 GB of physical memory is installed, the actual memory size displayed will be less than 4 GB.
3/Dual channel memory architecture
Support for DDR3 2200/1333/1066/800 MHz memory modules
Support for non-ECC memory modules
Support for Extreme Memory Profile (XMP) memory modules

(Go to GIGABYTE's website for the latest supported memory speeds and memory modules.)

Audio

1 x Creative CA20K2 chip
High Definition Audio
2/4/5.1/7.1-channel
Support for Dolby® Digital Live/DTS Neo:PC/DTS Interactive
Support for S/PDIF Out

LAN

1 x Bigfoot Killer E2100 chip (10/100/1000 Mbit)

Expansion Slots

2 x PCI Express x16 slots, running at x16 (PCIEX16_1, PCIEX16_2)
* For optimum performance, if only one PCI Express graphics card is to be installed, be sure to install it in the PCIEX16_1 slot; if you are installing two PCI Express graphics cards, it is recommended that you install them in the PCIEX16_1 and PCIEX16_2 slots.
1 x PCI Express x16 slots, running at x8
(The PCIEX16_1, PCIEX16_2, PCIEX8_1, and PCIEX8_2 slots conform to PCI Express 2.0 standard.)
2 x PCI Express x1 slots
1 x PCI slot

Multi-Graphics Technology
Support for 3-Way/2-Way NVIDIA SLI/ATI CrossFireX technology
Storage Interface
South Bridge:

6 x SATA 3Gb/s connectors (SATA2_0~SATA2_5) supporting up to 6 SATA 3Gb/s devices
Support for SATA RAID 0, RAID 1, RAID 5, and RAID 10

Marvell 88SE9182:

2 x SATA 6Gb/s connectors (GSATA3_6, GSATA3_7) supporting up to 2 SATA 6Gb/s devices
Support for SATA RAID 0 and RAID 1

JMicron JMB362 chip:

2 x eSATA 3Gb/s connectors (eSATA/USB Combo) on the back panel, supporting up to 2 SATA 3Gb/s devices
Support for SATA RAID 0, RAID 1, and JBOD

USB
South Bridge:

Up to 12 USB 2.0/1.1 ports (6 on the back panel, including 2 eSATA/USB Combo, 6 via the USB brackets connected to the internal USB headers)

1 x Renesas D720200 chip and 2 x VLI VL810 hubs:

Up to 4 USB 3.0/2.0 ports (2 on the back panel, 2 via the USB bracket connected to the internal USB header)
* The USB 2.0 signals of the USB 3.0/2.0 ports on the back panel are from the South Bridge.

Internal I/O Connectors

1 x 24-pin ATX main power connector
2 x 8-pin ATX 12V power connectors
2 x 4-pin PCIe 12V power connectors
2 x SATA 6Gb/s connectors
6 x SATA 3Gb/s connectors
1 x CPU fan header
1 x system fan header
3 x fan headers
1 x front panel header
1 x front panel audio header
1 x S/PDIF Out header
2 x USB 2.0/1.1 headers
2 x USB 3.0/2.0 headers
1 x clearing CMOS jumper
1 x Quick Boost button header
1 x heatsink LED power connector

Back Panel Connectors

1 x PS/2 keyboard port
1 x PS/2 mouse port
1 x optical S/PDIF Out connector
1 x coaxial S/PDIF Out connector
4 x USB 2.0/1.1 ports
4 x USB 3.0/2.0 ports
1 x RJ-45 port
5 x audio jacks (Center/Subwoofer Speaker Out, Rear Speaker Out, Side Speaker Out, Line In/Mic In, Line Out)

I/O Controller
iTE IT8720 chip
H/W Monitoring

System voltage detection
CPU/System temperature detection
CPU/System fan speed detection
CPU overheating warning
CPU/System fan fail warning
CPU/System fan speed control
* Whether the CPU/system fan speed control function is supported will depend on the CPU/system cooler you install.

BIOS

2 x 16 Mbit flash
Use of licensed AWARD BIOS
Support for DualBIOS ™
PnP 1.0a, DMI 2.0, SM BIOS 2.4, ACPI 1.0b

Unique Features

Support for @BIOS
Support for Q-Flash
Support for Xpress BIOS Rescue
Support for Download Center
Support for Xpress Install
Support for Xpress Recovery2
Support for EasyTune
* Available functions in EasyTune may differ by motherboard model.
Support for Dynamic Energy Saver ™ 2
Support for Smart 6™
Support for Auto Green
Support for eXtreme Hard Drive (X.H.D)
Support for ON/OFF Charge
Support for Cloud OC
Support for Q-Share

Bundle Software
Norton Internet Security (OEM version)
Operating System
Support for Microsoft® Windows® 7/Vista/XP
Form Factor
ATX Form Factor; 30.5cm x 26.4cm
Remark

Due to different Linux support condition provided by chipset vendors, please download Linux driver from chipset vendors' website or 3rd party website.

Most hardware/software vendors no longer offer support for Win9X/ME/2000/XP SP1/SP2. If drivers are available from the vendors, we will update them on the GIGABYTE website.
Software Overview

Bigfoot Networks Killer Network Manager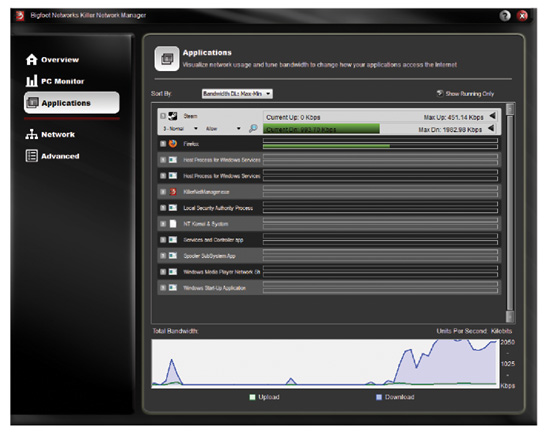 The provided software for the Bigfoot Networks Killer E2100 network platform, called Bigfoot Networks Killer Network Manager, has been completely redesigned from the previous versions. This version has been simplified so it would be easy to learn and use. With this software, the gamer can easily set up the network, monitor speed and see how much of the network processes are offloaded to the NPU, and much more. It also provides the user with plenty of application managing tools to block or allow network access to certain applications. It also provides priority settings from 1 to 4 (1 being the highest; 4 being the lowest) for a software. With this, a user can set the games to highest priority while other background network applications to lowest priority. This will provide a very low latency for gaming, and maintain a fast throughput for the other network applications. Suppose a gamer is copying a game over the network from another user so they could play at the LAN party. This could be done while the two users are gaming, with minimal performance decreases on the latency, because the game will have priority over the file transfer.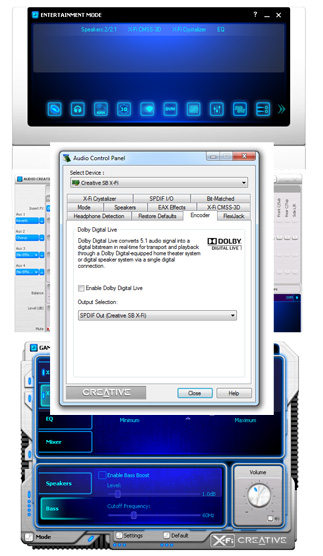 Creative Control Panel
One of our favorite features of the G1.Sniper motherboard is that it comes with a Creative Audio processor that allows users to customize all the features that the Creative Control Panel software can do. This means that the 20K2 audio processing unit will process audio, offloading the information from the CPU. Other motherboards like the ASUS Rampage III Formula have limited software options from Creative and lack a 20K2 audio processor. Without the 20K2 audio processor, all the audio will be processed through the CPU, which can decrease performance in single-threaded applications. In fact, with the ASUS Rampage III Formula motherboard, there were audio lags just because the CPU was working on other tasks while playing back music. With the G1.Sniper motherboard, this is not the case. We have not experienced any sound lags while watching a movie, listening to music, and even playing games. In our opinion, the best part of the Creative Control panel is that it gives the user 3 modes: Entertainment, Audio Creation, and Gaming. Each mode provides lots of features, though we like the X-Fi CMSS-3D, X-FI Crystalizer and separate Bass and Treble Gain controls. These options are not available on Realtek onboard audio chips.
Here is some background information about the main features of the Creative X-Fi software:
 X-Fi Crystalizer™
Restores the detail and vibrance to your compressed music and movies. All the highs and lows are intelligently enhanced so you'll hear everything in crystal clarity
X-Fi CMSS®-3D Headphone
Expands your music or sound away from your earphones, giving you an ultra realistic surround sound over headphones.
X-Fi CMSS-3D Surround
Expands your stereo MP3s and digital movies into surround sound over multichannel speakers, stereo speakers or even headphones. Voices are centered in front of you and ambient sounds are positioned all around you.
X-Fi CMSS-3D Virtual
Expands your stereo MP3s and digital movies into virtual surround sound over stereo speakers. Voices are centered in from of you and ambient sounds are positioned all around you.
EAX® AHD 5.0™
EAX® (Environmental Audio Extendion) is a collection of powerful, innovative audio technologies that bring true interactive 3D audio to PC gaming and helps create more ambience within games by more accurately simulating a real-world audio environment.
128 Voices
Up to 128 voices are applicable simultaneously. This enables more sound effects to be played simultaneously for detailed and rich game audio, as well as dynamic music that matches the mood and urgency of the on-screen action.
EAX PurePath
Delivers accurate surround sound, as well as a dedicated bass feed for an incredibly explosive audio experience. It controls sounds according to the speaker system, up to the 7.1 channel system.
EAX Voice
Gamers can hear their voice with the same effects as the environment their character is in. Furthermore, if the game title suppers "3D Voice Over IP" then other players in the game will be able to hear their voice coming from the correct direction.
__________________________________________________________________________________________
Finally, here is some more information about other software that come with the G1.Sniper.
Dynamic Energy Saver™ 2
GIGABYTE Dynamic Energy Saver™ 2 incorporates a host of intelligent features that use a proprietary hardware and software design to considerably enhance PC system energy efficiency, Reduce power consumption and deliver optimized auto-phase-switching for the CPU, Memory, Chipset, VGA, HDD, and fans with a simple click of button.
Cloud OC
GIGABYTE Cloud OC is a free overclocking application that facilitates PC overclocking through any web browsing capable device such as a smart phone, iPad, iPhone, Netbooks or notebook PC. Being browser based it connects via wireless Internet, Bluetooth or through an Ethernet cable and its many functions are categorized into three tabs: Tuner, System Info and Control…more
Smart 6- A Smarter way for PC system Management
GIGABYTE Smart 6™ is designed with user-friendliness in mind, and offers a combination of 6 innovative software utilities that provide easier and smarter PC system management. Smart 6™ allows you to speed up system performance, reduce boot-up time, manage a secure platform and recover previous system settings easily with a click of the mouse button.
Smart QuickBoot
No more waiting for PC Boot up

Smart DualBIOS
Smart personal reminder
Smart QuickBoost
One-click Overclocking
Smart Recorder
Your PC's Watch Dog
Smart Recovery
Reverse time for you
Smart TimeLock
Time Controller for PC
AutoGreen- Greening your PC via Bluetooth cellphone
AutoGreen technology can automatically save power for you simply by your bluetooth cell phone when you are away from your computer.
Note: GIGABYTE motherboards do not include a Bluetooth® receiver; the addition of a 3rd party Bluetooth receiver is required.
On/Off Charge Technology
GIGABYTE On/Off Charge technology allows you to charge your iPhone, iPad and iPod Touch regardless of whether your PC is on, in standby mode or even off. A derivative of GIGABYTE's highly acclaimed 3x USB Power feature, On/Off Charge enables devices to draw more current from GIGABYTE motherboard USB ports than standard USB ports allow, so that charging from your PC can be as fast as with a charger…
more
Note: Due to certain mobile phone limitations, users may need to connect the mobile phone to their PC before the PC enters S4/S5 mode to enable a quick charge from non On/Off Charge USB ports. Charging results may vary by model.
Unboxing
The packaging of the GIGABYTE G1.Sniper is made to look like a military grade enclosure. The background is colored to look like a rusty metallic texture. The front of the packaging provides the basic title of the product as well as the distributor and basic compatibility information. The back of the packaging contains all of the information, including some of the features that G1.Sniper is able to provide and the actual picture of the product.
Click Image To Enlarge
Inside a thick outer cardboard layer hides yet another box. Dark brown and black color are intertwined to create a camouflage feel for the packaging. An extra box provides additional protection during packaging. The actual product is placed in additional box with a translucent top, lying on top of the box with additional features. The translucent top reveals the first look at the G1.Sniper.
Click Image To Enlarge 
GIGABYTE's G1.Sniper comes with a multitude of auxillary items, some of which are not commonly found even in other high end motherboards. The package includes:
G1.Killer Series Poster
G1.Killer Stickers
GIGABYTE Logo Sticker
GIGABYTE User's Guide
GIGABYTE G1.Sniper User's Manual
GIGABYTe G1.Sniper Driver CD
CrossFireX Bridge
2-Way SLI Bridge
3-way SLI Bridge
4 SATA 3.0 cables
I/O Shield Plate
Almost everything in the package, even the I/O shield, carries the G1.Killer logo. A provided 2x USB 3.0 5.25″ front panel is a nice touch.
Overview
Click Image To Enlarge
The G1.Sniper features a unique green and black military-style color scheme. Another identifying feature of G1.Sniper is the extraordinary structure of heatsinks. The design of each of the heatsink is made to mimic various parts of a gun. Despite its lack of fins and lesser surface area, the G1.Sniper's heatsink is capable of good heat dissipation.
The G1.Sniper has been redesigned in order to optimize the schematics and provide the user with a larger variety of options when it comes to choosing hardware. Equipped with the Nvidia NF200 chip, this board can support 3-way SLI or CrossFire. In addition, it carries 6x DIMM slots for up to 24GB DDR3-2200MHz memory. While games do not consume large amounts of memory, video editing does, and for all those that choose to edit their gaming videos or write gaming reviews, a minimum of 12 GB is essential to provide a smooth editing experience.  
Click Image To Enlarge
The GIGABYTE G1.Sniper is an ATX form factor motherboard, which is compatible with practically any full tower or mid-tower case. The closest comparison to this motherboard would be GIGABYTE GA-X58A-UD7, which uses similar quality high-end components like Japanese capacitors and memory chips, and Ulta Durable 3 design. This also means that the G1.Sniper has a solid 2oz copper printed circuit board, improving durability. 4-pin PWM fan headers are yet another feature that allows for better versatility. The heatsink for this board is held in place with screws rather than push pins, which increases contact and maximizes heat-transfer.
A closer look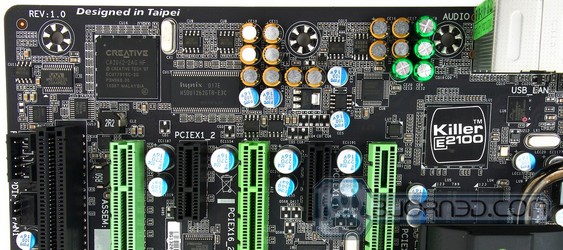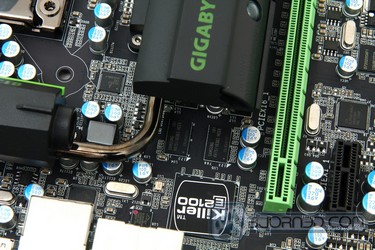 Click Image To Enlarge
A defining feature of G1.Killer motherboards is the presence of onboard dedicated network and audio chips. Pictures above provide a closer look at this unique onboard chips. The Creative CA20K2 digital audio processor is based on 20K1 artchitecture. This processor specializes in accelerating and enchancing the OpenAL 3D audio, XI-FI-CMSS-3D, X-Fi Crystalizer and other XI-FI audio processing. This onboard high-end solution consists of several components that are worth mentioning. To the right of the Creative chip is a 128 MB DDR audio memory module from Hynix, linked to the CA20K2-2AG HF digital processor. This allows audio processing to be conducted by the Creative chip and dedicated memory, rather than the central processor and system memory. The orange and green capacitors manufactured by Nichicon are top of the line audio capacitors. Both the Nichicon MW series (33 uF 16 V, small orange)  and MUSE ES (33uF 16v, green)  are bi-polarized electrolytic capacitors. There are also four STMicroelectronic C4558 dual high speed low-noise operational amplifiers which can take up to 150 ohms, though their use is restricted to amplification of the surround sound audio outputs. Also note that a separate voltage regulator module has been dedicated to audio in order to ensure proper voltage distribution of the onboard Creative 20K2 audio processor and its related components.
The BigFoot Networks Killer E2100 NIC makes its first appearance in G1.Killer series as the onboard NPU. It is designed to provide better connection to servers without lag, and drastically improve online gameplay. The Killer E2100 network processing unit uses the Freestyle technologies Power QUICC II Pro/e300C3 core built on the Power architecture. This processor can have a frequency up to 400MHz, and has a 16kb data and instruction cache. The Gigabit Ethernet NIC is directly connected to the PCI-E x1, providing for even faster performance than before. It is essentially an add-on Killer NIC PCI-E x1 network card, built onto the PCB. The Killer network platform is supported by two Samsung 512MB DDR2 chips. The last component pertaining to the BigFoot E2100 Killer is the Spansion 110nm 64Mbit 8MB flash chip that provides space for the BIOS that the Network platform uses. 
Click Image To Enlarge
The heatsink with the gun barrel shape to the left of the LGA 1366 does not cover any valuable components, but is linked to the large heatsink with 5 green LEDs through copper piping. That particular sink is placed over the Intel X58 Chipset (North Bridge), which is responsible for communication between the memory, PCI-E, and processor. The copper heatpipe then extends down to the heatsink covering the ICH10R chipset (South Bridge) as well as ITE IT8720 I/O chip, responsible for a variety of low-bandwidth devices like temperature sensors, fan controllers, and keyboard and mouse interfaces.
Click Image To Enlarge
Between the PCI-E slots and the South Bridge heatsink are the two BIOS chips. The dual-BIOS gives this motherboard a safety net during overclocking: in the event of a primary BIOS failure, users will be able to restore the information from the second BIOS chip.Above the second heatsink are the 6x DIMM slots, supporting up to 24GB of DDR3-2200MHz memory.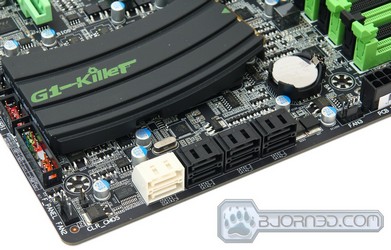 Click Image To Enlarge 
The back panel contains PS/2 Keyboard and mouse ports, a coaxial S/PDIF Out Connector, Overclocking button, 4x USB 2.0 ports, 2x eSATA/USB combo connectors and 2x USB 3.0 ports. Though this board has two fewer USB 3.0 ports than the G1.Assassin, more are unnecessary considering that majority of external devices can transfer no faster than USB 2.0. The audio outputs include Line In (Blue), Line Out (Green) and 3D surround outputs like optical S/PDIF Out Connector, Center/Subwoofer Speaker Out Jack (Orange), Rear Speaker Out Jack (Black), and Side Speaker Out Jack (Gray).
Between the two PCI-E x16 slots is the Renesas D720200 chip, controlling the USB 3.0 ports. Below the South Bridge heatsink are the front panel headers. The 2x SATA 3 Ports (White) and 6x SATA 2 (black) are located on the end opposite the back panel outputs.
Click Image To Enlarge
The LGA 1366 socket sits near the top of the board. Above it is a single 6-pin power connector. An ATX power cable is placed next to the DDR3 memory slots. Around the socket are the 8 ferrite core chokes providing the 8-phase power design.
BIOS
Users will most likely be presented with GIGABYTE's Full Screen Logo boot screen when they first turn on their systems. It is possible to turn off the boot logo and this will show the IDE/SATA drives that are recognized along with the rest of the hardware that is being checked, including the CPU and Memory. If there was a problem with previous overclocking settings, the BIOS will also warn users.
Click Image For a Larger One
Though GIGABYTE uses an older style BIOS, the true quality of a BIOS is determined by the ease with which a user can navigate it. For a new GIGABYTE user, but previous computer user that has used a BIOS before, it  should not be too hard to get used to the new look. It should take about 15-20 minutes to get used to and know where to find everything. Regular overclockers and who like to mess with their computers should find this BIOS very enjoyable to work with. Starting off with the basics, the first image shows the main BIOS page. The F9 button shows all current system specs. and the F11 button brings up the Profile saving window where the user can save the BIOS profiles that they have set up. This comes handy when a user is overclocking.
Click Image For a Larger One
The first section in the MB Intelligent Tweaker (M.I.T) is the M.I.T Current Status. In this section users can check on the current status of their hardware, including whether it is overclocked or at the stock settings, how many memory modules are installed and how they are detected, and the timings timings for each memory module. The next section is the Advanced Frequency Settings section. This section allows users to control CPU clock speeds, timings, and QPI. Users also have full control of the PCI Express Frequency and some other tweaks for the processor. There is also partial Memory overclocking present here, with the ability to change the System Memory Multiplier. However, this setting also determines how well the processor can be overclocked. Within the Advanced Frequency Settings are the Advanced CPU Core Features, containing different feature settings for the processor. The features can differ by processor. For our settings, we went ahead and disabled CPU Thermal Monitor which was originally enabled. Within this section users can also set the number of processors cores they want to use. Interestingly, while some applications already work with processors that have multiple cores, some applications might not. A good example would be an older game that does not support multiple cores. If users were to disable two cores on the processor and decide to overclock it to a higher clock speed, the heat production would decrease. In cases such as these, users wouldn't need a very powerful cooling system to achieve high clock speeds that games can perform well at.
Click Image For a Larger One
The following pictures still show the Advanced Frequency Settings section of the GIGABYTE G1.Sniper motherboard. In the first picture, the QPI clock ratio is set. The x36 gives a QPI link speed of 4.8GHz while the x48 gives a QPI link speed of 6.4GHz. As the BCLK Frequency controls the CPU Frequency and Memory, the QPI link speed will also change when the BCLK is changed. This is also true of the Uncore Frequency, which can also be changed by the Uncore Clock Ratio. The middle picture shows the System Memory Multiplier (SPD) which controls what frequency the memory runs at. For example if our BCLK Frequency is set to 200MHz, that's 200MHz x 6.0 = 1200MHz. If we set the System Memory Multiplier (SPD) to 18.0, that will give us a memory speed of 3600MHz for the memory. At the moment, no manufacturer supports memory speeds that high for DDR3 System Memory, but this just shows us the potential this motherboard has.
Click Image For a Larger One
Next up is the Advanced Memory Settings section where all the memory settings are applied. We can see the same System Memory Multiplier (SPD) that we have seen in the Advanced Frequency Settings section. If the DRAM Timing Selectable (SPD) is set to Standard mode, all the timings will be automatically set on the memory. If it is set to Quick mode, the user can change the timings on one channel, and it will automatically change all the memory timings to the preferred timings. Suppose a user has two different memory modules from two different manufacturers. One of the memory kits might have different timings. GIGABYTE also gave the end-user the option to change the DRAM Timing Selecatable (SPD) to Expert mode, which allows the user to set the timings on each channel.
Click Image For a Larger One
The following three pictures show the Advanced Voltage Settings panel and the Miscellaneous Settings panel. The Advanced Voltage Settings panel enables the user to change the voltages on just about any part of their system. For overclocking purposes, we only had to alter the CPU Vcore, QPI/VTT Voltages, CPU PLL, QPI PLL and IOH Core and DRAM Voltages. While this might be scary for some, GIGABYTE does color code their voltage settings to make it easier for the user to know which settings are dangerous when tampered with. Users still unsure of their expertise should keep the settings on AUTO. For the more advanced users, this will probably not be an issue, but caution is always recommended.
Click Image For a Larger One
This is the Standard CMOS Features section, which detects HDDs and input drives. If RAID is enabled in the BIOS, the list of IDE Channels will be lowered drastically, which is why we cannot see any of the hard drives present here. Those hard drives are controlled by the Intel Matrix Storage Manager which we will examine later in this page. The second picture shows the Advanced BIOS Features page, which includes some important boot settings.
Click Image For a Larger One
The first picture shows the Hard Disk Boot Priority section.  In the Integrated Peripherals section, users can enable and disable functions on the BIOS. If the extra IDE and LAN functions in the BIOS are disabled, the system takes less time to boot. To save time, we have disabled as many of the unnecessary functions that we didn't need. The Power Management Setup section gives users the option to tinker with the way the computer powers up or goes to sleep. This section also enables Keyboard and Mouse booting as well as enables the system to be rebooted in case of a power outage.
Click Image For a Larger One
Lastly, the PC Health Status section shows all important information about fan speeds, temperatures, voltages, and gives extra options for temperature and fan settings. This section provides the user with Fan speed control as well.
Overclocking with the Core i7 930 D0
In order to assess the overclocking capability of the G1.Sniper, an Intel Core i7 930 D0 processor was overclocked from stock 2.8 GHz to 3.8 GHz in increments of 200 MHz. A thirty minute stresstest on LinX benchmark was used to confirm the stability of the processor. 
For a thorough understanding how we achieved the following overclocks, please head over to following page. CLICK HERE
Overclocked settings that were 100% stable:

Click Image For a Larger One
Overclocking stability on the G1.Sniper was observed at the same voltages as in ASUS P6T. Overclocking software provided was able to overclock with similar voltages as demonstrated in the table, but was limited to the maximum speed equivalent to the stock speed of i7 975 @3.33 Ghz.
Temperatures 
To achieve load motherboard temperatures, we ran FurMark and LinX at the same time for 30 minutes to load the system to its max. Then we shut all applications down and waited another 30 minutes before we took the idle temperatures. The system was also overclocked at 3.8GHz as mentioned above. The measurements were done in a closed system at a 23C ambient temperature. For the G1.Assassin the temperatures were taken outside the system, because we were running it on a testbench.
| Motherboard | Idle | Load |
| --- | --- | --- |
| GIGABYTE G1.Assassin |  34C |  57C |
| GIGABYTE G1.Sniper |  33C |  57C |
| ASUS P6T |  32C |  59C |
In terms of temperature performance, the G1.Sniper does not demonstrate much of a difference from G1 Assassin. One degree fluctuation can be explained by a change in ambient temperature. While the G1.Assassin is a larger motherboard requiring more energy to power additional PCI-E lanes, the overall cooling of the PCB is very similar. At full load both motherboards demonstrate identical temperatures.
POWER CONSUMPTION
To get our power consumption numbers we plugged in our Kill A Watt power measurement device and took the Idle reading at the desktop during our temperature readings. We left it at the desktop for about 15 minutes and took the idle reading. Then we ran Metro 2033 for 10 minutes and recorded the highest power usage.
| Motherboard | Idle | Load |
| --- | --- | --- |
| GIGABYTE G1.Assassin | 345W | 691W |
| Gigabyte G1. Sniper | 332W | 682W |
| ASUS P6T Motherboard | 312W | 662W |
Due to the addition of dedicated audio and lan chips on the motherboard the power consumption observed in G1.Killer Series motherboard has increased. The G1.Sniper lands in between the relatively power-efficient ASUS P6T Motherboard, and the G1.Assassin. Additional power consumption can also be explained by an addition of USB 3.0 internal and external ports, as well as additional USB 2.0 in the back panel. Overall, we expected the power consumption on this board to increase, but 23W is not egregious considering the hardware added.
Testing & Methodology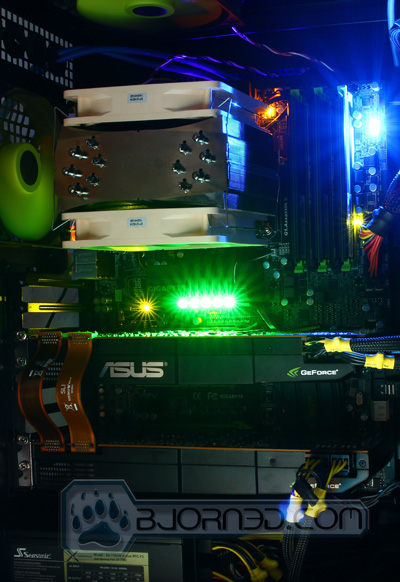 We've expanded our testing suite considerably for the X58 chipset, and will continue to use the same methods for most of the motherboards and CPU's we test. In the interests of thoroughness and accurate results, we run each test at least three times, and some tests more than that. We average the total of all the tests from each benchmark then report the average here.
The OS we use is Windows 7 Pro SP1 64bit with all patches and updates applied. We also use the latest drivers available for the motherboard and any devices attached to the computer. We do not disable background tasks or tweak the OS or system in any way. We turn off drive indexing and daily defragging. We also turn off Prefetch and Superfetch. This is not an attempt to produce bigger benchmark numbers. Drive indexing and defragging can interfere with testing and produce confusing numbers. If a test were to be run while a drive was being indexed or defragged, and then the same test was later run when these processes were off, the two results would be contradictory and erroneous. As we cannot control when defragging and indexing occur precisely enough to guarantee that they won't interfere with testing, we opt to disable the features entirely.
Prefetch tries to predict what users will load the next time they boot the machine by caching the relevant files and storing them for later use. We want to learn how the program runs without any of the files being cached, and we disable it so that each test run we do not have to clear pre-fetch to get accurate numbers. Lastly we disable Superfetch. Superfetch loads often-used programs into the memory. It is one of the reasons that Windows Vista occupies so much memory. Vista fills the memory in an attempt to predict what users will load. Having one test run with files cached, and another test run with the files un-cached would result in inaccurate numbers. Again, since we can't control its timings so precisely, it we turn it off. Because these four features can potentially interfere with benchmarking, and and are out of our control, we disable them. We do not disable anything else.
Bigfoot Killer e2100 NIC and Creative Audio Testing
There are many ways of testing a motherboard's network card or dedicated network platform. Because the Bigfoot Killer E2100 networking platform is designed for gamers, it decreases lag while sending and receiving packages through lower network latency, and has an intelligent priority option that will provide high priority to the user's games and lower priority to other tasks. We will be testing the Bigfoot Killer network platform by playing a few games online in the same room and server, but with lots of activity. We will play the same game for at least 5 times before we average the results. We are going to be monitoring and saving the FPS of games with FRAPS, and also monitoring the average PING when gaming. The results will be compared to onboard Realtek based network platforms on the ASUS P6T motherboard. We will then perform another test while copying files with Filezilla from another system over the same network connetion. Because file sharing is a big part of gaming, especially for those attending LAN parties, this is an excellent test to see how the Bigfoot Killer e2100 network platform prioratizes network load while gaming. Then we'll perform the same tests on the other motherboards and compare the PING and FPS of each game.

To test for audio performance and quality, we will perform several tests. To make sure we limit inaccuracy and weed out erroneous results, we will run our network through a USB wireless adapter on all systems to prevent any FPS changes caused by network inconsistency. We can then analyze whether the provided Creative processor, combined with the motherboard's dedicated memory and high quality analog to digital converters make a difference in the performance of the games. We will run benchmarks with a high degree of consistency to make sure our results are as accurate as possible. We are also going to compare the results to an onboard Realtek audio setup and another Realtek audio setup but with extra optional creative drivers and codecs (P6T and Rampage III Formula respectively). Finally, we will run several tests in games, and also by listening to music and watching movies to evaluate the overall clarity and quality of the audio.
Test Rig
Test Rig
Case
In-Win Dragon Rider Full-Tower Case
CPU

Intel Core i7 930 @ 3.8GHz

Motherboard

GIGABYTE G1.Assassin – LGA1366

GIGABYTE G1.Sniper – LGA1366

ASUS P6T – LGA1366

Ram

Patriot Gamer 2 Series 12GB (3x4GB) DDR3-12800 1600MHz 9-9-9-24

CPU Cooler
Thermalright True Black 120 with 2x Zalman ZM-F3 FDB 120mm Fans
Storage
1x Zalman SSD0128N1 128GB SandForce SSD
Optical
ASUS DVD-Burner
GPU

2x Nvidia GeForce GTX 580 in SLI

Fans

1x Zalman ZM-F3 FDB 120mm – Motherboard

1x Zalman ZM-F3 FDB 120mm – Video Card

1x Zalman ZM-F3 FDB 120mm Fan – Overall

PSU

Sapphire PURE 1250W Modular Power Supply

Mouse
Logitech G5
Keyboard
Thermaltake eSports Meka G1
Test Suite
We will use the following applications to test the performance of the CPU. Benchmarks
Benchmarks
PCMark Vantage
Cinebench R11.5
3DMark 11
3DMark Vantage
Unigine Heaven Benchmark
Crysis Warhead
Just Cause 2
Lost Planet 2
RightMark Audio Analyzer 6.2.3
Audio Testing

The audio quality of the Creative CA20K2 was assessed both qualitatively and quantitatively. Quantitative analysis was done on RightMark Audio Analyzer 6.2.3 and compared to the Presonus Firebox. Since Presonus Firebox is an external firewire device created for recorded audio it is a perfect comparison to the built-in soundcard. 
RightMark 6.2.3
Testing of both devices was performed on 24-bit, 96kHz testing by using external loopback.
| | | |
| --- | --- | --- |
| Test | Presonus Firebox | Creative CA20K2 |
| Frequency to response (from 40 Hz to 15 kHz), dB | +0.04,-0.05 |  +0.18,-0.18 |
| Noise level, dB (A): |  -100.2 |  -118.4 |
| Dynamic range, db (A): |  100.2 |  118.1 |
|  THD,% |  0.0019 |  0.0012 |
|  IMD+Noise, %: |  0.003 |  0.0016 |
|  Stereo crosstalk, dB |  -98.3 |  -114.6 |
The first parameter we tested was frequency to response. The G1.Sniper's dedicated audio chip demonstrates a very impressive response time in comparison to the majority of the sound cards. However, the studio Presonus Firebox–which utilizes Firewire–is actually faster, and is very difficult to match considering that it is an external device. In noise level, the Creative audio chip demonstrated a -118.4 dB, which is outstanding considering that settings that were used for testing are not commonly used in games. Dynamic range lands pretty close to the noise level, but is definitely outstanding for the onboard dedicated audio chip.
While generally distortion yields a fairly reasonable amount of deviation in obtained results, the overall results seem consistent. In comparison to the Firebox, Creative CA20K2 actually has a smaller percent of total harmonic and intermodulation distortion. Since games are commonly played while listening to music, the overlap between the frequencies of the sound coming from the music is not likely to produce unwanted distortion. In addition, the Creative CA20K2 demonstrates a pretty impressive result for stereo crosstalk, meaning sound is unlikely to leak from one channel to the other.
Overall, Creative CA20K2 dedicated audio solution demonstrates really impressive results. This chip is certain to provide smooth sound during gaming.
Quality of Sound Assessment
Quality of sound was assessed using various type of speakers including Thermaltake Shock Headset, Sony MDR-7509HD headphones, and Yamaha HS50M studio monitor set-up. Song of various genres were used to assess the quality of sound. Listening was performed on stock settings, after use of the Creative console launcher, and during mixing in FL Studio 9.0.
Yamaha HS50M

The Yamaha studio set up, which was originally connected to the Firewire port of the old ASUS P6T, had to be adapted for the new system. Those who are familiar with studio monitors know that it is a not an easy task to connect 3.5mm Main Out and convert it as a stereo to quarter inch monitors. Fortunately, a 3.5 mm Stereo Straight Plug to two XLR Male Plugs can accomplish the task.
Gaming
In order to fully assess the quality, games like Gears of War, Metro 2033, and Dead Space were used to analyze the sound. Sound output was set to 24 bit, 99.6 KHz in order to provide maximum studio quality sound.Without sound enchancement or use of the Creative Console Launcher the sound was already crisp and clear, although the sound was not completely realistic and depth of sound needed improvement. However, frequency differential and stereo differentiation were crisp and clear. The intensity of sound dependent upon position of an object of sound producing object in the game was great.
Once the Creative Console Launcher software was launched sound was optimized for the monitors, creating a completely different level of auditory experience. While the monitors are not specifically designed to relay lower frequency, bass boost adjustment provided more depth to the lower frequencies making lower growls produced by monsters in the game more realistic. By using X-FI CMSS-3D Virtual Sound, the surround sound of the game did improve to the point where it became possible to pinpoint the source of a sound instantaneously. X-Fi crystallizer seems to provide amplification to higher frequencies.
Music
After listening to multiple genres on 24 bit 96.6 KHz, we found that the sound clarity was definitely studio quality, but Creative Console Launcher allowed a great number of customization options. Bass boost is an especially useful function that allows the user to elicit the desired reverb effect even from speakers not designed for great bass quality. Frequency equalizer provides outstanding customization options rivaling those of a mixer in recording programs like FL Studio or ProTools.
FL Studio 9.0 0 playback
A clear difference between a standard Realtek onboard audio chip, Creative CA20K2 audio card, and the Presonus Firebox was definitely observed when runing a multitrack recording on FL Studio. A 63 track recording, including 14 MIDI, 12 special effect and 8 panned tracks, was used in order to assess the quality of sound as well as the CPU usage during both listening the playback while recording an additional track. Note that this track normally would not be supported by a standard Realtek onboard chip and would require additional computin power from the CPU. As a result both Presonus Firebox and Creative CA20K2 were able to process the track with average CPU usage of 48% on CPU, whereas a Realtek chip would normally spike the CPU usage to almost 70%.
Killer E2100 Benchmark

Packet Round Trip Ping
| Motherboard | UDP | ICMP |
| --- | --- | --- |
| GIGABYTE G1.Assassin | 151.85ms | 151.16ms |
|  GIGABYTE G1.Sniper |  151.84ms |  151.16ms |
| ASUS P6T | 150.2ms | 153.2ms |
Using BigFoot Killer Network Manager we see that user datagram protocol (UDP) and  Internet Control Message Protocol (ICMP) do not show a significant different and in fact are slightly slower. These results suggest that the BigFoot Killer affect TCP throughput primarily.
Dungeons and Dragons Online Load Time Test
Since TCP was determined to be directly correlated with the effect of BigFoot Killer E2100, an MMORPG was used in order to assess the accession rate and connection rate to the server. TCP processing was set to no delay with frequency adjusted to the value of 1 to provide maximum performance. The load time was determined using a timer to record the amount of time required to log onto the account, load the starting screen, and load the actual in-game textures.
| Motherboard | Time till load |
| --- | --- |
| GIGABYTE G1.Sniper | 22 sec |
| ASUS P6T | 3 min 2 sec |
With active no delay TCP, we clearly see the superiority of the dedicated NPU in comparison to a simple CPU processing. These results are highly applicable and clearly explain how the G1.Sniper is able to accomplish near-instantaneous interaction with the server.
Download Of Large Files From The Server
A 9.1 GB game client of Aion: Assault on Balauria was downloaded from the NCSoft Website; the comparison was performed between no delay TCP and standard TCP.
| Motherboard | Download Time | Peak Transfer Rate |
| --- | --- | --- |
| GIGABYTE G1.Sniper | 2 hours 3 minutes | 1238 KB/s |
| ASUS P6T | 3 hours 14 minutes | 932 KB/s |
During testing the download speed of the G1.Sniper remained within 1.2 MB/s, while the ASUS P6T fluctuated between 600 KB/s and 900 KB/s, rarely reaching its peak transfer speed. The difference in accession and download speed is apparent by the drastic increase in performance of BigFoot Killer E2100 board in comparison to the processing of TCP by CPU.
Crysis 2 Tests
The recent release of the Crysis 2 demo presents an ideal opportunity to assess the performance increase on new game releases that are dependent upon the internet connection.
| Motherboard | Frames Per Second (Higher is Better) – Crysis 2 MP Demo – Maxed Out |
| --- | --- |
| GIGABYTE G1.Assassin | 56.40FPS |
| GIGABYTE G1.Sniper | 56.41FPS |
| ASUS P6T | 55.86FPS |
Both the G1.Sniper and the G1.Assassin demonstrate an increase in performance due to the BigFoot Killer E2100 NPU offloading the CPU, and allowing it to contribute to tessellation. This is an anticipated result, although the increase is only observed to be roughly 0.6 FPS. The performance increase is likely to be higher on stock processors, due to their significantly lower processing capacity, and a larger portion of CPU usage required in order to adequately process network information.
In-Game Ping
| Motherboard | Ping (Lower is Better) – Crysis 2 MP Demo | Ping (Lower is Better) – Crysis 2 MP Demo w/ File Transfer |
| --- | --- | --- |
| GIGABYTE G1.Assassin | 92ms | 92ms |
| GIGABYTE G1.Sniper | 92ms | 92ms |
| ASUS P6T | 95ms | 97ms |
The G1.Killer motherboards do not indicate a significant reduction of ping during gaming, however the ping is more stable than that provide by ASUS P6T.
Crysis warhead

Crysis Warhead is the much anticipated standalone expansion to Crysis, featuring an updated CryENGINE™ 2 with better optimization. It was one of the most anticipated titles of 2008.
We ran Warhead using gamer's setting at resolution of 1280×1024 and DirectX 10. We tested both no AA an 2x AA.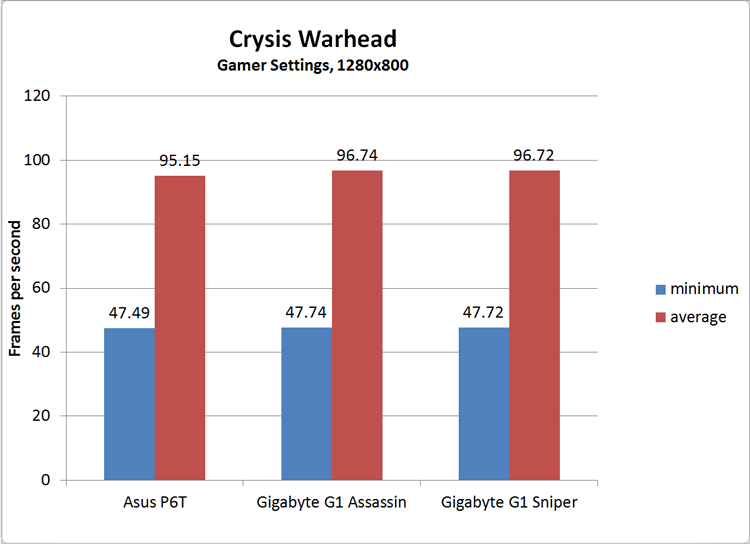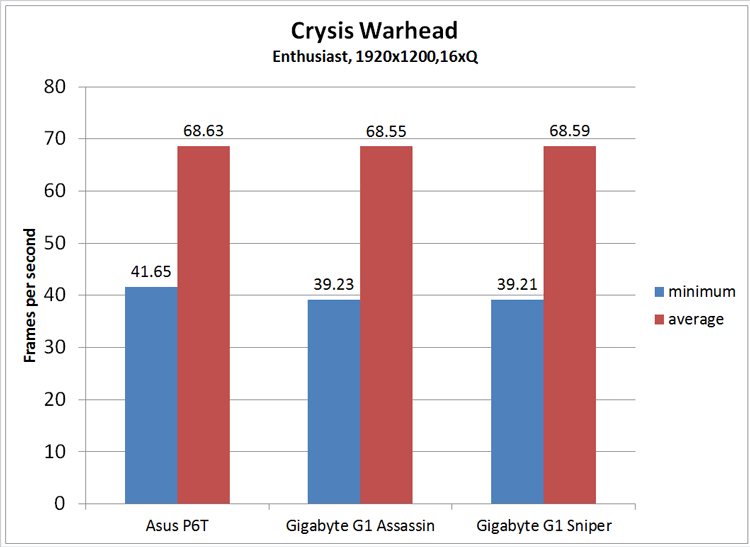 The overall performance difference between ASUS P6T and G1.Sniper at lower resolutions seems to be below 1 FPS and therefore too small to make a noticeable difference. On higher resolutions, the ASUS P6T shows no significant difference with variation of performance being smaller than 1 FPS. The overall results make sense, since the G1.Assassin and G1.Sniper use the same LGA 1366 socket as ASUS P6T and are not observed to have any addiional chips that would benefit the performance of either the processor or the graphics cards.
Just Cause 2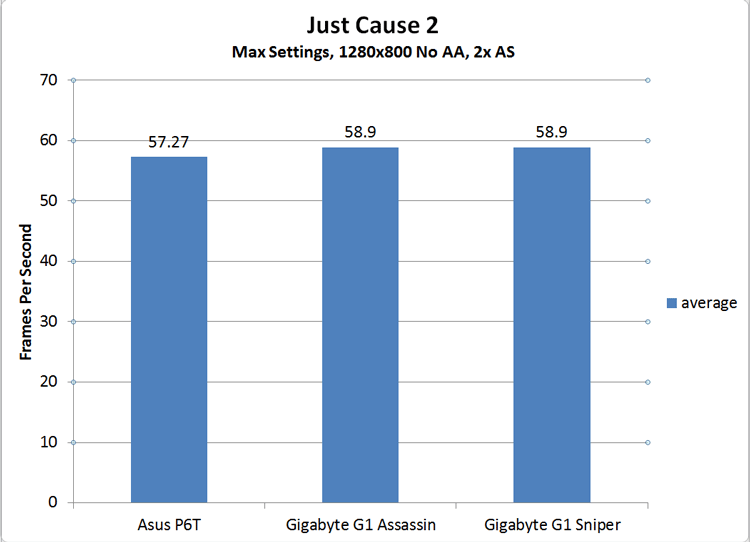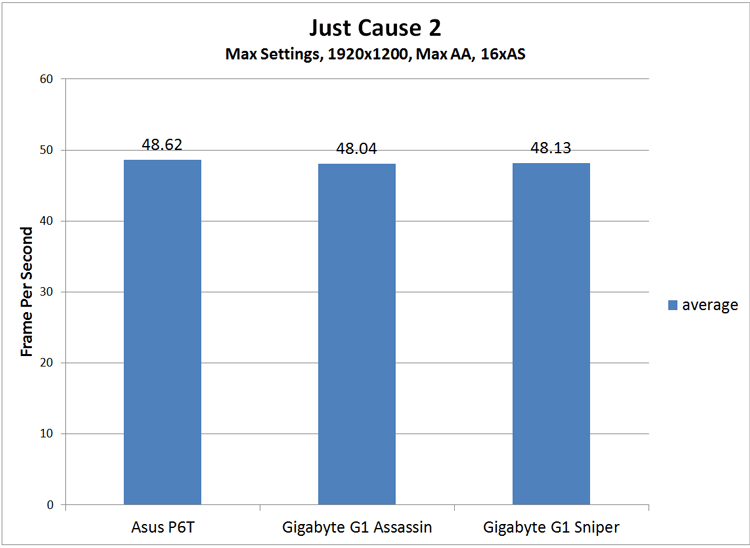 The Just Cause 2 benchmark supports the results previously observed in Crysis Warhead. Frames per second observed do not demonstrate a signficant performance increase. While it was anticipated that the Creative Audio Chip added onto the G1 series motherboards would reduce the CPU usage, these benchmarks do not stress the audio nearly enough to produce a signficant difference.
Lost Planet 2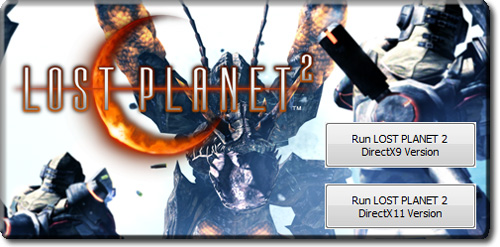 "Lost Planet 2 is a third-person shooter video game developed and published by Capcom. The game is the sequel to Lost Planet: Extreme Condition, taking place ten years after the events of the first game, on the same fictional planet."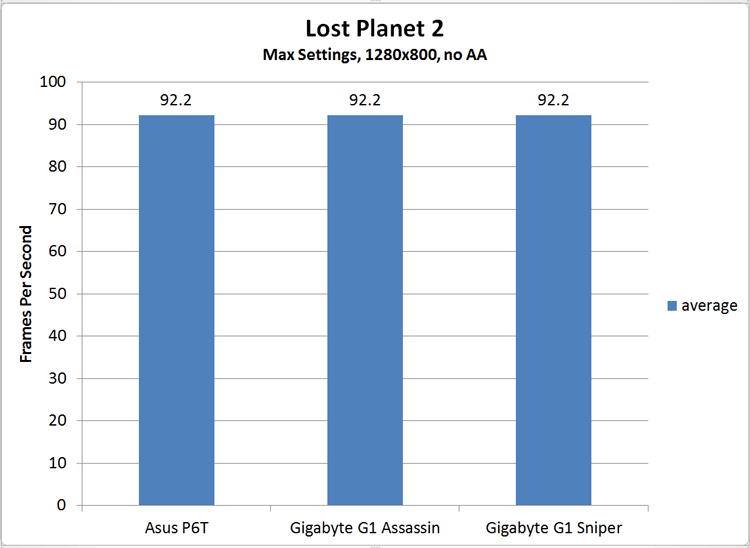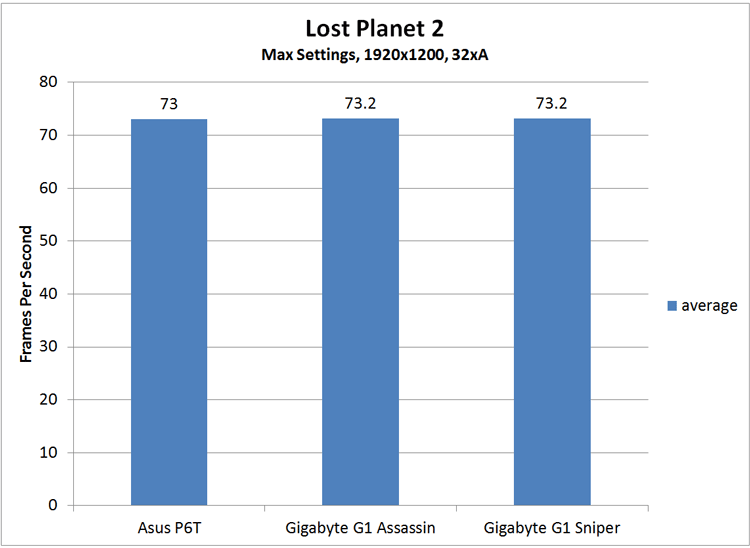 Lost Planet 2 Benchmark did not show any difference in performance increase. While the higher resolution does demonstrate a .2 FPS increase in the G1 motherboards, this change does not constitute any noticeable performance difference.
3DMark Vantage

For complete information on 3DMark Vantage Please follow this Link:
www.futuremark.com/benchmarks/3dmarkvantage/features/
The newest video benchmark from the gang at Futuremark. This utility is still a synthetic benchmark, but one that more closely reflects real world gaming performance. While it is not a perfect replacement for actual game benchmarks, it has its uses. We tested our cards at the 'Performance' setting.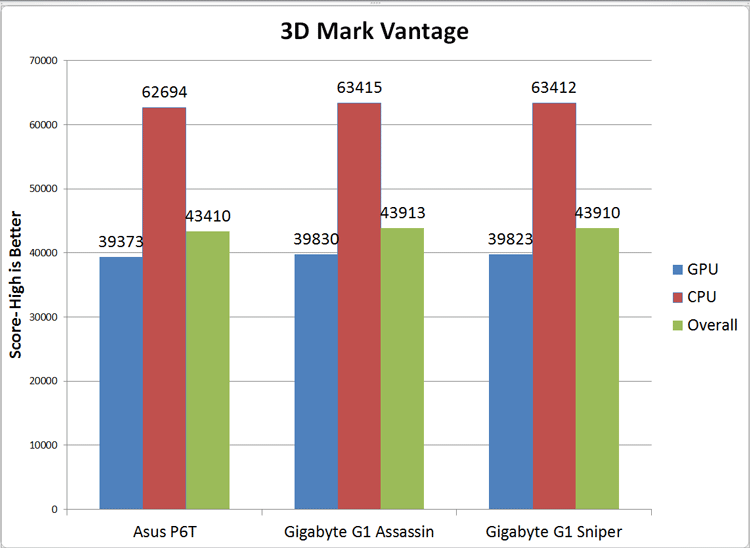 3D Mark Vantage provides a more subjective testing than previously observed synthetic benchmarks. There is a clear increase in performance in GPU, while CPU score remains the same. The G1Sniper demonstrates a 450 point increase over the ASUS P6T. 
3DMark 11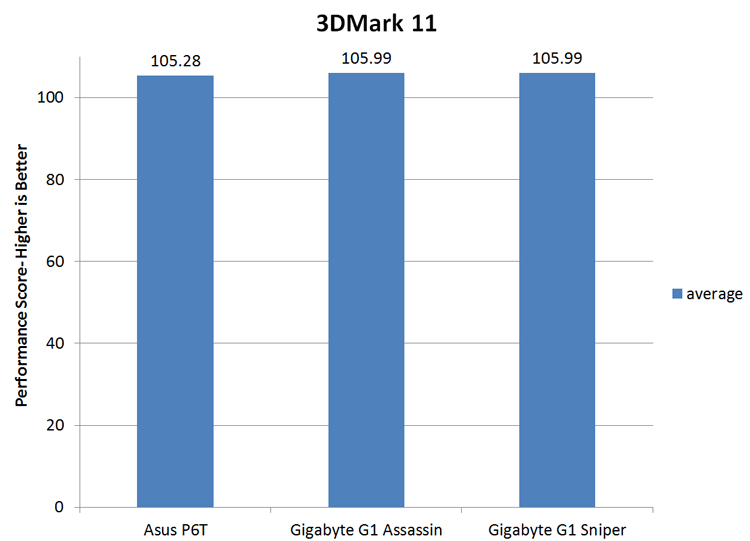 3D Mark 11 demonstrates a  0.6 FPS increase, which has been previously observed in other synthetic benchmarks.
PCMark Vantage
PCMark Vantage is the latest system benchmark tool from Futuremark. The benchmark consists of tests such as application launches, file searches, web browsing, video playback, photo editing, and gaming.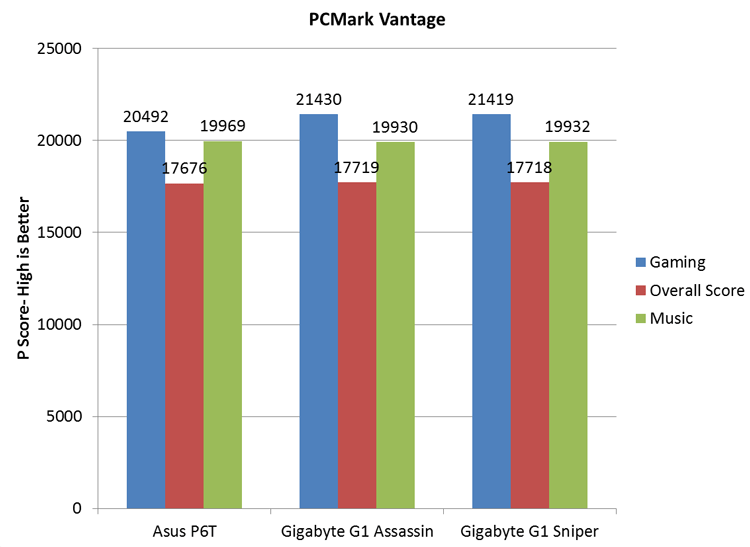 PCMark Vantage was used in order to test for the performance during gaming and playing music. A 1000 point difference between gaming performance of G1 Sniper, landing within 11 points of G1 Assassin is rather impressive. This benchmark supports 3D Mark Vantage results and suggest that there is a difference in performance over time.
Cinebench R11.5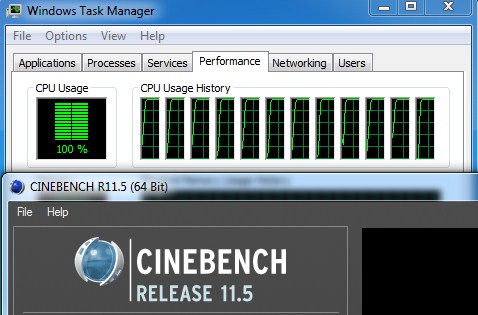 "CINEBENCH is a real-world test suite that assesses your computer's performance capabilities. MAXON CINEBENCH is based on MAXON's award-winning animation software, CINEMA 4D, which is used extensively by studios and production houses worldwide for 3D content creation. MAXON software has been used in blockbuster movies such as Spider-Man, Star Wars, The Chronicles of Narnia and many more. MAXON CINEBENCH runs several tests on your computer to measure the performance of the main processor and the graphics card under real world circumstances. The benchmark application makes use of up to 16 CPUs or CPU cores and is available for Windows (32-bit and 64-Bit) and Macintosh (PPC and Intel-based). The resulting values among different operating systems are 100% comparable and therefore very useful with regard to purchasing decision-making. It can also be used as a marketing tool for hardware vendors or simply to compare hardware among colleagues or friends."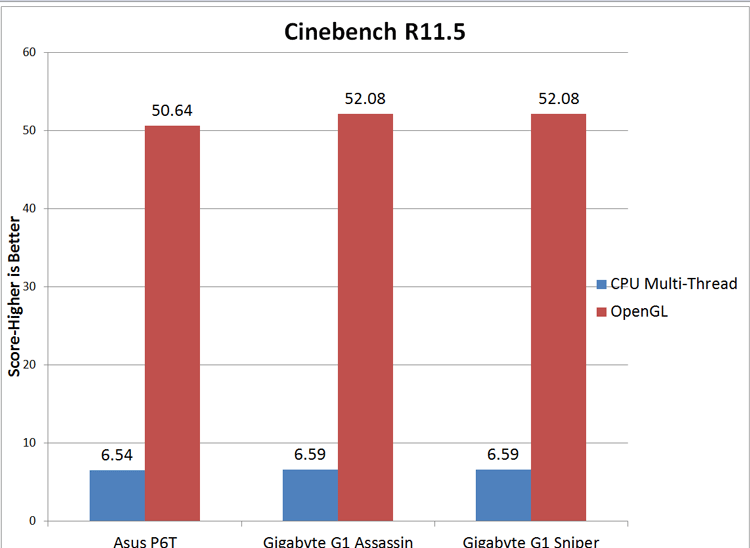 Cinebench shows an increase in performance in both CPU Multi-Thread 3D and Open GL. In comparison to the previously tested benchmarks, the observations support that the G1.Sniper provides a slight performance increase in CPU rendering and a noticable increase in GPU performance. 
Unigine Heaven 2.1

Unigine Heaven is a benchmark program based on Unigine Corp's latest engine, Unigine. The engine features DirectX 11, Hardware tessellation, DirectCompute, and Shader Model 5.0. All of these new technologies combined with the ability to run each card through the same exact test means this benchmark should be in our arsenal for a long time.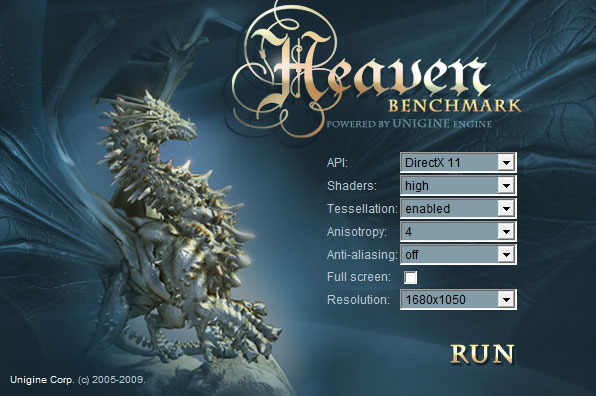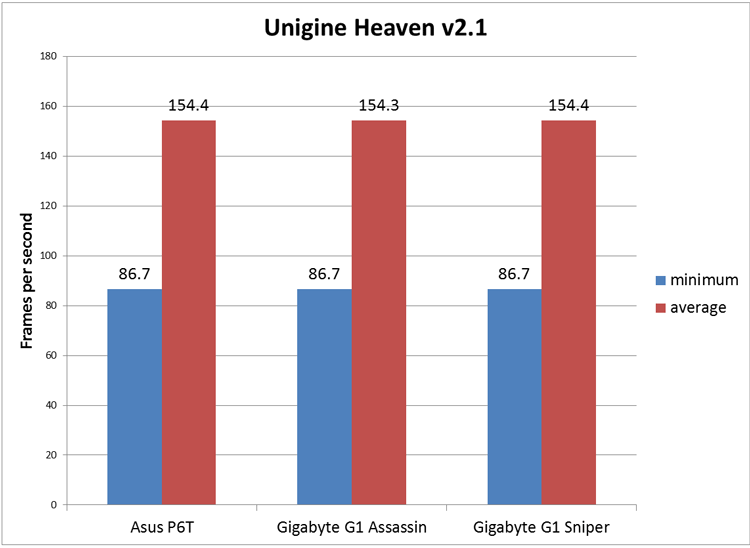 Results observed in the Heaven benchmark support the results observed in the gaming benchmarks and show no performance increase.
Conclusion
The G1.Killer series motherboard is one of the most unique motherboard lines the market has to offer. Designed specifically for gaming, it has been fully equipped to produce outstanding performance, whether it be audio quality, CPU performance, or GPU tessellation. However, like any other motherboard, its performance is depends upon other hardware components. Equipped with the X58 chipset, the ability to support 3-way SLI or CrossFire, and capacity for a 6-core processor, this motherboard carries immense gaming potential. The only discouraging aspect is the enormously steep pricetag. 
While it is not common to observe a performance increase between motherboards with the same chipset, due to the presence of innovative dedicated audio and network solutions, overall performance for online gaming did increase. The primary increase of performance is associated with BigFoot E2100 Killer NPU's capability to transfer transmission control protocol (TCP) without delay, allowing for instanenous accession and download of server files. However, the FPS performance did not increase drastically, due to the fact that offloading of CPU by 1-3% does not free up any significant amount of processing power. The increase of performance is more likely to be apparent in stock processors rather than overclocked, as the CPU usage devoted to network processing is greater in stock clocked processors. Clearly when overclocked, the tested processor did not show much of a difference in CPU usage, nor in FPS. The only major increase in game tessellation performance would result from the addition of an extra graphics card. Normally, in order to achieve the same level of LAN and auditory performance, dedicated cards would have to be installed in expansion slots. For this reason, the G1.Sniper certainly has an advantage if a user wishes to run 3-way SLI without sacrificing the quality of gameplay. While 3-Way SLI set up can be considered somewhat unnecessary, certain users can reap the benefits when running graphically intense games (such as Metro 2033) in 3D.
The most impressive part of the G1.Sniper was the motherboard's dynamics during gameplay. The features as well as software provided allows for a drastic improvement of overall gaming experience. While G1.Sniper's primary strength was observed in games that were more dependent on network connections, the auditory improvements still provide some additional value to the board. The Overclocking button placed in the I/O ports is also worth mentioning, since it allows for a quick overclock of the CPU during intense parts of the game. The need for the user to overclock has decreased, due to the software's ability to create dynamic overclocking profiles to ensure the optimal speed. However, in no way has a BIOS become obsolete, since software has a rather low clocking limit. The LED indicator system on the motherboard is yet another feature worth mentioning. While commonly observed in overclocking motherboards, this gaming motherboard allows the user to quickly identify the temperature and take appropriate actions if needed. Although most of the time no actions are really required due to use of high quality components, excellent heat dissipation capabilities and dynamic fan control can resolve any temperature issues that might arise.
The price is frequently addressed as the major con of this motherboard, though considering its offerings, and the fact that it is a "luxury" motherboard that provides such an ample amount of features, the relevance of such argument fades. Additionally, we must consider the facts that the G1.Sniper uses solely high-end components, and has dedicated audio and network processors, which would alone cost a minimum $140. However, it is understandable that not everyone would be able to afford this motherboard.
Unfortunately, this motherboard does have one major flaw: the abscence of firewire compatibility. Because the G1.Sniper was especially designed for gaming, and because firewire is considered obsolete, the resultant absence of a firewire port restricts this motherboards capabilities in utilization for video or music editing. Certainly, this is not a motherboard for a studio PC, and any possible recording mixer or soundboard will be rendered obsolete.
OUR VERDICT: GIGABYTE G1.Sniper Motherboard
| | |
| --- | --- |
| Performance | 8.5 |
| Value | 7.5 |
| Quality | 10 |
| Features | 10 |
| Innovation | 10 |

We are using a new addition to our scoring system to provide additional feedback beyond a flat score. Please note that the final score isn't an aggregate average of the new rating system.

Pros
Cons

Dedicated Bigfoot Networks Killer E2100 Network Processing Unit, and Creative 20K2 Audio chip built right onto the motherboard's PCB providing extra space for other add-on cards.

Improved connection with online server and complete eradication of lag or issues pertaining to disconnect.

Phenomenal Audio Quality and ability to modify the wanted sound through the use of equalizer and X-FI crystalizer.

Excellent Network and Audio Control Software included.

3-way CrossFire, 3-Way SLI support.

4-pin PWM Fan Headers, LED Voltage Indicators, Dual-BIOS, Hybrid EFI BIOS, SATA III, USB III

Easy and Stable Overclocking, Ultra Durable 3 Design, Very solid motherboard!

Low performance increase in comparison to competition

Very high price

Absence of firewire, which renders firewire-related devices useless unless a firewire card is purchased.
Summary: The GIGABYTE G1.Sniper Gaming Motherboard truly stands out of the crowd. Equipped with the latest features designed to satisfy any hardcore gamer, this motherboard truly deserves recognition. With dedicated onboard Creative CA20K2 audio chip and Killer E2100 NPU, the G1.Sniper allows for 3-way multi-GPU support. However, the steep price of the motherboard may prevent the vast majority of gamers from being able to afford such a product. Nonetheless, for its innovative design, barrage of features, and outstanding quality, the GIGABYTE G1.Sniper earns the Bjorn3D Golden Bear Award.