The HIS HD5450 Silence PCIe 1x is a card that promises to give some more life to computers stuck with just a 1xPCie slot.
INTRODUCTION
Most modern computers nowadays have at least one PCI-Express x16 slot, for a dedicated graphics card. But what about older computers or cheap OEM systems, which only have a PCI-E x1 slot? Up until now, the only way to upgrade the built-in graphics was to buy a new system, or at least a new motherboard (for much older computers, this often involves buying a new processor, and possibly new memory).
The HIS HD5450 Silence from HIS is a card that can help, as it is an HD5450 card using just a PCI-E x1 connector. With features like DX11, Eyefinity, and the ability to offload the CPU when decoding HD video, it should help breathe a bit more life into an old system.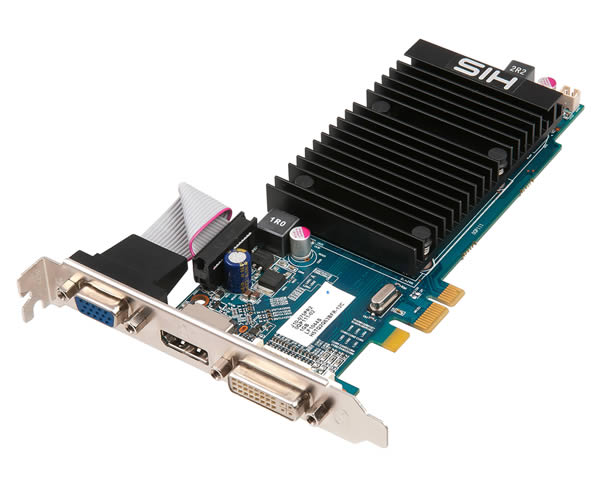 d
SPECIFICATIoNS AND FEATURES
The GPU on this card is a Radeon HD5450 GPU, clocked at 650 MHz. The card also has 1 GB of DDR3 memory clocked at 1000 MHz. The memory interface used is 64-bit, so we do not expect gaming performance from this card.
Since this is an HD5450 GPU, it has all the features we would expect, including:
DirectnX11-support
Ability to output 1080p
7.1 audio
Eyefinity support
OpenCL and OpenGL 3.2
UVD 2
We noticed that the card does not have a fan, and comes with HDMI, VGA and DisplayPort connectors.
When we put the GPU-features together with the hardware features it is easy to see why this card would be a perfect fit for a small HTPC, especially since it also comes with low-profile brackets.
One tempting application for this card is to upgrade a work computer or older home computer to support 3 monitors. Unfortunately, we still are limited by the fact that one of these monitors would need a DisplayPort connector, which is still fairly rare.
Pictures & Impressions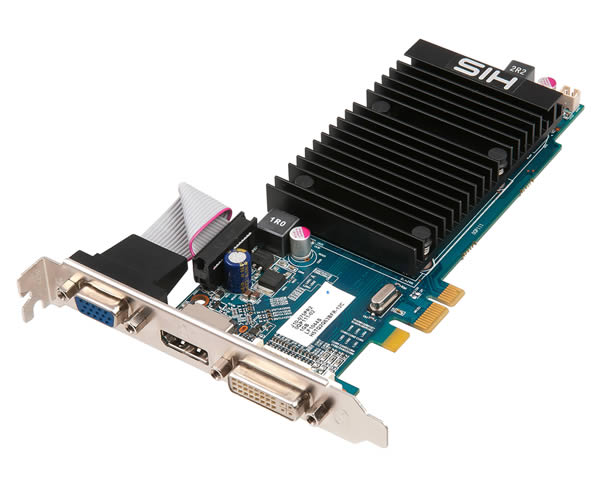 The card is not big, and is dominated by the large heat sink on top of the GPU.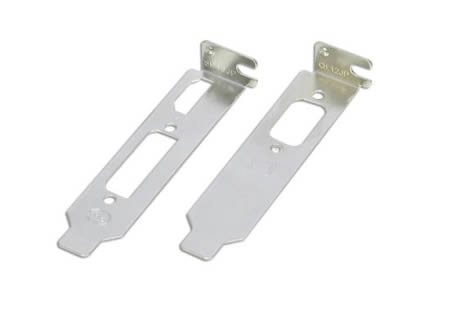 While the bracket that is installed allows users to access all three connectors. For example, to hook up 3 monitors, HIS includes 2 additional brackets that can be used depending on which ports are needed. This means that the card easily will fit into a low-profile case.
PERFORMANCE
It is essentially useless to benchmark this card in our regular games, as it isn't a gaming card, and will most likely either show extremely low scores or fail to meet the minimum requirements altogether. We did a quick test in 3DMark Vantage and Just Cause 2 and we had to decrease the resolution and the quality settings so much that the result feels somewhat irrelevant.
We did, however, test the card with 3 monitors, and found that it worked fine for normal usage. We also used the card for media playback, and it did a fine job of offloading the CPU when playing material that was GPU-accelerated.
The power consumption of the card is very low, and on our Phenom X6 1090T/4 GB DDR3 system we measured 72W for the whole system when idle and 97W when running FurMark. Though our system may seem like too powerful a testing setup, it was the only system we had on hand.
CONCLUSION
How do we rate a card that has such a narrow target audience? For those who have no other way to upgrade the graphics on their computers than to get a PCI x1 video card, the HIS HD5450 Silence is a great choice. It provides access to modern features like CPU offloading of HD video decoding, as well as Eyefinity support. We find it even more interesting for HTPC builders as it is fanless, and thus is completely silent, has low power consumption, and comes with low-profile brackets. At $60, though, it is quite expensive, and buyers can easily find a "regular" PCI-Express x16 HD5450 fanless card for $45-50.
HIS HD5450 Silence PCI-E x1
| | |
| --- | --- |
| Performance |  3 |
| Value | 6 |
| Quality |  7 |
| Features |  7 |
| Innovation |  7 |

We are using a new addition to our scoring system to provide additional feedback beyond a flat score. Please note that the final score isn't an aggregate average of the new rating system.

Pro

Cons

Completely silent

Eyefinity support

7.1 Audio

Low profile brackets included

Low power consumption

Terrible gaming performance

A bit to expensive for a purely HTPC card

Eyefinity still requiers a DP-monitor

 

 
Summary:  The HIS HD5450 Silence PCI-E x1 is a quite specialized card. It allows users with older computers stuck with just a PCI-E 1x-slot to add a bit of life to the systems. It also is a card that would perform well in an HTPC system, but is essentially useless for gaming.