The GIGAYBTE P67A-UD4 motherboard is designed for mid-to-high end users in mind, providing enough overclocking performance and other features that an average high end user would like to see in a motherboard.
Introduction
We recently previewed the Gigabyte GA-P67A-UD7 motherboard. It looks like it will be a motherboard that most of us will only dream of. The UD7 is designed for extreme overclockers, gamers and enthusiasts, but from our observations, many users aren't necessarily extreme overclockers, gamers, and enthusiasts. While the UD7 will be the most reliable and stable motherboard of GIGABYTE's P67 lineup of motherboards, the GA-P67A-UD4 will fit perfectly for those looking at upgrading their older Core 2 Duo, Core 2 Quad or even the recent i3, i5, or i7 motherboards. The P67A-UD4 motherboard should offer plenty of features that enthusiasts and gamers will be looking for, like USB 3.0, SATA III, SLI and CrossFire X support, as well as excellent high-quality PCB and component design with overclocking features that will make applications fly using the latest processors coming to the market this January.
GIGABYTE still continues to include the same features that brought their products such acclaim, like the Ultra Durable 3 design, ON/OFF Charge and 333 Onboard Acceleration. The P67 chipset will run the new Sandy Bridge processors, which will be announced early January in 2011. These new processors will run on the new LGA 1155 socket.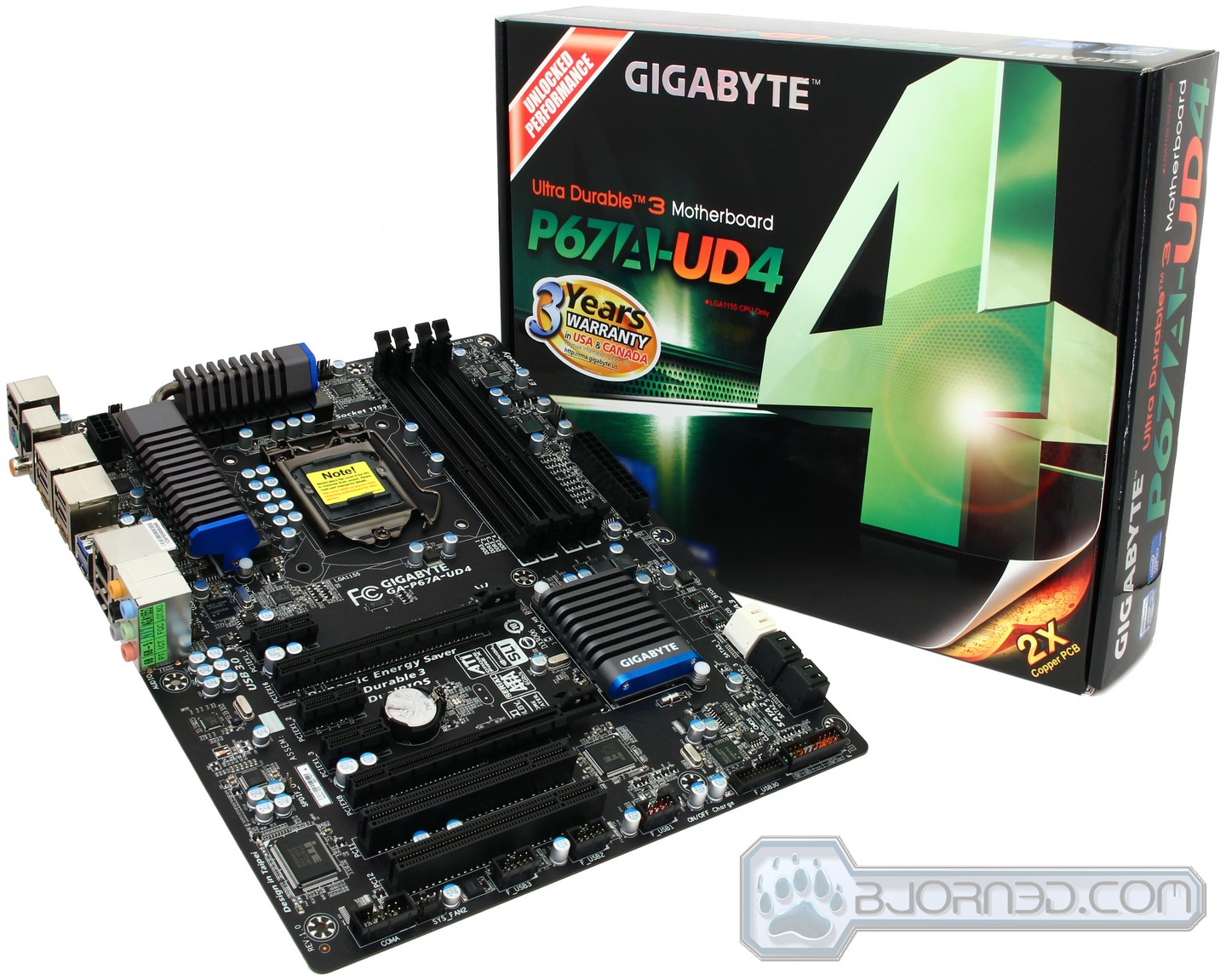 Current Intel chipsets support PCI-Express 2.0 at a lower 2.5GT/s, which limits each direction of a lane to a maximum of 250MB/s. With USB 3.0 and 6Gbps SATA interfaces connected to PCI-Express x1 slots, devices connected to these interfaces will be limited to the 250MB/s speeds. A nice change on the P67 lineup of motherboards will allow the PCI-Express slots to operate at a stunning 5GT/s, providing up to 500MB/s of bandwidth in each direction. This adds up to 1GB/s bidirectional bandwidth.
From what we understand at the moment, the P67A-UD4 will have full overclocking potential when paired with the appropriate unlocked processor, including an unlocked memory multiplier. The H67 architecture motherboards will unfortunately have a locked memory multiplier, but will be able to take advantage of Intel's integrated graphics on the Sandy Bridge CPUs, while the P67 won't. This is why we have seen several video outputs on the H67 lineup of motherboards and none on the P67. At the moment, we do not believe that there will be a hybrid solution for the Intel Sandy Bridge built-in GPU to work together with dedicated video cards, but this is not definite and could change.
While at the moment we do not have a price tag for the P67A-UD4, we can guess that it will be running for a bit over $200, considering that the X58A-UD5 motherboard's had an MSRP of around $289.99. Since there will be a P67A-UD5 motherboard as well, we believe that those will be around $290 and the UD4 around $240-$250. Please understand that these are our best guesses, and the prices might actually be different.
Special Features

12 phase power design for excellent power delivery.
GIGABYTE Ultra Durable™ 3 design with 2x Copper PCB to provide the stability, reliability and longevity essential to meet the power needs of high-end processors and other components running today's most demanding applications and games.
Onboard 2 SuperSpeed USB 3.0 ports (up to a total of 4 USB 3.0 ports) and 2 SATA 6Gbps (internal) and 2 SATA 6Gbps (external) to deliver impeccable data transfer speeds.
CrossFireX™ and Nvidia® SLI™ support for ultimate gaming experience.
New Matte Black color PCB offering a stylish new outlook that blends itself to decoration and case mods.
Unique GIGABYTE 3x USB Power design with On/Off Charge USB ports to offer faster battery charging for iPhone, iPad and iPod devices.
GIGABYTE patented DualBIOS™ technology delivering the highest level of failure protection.
The P67A-UD7 motherboard was engineered for users that want to get the most out of their hardware, whether they have a 3-way SLI setup or want to use several USB 3.0 and SATA III devices, or even need Dual Gigabit LAN support. Unfortunately, the P67A-UD4 does not support Dual Gigabit LAN or 3-Way SLI, but it does give the users partial USB 3.0 and SATA III support. On the UD7 we saw 10 USB 3.0 ports at the rear end of the motherboard, while on the UD4 there are only 2. Of course this can be expanded up to 4 USB 3.0 ports, however, the front panel USB 3.0 device is not included with the motherboard, and needs to be bought separately. Also, instead of 6 SATA III ports, the user can utilize up to 2 SATA III ports inside the case. There are 2 more eSATA III ports available at the rear end of the motherboard where the I/O connectors are located.
There are also several features missing from this motherboard that an overclocker would enjoy, but this is not a deal breaker. The GA-P67A-UD4 is missing some of the basic test bench features, like the on/off switch and the reset switch. Users will actually need a case to run this motherboard. Also, while this motherboard comes with PHASE LEDs, it does not come with temperature LEDs, or even voltage LEDs.
Though we previously saw a similar implementation of intelligent energy savings and other PWM controllers, the VRD12 Design and the Driver MOSFETs add a bit more to the P67A lineup of motherboards by having something not seen on previous GIGABYTE motherboards. The implementation of the 12 phase power, the VRD12 and Ultra Durable 3 design, along with the new driver MOSFETs, are mainly there for extreme overclockers and gamers.
12 Phase Power

  

True 12 phase power design enables optimum power delivery and low temperatures. While the UD7 includes 24 phase power and would probably grant the user with even lower temperatures and better power delivery, 12 phase power should be plenty even for casual overclockers on both air and liquid cooling. 12 Phase Power helps with better power delivery and stability, lower VRM temperatures, better efficiency, and higher durability.

VRD12 Design




All GIGABYTE P67 and H67 motherboards are Intel VRD12 Qualified due to their Intel VRD12 compliant Intersil PWM controller. This allows for faster response, meaning that there won't be delays between Analogue-Digital and Digital-Analogue conversion.

Higher accuracy is also present in V-core control because of no digitization errors.

This is a hardware design, meaning it will be stable because of no firmware crashes, and it has a greater tolerance to ESD and electrical noise, therefore reducing component damage. PWM signals are not affected.

 

GIGABYTE Ultra Durable 3 design

, featuring 2 ounces of copper for both the Power and Ground layers which dramatically lowers system temperature by delivering a more efficient spreading of heat from critical areas of the motherboard such as the CPU power zone throughout the entire PCB. GIGABYTE's Ultra Durable 3 also lowers the PCB impedance by 50%, which helps to reduce electrical waste and further lowers component temperatures. A 2oz Copper layer design also provides improved signal quality and lower EMI (Electromagnetic Interference), providing better system stability and allowing for greater margins for overclocking…

more

Driver MOSFET

Driver MOSFETs are completely redesigned MOSFETs combining the driver pad, the High side MOSFET pad and the Low side MOSFET pad into one component. This helps reduce mounting area by up to 50%. The Driver MOSFETs are capable of achieving lower working temperatures, higher power efficiency, and lower power loss, making current transfer much faster and smoother while still maintaining stable voltage under heavy load.

Dual Power Switching

The Dual Power Switching design is for delivering better durability and longer component lifespan. When Dual Power Switching is activated, 2 sets of 6 power phases operate in tandem, automatically turning on one set of 6 phases and powering down the other 6, allowing the non active set to rest. Dual Power Switching ensures that each set of phases share the power workload, effectively doubling the lifespan of the phases.

On/Off Charge Support

GIGABYTE On/Off Charge technology that enables faster iPhone, iPad and iPod Touch charging. A derivative of GIGABYTE's highly acclaimed 3x USB Power feature, On/Off Charge technology allows iPhone, iPad and iPod touch devices to draw more current from GIGABYTE motherboard USB ports than standard USB ports allow, with the added benefit that the PC can be on, in standby mode or even off…more

USB 3.0 Support

The GIGABYTE P67A series motherboards support the latest generation SuperSpeed USB 3.0 technology made possible through an onboard NEC host controller. With superfast transfer rates of up to 4.8Gbps, users are able to experience an almost a 10x improvement over USB 2.0. Additionally, backwards compatibility with USB 2.0 assures users of long term use of their legacy USB 2.0 devices. The onboard NEC SuperSpeed USB 3.0 technology also provides new power management features that include increased maximum bus power and device current draw to better accommodate power-hungry devices.

SATA 6 Gbps Support

Yet another onboard feature of GIGABYTE P67A motherboards are Marvell's new SE9128 chips for high-speed SATA Revision 3.0 compatibility, delivering superfast 6Gbps link speeds for twice the data transfer rates of SATA Revision 2.0 (3 Gbps). When used in RAID 0 (Stripe) mode, GIGABYTE P67A series motherboards offer even faster data transfer rates of up to 4x the speed of current SATA interfaces.


* SATA3 RAID 0 4X performance is a maximum theoretical value. Actual performance may vary by system configuration.
* SATA3 SSDs are not recommended for use in RAID 0 mode on Marvell SE9128 ports.

3x USB Power Boost

GIGABYTE motherboards feature a 3x USB power boost, delivering greater compatibility and extra power for USB devices. GIGABYTE's unique USB power design is also able to efficiently regulate output over the full voltage range, which greatly enhances USB device compatibility. In addition, dedicated lower resistance fuses ensure lower voltage drops, and provide more stable and plentiful power delivery.

DualBIOS™ – Patented Dual Hardware BIOS Protection

DualBIOS™ is a GIGABYTE patented technology that automatically recovers BIOS data when main BIOS has crashed or failed. Featuring 2 physical BIOS ROMs integrated onboard, GIGABYTE DualBIOS™ allows quick and seamless recovery from BIOS damage or failure due to viruses or improper BIOS updating.

XHD (eXtreme HardDrive)-Accelerating hard drive performance with ease

Accelerating system performance is made easy with the user friendly GIGABYTE eXtreme Hard Drive (X.H.D). GIGABYTE eXtreme Hard Drive (X.H.D) provides a quick and easy way to boost your hard drive performance simply by adding another hard drive.

 

Multi-display support with 3 way CrossFireX and 3 way SLI™

Flexible graphics capabilities – Up to 3 VGA cards are supported for either 3 way CrossFireX™ or 3 way SLI™ action, delivering the ultimate in graphics performance for gaming enthusiasts who demand the highest frame rates without compromising on resolution.

Benefits of 2 oz Copper PCB

• Cooler than traditional motherboards
• Enhanced durability
• Improved energy efficiency
• Greater margins for overclocking…

more

2X Lower Impedance

In addition, doubling the amount of copper lowers the PCB impedance by 50%. Impedance is a measure of how much the circuit impedes the flow of current. The less the flow of current is impeded, the less amount of energy is wasted. For GIGABYTE Ultra Durable 3 motherboards, this means total PCB electrical waste is reduced by 50%, which also means less heat is generated. 2 ounces of copper also provides improved signal quality, providing better system stability and allowing for greater margins for overclocking.

50,000 Hours Japanese Solid Capacitors

GIGABYTE Ultra Durable motherboards are equipped with solid capacitors developed by leading Japanese manufacturers. With an average lifespan of 50,000 hours, these solid capacitors provide the stability, reliability and longevity essential to meet the power needs of high-end processors and other components running today's most demanding applications and games…

more


* 50000 hours of work time is calculated at 85℃ ambient temperature.

Hardware OverVoltage Control IC – Enabling Extreme Overclocking

GIGABYTE Hardware Overvoltage Control ICs featuring more voltage control options than before for the CPU North Bridge and memory. The overvoltage controllers also provide hardware linear real-time voltage control, which means there is no delay compared to the GPIO controller in past implementations. In addition, GIGABYTE's Hardware Overvoltage Controller ICs also allow for much finer voltage control, allowing power users to adjust voltage in as little increments as 6.25mV for better overclocking performance.

 

Qualified for Windows® 7

The motherboard qualified for WHQL (Windows Hardware Quality Labs) certification of Windows 7 from Microsoft®, setting the standard for future Windows 7 certified motherboards…

more

ErP Lot 6 support

The ErP (as known as Energy-Related Products Directive) is part of new European Union's environment regulations. ErP established is based on the concern of environmental issues regards electronic devices been gained popularity and how to improve energy efficiency for better and greener life. GIGABYTE presents standard motherboards to help you effectively improving system performance and saving more energy.
Specifications
Specification
GIGABYTE P67A-UD4
CPU Support
LGA 1155 Intel® 2nd Generation Core Processors
Chipset


Intel® 6-series Chipset

Memory


4 DIMMs Dual Channel DDR3 2200 / 1600 / 1333 / 1066 / 800

Expansion Slots


2* PCI-e x16 ( 1 PCIEx16 or 2 PCIEx8)

, 2

* PCI-e x1

2

* PCI

Storage


4* SATA2+4 SATA3 (P67 4* SATA2+2 SATA3 & + SE9128 2 SATA3)

Audio


8-Channel Audio

LAN


GbE LAN (Realtek 8111E)

Form Factor


ATX (305×244)

Others


DualBIOS™, Ultra Durable™ 3, On/Off Charge, 3x USB Power
The P67A-UD4 is slightly different from the UD7. As mentioned before, the UD7 had a Dual Gigabit LAN while the UD4 only has a single LAN connector controlled by the Realtek 8111E controller. The way the UD7 is able to fit two LAN connectors is by running two Realtek 8111E controllers onboard.
The expansion slot design has also changed. The UD7 had 2x PCI Express x16 slots (2 at x16 or 4 at x8), 1x PCI Express x1 slot, and 2x PCI slots. The UD4 has only 1 PCI-Express x16 and 1 PCI-Express x8 slot, and 3x PCI Express x1 slots and 2x PCI slots. So lower frequency (more lanes) PCI-Express slots and more lower frequency PCI Express x1 (single lane) slots.
The UD7 also used the ALC889 Audio controller, while the UD4 uses the ALC892 controller. To our understanding it seems that the ALC892 supports streaming the new lossless multichanel codecs like Dolby True HD and DTS HD, while the ALC889 does not. So it seems that the P67A-UD4 actually comes with a higher-end Realtek controller then the UD7, but the question is whether the user will actually utilize the features of the ALC892 controller. Either way, it is always nice to have a bit more then less.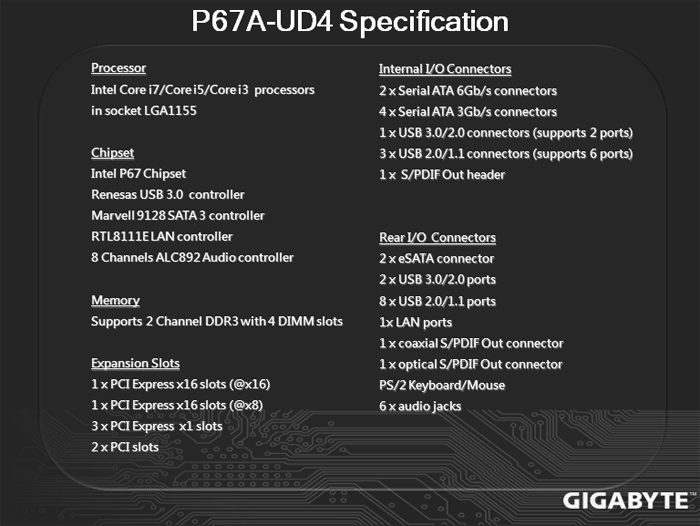 As we mentioned on the previous pages, the number of USB 3.0 and SATA III ports have drastically been lowered on the UD4, but the included number of USB 3.0 and SATA III ports should still be plenty for an average user. We see a missing T.I IEEE 1394 controller, so there is no FireWire port included with the UD4. For those who do video editing, a motherboard with IEEE 1394 might be required, so a great alternative would be the GA-P67A-UD5.
Software Overview

Here are some great applications that GIGABYTE includes with the P67A-UD4 motherboard. Most of these applications also come with other model motherboards, including the Intel platform X58, P55, H57, H55, P45, P43 G41 series motherboards, and AMD 800 and 700 series motherboards, so it's not really an area that we saw an improvement on the P67 lineup of motherboards. For more information about certain features, please make sure to check on GIGABYTE's website for updates.
From what we see from the past, it is very likely that all the new Intel platforms, including the H67, H65, Q67, and Q65 chipsets will include these software, or at least some of them.
The descriptions provided by GIGABYTE do an excellent job explaining what each of the applications do.
Dynamic Energy Saver™ 2
GIGABYTE Dynamic Energy Saver™ 2 incorporates a host of intelligent features that use a proprietary hardware and software design to considerably enhance PC system energy efficiency, Reduce power consumption and deliver optimized auto-phase-switching for the CPU, Memory, Chipset, VGA, HDD, and fans with a simple click of button.
Cloud OC
GIGABYTE Cloud OC is a free overclocking application that facilitates PC overclocking through any web browsing capable device such as a smart phone, iPad, iPhone, Netbooks or notebook PC. Being browser based it connects via wireless Internet, Bluetooth or through an Ethernet cable and its many functions are categorized into three tabs: Tuner, System Info and Control…more
Hotkey OC
GIGABYTE Hotkey OC allows users to create and save various profiles that can be adopted for different benchmarks. Hotkey OC then allows users to jump between these profiles on the fly so that the best profile for each segment within the benchmark can be used to optimize scores and boost overall performance. So, for example, when running 3DMark 06 the 1st profile might be optimized for graphics and can be used for the first two graphics tests, then the next two tests can utilize the 2nd profile which might be optimized for CPU tests, and one could jump back to the 1st profile again for the final two graphics (shader) tests…more
Smart 6- A Smarter way for PC system Management
GIGABYTE Smart 6™ is designed with user-friendliness in mind, and offers a combination of 6 innovative software utilities that provide easier and smarter PC system management. Smart 6™ allows you to speed up system performance, reduce boot-up time, manage a secure platform and recover previous system settings easily with a click of the mouse button.
Smart QuickBoot
No more waiting for PC Boot up

Smart DualBIOS
Smart personal reminder
Smart QuickBoost
One-click Overclocking
Smart Recorder
Your PC's Watch Dog
Smart Recovery
Reverse time for you
Smart TimeLock
Time Controller for PC
AutoGreen- Greening your PC via Bluetooth cellphone
AutoGreen technology can automatically save power for you simply by your bluetooth cell phone when you are away from your computer.
Note: GIGABYTE motherboards do not include a Bluetooth® receiver; the addition of a 3rd party Bluetooth receiver is required.
Unboxing the GIGABYTE GA-P67A-UD4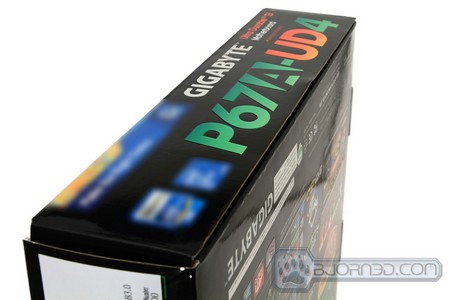 Click Image For a Larger One
When we received the GIGABYTE P67A-UD4 motherboard, we were presented with a standard motherboard box, which most entry and mainstream motherboards are packaged in. The UD7 had a larger box, and also had a front Velcro attached flip cover design. This allowed the buyer to take a look at the motherboard before they decided on buying the motherboard. The P67A-UD4 does not have this front feature, so buyers have to rely on the printed information on the front and back of the motherboard's box.
The front shows off the 2x Copper PCB, part of the Ultra Durable 3 design. We can also see the 3 Year Warranty that GIGABYTE motherboards come with. Unfortunately we had to cover up all the Intel labels due to NDA, but our final Review on the day when NDA will be lifted will have all the information and data available that we cannot disclose now.
On the back of the motherboard, all the main features are shown. For those not familiar with the GIGABYTE features and motherboard design, GIGABYTE implemented a new PCB and component design about 2 years ago called Ultra Durable 3. This design uses a 2x Copper PCB, which is supposed to help lower overall motherboard temperature due to less resistance in the PCB circuits, provide better overclocking, better power efficiency, lower electromagnetic interference, and better electrostatic discharge protection. The Ultra Durable 3 design also comes with high-quality Japanese Solid Capacitors, Lower RDS on MOSFETs, and Ferrite Core Chokes. These components are far better than the lower quality components people receive in most pre-built in-store systems.
Next up, we have the 333 Onboard Acceleration, which includes USB 3.0, USB Power 3x, and SATA III. USB 3.0 provides about 10x the performance of a USB 2.0 port. USB Power 3x provides 3x the actual power that a standard USB port would provide. This allows products like iPods to be charged without needing to use the power outlet in the wall. This also provides much faster charging than a conventional USB port, and in addition, users no longer need special dual-USB cables to provide extra power for power hungry devices like USB hard drive enclosures. Finally, SATA III provides up to twice the performance of SATA II, and up to 4x the performance when used in RAID0 over SATA II.
Finally, the last section on the back of the motherboard shows the On/Off Charge feature of the motherboard, as well as the included software and other features mentioned in the Features section of this preview.
Click Image For a Larger One
Opening up the box of the P67A-UD4 motherboard is very simple, however we do not like the way the internal setup is designed. With most entry and mainstream motherboard boxes, the top cover, which includes all the accessories, is not connected with the lower cardboard padding which holds the motherboard. For GIGABYTE, this is actually connected, making it very inconvenient to get access to the motherboard when accessories are present on the top, because all the accessories will start sliding and dropping everywhere once it is lifted. With other motherboards, we liked that the top accessory holder would separate from the actual motherboard cardboard protection cover. This way the accessories can just be lifted off the motherboard without needing to place them separately anywhere else.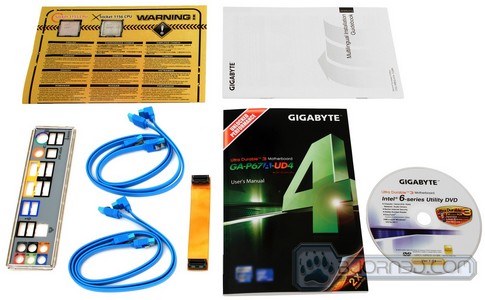 Click Image For a Larger One
Originally the cables and adapters are packaged in bags, but we took all the accessories out of the bags for a better look. There are not many accessories included with the UD4 motherboard. This is a bit disappointing, but then again, an average user will not need more. It would have been nice to see 6 SATA cables rather than just 4, because there are a total of 6 SATA connectors on the motherboard. Additionally, the baby blue color of the SATA cables on top of a nicely designed black and dark blue motherboard looks plenty ridiculous. The I/O shield plate also looks like something from the 80s. It would have be nice to see black SATA cables and a black I/O shield plate.
The following accessories are provided with the GIGABYTE GA-P67A-UD4 motherboard:
Motherboard Driver Disk
User's Manual
Quick Installation Guide
Four SATA cables
I/O Shield Plate
One 2-Way SLI bridge connector
Optional Items:
2-port USB 2.0 bracket
2-port SATA power cable
COM Port cable
An Overview of the GA-P67A-UD4's Design
Click Image For a Larger One
While the GIGABYTE P67A-UD7 looked a bit funky when we first saw pictures from IDF 2010, it turned out to be a lot better looking than what we expected. The P67A-UD4 looks very nice in pictures, and it is also very nice looking in person, but we still believe that overall, the UD7 takes the gold medal for overall color design. The first thing we notice is that the UD4 still uses the nice black PCB design and the same heatsink design as the UD7. An easy way of distinguishing which motherboard is entry level and which is mainstream and enthusiast level is by looking at the PCB color design. The old baby blue design in the H67 and P67 chipset motherboards indicates entry and mainstream level motherboards, while the black PCB indicates mainstream and high-end motherboards. We consider the P67A-UD4 as a mainstream level motherboard. 
Click Image For a Larger One
One of the first disappointments on the P67A-UD4 motherboard was the way the heatsinks were mounted onto the motherboard. The UD7 used screws to tightly attach all the motherboard heatsinks onto the Driver MOSFETs and chipsets. The UD4 uses the old weak push-pin design heatsink mounting pins. These do keep the heatsinks in contact with the components as well as screws would. The problem with push-pin design heatsinks, however, is that they can also be easily moved when a small force is pushed against it. For those running cables around the motherboard, such tight fits can look nice but also push against motherboard coolers. With a push-pin design, a slightly forced cable could dislodge the heatsink, causing problematic cooling for the MOSFETs. While this has never happened to us, we wouldn't be surprised if it happened to someone else.
Click Image For a Larger One
Stlil, the overall heatsink design is great on the UD4, and most likely will not be a problem for anyone. We can also see that there is no need for an extended heatpipe solution towards the middle of the board, because the P67A-UD4 does not come with a NF200 chipset. The NF200 chipset provides the user with 3-way SLI support and extra performance for 2-Way SLI users over the non-NF200 design. Without the NF200 chip, the user is not able to run 3-way SLI.
On the second picture, we can see the back panel connectors of the UD4. These connectors include the following:
1x PS/2 keyboard/mouse port
1x coaxial S/PDIF Out connector
1x optical S/PDIF Out connector
8x USB 2.0/1/1 ports
2x USB 3.0/2.0 ports
2x eSATA 6Gb/s ports
1x RJ-45 port
6x audio jacks (Center / Subwoofer Speaker Out / Rear Speaker Out / SideSpeaker Out / Line In / Line Out / Microphone)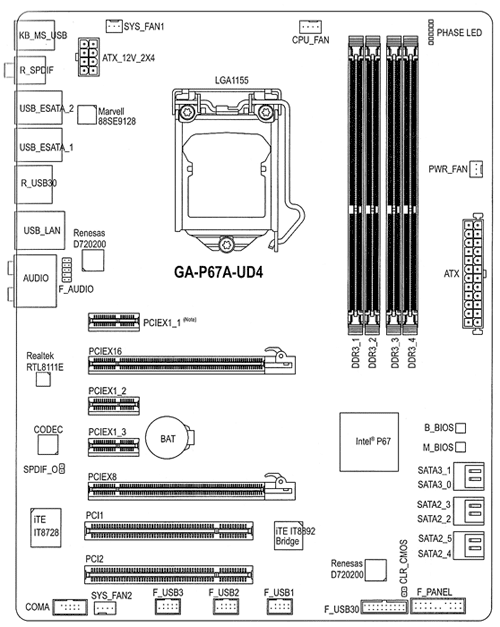 Click Image For a Larger One
On the 5 pictures above, we can see the motherboard's main specifications. Let's start off with the most noticeable slots — the expansion slots. The first PCI-Express slot from the top is a x1 slot, followed by the first PCI-Express x16 slot and two more PCI-Express x1 slots. The PCI-Express x1 slots are mainly useful for add-on cards like sound cards, or USB 3.0 cards. The PCI-Express x16 slot is designed for the main graphics card, while the next PCI-Express x8 slot is designed for a second graphics card. In our case, we will be using the second PCI-Express x8 slot with an LSI 3ware SAS 9750-8i RAID controller. The final two slots on the UD4 are standard PCI slots, which are great for those using older PCI sound cards or Wi-Fi cards.
If we look around the motherboard, we can see four fan headers. It would have been nice to see at least 5 fan headers on this motherboard, considering that it is a high mainstream motherboard. From the 4 fan connectors, only 2 are PWM 4-pin connectors. Also, to the top right hand corner of the motherboard we can see the PHASE LEDs, which are responsible for showing the CPU loading. The more LEDs are lit, the higher the CPU load.
The Intel P67 chipset is located where most South Bridge chipsets would be located on an X58 motherboard, and we can see that there is no NF200 chipset located in the middle of this motherboard. There are two Renesas D720200 controllers on this motherboard, providing up to 4 USB 3.0 connectors: two at the rear of the motherboard and two optional ones when combined with the front panel USB 3.0 adapter.
A Closer Look at the GA-P67A-UD4
Click Image For a Larger One
The first major controller we see on the motherboard is the ITE IT8728 controller. This controller supports the COM Port if the user gets the optional COM port cable, as well as the PS/2 KB/Mouse ports. The following controllers are the Realtek RTL8111E port for the Gigabit LAN and the Realtek ALC892 audio controller (codec). The ALC892 codec is a Digital to Analogue converter with a 108 dB Signal-to-Noise ratio playback quality. The audio on this motherboard is also Dolby certified, meaning that the overall quality of the audio should be decent.
Moving up the board, we can see the Renesas (NEC Japan) D720200 controller. This is the USB 3.0 controller. There is another Renesas D720200 controller to the bottom right hand side of the motherboard which we will see in the next few pictures below.
Click Image For a Larger One
Next to the Driver MOSFET cooler, we can see a Marvell 88SE9128 controller. This controller is designed to run the two eSATA III ports at the back connectors of the motherboard. Next to the USB connectors, we can also see small fuses. These fuses provide extra power and ensure lower voltage drop for the USB ports. On the second picture we can see the rear ports again which we have already talked about on the previous page.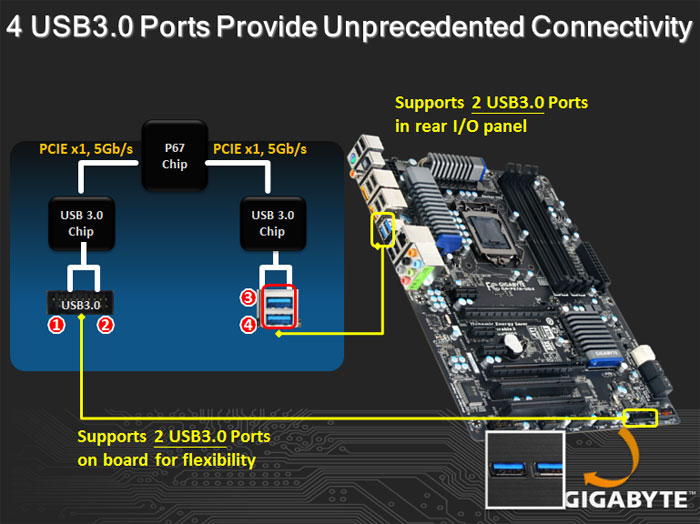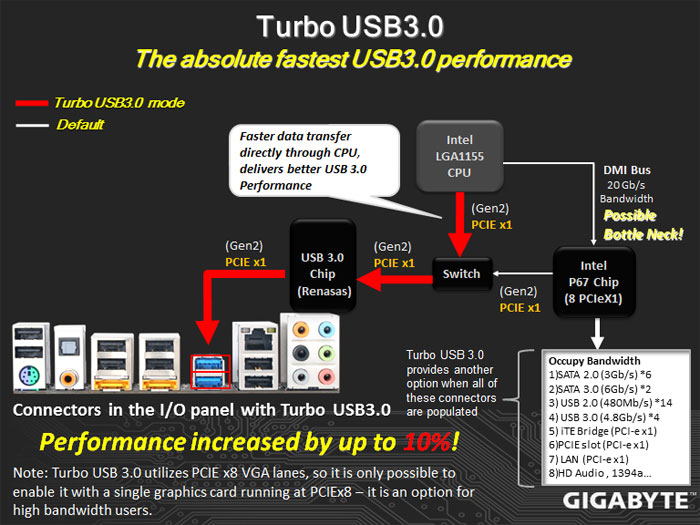 The GIGABYTE P67A-UD7 also has a 3x Power Boost for all the USB ports just like the X58A-UD7 had. This helps tremendously when using USB compatible power-hungry devices which usually require two USB ports to power up, or for charging devices like the iPhone or iPad at a faster rate than on a system that does not have 3x the voltage running through the USB ports. The two top power point slides explain what each chip is exactly responsible for.
Click Image For a Larger One
Here is a closer look at the expansion slots we've seen in previous pictures. We can see that the CMOS battery is located between the PCI-Express slots.
The second picture shows some of the connectors on the motherboard. Starting from the left hand side, the first connector is the optional COM connector that the end-user can get an optional cable for if needed. Right next to the COM connector, we have a SYS_FAN2 PWM 4-pin fan header, and 3 front USB ports. The last USB port supports the On/Off charge feature allowing the user to charge their USB devices even when the PC is off. This USB port can also provide enough power to fully charge an Apple iPad.
Click Image For a Larger One
Moving further to the bottom right of the UD4, we can see the optional Front USB 3.0 connector which is controlled by the Renesas D720200 controller, and the front panel connectors for the Power and HDD LEDs, Power and Reset switches, and finally the speaker and chassis intrusion headers.
Looking at the motherboard from the right hand side, we can see 4x SATA 2 ports (black) and 2x SATA 3 ports controlled by the P67 chipset. 
Click Image For a Larger One
Here, we can see GIGABYTE's Patented Dual BIOS. The inclusion of two BIOS chips is a fail-safe measure. In the event of a BIOS failure on one chip, the system will automatically start using the second one so the first one can be reflashed. This will save the user the hassle of an RMA, and can make overclocking more fun and less dangerous. Unfortunately, there is no option to manually switch between the BIOS chips as we could do on the ASUS Rampage III series motherboards. Instead, the system reverts to the second BIOS automatically if it detects a failure in the main BIOS.
On the second picture we see the nicely designed South Bridge (P67 chipset) cooler. Its heatsink design is shaped such that a front fan would have easy air circulation throughout the heatsink for best possible cooling.
From the diagram above, we can tell that the Marvell 9128 chip controls the rear eSATA III ports, while the Intel P67 chip controls the white SATA III ports.
Click Image For a Larger One
Moving towards the memory slots, we can see a dual power phase design for the memory slots. This will provide for optimal voltage regulation and stable current to the memory modules. We can see a total of 4 DDR3 memory slots. Unfortunately, the P67 motherboards will only have up to 4 memory slots. Depending on the motherboard it could support from 8GBs to 32GBs of DDR3 memory altogether. At this moment we can see that there are no Power and Reset switches provided on the P67A-UD4 motherboard. This is interesting, because most mainstream motherboards would still come with these switches. We cannot see any CMOS reset switches either. It appears that users will have to use the old fashioned method for resetting the CMOS: when system fails to boot, the user needs to turn off the PC, and keep holding the Power Button down the next time the PC is turned on to reset the CMOS. At the top of the motherboard we can also see the PHASE LEDs and the 3-pin PWR_FAN header.
Click Image For a Larger One
The small chip we see right next to the Driver MOSFET cooler is the VRD12 PWM controller. With the VRD120 controller, higher accuracy is present in V-core control because of the elimination of digitization errors. This is a hardware design, meaning it will not carry the risk of firmware crashes, and it has a greater tolerance to ESD and electrical noise, therefore reducing component damage. Right below the VRD12 chip, we have a PWM 4-pin fan header. On the second picture we see the final 3-pin fan connector and the 8-pin CPU power connector.  
Click Image For a Larger One
Finally, we can see a very clean design of the 12 phase power that GIGABYTE implemented on this motherboard. This is the perfect amount of phase power for users that are looking into keeping their PCs running at overclocked settings 24/7. These pictures show the LGA1155 socket, which will be used by the latest Sandy Bridge processors. We'll have performance results available when the motherboard can finally be fully reviewed.
 
Final Thoughts

The GIGABYTE P67A-UD4 motherboard looks like an excellent motherboard for average and high-end gamers and enthusiasts. The overall motherboard has a very clean and high-quality design just like the GIGABYTE P67A-UD7 did, which represents GIGABYTE's Ultra Durable 3 motherboards really well, but we were dissapointed with the push-pin design heatsinks on this motherboard. It would have been a much sturdier design if the motherboard had screws instead of pushpin design heatsinks. How much extra would have 6 more screws cost? Probably not even $2.
While overclocking for GIGABYTE motherboards seems to be a clear marketing scheme, we must agree that these boards are always a snap to work with, and we believe that this motherboard is an excellent choice for even an everyday average and high-end user. While the UD3P/R might be a great option as well, the UD4 seems to be the sweet spot for great overall specifications and features. However, we do believe that GIGABYTE should have included an IEEE 1394 port on the P67A-UD4 to really make this motherboard the best choice for all types of users.
Reviewer's Opinion:
If you need a motherboard that will provide excellent stability, quality, high performance, and overall nice collection of features, the P67A-UD4 will be a great choice. If you are a video editor, and you need at least one FireWire (IEEE 1394) port, then the P67A-UD5 will be the motherboard for you. But if you know for a fact that you will not need two PCI-Express x16 and x8 slots, and would like to stay on the budget side, then the GA-P67A-UD3R would still be a nice option with up to 2 USB 3.0 ports and 2 SATA 3 ports.
On the other hand, the ASUS P8P67 Pro motherboard might be an excellent choice as well, because it comes with almost the same specifications that the GIGABYTE P67A-UD4 comes with, except it also has a FireWire and a bluetooth antenna to communicate with your bluetooth powered devices.
Finally, if you need the top of the line performance in 3-Way SLI or 3-way CrossFireX configuration as well as beastly overclocking performance for the processor, while also having lots of USB 3.0 and SATA III slots, the GIGAYBTE P67A-UD7 or the ASUS Maximus IV Extreme might be your best pick.   
Editor's Opinion:
I like this board a lot. I've gotten to see it personally, and it looks great. More importantly, however, it provides an opportunity to upgrade. I've been stuck with a Core 2 Duo for many years now, and I always wanted to upgrade. I never considered it because the introduction of a new socket every year is tough on the pocketbook (the LGA 775 is a rare exception). But with the P67A-UD4, those who want great hardware can get it without having to spend a fortune on features they don't need.
Having seen so many P67 boards now, I am torn as to which one to buy, but the UD4 is definitely on my short list. The inclusion of several useful features for consumers and the reduction of features that only the most extreme overclockers require make this a great product for most end-users. I am a bit disappointed that the board's SATA ports have been cut down, though. Nonetheless, this is a great board, and I might buy it myself.