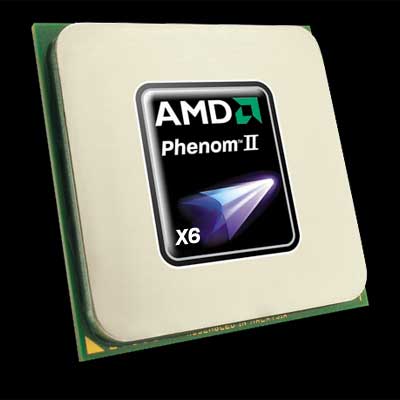 AMD once again bumped up the speed of their Phenom X6 processor by launching the Phenom X6 1100T that is clocked at 3.3 GHz with 3.7 GHz Turbo mode. Stayed at 95W power envelope, this maybe the fastest Phenom II processor we will seen before next generation of CPU.
INTRODUCTION
AMD has once again updated their current processor line up. In September 2010, AMD released the six-corePhenom II X6 1075T, 1055T, and Phenom II X4 970 BE (the fastest quad core Phenom so far) based on the K10 microarchitecture. We did not expect AMD to release any faster six-core Phenom processors, but we were quickly proven wrong. Today, AMD has released the fastest six-core processor based on the Thuban core: the Phenom II X6 1100T BE clocked at 3.3 GHz, which will take the helm as the company's flagship processor.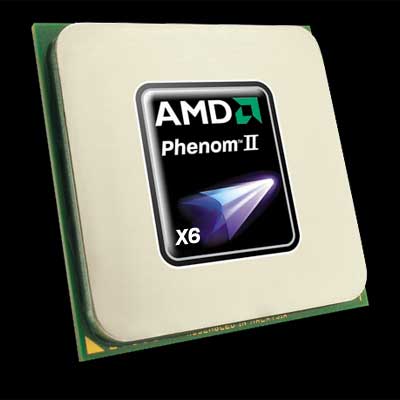 This is probably the last processor update based on the K10 microarchitecture that we first saw back in 2007. The K10 has gone through a die shrink, been supplemented with DDR3 memory support, and has been packed with extra cores, but the underlying technology has not changed much since 2007. Next year, we will see a brand new microarchitecture from AMD codenamed Bulldozer. Until then, the Phenom X6 1100T will take the lead.
Like its flagship predecessor Phenom II X6 1090T, the 1100T is a Black Edition, meaning it has an unlocked multiplier, allowing for greater overclocking headroom. When we reviewed the Phenom X6 1075T back in September, we noted our wish for the 1075T to have come with an unlocked multiplier. The 1100T is 100MHz higher than the Phenom II X6 1090T, with Turbo Core frequency up to 3.7 GHz. AMD increased the clockspeed while keeping the power envelope at 125W so that the processor would fit into any motherboard currently supporting 125W AM3 processors. Some boards may need a quick BIOS update but our Asus Extreme IV Maximus did not, and recognized the processor immediately.
There are no other changes to the last 1100T. The processor is still manufactured based on the Thuban core with 45nm SOI, and is packed with 128KB (64KB instruction and 64KB data) per core, 4KB L1 cache, 6x512KB L2 cache, and 6MB shared L3 cache. The memory controller is still dual-channel and supports speed up to DDR3-1600MHz.
Since the 1100T is designed to replace the 1090T, AMD had to do a bit of price shuffling to make room for the new CPU. The new processor will be retailed at $265, slightly cheaper than the 1090T's original retail price. In fact, AMD has already slashed the price of the 1090T to $235, paving the way for the 1100T. At a retail price of $235, the 1090T is even more attractive six-core than it used to be. For current pricing of AMD processors, check out the company's website or an online retailer, such as Newegg:
| | | | | | |
| --- | --- | --- | --- | --- | --- |
| | Core Clock | Max Turbo | Cache (L2/L3) | TDP | Price |
| Intel Core i7 980X | 3.33GHz | 3.60GHz | 1.5MB/12MB | 130W | $999.00 |
| Intel Core i7 970 | 3.2GHz | 3.42GHz | 1.5MB/12MB | 130W | $899.99 |
| AMD Phenom II X6 1100T | 3.3 GHz | 3.7 GHz | 3MB/6MB | 125W | $265.00 |
| AMD Phenom II X6 1090T | 3.2 GHz | 3.6 GHz | 3MB/6MB | 125W | $235.00 |
| AMD Phenom II X6 1075T | 3.0 GHz | 3.5 GHz | 3MB/6MB | 125W | $199.99 |
| AMD Phenom II X6 1055T | 2.8GHz | 3.3 GHz | 3MB/6MB | 125W | $179.99  |
| Intel Core i7 975 | 3.33GHz | 3.6GHz | 8MB | 130W | $562.00 |
| Intel Core i7 950 | 3.06 GHz | 3.33GHz | 8MB | 130W | $299.00 |
| Intel Core i7 930 | 2.8GHz | 3.06GHz | 8MB | 130W | $284.00 |
| AMD Phenom II X4 965 BE | 3.4GHz | N/A | 2MB/6MB | 125W/140W | $185.00 |
| Intel Core i7 870 | 2.93GHz | 3.6GHz | 8MB | 95W | $284.99 |
| Intel Core i5 750 | 2.66GHz | 3.2GHz | 8MB | 95W | $194.99 |
In addition to the 1100T, AMD also launched a dual-core Phenom II X2 565 BE 3.4 GHz at $115, and a triple-core Athlon II X3 455 at $87. Again the Black Edition versions are as always with unlocked multiplier.
Testing & Methodology
Since AMD priced the X6 1075T between the Intel Core i7 and Core i5, we decided to do a direct comparison between the two system setups. We tried to make both systems as similar as we could, including hard drive, memory, graphic cards, so the only variables would be the processor and motherboard. We overclocked the Core i7 920 to 2.8GHz to mimic the speed of the Core i7 930 currently available on the market ($284 MSRP). In addition, we also threw in the scores of a few other processors we have tested previously, in order to see how the 10975T compares against other processors.
Intel H67/P67 system:
Skythe Ninja Rev B cooling
Asus P8P67 Deluxe or Intel DH67BL
2×2 GB Corsair DDR3 @ 1333 MHz  (H67) @ 1600 MHz (P67)
Apacer 64 GB SSD for OS
SATA6 drive specs
Kingston 64 GB V+ SSD in Icy Dock USB3-enclosure
XFX HD5870 Eyefinity Edition 2 GB video card
Cougar 550W PSU
Intel X58 system:
Core i7 920 OC to 2.8GHz
Cooler Master V6
Gigabyte EX58-UD4P
6 GB Kingston DDR3 @ 1600 MHz
Seagate 7200.12
Gigabyte HD5770  Super Overclocked
Cooler Master UCP 900W
AMD Phenom II X6 system:
AMD Phenom X6 1075T
Thermalright SI-128
4 GB Kingston DDR3 @ 1600 MHz
ASUS Crosshair IV Extreme
Seagate 7200.12
Gigabyte HD5770  Super Overclocked
Cooler Master UCP 900W
The OS for all systems were Windows 7 Professional 64-bit. We used Acronis True Image 11 to set up each system with a fresh install of Windows 7.
In addition to all the drivers, we also installed AMD OverDrive on the AMD systems.
OVERCLOCKING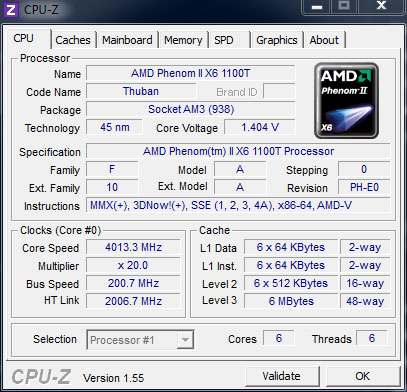 Since the Phenom II X6 1100T has an unlocked multiplier, overclocking it is very simple. All we have to do is raise the multiplier without messing with any of the FSB and HyperTransport settings. At the default voltage of 1.389 V, we were able to get the system up to 4.0 GHz without any issue. Raising the voltage to 1.4V keeps the system running smoothly. We did not have to increase any additional voltages to keep the system stable. For those who are willing to spend the extra time can overclock each individual core, separately so the Turbo Core will work and throttle the system depending on load.
Our previous experience with AMD six-cores is that they often overclock quite easily to 3.8GHz, and this is the first time that we were able to achieve 4GHz without any trouble. Achieving 4GHz with air cooling on a 45nm core is not a bad result. In fact, it only took us a couple of minutes to raise the multiplier and the voltage. The higher bin of the X6 1100T seems to be the reason that we were able to achieve such clockspeed with such ease.
One thing overclockers should watch is the power consumption. With the system overclocked to 4GHz, the idle power consumption is 146W, as compare to 106W at stock speed. Under load, the system consumes 306W of power, 76W more than the stock speed.
We did notice that while we set the CPU voltage is set as 1.4v in the BIOS, in Windows, our motherboard would fluctuate between 1.4 and 1.5V, and during Prime95 test, it stayed at 1.45V.
SysMark 2007 Preview
SYSMark 2007 Preview is a tool developed by Bapco that supports both 32bit and 64bit Windows XP, Vista, and 7. The benchmark is application-based reflecting the usage pattern of the common desktop user. The benchmark focuses in four areas: E-learning, 3D, Productivity, and Video Creation. While the test is designed primarily for testing processors, it can also used to reflect hard drive performance in real-life scenarios. This gives us a great idea on how the processor performs under these CPU intensive applications.
The i7 920 comes in with 3 points more than the X6 1100T.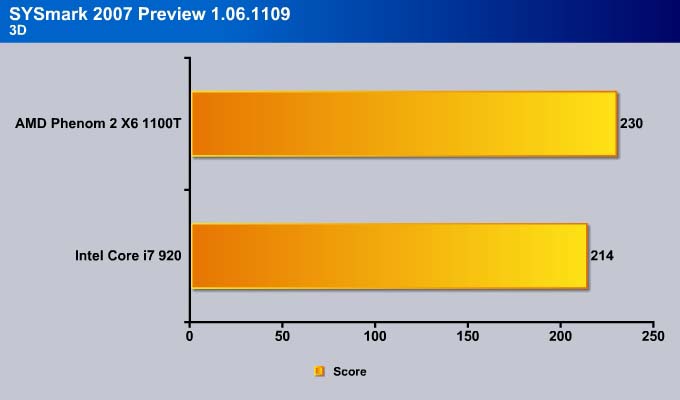 The 3D test suite consists of Autodesk 3DS, 3DSMax, and Google SketchUp. It's no surprise that having a six-cores has a great benefit in these applications. For users who plan to use their computers primarily for 3D modeling and rendering, the X6 1100T will definitely be a good choice over any quad core processor.
The E-Learning test suit consists of Microsoft PowerPoint 2003, Adobe Photoshop CS2, Adobe Flash 8, and Adobe Illustrator. The test consists of tools used for creating web based interactive applications. The Intel Core i7 has an edge over the X6 1100T in this test.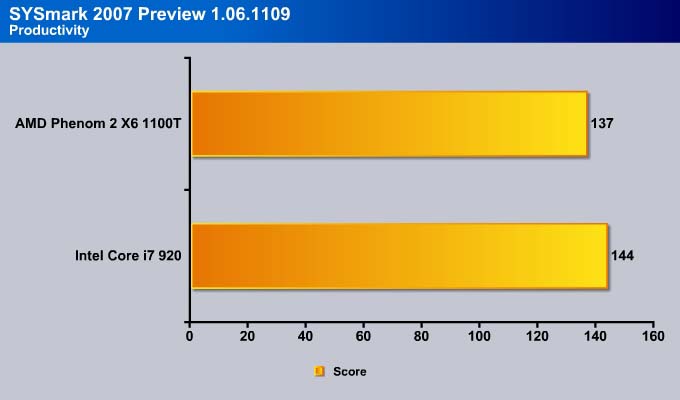 The Productivity test consists of Microsoft Office Suite (Project, Excel, Outlook, PowerPoint, and Word) and Winzip. This test simulates common office applications and is a good test showing the processor's power under common desktop usage. The Core i7 920 scored 144 points, 7 points more than the X6 1100T. Office applications are not heavily threaded enough to take the advantage of the six-cores, so the more efficient i7 wins here.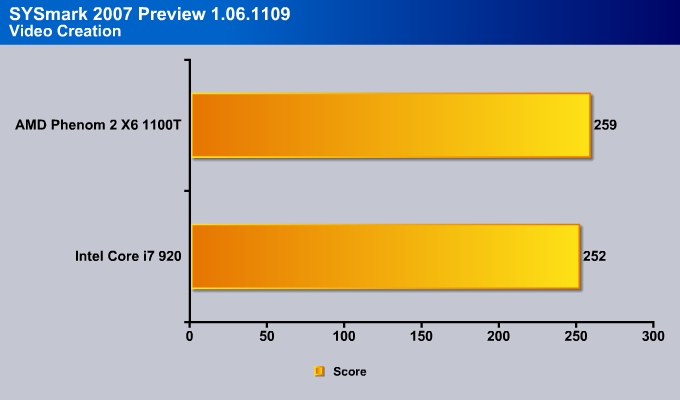 The Video Creation test consists of tools for editing and creating movies. The test includes Adobe After Effects 7.0, Adobe Photoshop CS2, Sony Vegas 7.0, Microsoft Windows Media Encoder 9, and Adobe Illustrator CS2. It's no surprise that the X6 1100T comes ahead of the i7 920, because video editing and ecoding are heavily threaded and need a fast processor to process the large amount of data. These applications also are able to utilize the extra cores on the processor.
Everest Ultimate v.5.50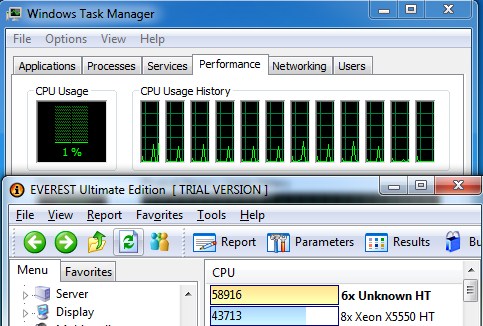 "EVEREST Ultimate Edition is an industry leading system diagnostics and benchmarking solution for enthusiasts PC users, based on the award-winning EVEREST Technology. During system optimizations and tweaking it provides essential system and overclock information, advanced hardware monitoring and diagnostics capabilities to check the effects of the applied settings. CPU, FPU and memory benchmarks are available to measure the actual system performance and compare it to previous states or other systems. Furthermore, complete software, operating system and security information makes EVEREST Ultimate Edition a comprehensive system diagnostics tool that offers a total of 100 pages of information about your PC."
CPU AES
This integer benchmark measures CPU performance using AES (a.k.a. Rijndael) data encryption. It utilizes Vincent Rijmen, Antoon Bosselaers', and Paulo Barreto's public domain C code in ECB mode.
CPU AES test uses only the basic x86 instructions, the test consumes 48 MB memory, and it is Hyper Threading, multi-processor (SMP) and multi-core (CMP) aware.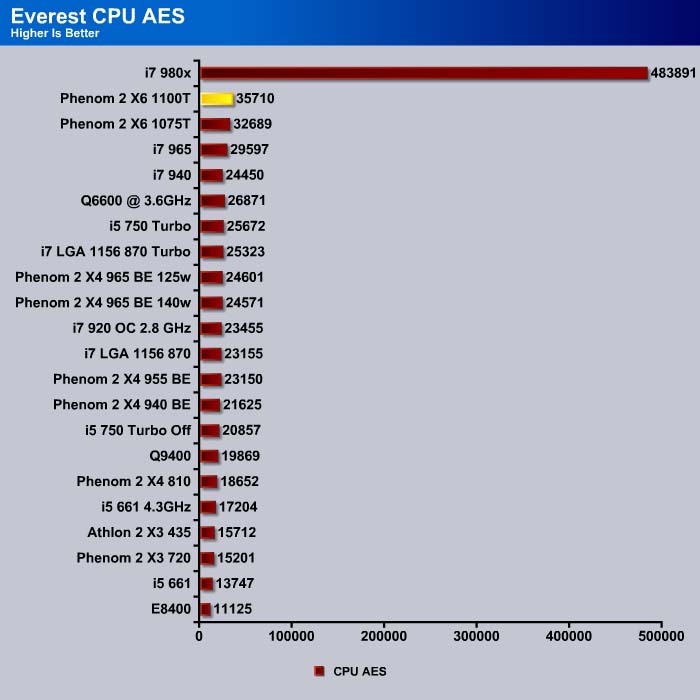 As expected, the Phenom 2 X6 1100T scored the highest point for AMD. The Intel Core i7 980X still has a massive edge, but the X6 1100T is able to come ahead of the i7 960.
CPU PhotoWorxx
This integer benchmark performs different common tasks used during digital photo processing.
It performs the following tasks on a very large RGB image:
• Fill
• Flip
• Rotate90R (rotate 90 degrees CW)
• Rotate90L (rotate 90 degrees CCW)
• Random (fill the image with random colored pixels)
• RGB2BW (color to black & white conversion)
• Difference
• Crop
This benchmark stresses the integer arithmetic and multiplication execution units of the CPU and also the memory subsystem.
CPU PhotoWorxx test uses only the basic x86 instructions, and it is Hyper Threading, multi-processor (SMP) and multi-core (CMP) aware.
The PhotoWorxx tests both the CPU and the memory subsystem, so it gives a slightly more realistic result. Here, the X6 1100T edges out the i7 750 but comes behind the i7 870. The i5 750 with Turbo enabled is able to out-perform the AMD processor.
CPU Queen
This simple integer benchmark focuses on the branch prediction capabilities and the misprediction penalties of the CPU. It finds the solutions for the classic "Queens problem" on a 10 by 10 sized chessboard.
CPU Queen test uses integer MMX, SSE2 and SSSE3 optimizations. It consumes less than 1 MB system memory and it is Hyper Threading, multi-processor (SMP) and multi-core (CMP) aware.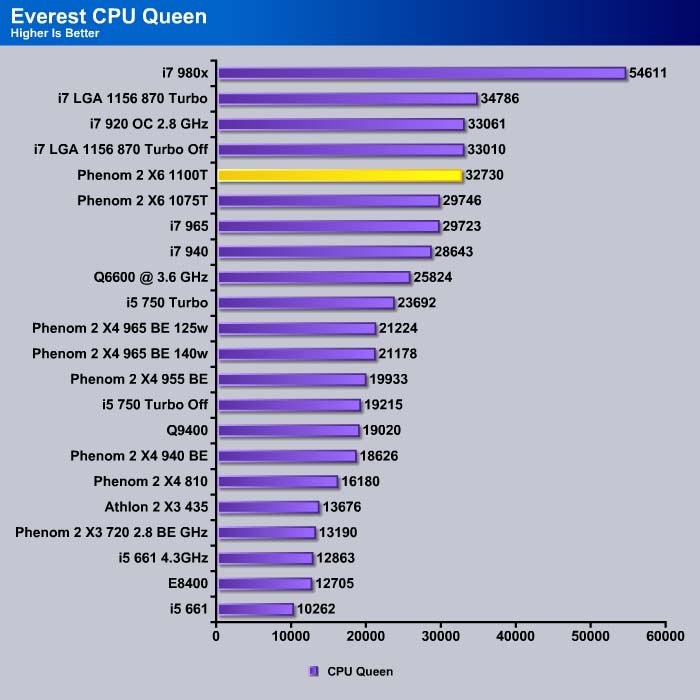 The CPU Queen test again shows us the advantage of six cores, so the 1100T scores fairly well here, coming in just a tad under the i7 870, which is priced at $10 more. With triple channel memory, the overclocked 920 actually puts out a higher score than the 1100T.
CPU Zlib
This integer benchmark measures combined CPU and memory subsystem performance through the public ZLib compression library Version 1.2.3 (http://www.zlib.net).
CPU ZLib test uses only the basic x86 instructions, and it is Hyper Threading, multi-processor (SMP) and multi-core (CMP) aware.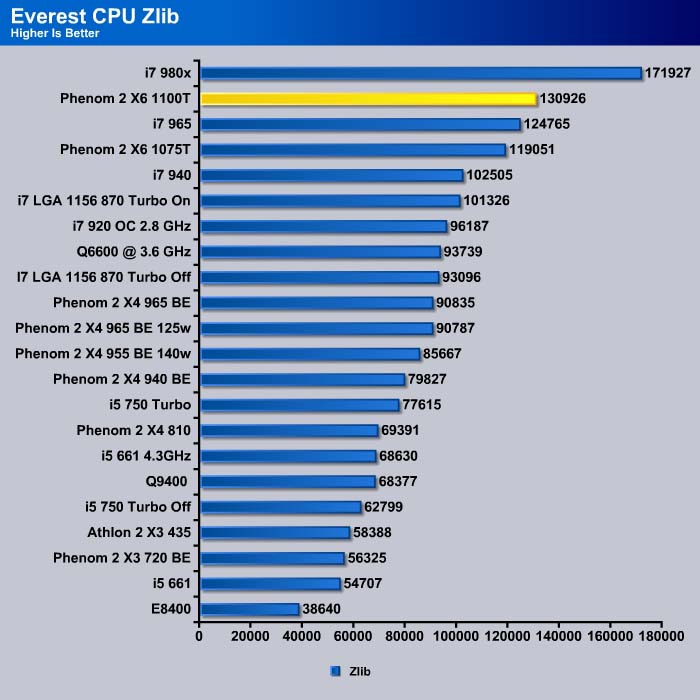 ZLib is heavily threaded, and this is where we can really see the benefit of the six-core processor. Here, the Phenom II X6 1100T took second place after the i7 980X.
Everest Memory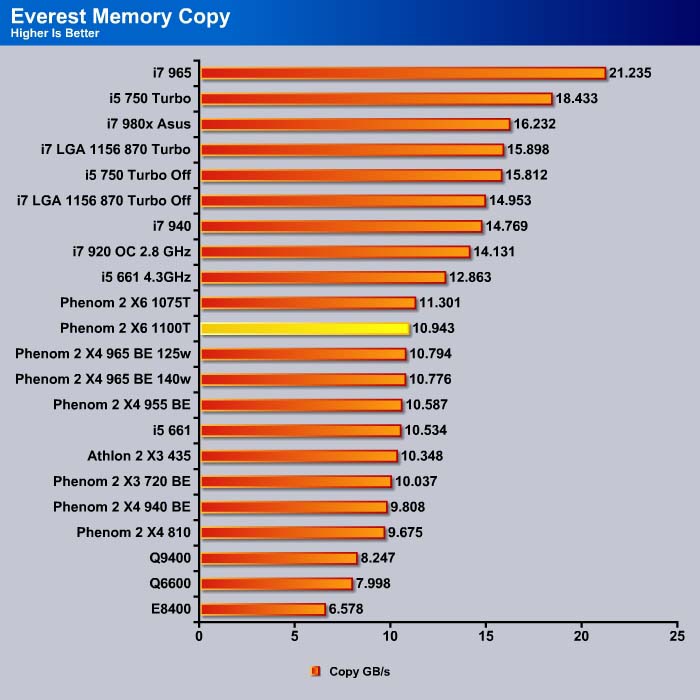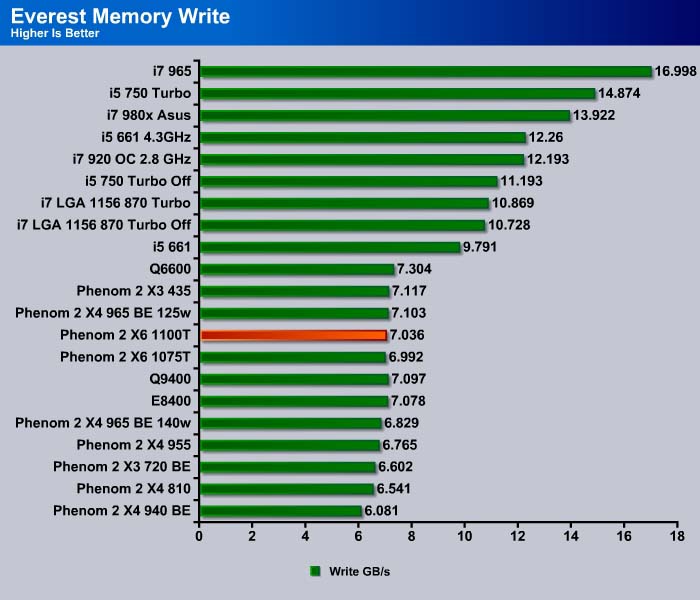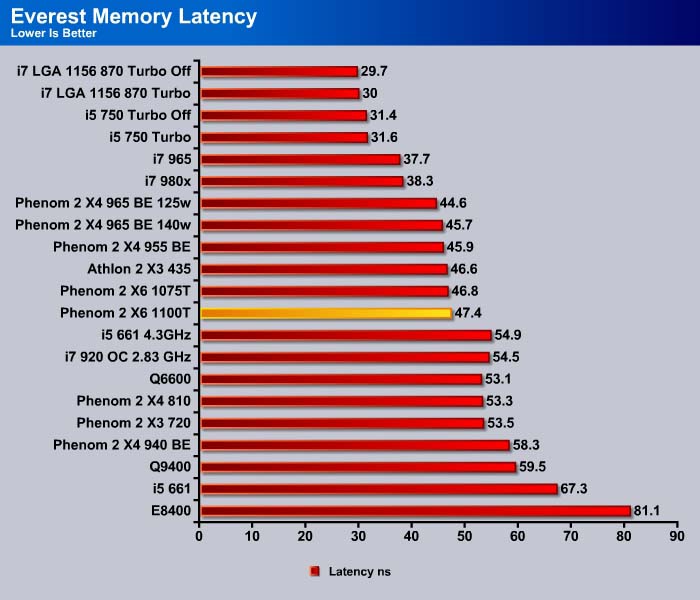 With the same memory controller on the AMD Thuban based processors, we get very similar memory performance across all AMD processors. The triple channel Intel processors dominate the memory read and write, followed by the dual-channel Intel i5 and i7, and AMD often comes in a tad behind the dual-channel Core i7 and i5.
WinRar 3.8

Notice WinRar is driving 6 cores and the hyperthreaded cores aren't used. This is one reason why we use a wide variety of benchmarks: we want to see performance across a wide range of conditions.
This module in WinRar generates random data, which contains specially introduced redundancy, increasing the load to both the processor and memory. Data is then passed through RAR compression and decompression algorithms, and the output of the decompression algorithm is compared to the source data. If any differences are found, WinRar then reports "Errors found – Yes" in the command window. WinRar displays a size of processed data and compression speed, current and resulting, in kilobytes per second.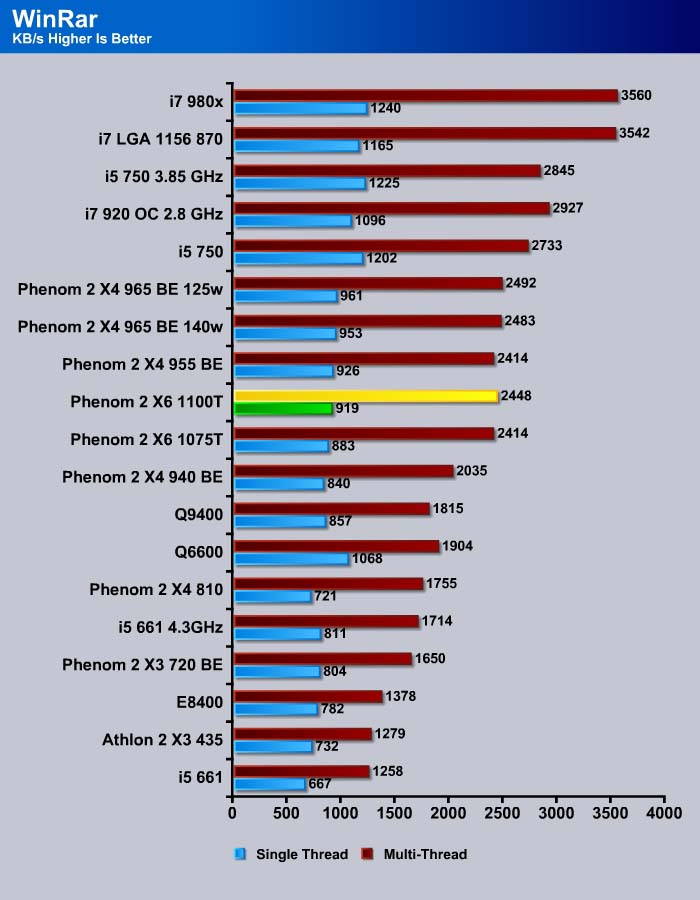 WinRar gives best results with a faster CPU and memory subsystem, so we do not expect it to stress all of the Phenom 2 X6 1100T's six cores. In fact, both the X6 1175T and X6 1100T showed very similar performance, with the 1100T showing a slightly better score in the single thread. The Core i5 has a slightly advantage with archiving due to its faster IPC.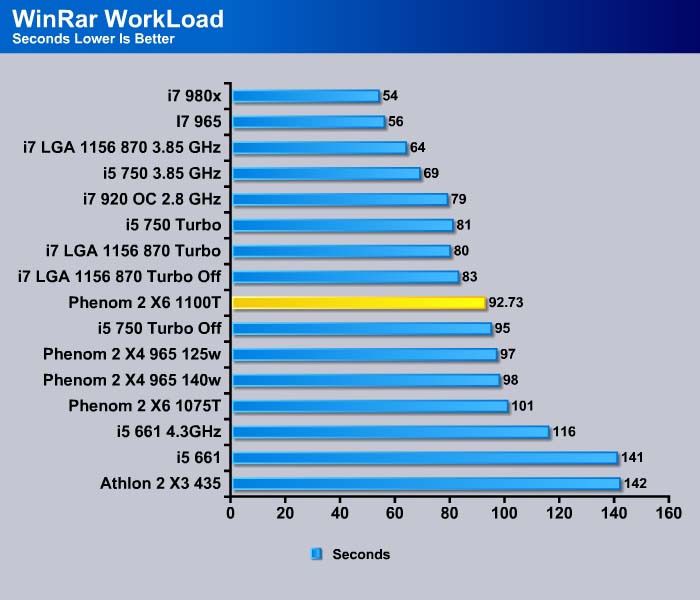 We ran the WinRar workload test, in which we compress several large image files and record the time. As expected, the higher memory performance of the i7 shows a clear dominance over the Phenom processors. The X6 1100T is able to shed 9 seconds off and finishes the task in 92.73 seconds, compare to the X6 1075T. The i5 system shows a much greater performance than expected.
Sisoft Sandra 2010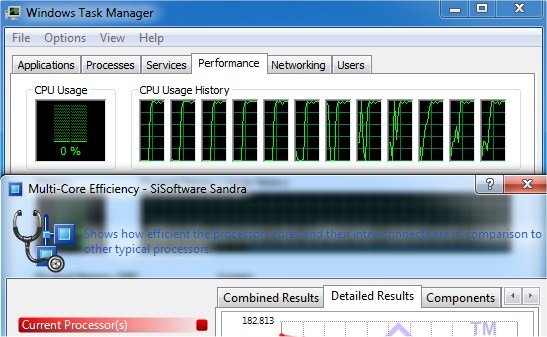 "SiSoftware Sandra (the System Analyzer, Diagnostic and Reporting Assistant) is an information & diagnostic utility. It should provide most of the information (including undocumented) you need to know about your hardware, software and other devices whether hardware or software. It works along the lines of other Windows utilities, however it tries to go beyond them and show you more of what's really going on. Giving the user the ability to draw comparisons at both a high and low-level. You can get information about the CPU, chipset, video adapter, ports, printers, sound card, memory, network, Windows internals, AGP, PCI, PCI-X, PCIe (PCI Express), database, USB, USB2, 1394/Firewire, etc."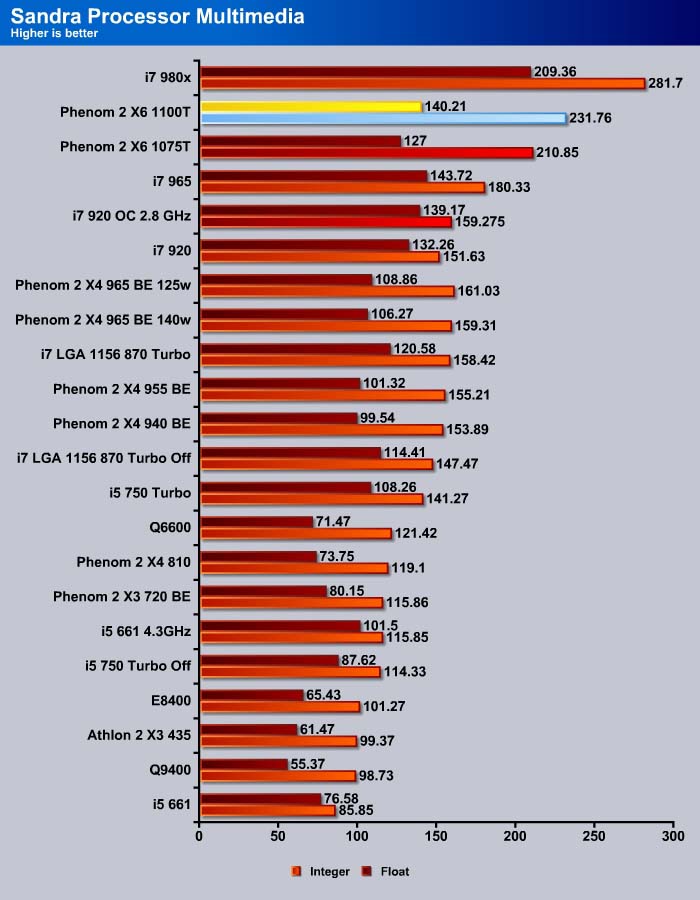 The Sandra Processor Multi-Media result for the X6 1100T was rather impressive, and further evidence of the benefit of extra cores. Video editing and 3D model rendering are definitely the X6 1100T processor's strong points.
The Processor Arithmetic test shows that the X6 1100T falls just under our Core i7 920, with 67.27 points in Dhrystone and 76.91 points in Whetstone.
Pov-Ray 3.7 Beta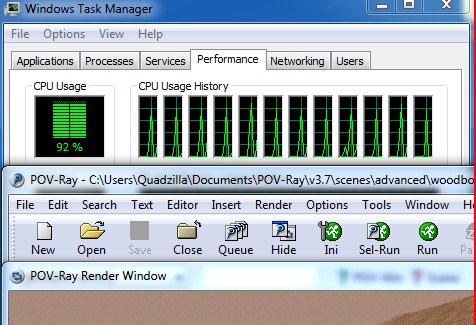 The Persistence of Vision Ray-Tracer was developed from DKBTrace 2.12 (written by David K. Buck and Aaron A. Collins) by a bunch of people (called the POV-Team) in their spare time. It is a high-quality, totally free tool for creating stunning three-dimensional graphics. It is available in official versions for Windows, Mac OS/Mac OS X and i86 Linux. The POV-Ray package includes detailed instructions on using the ray-tracer and creating scenes. Many stunning scenes are included with POV-Ray so you can start creating images immediately when you get the package. These scenes can be modified so you do not have to start from scratch. In addition to the pre-defined scenes, a large library of pre-defined shapes and materials is provided. You can include these shapes and materials in your own scenes by just including the library file name at the top of your scene file, and by using the shape or material name in your scene. Since this is free software feel free to download this version and try it out on your own.
The biggest difference between POV-Ray 3.6 and 3.7 Beta 25 is SMP (symmetric multiprocessing) support, which means that POV-Ray can take advantage of as many cores as the CPU has. On Single vs Dual CPU systems, the speed almost doubles.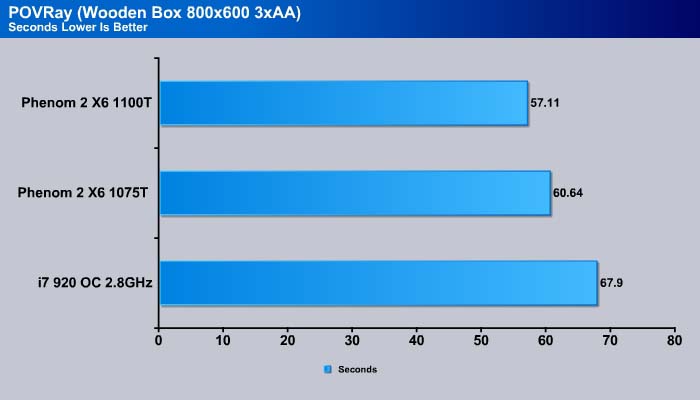 POV-Ray takes the advantage of the extra cores, and as expected, the extra 300MHz clockspeed finishes the job 3 seconds faster. This is 10 seconds faster than the i7 920.
Excel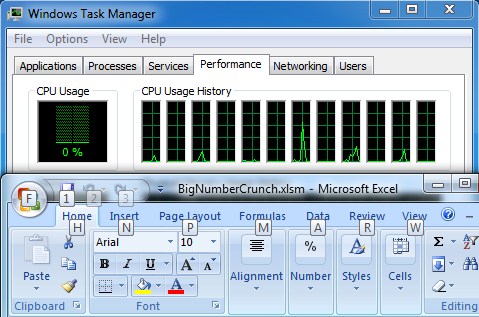 Microsoft Excel is the widely known and most used spreadsheet application for the manipulation and calculation for number crunching. With Excel you can analyze and share information on small scale or the largest scale you can imagine. We've seen spreadsheets in every day use that contain literally tens of thousands of numbers and hundreds of equations. Bjorn3D uses two tests in Excel to determine CPU and Motherboard performance.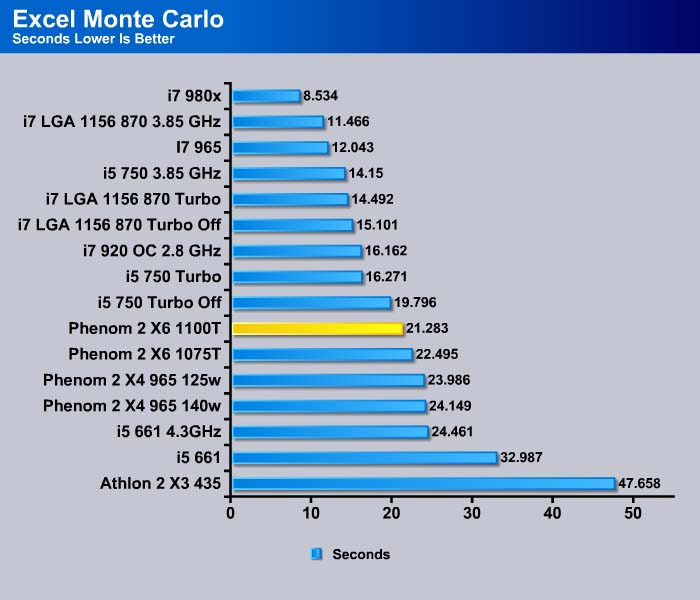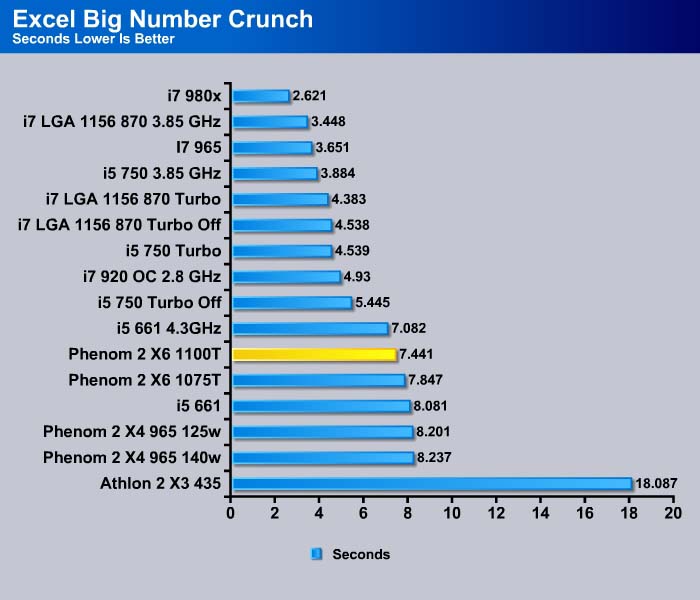 Excel is not a particularly heavy-threaded application, so having extra cores may not always be beneficial. Here, the higher IPC Intel Core i5 750 finishes the job 2 seconds faster than the AMD X6 1100T.
AutoMKV 0.95c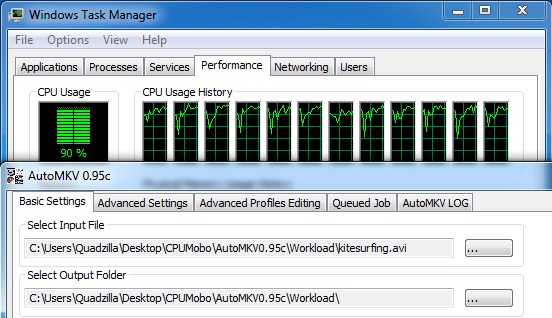 AutoMKV is an application aiming for easy media conversion between various media formats using various third party codecs. With improved internet speed and enhanced computing power, more users are interested in encoding to different media formats for their various multimedia needs. With AutoMKV and x264 codec, a freeware H.264 encoder, users can easily create media files. For more information and to obtain AutoMKV 0.95c and AviSynth* 2.5.7, please visit (http://forum.doom9.org/showthread.php?t=134478). We create a media file using AutoMKV and x264 codec. The input file used in the document is a raw 416 MB 720×480 DV file and the output is a 253MB H.264 media file.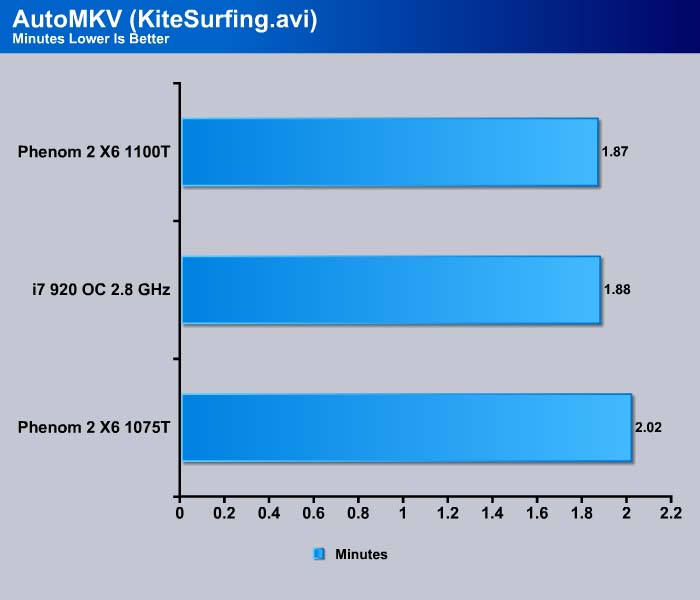 Video encoding is one area where having extra cores will help, but in AutoMKV, we see the i7 920 shows a very promising result. While the X6 1075T failed to finish the job faster than the i7, the X6 1100T is able to get the job done 0.01 minutes faster than the i7 (not that much, but still faster).
Blender
Blender is a free open source 3D content creation suite that is available for various operating systems. The application is popular among many independent animation studios and game makers. For more information, please visit http://www.blender.org/.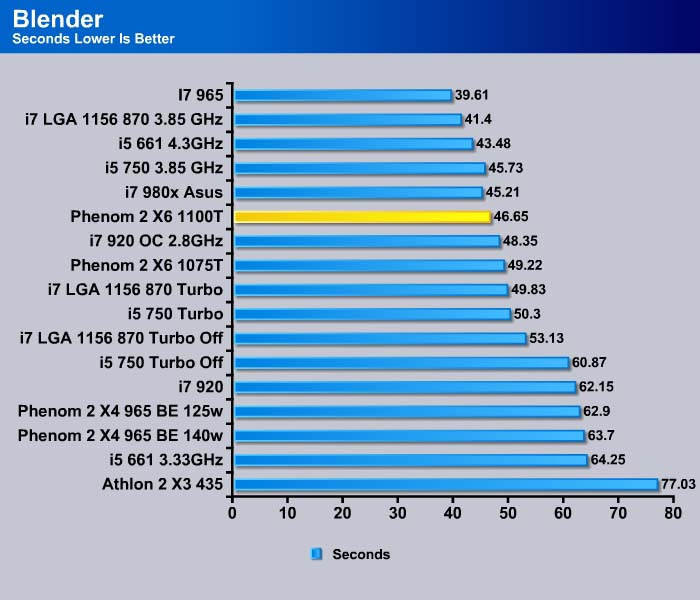 Blender does not particularly show the benefit of multiple cores. In fact, we can see the raw processor speed is the determining factor here. It is no surprise that the X6 1100T is able to shed off 3 seconds compared to the X6 1075T.
Cinebench R11.5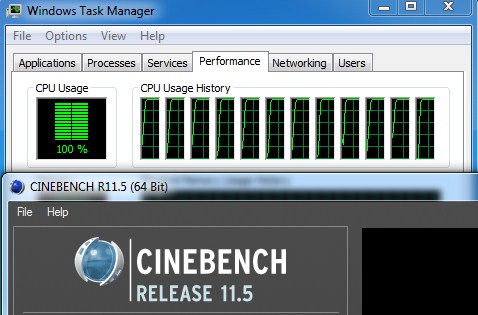 "CINEBENCH is a real-world test suite that assesses your computer's performance capabilities. MAXON CINEBENCH is based on MAXON's award-winning animation software, CINEMA 4D, which is used extensively by studios and production houses worldwide for 3D content creation. MAXON software has been used in blockbuster movies such as Spider-Man, Star Wars, The Chronicles of Narnia and many more. MAXON CINEBENCH runs several tests on your computer to measure the performance of the main processor and the graphics card under real world circumstances. The benchmark application makes use of up to 16 CPUs or CPU cores and is available for Windows (32-bit and 64-Bit) and Macintosh (PPC and Intel-based). The resulting values among different operating systems are 100% comparable and therefore very useful with regard to purchasing decision-making. It can also be used as a marketing tool for hardware vendors or simply to compare hardware among colleagues or friends."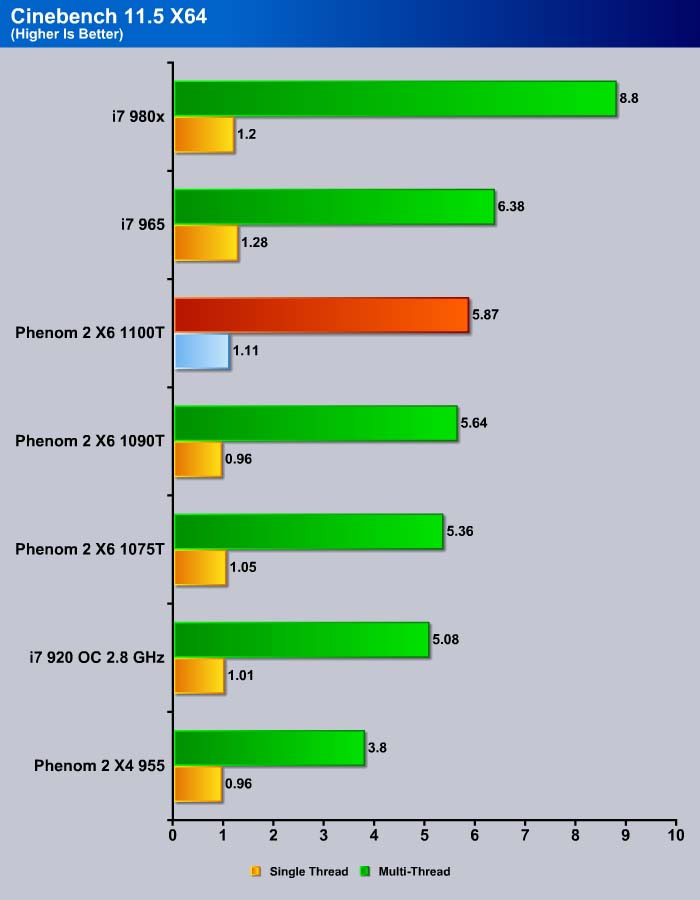 The latest Cinebench 11.5 64-Bit scaled the processors nicely. Here, with the exception of the Core i7 965, the top spots are filled by six-core processors, followed by the quad-core processors. The i7 980x takes the top spot, and the X6 1100T comes just a tad ahead of the X6 1075T. We can see the 1100T scored 0.12 points higher single thread and 0.22 points higher multi-threaded over the 1075T.
Cinebench R10 64 Bit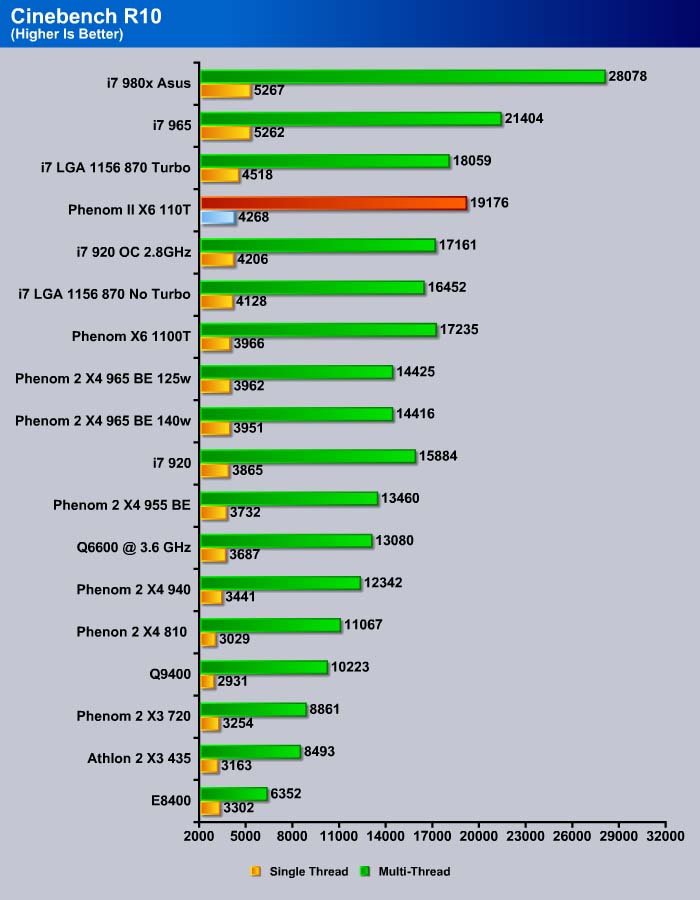 The X6 1100T manages to overtake the Core i7 920 by a thin margin in the single threaded test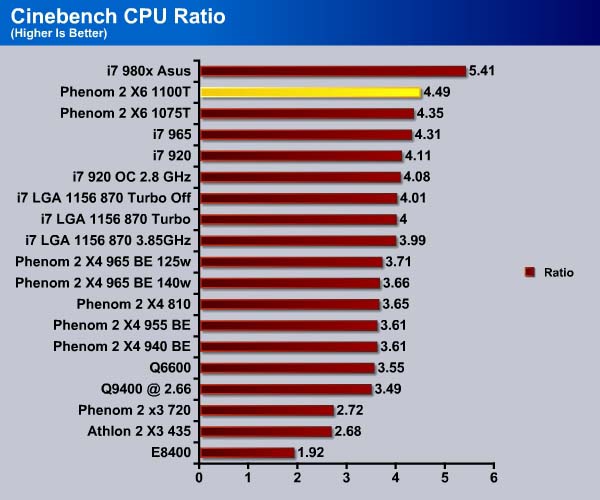 The Cinebench CPU Ratio test shows that the i7 920 has a core efficiency of 4.08 cores while the Phenom X6 1100T has a core efficiency of 4.49 cores, and the i7 980x has an efficiency of 5.41 cores.
ProShow Gold 4.1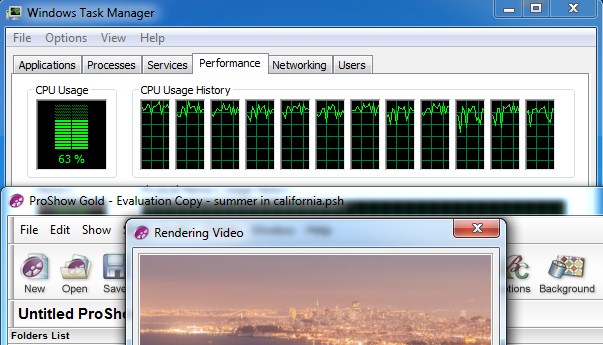 ProShow Gold allows you to combine videos and photos and music to create slide shows, depending on the end user results can be spectacular. The application allows the end user to share photos and memories with friends in a unique and spectacular way, the different formats supported are, DVD, PC and Web. Still Photos are brought to life by adding motion effects. Supported effects include, Pan, Zoom, and rotate. You can also add captions and over 280 transition effects.
In ProShow Gold, we encode a video to DVD format and the result shows that the 1100T has a significant gain over AMD quad core processors, finishing the job 18 seconds faster than the X4 965 and 3 seconds faster than the X6 1075T. The X6 1100T lags 0.5 seconds behind the Intel Core i7 870 but comes in ahead of the i5 750.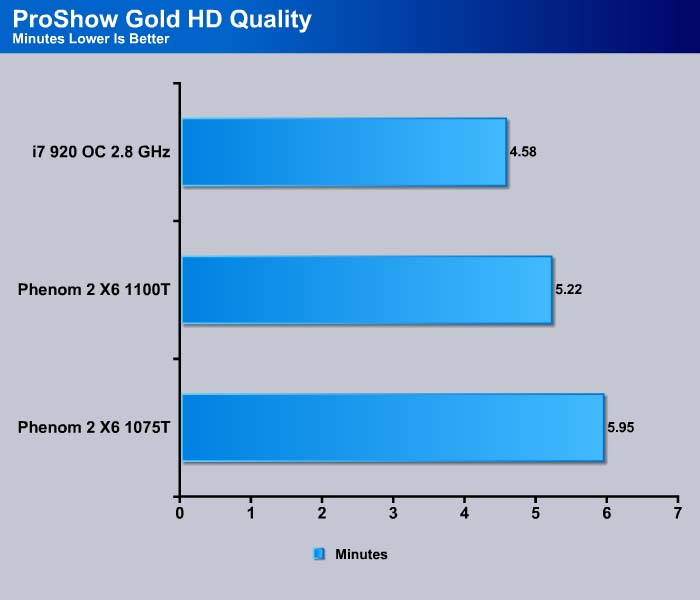 We decided to transcode the video clip to HD format to see how the processor would perform. Here we can see the X6 1100T manages to finishes the job 0.73 minutes faster than the 1075T, but still comes in behind the Core i7 920.
3DMark Vantage

For complete information on 3DMark Vantage Please follow this Link:
www.futuremark.com/benchmarks/3dmarkvantage/features/
The newest video benchmark from the gang at Futuremark. This utility is still a synthetic benchmark, but one that more closely reflects real world gaming performance. While it is not a perfect replacement for actual game benchmarks, it has its uses. We tested our cards at the 'Performance' setting.
Having more than four cores does not make a big differences in games. The Core i7 920 has a better score in 3DMark Vantage, followed by the X6 1100T.
Crysis warhead

Crysis Warhead is the much anticipated standalone expansion to Crysis, featuring an updated CryENGINE™ 2 with better optimization. It was one of the most anticipated titles of 2008.
We ran Warhead using gamer's setting at resolution of 1280×1024 and DirectX 10. We tested both no AA an 2x AA.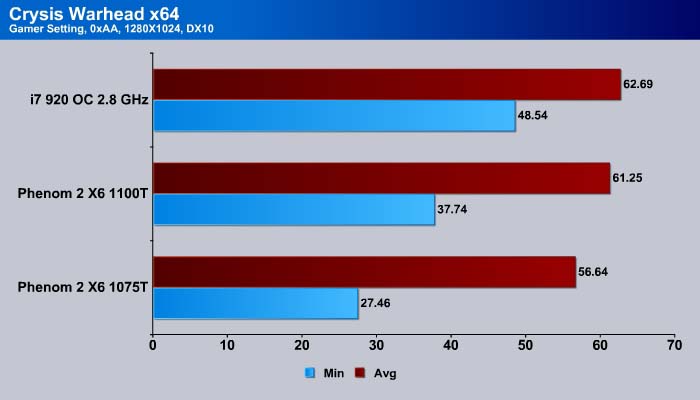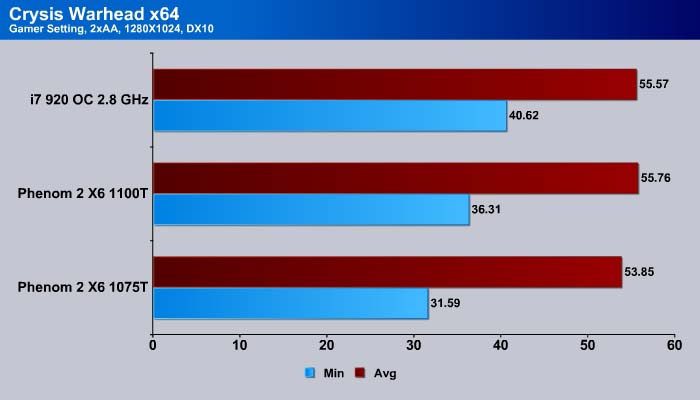 The Core i7 920 has a slightly better performance in games, most likely due to the better IPC and greater memory bandwidth. However, all three processors show similar average framerate, with the i7 showing a slightly little better frame than the X6 1100T. The X6 1100T is able to offer about 10% performance gain for the minimum framerate over the X6 1075.
Dirt 2

Dirt 2 is the squeal to the popular racing game Colin McRae Dirt. This is a standard racing game, but with an off road twist. Instead of racing Bugattis and Porsches, players race trophy trucks and rally cars.
Again, we put the Core i7 920 OC to 2.8GHz against the X6 1075T and test them with Dirt 2. In this game, we use high setting at 1280×1024 with no AA and 2xAA.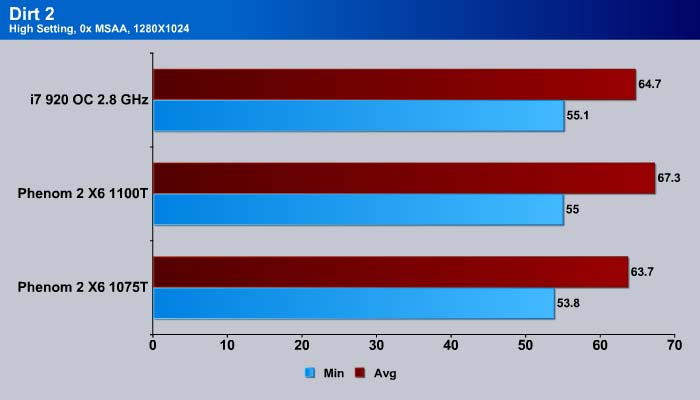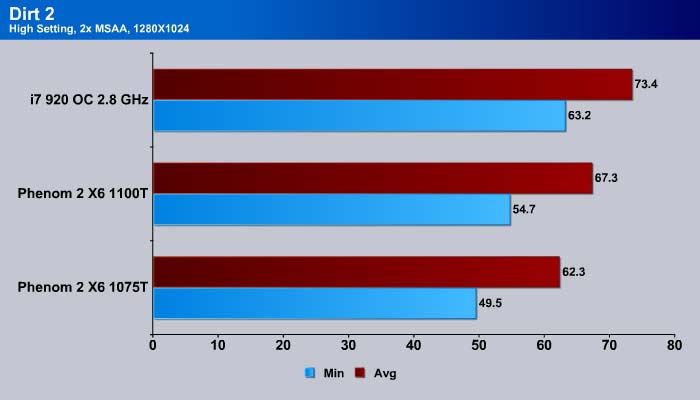 Games are not particularly heavy-threaded, so having extra cores does not make a huge impact. In addition, gaming is often more GPU-bound at higher resolutions, so having extra cores may not have such big of an impact. However, as we can see, the faster Turbo Core speed of the X6 1100T is able to offer again 10% performance gain over the X6 1075T.
POWER CONSUMPTION
We ran Prime95 to stress the CPU in order to measure the overall system power consumption. All of the power saving features (C&Q and SpeedStep) have been enabled, as we envision this is how most people will be running their system.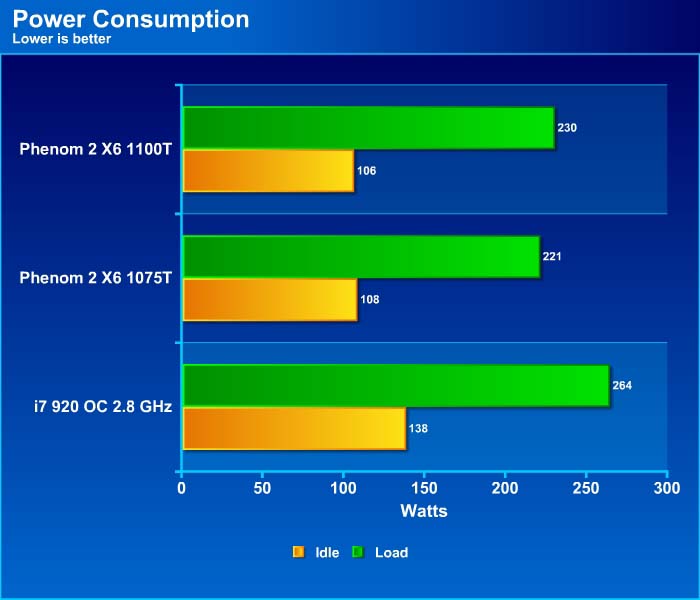 Looking at the overall system power consumption, we can see that all the AMD Phenom X6 processors under idle consume roughly the same amount of power, and all consume less than Core i7 920. The 3.3GHz 1100T consumes 9W more power than the 3.0 GHz 1075T, and 33W less than the Core i7.
CONCLUSION
Since this is a merely a speed bump, we do not expect much coming out of the 1100T. As expected, this is the fastest processor from AMD. Like the rest of the six-core processors from AMD, the Phenom II X6 1100T shines in applications that are heavily threaded, such as video encoding and 3D rendering, but in light threaded applications, the Intel system is a tad faster. The Phenom 1100T is by no means slow in lightly threaded applications, but Intel has an upper hand due to higher IPC and greater memory bandwidth.
AMD priced the 1100T $20 cheaper than the Core i7 870, so the Core i7 870 would be the most direct competitor to the 1100T. The pricing of the processor is justified given its performance in lightly threaded applications, but if we consider the heavy-threaded applications, then the 1100T definitely offers an excellent price to performance ratio. Professional users may be most benefited by the extra cores as professional applications such as 3D rendering, video creation, and photo editing are heavily threaded and can definitely take the advantage of the processor.
With Intel's impending release of Sandy Bridge early January 2011, the AMD Phenom X6 will be facing heavy competitions. Will this processor still hold onto its advantage in heavy threaded applications? We have to wait until Sandy Bridge is released before we can make that judgment.
Reviewer's Opinion:
For now, the Phenom II X6 1100T still offers a good bang for the buck for those who need to run heavily threaded applications. I think for $40 cheaper, the 1090T actually offers a slightly better price to performance ratio, considering that it also has an unlocked multiplier with the same overclocking headroom as the 1100T. AMD will most likely start phasing out the 1090T to make room for the 1100T. Ultimately, you have to take your computer usage into account when deciding which processor is best for you.
Editor's Opinion:
Right now, we're all anticipating new architectures and new platforms. Intel's Sandy Bridge and AMD's Bulldozer are both likely to take computing to the next step. In the meantime, the X6 1100T is a good stepping stone for AMD, especially considering their delayed release of Bulldozer. Whether or not this speed bump will boost your system, it does offer great value for its performance.
OUR VERDICT: Zalman CNPS9900 Max
| | |
| --- | --- |
| Performance |  8.5 |
| Value |  9 |
| Quality |  10 |
| Features |  9.5 |
| Innovation |  8 |

We have updated our scoring system to provide additional feedback beyond a flat score. Please note that the final score isn't an aggregate average of the new rating system.

Pro

Cons

Good performance to price ratio

Runs fairly cool

Low power consumption

Unlocked multiplier for easier overclocking

Good pricing for a six-core

Good performance in heavily threaded applications

Intel still has a better performance in light threaded application




Summary:  The Phenom II X6 1100T offers good a performance to price ratio, and is easy to overclock thanks to the unlocked multiplier. With a score of 8.5/10, we give the AMD Phenom II X6 1100T the Bjorn3D Bronze Bear Award.