Powered by AMD's Barts GPU, we review VisionTek's 6870 to see what makes it the better alternative.
Introduction
With AMD's intro of the Cypress (5800 Series) powered GPU's, AMD paved the way for DirectX 11's entry into the market. Being the first to deliver DirectX 11 to enthusiast consumers was not only a primary goal for AMD, but this also meant they were a step ahead of Nvidia. A full six months after Cypress hit the market, Nvidia finally released the long awaited Fermi powered GPU's, which were unfortunately launched with a premium cost. AMD knew the Cypress architecture had room to improve, and due to the Fermi architecture's release delay and marginal improvement over Cypress, AMD went back to the drawing board.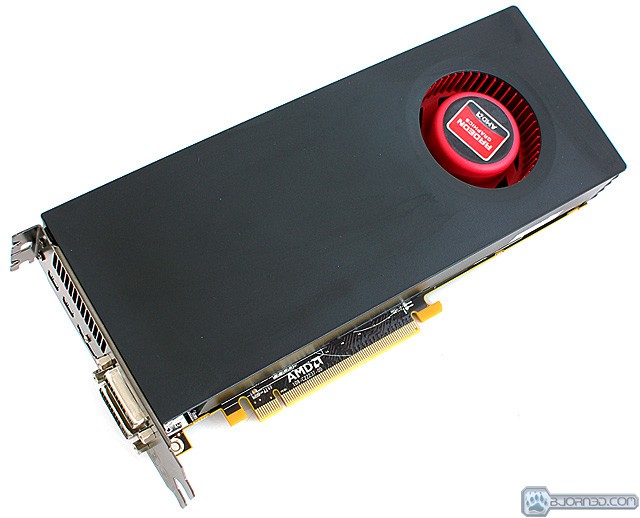 Keeping the 40nm process, AMD decided to take a different approach with the Barts architecture. By revamping Cypress' die size from 334mm to 255mm, Barts allowed plenty of room for performance improvements, which is exactly what the Barts architecture is: a new and improved Cypress. 
(For full details on the Barts architecture, please see our 6850/6870 launch review.)
With the familiarity of the ATI/AMD brand, many enthusiasts are interested in VisionTek's take on AMD's 6800 series. What makes VisionTek better than other brands is their lifetime warranty (limited), which everyone seems to love. One of very few companies to offer this type of warranty, VisionTek has certainly created a reputation for themselves. Currently, AMD is limiting the type of 6850 & 6870's vendors are able to release. Vendors are stuck with the reference design (PCB, fan, etc.), limited only to frequency (clocks) changes. Our VisionTek review sample, just like our HIS 6870 review sample, is 100% reference design, so similar results are to be expected.
Specifications
As we mentioned on the introduction page, VisionTek's HD6870 is no different than a reference card. The clocks are the same, the looks are the same, everything is exactly the the same as a reference HD6870.
| | | | | | |
| --- | --- | --- | --- | --- | --- |
| GPU | VisionTek 6870 | HD 6850 | HD 5850 |  GTX 470 | GTX 460 1GB |
| Shader units | 1120 | 960 | 1440 | 448 | 352 |
| ROPs | 32 | 32 | 32 | 40 | 32 |
| GPU | Barts XT | Barts Pro | Cypress | GF100 | GF104 |
| Transistors | 1700M | 1700M | 2154M | 3000M | 1950M |
| Memory Size | 1024 MB | 1024 MB | 1280 MB | 1024 MB | 1024 MB |
| Memory Bus Width | 256 bit | 256 bit | 256 bit | 320 bit | 256 bit |
| Core Clock | 900 MHz | 775 MHz | 725 MHz | 607 MHz | 675 MHz |
| Memory Clock | 1050 MHz | 1000 MHz | 1000 MHz | 837 MHz | 1350 MHz |
| Price | $239 | $179 | $259 | $259 | $199 |
Above is a chart displaying GPU information and current pricing. Looking strictly at the specification numbers, its hard to see what makes the 6800 series better than its predecessor. The 6870 has less shaders, texture units, and transistors. Despite all these shortfalls, Barts was purposefully designed this way, leading to many benefits including a stout improved tessellation engine and many other features which we covered in our 6800 series launch review. Nvidia responded to this by lowering both the GTX 460 and 470 pricing. Launching at $349, the GTX 470 has dropped an average of $90-$100, making it only $20 more expensive than AMD's 6870. A GTX 470 at $259 is almost too good to be true, but it's very true as of today thanks to the 6870's release.
Features
DisplayPort 1.2
Multi-Stream Transport, 21.6 Gbps bandwidth (Twice as much as DisplayPort 1.1), High bit-rate audio, max resolution of 2560×1600 (For each display).
 
HDMI 1.4
Support for Deep Color, 7.1 High Bit-rate audio, Stereoscopic 3D Frame Packaging Format, and xvYCC wide gamut support.
 
Unified Video Decoder (UVD) 3.3
Watch the hottest Blu-ray movies or other HD content at full 1080p display resolution and beyond and enjoy a highly feature rich experience.
 
AMD PowerPlay™ Power Management Technology
-Dynamic power management with low power idle state.
-Ultra-low power state support for multi-GPU configurations.
 
AMD CrossFireX™ multi-GPU technology
-Dual GPU scaling
 
AMD HD3D Technology
-Stereoscopic 3D display/glasses support.
-Blu-ray 3D support.
-Stereoscopic 3D gaming.

*** Features were taken from both VisionTek's and AMD's HD 6870 product specifications pages.
 
Closer Look
Unfortunately for us, VisionTek was unable to get us a review sample with retail packaging. Please excuse our lack of packaging descriptions and photos. Above is a picture of the VisionTek card's box, taken from the company.
Click Image For a Larger One
VisionTek kept the front and back of the card plain and simple: no stickers, no crazy designs, just AMD's plain reference design. The top and bottom of the card have the black and red reference design as well. On the top of the card is additional air venting and two 6-pin PCI-E power connections. For size comparison, the GTX 460 is about an inch and a half shorter than VisionTek's HD6870. 

Like other reference HD6870's, VisionTek's card has two mini-DisplayPort 1.2 connections, an HDMI connection, and two DVI connections. Although similar to Cypress' DisplayPort 1.1, DisplayPort 1.2 features double the bandwidth, allowing users to power four 1920 monitors off a single card. In our opinion, that is reason enough to "upgrade" to a 6870. Eyefinity anyone?
Click Image For a Larger One
Bundled with VisionTek's 6870 is an installation manual, software installation disc, a VGA-to-DVI adapter, CrossFire bridge, and a Molex to 6-Pin PCI-E adapter.
Testing & Methodology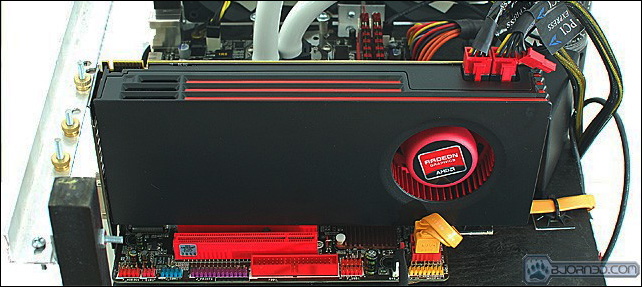 To test the VisionTek HD6870, we did a fresh load of Windows 7 Ultimate, applied all the updates we could find, installed the latest motherboard drivers for the Biostar A880G+, updated the BIOS, and loaded our test suite. We didn't load graphic drivers because we wanted to pause to clone the HD with the fresh load of Windows 7 without graphic drivers. That way we have a complete OS load with testing suite and it's not contaminated with GPU drivers. Should we need to switch GPU's or run some Crossfire action later all we have to do is clone our clone and install GPU drivers and we are ready.
We ran each test a total of 3 times and report the average here. In the case of a screenshot of a benchmark we ran the benchmark 3 times, tossed out the high and low and post the median result from the benchmark. Anomalous results were discounted, and the test was rerun.
Test Rig
"Station_x4"
Case Type
Custom Tech Station
CPU
Phenom II X6 1090T @ 3.6GHz
Motherboard

Biostar A880G+

Memory

G.Skill RipJaw DDR3 1600MHz – 4GB (2x2GB)

CPU Cooler
Custom Water Setup
Hard Drive(s)
Hitachi 7200RPM 500GB
Optical
ASUS DVD R/W
GPUs Tested
VisionTek 6870
Gigabyte GTX 465
ASUS GTX 465
ASUS GTX 470
Sapphire 5870
Sapphire 5850
Gigabyte GTX 275
PSU
OCZ ModStream 700W
Mouse
SteelSeries Xai
Keyboard
Logitech Illuminated
Sound Card
Onboard
*** Any attempt copy this system configuration may lead to awesomeness. 
Synthetic Benchmarks, Games, & Utilities
3DMark Vantage (GPU Test)
Battlefield Bad Company 2
Dirt 2
Metro 2033
Unigine Heaven v.2.1
GPU-Z 0.4.7

For complete information on 3DMark Vantage Please follow this Link:
http://www.futuremark.com/benchmarks/3dmarkvantage/features/

The newest video benchmark from the gang at Futuremark. This utility is still a synthetic benchmark, but one that more closely reflects real world gaming performance. While it is not a perfect replacement for actual game benchmarks, it has its uses. The cards were tested using the "Performance" and the GPU tests only.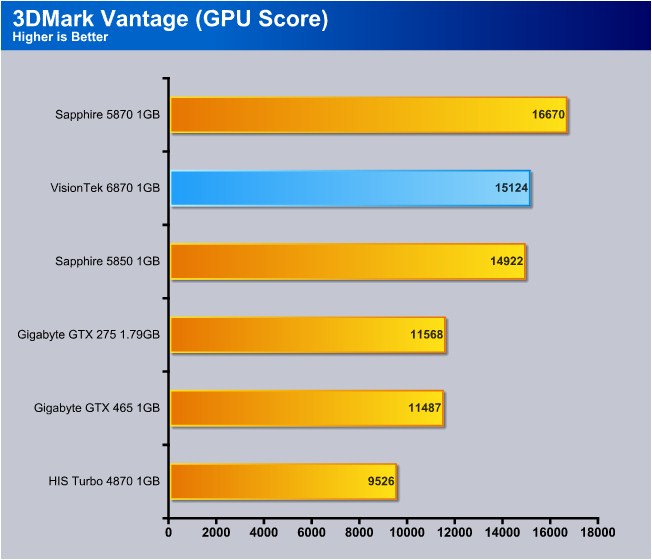 Fitting right between the 5850 and 5870, VisionTek's 6870 squeezed past the 5850 by 202 points. This is a very small gain, but for a "revamped" Cypress, the 6870 shows it has the muscle to compete with its older siblings.
Bad Company 2
Battlefield Bad Company™ 2 brings the spectacular Battlefield gameplay to the forefront of next-gen consoles and PC, featuring best-in-class vehicular combat set across a wide range of huge sandbox maps each with a different tactical focus. New vehicles like the All Terrain Vehicle (ATV) and the UH-60 transport helicopter allow for all-new multiplayer tactics in the warzone. Extensive fine-tuning ensures that this will be the most realistic vehicle combat experience to date. Tactical destruction is taken to new heights with the updated DICE Frostbite engine. Players can now take down entire buildings or create their own vantage points by blasting holes through cover, thereby delivering a unique dynamic experience in every match.
Players can also compete in 4-player teams in 2 exclusive squad-only game modes, fighting together to unlock exclusive team awards and achievements. Spawn on your squad to get straight into the action and use gadgets such as the tracer dart in conjunction with the RPG to devastating effect. Excellence in the battlefield is rewarded with an extensive range of pins, insignias and stars to unlock along with 50 dedicated ranks to achieve. Variety also extends into the range of customizable kits weapons and vehicles available. With 4 distinct character classes, dozens of weapons, several gadgets and specializations, players have over 15,000 kit variations to discover and master. Players will be able to fine-tune their preferred fighting style to give them the edge in combat.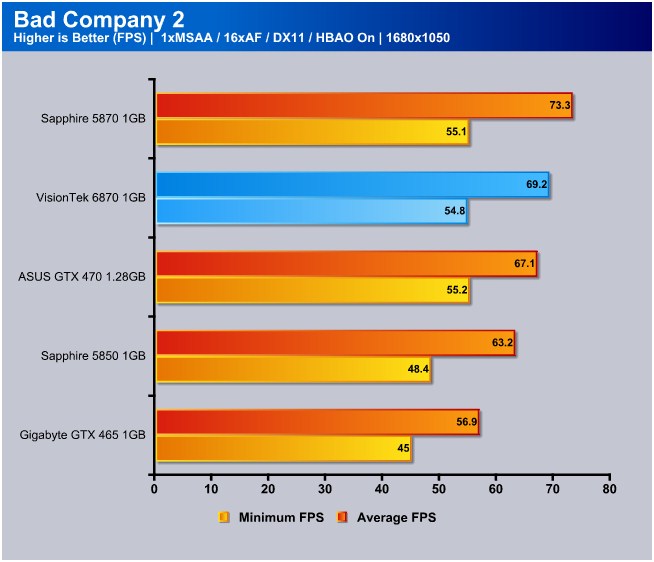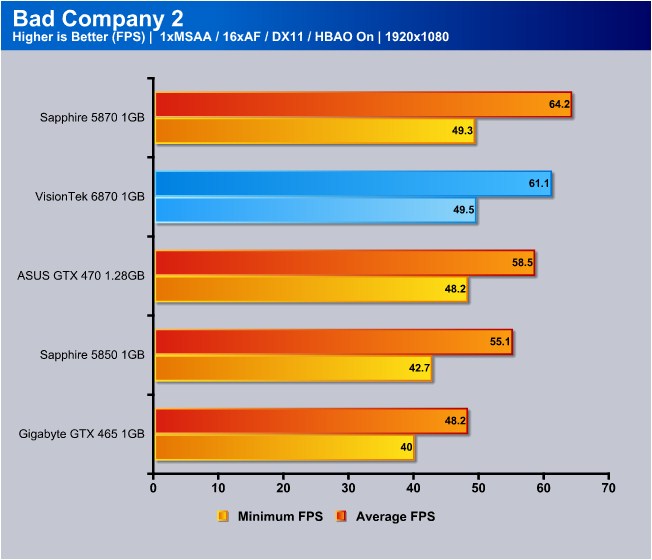 In Bad Company 2, the 6870 really shows that it has plenty of potential. In both mainstream resolutions of 1680×1050 and 1920×1080, VisionTek's 6870 was only 3-4 FPS behind the 5870, easily pulling ahead of both the 5850 and GTX 470. The GTX 465 stood no chance at all, and was beaten by 21-22%.
Dirt 2
Colin McRae: Dirt 2 (known as Dirt 2 outside Europe and stylized, DiRT) is a racing game released in September 2009, and is the sequel to Colin McRae: Dirt. This is the first game in the McRae series since McRae's death in 2007. It was announced on 19 November 2008 and features Ken Block, Travis Pastrana, Tanner Foust, and Dave Mirra. The game includes many new race-events, including stadium events. Along with the player, an RV travels from one event to another, and serves as 'headquarters' for the player. It features a roster of contemporary off-road events, taking players to diverse and challenging real-world environments. The game takes place across four continents: Asia, Europe, Africa and North America. The game includes five different event types: Rally, Rallycross, 'Trailblazer,' 'Land Rush' and 'Raid.' The World Tour mode sees players competing in multi-car and solo races at new locations, and also includes a new multiplayer mode.
Colin McRae: Dirt is the first PC video game to use Blue Ripple Sound's Rapture3D sound engine by default.
A demo of the game was released on the PlayStation Store and Xbox Live Marketplace on 20 August 2009. The demo appeared for the PC on 29 November 2009; it features the same content as the console demo with the addition of higher graphic settings and a benchmark tool.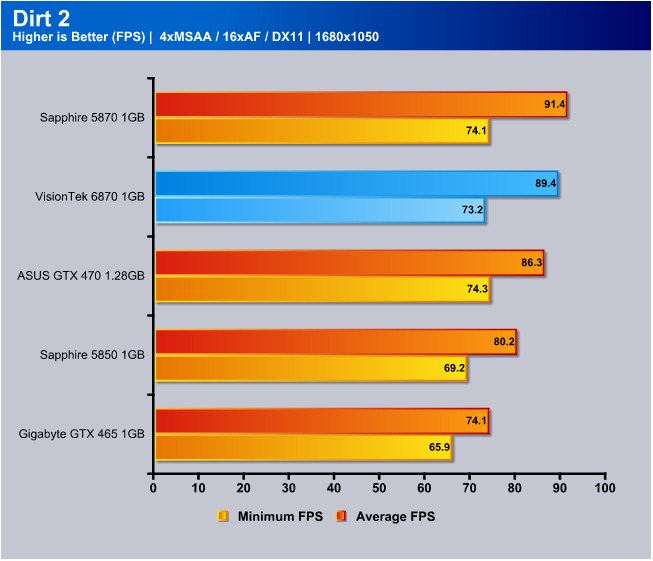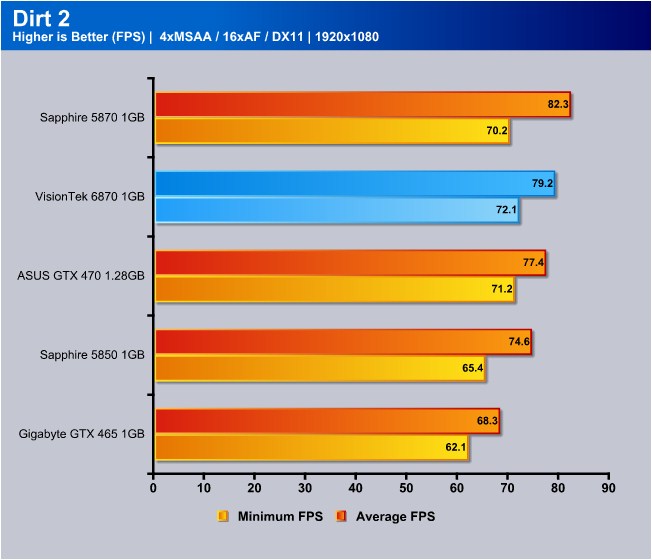 In Dirt 2, the trend continues. VisionTek's 6870 stays ahead of both the 5850 and GTX 470, trailing the much more expensive 5870 by only 3%. Even with the recent price drop on the GTX 470, it is hard to ignore the 6870 with its very attractive $239 price tag, a full $20 cheaper than the newly reduced GTX 470.
Metro 2033

Metro 2033 is an action-oriented video game with a combination of survival horror, and first-person shooter elements. The game is based on the novel Metro 2033 by Russian author Dmitry Glukhovsky.
The enemies that the player encounters range from human renegades to giant mutated rats and even paranormal forces known only as "The Dark Ones". Players frequently have to defend themselves with makeshift combination's of different weapons, e.g a revolver with a sniper scope attached.
Ammunition is also scarce, and the more rare Military Grade bullets are used as currency (to purchase supplies and guns), or in combat as a last resort, giving an added damage boost, forcing the player to hoard supplies.
The game lacks a health meter, relying on audible heart rate and blood spatters to show the player what state they are in and how much damage was done. A gas mask must be worn at all times when exploring the surface due to the harsh air and radiation. There is no on-screen indicator to tell how long the player has until the gas mask's filters begin to fail, so players must set a wrist watch, and continue to check it every time they wish to know how long they have until their oxygen runs out, requiring the player to replace the filter (found throughout the game). The gas mask also indicates damage in the form of visible cracks, warning the player when a new mask is needed. The game does feature traditional HUD elements, however, such as an ammunition indicator and a list of how many gas mask filters and adrenaline shots remain.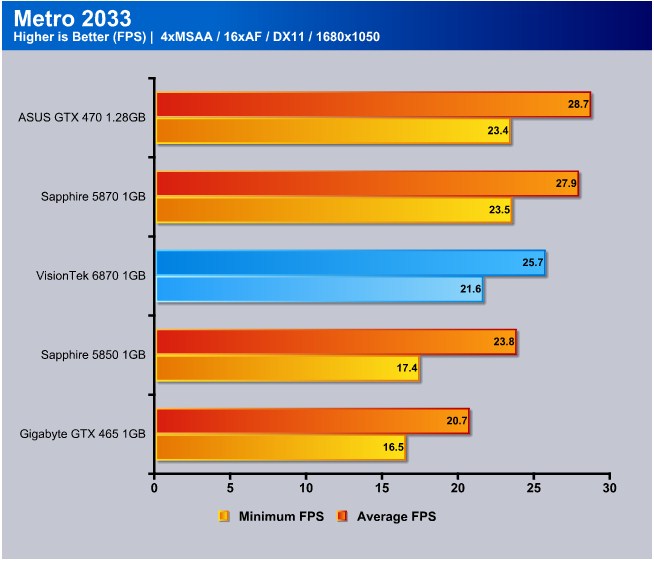 Metro 2033 is easily one of the most demanding games available today, making even the most powerful GPU's falter. Although low, 25 FPS in Metro 2033 is actually playable, very similar to the way that 25 FPS was playable when Crysis was released.
Luckily for budget gamers, VisionTek's 6870 was able to deliver a solid 25.7 FPS average, trailing the Metro 2033 favored GTX 470 by only 10%. With a 7% difference between both the 5870 and 5850, the 6870 literally performs right in the middle of its siblings.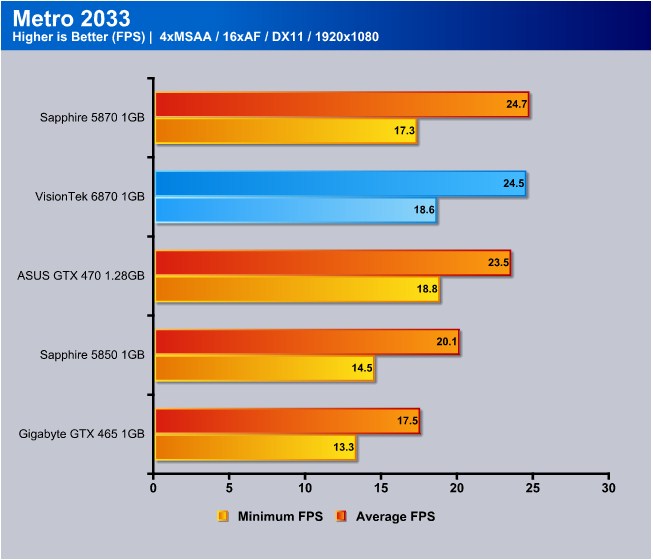 At 1920×1080, Metro 2033 separates cards that can perform from those that can't. The poor GTX 465 simply cannot keep up, trailing the 6870 by a stunning 30%. Surpassing the GTX 470, VisionTek's 6870 is less than 1 FPS behind the 5870, clearly showing it has the guts to be great, even when pushed to its limits.
unigine heaven v2.1

Unigine Heaven is a benchmark program based on Unigine Corp's latest engine, Unigine. The engine features DirectX 11, Hardware tessellation, DirectCompute, and Shader Model 5.0. All of these new technologies combined with the ability to run each card through the same exact test means this benchmark should be in our arsenal for a long time.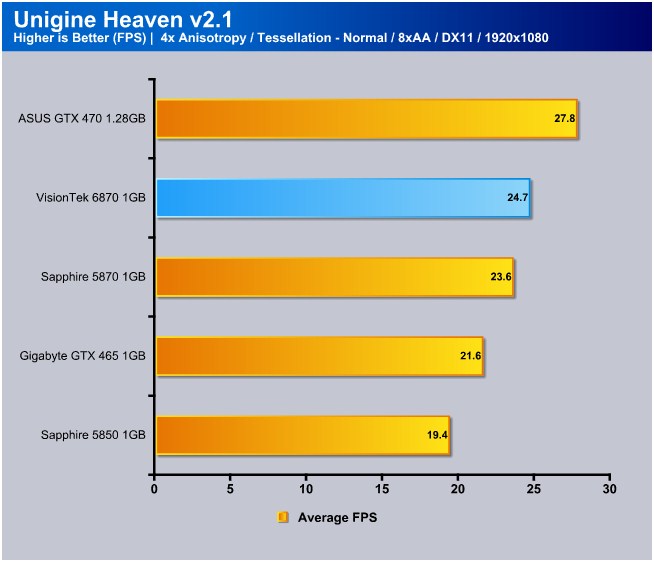 In the Unigine Heaven 2.1 benchmark, we expected the GTX 470 to remain on top, which it did. What we weren't expecting was the less expensive VisionTek 6870 to surpass the 5870. Tessellation was clearly important to AMD when Barts was being developed, and the improvement over the 5850 and 5870 shows just how big the tessellation performance increase was. Trailing the GTX 470 by only 11%, the 6870 displays the hidden power of the Barts architecture. If this is a sign of things to come, we cannot wait to see what Cayman GPU (6900 series) is capable of.
Overclocking
In general, overclocking anything is a crap shoot. We never know how willing a specific GPU or CPU will be until we start pushing it past its default values. No GPUs/CPUs are exactly the same, so as always, our overclocking experience will differ greatly from yours.
Our experience in overclocking VisionTek's 6870 for example, was short lived. We were able to reach a 960MHz core clock from the base 900MHz, but the memory wasn't as happy in playing along at all. From the default 1050MHz clock, we weren't able to push the memory at all before artifacts started popping up. Our VisionTek 6870 review sample's overclocking potential and performance improvement was marginal at best.
Temperatures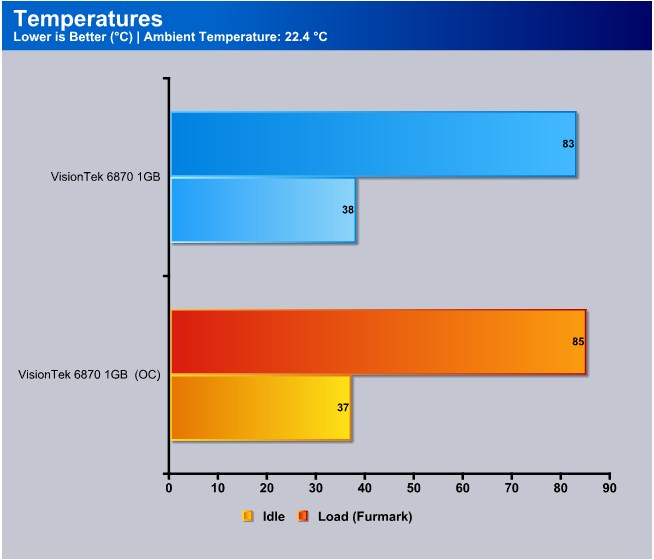 Temperatures basically remained the same after overclocking. This was to be expected since the overclocking improvement was only a 60MHz increase on the core clock.
Power Consumption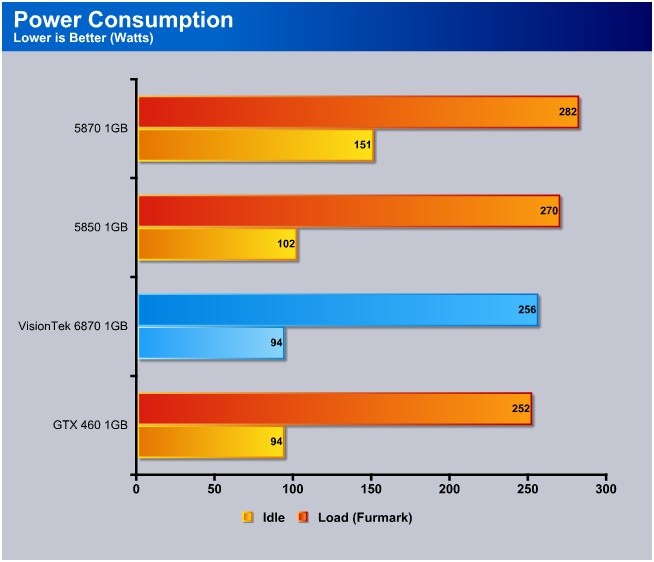 As powerful as the 6870 is, its power consumption is rather impressive. Although it beats the 5850 in basically everything, it still manages to consume less power. For the small 10-15% performance gap between the 5870 and 6870, the 50-60W idle decrease and nearly 30W load decrease should be something for potential buyers to consider, especially if power usage is a factor in decision making.
Conclusion
Aside from a lifetime warranty and lack of a stickers, VisionTek's HD6870 has little that sets it apart from the many other HD6870's on the market. The performance is where it should be, temperatures are normal, and overclocking headroom is typical as well. Considering this is a reference 6870 with VisionTek's name on it, we weren't expecting a golden nugget. We saw exactly what we expected: a reference HD6870. At $239, VisionTek's 6870 is also priced within the typical realm of the many available 6870's.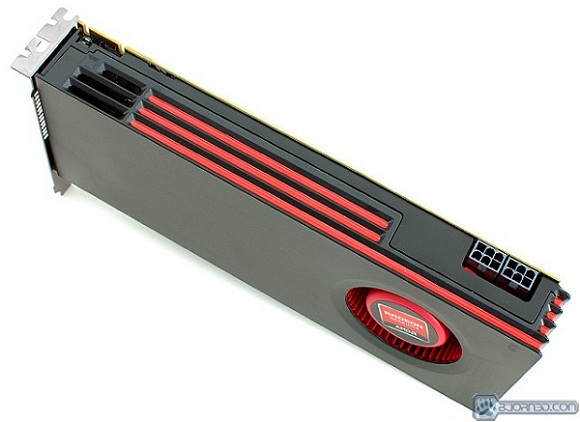 What is important to take from this review is the fact that the GTX 460's days are clearly numbered. VisionTek brand or not, the HD 6870 is the new value king. It doesn't matter what brand users decide to go with, just as long as it has a BartsXT GPU underneath. AMD took what was innovative and simply made it better. The Barts architecture is a vast improvement over Cypress, and although a Cypress variation, Barts has enough changes to make it stand out. Power consumption was lowered, performance was improved, Eyefinity capability was improved, and the real money maker, yields, have also improved. As a whole, the 6800 series is easily the new bargain king. As for the VisionTek HD6870 itself, the warranty is the only "feature" separating it from the rest.
OUR VERDICT: VisionTek HD 6870
| | |
| --- | --- |
| Performance |  8.5 |
| Value |  8.5 |
| Quality |  8.3 |
| Features |  8.2 |
| Innovation |  8.2 |

We are using an addition to our scoring system to provide additional feedback beyond a flat score. Please note that the final score isn't an aggregate average of the rating system.

Pros
Cons

Solid performance

Limited lifetime warranty

Low power consumption

Improved tessellation performance

DisplayPort 1.2 (improved multi-monitor support)

Not the best overclocker

Could have a better bundle 

 

 
Summary: Aside from the limited lifetime warranty and plain appearance, VisionTek's HD6870 barely stands out from the many HD6870's available. It has the solid performance we expect from any reference 6870, but with VisionTek's lifetime warranty, we award this card the Bjorn3D Seal of Approval.