The Asus TUF X58 Sabertooth is a solid motherboard designed to withstand tougher environments and yet still allow the enthusiast to tweak to their hearts content.
Introduction

ASUS, based in Taiwan, is a major manufacturer of computer hardware including motherboards, graphics cards, notebooks, mobile phones and servers. Last year, 29% of all PCs sold worldwide had an ASUS motherboard – quite a market share. Since the advent of the Eee PC netbook line, ASUS has gained a reputation for making excellent notebooks, including desktop replacement notebooks at affordable prices. ASUS has gained the no. 5 position in the global notebook market, with a 9% market share.
ASUS is one of the top 10 Taiwanese brands, with a branding value of $1,285 million.
Today we look at one of their TUF (The Ultimate Force) motherboards for Intel socket LGA 1366.
One of the early launches of the TUF line was the Socket 1156 Sabertooth 55i, which met huge demand last year in India. The product was so popular because the motherboard is designed to handle higher ambient temperature and humidity conditions. The capacitors, chokes and MOSFETs (Metal oxide semiconductor field effect transistors) are tested to military standards by IST (Integrated Service Technology) in Taiwan. ASUS includes a certificate of reliability in the box, citing the specifications that the components are tested to. Additionally, copies of the test reports are available on their website.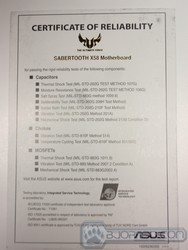 Click image to enlarge
FEATURES
The ASUS X58 Sabertooth's most notable features include:
1. Ceramix – a ceramic layer on the heat sinks that increase surface area and help with heat dissipation.
2. MemOK! – a button on the motherboard that helps with compatibility issues with RAM, allowing for an easier boot     up process.
3. TUF components that are externally tested. The following tests are performed:
Thermal shock
Moisture resistance
Salt Spray corrosion
Solderability
Vibration
Mechanical shock
4. Support for 6 core Gulftown processors
5. Support for 1866 MHz memory
6. Inclusion of both USB 3.0 and SATA 6 Gb/s helps to future proof the motherboard
7. Inclusion of a powered eSATA port that allows for the powering of external compatible devices.
For more information please visit the ASUS website HERE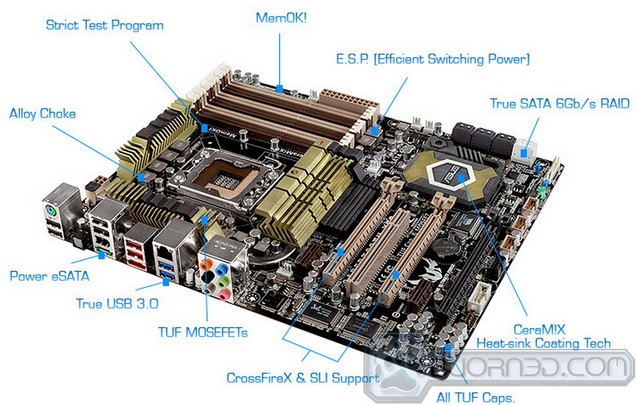 CPU, Chipset, Memory and Graphics features
LGA1366 Intel® Core™ i7 Ready
This motherboard supports the latest Intel® Core™ i7 processors in LGA1366 package with integrated memory controller to support 3-channel (6 DIMMs) DDR3 memory. Supports Intel® QuickPath Interconnect (QPI) with a system bus of up to 6.4 GT/s and a max bandwidth of up to 25.6 GB/s. Intel® Core™ i7 processor is one of the most powerful and energy efficient CPUs in the world. 
Intel X58
The Intel® X58 Express Chipset is one of the most powerful chipset designed to support the Intel® Core™ i7 Processors with LGA1366 package and Intel® next generation system interconnect interface, Intel® QuickPath Interconnect (QPI), providing improved performance by utilizing serial point-to-point links, allowing increased bandwidth and stability. It also supports up to 36 PCI Express 2.0 lanes providing better graphics performance.
Triple-Channel DDR3 1866/1800/1600/1333/1066 support
The motherboard supports DDR3 memory that features data transfer rates of 1866/1800/1600/1333/1066 MHz to meet the higher bandwidth requirements of the latest 3D graphics, multimedia, and Internet applications. The triple-channel DDR3 architecture enlarges the bandwidth of your system memory to boost system performance. 
Quad-GPU SLI and Quad-GPU CrossFireX Support!
SABERTOOTH X58 brings you the multi-GPU choice of either SLI™ or CrossFireX. The motherboard features the most powerful Intel X58 platform to optimize PCIe allocation in multiple GPU configurations. Expect a brand-new gaming style you've never experienced before! 
CeraM!X – Heatsink Coating Tech.
Larger area for heat dissipation with the revolutionary ceramics-coating technology
Innovative ceramics effectively conducts heat away from the system. It replaces traditional anti-oxidant to dissipate heat better with its microscopic irregular surface and enlarged area. Better cooling leads to overall improvement in system stability. 
E.S.P. – Efficient Switching Power Design
Optimal power efficiency for key components
Exclusively for this motherboard, the switching power design is provided not only for the CPU, but also for other key components such as graphics card, PCI slots, and chipsets. E.S.P. dramatically improves system efficiency and reduces heat generation. 
TUF Components
(Alloy Choke, Cap. & MOSFET; certified by military-standard)
Certified for Tough Duty
Get rugged performance even in the most challenging conditions with robust chokes, capacitors, and MOSFETs–certified through third-party, military-grade testing. | Learn more on test report 

TUF Chokes, also known as the "Alloy Choke", is a made of a compound of various types of metal instead standard iron, enables the support of up to a massive 40A of rated current, 25% higher than conventional component. Furthermore, the single piece packaging also eliminates the emission of vibration noise, delivering superb characteristics as well as durability under extreme conditions. 
MemOK!
Any Memory is A-OK!
MemOK! quickly ensures memory boot compatibility. This remarkable memory rescue tool requires a mere push of a button to patch memory issues. MemOK! determines failsafe settings and dramatically improves your system boot success. Get your system up and running in no time!
True USB 3.0 Support
10X Faster Date Rates!
Experience ultra-fast data transfers at 4.8Gbps with USB 3.0—the latest connectivity standard. Built to connect easily with next generation components and peripherals, USB 3.0 transfers data 10X faster and is also backward compatible with USB 2.0 components.
True SATA 6Gb/s RAID Support
Experience the Future of Storage!
Supporting next-generation Serial ATA (SATA) storage interface, this motherboard delivers up to 6.0Gb/s data transfer rates. Additionally, get enhanced scalability, faster data retrieval, double the bandwidth of current bus systems.
SPECIFICATIONS
The Sabertooth motherboard has a lengthy list of specifications, and since it it natively supports the 6-core i7 980x, it has a system bus speed of up to 6.4 GT/s. Though it has only 3 PCI-E slots, it supports Quad-SLI and Quad CrossFireX for cards such as the GTX295 or HD5970, which have two GPUs per card.
The software that comes with the motherboard includes ASUS Fan Xpert. This allows users to adjust both the CPU and chassis fan speeds according to different ambient temperatures and the PC loading conditions. It also allows users to create custom fan profiles.
One very useful feature is the ability to automatically synchronize the motherboard with your RAM with a press of the MemOK! button. This removes some of the headaches associated with RAM compatibility issues.
Asus also includes its Stack Cool 2 solution, a special coating on the PCB that helps dissipate heat away from critical components.
The board supports HD audio and true SATA 6Gb/s RAID support. 
Feature/Specification
Product Name
CPU

Intel® Socket 1366 Core™ i7 Processor Extreme Edition/Core™ i7 Processor
Supports Intel® Turbo Boost Technology

Chipset

Intel® X58 /ICH10R

System Bus


Up to 6400 MT/s ; Intel® QuickPath Interconnect

Memory

6 x DIMM, Max. 24 GB, DDR3 1866/1800/1600/1333/1066 Non-ECC,Un-buffered Memory
Triple channel memory architecture
Supports Intel® Extreme Memory Profile (XMP) 
*Hyper DIMM support is subject to the physical characteristics of individual CPUs. Some hyper DIMMs only support one DIMM per channel. Refer to Memory QVL (Qualified Vendors Lists) for details.

Expansion Slots

2 x PCIe 2.0 x16 (dual at x16/x16 mode) 
1 x PCIe x16 (at x4 mode) 
2 x PCIe x1 
1 x PCI

Multi-GPU Support

Supports NVIDIA® Quad-GPU SLI™ Technology 
Supports ATI® Quad-GPU CrossFireX™ Technology

Storage

Intel ICH10R controller

 
6 x SATA 3.0 Gb/s ports (black) 
Intel Matrix Storage Technology Support RAID 0,1,5,10 
Marvell® 9128 PCIe SATA6Gb/s controller 
2 x SATA 6Gb/s ports (gray) 
Supports EZ Backup and Super Speed functions 
JMicron® JMB362 SATA controller: 
1 x Power eSATA 3Gb/s port (SATA On-the-Go) 
1 x eSATA 3Gb/s port (SATA On-the-Go)
LAN


Realtek® 8110SC Gigabit LAN controller featuring AI NET2

Audio
Realtek® ALC892 8-Channel High Definition Audio CODEC 
ASUS Noise Filter
Supports 192khz/24bit BD Lossless Sound 
Supports Jack-Detection, Multi-Streaming, Front Panel Jack-Retasking 
Optical S/PDIF Out port at back I/O
IEEE 1394

VIA® VT6308P controller supports 2 x 1394a port(s) (one at midboard; one at back panel)

USB
NEC® USB 3.0 controller
– 2 x USB 3.0/2.0 ports (blue, at back panel)
Intel® ICH10R Southbridge
– 12 x USB 2.0/1.1 ports (6 ports at midboard, 6 ports at back panel)

ASUS Unique Features

"TUF ENGINE!" Power Design

 
– 8-phase CPU Power 
– 2-phase Memory Power 
– 2-phase VTT_CPU Power 
– E.S.P. : Efficient Switching Power Design 
– TUF Components (Alloy Choke, Cap. & MOSFET; certified by military-standard) 
"Ultimate COOL!" Thermal Solutions 
– CeraM!X Heatsink Coating Tech. 
– ASUS Fan Xpert 
"Safe & Stable!" Guardian Angel 
– MemOK!


Special Features

Multi-language BIOS
ASUS MyLogo 2 
ASUS EZ Flash 2 
ASUS CrashFree BIOS 3 
ASUS Q-Connector
ASUS O.C. Profile 
ASUS Q-DIMM 
ASUS Q-Slot 
ASUS Q-LED (CPU, DRAM, VGA, Boot Device LED) 
ASUS Q-Shield 
True USB 3.0 support 
True SATA 6Gb/s RAID support

Back Panel I/O Ports

1 x PS/2 Keyboard/Mouse Combo port 
1 x S/PDIF Out (Optical) 
1 x IEEE 1394a 
1 x LAN(RJ45) port 
6 x USB 2.0/1.1 
8 -Channel Audio I/O 
2 x USB 3.0/2.0 ports (blue) 
1 x Power eSATA 3Gb/s port (green) 
1 x eSATA 3Gb/s port (red)

Internal I/O Connectors

3 x USB connectors support additional 6 USB 2.0/1.1 ports 
1 x IEEE 1394a connector 
1 x Power Fan connector 
1 x S/PDIF Out connector 
Front panel audio connector
COM connector
System Panel (Q-Connector) 
2 x SATA 6Gb/s connectors (gray) 
6 x SATA 3Gb/s connectors (black) 
1 x CPU Fan connector (4-pin) 
1 x NB Fan connector 
3 x Chassis Fan connectors (1 x 4-pin, 2 x 3-pin) 
24-pin ATX Power connector 
8-pin ATX 12V Power connector 
1 x MemOK! button

BIOS

16 Mb Flash ROM , AMI BIOS, PnP, DMI2.0, WfM2.0, SM BIOS 2.5, ACPI 2.0a,

Manageability

WfM 2.0,DMI 2.0,WOL by PME,WOR by PME,PXE

Accessories

User's manual
SLI bridge
2 in 1 Q-connector 
2 x SATA 6Gb/s cables 
2 x SATA 3Gb/s cables 
ASUS Q-Shield

Support Disc

Drivers
ASUS PC Probe 
Anti-virus software (OEM version)
ASUS Update
ASUS Utilities


Form Factor

ATX Form Factor 
12 inch x 9.6 inch ( 30.5 cm x 24.4 cm)
Unboxing the X58 Sabertooth
Click images to enlarge
The box is not glitzy, which makes a refreshing change. It is more metallic in its appearance, giving the impression that this board is made for hard work and not for show. The inside cover gives a good overview of the board's features which is always useful.
Upon opening the box and unpacking the contents, it was rather surprising to see how few items were included.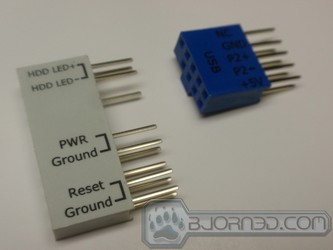 Click images to enlarge
With the motherboard comes an SLI / CrossFire bridge connector, the I/O panel, warranty notice, the certificate of testing, the Asus Q-Connector, a driver/utilities CD, two SATA 3.0 cables and two SATA 2.0 cables. The two SATA 2.0 cables were quite a disappointment. After spending $190 for a motherboard, we expected to be able to connect all the drives that the internal connectors would allow.
The I/O panel is very nicely labelled, and it is black instead of the regular silver, which goes with the metallic theme of the board. It also has a sponge backing, which makes it much less painful to attach than the metal prongs we often see.
It is also nice to see the 5 year warranty, since the usual ASUS warranty is 3 years, and the usual warranty for other manufacturers is 1 year.
Looking at the board, the first thing that strucks us was the unpretentiousness of the product – the three tone black/military green/beige certainly caught our eye. When we picked the board up, it felt solid, and came in at 2 lbs 5oz (compared to the ASrock Extreme6 at 2 lbs). We should keep in mind that solid is always better – more weight means larger heat sinks which in turn translates to cooler temperatures.
Checking out the ASUS X58 Sabertooth
Unfortunately for overclockers, there is no Clear CMOS button, nor is there a digital display to show error codes. Perhaps the board is indeed more stable and can withstand unsuccessful overclocks better than most? We certainly intended to find out.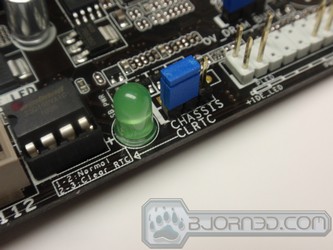 Click on image to enlarge
Although there was no clear CMOS button there are two sets of jumper pins that are designed for overclockers: an over-volt CPU jumper and an over-volt DRAM jumper. The manual nicely shows what voltages can be reached by switching the appropriate jumper.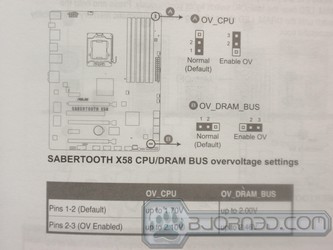 Click on images to enlarge
Here is a look at the board itself. The CPU socket area is nice and spacious, and is surrounded by some quality heat sinks. Notice the distance the socket is from the edge of the board. This is useful for those who intend to use a wide CPU cooler and have an adjacent fan – particularly useful in a smaller case such as one used for home theater PCs.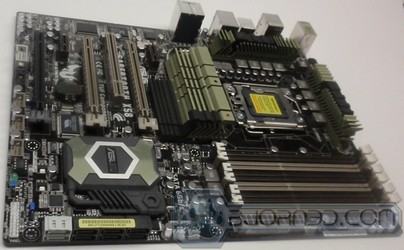 Click on image to enlarge
We can see the alloy chokes just behind the processor socket. These are made of an alloy that allows a 25% larger current than standard while also eliminating vibration noise.
The heat sinks are coated with a special ceramic layer increasing the surface area by 50% compared to a regular aluminum heat sink. This layer also serves to protect against corrosion in high humidity environments. Ceramics are not ordinarily noted for their heat conductivity but special solutions can be made. The black heat sinks actually just clip onto the green ones, which themselves are attached to the motherboard with spring loaded pins.
Click on images to enlarge
The MemOK! button on the motherboard patches memory issues by determining failsafe settings that can dramatically improve the system boot process. The board has 3 PCI-E slots, with the first two slots running at x16 and the third one running at x4. This third slot is ideal for a PhysX card or TV Tuner. Although there are two PCI-E x1 slots and one PCI slot, users who run two dual-slot video cards will lose one of each.
Closer Look Continued
Click image to enlarge 
Here we can see how close the two GTX470 cards are. The top card struggles to get any fresh air, even with a house fan blowing directly at the cards, the top card readily reached 100C within 3 minutes of Battlefield: Bad Company 2. There was at least a 15C difference between the two cards. The PCI-E slot placement on this (and many other x58 boards) are puzzling, because Socket 1366 is an enthusiast platform and this board is hexa-core Gulftown ready.
Moving on to the back panel, we see 8 USB slots, two of which are USB 3.0 6Gb/s (blue) and six of which are USB 2.0 3Gb/s (4 x black, 2 x red). USB 3.0 is the next generation of USB and is backwards compatible with USB 2.0. USB 3.0 has up to 10 x faster transfer speed, something which we'll test later in this review.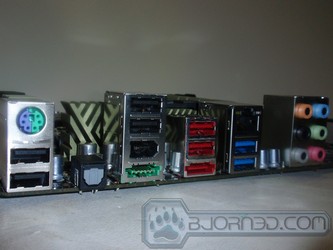 Click image to enlarge
Also available are two eSATA 3Gb/s ports. One of these is powered, and is a combo USB/eSATA, something we've never seen before. This port can power up to 12v for large devices such as a 3.5" HDD/SSD or 5.25" optical drives. Older eSATA devices will still need an external power source.  It is designed such that only one device can be used at a time
There is a combo PS2 keyboard/mouse connector, a digital (optical) S/PDIF out connector, one Gigabit Ethernet RJ-45 port, 6 audio ports and one IEEE 1394a port.
BIOS
The BIOS certainly has a plethora of options and can seem quite daunting to the less experienced. Most of the action takes place in the Ai Tweaker.
Our first objective was to see what the highest BCLK was we could achieve. The BCLK is the base clock, and in conjunction with various multipliers, sets the frequency at which all the components run at.
To determine the system's maximum BCLK, we need to rule out all other components as limiting factors, so the CPU multiplier was reduced to 12, and the memory reduced to 800 MHz (this increases as the BCLK increases). With the QPI DRAM voltage set to 1.2315V and the IOH voltage set to 1.18V, we topped out with a BCLK of 222MHz.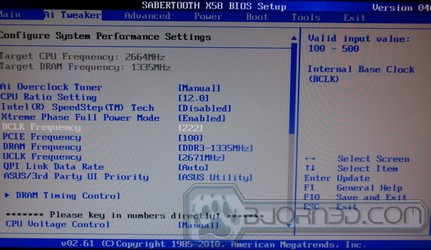 Click image to enlarge 
The following pictures show the wide range of settings users can apply in the Ai Tweaker. In addition to the voltages and timings, several options can be set to enhance overclocking, including CPU Differential Amplitude, CPU Clock Skew, CPU Spread Spectrum and IOH Clock Skew. One thing that would be useful would be to improve the information section on the right hand side when you highlight an option. However, this is something that can be improved on for almost every BIOS, and this particular BIOS provides better explanations than most.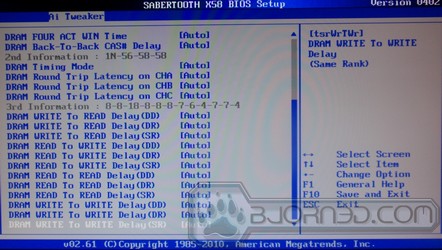 Click images to enlarge
The Advanced section allows users to enable/disable C1E support, HT technology, and more.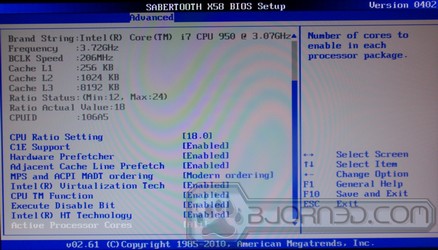 Click image to enlarge
Overclocking with the Core i7 950 D0
The next step was to see what the maximum overclock is that we could achieve with our Core i7 950 (default 3.06 GHz, max turbo 3.33 GHz). With a CPU ratio of 21, a BCLK of 205MHz, and a voltage of 1.375, we reached 4.305GHz. The CPU core temperatures were peaking at 72C with our A70 cooler, so with higher voltages, it was possible to reach a higher frequency (albeit not one suitable for everyday use).
Click image to enlarge
The user guide included with the motherboard had a useful voltage guide that showed a range of voltages from blue (very safe), yellow, purple and red (potentially dangerous).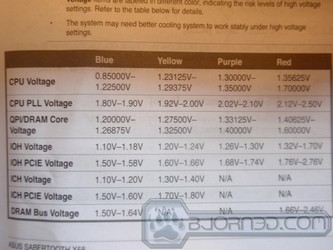 Click image to enlarge
It must be pointed out that at no point did we ever have to reset the CMOS jumper to clear the BIOS. During the testing the board remained rock solid and allowed us to go back into the BIOS to make the necessary adjustments, which we find very impressive.
Testing and Methodology
We've expanded our testing suite considerably for the X58 chipset, and will continue to use the same methods for most of the motherboards and CPU's we test. In the interests of thoroughness and accurate results, we run each test at least three times, and some tests more than that. We average the total of all the tests from each benchmark then report the average here.
The OS used was Windows 7 Home Premium 64bit with all patches and updates applied. We also use the latest drivers available for the motherboard and any devices attached to the computer. We do not disable background tasks or tweak the OS or system in any way. We turn off drive indexing and daily defragging. We also turn off Prefetch and Superfetch. This is not an attempt to produce bigger benchmark numbers. Drive indexing and defragging can interfere with testing and produce confusing numbers. If a test were to be run while a drive was being indexed or defragged, and then the same test was later run when these processes were off, the two results would be contradictory and erroneous. As we cannot control when defragging and indexing occur precisely enough to guarantee that they won't interfere with testing, we opt to disable the features entirely.
The following hardware was used in testing. Since two GTX 470 graphics cards caused overheating issues, only one card was used in the test rig.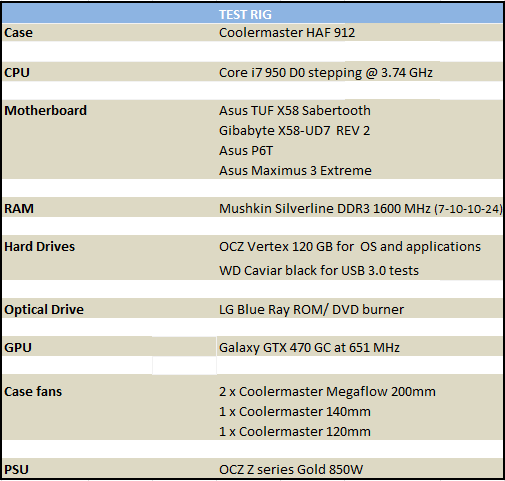 The following benchmarks were used to measure the performance of the X58 Sabertooth.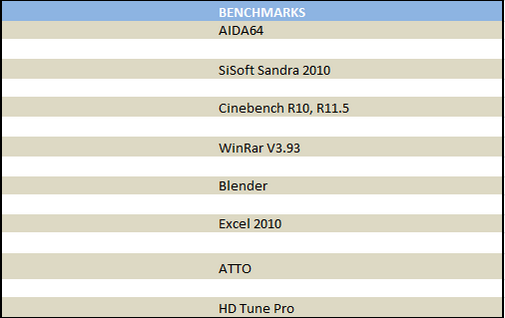 In September 2010 the Hungarian branch of Everest split and formed a new company called FinalWire. Their goal was to further develop the Everest software that was such a huge success in the computer enthusiast community.
The user interface is the same as Everest and, still has the same benchmarking and monitoring capabilities but with 64 bit support, which allows it to work with up to 32 processing cores simultaneously and has support for solid state drives.
Let us look at the CPU and memory benchmarks.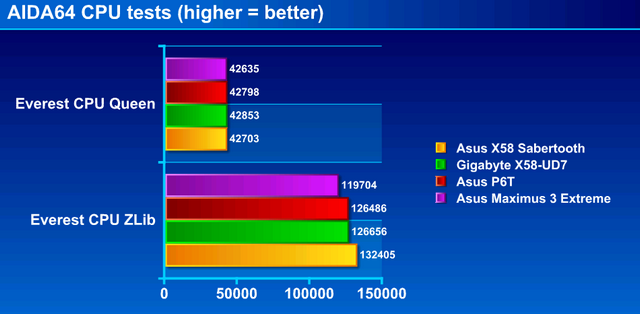 The Asus X58 Sabertooth performs very well in the CPU department, outperforming the rest. The Maximum 3 Extreme is actually an LGA 1156 motherboard while the remainder are LGA 1366. The Maximus has dual channel memory, and the LGA 1366 motherboards have triple channel memory. Even though the CPUs were clocked at the same speed, the memory configuration may explain the poorer performance of the Maximus 3 Extreme.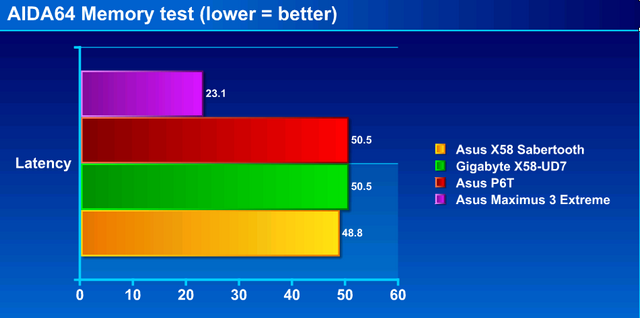 Looking at memory latency all the LGA 1366 motherboards performed similarly, although the Sabertooth did perform slightly better than its rivals. 
So far, this board's performance is quite impressive.
SiSoft Sandra Professional
 "SiSoftware Sandra (the System Analyser, Diagnostic and Reporting Assistant) is an information & diagnostic utility. It should provide most of the information (including undocumented) you need to know about your hardware, software and other devices whether hardware or software. It works along the lines of other Windows utilities, however it tries to go beyond them and show you more of what's really going on. Giving the user the ability to draw comparisons at both a high and low-level. You can get information about the CPU, chipset, video adapter, ports, printers, sound card, memory, network, Windows internals, AGP, PCI, PCI-X, PCIe (PCI Express), database, USB, USB2, 1394/Firewire, etc."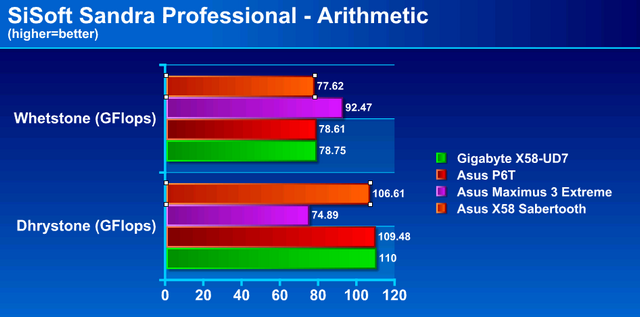 The Dhrystone benchmark is designed to contain a representative sample of types of operations, mostly numerical, used by applications. Unfortunately this does not always represent a true real-life performance, but is useful to compare the speed of various CPUs. 
The Dhrystone benchmark used here is multi-threaded and the result is determined by measuring the time it takes to perform some sequences of instructions and is measured in MIPS (Million Instructions Per Second).
The Whetstone benchmark is widely used in the computer industry as a measure of FPU or Co-Processor performance. Floating-point arithmetic is most significant in programs that require a Co-Processor. These are mostly scientific, engineering, statistical and computer-aided design programs. Again, this benchmark is multi-threaded and the result is determined by measuring the time it takes to perform some sequences of floating-point instructions and is measured in MFLOPS (Million Floating OPerations per Second).
The three LGA 1366 boards perform similarly, with the X58 Sabertooth trailing slightly in both benchmarks.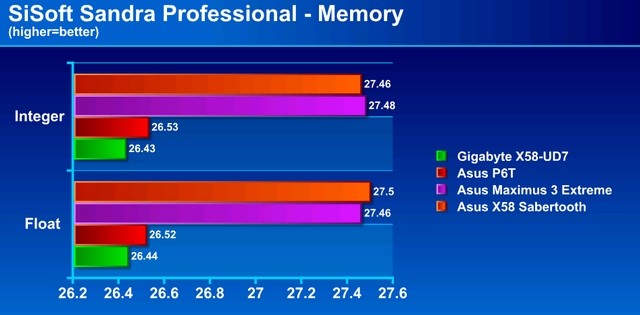 The Sandra memory benchmark is based on the popular Stream memory benchmark but differs in that Sandra uses dynamic data (around 40-60% of physical system RAM).
The X58 Sabertooth performs very well here, besting all the LGA 1366 boards by some 3-4%.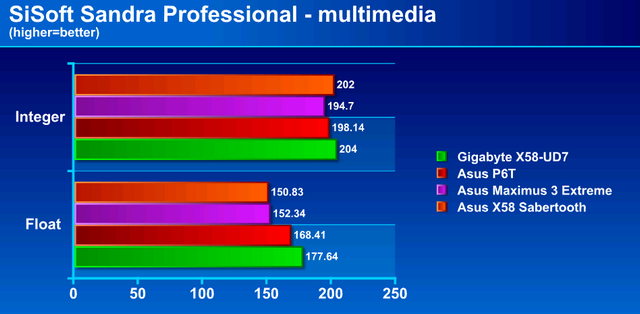 This benchmark generates a picture (640 x 480) of the well known Mandelbrot fractal, using 255 iterations for each data pixel, in 32 colors. It is a real-life benchmark rather than a synthetic benchmark, designed to show the improvements MMX/Enhanced, 3DNow!/Enhanced, SSE(2) bring to such an algorithm. This benchmark is multi-threaded for up to 64 CPUs. The results are in Mandelbrot Iterations per Second x 1000, thus an index of 1000 means that 1 iteration has been completed in 1 second.
Using integer data, the X58 Sabertooth performs on par with the the other two LGA 1366 boards, with the LGA 1156 Asus Maximus 3 Extreme trailing.
Using floating-point data, however, the X58 Sabertooth brings in the rear, even performing worse than the Asus Maximum 3 Extreme.
Cinebench R10

"CINEBENCH is a real-world test suite that assesses your computer's performance capabilities. MAXON CINEBENCH is based on MAXON's award-winning animation software, CINEMA 4D, which is used extensively by studios and production houses worldwide for 3D content creation. MAXON software has been used in blockbuster movies such as Spider-Man, Star Wars, The Chronicles of Narnia and many more. MAXON CINEBENCH runs several tests on your computer to measure the performance of the main processor and the graphics card under real world circumstances. The benchmark application makes use of up to 16 CPU's or CPU cores and is available for Windows (32-bit and 64-Bit) and Macintosh (PPC and Intel-based). The resulting values among different operating systems are 100% comparable and therefore very useful with regard to purchasing decision-making. It can also be used as a marketing tool for hardware vendors or simply to compare hardware among colleagues or friends."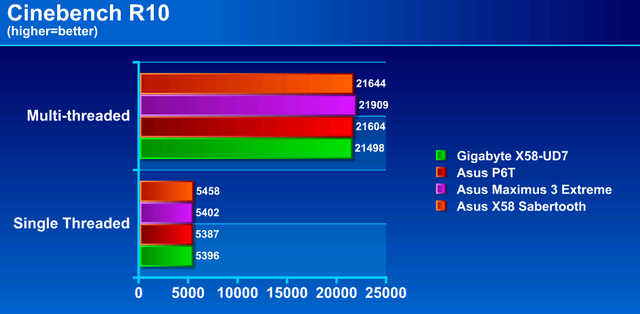 The X58 Sabertooth fairs well in both the single and multi-threaded tests, beating both the ASUS P6T and the Gigabyte X58-UD7. This motherboard would be a solid choice for those doing 3D rendering work.
WinRar 3.93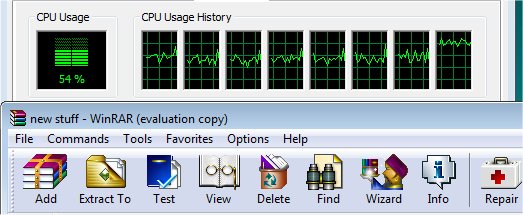 This module in WinRar generates random data, which contains specially introduced redundancy, increasing the load to both the processor and memory. Data is then passed through RAR compression and decompression algorithms, and the output of the decompression algorithm is compared to the source data. If any differences are found, WinRar then reports "Errors found – Yes" in the command window. WinRar displays a size of processed data and compression speed, current and resulting, in kilobytes per second.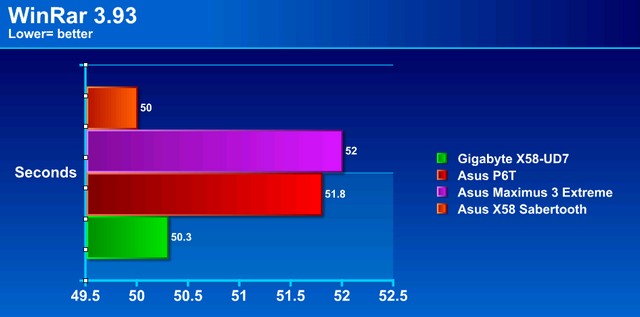 The X58 Sabertooth again led the pack here, but was very close to the Gigabyte X58-UD7. It outperformed the LGA 1156 ASUS Maximum 3 Extreme and ASUS P6T boards by 4% .

Blender is a free open source 3D content creation suite that is available for various operating systems. The application is popular among many independent animation studios and game makers. For more information visit http://www.blender.org/.
The benchmark consists of a 6.9 MB character model of a flying squirrel and records the time it takes to render the image.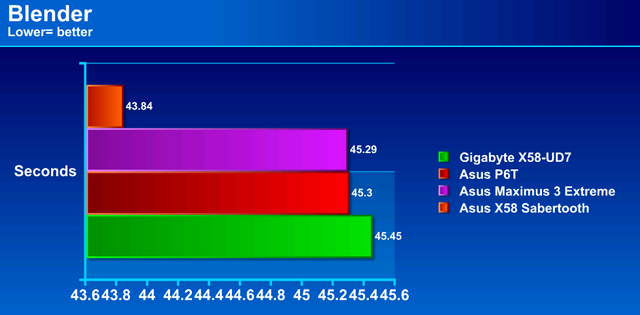 The Asus X58 Sabertooth performed significantly better than all the other boards tested, leading by about 3.5%. The time saved increases with the size of the file rendered, so this motherboard will save perhaps many minutes when rendering extremely large files.
MICROSOFT EXCEL 2010
Monte Carlo Black-Scholes Option Pricing Test
Microsoft Excel is the widely known and most used spreadsheet application for the manipulation and calculation for number crunching. With Excel you can analyze and share information on small scale or the largest scale you can imagine. We've seen spreadsheets in every day use that contain literally tens of thousands of numbers and hundreds of equations. Bjorn3D uses two tests in Excel to determine CPU and Motherboard performance. 

This workload calculates the European Put and Call option valuation for Black-Scholes option pricing using Monte Carlo simulation. It simulates the calculations performed when a spreadsheet with input parameters is updated and must recalculate the option valuation. In this scenario we execute approximately 300,000 iterations of Monte Carlo simulation. In addition, the workload uses Excel lookup functions to compare the put price from the model with the historical market price for 50,000 rows to understand the convergence. The input file is a 70.1 MB spreadsheet.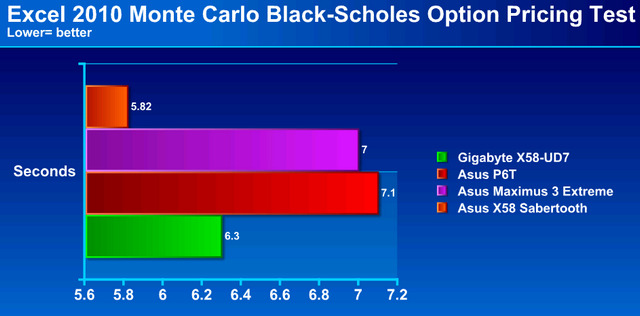 The ASUS X58 Sabertooth demolished the opposition here, coming in about 8% faster than its nearest rival, the Gigabyte X58-UD7 and 22% ahead of the ASUS P6T. For users who interact with large files and calculations in Microsoft Excel, the ASUS X58 Sabertooth would be a very good choice.
USB 3.0 and SATA 3.0 Performance
USB 3.0 is all the rage these days, and quite rightly so. It promises speed increases of up to 10x compared to USB 2.0, and when doing large file transfers or back ups, this can save a lot of time. The specification was drawn up in August 2008, so it has taken some time to arrive in a usable form.
USB 2.0 is classified as High Speed at 480 Mbits/s (~57 MB/s), and USB 3.0 is classified as Super Speed at 4800 Mbits/s (~572 MB/s). We are wondering if at some point, we will run out of adjectives to describe the speed. Perhaps we'll soon be at Warp Speed…
USB 3.0 achieves its high transfer rates by using four additional wires in the data cable, for a total of six wires. It supports full-duplex communication (the ability to send and receive data simultaneously), and is power efficient. Most importantly, it is backwards compatible with USB 2.0 devices. However, to achieve USB 3.0 speeds, a 3.0-compatible device and cable must be used.
To test USB 3.0 performance we performed a file transfer test consisting of 32 video files totaling 19.8 GB from a 7,200 RPM internal drive to a 7,200 RPM drive in a USB 2.0/3.0 docking station.
The same USB attached drive was benchmarked using ATTO. Here are the results.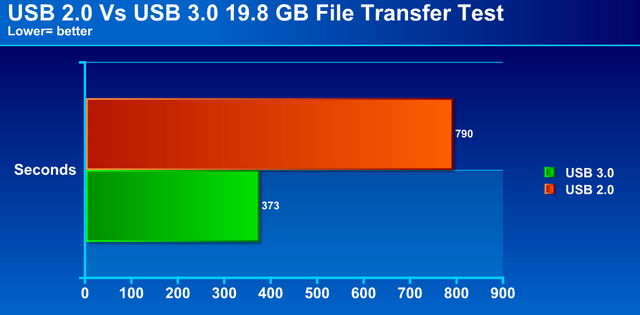 The 19.8 GB of data took less than half the time using USB 3.0, and that was using a regular 7,200 3.5″ hard drive with about 20% free space remaining. The drive is not the fastest by any means, but it was chosen to show what type of improvement users can get even with a slower drive that is well used and nearing full capacity. This result is very impressive.
                                   USB 2.0                                                                               USB 3.0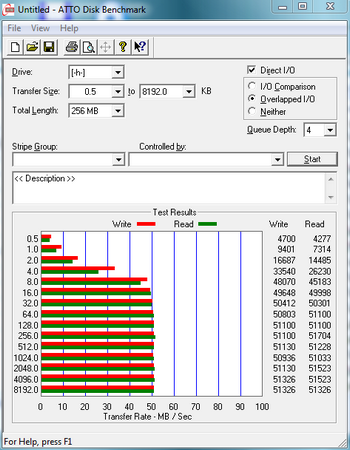 We took the averages from the above benchmark and put them in the following table:
We get a good improvement in read and write performance (75% and 95% respectively) when we switch to USB 3.0. In fact, it breathes new life into what was previously an old, well used hard drive.
Next we will look to see what SATA 3.0 can bring to the average user. 
SATA 3.0 is the new specification for the now common bus interface, and will start replacing SATA 2.0. SATA stands for Serial Advanced Technology Advancement. The new specification was drafted in July 2008, so again, it has taken some time to arrive for consumers.
The SATA 2.0 interface runs at 3 Gbits/s (peak uncoded throughput of 300 MB/s) whilst the SATA 3.0 interface runs at 6 Gbits/s (peak uncoded throughput of 600 MB/s).
While even the fastest conventional hard disk drives can barely saturate the original SATA 1.5 Gbit/s bandwidth, Solid-State Drives have already saturated the SATA 2.0 (3 Gbit/s) limit at 285 MB/s net read speed and 250 MB/s net write speed with the Sandforce 1200 and 1500 controller.
We only had an OCZ Vertex 120GB SSD available (using the Indilinx Barefoot controller) to test the SATA 3.0 capabilities of the board.  The speed of this drive, although fast, should not be fast enough to see any noticeable improvement. If two of these were run in a RAID 0 configuration, then we would expect to see a big difference.
SATA 2.0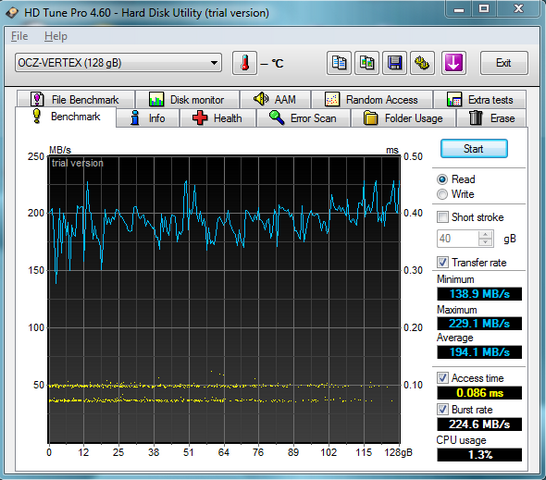 SATA 3.0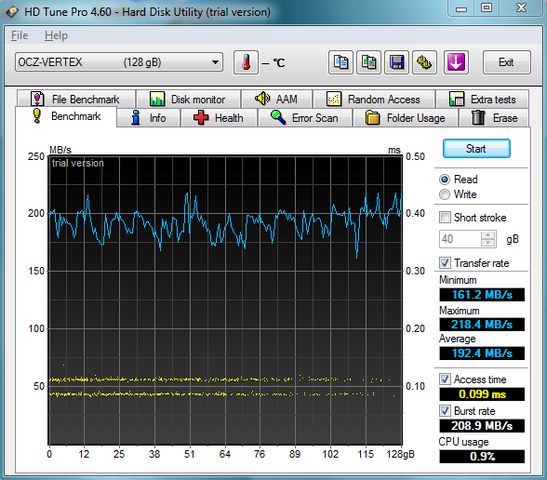 As we suspected, there was no benefit switching to SATA 3.0 for a single, Indilinx Barefoot based SSD.
Moving on to the ATTO benchmark, however, we do see a read improvement of about 7% when reading transfers of 128KB and above.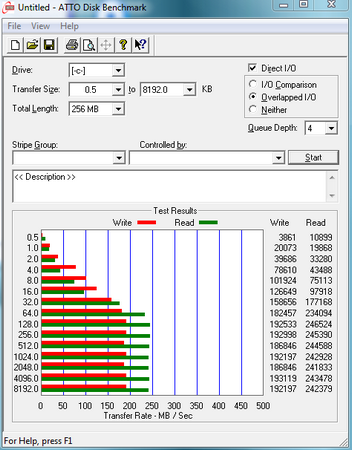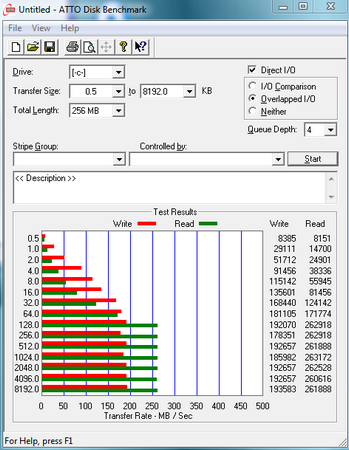 Thus, we conclude that SATA 3.0 is only valid for users who can saturate the SATA 2.0 limits of 285MB/s read and 250MB/s write. Although this is only relevant for a small minority of users at the moment, it does give a good measure of future performance.
Conclusion

The ASUS X58 Sabertooth is a very solid motherboard, and offers a good amount of future potential with the inclusion of SATA 3.0 and USB 3.0. The inclusion of a powered eSATA port was very innovative and much appreciated. When compared with other X58 boards in its class, it performed very well, generally taking the lead in most benchmarks. We must, however, note the poor positioning of the second PCI-E slot. For a board that offers CrossFire and SLI support, we are very disappointed, as the extremely close proximity means that users cannot run two high-end video cards without the risk of overheating the upper card. If former subsidiary ASRock can achieve a Tri-SLI board with double spacing between each PCIe x16 slot, surely ASUS can also.
Perhaps, as consumers, we are getting spoiled by manufacturers including additional items such as USB/Firewire brackets, however we can't help but feel a little short-changed at the lack of included accessories. It couldn't hurt if ASUS included an additional four SATA 2.0 cables so that users could utilize all included SATA ports without having to buy cables.
On the other hand, the board does offer overclockers a solid platform to work from. The omission of a clear CMOS button was a surprise, and we would have preferred that ASUS include one, but at no point did we have to clear the CMOS during our overclocking. The board was capable of reaching a high BCLK value, which is ideal for those wanting to increase the frequency of their RAM and has a plentiful supply of options to tweak the BIOS (and over-volt the RAM and CPU) to push components to their limits for those using water cooling.
OUR VERDICT: ASUS TUF X58 SABERTOOTH
| | |
| --- | --- |
| Performance | 9 |
| Value | 8 |
| Quality | 10 |
| Features | 9 |
| Innovation | 9 |

We are using an addition to our scoring system to provide additional feedback beyond a flat score. Please note that the final score isn't an aggregate average of the rating system.

Pros
Cons

Very good stability

Solid overclocking performance

USB 3 and SATA 3

Powered eSATA 

Lack of accessories, in particular lack of SATA cables

PCI-E x16 slots too close together.

 

 
Summary: ASUS has made another fine product, and the X58 Sabertooth leads the way when compared to other X58 motherboards. It is a perfect board for those seeking reliability, whether for overclocking or normal use in harsh environments. It is a solid gaming board for those who plan to use only one video card. We are proud to give the ASUS X58 Sabertooth the Bjorn3D Silver Bear Award.