The HIS Radeon HD6870 is a no-frills HD6870 from HIS which peforms very well against the GTX460.
INTRODUCTION
HIS is a company well known for their focus on AMD products. It is therefore no surprise that they are launching cards using the new GPU's from AMD. The card we are looking at today is a basic HD6870. It has the same cooler as the reference card, and is clocked the same.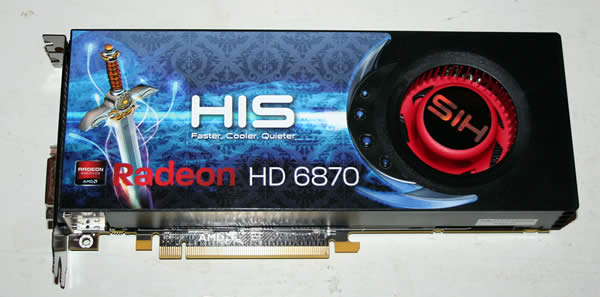 The Radeon HD6870 is the newest GPU from AMD. Even though the name suggests it is a replacement for the HD5870, the HD6870 is actually a mid-range card which has performance similar to the HD5850, albeit at a lower price, and with some new cool features attached.
In addition to this review we also have released an overview article for the HD6850 and HD6870 that might be interesting to read.
FEATURES
In our overview article, we have written more about the various new and updated features that we get with the HD6850 and HD6870. Here are some of the highlights:
DisplayPort 1.2
Gives us much more flexibility when it comes to Eyefinity as it allows us to; with proper monitors or hubs, to attach several monitors to one DisplayPort on the card.
Updated Eyefinity
We now easily can attach 4 monitors to a card as we get two mini-DisplayPorts on the card, which together with the dual-link DVI and the single-link DVI-connectors, can each connect to a monitor.
HDMI 1.4a
The cards now support 3D-video over HDMI.
AMD HD3D
in response to Nvidia 3D Vision, AMD has started the Open 3D Stereo initiative which aims to make it easier for consumer to get cheap 3D-stereo setups with a wide combination of products. The HD6k supports stereo games and video.
Faster tessellation
The tessellation engine has been improved so it in some cases offer up to 2x the performance of the previous AMD-cards.
Morphological Anti-Aliasing
Yet another anti-aliasing filtering technique which uses DirectCompute. It smoothes out edges over the whole image.
Specifications
While HIS usually have a lot of factory overclocked cards, this card is as generic and reference-like as it can be. It is clocked at the same speeds as the reference card and looks the same.
GPU
Radeon HD 5830
Radeon
HD 5850
Radeon
HD 5870
Radeon
HD 5970
Radeon HD 6850
HIS Radeon HD 6870
Die Size
334
334
334
2×334
230
255
Shader units
1120
1440
1600
2x 1600
960
1120
Texture Units
56
72
80
2×80
56
56
ROPs
32
32
32
2x 32
32
32
GPU
Cypress LE
Cypress
Cypress
2x Cypress
Barts Pro
Barts XT
Transistors
2154M
2154M
2154M
2x 2154M
2000M
1700M
Memory Size
1024 MB
1024 MB
1024 MB
2x 1024 MB
1024MB
1024MB
Memory Bus Width
256 bit
256 bit
256 bit
2x 256 bit
256 bit
256 bit
Core Clock
800 MHz
725 MHz
850 MHz
725 MHz
775 MHz
900 MHz
Memory Clock
1000 MHz
1000 MHz
1200 MHz
1000 MHz
900 MHz
1050 MHz
The specifications might sound a bit cut-down from the HD58xx cards, but do not be fooled. The card still has an improved tessellation engine, as well as better geometric throughput.
Closer Look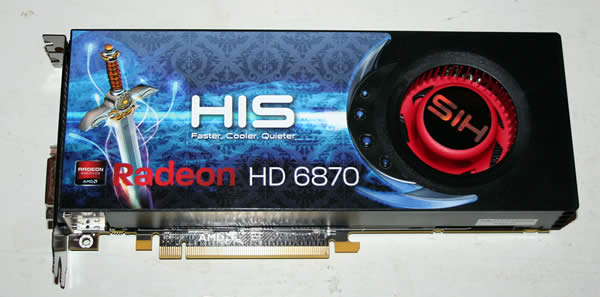 As mentioned, the HIS Radeon HD6870 is in essence a reference card with an HIS sticker on it. It looks exactly like the reference card we got from AMD. There's nothing negative with that though, as it is a solid model.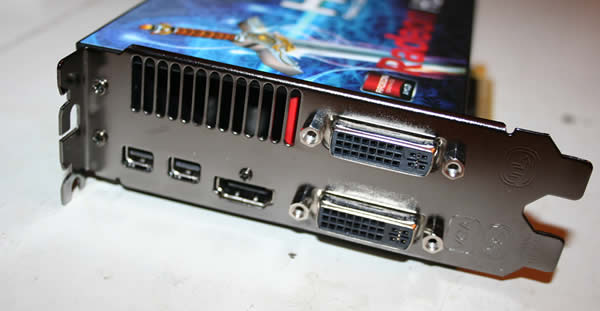 It is up to the OEM's to decide if they want to include 2 mini-DisplayPort connectors or just one regular DP connector. HIS opted to follow the lead reference card's lead. We are happy with this, as it means the card supports up to 4 monitors through the two mini-DisplayPort connectors and the two DVI connectors. Since it has two mini-DisplayPort connectors though, it means that one of the DVI connectors is a Single-Link connector.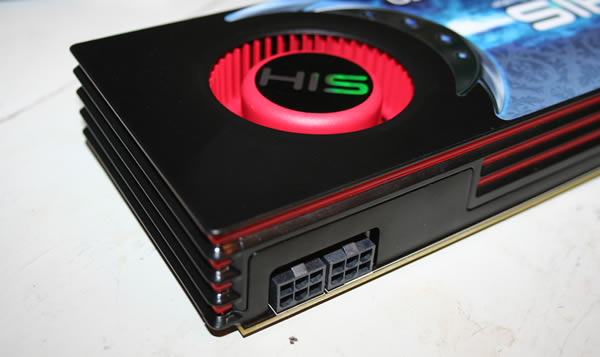 Even though the power requierements are lower than for the HD5850 and HD5870, the card still needs power from two connectors.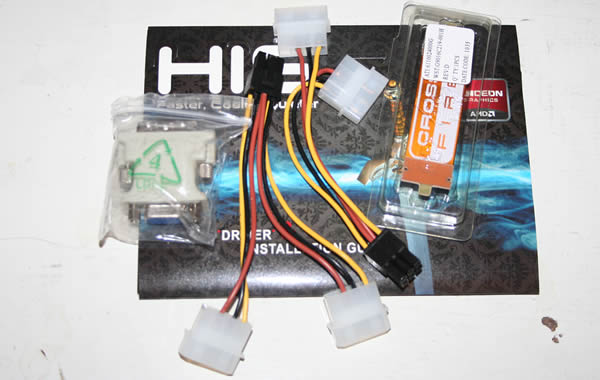 The bundle HIS includes is quite dissapointing. We would have liked to see at least one mini-DisplayPort to DVI/HDMI adapter with the card.
PERFORMANCE – SETUP
 We tested the card on the following system:
AMD Phenom II X6 1090T @ 3.2 GHz
Noctua NH-C12 Cooler
4 GB OCZ Black Edition DDR3 @ 1600 MHz
ASUS Crosshair IV Formula
300 GB WD Raptor (System Disk)
1 TB Samsung F2 (Storage Disk)
Thermaltake 1200W PSU
Dell 24" monitor with a maximum resolution of 1920×1200
Windows 7 Pro 64-bit
The cards tested were:
HIS HD5830 Turbo
Reference AMD HD5870
Reference AMD HD6850
Reference AMD HD6870
HIS HD6870
Zotac GTX480 768 MB
Gigabyte GTX468 1 GB OC (715 Mhz)
3DMark Vantage
This benchmark from Futuremark is nearing the end of its utility, and we expect a new version to come out later this year. It still is interesting to see how each card handles the various DX10 features that it tests.
Settings: Xtreme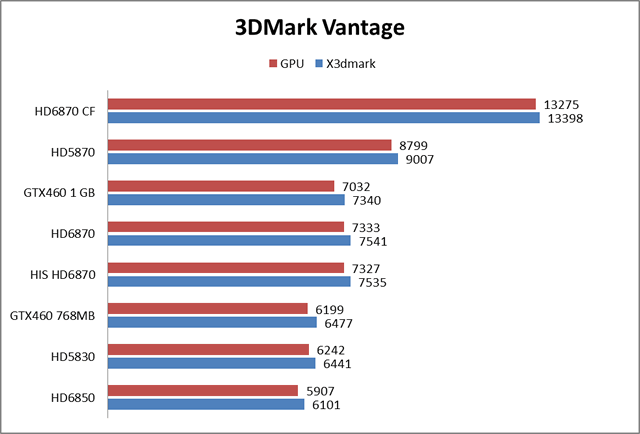 The HIS HD6870 manages to beat both the HD5830 and the GTX460 1 GB OC.
Unigine heaven 2.1
Unigine Heaven is a benchmark program based on Unigine Corp's latest engine, Unigine. The engine features DirectX 11, hardware tessellation, DirectCompute, and Shader Model 5.0. All of these new technologies, combined with the ability to run each card through the same exact test, means that this benchmark is an essential component of our arsenal.
Settings used:
Shaders: high
Tessellation: normal
Anti-aliasing: 4x
Anisotropy: 16x.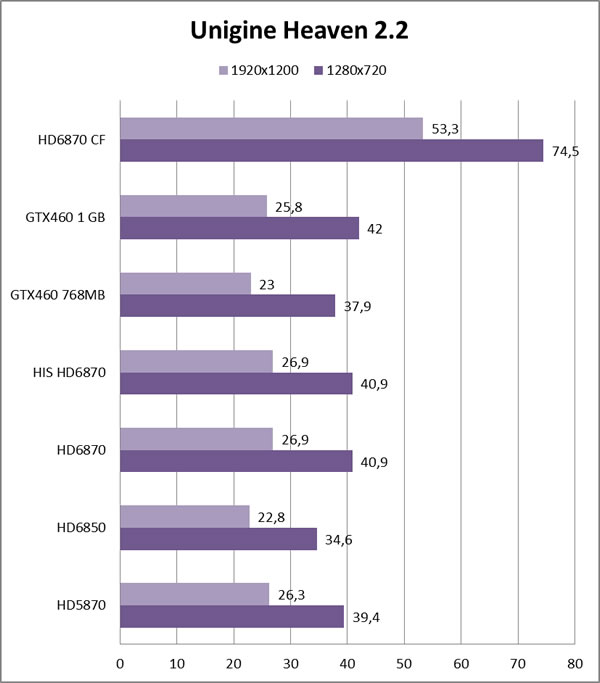 There isn't much difference between the HD6850, HD6870, and GTX460's.
CRYSIS: WARHEAD
Crysis Warhead is the much anticipated standalone expansion pack to Crysis, featuring an updated CryENGINE™ 2 with better optimization. It was one of the most anticipated titles of 2008.
Settings: "Gamer", DX10, 4xAA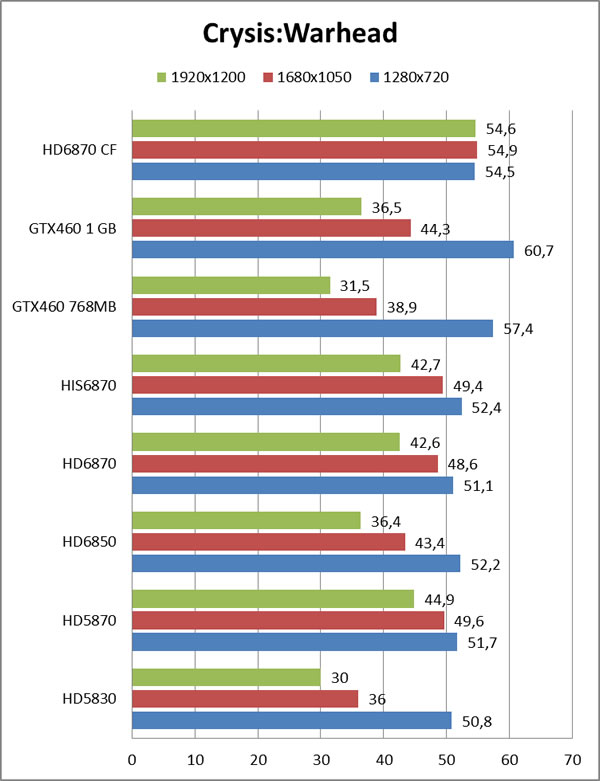 At the lowest resolution, the two GTX460 cards dominate, but as soon as we start moving up they are left in the dust.
Just Cause 2
Settings: Text Det: High , Shadow Qual: High , 4xAA , 16xAF , Water: Very High , Objects: Very High , Decals: On
Soft Particles: On , V-Sync: Off , Hig-res shadows: On , SSAO: High , Point Light Spec: On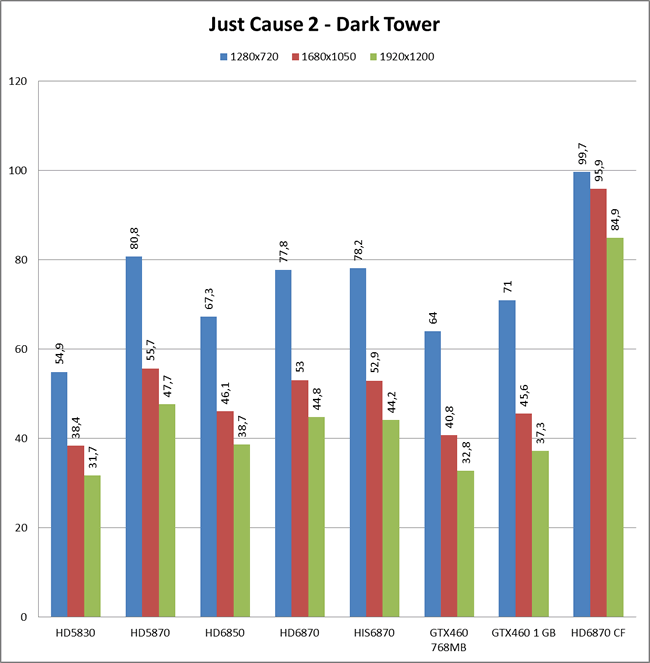 Both the HD6850 and the HD6870 performs very well in this benchmark. As we increase resolutions, the HD6850 actually beats the GTX480 1 GB OC. It seems that the Just Cause 2 engine likes AMD. When we combined two HD6870's, the framerate almost doubled. The HD5870 barely managed to beat the HD6870, and the HD5830 is left far behind.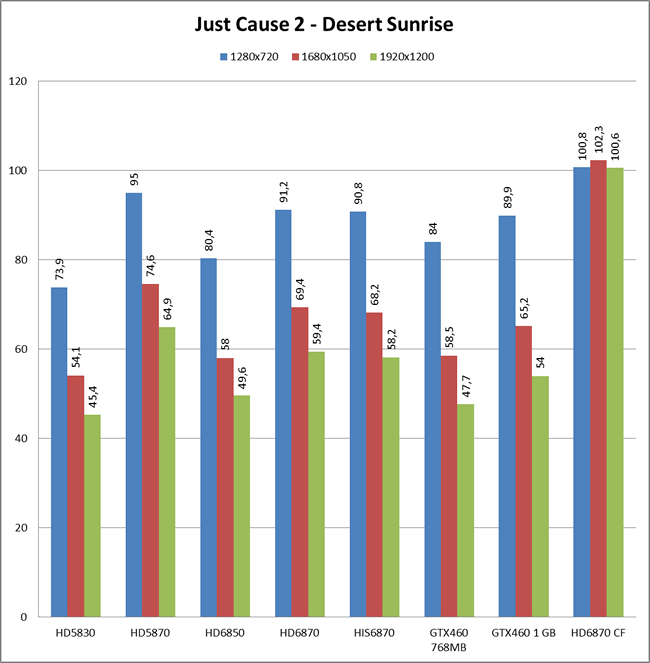 In this graph, the GTX460 managed to perform a bit better, but not significantly. Again, we see an impressive framerate doubling when we run two HD6870 in CrossFireX.In this graph, the GTX460 managed to perform a bit better, but not significantly. Again, we see an impressive framerate doubling when we run two HD6870 in CrossFireX.
Alien versus Predator
This benchmark is based on the Rebellion game Alien versus Predator, released in 2010. It uses DirectX11.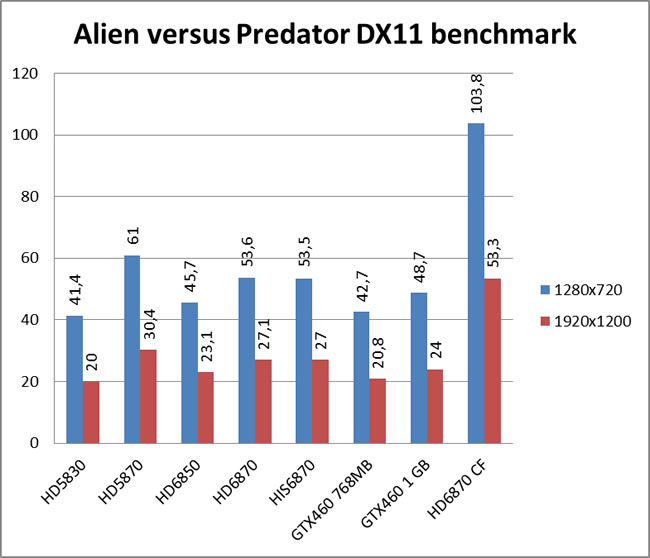 Once again, the HD6850 and the HD6870 has no problems competing, with both GTX460-cards. And once again, two HD6870 in CrossFireX configuration scales very well.
CIVILIZATION V
Turn-based games like Civilization usually are not the prime suspect when we look for a game that taxes the GPU.Civilization V however uses DX11-features like tessellation. It has three in-built benchmarks that test various parts of the system.
Late Game View Benchmark.
This benchmark is designed to simulate a late game workload. This scenario exercises all aspects of the game engine pipeline, since all simulation and renderable object types are represented at a frequency consistent with a game that has been in progress for 300+ turns.
Unit Benchmark.
This benchmark is designed to stress test the user's system by executing a parallel series of animation and rendering tasks. The workload will heavily stress the CPU as well as GPU and driver. It is designed as a total throughput test to evaluate a user's system and determine where the bottlenecks occur. Results reported are similar to the Late Game View benchmark, however the display settings are overridden for consistency. Therefore, changes to the graphics settings will not impact the test except for setting resolution. 
Leader Benchmark
The Leader Benchmark is designed to test advanced rendering features which we use for our leader scenes. This test can run through any of the leader scenes specified and report the performance for that leader. 
Settings: All set to High, 4xAA, 16xAF
Since this tests the whole system there is not much difference between the cards. The Radeon cards do perform a bit better than the two Nvidia cards though.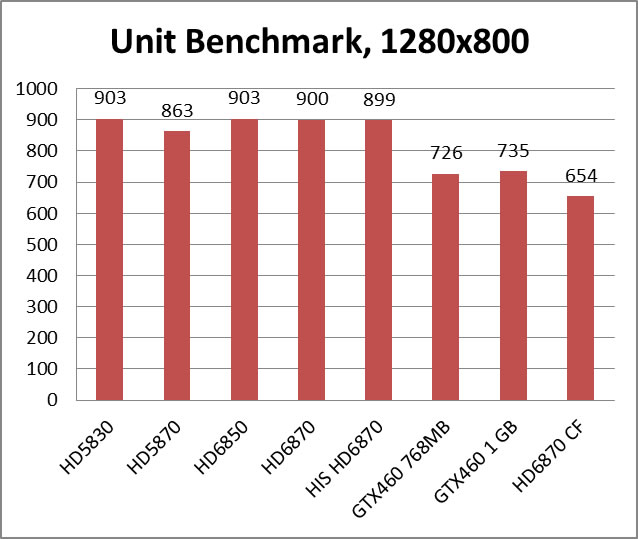 We see the same pattern as with the Late game benchmark except that the CrossfireX-setup seems to have stalled.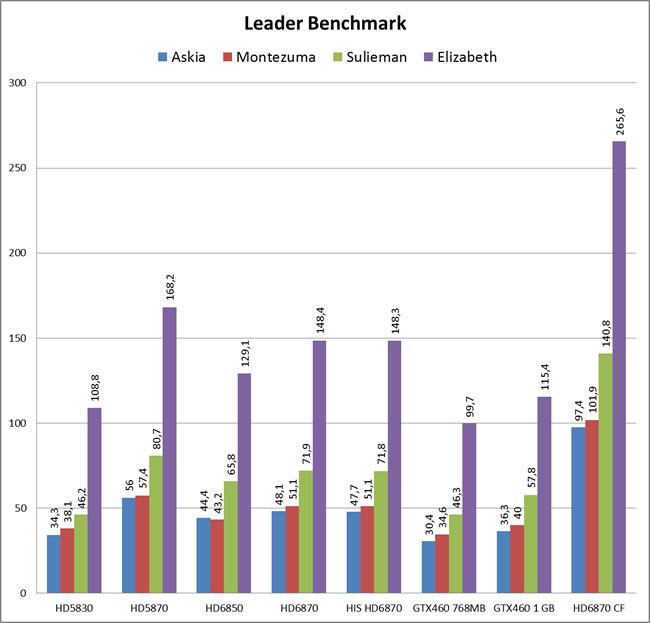 This test is more interesting from a GPU point of view, and the Radeon cards significantly outperform the Nvidia cards when it comes to the advanced rendering in Civilization V.
POWER CONSUMPTION
We measured the power consumption at the wall. This includes the whole system (except the monitor). We noticed that AMD uses the Perlin Noise test in 3DMark Vantage to test the full board power. We therefore used both this test and the regular one we run in Furmark.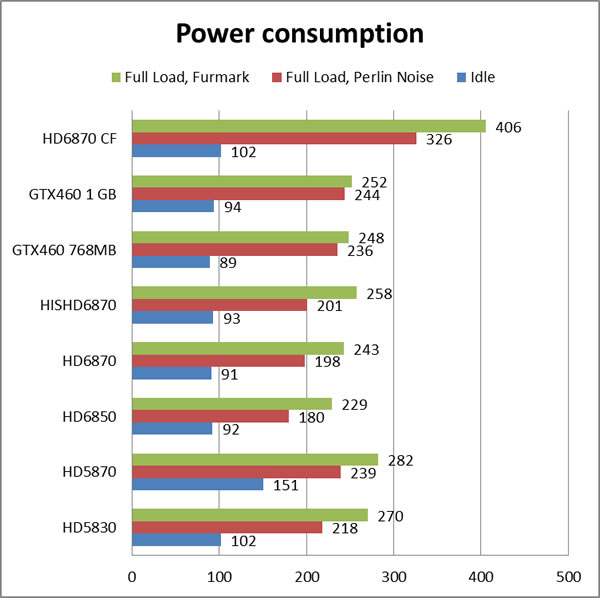 The HD6850 and HD6870 performs very well and has the lowest system power consumption of all the cards tested. The HBIS HD6870 has a slightly higher power consumption than our reference HD6870.
OVERCLOCKING
We spent some time trying to find the best overclock for our HIS HD6870 card, and after an hour or so of trial and error, we found that we could increase the core clock from 900 Mhz to 975 Mhz, a nice 8% increase. Unfortunately, the memory was almost impossible to increase from its default 1050 Mhz. It will be interesting to see what kind of overclock HIS will provide us with their Turbo-cards.
CONCLUSION
It is quite clear that the HD6870 is an excellent GPU that can easily take on the GTX460 in the mid-range market. The HIS HD6870 has no real problems keeping up with the two GTX460's we included in our test, and it also has some nice new features that should keep it relevant in the future. We have no problems recommending it for anyone who plans to upgrade from a HD5830 or slower card.
We were a bit disappointed with the weak bundle, and we are still waiting for a definite price on the card. AMD has said that the SEP is $230 on the HD6870 but the few cards that already can be found online seem to be priced much higher, around $270-280. As soon as the supply catches up with demand though, we expect the prices to drop, and as long as it is priced at around $230-240 it definitely is good value.
OUR VERDICT: HIS Radeon HD6870
| | |
| --- | --- |
| Performance |  7 |
| Value |  7 |
| Quality |  7 |
| Features |  9 |
| Innovation |  9 |

We are using a new addition to our scoring system to provide additional feedback beyond a flat score. Please note that the final score isn't an aggregate average of the new rating system.

Pro

Cons

Good performance

Eyefinity has become even better

3D-support via AMD HD3D

DisplayPort 1.2

Price needs to stabilize

Weak bundle




 

Summary: The HIS Radeon HD6870 is a solid mid-range video card that lets users play most games at high resolutions and quality settings. We are proud to award it the Bjorn3D Seal of Approval.