There are many reasons to pick up an after market GPU cooler. Your card may be running hot, or you may just want to overclock a little more. Whatever the reason Akasa has a solution that is compatible with many of today's popular GPU's.
Introduction
One of the best ways to lengthen the life a video card is with an aftermarket GPU cooler. Consumers have the option of going to liquid cooling, but many average people don't want to hassle with that. Today we have the Akasa Freedom Force. The Freedom Force is a GPU cooler that fits a variety of popular GPU's, and requires very little maintenance. The Freedom Force guarantees cooler temperatures, which will lead to higher overclocking and a longer life for the card. This can save money in the long run, and net users some extra performance for a minimal cost. Let's take a look at how it performs on our trusty 8800 GT.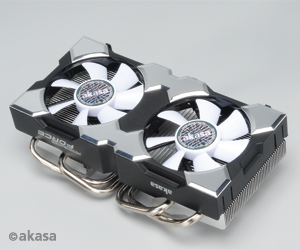 Features
The Freedom series dual-fan VGA cooler utilizes four nickel plated copper heatpipes in direct GPU contact technology. Two synchronized white LED fans provide top class cooling  performance and subtle white illumination while maintaining ultra low noise levels. 86 high grade aluminium fins allow for ultimate heat dissipation. The cooler also cools GPU, RAM and VRM to enhance card stability when overclocking, and adjustable three-size mounting provides excellent compatibility and easy installation.
• Designed for high-end and mid range ATI and nVIDIA graphic cards 
• Four heatpipes provide extreme thermal performance
• Two 80mm fans for high performance and ultra-quiet cooling
• 8 White LED lights provide subtle illumination
• Cools the GPU and other on board components including VRMs 
• 22 x RAM sinks included
The compatibility of the Freedom Force is definitely a selling point. A user who buys one of the lower end GPU's right now, and decide to move up to a better one that supports the Freedom Force can still use this cooler on that card. Heatpipes are always a good addition since they help pull the heat away from the GPU and into the cooler. This cooler also comes with plenty of RAM sinks, so uses can be sure that you have enough for whatever card they have.
Specifications
| | |
| --- | --- |
| Application | High performance graphics card cooler |
| Designed for | NVIDIA and ATI VGA cards |
| Cooler dimensions | 190(L) x 107.5(W) x 55(H) mm |
| Material | Copper heatipipes, aluminium heatsink and fins |
| Weight | 440g |
| Fan dimensions | 80 x 80 x 15 mm |
| Fan dimensions | 80 x 80 x 15 mm |
| Fans speed | 2200 RPM |
| Max airflow | 43.2 CFM (73.3 m³/h) |
| Max air pressure | 1.50 mm H2O |
| Noise level | 0.7 Sone |
| Rated current | 0.28A |
| Voltage rating | 12V DC |
| Bearing type | Sleeve |
| Fan life expectancy | 30,000 hours |
| Connector | 3pin |
Compatibility List
ATI
Radeon HD 4890
Radeon HD 4870
Radeon HD 4850
Radeon HD 4830
Radeon HD 3870
Radeon HD 3850
Radeon 2900 XT
Radeon 2900 Pro
Radeon 2600 XT
Radeon X1950 XTX
Radeon X1950 Pro
Radeon X1900 XTX
Radeon X1900 XT
Radeon X1900 CrossFire
Radeon X1800 XT
Radeon X1800 CrossFire
Radeon X1800 XL
Radeon X1800 GTO
NVIDIA

Geforce GTX 285

Geforce GTX 260

Geforce GTS 250

Geforce 9800 GTX+

Geforce 9800 GTX

Geforce 9800GT

Geforce 9600 GT

Geforce 9600 GSO

Geforce 8800 GTS (G92)

Geforce 8800 GT

Geforce 7900 GTO, GTX, GT

Geforce 7800 GTX, GT

Geforce 6800 Ultra

GeForce 6800 GT

GeForce 6800 GE

GeForce 6800 GS

GeForce 6800 XT

GeForce 6800 LE
This cooler has one of the largest support lists we have seen. It even supports cards that many would consider obsolete. This high amount of compatibility is definitely one of the biggest selling points of this cooler, as the ability to upgrade video cards without spending extra money on a cooler is a definite advantage.
Pictures & Impressions
The Freedom Force comes in a standard box. There is a nice cutout on the front so buyers can get a good look at the cooler. This box includes many key features of the cooler.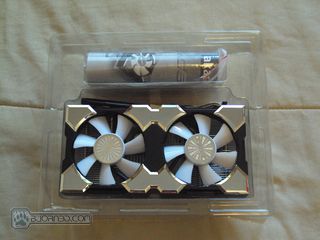 The cooler comes in a pretty simple package. This is good enough to keep any of the cooling fins from being bent however, which is the biggest thing you should worry about. The included accessories are packed away separately, so users know that the accessories will not ding up the cooler as well.
Here we have a quick shot of everything that is included. This includes little heatsinks for the RAM and VRM's, an instruction manual, and the mounting hardware for the cooler itself. The manual has pretty detailed instructions, so even someone new to this shouldn't have much issue figuring it out. Users can also make a quick stop at our forums for any help they may need.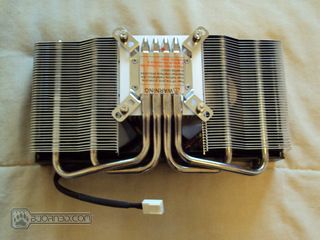 This is the bottom of the cooler. Users should make sure to first remove the tape on the bottom before applying this to the GPU. The fin spacing on the cooler looks pretty good, and will maximize the cooling ability of this cooler.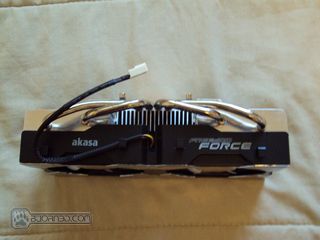 From the side view we can see that this cooler is pretty tall. We also get a great view of the side of the heat pipes from here. We can clearly see that they are evenly spaced in the main heatsink which will again maximize the cooling ability of this cooler.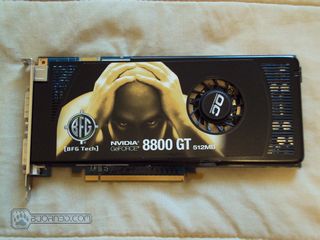 Here we have our candidate for the cooler, a BFG 8800 GT OC edition. This card has served us well, but it is limited with its single slot cooler, and runs a tad on the hot side for our liking. We will first have to remove the old cooler to make way for the new one. We do this by unscrewing all of the screws on the backside of the card.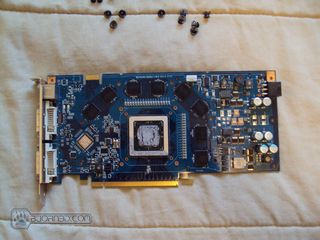 Now that we have that done we must install all of the heatsinks for the RAM. Many graphics cards have a similar layout,  so most cards should look something like this.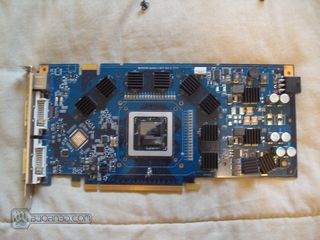 We can then clean off the GPU to prep it for the cooler, and put sinks on the VRM's. All cards have the VRM's in the same general area. If users are unsure whether everything is covered, they can turn over the stock heatsink and look for places where the previous heat pads were.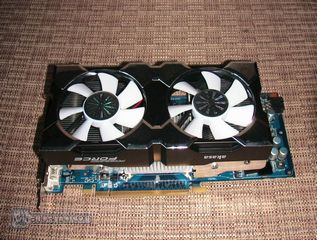 Now all that's left to do is put on the cooler. We simply put the pin in the correct hole depending on the GPU (the manual will tell you which one to use), and slide the cooler through the four holes by the GPU. We then screw them down tightly, making sure to alternate screws often so as to get the cooler tightened down evenly.
Methodology
To test the load temperature of the cooler we let Furmark run for 30 minutes. After this we let the card sit for a couple hours doing nothing, and then recorded that temperature as the idle temperature. The default fan profile for the card was used. A table with detailed specifications of the computer can be found below.
Test Rig
Test Rig
"G 182"

Case Type
NZXT Vulcan
CPU
Core i7 930 @ 3.74
Motherboard

Asus P6X58D

RAM
(3×2 GB) DDR3 1360 CAS 8
CPU Cooler
Noctua NH-C12P SE14
Hard Drives
Corsair P64
(2x) WD SE16 750 GB
Optical
LiteOn DVD R/W
GPU(s)
BFG 8800 GT OC
PSU

Corsair HX1000w

Mouse
Logitech MX-518
Keyboard
Dell "Teh Pwn" Loudie

Heatset



ABS AZ1
Speakers
Logitech X-540
results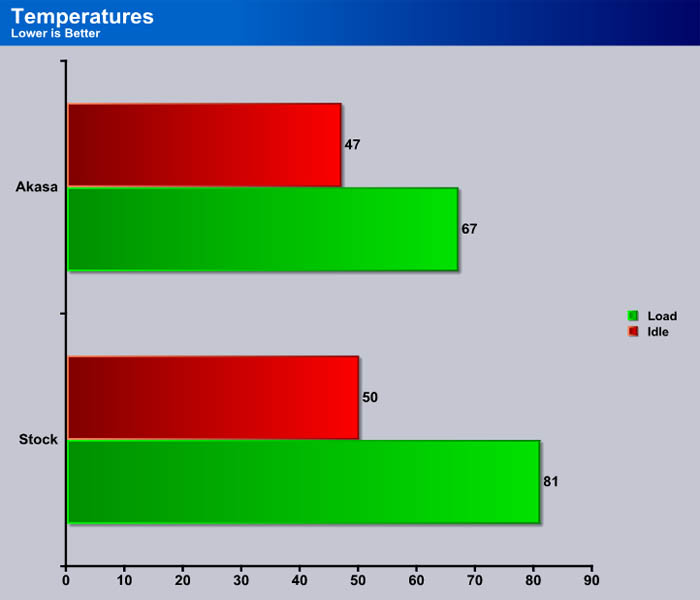 The Akasa cooler did an amazing job here. The idle temperature was not that much different, but it is hard to improve on the idle temperature. However the Freedom Force was easily able to beat the stock cooler when we turned up the heat. We were quite impressed with the drop in temperature, not to mention the drop in the sound levels. This was one of the older 8800 GT's with the smaller fan, so it was a bit loud, but the Akasa cooler was able to easily beat the temperatures of the 8800 GT's stock cooler while producing less noise.
Conclusion
The Akasa Freedom Force is a great cooler to help Akasa become a big player in the VGA cooler business. Currently Akasa is currently an up and coming company, so their product selection is somewhat limited, but given some time we are sure that Akasa will continue to make more quality products. The cooler itself has a nice design element with the white LED's, and "chrome" (really just shiny plastic) accents. The cooling design is even better than the design in our opinion. The cooler is able to get more airflow over the heatsink with its dual cooling fans, which will lead to lower temperatures overall.
OUR VERDICT:  Akasa Freedom Force

| | |
| --- | --- |
| Performance | 8 |
| Value | 7 |
| Quality | 7 |
| Features | 8 |
| Innovation | 7 |

We are using an addition to our scoring system to provide additional feedback beyond a flat score. Please note that the final score isn't an aggregate average of the rating system.

Pro
Cons

Great Cooling

Cool Design

Compatibility

 Availability

 
Summary: The Akasa Freedom Force VGA cooler has excellent cooling performance, and unmatched compatibility. The two year warranty only sweetens the deal. We are proud to give this product the Bjorn3D Silver Bear Award.