It is time to unveil AMD's latest GPU's: the HD6850 and HD6870. These are mid-range GPU's aimed to go head-to-head with the GTX460. Will they succeed? Read our reviews to find out.
INTRODUCTION
As the leaves start falling here in Sweden, AMD is once again releasing its fall-collection of GPU's. The GPU's we will look at today are the HD6850 and HD6870, codenamed "Bart XT" and "Bart pro" from the "Norther Island" series. The names suggest that these are replacements for the HD5850 and HD5870, but this isn't actually the case. AMD changed their numbering scheme, and the HD68xx GPUs are mid-range cards instead of enthusiast-level cards. The enthusiasts will have to wait until November when the full range of HD69xx cards, codenamed "Cayman", comes out. The HD69xx will replace the HD5870 and HD5970 as the enthusiasts' choice. 
For those wondering why AMD released mid-range cards before enthusiast cards, the answer is the success of Nvidia's GTX460. With the HD6850 (SEP $179) and the HD6870 (SEP $239), AMD hopes to overtake the GTX460 768 MB and GTX460 1 GB cards. This makes sense, as the GTX460 is the best of Nvidia's Fermi lineup, and a tough product to compete with.
As a result, Nvidia dropped the prices of the GTX460 1 GB ($199.99) and the GTX470 ($259.99) in an attempt to force the HD6850 to compete with the GTX460 1 GB, and the HD6870 against the GTX470. Whether it is a serious price drop or a temporary one, the ones who usually profit most from a price war are the customers.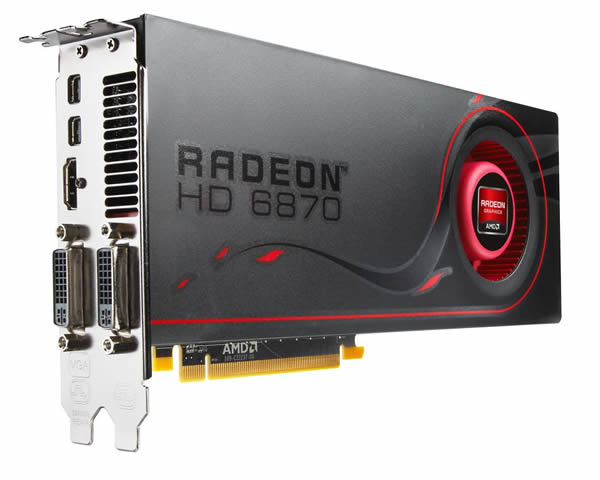 So what does the new HD6k bring us? How about DisplayPort 1.2, HDMI 1.4a, AMD HD3D, and an excellent price versus performance ratio? Is it enough to dethrone the GTX460 as the king of the mid-range cards? Read on to find out.
In addition to this overview article we also today have released two retail card reviews:
THE CARDS – A CLOSER LOOK
We have already presented the cards in our sneak-peak article, but there is no harm showing the cards off again.
THE HD6850
The HD6850 is a relatively short card which should fit into most cases.
The reference card comes in black and is quite nice looking, though of course each vendor will have their own version of the card.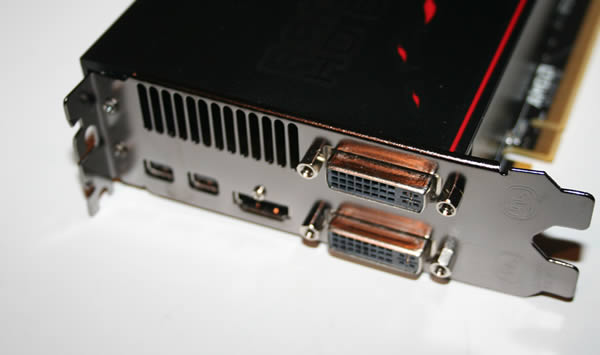 At the end of the card we see one of the new features of these cards; two mini-DisplayPorts, Version 1.2 instead of 1.1. Version 1.2 allows for double the transfer-rate as well as the ability to drive more than one monitor from a single DP connector. In addition to the DP connectors we also get an HDMI connector, a Dual-Link DVI connector and a Single-link DVI connector.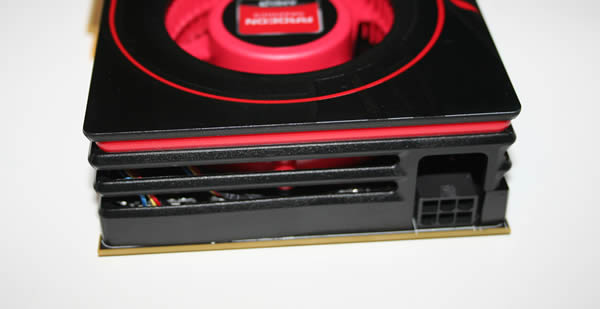 The HD6850 draws power from one PCI-E-power connector.
THE HD6870
As expected, the HD6870 is a bigger card than the HD6850.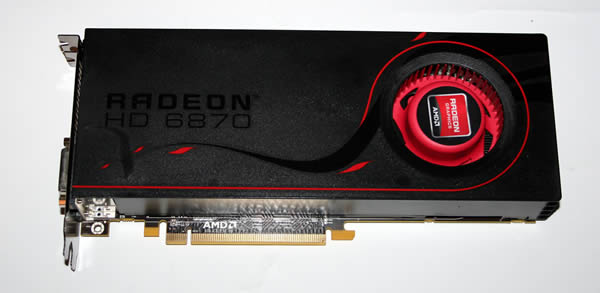 It uses the same black "chassis" and fan as the HD6850.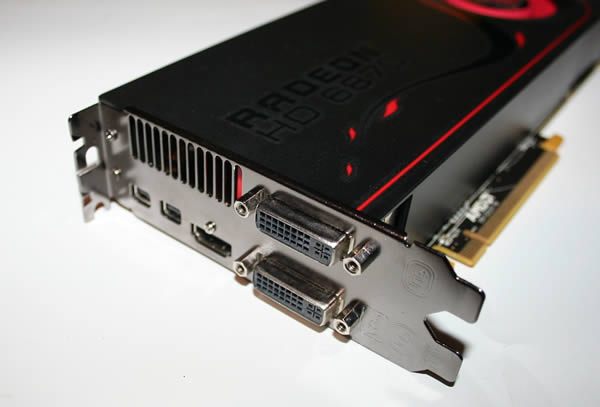 The HD6870 comes with the same connectors as the HD6850. At the end of the card we see one of the new features of these cards: two mini-DisplayPorts that are version 1.2 instead of 1.1. Version 1.2 allows for double the transfer-rate as well as the ability to drive more than one monitor from a single DP-connector. In addition to the DP connectors we also get a HDMI connector, a Dual-Link DVI connector and a Single-link DVI connector.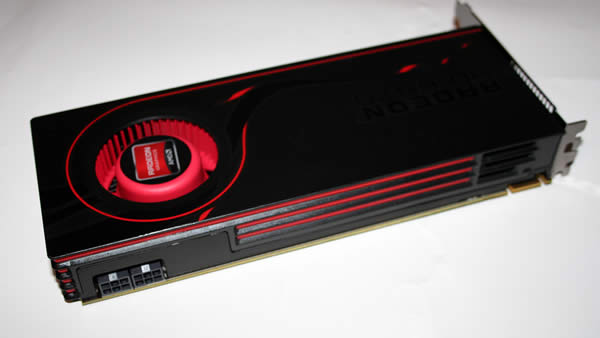 The HD6870 needs power from two PCI-E power connectors, unlike the HD6850.
THE SPECIFICATIONS AND NEW FEATURES
The design goals for the "Barts" GPUs were:
"AMD Radeon™ HD 5800 series-class performance optimized at lower power and price
Best performance/watt, performance/mm2
Fastest sub 150W card in the market"
GPU
Radeon HD 5830
Radeon
HD 5850
Radeon
HD 5870
Radeon
HD 5970
Radeon HD 6850
Radeon HD 6870
Die Size
334
334
334
2×334
230
255
Shader units
1120
1440
1600
2x 1600
960
1120
Texture Units
56
72
80
2×80
56
56
ROPs
32
32
32
2x 32
32
32
GPU
Cypress LE
Cypress
Cypress
2x Cypress
Barts Pro
Barts XT
Transistors
2154M
2154M
2154M
2x 2154M
2000M
1700M
Memory Size
1024 MB
1024 MB
1024 MB
2x 1024 MB
1024MB
1024MB
Memory Bus Width
256 bit
256 bit
256 bit
2x 256 bit
256 bit
256 bit
Core Clock
800 MHz
725 MHz
850 MHz
725 MHz
775 MHz
900 MHz
Memory Clock
1000 MHz
1000 MHz
1200 MHz
1000 MHz
900 MHz
1050 MHz
Price (SEP)
 
$299
$399
$599
$179
$230

The two new GPUs have fewer shader units than the HD5850 and 5870, but that is being balanced by higher clock speed and enhancements to the GPU core, which leads to much faster tessellation and geometry throughput.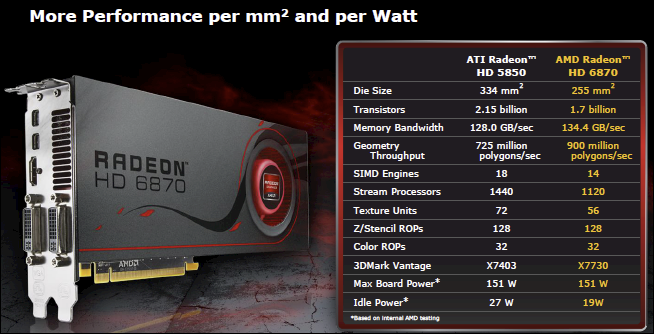 Usually, new GPU's mean more of everything (except maybe power usage), and AMD has managed to increase the performance with a GPU that is smaller and cheaper. This is more evidence that we are in fact comparing an enthusiast card from this generation (HD5850) with a mid-range card from the next generation (HD6850 and HD6870).
Let us go through some of the new and/or updated features of the HD6800-GPU's.
DisplayPort 1.2
Even though AMD has supported DisplayPort for quite some time, it wasn't until the HD5k cards that it became widespread. But why is DisplayPort such a big deal? DisplayPort, which was designed to replace VGA and DVI, has a lot of advantages over both these two standards (and to some extent HDMI):
It provides a lot of raw bandwidth, far more than any of the other standards.
It supports long non-active cables
It has an optional latch design for the connectors.
It supports audio
Source devices such as a GPU can operate in dual-mode so that the same connector can transport TMDS-signals signals to support DVI and HDMI outputs using inexpensive level-shifting adapters.
The design of DisplayPort only requires a single reference clock source to drive as many DisplayPort streams as there are display pipelines in the GPU.

It is apparent that DisplayPort is the way forward, as it is superior to the other interfaces. Slowly but surely, more and more monitors also are being released with a DisplayPort connector. The HD5k supports DisplayPort1.1, though that version does have its weak spots. One example is the fact that to be able to support 6 monitors, AMD had to create the Eyefinity6-cards with one mini-DisplayPort for each monitor.
DisplayPort 1.2 solves these problems:.
With twice the bandwidth of DisplayPort 1.1, DisplayPort 1.2 can easily support a multitude of display timings combining high resolutions, high refresh rates and high color depth.
DisplayPort1.2 is needed to support Ultra-high resolutions. For example, the HD6800 supports up to 4096×2160 @ 50 Hz.
To drive display timings required for high resolution frame sequential 3D displays, and also remove the need for buffering you need DisplayPort 1.2.
Only with DisplayPort 1.2 will you be able to bitstream DTS-HD MA and Dolby TrueHD.
One of the cooler new features of DisplayPort 1.2 is the support for Multi-Stream Transport, MST. What this means is that users can drive several display devices through one DisplayPort connector. It is also referred to as Daisy-chaining displays. This of course needs display hardware that supports it, and we won't see those displays until 2011.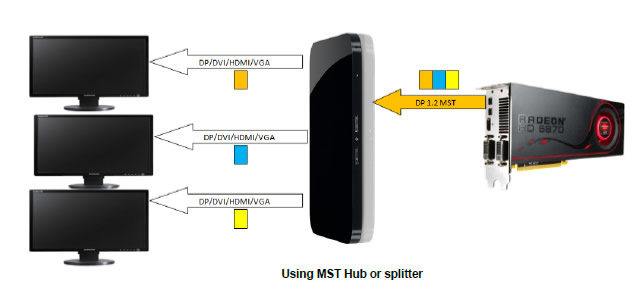 AMD however plans on selling hubs and splitter devices that will work the same way as a USB hub does, and have one DisplayPort intput and several different outputs (DVI, VGA, HDMI etc.).
 
FEATURES CONTINUED
Eyefinity upgrade
It is fitting to continue with Eyefinity as this connected to DisplayPort 1.2. AMD has acknowledged that the necessity of a DP capable monitor for Eyefinity was a hindrance for most consumers. AMD has actively encouraged and helped vendors to come out with cheap DisplayPort to single-DVI adapters, and with emerging support for MST Hubs and splitters, AMD hopes to lower the entry point for Eyefinity even more during 2011.
While the original Eyefinity only supported 3 monitors on the regular HD5k-cards, the HD68k-cards now support 4 monitors: two over the DVI-connectors (only one is dual-link, the other is single-link) and two from the mini-DisplayPort connectors.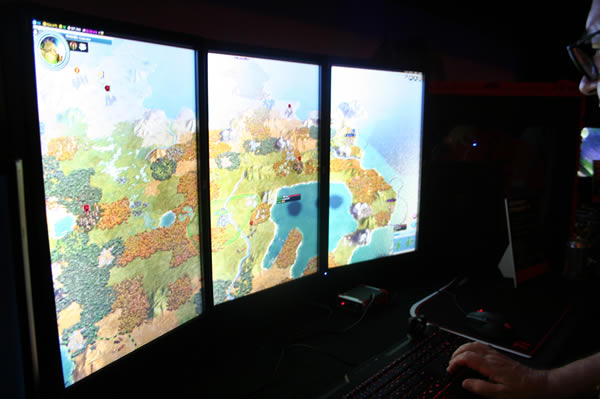 This is how I want to play Civilization V!
One really cool solution with Eyefinity was shown at the Los Angeles event, introduced by NTHUSIM (www.nthusim.com). These monitors have software that provides the ability to warp (correct a projected image) onto a curved screen, and they work great with Eyefinity. Below is a video we shot of a setup with a curved screen running Codemasters Formula F1 together with a proper car-seat. It looked awesome.
HDMI 1.4a
AMD has also upgraded to HDMI 1.4a from 1.3. This means it supports HDMI 1.4a frame packing for stereo 3D.
AMD HD3D
The newest technology for the visual market is 3D, and AMD wants in. In contrast to Nvidia, which introduced its own proprietary technology, AMD has started the Open Stereo 3D Initiative. The aim of this initiative is:
Interoperable hardware & software
Work with ecosystem partners to enable multiple solutions
Lower solution cost
Provide more choice and flexibility to our customers
Give customers an opportunity to differentiate

Since most games do not support 3D natively, users have to use conversion software to convert the game to 3D. AMD has an API with a quad-buffer that helps the software handle frame sequential 3D displays (also known as page flipped displays).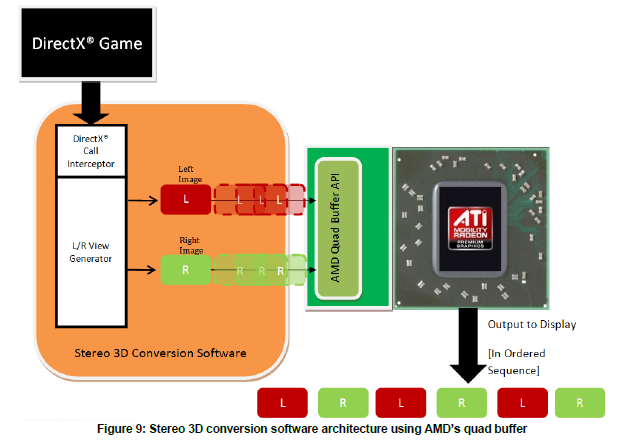 AMD has partnered with the companies DDD and iZ3D so that their software can take advantage of the new API when converting games to 3D.
At the event, DDD showed off their TriDef software, and quite boldly claimed that the independent website MTBS3D.com had, on average, rated their games higher than those using Nvidia's 3D Vision. We had the opportunity to see the TriDef software together with the latest Medal of Honor Tier 1 game + Oakley's new polarized 3D-glasses and it was absolutely stunning. That combination alone sold us to 3D gaming.
AMD is not restricting itself to 3D gaming. Together with Arcsoft, Cyberlink, and Corel, they support 3D-video/3D-Bluray also.
Unfortunately, AMD does not yet have 3D support in Eyefinity. This is one area where Nvidia still has an edge.
Morphological Anti-Aliasing
AMD's newest type of Anti-Aliasing is called "Morphological Anti-Aliasing". It's is a post-processing filtering technique that is accelerated by DirectCompute.
Delivers full-scene anti-aliasing
Not limited to polygon edges, alpha-tested surfaces, etc.
Faster than super-sampling
Performance similar to edge-detect CFAA, but applies to all edges
Compatible with any DirectX® 9/10/11 application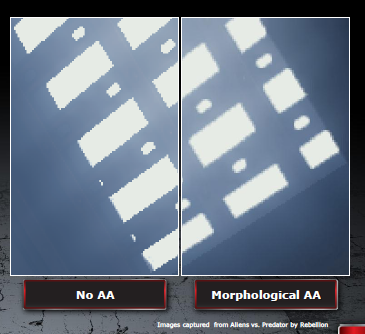 Unfortunately, the beta drivers that turn this AA on did not arrive until earlier today so we haven't been able to test it.
PERFORMANCE – SETUP
 We tested the card on the following system:
AMD Phenom II X6 1090T @ 3.2 GHz
Noctua NH-C12 Cooler
4 GB OCZ Black Edition DDR3 @ 1600 MHz
ASUS Crosshair IV Formula
300 GB WD Raptor (System Disk)
1 TB Samsung F2 (Storage Disk)
Thermaltake 1200W PSU
Dell 24" monitor with a maximum resolution of 1920×1200
Windows 7 Pro 64-bit
The cards tested were:
HIS HD5830 Turbo
Reference AMD HD5870
Reference AMD HD6850
Reference AMD HD6870
HIS HD6870
Zotac GTX480 768 MB
Gigabyte GTX460 1 GB OC (715 Mhz)
3DMark Vantage
This benchmark from Futuremark is nearing the end of its utility, and we expect a new version to come out later this year. It still is interesting to see how each card handles the various DX10 features that it tests.
Settings: Xtreme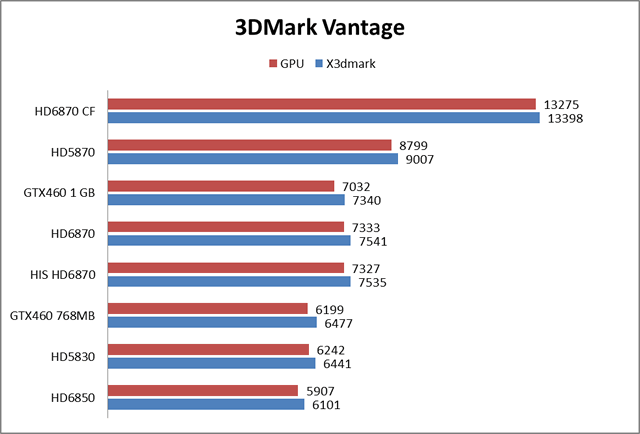 The HD6850 scored similar to the HD5830 and GTX460 768 MB, while the HD6870 tied with the GTX460 1 GB OC card. Setting two HD6870 in CrossfireX yields almost double the score.
Unigine heaven 2.1
Unigine Heaven is a benchmark program based on Unigine Corp's latest engine, Unigine. The engine features DirectX 11, hardware tessellation, DirectCompute, and Shader Model 5.0. All of these new technologies, combined with the ability to run each card through the same exact test, means that this benchmark is an essential component of our arsenal.
Settings used:
Shaders: high
Tessellation: normal
Anti-aliasing: 4x
Anisotropy: 16x.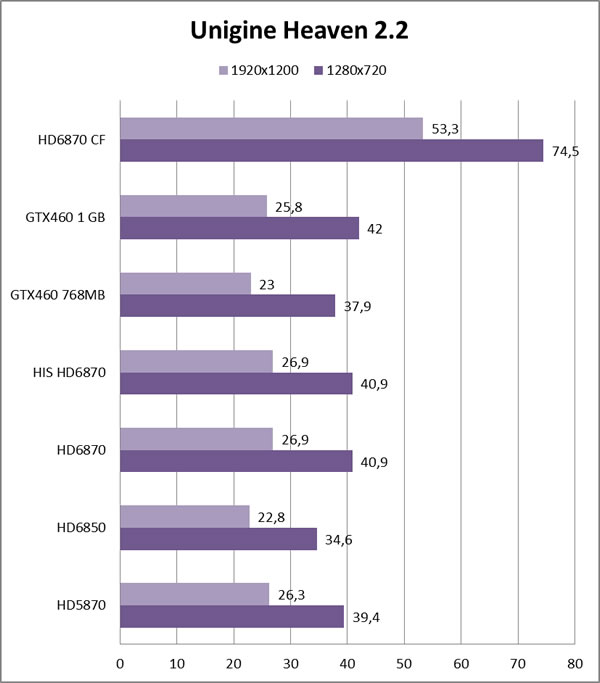 There isn't much difference between the HD6850, HD6870 and the GTX460 cards.
CRYSIS: WARHEAD
Crysis Warhead is the much anticipated standalone expansion pack to Crysis, featuring an updated CryENGINE™ 2 with better optimization. It was one of the most anticipated titles of 2008.
Settings: "Gamer", DX10, 4xAA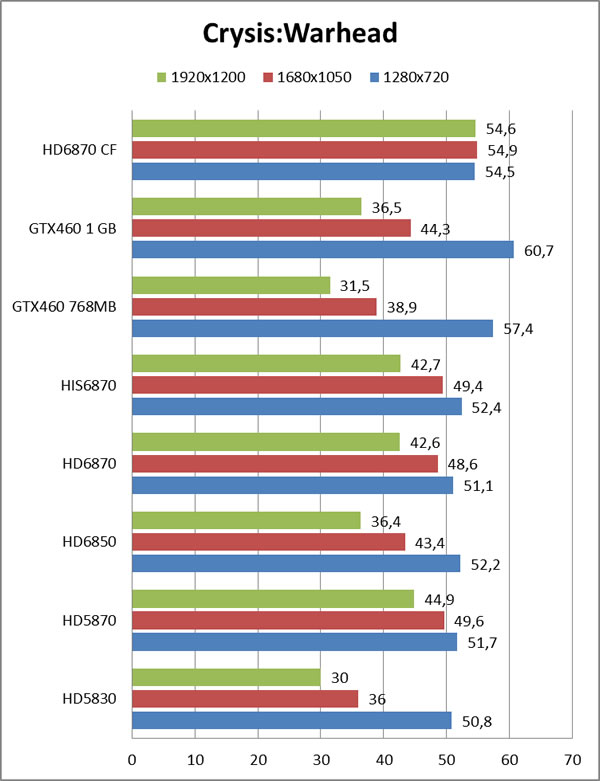 At the lowest resolution, the two GTX460 cards dominate, but as soon as we start moving up they are left in the dust.
Just Cause 2
Settings: Text Det: High , Shadow Qual: High , 4xAA , 16xAF , Water: Very High , Objects: Very High , Decals: On
Soft Particles: On , V-Sync: Off , Hig-res shadows: On , SSAO: High , Point Light Spec: On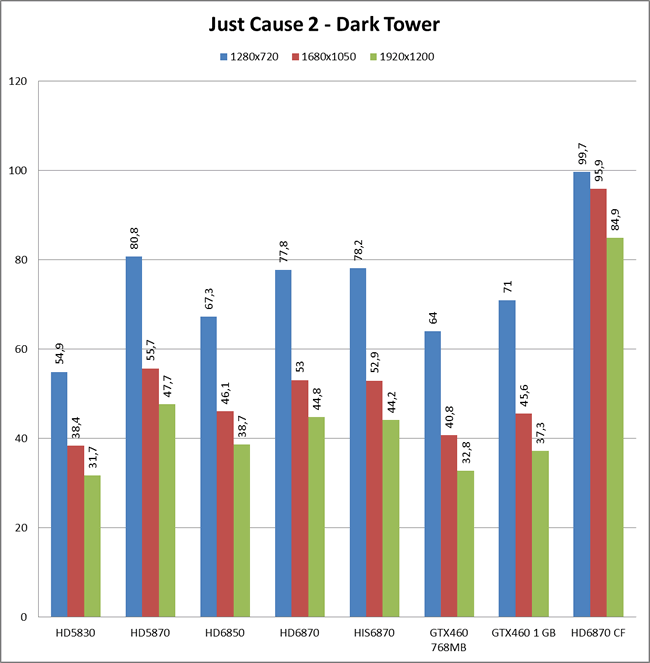 Both the HD6850 and the HD6870 performs very well in this benchmark. As we increase resolutions, the HD6850 actually beats the GTX480 1 GB OC. It seems that the Just Cause 2 engine likes AMD. When we combined two HD6870's, the framerate almost doubled. The HD5870 barely managed to beat the HD6870, and the HD5830 is left far behind.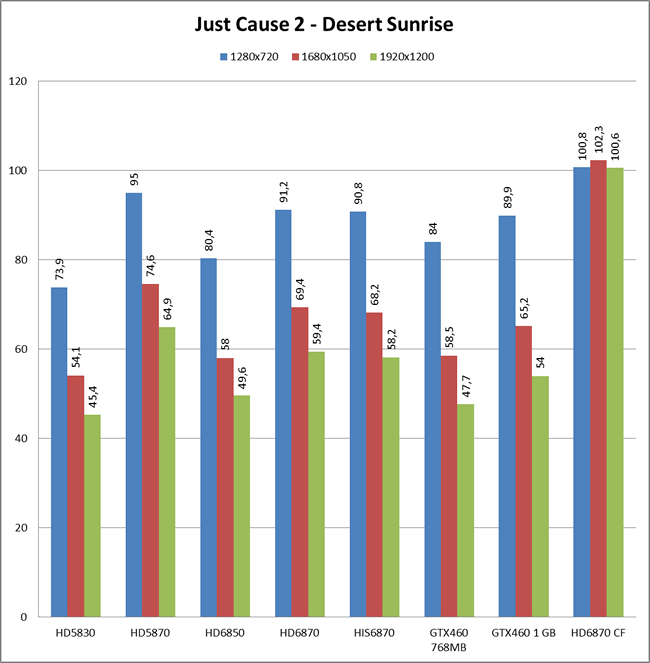 In this graph, the GTX460 managed to perform a bit better, but not significantly. Again, we see an impressive framerate doubling when we run two HD6870 in CrossFireX.
Alien versus Predator
This benchmark is based on the Rebellion game Alien versus Predator, released in 2010. It uses DirectX11.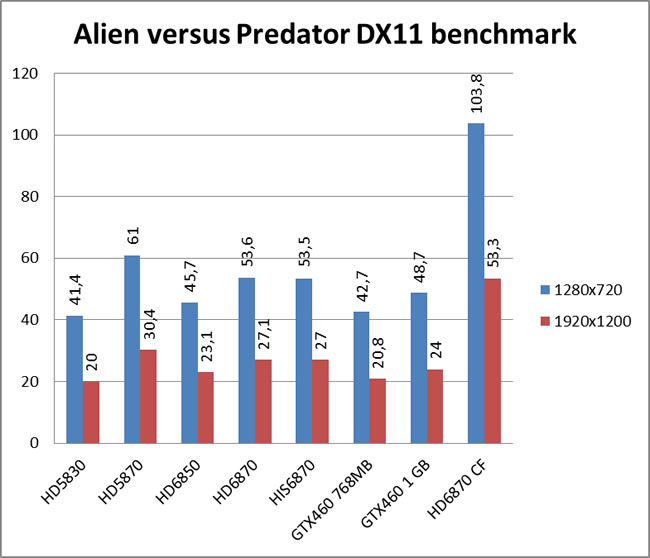 Once again, the HD6850 and the HD6870 has no problems competing, with both GTX460-cards. And once again, two HD6870 in CrossFireX configuration scales very well.
Civilization V
Turn-based games like Civilization usually are not the prime suspect when we look for a game that taxes the GPU. Civilization V however uses DX11-features like tessellation. It has three in-built benchmarks that test various parts of the system.
Late Game View Benchmark.
This benchmark is designed to simulate a late game workload. This scenario exercises all aspects of the game engine pipeline, since all simulation and renderable object types are represented at a frequency consistent with a game that has been in progress for 300+ turns.
Unit Benchmark.
This benchmark is designed to stress test the user's system by executing a parallel series of animation and rendering tasks. The workload will heavily stress the CPU as well as GPU and driver. It is designed as a total throughput test to evaluate a user's system and determine where the bottlenecks occur. Results reported are similar to the Late Game View benchmark, however the display settings are overridden for consistency. Therefore, changes to the graphics settings will not impact the test except for setting resolution. 
Leader Benchmark
The Leader Benchmark is designed to test advanced rendering features which we use for our leader scenes. This test can run through any of the leader scenes specified and report the performance for that leader. 
Settings: All set to High, 4xAA, 16xAF
Since this tests the whole system there is not much difference between the cards. The Radeon cards do perform a bit better than the two Nvidia cards though.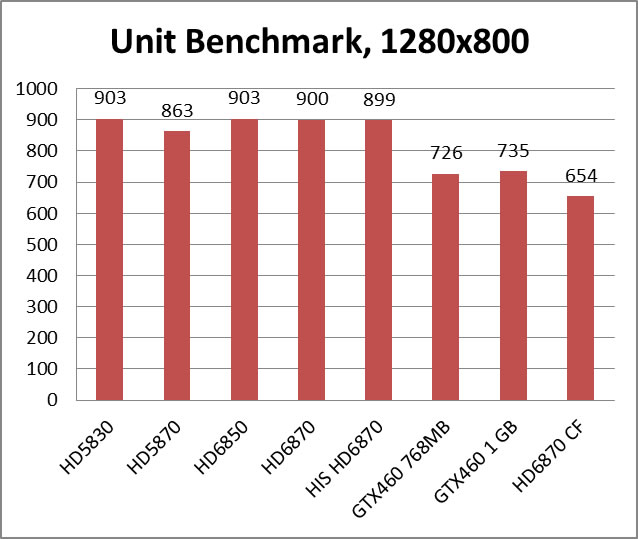 We see the same pattern as with the Late game benchmark except that the CrossfireX-setup seems to have stalled.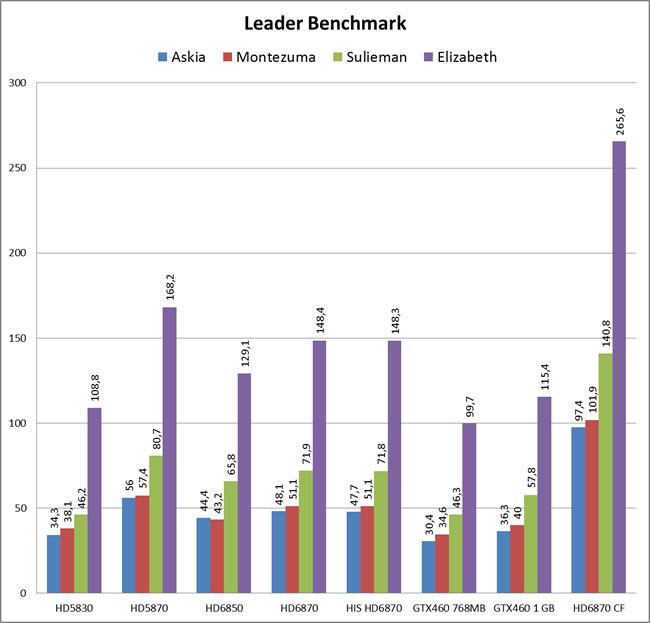 This test is more interesting from a GPU point of view, and the Radeon cards significantly outperform the Nvidia cards when it comes to the advanced rendering in Civilization V.
POWER CONSUMPTION
We measured the power consumption at the wall. This includes the whole system (except the monitor). We noticed that AMD uses the Perlin Noise test in 3DMark Vantage to test the full board power. We therefore used both this test and the regular one we run in Furmark.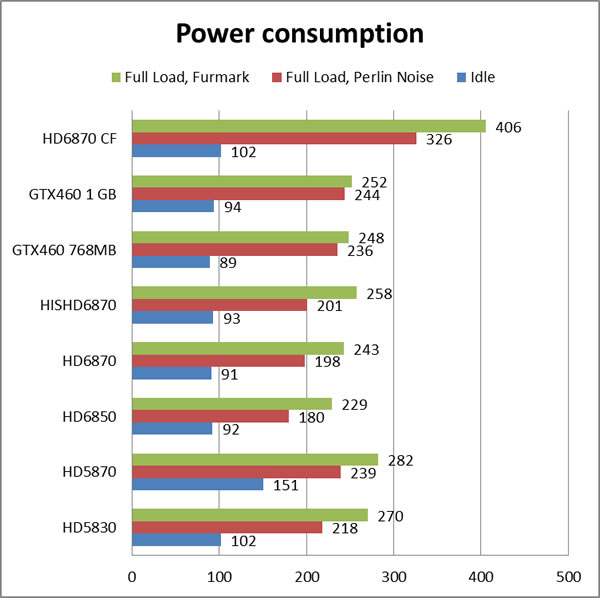 The HD6850 and HD6870 perform very well and has the lowest system power consumption of all the cards tested.
OVERCLOCKING
We spent some time trying to find the best overclock for our HIS HD6870 card, and after an hour or so of trial and error, we found that we could increase the core clock from 900 MHz to 975 MHz, a nice 8% increase. The memory was almost impossible to increase from its default 1050 MHz.
CONCLUSION
Our benchmarks clearly show that the HD6850 and HD6870 easily can keep up with the NVIDIA GTX460. As long as they are priced right, we see no reason why they should not become a success. Not only do they offer great performance at a great price, they also come with some nice features like DisplayPort 1.2 and HDMI 1.4a.
The fact that Nvidia has already reacted to the GPU's by lowering prices on some of their products indicates that they know that the GTX460 is under threat. It will be interesting to see what AMD's response will be.
Enthusiast gamers should wait a bit longer until the "Cayman" GPU's are released later in November as neither the HD6850 nor the HD6870 really are an upgrade to the HD5850 or HD5870.