MSI has finally introduced an affordable motherboard the supports both USB 3; as well as, SATA3. For the ever popular X58 chipset based motherboards.
Introduction
MSI, one of the best known manufacturers of motherboards, has finally released a motherboard to compete with Asus and GIGABYTE. The X58A-GD65 is the newest motherboard for the X58 chipset. We'l take a loser look in this review.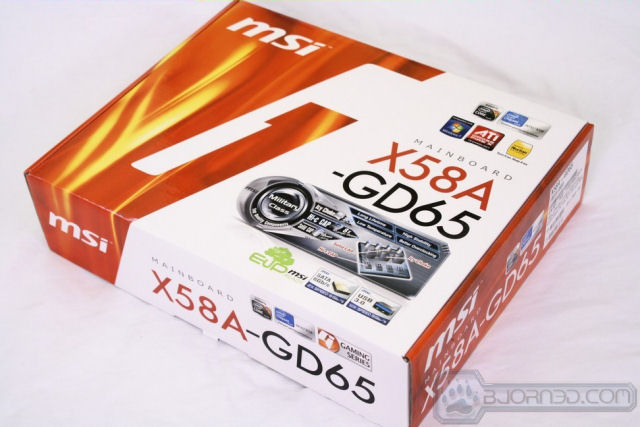 Specifications
Specifications

Socket
1366
CPU (Max Support)
i7
AM3 CPU Ready
N/A
FSB / Hyper Transport Bus
6.4GT/s
Chipset
Intel® X58+ICH10R
DDR2 Memory
N/A
DDR3 Memory
DDR3 800/1066/1333/1600*/1800*/2133* (OC)
Memory Channel
Triple
DIMM Slots
6
Max Memory (GB)
24
PCI-Ex16
3
PCI-E Gen
Gen2 (2×16, 1×4)
PCI-Ex4
N/A
PCI-Ex1
2
PCI
2
IDE
N/A
SATAIII
2
SATAII
6
RAID
0/1/5/10
LAN
10/100/1000*1
TPM
1
USB 3.0 ports (Rear)
2
USB 2.0 ports (Rear)
4
Audio ports (Rear)
6
Serial ports (Rear)
N/A
Parallel ports (Rear)
N/A
1394 ports (Rear)
1
eSATA
2
Display Port
N/A
VGA
N/A
HDMI
N/A
DVI
N/A
VGA Max Share Memory (MB)
N/A
DirectX
N/A
Form Factor
ATX
DrMOS
Y
APS
Y
Sideport Memory
N/A
SLI
Y
3-way SLI
Y
Hybrid SLI
N/A
CrossFire
Y
Hybrid CrossFire
N/A
D-LED2
N/A
Green Power Genie
N/A
Giving the specifications a quick look over, the MSI X58A-GD65 motherboard supports a lot of the same features we came to like about the X58 series of chipsets from Intel. We get both AMD's and Nvidia's multi-GPU capabilities; also having the capability of supporting up to 24 gigabytes of system memory.
Overview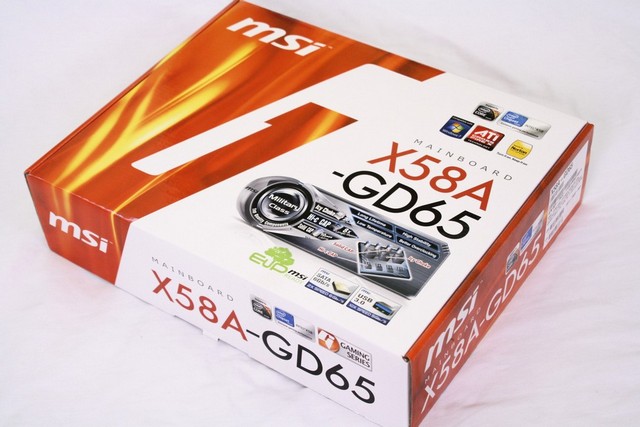 The box shows alls the special features included with this motherboard. As with previous X58 based motherboards, this motherboard fully supports CrossFireX and SLI multi-GPU configurations. This motherboard uses solid and Hi-C capacitors. It also contains ICY chokes, which provide 20°C lower temperatures than the standard choke. The X58A-GD65 also fully supports SATA 3 and USB 3.0.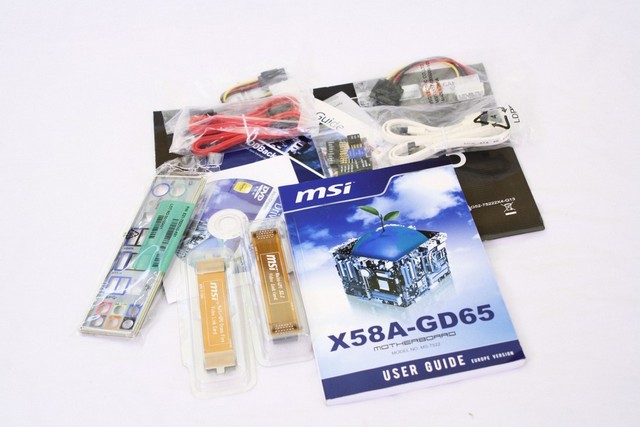 The motherboard comes with a user manual, an HDD back up guide SLI and CrossFireX bridges, a rear I/O plate cover, two SATA 2 cables (colored red), two SATA 3 cables (colored white), a Molex-to-SATA power adapter, front panel connectors, and a driver disk. With the growing popularity of multi-SLI, we weould have liked to see more SLI bridges.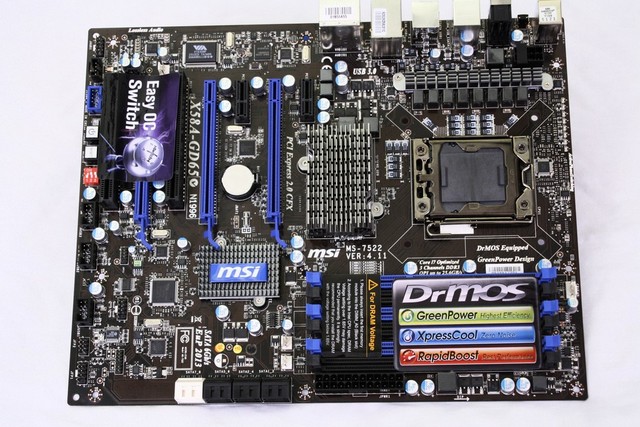 MSI consistenly maintains the large and open motherboard layouts they are known for. The only concern we saw was the proximity of the first two PCI-E slots to the North Bridge heatsink.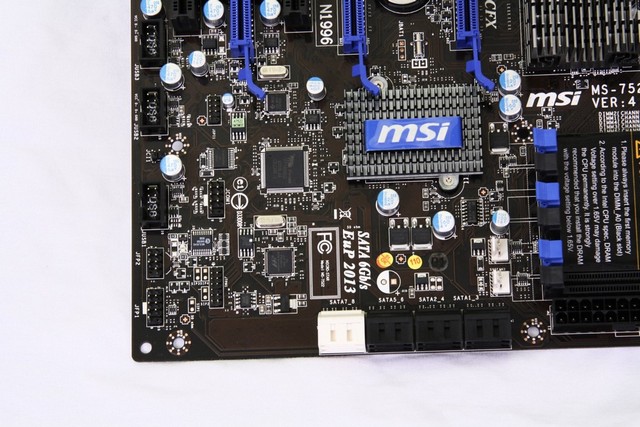 This motherboard is fairly roomy. The only obstacles to the South Bridge heatsink are the PCI-E slot latches. MSI includes three extra USB 2 port headers near the bottom of the board. The front I/O port header is directly next to the USB headers, but the pins are surprisingly unlabeled. The SATA 3 connectors (white), and SATA 2 connectors (black), are stacked vertically. Just above the SATA 2 ports are the system fan headers.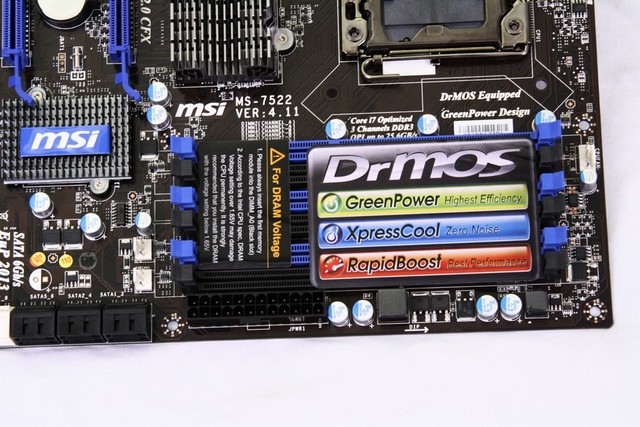 In this motherboard, MSI excluded the IDE and floppy ports. The lack of these ports makes the board more spatious. To the far right of the memory DIMMs is fan header 3.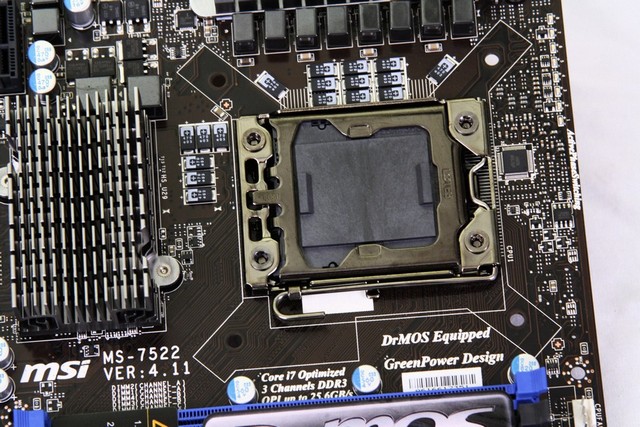 MSI uses Hi-C capacitors near the CPU socket, freeing up the area for custom heatsinks.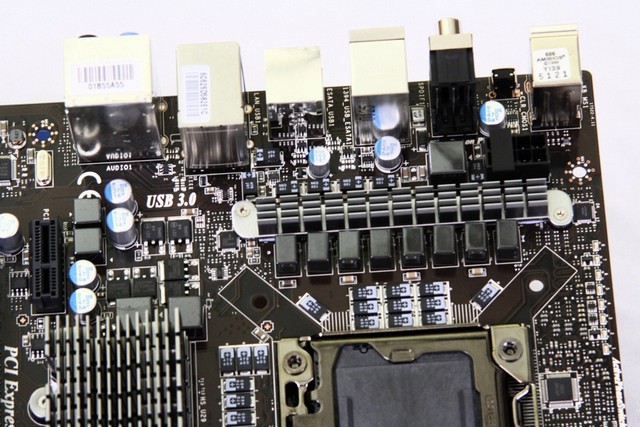 MSI uses eight Phase Power Distribution, ensuring plenty of power for the CPU. The CPU power MOSFET heatsink is a lot shorter than previous motherboards we have reviewed, but it did not heat up excessively during usage. Directly behind the heatsink are more Hi-C capacitors, which limit the necessity of large solid capacitors, and keep the area clear. The EPS CPU is in a rather tight spot, but the use of a short MOSFET heatsink should make gaining access a lot easier.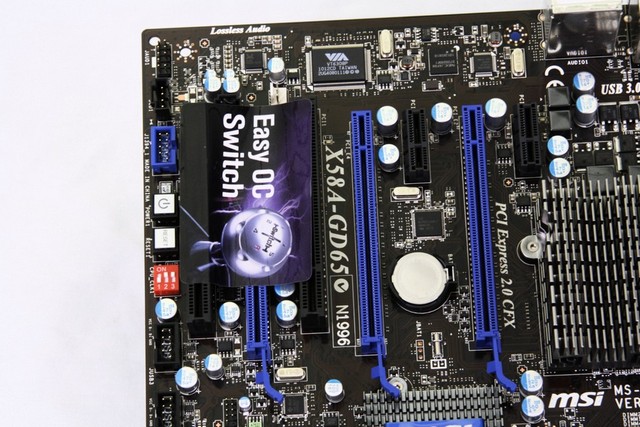 MSI includes a PCI-E x1 port, which is placed alarmingly close to the North Bridge heatsink. The board has 3 PCI-E x16 ports, with PCI-E x1 and PCI ports in between (these will be rendered useless by any video card that requires two expansion slots). The board also comes with a 1394 FireWire I/O header and a J-Audio I/O header. Right below the on/off power buttons is the switch that allows users to set the BCLK to specific frequencies (currently left in default mode). Right above the third PCI-E x16 port is fan header 4. Users may want to make sure their fan is connected prior to installing theexpansion cards due to the closeness of the PCI-E port and the fan header.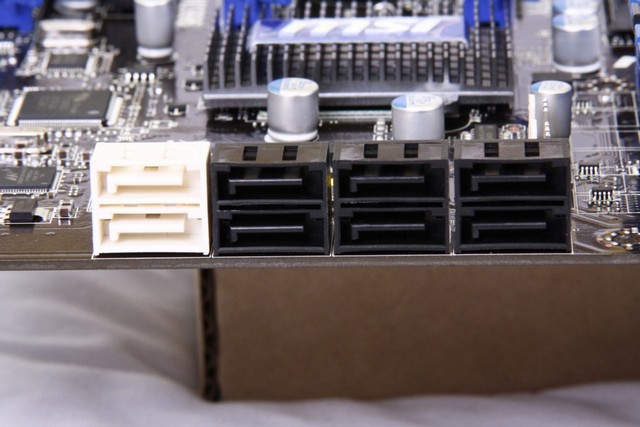 A quick look at the 180° SATA ports.

Rear I/O ports.
 MSI included two PS2 ports, a clear CMOS button, two Audio ports, a FireWire, two USB 2.0, and an E-SATA header. To the right are another two USB 2.0 ports, and another E-SATA header. The board also comes with an Ethernet port, two USB 3.0 headers, and a 7.1 onboard audio hook up.
Extra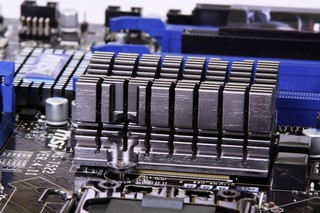 The following are a few images of the MSI X58A-GD65 motherboard.
Installation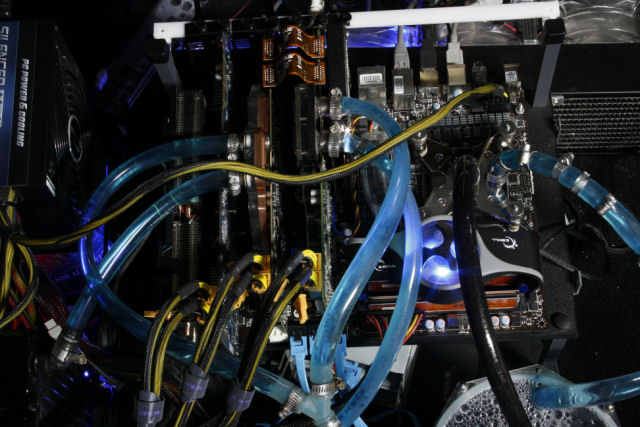 The MSI X58A-GD65 motherboard with all parts connected. We always place a fan over the North Bridge heatsink to prevent overheating during overclocking.
Note: We would advise putting electric tape over any card installed in the top PCI-E x1 slot, especially if there is less than a 5mm gap between the card and the heatsink. This will prevent potential short-circuits.
MSI Cell Menu
For the purposes of this review, we have left many settings in their default state. MSI gives us plenty of different adjustments, allowing us to properly tune the X58A-GD65 to our specific needs. The voltage settings are utilized by overvoltaging, and not by setting a specific voltage. We prefer to use a specific CPU voltage setting over the overvoltage options. One great feature is the ability to link or unlink memory timings. Normally, we use one specific timing setting for all of our memory. This feature allows for greater control over the memory.
Testbed
Testbed

CPU
Intel Core i7 930 D0
Motherboard
ASUS P6X58D-E, MSI X58A-GD65
Case
Open Chassis
Memory
Crucial 1333MHz
Video Card
2 PNY 470GTX in SLI + Gigabyte 275GTX as dedicated PhysX
Hard Drives
4x Seagate 320Gig 2.5″ Momentus HDD's RAID-0, WD 1TB green drive Backup
CDRom Drive
LiteOn Blu-ray
Power Supply
PC Power and Cooling 950 Mk II
CPU Speeds Used
Read more below
Operating System Used
Microsoft Windows 7
Video Card Cooler

Koolance 470GTX, EK 470GTX water blocks
CPU Cooler

EK Supreme HF CPU with a XSPC Quad 120mm Rad
To ensure the accuracy of the results, a fresh Windows 7 OS install was performed prior to any official benchmarking runs. All compared motherboards will be using their absolute base line speeds, ensuring consistency of results and fairness among all platforms tested. The only motherboard that will be listed as overclocked is the MSI X58A-GD65, so as to give the reader an idea of how this motherboard performs when overclocked.
As we are now able to extend our games across three monitors, we will include these benchmarks in this review as well. We will still include the standard resolution of 1920 x 1080, but we will also add 5760 x 1080. Unfortunately 3DMark Vantage does not allow us to span this benchmark, so we will only be using the standard performance numbers.
Benchmarks used in this review:
SiSoft
Everest
wPrime
Excel
Auto MKV
POV Ray
CineBench RC11
Win RAR
Dirt 2
3DMark Vantage
Stone Giant
Unigine Heaven 2
Lost Planet 2
Testing methodology
The best way to find out how well a motherboard will overclock is to overclock it. Our first point of order was to find the BCLK limitation, so we started off with the default starting point of the BCLK (225). We dropped all dividers, multipliers, and timings to their absolute minimum. The only adjustment we made was to set the QPI voltage to 1.35 volts. Interestingly enough, this is the first time we were able to boot to Windows with such a high BCLK. When we started our benchmarks, however, we found serious instability as a result of the high BCLK. When we adjusted the BCLK to 222, the system was stable.
We adjusted the CPU multiplier up from 12 to 19 (we found out that a frequency over 4.3GHz requires a much higher voltage), adjusted the memory divider to 8 (memory being used only operates at 1333 MHz). We also went back and adjusted all relevant voltages. To try and enhance performance as much as possible, we decided to up the PCI-E frequency from 100 MHz to 120 MHz, though in all previous reviews, any frequency past 110 MHz resulted in loss of HDD recognition by the motherboard. This was the first time we were able to run a high frequency PCI-E without windows unrecognizing the HDDs. When we started benchmarking video cards, the system became unstable, so we dropped PCI-E frequency to 115. The MSI X58A-GD65 motherboard is an excellent overclocking tool, allowing for high BCLK, CPU multipliers, and memory dividers.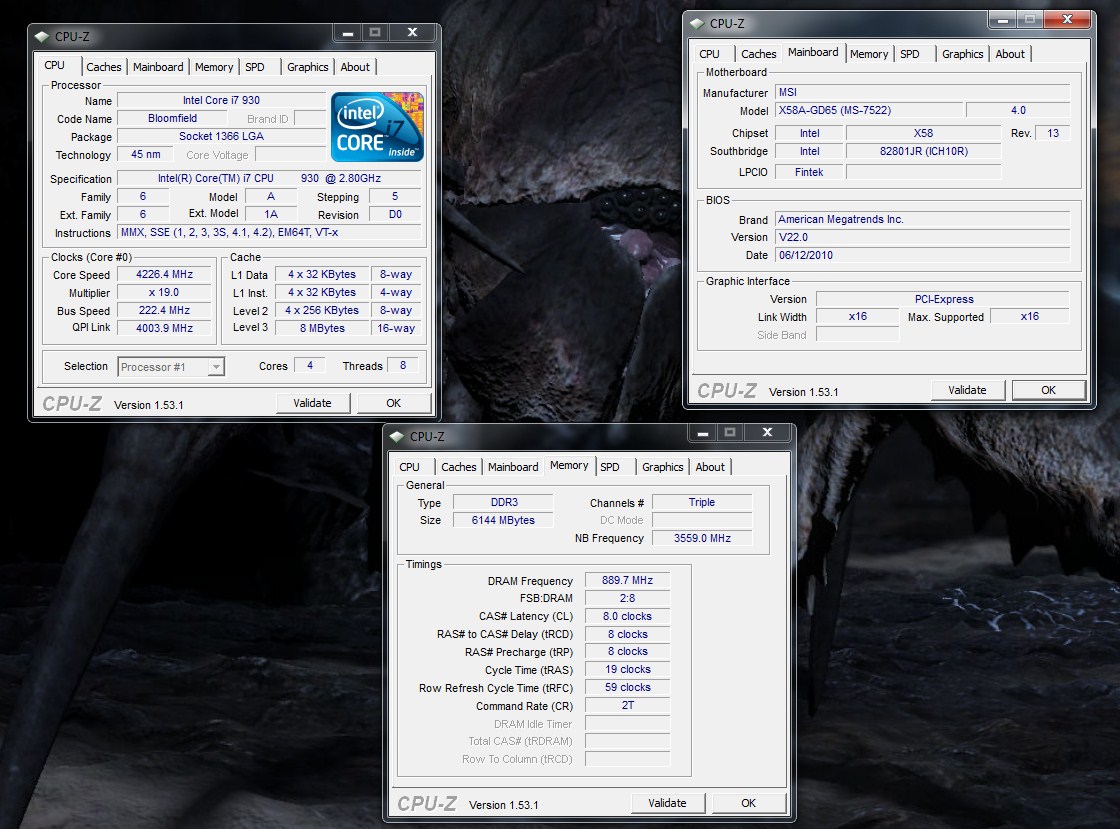 Overclocked settings used during this review.
Sisoft
  "SiSoftware Sandra (the System Analyser, Diagnostic and Reporting Assistant) is an information & diagnostic utility. It should provide most of the information (including undocumented) you need to know about your hardware, software and other devices whether hardware or software. It works along the lines of other Windows utilities, however it tries to go beyond them and show you more of what's really going on. Giving the user the ability to draw comparisons at both a high and low-level. You can get information about the CPU, chipset, video adapter, ports, printers, sound card, memory, network, Windows internals, AGP, PCI, PCI-X, PCIe (PCI Express), database, USB, USB2, 1394/Firewire, etc."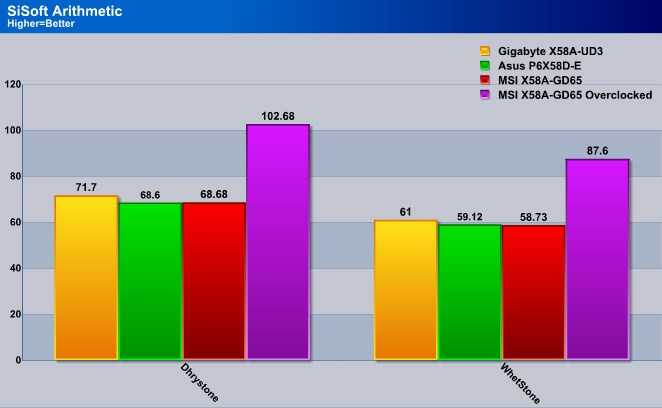 The MSI X58A-GD65 performs about the same as the Asus P6X58D-E motherboard, and only slightly less than the GIGABYTE X58A-UD3.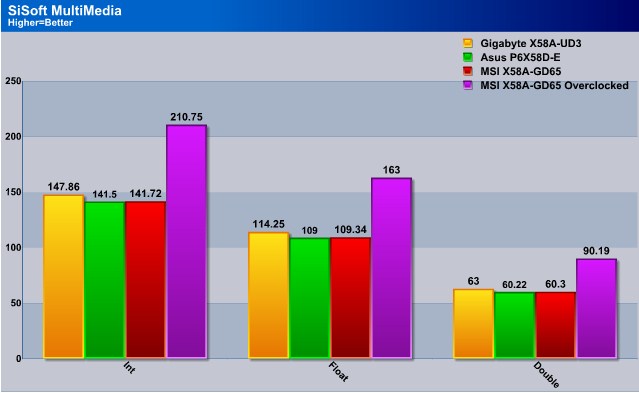 The results stay consistent with the SiSoft Multimedia test.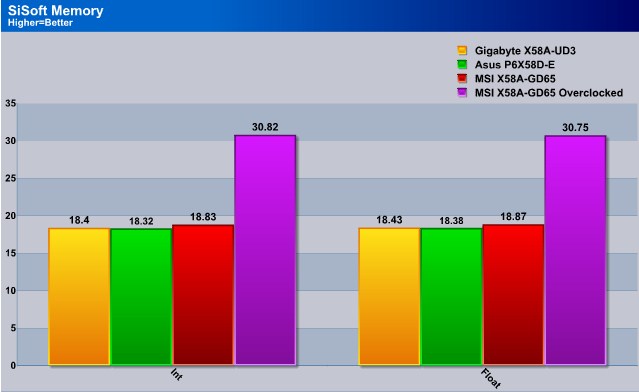 The MSI board gives a very slight performance increase (0.50 Gbps). The overclocked MSI result is the first time we have seen our Crucial 1333 MHz memory go past 28 Gbps.
 Normally, Asus motherboards have the lowest memory latency. This time, however, the X58A-GD65 motherboard is giving the Asus motherboard a run for its money.
Everest
 "EVEREST Ultimate Edition is an industry leading system diagnostics and benchmarking solution for enthusiasts PC users, based on the award-winning EVEREST Technology. During system optimizations and tweaking it provides essential system and overclock information, advanced hardware monitoring and diagnostics capabilities to check the effects of the applied settings. CPU, FPU and memory benchmarks are available to measure the actual system performance and compare it to previous states or other systems. Furthermore, complete software, operating system and security information makes EVEREST Ultimate Edition a comprehensive system diagnostics tool that offers a total of 100 pages of information about your PC."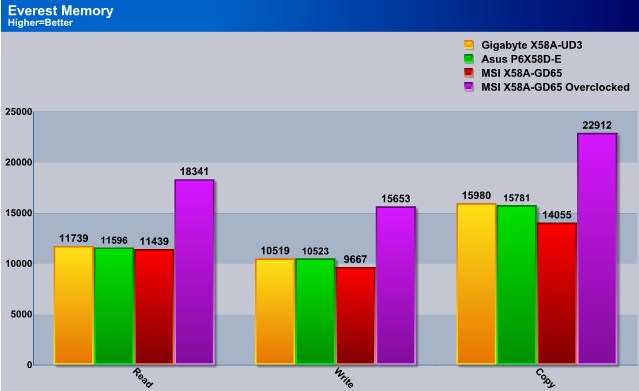 Up till now, the MSI X58A-GD65 has met or exceeded expectations. When it comes to the memory bandwidth test, however, the MSI motherboard performed the worst. This is one of the few times we have seen such a wide variation between motherboards of the X58 chipset. This is one reason we perform multiple benchmarks with different programs: so that we can better gauge a product's performance.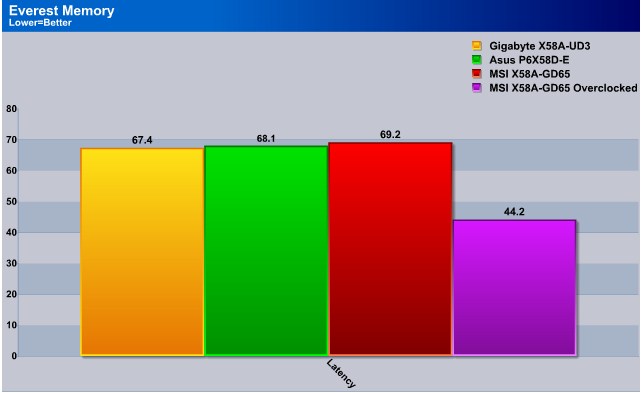 Similar to our Everest memory bandwidth test, we see that the MSI motherboard comes in just a tad slower than the Asus and Gigabyte motherboards.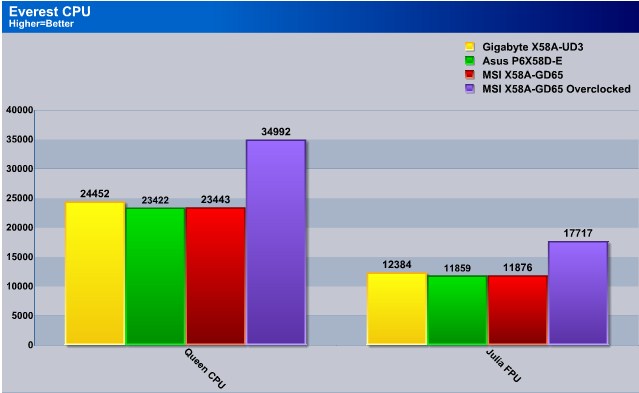 Similar to the SiSoft testing we conducted earlier, both the Asus and MSI motherboards are tied in the CPU test. Gigabyte's motherboard again takes a small lead.
POV-Ray
The Persistence of Vision Ray-Tracer was developed from DKBTrace 2.12 (written by David K. Buck and Aaron A. Collins) by a bunch of people (called the POV-Team) in their spare time. It is a high-quality, totally free tool for creating stunning three-dimensional graphics. It is available in official versions for Windows, Mac OS/Mac OS X and i86 Linux. The POV-Ray package includes detailed instructions on using the ray-tracer and creating scenes. Many stunning scenes are included with POV-Ray so you can start creating images immediately when you get the package. These scenes can be modified so you do not have to start from scratch. In addition to the pre-defined scenes, a large library of pre-defined shapes and materials is provided. You can include these shapes and materials in your own scenes by just including the library file name at the top of your scene file, and by using the shape or material name in your scene. Since this is free software feel free to download this version and try it out on your own.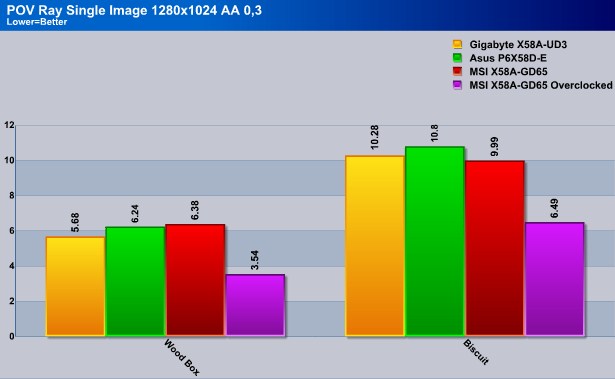 POV-Ray is another great benchmarking application because it gives a better indication of real-life performance. In the Wood Box image rendering test, the motherboard performs the worst of the three. During the Biscuit rendering test, however, the MSI surpasses both the Gigabyte X58A-UD3R and the Asus P6X58D-E.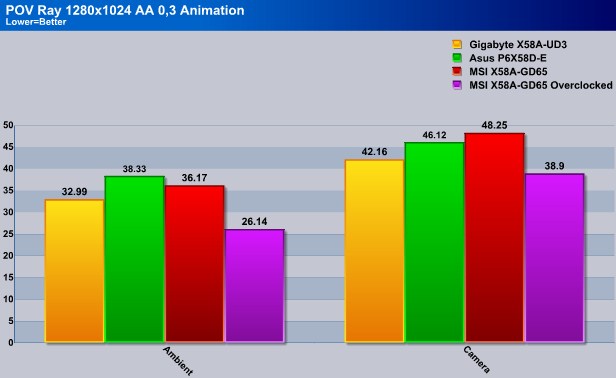 This test examines the performance of the motherboard when rendering several images in the form of video. Looking at the results of the Ambient animation test, the MSI motherboard comes in between the Gigabyte and Asus motherboards. During the camera animation rendering, the X58A-GD65 motherboard comes in last place.
CineBench Rc11
   "CINEBENCH is a real-world test suite that assesses your computer's performance capabilities. MAXON CINEBENCH is based on MAXON's award-winning animation software, CINEMA 4D, which is used extensively by studios and production houses worldwide for 3D content creation. MAXON software has been used in blockbuster movies such as Spider-Man, Star Wars, The Chronicles of Narnia and many more. MAXON CINEBENCH runs several tests on your computer to measure the performance of the main processor and the graphics card under real world circumstances. The benchmark application makes use of up to 16 CPU's or CPU cores and is available for Windows (32-bit and 64-Bit) and Macintosh (PPC and Intel-based). The resulting values among different operating systems are 100% comparable and therefore very useful with regard to purchasing decision-making. It can also be used as a marketing tool for hardware vendors or simply to compare hardware among colleagues or friends."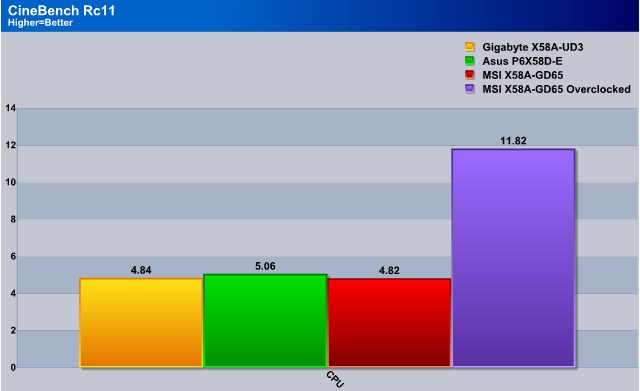 CineBench RC11 is another widely used rendering program. The test is simple to interpret: more threads and CPU core speed means the image renders faster This time the MSI and Gigabyte motherboards are pretty well tied with one another.
wPrime
wPrime is a benchmarking application designed to use a highly multithreaded approach to calculating the square-roots of large amounts of numbers (up to 32 billion)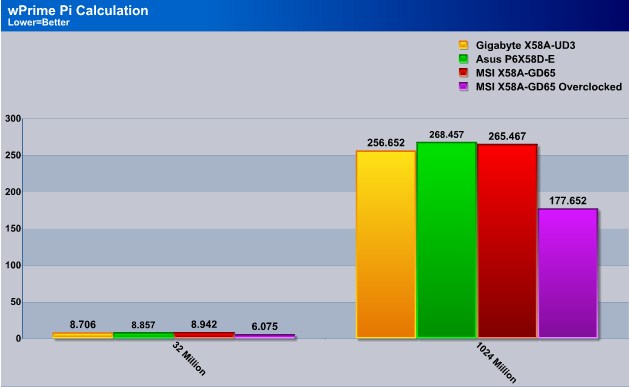 wPrime is a benchmark that calculates numbers to large digit values. During the 32 Million testing, the MSI X58A-GD65 motherboard performed just below it's competitors. It kept pace with its Gigabyte and Asus counterparts in the 1024 Million test, however.
Auto MKV
  AutoMKV is an application aiming for easy media conversion between various media formats using various third party codecs. With improved internet speed and enhanced computing power, more users are interested in encoding to different media formats for their various multimedia needs. With AutoMKV and x264 codec, a freeware H.264 encoder, users can easily create media files. For more information and to obtain AutoMKV 0.95c and AviSynth* 2.5.7, please visit (http://forum.doom9.org/showthread.php?t=134478). We create a media file using AutoMKV and x264 codec. The input file used in the document is a raw 416 MB 720×480 DV file and the output is a 253MB H.264 media file.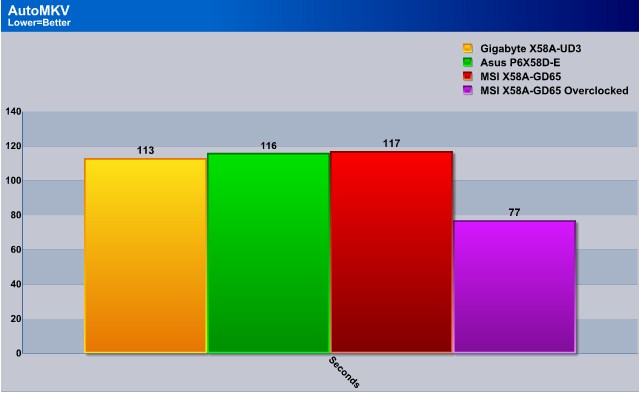 Though the Gigabyte board takes the prize in this test, the MSI board is almost as good as the Asus, with a time difference of only one second.
Win RAR 3.93
 This module in WinRar generates random data, which contains specially introduced redundancy, increasing the load to both the processor and memory. Data is then passed through RAR compression and decompression algorithms, and the output of the decompression algorithm is compared to the source data. If any differences are found, WinRar then reports "Errors found – Yes" in the command window. WinRar displays a size of processed data and compression speed, current and resulting, in kilobytes per second.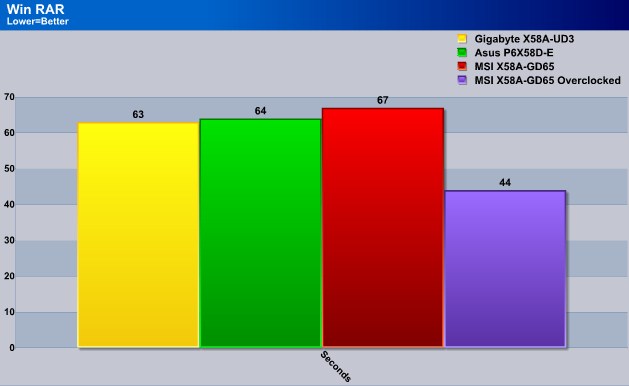 In the WinRAR compression utility test, the MSI motherboard comes in last.
Excel
 Microsoft Excel is the widely known and most used spreadsheet application for the manipulation and calculation for number crunching. With Excel you can analyze and share information on small scale or the largest scale you can imagine. We've seen spreadsheets in every day use that contain literally tens of thousands of numbers and hundreds of equations. Bjorn3D uses two tests in Excel to determine CPU and Motherboard performance.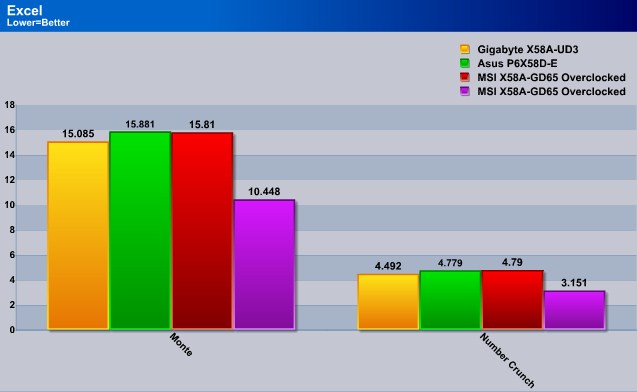 The Asus and MSI motherboards' performance is identical to one another, while the Gigabyte X58A-UD3R motherboard comes in first place.
Stone Gaint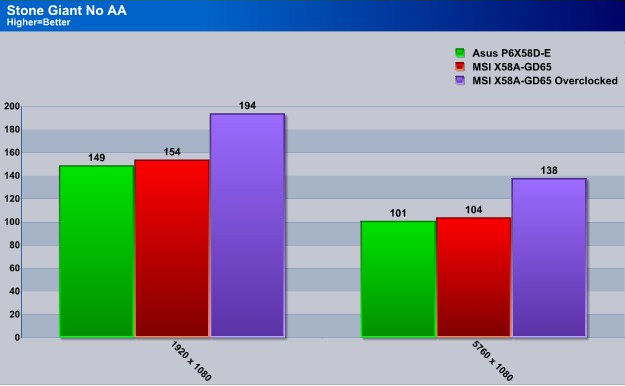 We ran Stone Giant on two different resolutions. The MSI board has a 5 FPS lead in the 1920 x 1080 test. Readers should keep in mind, however, that these numbers are based on five averages using two 470GTXs in SLI. We used Nvidia 3D Vision Surround, and kicked the resolution up to 5670 x 1080, where we saw a 3 FPS performance increase over the Asus board. Though it is unlikely that anyone wil notice a difference of 3 FPS, what we do see is that Stone Giant is semi-sensitive to the CPU core frequencies, as the overclocked MSI motherboard shows a significant boost in performance.
Unigine Heaven 2.1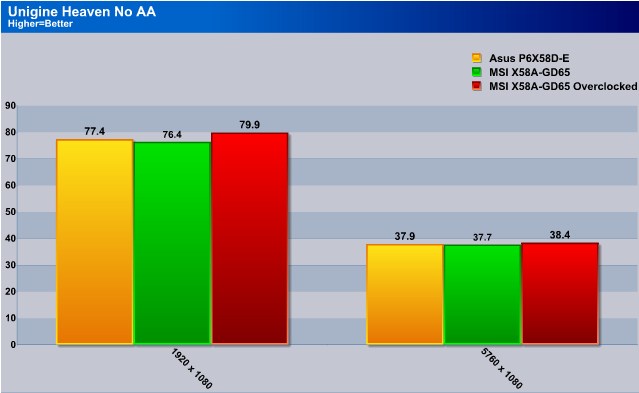 The Unigine Heaven 2.1 benchmark is purely GPU related. Though we see a small increase in performance between the default CPU speed of 2.8GHz and the overclocked speed of 4.2GHz, but it is insignificant.
3DMark Vantage

For complete information on 3DMark Vantage Please follow this Link:
www.futuremark.com/benchmarks/3dmarkvantage/features/
The newest video benchmark from the gang at Futuremark. This utility is still a synthetic benchmark, but one that more closely reflects real world gaming performance. While it is not a perfect replacement for actual game benchmarks, it has its uses. We tested our cards at the 'Performance' setting.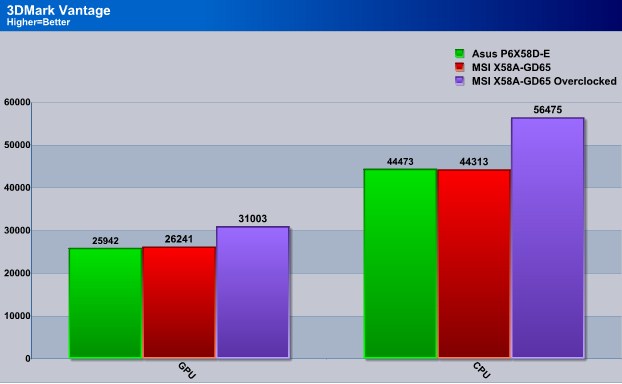 3DMark Vantage testing reconfirms that both X58 based motherboards perform identically. This benchmark fluctuates by about 200-300 points from run to run. These numbers shown here factor in that fluctuation.
Dirt 2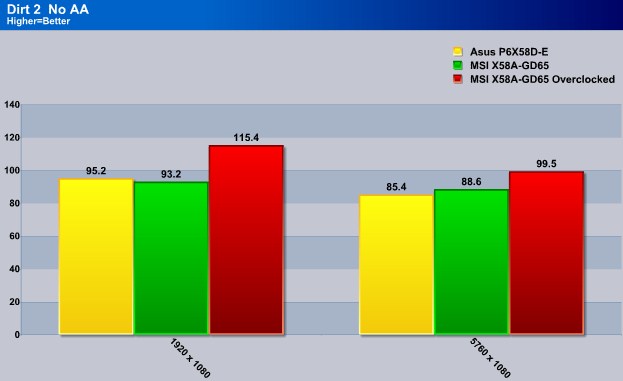 The Asus P6X58D-E takes a small 2 FPS lead in the 1920 x 1080 resolution testing, but after increasing the resolution to 5760 x 1080, the MSI motherboard performs better (if only slightly).
Lost Planet 2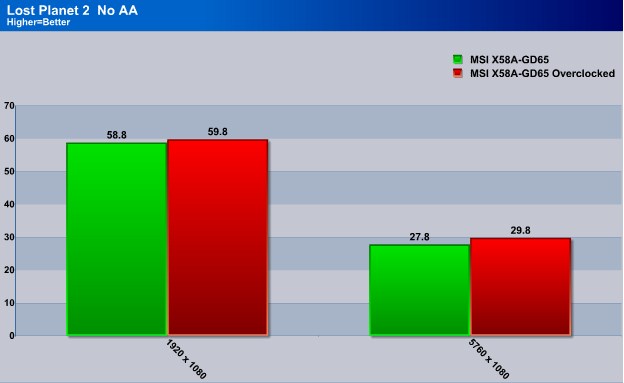 This is an additional benchmark we decided to perform, to contrast the difference between this motherboard at stock clocks and overclocks.
Conclusions
The MSI X58A-GD65 is possibly one of the best X58 motherboards on the market. Its layout, performance, and versatility do MSI a justice. For roughly 220 USD, it is an exceptional motherboard. We found throughout our tests that the motherboard not only performs well, but is extremely capable of overclocking. It's support of USB 3.0 and SATA 3 make it versatile and flexible to technology in development.
OUR VERDICT:

MSI X58A-GD65
| | |
| --- | --- |
| Performance | 9.5 |
| Value | 9 |
| Quality | 10 |
| Features | 9.5 |
| Innovation | 9.5 |

We are using a new addition to our scoring system to provide additional feedback beyond a flat score. Please note that the final score isn't an aggregate average of the new rating system.

Pros
Cons

Good Quality

USB 3, SATA 3 support

Great overclocking ability

Great Layout

Openness of the motherboard

None

 

 

 
Summary:
The MSI X58A-GD65 is a demonstrate's MSI's ability to provide a motherboard with an exceptional layout while still performing at a top-of-the-line level. We are proud to give the MSI X58A-GD65 our Golden Bear Award.