If current 890 chipset motherboards don't fit your budget or build, the ASUS M4A88TD-V EVO/USB3 may be just what the doctor ordered.
INTRODUCTION
Once again, ASUS has brought forward a very solid AMD motherboard at a very affordable price. The inclusion of the AMD 880G chipset allows for integrated Radeon HD 4250 graphics, as well as USB 3 and 6.0Gb/s SATA support, something most motherboards right now do not have. If current 890 chipset motherboards are too pricey or the wrong fit, the ASUS M4A88TD-V EVO/USB3 may be just what the doctor ordered.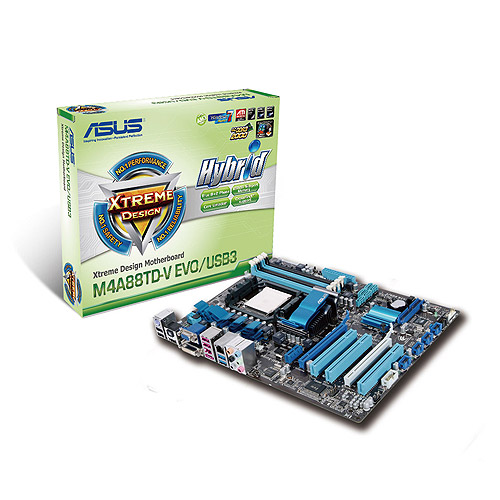 FEATURES
The M4A88TD-V EVO/USB is feature packed to say the least. As mentioned earlier, this board has 5 6.0Gb/s SATA ports with RAID support and also provides USB 3 connectivity via two ports at the back of the board. The 880G chipset also supports the latest hex-core processors from AMD, so you are covered in that arena as well. Two PCIe 2.0 x16 slots support CrossFireX, while the onboard Radeon HD 4250 can provide onboard graphics support if needed.
AMD AM3 Phenom II / Athlon II / Sempron 100 Series Processors
This motherboard supports AMD® Socket AM3 multi-core processors with unique L3 cache and delivers better overclocking capabilities with less power consumption. It features dual-channel DDR3 memory support and accelerates data transfer rate up to 5200MT/s via HyperTransport™ 3.0 based system bus. This motherboard also supports AMD® CPUs in the new 45nm manufacturing process.
AMD 880G
AMD® 880G Chipset is designed to support up to 5200MT/s HyperTransport™ 3.0 (HT 3.0) interface speed and PCI Express™ 2.0 x16 graphics. It is optimized with AMD®'s latest AM3 and multi-core CPUs to provide excellent system performance and overclocking capabilities.
CrossFireX Support
M4A88TD-V EVO Series brings you the multi-GPU choice of CrossFireX™. Expect a brand-new gaming style you've never experienced before!
PCIe 2.0 Support
This motherboard supports the latest PCIe 2.0 devices for double speed and bandwidth which enhances system performance.
HDMI Support
High-Definition Multimedia Interface (HDMI) is a set of digital video standards that delivers multi-channel audio and uncompressed digital video for full HD 1080p visuals through through a single cable. Supporting HDCP copy protection such as HD DVD and Blu-ray Discs, HDMI provides you with the highest-quality home theater experience.
 DVI Support
DVI (Digital Visual Interface) provides high visual quality of digital display devices such as LCD monitor. The interface of this motherboard supports dual VGA output both DVI-D/HDMI and RGB.
 True USB 3.0 Support
Experience ultra-fast data transfers at 4.8 Gb/s with USB 3.0–the latest connectivity standard. Built to connect easily with next-generation components and peripherals, USB 3.0 transfers data 10X faster and is also backward compatible with USB 2.0 components.
 True SATA 6Gb/s Support
The AMD® SB850 Southbridge natively supports next-generation Serial ATA (SATA) storage interface, this motherboard delivers up to 6.0 Gb/s data transfer rates. Additionally, get enhanced scalability, faster data retrieval, double the bandwidth of current bus systems.
 Dual-channel DDR3 2000 (O.C.) / 1333 / 1066 Support
The motherboard supports DDR3 memory that features data transfer rates of 2000(O.C.)/1333/1066 MHz to meet the higher bandwidth requirements of the latest 3D graphics, multimedia, and Internet applications. The dual-channel DDR3 architecture enlarges the bandwidth of your system memory to boost system performance.
 Core Unlocker
ASUS Core Unlocker simplifies the activation of a latent AMD® CPU—with just a simply switch. Enjoy an instant performance boost by simply unlocking the extra cores, without performing complicated BIOS changes.
 Turbo Key II
Enjoy superb performance by auto-tuning your processor to an extreme yet stable state. Simply activate a dedicated switch on the motherboard to unleash extra processing capabilities.
 TurboV EVO
The ultimate O.C. processor satisfies every level of overclockers—from die-hard enthusiasts to beginners. Auto tuning intelligently pushes the system to the fastest clock speeds while maintaining stability. Turbo Key boosts performance with just one touch; while TurboV offers more options to advanced overclockers to achieve world O.C. record. Moreover, upgrade your CPU at no additional cost with CPU Level UP!!
 Turbo Unlocker
Turbo Unlocker is the next evolution of an exclusive ASUS performance boost feature. All it takes is one click in the TurboV EVO interface and Turbo Unlocker automatically and dynamically adjusts each core frequency to speed up performance based on actual system load. Turbo Unlocker gets you in touch with more performance exactly when you need it
 Auto Tuning
Auto Tuning is an intelligent tool that automates overclocking to achieve a total system level up. This tool also provides stability testing. Even O.C. beginners can achieve extreme yet stable overclocking results with Auto Tuning!
 GPU Boost
GPU Boost overclocks the integrated GPU in real time for the best graphics performance. User-friendly UI facilitates flexible frequency and voltage adjustments. Its ability to deliver multiple overclocking profiles also provides rapid and stable system-level upgrades.
 Turbo Key
ASUS Turbo Key allows you to turn the PC power button into a physical overclocking button. After the easy setup, Turbo Key can boost performances without interrupting ongoing work or games, simply through pressing the button.
 Express Gate
Express Gate™ is an ASUS exclusive OS that provides you with quick access to the Internet and key applications before entering Windows®.
 ASUS 8+2 Phase Power Design
Unleashes ultimate memory performances with independent power to core components, while providing fast transient response and stability for the CPU under heavy loading or overclocking modes.
 MemOK!
MemOK! quickly ensures memory boot compatibility. This remarkable memory rescue tool requires a mere push of a button to patch memory issues. MemOK! determines failsafe settings and dramatically improves your system boot success. Get your system up and running in no time!
 EPU
System Level Energy Saving The ASUS EPU (Energy Processing Unit) provides total system power management by detecting current PC loadings and intelligently moderating power usage for critical PC components in real-time–helping save power and money!
 Anti-Surge Protection
This special design prevents expensive devices and the motherboard from damage caused by power surges from switching power supply(PSU).
 ASUS Stylish Heatsink
The brand new 2 colors features 0-dB thermal solution that offers users a noiseless PC environment. The Paten Pending 2-colors design within the beautifully curved fins upgrade the visual enjoyment for the motherboard users, it also effectively cools down hot airflows generated by the north bridge chipset. Combined with usability and aesthetics, the ASUS Patent 2-color Wing heat-sink will give users an extremely silent and cooling experience with the elegant appearance!
 Fan Xpert
ASUS Fan Xpert intelligently allows users to adjust both the CPU and chassis fan speed according to different ambient temperature , which is caused by different climate conditions in different geographic regions and system loading.Built-in variety of useful profiles offer flexible controls of fan speed to achieve a quiet and cool environment.
 EZ Flash2
EZ Flash is a user-friendly BIOS update utility. Simply press the pre-defined hotkey to launch this tool and update BIOS from a floppy disk before entering the OS.
 CrashFree BIOS 3
The ASUS CrashFree BIOS 3 allows users to restore corrupted BIOS data from a USB flash disk containing the BIOS file. This utility saves users the cost and hassle of buying a replacement BIOS chip.
 O.C. Profile
Freely share and distribute favorite overclocking settings The motherboard features the ASUS O.C. Profile that allows users to conveniently store or load multiple BIOS settings. The BIOS settings can be stored in the CMOS or a separate file, giving users freedom to share and distribute their favorite overclocking settings.
 ASUS Q-Connector
ASUS Q-Connector allows you to easily connect or disconnect the chassis front panel cables to the motherboard. This unique module eliminates the trouble of connecting the system panel cables one at a time and avoiding wrong cable connections.
 ASUS Q-Shield
The specially designed ASUS Q-Shield does without the usual "fingers"—making it convenient and easy to install. With better electric conductivity, it ideally protects your motherboard against static electricity and shields it against Electronic Magnetic Interference (EMI).
 8 Channel Audio Codec
The onboard 8-channel HD audio (High Definition Audio, previously codenamed Azalia) CODEC enables high-quality 192KHz/24-bit audio output, jack-sensing feature, retasking functions and multi-streaming technology.
 S/PDIF-out on Back I/O Port
This motherboard provides convenient connectivity to external home theater audio systems via optical S/PDIF-out (SONY-PHILIPS Digital Interface) jacks. It allows to transfer digital audio without converting to analog format and keeps the best signal quality.
 Noise Filter
This feature detects repetitive and stationary noises like computer fans, air conditioners, and other background noises then eliminates it in the incoming audio stream while recording.
 GreenASUS
The motherboard and its packaging comply with the European Union´s Restriction on the use of Hazardous Substances (RoHS). This is in line with the ASUS vision of creating environment-friendly and recyclable products and packaging to safeguard consumers´ health while minimizing the impact on the environment.
SPECIFICATIONS
What would a huge list of features be without a little more detailed specifications table? Check out all of the technical specifications below.
Specifications
ASUS M4A88TD-V EVO/USB3
CPU
AMD Socket AM3 ;Phenom™II/Athlon™II/Sempron™ 100 Series Processors

140W CPU Support

45nm CPU Support

Chipset
AMD 880G / SB850
Hyper Transport Bus

HT 3.0, Up to 5200 MT/s
Memory

4 x DIMM, Max. 16 GB, DDR3 2000 (O.C.)/1333/1066 ECC,Non-ECC,Un-buffered Memory
Dual Channel memory architecture
Please refer to www.asus.com or user manual for Memory QVL.
*Due to OS limitation, when installing total memory of 4GB capacity or more, Windows® 32-bit operation system may only recognize less than 3GB. Install a 64-bit WindowsWindows® OS when you want to install 4GB or more memory on the motherboard.
Expansion Slots

2 x PCIe 2.0 x16, supports ATI CrossFireX
1 x PCIe x1
3 x PCI
VGA
Integrated ATI Radeon™ HD 4250 GPU
SidePort Memory – onboard 128MB DDR3 1333 memory
– Supports HDMI™ Technology with max. resolution up to 1920 x 1200 (1080P)
– Supports Dual-link DVI with max. resolution up to 2560×1600 @60Hz
– Supports D-Sub with max. resolution up to 2048×1536 @85Hz
– Hybrid CrossFireX™ Support
– Dual independent displays support with HDMI / DVI and D-Sub
– Supports Microsoft® DirectX 10.1, OpenGL 2.0, Shader Model 4.1, Universal Video Decoder 2.0
– Hardware Decode Acceleration for H.264, VC-1, and MPEG-2
– Maximum shared memory of 1GB
*Refer to www.amd.com for the Hybrid CrossFireX selected GPUs.
Storage

SB850 Chipset
5 x SATA 6 Gb/s ports, with RAID 0,1,10,JBOD

1 x eSATA port (6Gb/s ready)

1 xUltraDMA 133/100/66 for up to 2 PATA devices

LAN
Realtek 8111E Gigabit LAN controller featuring AI NET 2
Audio
ALC892 8-Channel High Definition Audio CODEC
IEEE 1394

VIA VT6330 controller supports 2 x 1394a ports (1 at mid-board; 1 at back panel)
USB
12 x USB 2.0 ports (8 ports at mid-board, 4 ports at back panel)

2 x USB 3.0 ports (blue, at back panel)

ASUS Unique Features

ASUS Xtreme Design
ASUS Hybrid Processor – TurboV EVO
– Turbo Unlocker, TurboV, Auto Tuning, CPU Level UP and GPU Boost
ASUS Hybrid OS – Express Gate
ASUS Hybrid Switches
– Turbo Key II
– Core Unlocker
ASUS Exclusive Features
– MemOK!
– Anti-Surge protection
ASUS Power Solutions:
– 8+2 Phase Power Design
– EPU
ASUS Quiet Thermal Solution:
– ASUS Fanless Design: Stylish heat sink solution
– ASUS Fan Xpert
ASUS EZ DIY:
– ASUS CrashFree BIOS 3
– ASUS O.C. Profile
– ASUS MyLogo 2
– ASUS EZ Flash 2
Overclocking Features

Intelligent overclocking tools
– TurboV EVO
– GPU BOOST
– Turbo Key II
Precision Tweaker 2
– vCore: Adjustable CPU voltage at 0.003125V increment
– vChipset (N.B.): Adjustable chipeset voltage at 0.003125V increment
– vDIMM: Adjustable DRAM voltage at 0.015V increment
SFS (Stepless Frequency Selection)
– PCI Express frequency tuning from 100MHz up to 150MHz at 1MHz increment
– HT frequency tuning from 100MHz up to 550MHz at 1MHz increment
Overclocking Protection
– ASUS C.P.R.(CPU Parameter Recall)
Back Panel I/O Ports

1 x PS/2 Keyboard/Mouse Combo port
1 x DVI
1 x D-Sub
1 x HDMI
1 x S/PDIF Out (optical)
1 x IEEE 1394a
1 x LAN(RJ45) port
4 x USB 2.0/1.1
8 -Channel Audio I/O
2 x USB 3.0 ports (blue)
1 x eSATA port

Internal I/O Connectors



4 x USB connectors (8 ports)
1 x IDE connector
1 x IEEE 1394a connector
1 x CPU Fan connector
1 x Chassis Fan connector
1 x Power Fan connector
1 x Core Unlocker switch
1 x Turbo Key II switch
1 x MemOK! Button
1 x COM connector
5 x SATA 6Gb/s connectors
1 x Front panel audio connector
1 x S/PDIF Out Header
24-pin ATX Power connector
8-pin ATX 12V Power connector
System Panel
BIOS

16 Mb Flash ROM , AMI BIOS, PnP, DMI2.0, WfM2.0, SM BIOS 2.5, ACPI 2.0a, ASUS EZ Flash 2, ASUS CrashFree BIOS 3
Manageability

WOL by PME,WOR by PME,WOR by Ring,PXE
Accessories

User's manual
1 x UltraDMA 133/100/66 cable
4 x Serial ATA cables (2@6Gb/s, 2 @ 3Gb/s)
1 x Q-Connector (retail version only)
1 x Q-shield
Support Disc

Drivers
ASUS PC Probe II
Express Gate
Anti-virus software (OEM version)
ASUS Update
AMD OverDrive Utility (AOD)
Form Factor

ATX Form Factor
12 inch x 9.6 inch ( 30.5 cm x 24.4 cm )
CLOSER LOOK
The packaging of the M4A88TD-V EVO/USB3 is similar to other ASUS motherboards in that it does a great job of showing the major features of the board on the front of the box. Though not as important when purchasing online, this is a great help to the millions of consumers who buy in a retail setting.
A printed user guide and support DVD are included with the motherboard, as well as a case badge and Q-connectors for easy installation.
Also in the box are four SATA cables (2 x 6Gb/s and 2 x 3Gb/s), a single PATA cable, and the Q-Shield. The great thing about this motherboard's Q-Shield is that the removal of the sharp metal tabs found on most I/O shields really makes installing this motherboard a breeze.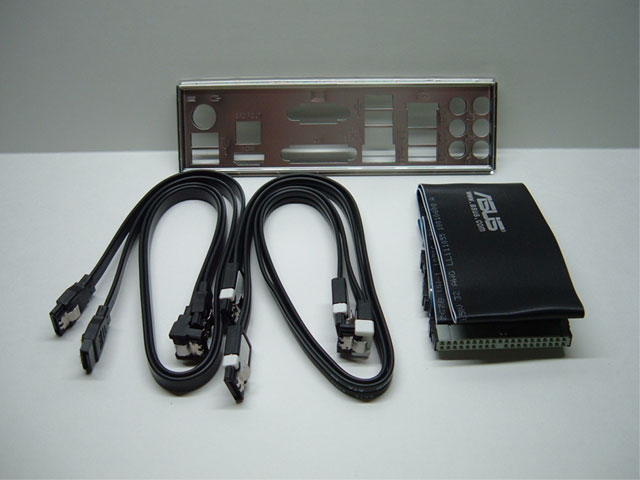 Once again, ASUS has chosen their blue and light-blue color scheme. The large dual-color heatsink on the northbridge chipset is sleek and shiny, with the Asus brand name embossed in the corner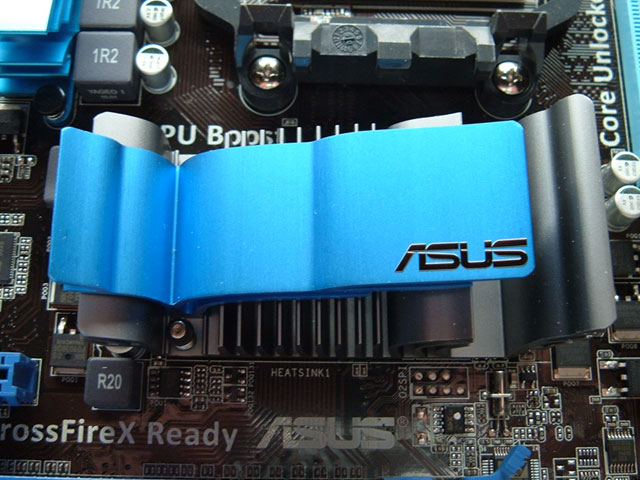 Back panel I/O ports are abundant, with the only real legacy port being the single PS/2 port. Four USB 2.0 ports allow for general peripheral connectivity, while the two blue USB 3.0 ports let users connect high-speed storage devices. The S/PDIF audio out and HDMI let this board function in an HTPC mode if needed. The on-board graphics also take advantage of the VGA and DVI ports. Firewire and E-SATA ports add to the external device connectivity options. A single gigabit LAN port provides network connectivity, and the 8-channel audio ports provide all the needed connections for great audio.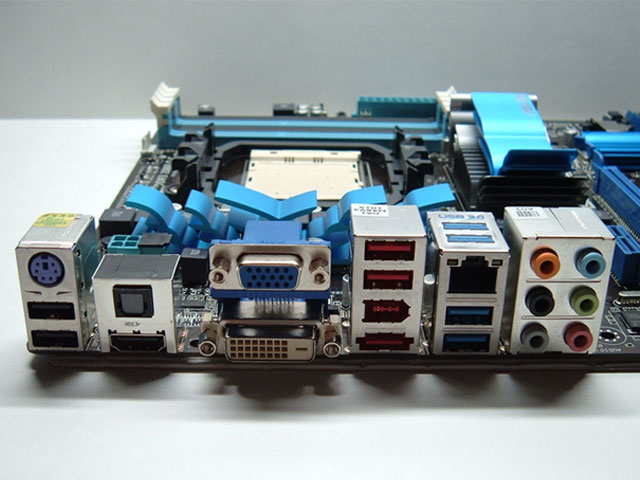 Along the right side of the motherboard, just above the main power connector are three very important features. The first is the MemOK! button. This button allows the motherboard to fix memory issues in order to make sure the system is stable. Next on the line is the Core Unlocker switch. This switch allows users unlock extra CPU cores without performing any BIOS changes. Last is the Turbo Key II. With a flick of the switch, users can enjoy auto-tuned performance increases without having to step foot in the BIOS.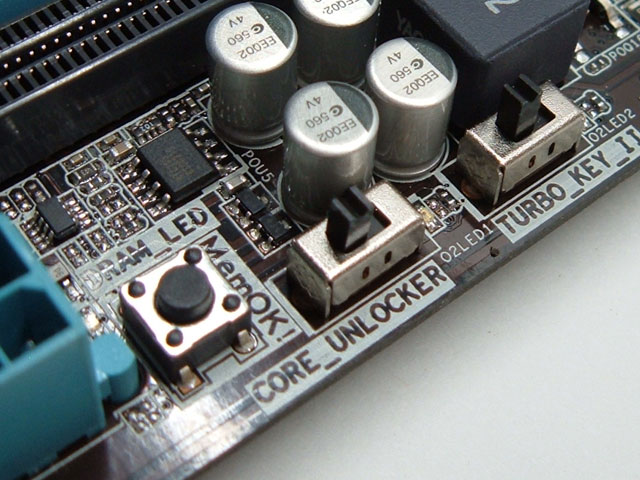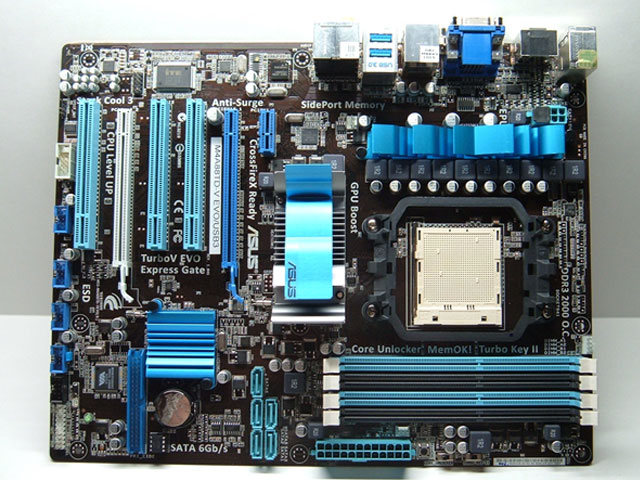 TEST SETUP
Test Platform

Processors
AMD Athlon II X4 640 (3.0Ghz)

AMD Athlon II X4 620 (2.6Ghz)

Motherboards
ASUS M4A88TD-V EVO/USB3

ASUS M4A785TD-M EVO (Athlon II X4 620)

Memory
Patriot Viper DDR3 1600 4GB Kit (M4A88TD)

Kingston HyperX DDR3 1600 4GB Kit (M4A785TD)

Hard Drive (internal)
250GB Western Digital SATA 3.0Gb/s 16mb cache
Video Card
On-Board ATI Radeon HD4250

BFG GeForce GTX 260 OC MaxCore 55

Power Supply
Thermaltake Toughpower XT 750
Case
Antec P182B
Operating System
Windows 7 Ultimate 64-bit
OVERCLOCKING
We were fairly confident that with this test setup, we would get at least 600MHz out of the X4 640 during overclocking, due to the fact that the X4 620 we previously reviewed was able to gain 700+ MHz. After tweaking voltages and bus speeds, we achieved a stable overclock speed of 3.675GHz. This wasn't as high as we would have liked to see, but higher speeds were not stable and caused multiple BSODs. The final settings were a 15x multiplier and 245MHz bus speed. I also increased the core voltage to 1.440V to give it a little extra juice. All of these settings were made using the ASUS TurboV overclocking utility provided on the support DVD.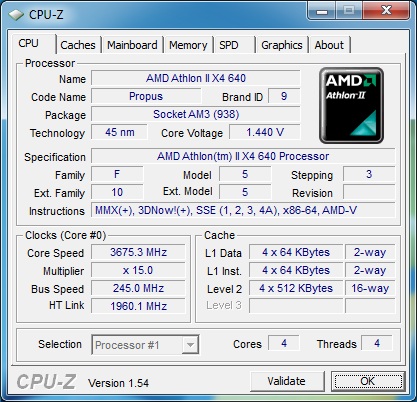 EVEREST ULTIMATE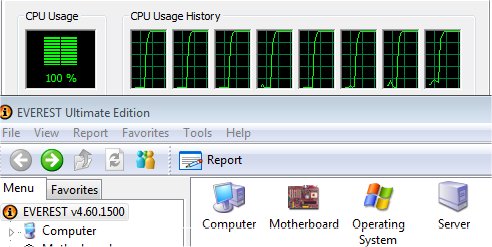 "EVEREST Ultimate Edition is an industry leading system diagnostics and benchmarking solution for enthusiasts PC users, based on the award-winning EVEREST Technology. During system optimizations and tweaking it provides essential system and overclock information, advanced hardware monitoring and diagnostics capabilities to check the effects of the applied settings. CPU, FPU and memory benchmarks are available to measure the actual system performance and compare it to previous states or other systems. Furthermore, complete software, operating system and security information makes EVEREST Ultimate Edition a comprehensive system diagnostics tool that offers a total of 100 pages of information about your PC."
CPU AES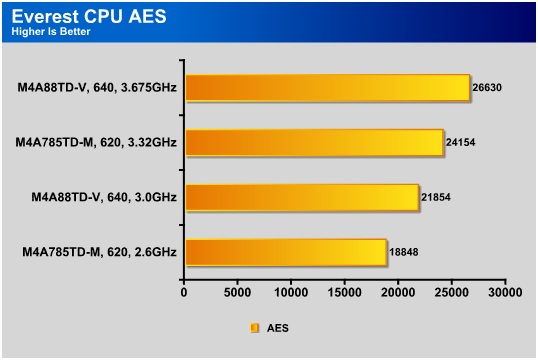 The results we see here are very similar to the rest of the results. As the speed of the processor increases, so does the performance in each test. A boost in speed equals boost in performance.
CPU PhotoWorxx
This integer benchmark performs different common tasks used during digital photo processing.
It performs the following tasks on a very large RGB image:
• Fill
• Flip
• Rotate90R (rotate 90 degrees CW)
• Rotate90L (rotate 90 degrees CCW)
• Random (fill the image with random colored pixels)
• RGB2BW (color to black & white conversion)
• Difference
• Crop
This benchmark stresses the integer arithmetic and multiplication execution units of the CPU and also the memory subsystem.
CPU PhotoWorxx test uses only the basic x86 instructions, and it is Hyper Threading, multi-processor (SMP) and multi-core (CMP) aware.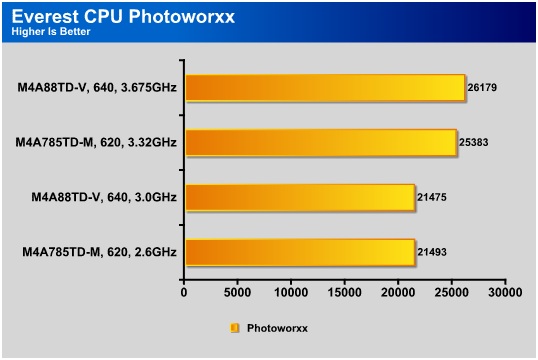 The only anomaly here is that the 620 had a slightly better score than the 640 at stock speeds. This most likely is due to standard variances between benchmark runs.
CPU Queen
This simple integer benchmark focuses on the branch prediction capabilities and the misprediction penalties of the CPU. It finds the solutions for the classic "Queens problem" on a 10 by 10 sized chessboard.
CPU Queen test uses integer MMX, SSE2 and SSSE3 optimizations. It consumes less than 1 MB system memory and it is Hyper Threading, multi-processor (SMP) and multi-core (CMP) aware.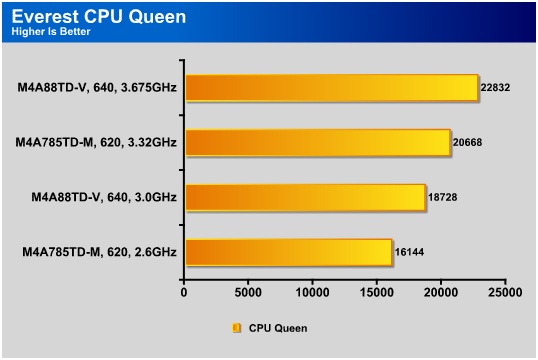 Again, this test brings back results exactly like we would expect; a nice stair step up with each increase in clock speed.
CPU Zlib
This integer benchmark measures combined CPU and memory subsystem performance through the public ZLib compression library Version 1.2.3 (www.zlib.net).
CPU ZLib test uses only the basic x86 instructions, and it is Hyper Threading, multi-processor (SMP) and multi-core (CMP) aware.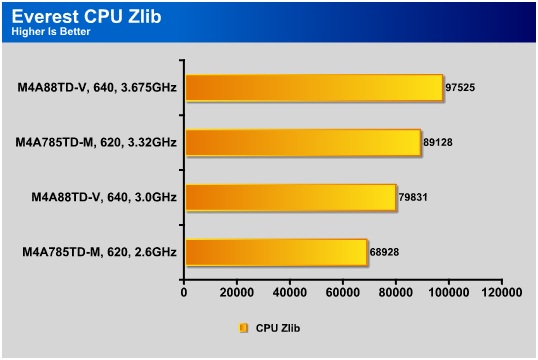 As expected, an overclocked CPU will out-perform a non-overclocked processor. The gain in performance is equal with both processors, with the 640 edging out the 620.
Memory Copy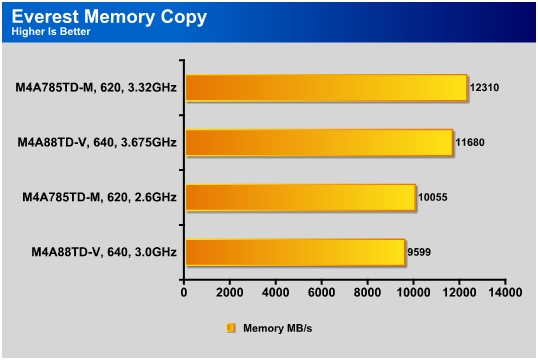 One intersting note about the Everest memory tests is how often the M4A785TD-M actually beats the M4A88TD-V EVO. Since this is a memory test, the results indicated that the Kingston RAM used in the 785 build performs slightly better than the Patriot modules used with the 880. These results hold true for the remainder of the memory tests in Everest.
Memory Read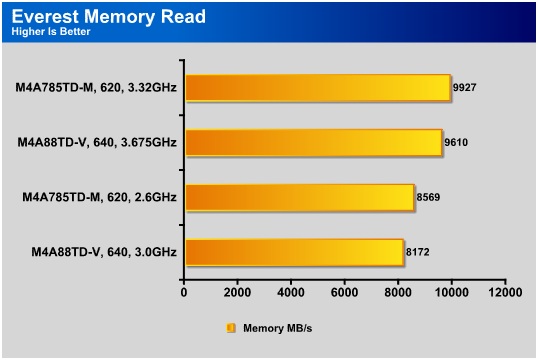 Memory Write
Memory Latency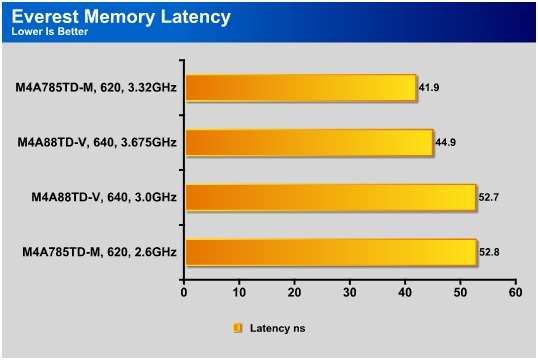 As shown in all of the memory tests, the Kingston memory used with the M4A785TD-M took the cake against the faster clocked M4A88TD-V EVO.
CINEBENCH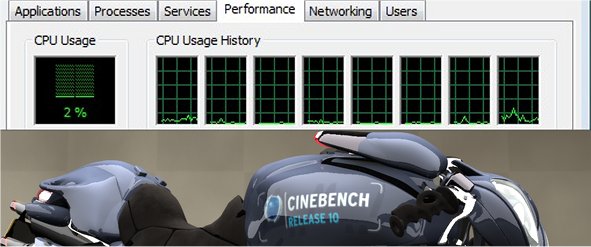 "CINEBENCH is a real-world test suite that assesses your computer's performance capabilities. MAXON CINEBENCH is based on MAXON's award-winning animation software, CINEMA 4D, which is used extensively by studios and production houses worldwide for 3D content creation. MAXON software has been used in blockbuster movies such as Spider-Man, Star Wars, The Chronicles of Narnia and many more. MAXON CINEBENCH runs several tests on your computer to measure the performance of the main processor and the graphics card under real world circumstances. The benchmark application makes use of up to 16 CPUs or CPU cores and is available for Windows (32-bit and 64-Bit) and Macintosh (PPC and Intel-based). The resulting values among different operating systems are 100% comparable and therefore very useful with regard to purchasing decision-making. It can also be used as a marketing tool for hardware vendors or simply to compare hardware among colleagues or friends."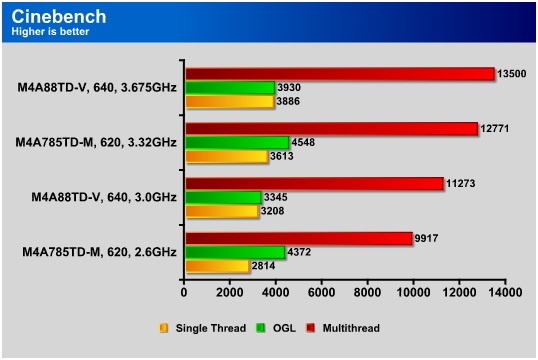 Cinebench does a great job with multi-core processors. As we can see, the Athlon II X4 640 in the M4A88TD-V EVO pulls ahead in the multi-threaded testing.
WinRAR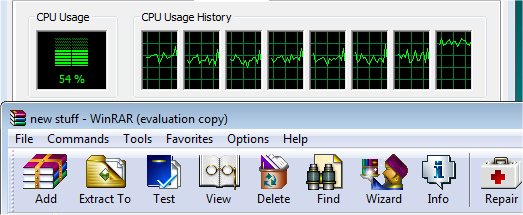 "This module in WinRar generates random data, which contains specially introduced redundancy, increasing the load to both the processor and memory. Data is then passed through RAR compression and decompression algorithms, and the output of the decompression algorithm is compared to the source data. If any differences are found, WinRar then reports "Errors found – Yes" in the command window. WinRar displays a size of processed data and compression speed, current and resulting, in kilobytes per second."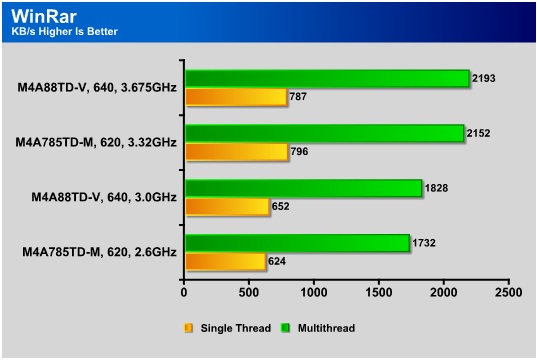 POVRAY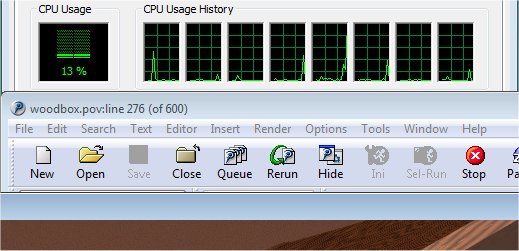 "The Persistence of Vision Ray-Tracer was developed from DKBTrace 2.12 (written by David K. Buck and Aaron A. Collins) by a bunch of people (called the POV-Team) in their spare time. It is a high-quality, totally free tool for creating stunning three-dimensional graphics. It is available in official versions for Windows, Mac OS/Mac OS X and i86 Linux. The POV-Ray package includes detailed instructions on using the ray-tracer and creating scenes. Many stunning scenes are included with POV-Ray so you can start creating images immediately when you get the package. These scenes can be modified so you do not have to start from scratch. In addition to the pre-defined scenes, a large library of pre-defined shapes and materials is provided. You can include these shapes and materials in your own scenes by just including the library file name at the top of your scene file, and by using the shape or material name in your scene. Since this is free software feel free to download this version and try it out on your own."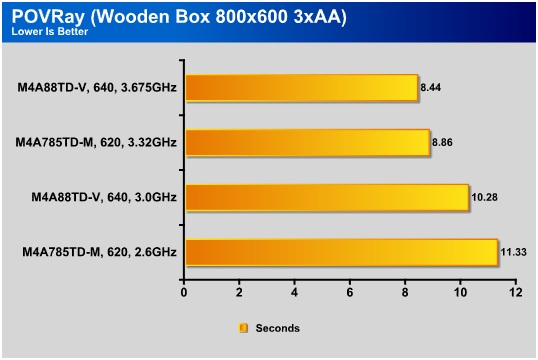 Once again, the performance from the 880 chipset in the M4A88TD-V EVO pushes it past the 785 in the older ASUS board. Although the difference between the two is mentionable, for the most part it is unnoticeable in every-day situations. Either way, the M4A88TD-V EVO is a great motherboard.
SISOFT SANDRA
Processor Arithmetic

"SiSoftware Sandra (the System Analyser, Diagnostic and Reporting Assistant) is an information & diagnostic utility. It should provide most of the information (including undocumented) you need to know about your hardware, software and other devices whether hardware or software. It works along the lines of other Windows utilities, however it tries to go beyond them and show you more of what's really going on. Giving the user the ability to draw comparisons at both a high and low-level. You can get information about the CPU, chipset, video adapter, ports, printers, sound card, memory, network, Windows internals, AGP, PCI, PCI-X, PCIe (PCI Express), database, USB, USB2, 1394/Firewire, etc."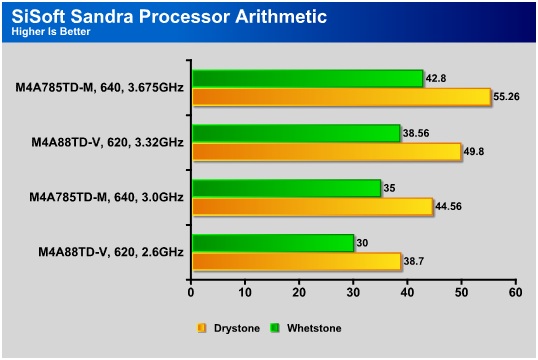 The CPU overclocking increases performance by a high amount.
Processor Multimedia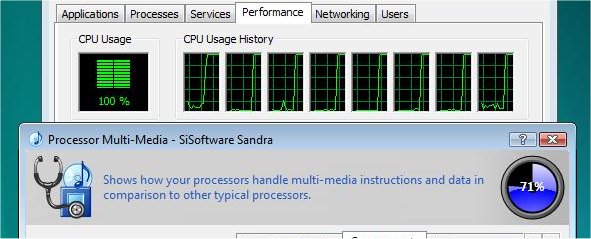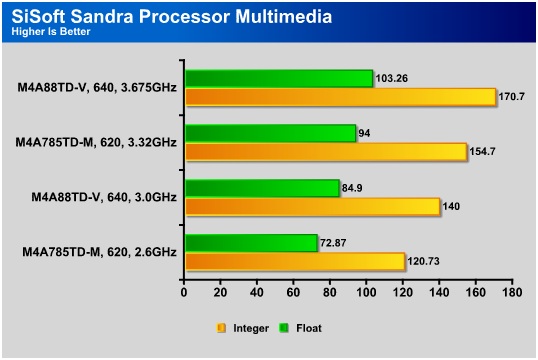 Buffered Memory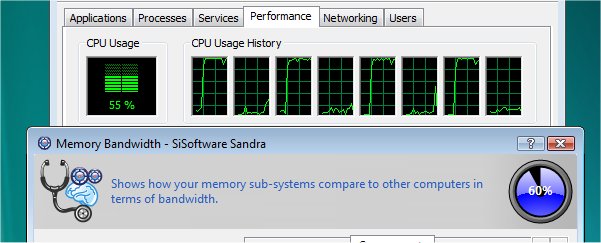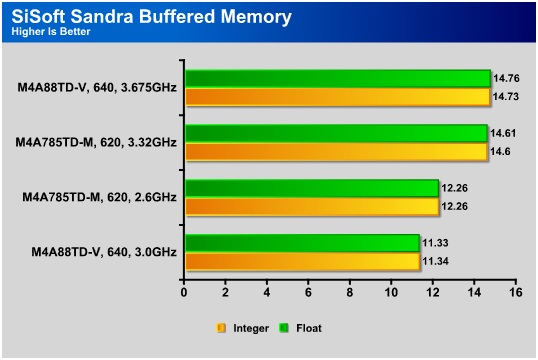 Although each testbed used a different memory kit, the results are very similar. Great performance was seen in all situations, with the newer ASUS motherboard taking the lead with the overclocked Athlon II X4 640.
3DMARK VANTAGE

For complete information on 3DMark Vantage Please follow this Link:
www.futuremark.com/benchmarks/3dmarkvantage/features/
The newest video benchmark from the gang at Futuremark. This utility is still a synthetic benchmark, but one that more closely reflects real world gaming performance. While it is not a perfect replacement for actual game benchmarks, it has its uses. We tested our cards at the 'Performance' setting.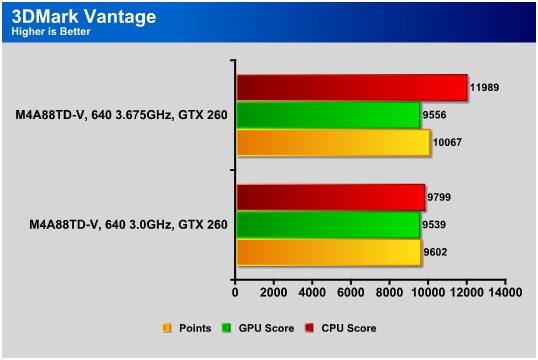 While the scores for the overall test and the GPU stayed nearly the same for both CPU clock speeds, the CPU score sees a definite improvement when overclocked. While the GTX 260 is getting long in the tooth, it still puts forth a perfectly acceptable performance.
PCMARK VANTAGE
"PCMark Vantage is a PC benchmark suite designed for Windows Vista offering one-click simplicity for casual users and detailed, professional grade testing for industry, press and enthusiasts. A PCMark score is a measure of your computer's performance across a variety of common tasks such as viewing and editing photos, video, music and other media, gaming, communications, productivity and security. From desktops and laptops to workstations and gaming rigs, by comparing your PCMark Vantage score with other similar systems you can find the hardware and software bottlenecks that stop you getting more from your PC. "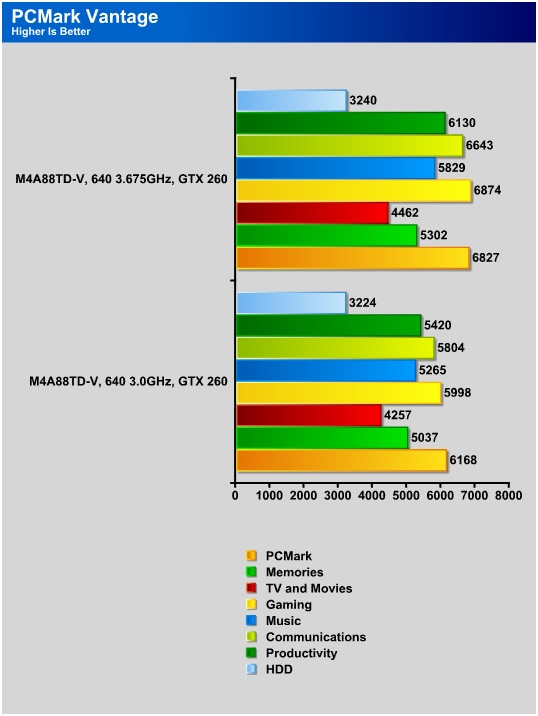 Throughout our battery of PCMark Vantage tests, the overclocking of the Athlon II X4 640 brings about much appreciated performance results.
AI Suite
The included overclocking and monitoring software was so outstanding, we decided to dedicate an entire page to it. The AI Suite software is included on the driver CD and is used to monitor various components of the motherboard, as well as provide access to overclocking functions.
The following image shows the expanded layout of the AI Suite. It provides easy to understand readings for things like CPU temperature, fan speeds and current CPU clock.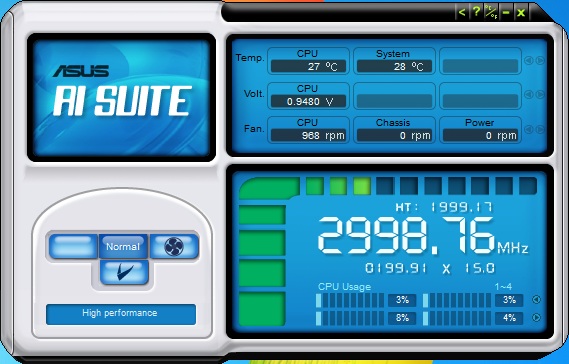 Clicking the fan button opens up the ASUS FanXpert application that provides custom fan speed settings depending on the temperature of the CPU. There is a setting for everyone, and they are even customizable.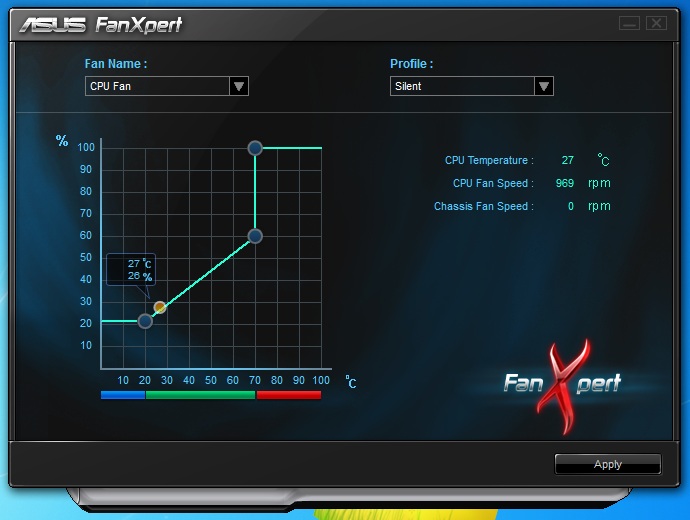 TurboV gives users the choice of using manual settings, going with an easy mode, or even letting the software and motherboard work together on their own to come up with a nice overclock. The image below shows the manual options.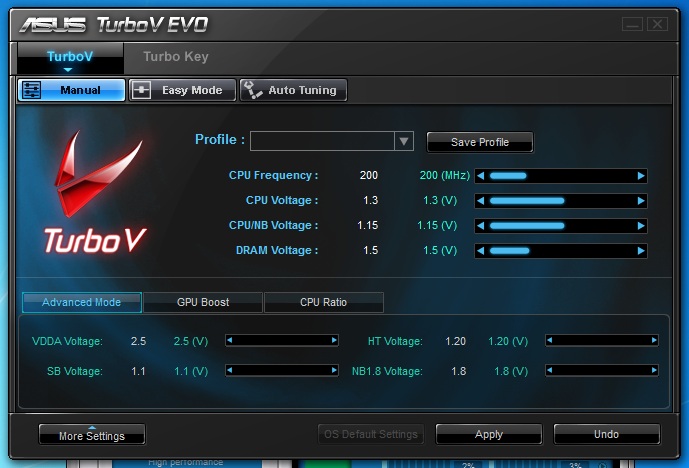 Still in Manual mode, but now on the GPU Boost tab, users gain the ability to adjust the Radeon GPU settings for added performance.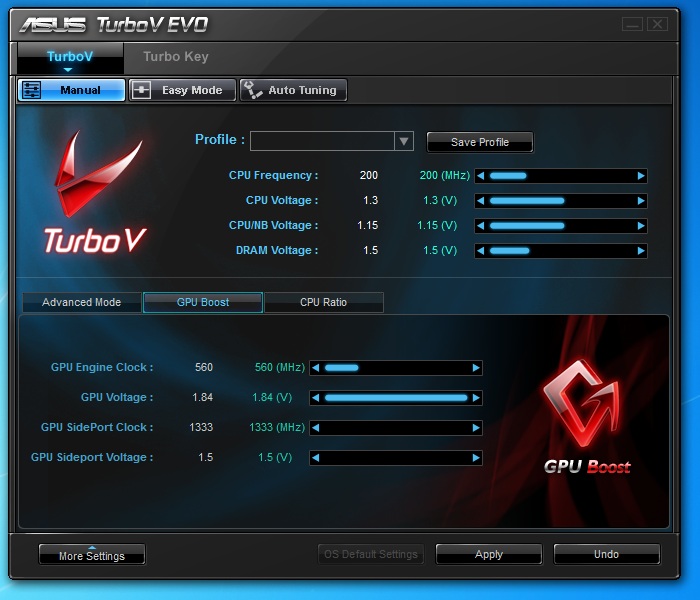 The CPU Ratio tab allows for the ability to tweak the multiplier ratio on your CPU.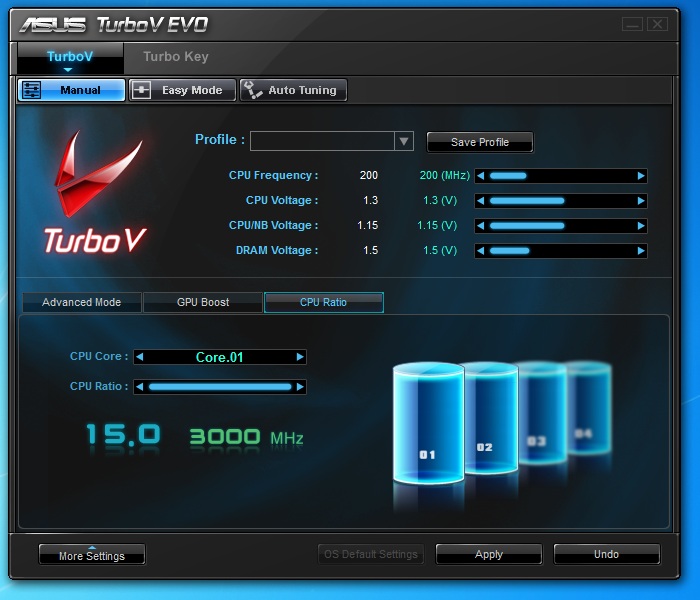 Moving over to the Easy Mode tab shows the reduced set of options, but still provides the ability to gain performance with the dialing in of a few sliders.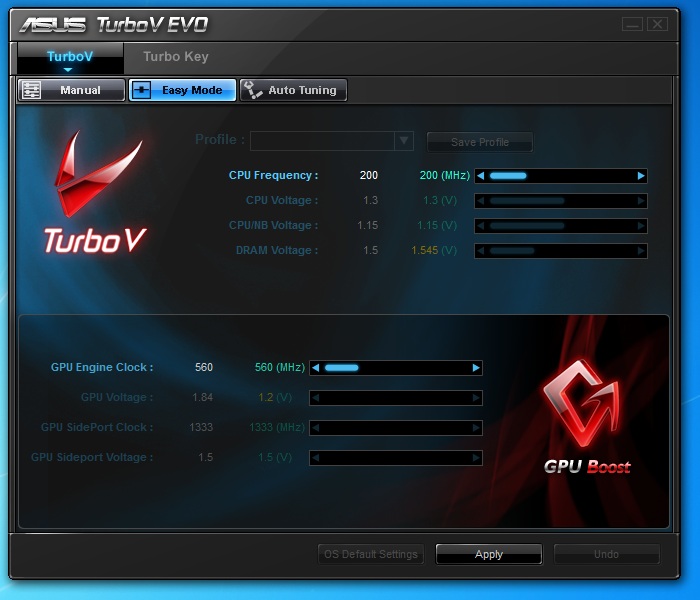 Auto Tuning removes the hassle of manually configuring options, but still gives great results. This option is great for users that may not be ready to move into manual settings just yet.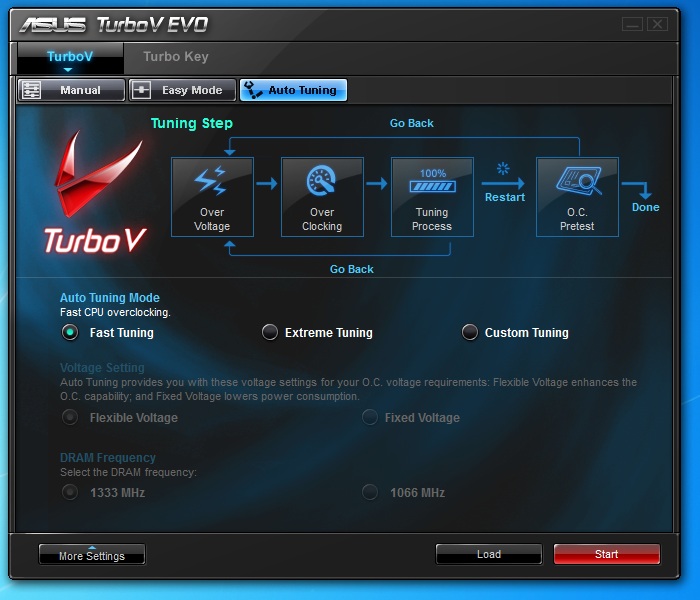 Last but not least, the Turbo Key feature of the TurboV EVO software allows users to setup a group of hotkey commands to toggle in and out of a TurboV profile. This option is great for gamers, as they can simply hotkey in the combination and activate the profile when opening starting a game.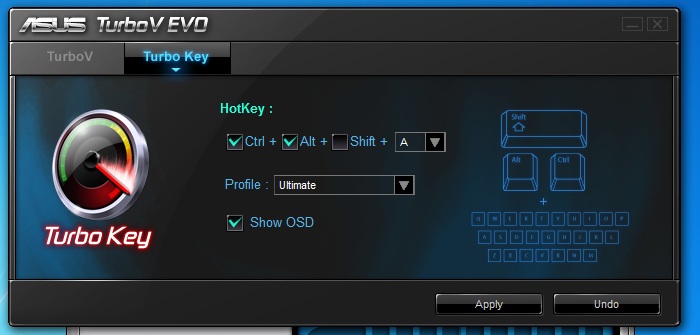 Although manufacturers have been including software like this for quite some time, we were very impressed with what ASUS had to offer. The software not only looks polished look, it also performs admirably.
CONCLUSION
ASUS has once again brought an outstanding motherboard to the table. The inclusion of 6.0Gb/s SATA support and USB 3 let the M4A88TD-V EVO shine. The onboard Radeon HD 4350 GPU allows us to put this motherboard to use in situations that don't require a behemoth of a video card but still need that extra oomph from a dedicated GPU, such as in an HTPC (for people who require more graphics support however, CrossFireX is included).
The included software really stands out, and is easy to use. There is no equal for the ability to make BIOS level changes right from the desktop. As if that wasn't enough, the M4A88TD-V EVO also includes the core unlocker switch to assist in unlocking extra CPU cores, as well as the Turbo Key II to helps extend processing power.
In the end, the ASUS M4A88TD-V EVO/USB3 packs a ton of great features into an affordable ATX motherboard. This motherboard is sure to fit into builds from the basic e-mail and web surfing PC to dedicated gaming rigs.
OUR VERDICT: ASUS M4A88TD-V EVO/USB3
| | |
| --- | --- |
| Performance | 9 |
| Value | 8 |
| Quality | 8 |
| Features | 9 |
| Innovation | 8 |

We are using a new addition to our scoring system to provide additional feedback beyond a flat score. Please note that the final score isn't an aggregate average of the new rating system.

Pros
Cons
Overclocks like a dream

Bundled software adds value

Affordable

Connectivity options galore

Still dealing with that last pesky IDE connector (No fault of ASUS)
Summary: The ASUS M4A88TD-V EVO/USB3 is a much welcomed addition to the AM3 motherboard line. We are proud to award it the Bjorn3D Seal of Approval and the Golden Bear Award.