We examine one of the few Gold rated power supplies on the market today: the Sparkle Gold Class 1000 Watt PSU.
Introduction
When looking at power supplies for computers, users find a plethora of choices. This broad range is further widened by the fact that power supplies come in many different power outputs and efficiency ratings. One area that makes purchasing a PSU easier is the efficiency rating. We all know that a higher rating means better power saving.
Here is a quick Quote from Wikipedia on PSU efficiency. For more information can be found HERE
"Computer power supplies are generally about 70–75% efficient. That means in order for a 75% efficient power supply to produce 75 W of DC output it would require 100 W of AC input and dissipate the remaining 25 W in heat. Higher-quality power supplies can be over 80% efficient; higher energy efficient PSU's waste less energy in heat, and requires less airflow to cool, and as a result will be quieter."
Sparkle has made its name selling graphics cards for a long time. Like most other hardware manufacturers, however, it has now entered the PSU market. During this review, we will be looking at the Gold Class 1000 Watt PSU from Sparkle Computers.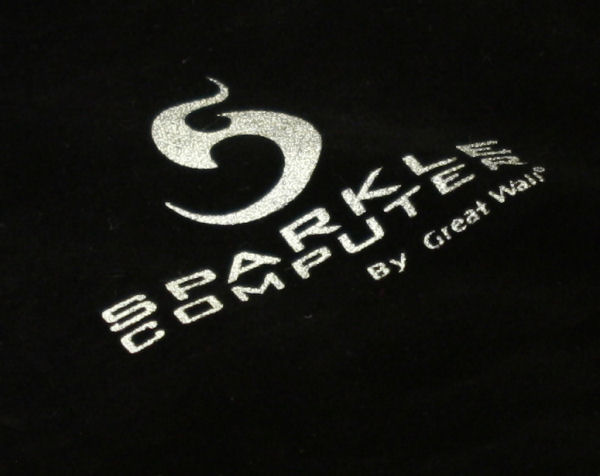 Specifications
Brand
SPARKLE COMPUTER CORP
Model
GW-EPS1000DA
Series
Gold Class
Spec
Type
ATX12V / EPS12V
Maximum Power
1000W
Fans
1 x 139mm fan
PFC
Active
Main Connector
24Pin
+12V Rails
6
PCI-Express Connector
4 x 6+2-Pin
SATA Power Connector
12
Modular
Yes
Energy-Efficient
80 PLUS GOLD Certified
Over Voltage Protection
Yes
Input Voltage
90 – 264 V
Input Frequency Range
50/60 Hz
Input Current
15A / 8A
Output
[email protected], +[email protected], [email protected], [email protected], [email protected], [email protected], [email protected], [email protected], [email protected], [email protected]
Approvals
OCC, TUV, UL, CB, CE, FCC, WEEE, ROHS
Dimensions
6.89″ x 6.1″ x 3.39″
Weight
5 lbs.
Features
Connectors
1 x Main connector (24Pin)
1 x 4+4-Pin ATX/EPS 12V
9 x Peripheral
12 x SATA
3 x Floppy
4 x PCI-E
Features
Double Ball Bearing Fan
All connector AU coating to keep Ultra high efficiency
Full Thermal Control with Super Silent Fan
12V peak at 100A
Temperature Control Design Mode
Keep PSU fan running for 5-10 seconds after shut down to dissipate the remaining system heat and prolonging system lifetime.
Ultra-quiet 13.9cm Fan with intelligent RPM control guarantees cool performance and silent operation.
99.9% 12V Power
SYNC Transformer Array
Double Main Electrolytic Capacitors
DC to DC Circuitry Design with Solid Capacitors
Forward Safe Guard Circuitry Design
Dual Layer Main PCB 2.0mm Thickness
Sextuple 12V Rails
100A Mosfet 12V Rectifiers
30k uF Low ESR Secondary 105°C Electrolytic Capacitors
Triple AC EMC Filtering Stage
Dual Capacitors Design to Protect System Safety When Sudden Shut Down
Manufacturer Warranty
Parts
5 years limited
Labor
5 years limited
This PSU comes with many options, and includes some great features for a PSU. We will now test the power supply on our testbench, which includes:
2 x Nvidia 470GTX
4 x Seagate Momentus 320GB HDDs in RAID0 configuration
Intel Core i7 930 CPU @ 4.1GHz
All of these components require significant power output, so keep reading for our methodology and results.
Overview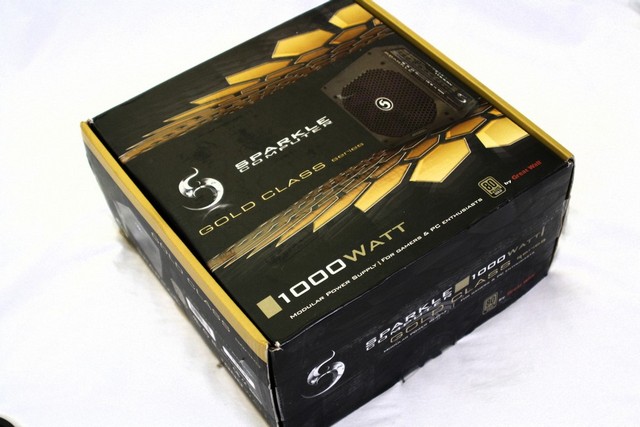 The box that the PSU comes in proudly carries the product's Gold Class and 1000 Watt rating on its front. It also shows that the power supply is modular, which should facilitate easier cable management later on.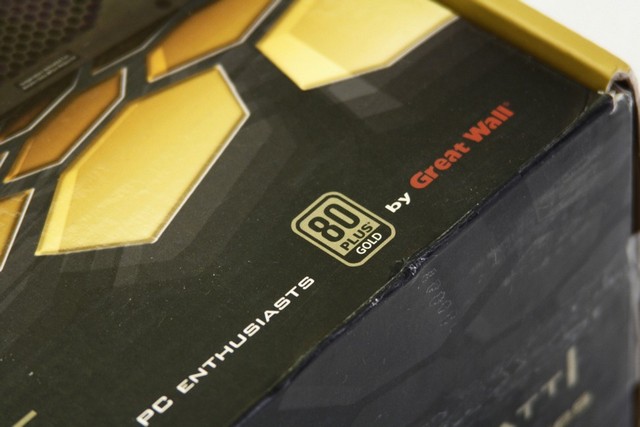 This PSU is 80+ Gold Certified. This PSU is manufactured by Great Wall, which has been in the PC market since 1987.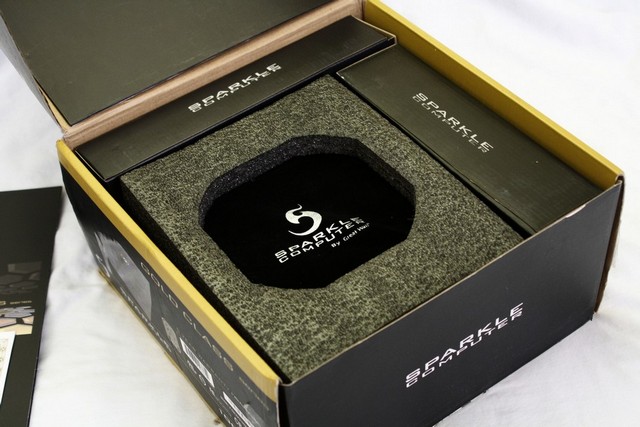 Sparkle goes the extra mile to ensure the product's safety during during transportation.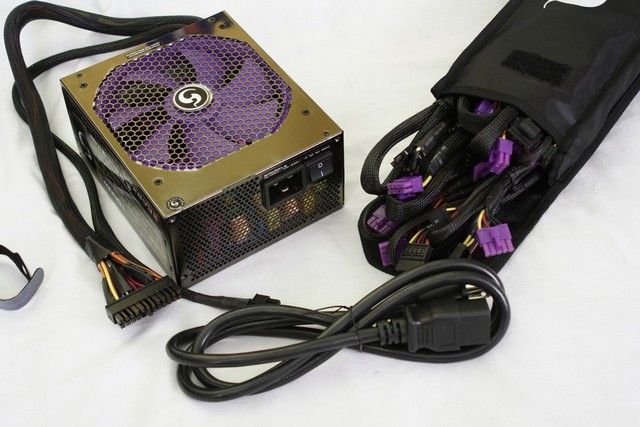 The PSU has a built in 135mm fan, a small bag containing all the extra cables, a power cord (power supply specific), some Velcro cable ties. The only cables coming out of this PSU are the main 24 pin ATX cable, and the EPS CPU power cable.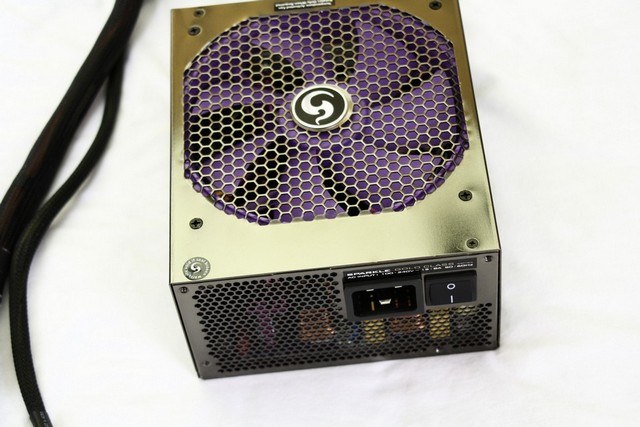 A quick look at the top of the product. Both the fan grill and the rear of the PSU uses a honey-comb design to maximize airflow.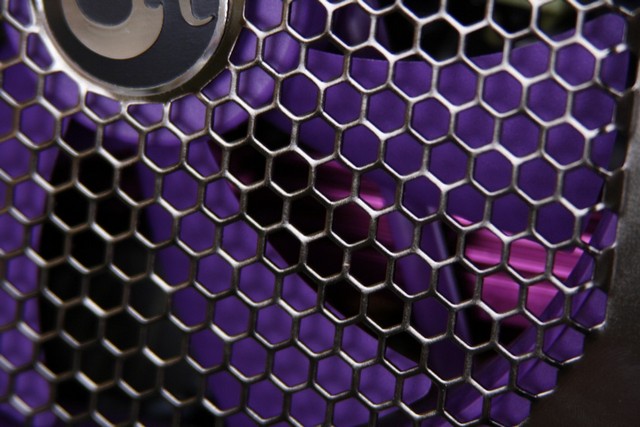 As we can see here, Sparkle went off the beaten path and anodized the power supply's aluminum heatsink a bright pink.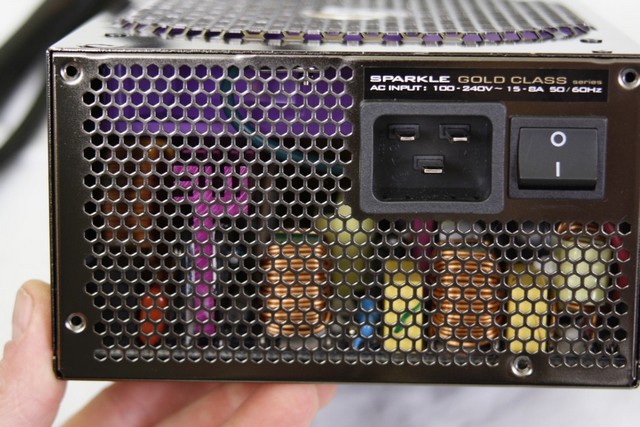 The main input power cable is not the standard PSU notched corner, but is instead a square plug, meaning the only cable that can be used with this power supply is the one that it comes with.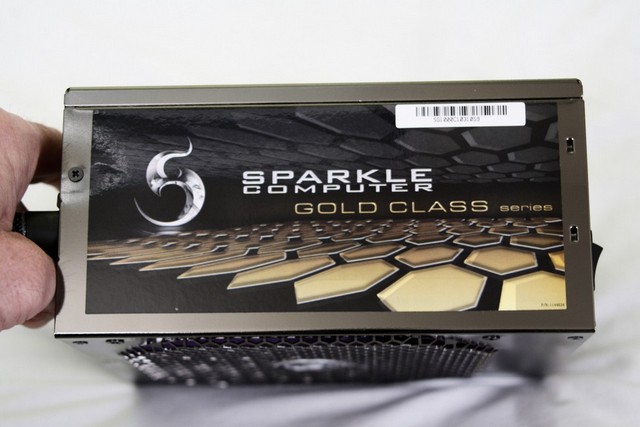 The side of the power supply.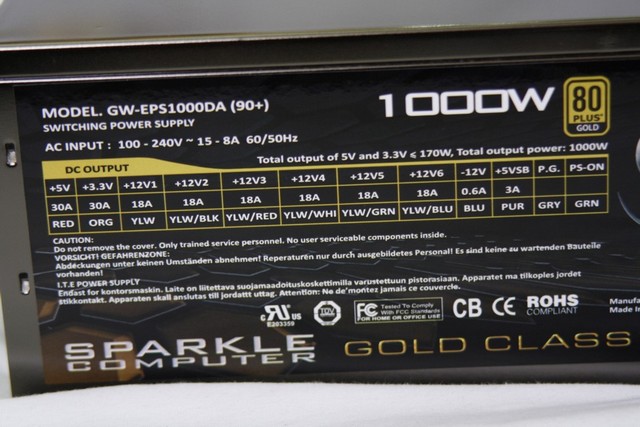 A table explaining how the Gold Class 1000 Watt PSU distributes amperage. Looking at the 12 volt line ratings, we can see this PSU uses six 12 volt rails, and each rail carries 18 Amperes.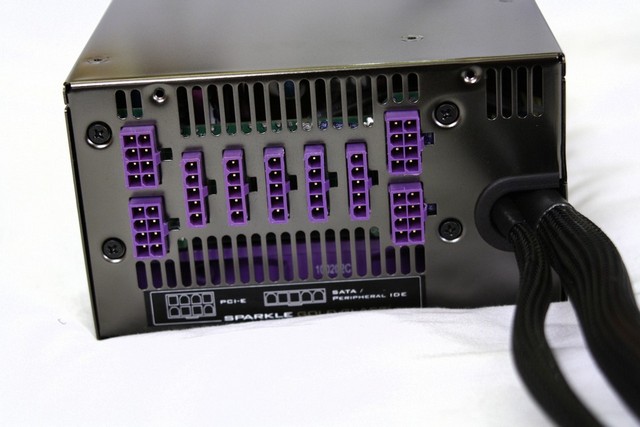 This is where the modular cables connect to the PSU. The power supply supports up to four 6/8 pin PCI-E power cables, and up to five additional SATA/Molex power cables.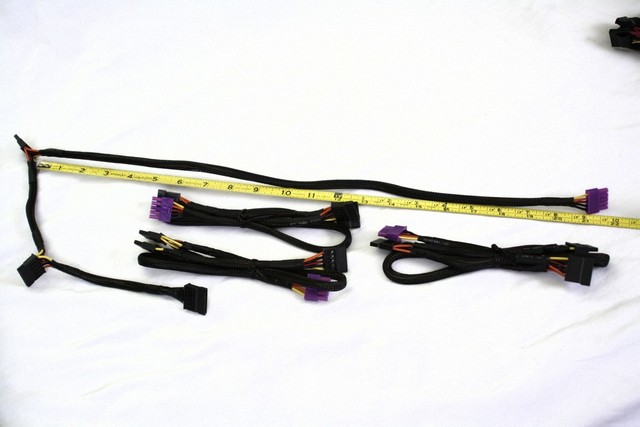 Sparkle includes four SATA power cables, with three SATA power connectors per cable, long enough to fit most chassis out there.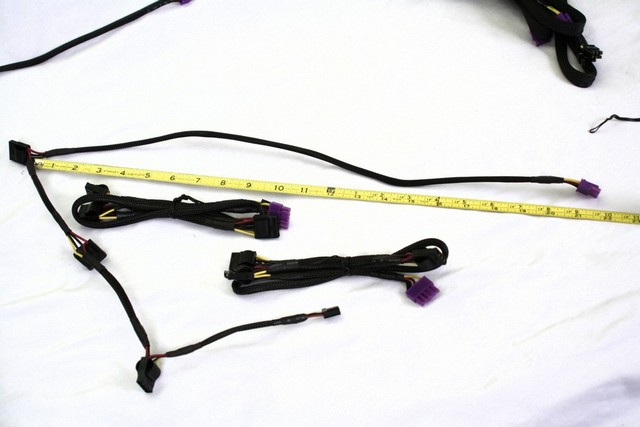 Moving on over to our Molex power cables, each one of these power cables has three Molex power connectors and one floppy power connector. These cables are just as long as the SATA power cables.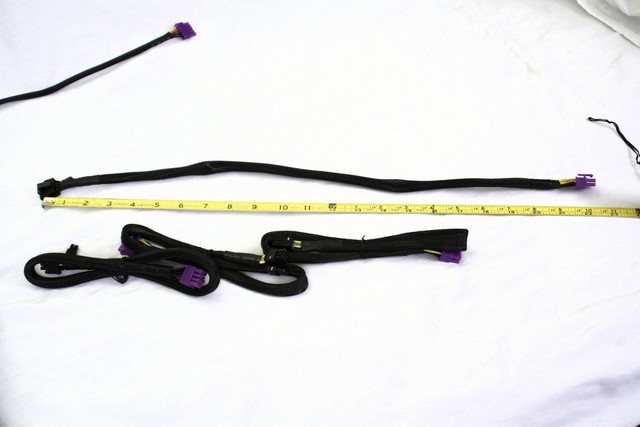 Sparkles includes four PCI-E cables, which are all 8/6pin connector configurable. 22 inches long, these cables should easily reach the video card. Each power cable has a black connector, which connects to hardware, and a purple connector that attaches to the power supply.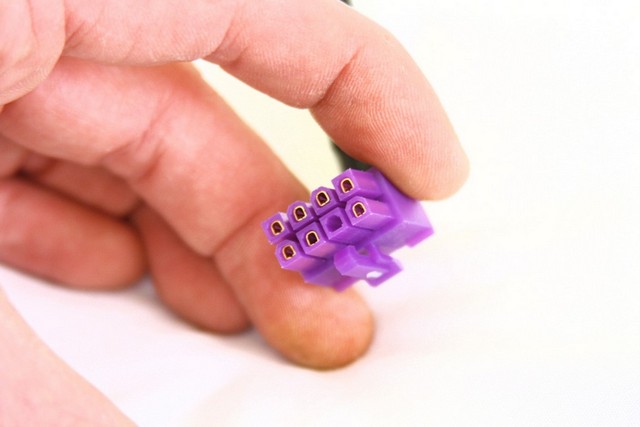 All of the power connectors are gold plated to maximize electrical transfer.
The fan in this unit will only turn on when the PSU components start to reach a temperature threshold.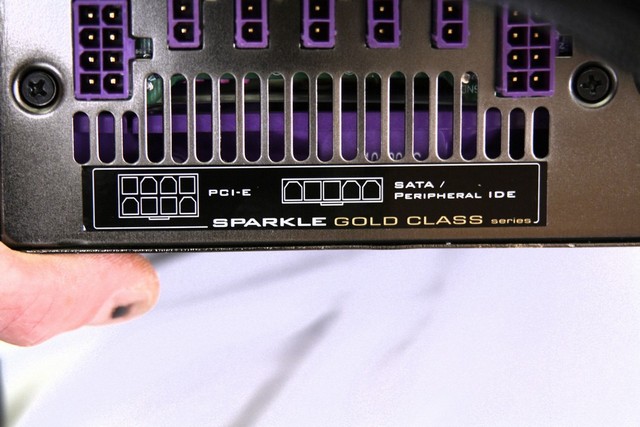 The sticker that instructs users on how to attach each of the modular cables to the PSU.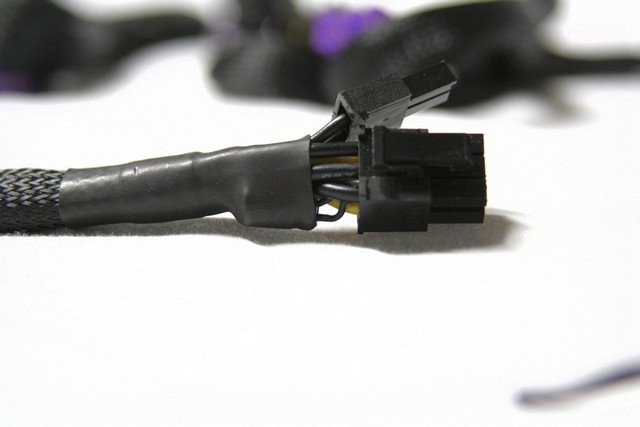 Another unique features on this PSU: the bulges on the sides of the cable are load line capacitors that will help keep voltages stable during load.
Testing Methodology
Test Setup &Testing Methodology

"Mini Me"

CPU
Intel Core i7 930 D0 @ 4.1 GHz
Motherboard
ASUS P6X58D-E
Case
Open Chassis
Memory
Crucial 1600 @ 1720MHz
Video Card
2 PNY 470GTX in SLI
Hard Drives
4x Seagate 320Gig 2.5″ Momentus HDD's RAID-0, WD 1TB green drive Backup
CDRom Drive
LiteOn Blu Ray
Power Supply
Power and Cooling 950 Mk II, Sparkle Gold Class 1000 Watt PSU
CPU Speeds Used
4.1 GHz
Operating System Used
Microsoft Windows 7
Video Card Cooler

Koolance 470GTX, EK 470GTX water blocks
CPU Cooler

EK Supreme HF CPU with a XSPC Quad 120mm Rad
 Before we begin, it is worth mentioning that we at Bjorn3D.com do not have the five thousand dollars worth of testing equipment required to test for line noise, exact power draw per individual voltage lines, and so forth. The following results are based upon a basic user level testing, and user level experience with these PSUs.
We measured all voltage lines with a Multi-Meter. For the purposes of this test, we conducted various tasks that will target those specific voltage lines. Every time the voltage was measured, we reverted to the main 24 pin power plug. We used Stone Giant at 5760×1080 resolution to ensure the 470GTX video cards were at their maximum possible power usage. For HDD testing, we moved a 4-5 Gigabyte file from the primary HDDs (4 x Seagate Momentus 320GB in RAID0) to a 1 TB Western Digital HDD. CPU testing was done with LinX 20 loops with all eight threads of the CPU in use.
We included a few pictures of the system in idle mode, and also of the stable configuration closest to  100% computer utilization. We used Stone Giant again at 5760×1080 resolution for the 2 x 470GTX video cards, and also ran LinX on all eight threads of the Core i7 930 CPU in the background. We listed two PSUs for comparison here: the PC Power and Cooling 950 Mk II , and the Sparkle Gold Class 1000 Watt PSU.
Results
Results

Power Rail
Sparkle Gold Class 1000 Watt

PC Power and Cooling 950 Mk II

Idle
Load
Idle
Load
Main 3.3v
3.30V
3.28V
3.33V
3.29V
Main 5v
 5.06V
5.06V 
5.15V
5.10V
Main 12v
12.21V
12.13V
12.28V
12.24V
 EPS 1 12v
12.19V
12.14V
12.27V
12.25V
EPS 2 12v
N/A
N/A
N/A
N/A
PCI-E 1 12v
12.21V
12.16V
12.27V
12.25V
PCI-E 2 12v
12.21V
12.16V
12.28V
12.26V
PCI-E 3 12v
12.20V
12.15V
12.28V
12.26V
PCI-E 4 12v
12.20V
12.15V
12.27V
12.25V
PCI-E 5 12v
N/A
N/A
12.27V
12.26V
PCI-E 6 12v
N/A
N/A
12.28V
12.25V
SATA 12v
12.20V
12.20V
12.27V
12.27V
SATA 5v
5.07V
5.06V
5.14V
5.11V
SATA 3.3v
3.30V
3.28V
3.34V
3.30V
Molex 12v
12.20V
12.20V
12.21V
12.19V
Molex 5v
5.09V
5.09V
5.13V
5.13V
Starting off on our voltage checks with this PSU, we can see it does have a bit more power fluctuation between idle and load states than the comparable PC Power and Cooling PSU. These results are still very much well within the 5% of the PSUs voltage output.
Kill-A-Watt Testing
All these tests were done during idle mode, and during full load testing. Results may also vary based on environmental factors
We found the Power Factor of the computer after it was idling for about an hour; for more information with the Power Factor please visit this LINK. Overall, the Sparkle Gold Class PSU has a slightly higher PF number.
Although there is a large amount of power running through the computer considering it is idling, a 2W difference is not enough to say one is better than the other.
This is the PF after we brought the computer from idle mode to full load. Both PSUs jump to a high PF number of 99.
During the full load testing, we see the PC Power and Cooling PSU is drawing 7W less then the Sparkle Gold Class PSU. As mentioned before, it is difficult to determine which unit is better on a 7W difference.
Conclusions
 The Sparkle Gold Class PSU is capable of powering our testbench properly. The use of plated power connectors, in line capacitors was a positive factor. Another positive aspect of this PSU is the modular design and the flexibility of the cables; both of these characteristics facilitate cable management inside the system. The Modular design is a pleasing sight for those who like to keep their own computer internals clean and spacious.
We expected to see a bit less power draw from this PSU, considering its 80+ Gold rating. The PC Power and Cooling PSU was able to keep up with the Sparkle Gold Class PSU with regards to power usage. An appropriate price for this PSU would be around 250 USD.
OUR VERDICT: Sparkle 1000 watt Gold Class Power Supply
| | |
| --- | --- |
| Performance | 8 |
| Value | 8.5 |
| Quality | 8.5 |
| Features | 9 |
| Innovation | 8 |

We are using a new addition to our scoring system to provide additional feedback beyond a flat score. Please note that the final score isn't an aggregate average of the new rating system.

Pros
Cons

Plenty of power output

Cables were flexible enough to make sharp radius turns

More then enough power cables/plugs to accommodate some of the largest computers out there

Gold rating of 80+

None that I can think of

 

 

 
Summary:
The Sparkle Gold Class 1000W PSU is a great candidate for anyone needing a powerful and flexible PSU for their computer.